October 12, 2017
Sorry for the long delay in updates...we were going to update prior to the release of 'Jeff Beck:Live At The Hollywood Bowl' but then Hurricane Irma hit South Florida and that threw a monkey wrench into everything. We've been spending most of our spare time trying to clean up and put things back together.

The hurricane hit a little less than a week before a memorial we arranged for Dick but Trini, Rich and I did manage to get out of South Florida in time to pull it off. We saw a lot of Dick's friends from our home town, Marblehead, Mass and a few from farther way (Rick McGowen came up from NYC). The night included music, of course, from two bands and, of course, included some Jeff Beck tunes.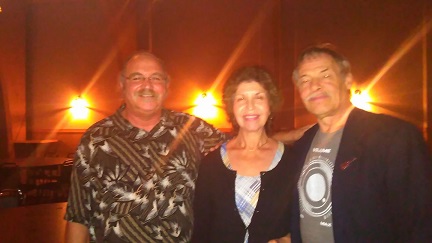 Bill Toabe, Trini Wyzanski and Rick McGowen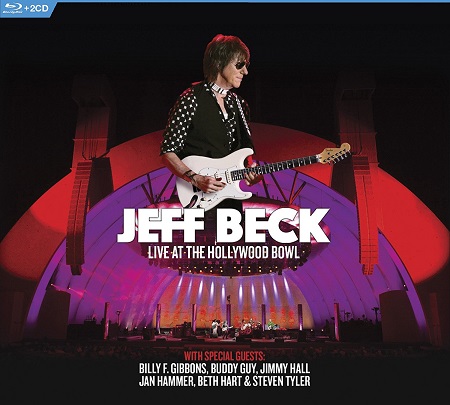 So on to the news. 'Jeff Beck:Live At The Hollywood Bowl' was released October 6th (see our marquee) and has been received well. Here's some reviews...

Jeff will be performing at the SEMA (Specialty Equipment Market Association) Industry Awards Banquet on Thursday, November 2nd in Las Vegas with Billy Gibbons, Michael Anthony and Jimmie Vaughn. Here's a link to their page where if you're attending the convention you can buy tickets.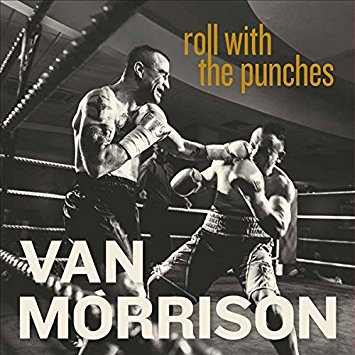 Jeff appears on Van Morrison's latest album (five tracks!), 'Roll With The Punches' which dropped last month. Also featured...Jason Rebello (also five tracks!). Jeff appears on the tracks; Transformation, I Can Tell, Stormy Monday/ Lonely Avenue, Bring It On Home To Me and Ordinary People. Very cool.
Jeff and Sandra attended the premiere of David Gilmour's 'Live In Pompeii" movie last month. Here are some links to pics at gettyimages.com...

Ed Chapero came up with is one and it's great!! Check out this link; https://1960smusicmagazines.com/category/jeff-beck. A bunch of old articles and blurbs about Jeff from the 60's that he's sure to hate. LOL.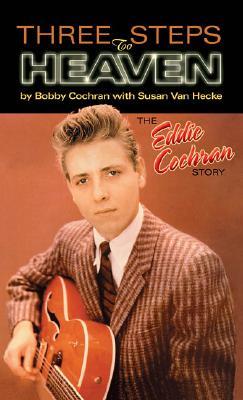 A new book out about one of my heroes, Eddie Cochran is out. Written by his nephew Bobby Cochran and Susan Van Hecke, the jacket features a quote by Jeff. "I didn't know (his songs) were cut in the 50's, and if I didn't know how many tracks he had to work with, I swear to God there's have to be five guitar players on that record." Google has a summary of the book, it's a good read.
Ed also came up with this link, http://forgottenbands.blogspot.com/2011/03/next-band_8598.html. It's a full history of one of Jeff's first band, Pat Cresswell and The Crescents, which were later just called The Crescents. Follow the link in the article to The Deltones piece as well. Both, another good read.
The Hurtwood Park Polo Club where Jeff did a benefit gig for Roger Taylor last year is available to rent for events it seems. To promote it they use a lot of photos from some of the famous folks who've been there. Check this out... www.hurtwoodparkpolo.co.uk/famous-faces
Lastly this, an answer from gibson.com to the burning question "What album does Gene Simmons listen to before every KISS show?". http://www.gibson.com/News-Lifestyle/News/en-us/Gene-Simmons-Favorite-Records.aspx
Be seeing you.
---
June 24, 2017
We felt had to get something out for Jeff's 73rd, Hah. It's taken a while, sorry. We have a new Jeff Beck Bulletin #22 out and it took me a while to write the editorial, read it, you'll see why. Also the first feature, the Orient Tour report took a while because Sid sent me a million (I've told you a million times, don't exagerate) pictures I had to go thru and resize but there are some good ones in there.

Things have been quiet lately but here's a recap of what news we have from the recent months...
There don't appear to be any plans to tour the US this year, but the good news is Jeff has signed a multi-year deal with Warner Bros. Music so that means new recordings.
The DVD of the 50th anniversary show filmed last August in LA at the Hollywood Bowl is expected to be released this spring on Eagle Vision.
Jeff has also made guest appearances on recent albums by ZZ Top, Beth Hart and Imelda May's new album.
The Bones ladies have moved to the USA after a farewell show in the UK.
Jonathan Joseph is touring as the drummer for ex-Jethro Tull guitarist Martin Barre. They recently played the 'Daryl's House' club in Pawling, NY, check out Jonathan's FaceBook page for pics.
Jimmy Hall has joined the Hank Williams Jr. U.S spring/summer tour.
Rhonda Smith continues work on her third solo album and will be appearing at Sweetwater's 16th annual 'Gear Fest', June 23rd and 24th in Fort Wayne, IN to promote PRS, Paul Reed Smith products.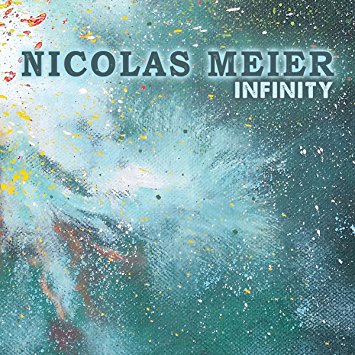 Nicolas Meier has a new album out, "Infinity". The album features Vinnie Colaiuta on drums and Jimmy Haslip (any Tommy Bolin fans out there?) on bass. A fall U.S. tour is planned.
We were saddened to hear of the passing of our friend Jimmy Copley last month. Here's one of the obits...


British drummer Jimmy Copley, who performed with Tony Iommi, Paul
Rodgers, Jeff Beck and many others, has died after a battle with
leukemia, according to a Facebook post by his former M3 bandmate
Tony Martin.
Martin wrote, "Sad to acknowledge the death of Jimmy Copley,
drummer and all round great dude. Jimmy was in the band M3 with
me but he played for many named artists …. Including Tony Iommi,
and Paul Rodgers ….. He had such an accurate touch with drums
that seemed effortless, Sad to hear leukemia took his life.
Thoughts are with his family and others that knew him."
According to University Hospital Bristol, Copley had been
diagnosed with leukemia in 2015, and relapsed following a bone
marrow transplant. He opted to discontinue chemotherapy.
Copley, who was born in London in 1953, was a session musician
who had long played with Jeff Beck. In addition, he had stints
with Graham Parker, Tears for Fears, the Pretenders and Manfred
Mann's Earth Band, among many others.
In 2008, Copley released his first solo album Slap My Hand. The
album featured performances by a huge array of artists, including
Beck. He was known as the master of the open-handed drumming
technique, which involves not crossing hands when playing the
high hat and snare drum simultaneously.
This morning, Copley's Facebook page quickly filled with
remembrances from friends and other musicians, with many calling
him one of the best drummers and people with whom they've ever
worked.
Copley's kindness showed even in his final days, when, according
to the University Hospital Bristol, his hospital room was
transformed into a temporary recording studio so that he and
friends could record an EP to benefit the Bristol Haematology and
Oncology Centre and Royal United Hospital in Bristol.
In addition to Copley, the EP Psyche Funk features Anthony Head,
Robert Hart of Bad Company, Chris White of Dire Straits, and
Charlie Jones (who played with Robert Plant and Page and Plant.)
"I'm making the EP to give something back to the wonderful people
at the NHS wards that have treated me," Copley said. It gave me
something to aim at during the dark days. I feel good about
leaving some new music behind."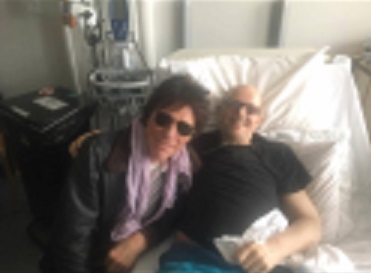 Jeff visiting Jimmy in hospice.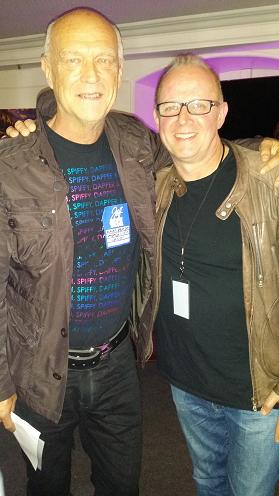 Dick and Jimmy back in 2014 in the UK.
One Jeff and Sandra siting a couple of months back...they attended John McLauglin's show at Ronnie Scott's on March 14th.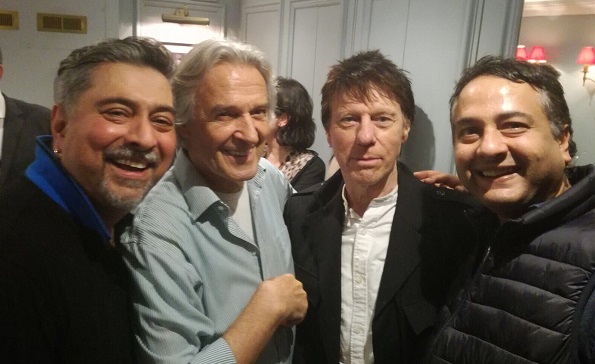 Finally, got this letter from a fan.


Hello,
I've been following your website for years; I just wanted to
share a Jeff painting I just finished; its 24x30 oil on canvas.

I need to get a better pic and I'm doing some minor touch ups
though; what do you think? Any possible way of getting this out
to Jeff?

Thanks, Jason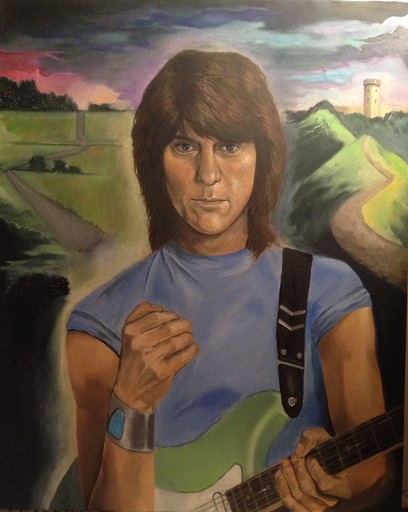 What do you think? Pretty good, right?
This is a late add...as I mentioned before Rhonda Smith was at Sweetwater's GearFest 2017 last week but I didn't know that JB2 (aka Jennifer Batten) was there as well giving clinics. Sweetwater has just released videos interviews with both these ladies as well as another Jeff Beck alum, Terry Bozzio. Terry was at GearFest with what only can be described as a sick drumkit. Check em' out.
Be seeing you. BA
---
February 16, 2017
Ok, time to get back to work. I have a confession. I have been putting off the updates on the page because when I do them it reminds me that Dick is gone. At some point in the writing I think 'I've got to call Dick and ask him...' and then it hits me, oh, that's right. Anyway.

Two big things happened since the last update the first and foremost being Jeff's 'Orient Tour'. Our Japanese correspondents, Hiroko, Toshi and Yukinori sent us a ton of photos. It's going to take us a while to wade thru them but as of right now I'm hoping to feature them in a new JBB#22.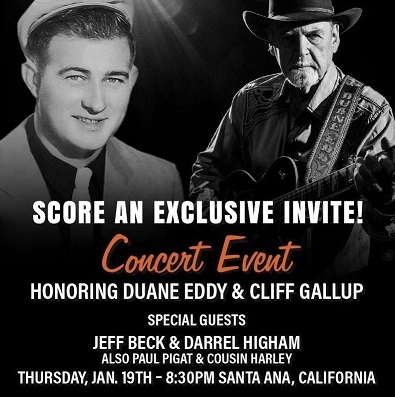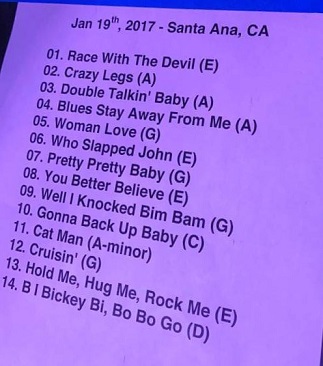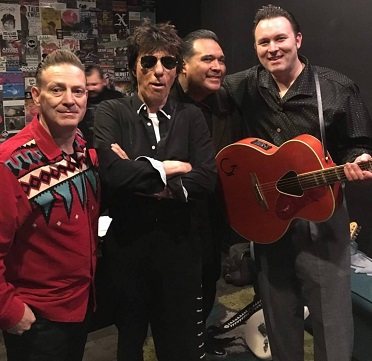 The other big thing was that Jeff took sort of a detour on his way to his gig in Seoul and played a private show tied to the NAMM convention in Anaheim, CA on January 19th. He played a set of Gene Vincent/Cliff Gallup songs with Darrel Higham at an offsite venue call 'The Observatory' in nearby Santa Ana, CA. The event was put on by Gretsch guitars to announce their new 'Cliff Gallup Signature Duo Jet' guitar. The event was private for the lucky 350 guests some of whom did win tickets thru a contest on the Gretsch website. Gretsch also announced a new 'Duane Eddy Signature Limited Edition Hollowbody' and so of course Duane played a set as well and he and Jeff jammed at the end of the show. Here's links to all the media and YouTube videos we've collected.
Next item up comes from Ed Chapero and features his talent for finding the slightest thing on the internet that has anything to do with Jeff. A Montreal based film company called Rezolution Pictures has produced a film that was premiered at the Sundance Film Festival January 22nd entitled 'Rumble, Indians Who Rock The World'. Here is the link to an article about the film. The relevant paragraph is...


"Jeff Beck, who is considered one of the greatest guitar players
on the planet loves Link Wray and loves Native American culture.
He even told me how he and Jimmy Page from Led Zeppelin would
play air guitar to Link's records as teens but he didn't know
Link Wray was a Shoshone Indian and yes he flipped when I told
him."


I found this funny, I used to do the same thing! My older sisters bought me 'Link Wray And The Wraymen' back in '59, LOL.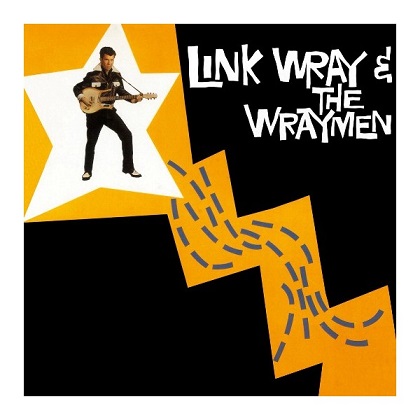 Vocalist extrodinaire, Beth Hart has a new album out...'Fire On The Floor'. It was released in Europe last October but the US release that dropped on February 3rd had a bonus track that featured...wait for it...wait for it...Jeff Beck! The track, 'Tell Her You Belong To Me' is a remake of a song penned by Beth that appeared on her 2015 release 'Better Than Home'. Here's a YouTube link to the track.
A reminder, last update I mentioned how Jeff recently bought an air raid siren from one Paul Lawrence. His signed acoustic guitar that Jeff played in his very own kitchen is still available so if your interested...Also, if you're interested in a used air raid siren I think Paul has a few left.
Lastly our pic to remember Dick...hey, that's the new catch phrase! Dick with Tyler Bryant, 2012.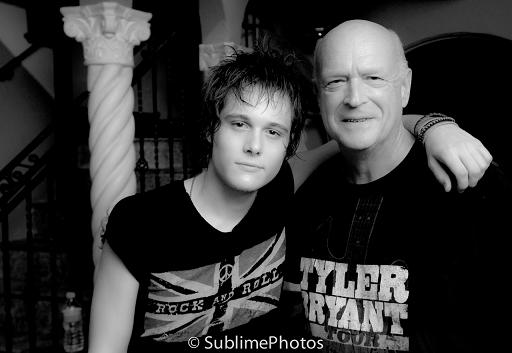 Be seeing you.
---
January 7, 2017
Happy New Year all. We got thru the holidays but it was sad without Dick, but we press on.

The 'Orient Tour 2017' kicks off January 22nd. It was the 'Japanese Tour 2017' but then a date in Seoul, South Korea was added so...here again are the dates and the line up.

January
    22 Seoul, South Korea (Olympic Park)
    25 Yokohama (Pacifico Yokohama)
    26 Sendai   (Sendai Sunplaza Hall)
    28 Morioka  (Iwate Kenmin Kaikan)
    30 Tokyo    (Tokyo International Folum Hall A)
    31 Tokyo    (Tokyo International Folum Hall A)
February
    02 Osaka    (Grancube Osaka)
    03 Fukuoka  (Fukuoka Sunpalace)
    04 Hiroshima(Hiroshima Ueno Gakuen Hall)
    06 Nagoya   (Nagoya City Hall)
    07 Hyogo (Archaic Hall)

Jeff Beck...guitar
Rhonda Smith...bass guitar, vocals
Jonathan Joseph...drums
Jimmy Hall...vocals, harp
Carmen Vandenberg...rhythm guitar
Rosie Bones...vocals

On Febuary 1st, a deluxe edition of 'LOUD HAILER' will be released in Japan with 3 bonus cuts: live versions of "Live In The Dark", "Scared For The Children"and "The Revolution Will Be Televised" recorded live in Baloise Session, Basel, Switzerland October 22nd.
A DVD/BluRay of Jeff's 50 Year Anniversary show in Los Angeles from last August is in post production and a release date is expected the first quarter 2017 on Eagle Vision.
Here is a tidbit I posted last update...
Came across this curiosity last month...on YouTube a video entitled 'Jeff Beck playing MY guitar in MY Kitchen'. Sounds interesting let's look...https://www.youtube.com/watch?v=Mdb4l7tOnIg. This was posted by 'atticboy11'. On the page you'll notice he states that Jeff was at his house to buy something, that's it. If you go and look at atticboy11's other videos it seems he likes air raid sirens. Would Jeff buy an air raid siren? It seems all you could do with one would be to scare off birds or piss off your neighbors. Hmmm. Now comes the 'what would Dick do' moment. Further investigation of atticboy11's video gives us his name, Paul Lawrence and his email. Dick would have definitely contacted this guy to get the story. Am I? No.
Now, I never did contact Paul Lawrence, but guess what? Out of the blue he contacted me!! He saw this post somehow (is Dick pulling some strings from somewhere?) and sent me the following email...


Subject: I'm the guy who Jeff Beck bought an air raid siren
from :-)

Hi Bill,

I came across your blog / website where you refer to the YouTube
video of Jeff Beck coming to my house.

He did indeed come to my house to buy an air raid siren. It's a
strange story, but his wife Sandra contacted me as they had seen
my siren videos. They wanted one as part of an alarm system for
the barns with his hot rods in. I didn't realise who it was at
first, but worked it out by the time they came and I asked him
to sign my old guitar, which he kindly obliged. Before he signed
it, he just picked it up and played it, so I shot the video.

Although, appreciate his awesome talent, I'm probably not as
bigger fan as you guys.

To that end, I would consider selling the guitar to go to an
appreciative home and invest the money in my other hobbies. Do
you know any fans who would be interested. I attach a photo of
the signed guitar. I'm sure you'll agree that you can't get
better provenance than a video of him playing it :-).

Thanks for mentioning my video in your blog.

Happy New Year, Paul.

OK, Jeff bought an air raid siren to hook up to the burglar alarm of the garage that houses his hot rods...that is too funny. As we mentioned back in 2006 Jeff had a really cool new garage built on his property to house his many cars. Built by Karl Terry of Kent, heres a pic of it.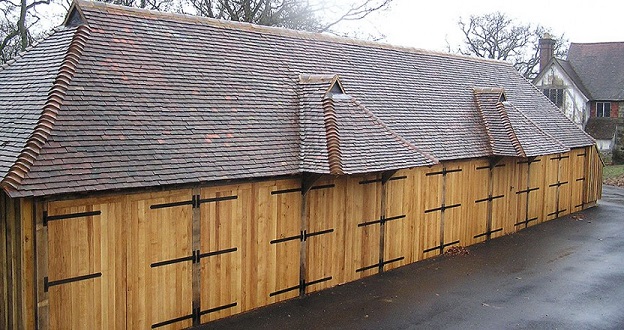 Here are a couple of pics Paul sent. If you're interested in the guitar, send me an email and I'll put in touch with Paul.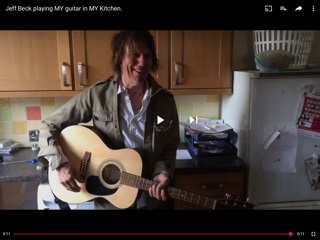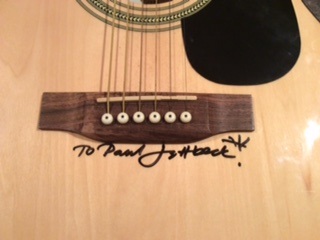 Next item comes from Ed Chapero. He sent me an ebay posting that was very interesting. It was for a 1/4" 15ips master tape of some BBA rough mixes recorded at Tel-Mar studio (owned by Chess Records) in Chicago, December 1972. The cuts were; 1.)I'm So Proud 2.)Lose Myself 3.)Superstition 4.) Why Should I Care 5.) Lady 6.) Livin' Alone 7.)Chant. The ebay posting was very long and detailed but a fascinating read. The auction closed about a day after I got the link so luckily I copied the entire description. I made a seperate html of this because it is very long. You can read it here. I contacted Carmine Appice and asked if he had any comments, which he didn't but he did send on his condolences for Dick.
Also from Ed C...this item that shows how change is constant. A new look and sound for Imelda May. Following her recent break up from former Big Town Playboys and Imelda May Band guitarist Darrel Higham, Imelda has a new album out 'Life Love Flesh Blood', produced by T Bone Burnett and featuring Jeff Beck and Jools Holland as well as the guiding hand of Bono, who mentored her throughout the process. As you can see by the photo below, sultry new look. And here is the UK Standard article link; http://www.standard.co.uk/showbiz/celebrity-news/imelda-may-debuts-new-sound-and-new-look-after-marriage-breakup-a3399421.html. Make sure to check out the video.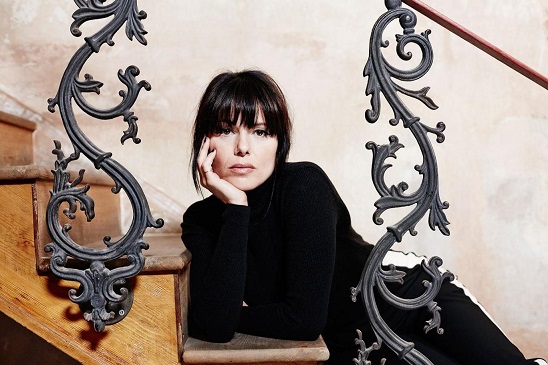 Lastly, for the last few years we've been ending our 'What's New' posts with old pictures of Jeff. I think this year we'll end with old pictures of Dick that we've posted since we started this endeavour 22 years ago...here's Dick and Sandra from his UK trip a few years ago. And of course we'll end with 'Be seeing you...', Dick's line from his favorite TV show 'The Prisoner' and the last words I spoke to him when I saw him last, the morning of September 3rd, 2016.
Be seeing you...
---