January 18, 2012
In the world of Jeff Beck Bizzaro here are three gems. The first is a YouTube mix of Jay- Z's "99 Problems" done over the backing track to Jeff's "Roy's Toy" The second on YouTube an unreleased attempt at salvaging Herman's Hermit's career after their string of hits with "Tallyman" done in the same vocal style as Jeff's version sans of course the master's guitar. Finally we have the Frank Zappa movie "unclassic" 200 Motels. In a scene, the guys from the Turtles, Howard Kaylan and Mark Volman, sing satirically about a groupie who's attire is complete with "tennis shoes I got from Jeff Beck". We note for historians that a recently let go from the first Jeff Beck Group, Aynsley Dunbar, was drumming for The Mothers Of Invention at the time of the making of that movie. He is featured prominently in many scenes. Hmmmmmm..............

http://www.youtube.com/watch?v=b2XofKaha9k&feature=related

http://www.youtube.com/watch?v=fzRjto1gxHA

Just when we thought we had unvcovered every YouTube nugget, we find our friend Seymour Duncan using a Seymorized Esquire reworking the Jeff Beck era Yardbird's classic "Still I'm Sad".

http://www.youtube.com/watch?v=fzRjto1gxHA

Jeff Beck 2006 tour singer Beth Hart with young sensation guitar slinger Josh Gooch in a kick ass version of Jeff's favorite lol (he actually nixed it in several early Beckology attempts ) "Stroll On" from the film "Blowup". Here's a taste, just a minute or so to COA.

Tyler Braynt ended up in 2011 with a compilation of memories from touring including now twice in a lifetime stints on encores (and backstage noodling) with Jeff Beck. Check out this YouTube of Tyler's Memories from 2011.

http://www.youtube.com/watch?v=-2VTapxSILw

Jeff is in the line-up of the newly announced Hubert Sumlin Memorial show to be head at New York's Apollo Theater February 24. Jeff will join Eric Clapton, Derek Trucks, Gary Clark Jr., Keb Mo, Doyle Bramhall, Kenny Wayne Shepherd, Dr. John, Levon Helm, Shemekia Copeland, Steve Jordan, Willie Weeks, Ivan Neville and more. Surprise guests are likely. Stay tuned for more information including ticket on sale details. Tickets are expected to go on sale soon. Lineup subject to change.

THIS LATE ADD...THE LINE-UP DID CHANGE....JEFF ISN'T APPEARING!!

Also a major tour announcement is expected any day.

THIS LATE ADD...TWO AMERICAN DATES...HUNTINGTON, NY, MARCH 16 & 17...TICKETS ON SALE NOW AT TICKETMASTER AND THE PARAMOUNT THEATER BOX OFFICE.
---
February 29, 2012
Hey! This is a 'leap' update. Our first I think.

So as you all know by now there have been some delays in Jeff's new CD so the New York and Toronto dates that were announced earlier this month have been postponed. Jeff's gig at the White House might have thrown a monkey wrench into his plans but hey, that's a gig you can't pass up. Watching the live feed online February 22nd was interesting. You could see how they record these shows for a later airing. Lots of techs arranging mics and things between songs, mis-starts on songs, mis-starts on the hostess doing her thing. Most interesting is what gets left on the cutting room floor. There was a running joke going on between President Obama and Mick Jagger about telling the audience, "please sit down, when you're standing up I can't see the teleprompter." Hah. That was left out as well as Jeff's 'Brush With The Blues' that was only song that Veronica and Rhonda played on. They have posted the entire show at; http://video.pbs.org /video/2202477799
Courtesy of Doc, here's the set list and house band members.


1. "Let the Good Times Roll" (Ensemble w/o Jagger)
2.. "The Thrill Is Gone" (B.B King)
3. "St. James Infirmary" (Trombone Shorty)
4. "Let Me Love You Baby" (Buddy Guy, Jeff Beck)
5. "Brush With The Blues" instrumental (Jeff Beck)*
6. "I Can't Turn You Loose" (Mick Jagger)
7. "Commit A Crime" (Mick Jagger, Jeff Beck)
8. "Miss You" (Mick Jagger, Shemekia Copeland, and Susan Tedeschi)
9. "Beat Up Guitar" (Shemekia Copeland, Gary Clark, Jr.)
10. "Catfish Blues" (Gary Clark, Jr.)
11. "In The Evening (When The Sun Goes Down)" (Gary Clark, Jr.)
12. "Henry" ( Keb' Mo')
13. "I'd Rather Go Blind" (Susan Tedeschi, Derek Trucks, Warren Haynes)
14. "Five Long years" (Buddy Guy, Jeff Beck, Gary Clark, Mick Jagger)
15. "Sweet Home Chicago" (Ensemble) 
*Rhonda Smith - bass guitar; Veronica Bellino - drums
house band : Booker T. Jones - organ; Narada Michael Walden - drums; Jesse Johnson - guitar and Bobby Avila - bass guitar;
horn section: Fred Wesley - trombone; Ernie Fields, Jr. - sax; Freddie Hendrix - trumpet
addtional drummer on "Let Me Love You" and "Five Long Years" - Tom Hambridge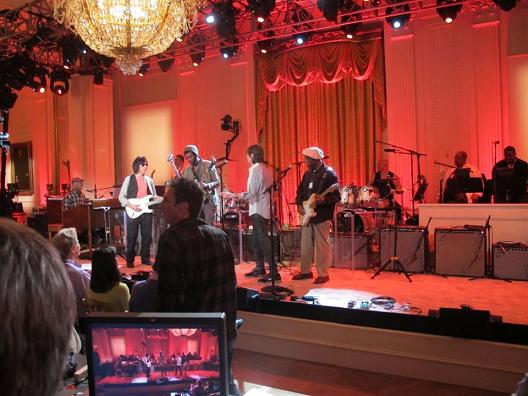 Several weeks ago when the Huntington, NY dates were announced, our friend Eric Mirell, after buying tickets to both shows, got on Jason Rebello's Facebook page and asked if he was playing the shows. The picture below was included with his reply which was, "No I'm afraid not. It's time for me to move on. Thanks for your support and I hope you enjoy the show." 'It was a pleasure playing alongside a guitar master - that's what Jeff told me anyway' Hah.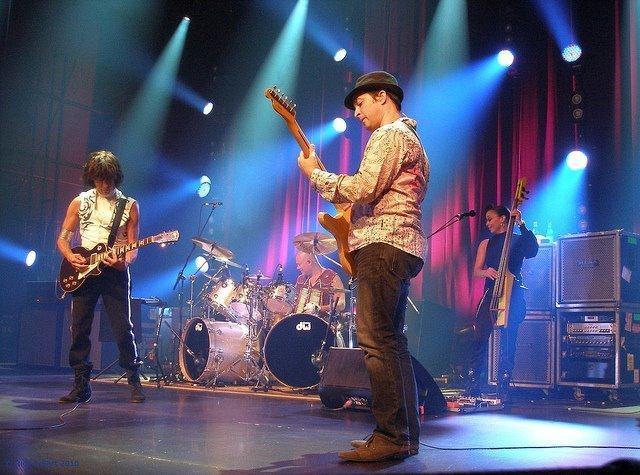 We get photos sent to us from time to time that we like to share with you. The latest here features one we got from Jim Copley. Here's Jim, Jeff and Pino Palladino taken when they were recording for the 'Slap My Hand' Lp.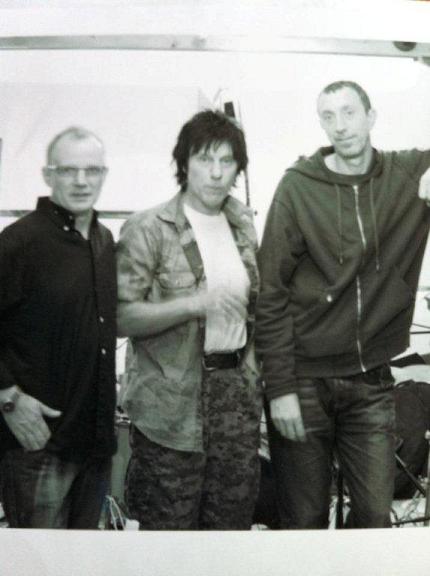 Here's another from our 'Fudge' pals....Vinny Martell, Carmine Appice and Mark Stein after a recent gig in NYC. A date they shared with the Yardbirds with one Jim McCarty.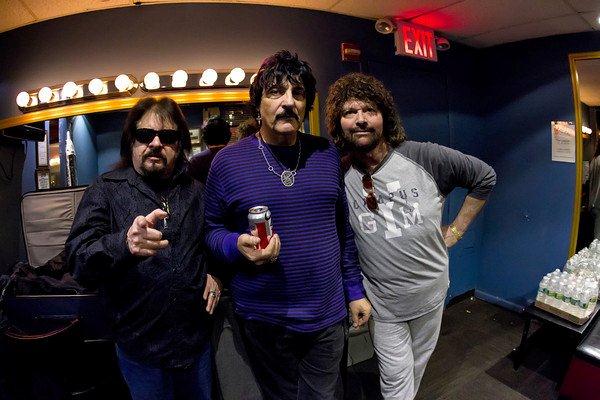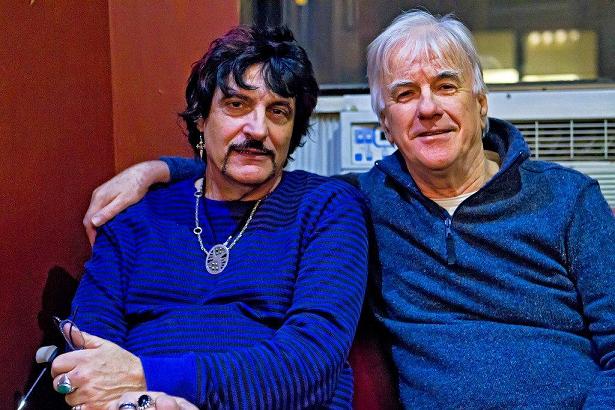 Both Courtesy Arnie Goodman And Smugmug
A nice interview with our friend Robert Knight appeared recently on the Artist Direct website; http://www.artistdirect.com/entertainment-news/article/take-aim-with-nikon-photographer-robert-knight/9910142. His favorite subject? Jeff, of course.
We mentioned awhile back on our marquee that Jeff recorded a killer version of 'Like A Rolling Stone' with Seal for a Bob Dylan tribute CD. Courtesy again from Doc here's the session credits.

"Like A Rolling Stone"
Produced by Martin Lewis & Mark Hudson
The Musicians
Seal - Vocals
Jeff Beck - Guitar
Russ Kunkel - Drums
Leland Sklar - Bass
Jim Cox - Hammond B3 Organ
Laurence Juber - Guitar
Mark Hudson - Guitar & percussion
Backing vocals by "Brown Splenda": 
Antonia Salerno • Sarah Garrison - Lisa Margaroli 

And lastly, from the "sessions that never saw the light of day category" comes a Jeff tribute from Jethro Tull guitarist Martin Barre during an interview:
***************************
The best guitarists have an instantly identifiable sound. It seems like you've have that from your earliest days with Tull.
Wow. I don't know what to say, because I do change gear and guitars but I guess I'm still me [laughs] – same fingers, same brain. It's a complex thing to me. I listen to other players, and I think it's the same deal. Before I joined Tull I was doing a session for one of The Animals – Hilton Valentine, the guitar player for The Animals – and he had Jeff Beck coming in to do a solo. He didn't bring anything with him. He just sort of picked up a guitar that was in the studio – he found an old amp – and there he was. It sounded like him. That was an early lesson – whatever you use, the sound is a physical, bodily thing. It's an entity that comes from inside you – your fingers, the pressure you use – there are so many variables that produce the sound.
***************************
---
September 4, 2012
We know, we know, we've heard from you and please accept our sincerest apologies for not updating 'What's New' in six months. Lots of stuff has happened but nothing earth shattering. Anything important we've just been putting blurbs on the marquee. We have added a few things to JBB#18 in the last six months...including Martin Power's cool interview with Neil Murray.

Latest issue of Vintage Guitar magazine has a nice article on Jeff...
http://www.vintageguitar.com/9486/jeff-beck/
Print it, keep it...first four pages all history we all know. After that the gear stuff and an interview with Steve Prior, the good stuff!

One of Jeff and Sandra's favorite charities, Folly Wildlife Rescue had a Jeff Beck memorabilia auction on ebay last month...here's the link to the info.

Jeff's made several high profile appearances in the last six months and lucky for us they're all on YouTube!

Jeff appeared at the White House(yes, that White House) in March 2012 with Mick Jagger;
"Commit A Crime" http://www.youtube.com/watch?v=qCmk8tD9qdY w/Rhonda, Veronica and Booker T
"Brush With The Blues" http://www.youtube.com/watch?v=iv4RuGP2GEk
See the full performance including Jeff with Buddy Guy and the White House Blues All Stars at PBS.org

Jeff also appeared on Saturday Night Live in May 2012 with Mick Jagger;
"Presidential Blues" with Tal and Vinny C. http://www.youtube.com/watch?v=5ySODio4fmg
Lastly Jeff Beck with Pete Townsend play at the BAFTA film tribute to London, June 2012;
"Love Reign O'er Me" http://www.youtube.com/watch?v=XuWoLR_fU-k
The White House stuff was brilliant. It was very interesting to see the live feed that the White House website put up the night of the taping of the show. All the mis-cues and 'do overs'. You could tell the president was digging it all some others in the audience didn't know what to make of it I think. B.B. King at 83 still doin' it, unbelievable. The SNL appearance was little disappointing. Mick and Jeff were relagated to the very last spot in the show. The performance seemed rushed and probably shortened. The song, 'Presidential Blues', just so-so. Really thought it was great Pete asked Jeff to play 'Love Reign O'er Me' with him. We know Jeff likes doing orchestral work, just funny seein them sitting on chairs in the electric guitar section of the orchestra!
Dick had dinner with Yardbird's promoter Russ Garrett several weeks ago in Fort Lauderdale. Besides talking about old stories Russ mentioned that the Yardbirds were thinking about planning a 50th Reunion next year. We hope they ask Jeff to guest at an event and we are sure you fans do as well!
Dick has also been reminiscing with Jimmy Copley about UPP lately. The Underhill studio where they first met Jeff and Carmine in June 1973 was built for Jimmy by his dad. They recorded a version of "Get Down In The Dirt" right away in the same style as was on the BBC Five Faces Of Guitar special. For the 1st UPP LP Jimmy wanted to slow it down and rearrange a bit.
Then Jim dropped the bombshell on Dick..."There is a version of 'Blow By Blow' with Stephen Amazing on bass! Jeff took that master to George Martin who told Jeff sorry but that Epic already had started to release the lp in the States. David Bunce, the UPP guitarist on the second lp save the Jeff guest spot, absconded with 12 tracks that made it to various bootlegs has been in touch with Jim on FB. I suggested they get a keyboard and bass and maybe do an UPP reunion. For the record, in the late nineties Jim did authorize the last official release, a compilation of the 1st two lp's plus seven of the best 12 meant for the third lp that never came out tracks.
Pictures, pictures...a lot have come into Dick's office in the last six months. Well, it's not an office really more like a cubicle made out of old pizza boxes but here they are anyway.
A picture from Carmine Appice's garage...a red De Tomaso Pantera. From the desription we got with the pick we're guessing it's a '72. Carmine had this car over in the UK for a while and he and Jeff would cruise around in it listening to Billy Cobham's 'Spectrum'. We have a friend back in Massachusetts that still his blue one, not sure the year. Back in the 70's we had another friend that had an orange '74, these are great cars!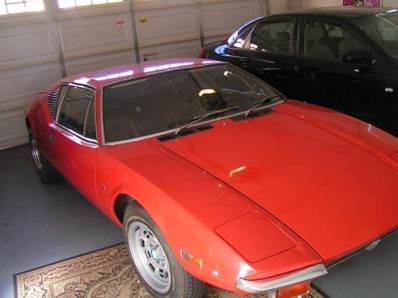 Not to be outdone...a fairly recent pic of Jeff in his garage with two of his Deuces...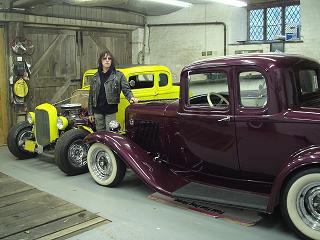 From the White House gig...Jeff with one of the nicest guys on the planet, Booker T...we're guessing this wasn't taken in the White House unless they've put in a new bar we don't know about.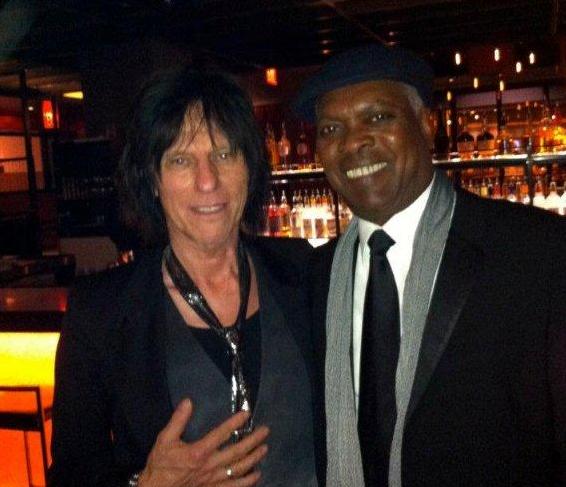 We got this great pic of Jeff outside of his Riverhall estate from our old friend Robert Knight....it was taken when Robert visited Jeff for his 'Rock Prophecies' film...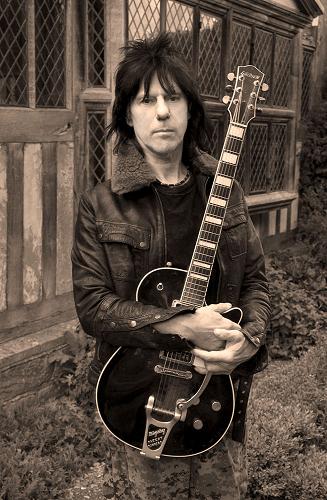 Lastly, a very gnarly pic of Jeff from the Shrine Auditorium, LA, 1968. The photo was taken by Norwood Price who like us has contributed to Annette Carson's and Chris Hjort's Jeff Beck books....thanks to 'Papi' for digging this up for us...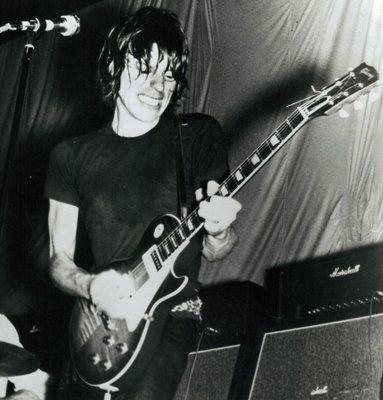 If you can find it....a new rockumentary, 'Louder Than Love, The Grande Ballroom Story' is out. Look for pics and snippets of the JBG in it. Not sure how much is in it but we love this kind of stuff.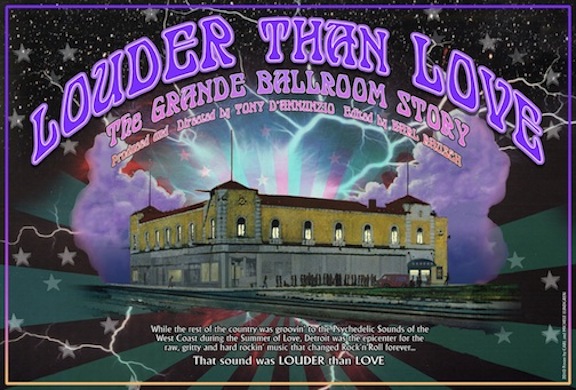 ---
November 25, 2012
Wow, I guess this will probably be the last update for 2012, time flies. Lots of news to report. First, it seems Jeff has parted ways with Harvey Goldsmith. We think we know who his new management is and as soon as we get all the info we'll pass it on. We might know by 1.15.

Several high profile gigs coming up for Jeff. The first, he will be guesting with The Rolling Stones when they play their November 25th and 29th dates at the O2 in London and at least the second show at The Prudential Center Newark, New Jersey, December 15th which will be on pay-per-view. We're not sure if he'll be included in December 8th show at the Barclay's Center show in Brooklyn or the first Prudential Center show December 13th. We got a hint of this when Keith Richards did an interview with Rolling Stone Magazine a while ago. Then Ron Wood mentioned that Jeff had been rehearsing with The Stones on BBC-1 show just the other day. It was all confirmed on November 24th via The Rolling Stones twitter account. Mary J. Blige will also guest and all of the Stones 50th anniversary shows will include guest appearances by Bill Wyman and Mick Taylor. Should be killer.

Keeping Jeff busy in 2013, the line-up for Eric Clapton's Crossroads IV 2013 exstravaganza has been announced. This year the show will be mercifully held indoors at NYC's Madison Square Garden April 12 and 13, 2012. The line-up;


Jeff Beck
Dave Biller
Booker T
Doyle Bramhall
Allman Brothers Band
Gary Clark Jr.
Eric Clapton
Citizen Cope
Robert Cray
Andy Fairweather Low
Vince Gill
John Mayer
Blake Mills
Keb Mo
Brad Paisley
Robert Randolph
Kurt Rosenwinkle
Robbie Robertson
John Scofield
Keith Urban
Jimmy Vaughan
Buddy Guy
Allan Holdsworth
BB King
Earl Klugh
Sonny Landreth
Jonny Lang
Albert Lee
Los Lobos
Taj Mahal     

Jeff is currently setting up his road band for 2013, we'll get you the details soon. Tickets go on sale November 30th, for more info go to; www.crossroadsguitarfestival.com.
Coinciding with this U.S. activity, we're expecting those cancelled dates at the Paramount Theater in Huntington, NY to be resheduled sometime around then.
Guitar Player Magazine recently voted Jeff Beck the #1 guitarist to see live...one of the few things they've gotten right in the last 20 years.
Jeff appeared at 'Luciano's Friends' – in Italy on September 6th. A few weeks later, on September 22nd he appeared with Italiano rock star Zucchero on one song at the 'Italia Loves Emilia Festival'. Molto bene!
Jeff Beck sitings!....Jeff showed up the Classic Rock Awards show at the Roundhouse, London, last week. Ross Halfin took some nice shots of Jeff with Billy Gibbons, check them out at; www.rosshalfin.com. Also, we were watching Later With Jools Holland on the Palladia channel last week. Beth Hart was one of the guests. She performed alone accompianing herself on piano. She is an excellent pianist by the way and her singing as you know, unbelieveable. Check out her CD with Joe Bonnamassa is you haven't. Anyway, during her performance in the shadows behind her piano we thought we saw a familiar silhouette sitting at a table...that haircut unmistakable...yes, there was Jeff, floored by Beth's performance, we think Sandra is on the other side of the table but it was very dark. Jools never mentions Jeff's presence.
Pics, pics, pics, we love pics. Very cool link; http://rockinhouston.com/performers/jeff-beck/298/. Tons of vintage Jeff Beck shots of his performances in Houston, TX.
Dick once again brought Tyler Bryant And The Shakedown to Miami for a show last September. Villa 221, hippest spot in midtown. The entire Jeff Beck Webpage staff had a great time even though the show ended in a deluge of rain. Tyler and the boys had a good time too despite Tyler falling off the stage during soundcheck...Tyler, don't try to walk behind the drum riser next time! Also, did you see them on The Jimmy Kimmel show? This kid is going places.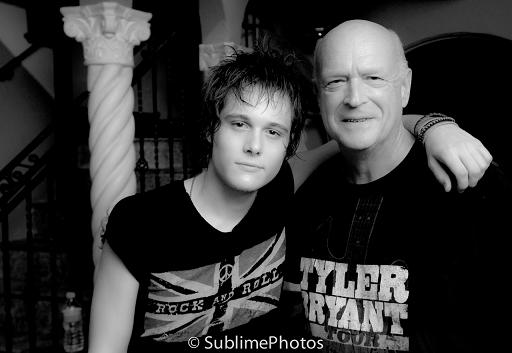 Tyler Bryant with the evenings host.
This is very cool...how would you like a guitar lesson from Jennifer Batten via Skype? Well you can, just contact her at; posse@earthlink.net. As always you can see what she's up to at; www.jenniferbatten.com. She is currently doing some dance clubs dates featuring her Michael Jackson remixes.
Lastly, our hearts go out to all our friends affected by Hurricane Sandy. Ainian.com was briefly down due to the storm but thanks to our good friend Eric Mirell we're back up and better than ever. Eric is responsible for upgrading ainian.com to a state of the art cloud server that we hope Jeff Beck fans will enjoy for years to come. We also would like to thank JP Lamon for our European mirror site at www.jeffbeck.ch that kept our presence on the net for the brief time ainian.com was down. Cheers and 2013 looks to be a very exciting year for Jeff Beck fans!!
---
December 16, 2012
Jeff Beck did a gig December 13th at Mama Stone's Club in Exeter,UK with an entirely new line-up. Mama Stone's coincidentally is owned by Joss Stone's mom. Here's a pic what could be some the members of Jeff's new band with Jeff and Joss;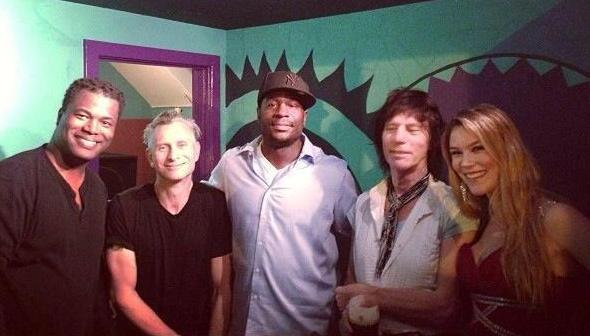 Jonathan, Pete, Ray, Jeff and Joss
Here's what we know about the folks in the pic;

Jonathan Joesph - drums. Originally from Miami, Jonathan has previously worked with David Sanborn and Pat Metheny. He is also Joss Stone's stepdad and helps Mama Stone run Mama Stone's.
Pete Iannacone - bass. Plays bass in Joss' band. Has also worked with Shakira and Taylor Dayne.
Ray Angry - keyboards. Has worked with Whitney Houston, Christine Aguilara, D'Angelo and has guested with The Roots.
Jeff Beck - plays guitar or something.
Joss Stone - guest soul singer extrodinaire.
Jeff and band played numbers from his entire catalog and Joss joined them for several songs.
We're not sure what the final line-up of Jeff's new band will be but there is a strong possibility in will include his previous bassist Rhonda Smith.
Here's the complete setlist;


Blue Wind
The Pump
Stratus
Led Boots
Cry Me A River
I Put A Spell On You
Little Wing
No Other Me
Fell In Love With A Boy
Beck's Bolero
Angel (Footsteps)
You Never Know
You Know, You Know
People Get Ready

Here's a couple YouTube videos of that night;


More info as soon as we get it.

Be seeing you.
---