December 12, 2007
Well, this will probably be the last update of the year and it's been a good year for Jeff Beck fans. Lots of live performances and happenings to keep our interest piqued. First off a little regression. We should have put these up a while ago but computer problems where Bill works put us behind a little. Here are some fantasic picture from Jeff's appearance at Montreaux last summer.....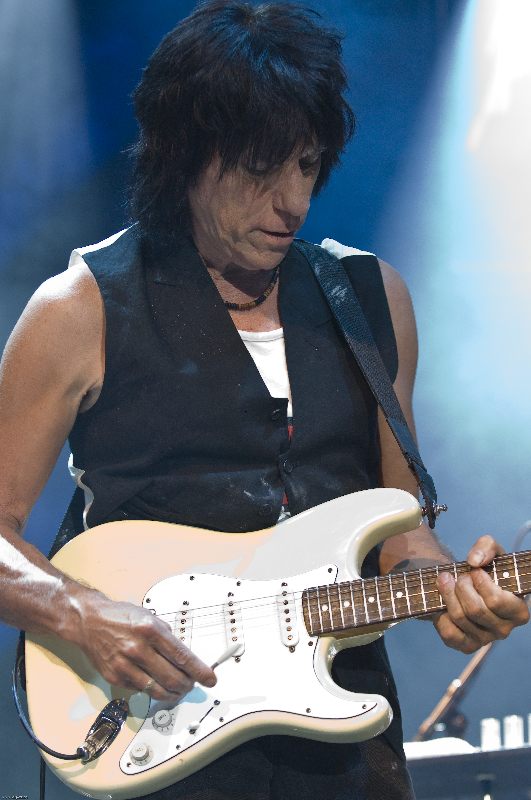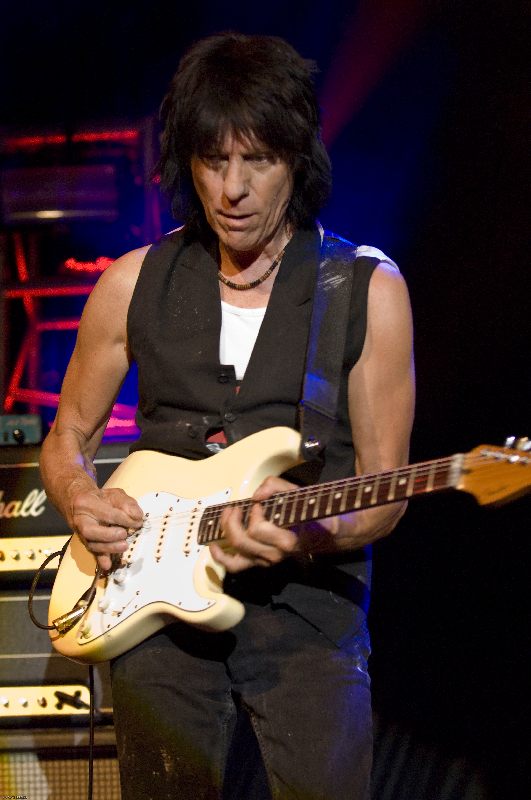 These are just a sample from our friend Ueli and for the whole collection visit his website at;

www.drjazz.ch/album/jeffbeck.html
Proceeding now in sort of chronological order....The DVD from Eric Clapton's Crossroads is out...2 disc set from Rhino Entertainment, a two hour version recently ran on PBS here in the states and included the two numbers from Jeff's set that are on the DVD; CWEAL or 'Syreeta' as Stevie calls it, and Big Block, both done very well we might add. Two asides....there is a boot of Jeff's entire set out there, I guess from the microsoft.com feed from that day, don't know, and we just saw where Eric and Steve Winwood are doing some shows in February in New York at MSG, a must see if you're in the area.
We've heard Guitar Player Magazine has an article in their December issue entitled, '10 Ways To Play Like Jeff'. We always love these kind of articles because they're hilarious in their uselessness. Over the years people have asked us about Jeff 'tabs' and so on and while we try and point them towards the few that are out there we also explain that you could have the most detailed instructions of this sort to play a Jeff Beck song, and in the end it's futile because NO ONE can play like Jeff. Our opinion anyway. Above and beyond the actual notes, I've yet to see ANYONE figure more than just a few elements of Jeff's technique, not to mention what's going on in his head, heart and hands. '10 Ways To Play Like Jeff', you might as well write an article on '10 Ways To Form A Groundbreaking Theory In Physics Like Albert'.....Way #1: Be born a genius.
Okay, now that we have that off our chest....it's time for (drumroll)....Ronnie Scott's Roundup! Where will try and figure out what the hell went on November 27th through December 1st. This is what we've figured out so far, sure to have some errors, but hey, we try. We're also expecting some more first hand reports, we'll add them when we get them.
Tuesday, November 27.....
Imogen Heap was the guest artist this night....we believe the setlist was the same as the November 30th setlist when she appeared again.


Beck's Bolero
Breath Eternal
Stratus
Cause We've Ended As Lovers
Behind the Veil
You Never Know
Nadia
Blast From the East
Led Boots
Angel (Footsteps)
Scatterbrain
Good-by Pork Pie Hat (Intro) ~ Brush with the Blues
Space Boogie
Blanket (Imogen Heap song)
Big Block
A Day In the Life

Encore:
Rollin' and Tumblin' (Imogen again)

Encore:
Where Were You

From Michael de Albuquerque, Tuesday, November 27th........
What an irresistible opportunity-to see Jeff gig in a tiny club-I have been a fan of Jeff's work from Yardbird days.I loathed "Hi Ho Silver Lining" and the group he had with Cozy Powell-(rubbish material)..BBA got even worse..then…Blow By Blow…Jeff found his feet..using his guitar to sing a melody..which he continues to do to the present day-I credit Tony Hymas with providing some great melodies to assist Jeff in this quest….now to the 27th…I sat centre stage about 15ft back….first impression-what a fantastic sound in this club,the new PA with sound coming out of the ceiling is outstanding. Second impression-the warm up band are being allowed to use the Beck Band bass Amp and Keyboards-nice vibe.Now…..a ludicrous cockney accent introduces the main event…On comes our boy….63 years old-in great shape-black rooster hairstyle…Souix necklace with General Custer's front teeth hanging from it..bracelets,.thongs etc-all dressed in black-thanks Jeff for getting dressed up for us-fantastic. He grabs the white Stratocaster and goes straight into "Beck's Bolero".Right from the word go-everyone looks happy…and although the stage is small Jeff does his showy flourishes within about a 15 ft span,left to right….As he starts "Cause we Ended as Lovers"…I am concerned for him as this is a very delicate piece..he is very exposed…and the audience is right on top of him….it turns out to be one of the best versions he has done in recent years..and Tal's bass solo is exquisite…a superb addition to this tune. The atmosphere in the band is a pleasure to watch….Jason is always grinning from behind the keyboards… playing a beautiful chord-looking at Jeff,as if to say-"Right-what are you going to do with That!!?"Tal smiles..and smiles even wider when Jeff looks at her… Vinnie reserves the occasional smile for Tal-otherwise very concentrated…A musical note-Jeff had an echo box on his amp top, which he switched on and off himself where usually the effects appear as if by magic(ie the sound engineer puts it in phrase by phrase)…a couple of pedals on the floor….and the legendary refusal to check his tuning until very late in the set- no matter,he bends it into tune or shortens the notes.
There is no noticeable missed harmonic tonight…and this is particularly remarkable because Jeff went at it like a tiger-absolutely fearless,which is how we like him-GO for it..and if you miss occasionally-no problem..it is the spirit we like.Vinnie stays very close to Jeff, musically,at all times-if Jeff has any timing discrepancies ,Vinnie covers those as well-supplying endless subtleties to emphasize power chords or a small phrase.Tal has put a lot of delightful musical improvisation into the well known set pieces- a very freshening ingredient.
At the end of the show the audience was still stunned by the quality of the performance-and many of them, like me, come away very grateful that we had the chance to witness the great man at such close quarters-AND-playing better than ever.
This review appeared on the 'This Is London' website...


At the Beck and call of a rock legend
Brendan Quinn, London Lite 28.11.07 
Charismatic: Jeff Beck let his guitar do the talking
Jeff Beck last played in the UK more than three years ago - his first gig since 1990 -
so the run of five nights at Ronnie Scott's is one of the most sought-after tickets in town. 
He may not have hit the big time as consistently as fellow Yardbirds Eric Clapton or Jimmy
Page, but his trail through rock 'n' roll is mythic enough - this the man who invented
heavy metal, for God's sake. And unlike many of his contemporaries, he has never stuck
to the template, and as a player and a personality, he's contrary enough to stay permanently
interesting. 
Once you've got past seeing a rock legend in the kind of high-definition close-up that
a place like Ronnie Scott's can afford, the impact of his playing, its sheer energy and
imagination and freshness, is remarkable.
These are no reheated moves; this is the real thing. Backed by a cracking three-piece band
(including an almost prepubescent looking bass player, Tal Wilkenfeld) Beck is a commanding
and still charismatic presence.
Aside from the evening's guest Imogen Heap performing her song Blanket, he let his guitar
do the talking, kicking off all manner of tightly structured riffs that open out into the
kind of visceral, fluid music-making that other guitarists can only dream of. 
From the raw hard-rock riffing and complex, angular jazz structures to the keening, animal-like
cries he taps out from the neck of his guitar, Beck's performance exceeds expectations.
The evening's highlight comes as he closes the set with an instrumental version of Day In
The Life by The Beatles, and by the endeven the man himself seems taken aback and utterly
delighted by how well it has all turned out.

This gentleman from the Times of London went to the show and gave it four out of five stars...


From The Times 
November 29, 2007
Jeff Beck
David Sinclair at Ronnie Scott's, W1 
Perhaps the greatest living guitar virtuoso, and certainly one of the most mercurial, Jeff Beck
stepped back into the spotlight at the start of a brief residency at Ronnie Scott's. The first of
six shows in five nights found him revisiting the most jazz-influenced areas of his back catalogue
in an unusually intimate environment. And while he directed the great majority of his efforts towards
the audience seated on the left hand side of the stage, even those of us who were required to
contemplate the great man's backside for most of the evening were left in little doubt of his
continuing mastery of his instrument. 
With his thatch of implausibly dark hair making him look more than ever like Nigel Tufnel of
Spinal Tap (for whom Beck was said to have provided the template), the 63-year-old guitarist
began with Beck's Bolero, his calling card from the 1960s, when it was released as the B-side to
his evergreen (but long disowned) hit Hi Ho Silver Lining. 
From there he navigated his way round the sinuous riffing of Billy Cobham's Stratus, followed by a
deliciously bluesy reading of Stevie Wonder's Cause We've Ended As Lovers from Blow By Blow,
the 1975 album that first sent Beck travelling in this jazz-rock direction. Combining astonishing
technique with a blissful feel for nuance, he exercised an almost supernatural control of his fretboard
and pickup controls. Playing with the fingers and thumb of his right hand, not a plectrum, he was able to
vary tone and texture in the twinkling of an eye while turning the most complex of sequences around
on the head of a pin. 
During the course of an entirely instrumental set but for two numbers featuring the guest vocalist
Imogen Heap, Beck was accompanied by Vinnie Colaiuta on drums, Jason Rebello on keyboards and the
bassist Tal Wilkenfeld, who looked as if she should have been at home doing her homework for school the
next day, but played like a monster. It proved to be one of the best bands even Beck has assembled. The
collective pièce de résistance came when Colaiuta set up the super-fast double bass drum rhythm of Space
Boogie and they all piled into the number with such supreme skill and exuberance that even the excruciatingly
awkward time signature couldn't prevent it from swinging. There was a standing ovation as the show ended
with a version of the Beatles' A Day in the Life, which rolled the pleasure dial all the way up to 11. 

This review is from The Guardian, again four out of five stars.....


Jeff Beck


Ronnie Scott's, London 

John L Walters
Thursday November 29, 2007
The Guardian 

It is dinner time in Soho, but Ronnie's seems set for a fusion version of the Mad Hatter's
Tea Party. Stage right, lips pursed over his keyboards, is the Dormouse-like Jason Rebello.
Drummer Vinnie Colaiuta, sticks a-blur, is the high-speed March Hare. Bassist Tal Wilkenfeld,
solemn and wide-eyed, is Alice. And our host - eloquently dominating every conversation - is
guitarist Jeff Beck. The band is good, but it is Beck, on the first of a five-night, six-show residency,
that we have come to hear, for every Beck-ish variation on the blues, rock, jazz, metal and Indo-jazz
idioms he commands so effortlessly. 
Beck appears to be thinking about the timbre of his guitar all the time, whether playing the fluid,
appealing melody to Nadia, the hard-rocking riffs of Led Boots, or one of his endlessly inventive solos.
Wilkenfeld is a suitably self-effacing foil, keeping it low and dirty for Brush With the Blues, and high and
McCartney-ish for Day in the Life. When she solos in Cause We've Ended As Lovers, Beck beams in a
grandfatherly way. 
It is enlightening to see a master drummer such as Colaiuta in a small club. Slower tunes such as Blanket (by guest
singer Imogen Heap) and Behind the Veil provide a chance to see how he does it. Other guests - Joss Stone, possibly
Eric Clapton - are rumoured for the remaining five shows. 
The band treat numbers such as Blast From the East the way Cern scientists construct accelerators: faster = better
By the end of the last gig on Saturday, there is a chance that the breakneck tune Scatterbrain will actually end before
the intro. 

Wednesday, November 28.....
Joss Stone was the guest artist this night....here's a report from JBAS member Dawn (hope she don't mind we nicked it)

Now I'm not used to writing reviews so bear with me on this attempt
 to give you a flavour of last night:

 After a really crowd-pleasing warm-up from RS Allstars (more info on
 that if anyone wants to know) our Jeff came on wearing black
 waistcoat with white back, over white vest, black trousers and the
 same ethnic choker he sported at Crossroads. Speaking to people in
 there it seems that every night will be different but this is the set-
 list from last night:-

 • Beck's Bolero
 •Breath Eternal (ed.)
 • Stratus –seemed to be a lengthened version
 • CWEAL – included a great Tal solo and Jeff made sure all
   attention was on her
 • Behind The Veil – some new twists in here
 • You Never Know
 • Nadia
 • Blast from The East 
 • Then a Vinny solo leading into
 • Led Boots – what a fantastic version, loved that
 • Angel Footsteps – dropped his slide on the floor, retrieved
   with a mock gesture of relief, not sure the ending was as sharp as
   usual but who am I to judge!
 • Scatterbrain – this started with a new `boogie ` type intro
   which I thought was going into Big Block but it was a smoking, well re-
   worked rendition of Scatterbrain with some playing around with Jason
   who took it for a while.
 • Pork-Pie Hat/BWTB, again somewhat re-worked. During this Jeff
   took a guys drink of the front table and helped himself,
   unfortunately the guy he picked was somewhat the worse for drink and
   took it as an invite to join Jeff causing a `heavy' to have to place
   him back in his seat. (This happened a little later too, but an
   accompanying female took charge – there's always one!)
 •Space Boogie (ed.) – knew this so well, and it's a regular, but mind blank-
    sorry – had a new bit from Jason in it too
 • Big Block
 • At this point Jeff introduced the band and then introduced
   Joss Stone (along the lines of "its my pleasure - but enough of my
   personal life – welcome Joss Stone")
 • People Get Ready – with Joss Stone, her only number
 • A Day In the Life
 • (encore)
 • Where Were You – a false start as the rest weren't ready for
    him
•  Blue Wind

 The set was all familiar stuff, only the 2nd one I hadn't heard
 recently, and although I knew it well I can't name it – maybe Space
 Boogie, I can't be sure now, but it had some new treatment.

 There was lots of laughing and joking going on, a friendly and
 relaxed feel to the whole thing. Jason was wondering in and out
 before the club opened, Tal was walking around the club when she
 wasn't on stage (we met in the ladies!), Vinny exited for more than
 one ciggie, and Joss Stone was also outside afterwards for the same
 reason. In the audience too (they announced) was Claude Nobs (ed.),
 Director of the Montreaux Jazz Festival, and Robert Plant was on the
 rail watching.

 It was a very small stage area, down on a level with the premier
 tables, if you have these seats you'll be within 10ft! Jeff was the
 only one moving around, Tal was clearly on orders to stay on her spot
 back in the corner between Vinny and Jason, and the 5 cameras were
 positioned at either side, two to the front and in the back corner
 of the club. They announced following one of the several `no
 photography' warnings that they were making a live DVD and this would
 be available to buy afterwards.

 RS's is a very small venue, the tables are cramped and for those who
 ate I hope they could taste what it was because it's so dark you
 couldn't see. The first come first seated thing is not exactly true,
 there were only 2 people in front of me in the queue and I was seated
 at the back but elevated – it was actually a good view and still only
 about 25 ft away and it suited me as I had planned on sneaking my
 camera out, but that turned out to be impossible. However, if you are
 going and you don't like the seat they give you go back to the desk
 and ask for a change. Don't let Ralph put you off, he seems to get
 his kicks from standing there making off the cuff comments – in fact
 he was highly visible all evening. Also, maybe Jeff had read the
 review of Tuesday as he was careful to go out of his way to play to
 those on his right too, even going off stage and out of the light to
 do so at times, but yes to his left was a good view.

 And for those wanting some technical info - Jeff had his usual Strat,
 Marshal amps and some sort of pedal at the back – bet you're all
 sorry you asked, but I am female so you got the full clothing run-
 down first LOL

We recieved a note from our friend, Mike Hull, who was there to see this show. He mentiond what Dawn referred to about what calls a 'jack-ass' hopping up onstage after Jeff played 'Brush With The Blues' to shake his hand... this event actually played into Mike's favor the next night as we will see.
Now this is pretty funny, a review from the most clueless music critic ever...from the UK Standard. The guy obviously has never heard Jeff's music before, no idea what it's all about. Goes to Ronnie Scott's which is a 'jazz' club but frequently has artists that aren't straight ahead jazz....I remember Eric Clapton and Buddy Guy played there back in 1986, Hendrix played there in the 60's, and expects to hear 'jazz' or whatever he thinks 'jazz' is.


No stars for Beck
By Jack Massarik, Evening Standard 29.11.07 
Just not jazz: Jeff Beck's gig at Ronnie Scott's was more for middle-aged air guitarists
re-living their sad youth Friends had encouraged me to check out the new Jeff Beck, hinting
that this wealthy Strat-screeching icon had been sharpening his jazz chops in his recent
years. They were wrong. What I heard before I stalked out - warp-volume
thunderers like Beck's Bolero, Cause We Ended, Blast fom the East and Scatterbrain - was
nothing but unadulterated rock. 
He's the greatest guitarist in the world!" a companion protested as I headed for the exit.
Well, Scott's manager Leo Green may believe so, but that screaming post-Hendrix machismo,
executed on the uppermost six frets of the guitar, will never cut it with
the jazz world. The packed crowd who stayed put looked like beady-eyed, middle-aged
air-guitarists, re-living their sad youth. Jeff's shrill howls might have earned one star
for the efforts of keyboarder Jason Rebello, female bass-guitarist Tal Wilkenfield,
a pouting teen-fantasy figure, and Vinnie Coliuta, a heavy-handed drummer hired by
Herbie Hancock for stadium jazz-rock excesses. But no, that decision faded when their
version of Goodbye Pork-Pie Hat morphed into a crude 12-bar thrash that
ignored all Charlie Mingus's subtle substitute chords. 
Joss Stone reportedly leapt on stage near the end to join them in People Get Ready but she
was welcome. Putting music like that on this stage was an insult to a half-century of
world-respected jazz tradition. 

This guy is barking mad!


Thursday, November 29th......
This evening has been dubbed 'Lad's Night'...here's an excerpt from Mike Hull's letter to me which explains why. He and his wife travelled all the way from Massachusetts to see two shows and they were sitting at a table right in front of the stage. He told me one of the manager's of Ronnie Scott's, Tracy (whom he thanks profusely), gave him and his wife the table because she recognized him from the night before and the fact that he had witnessed the 'jack-ass' jump onstage. Guess the folks at Ronnie Scott's were now trying to seat the tables closest to the stage with people they knew could control themselves! See, good behavior has it's benefits.

After Jeff finished the first set, he introduced Jimmy Page in
the audience along with Brian May, Tony Iommi, Robert Plant and
Claude Nobs. The crowd gave the obligatory polite clapping. Jeff
then stepped up to the mike and Introduced " an old friend who knows
his way around a Strat" and Eric Clapton walked on. Needless to
say the crowd was very exited. Eric had the same gray Strat and
the Fender Twin from the Crossroads show.  They played two songs,
Muddy Water's 'You Need Love' and Willie Dixon's 'Little Brown Bird'(ed.),
it was the most amazing musical experience I have ever  
had. They did some awesome trading off during those tunes, just  
beyond belief! After they finished Eric took a seat at the side of  
the stage and watched Jeff close the night with a version of Where  
Were You that brought tears to my eyes. I couldn't believe what I had  
witnessed. And to top that, Tracy then came over with signed CD's and  
shirts from Jeff. People think I'm crazy for these journeys, but this  
is one I will never forget.

Another report we can pass on.....this comes from Brian May's website, www.brianmay.com. This is a postscript to an entry on 'Brian's Soapbox'.

P.S. Mind you ... after seeing Jeff Beck last night in terrifying form heading up a sensational
band at Ronnie Scott's ... I might just have to give up Guitar Playing! Jeff is utterly, brilliantly
innovative and dangerous, still ahead of us all after all these years ... I had to give myself
a good talking-to on the way out, to remind myself that we all have our roads to follow,
etc., etc ... In Jeff's hands, the guitar becomes almost an entirely new instrument ... he is quite
unlike anyone or anything else we have ever seen ... the guitarist's guitarist ... the Guv'nor !
(I wrote a song to commemorate this fact ... remember?) It reminds me of seeing Jimi Hendrix,
all those years ago. As a privileged spectator, having being thrilled, shocked, stunned, and nearly
obliterated, you have to one of two things. Give up, or go home and practice a LOT!!! 

Wow, we also hear that Jim McCarty was there with newest Yardbirds guitarist Ben King whom Jim introduced to Jeff.
Friday, November 30th.....
More surprises tonight. Prior to the start of Jeff's set the host of the show comes out and tells the audience you're not seeing one Jeff Beck show tonight but two! The first set will be a 'Big Town Playboys' set. The host explains about Jeff's love of Gene Vincent and Cliff Gallup and says he recorded a CD with BTP 'about ten years ago', actually it's more like fifteen but oh well. Then the host says'And this material has never been performed live before', wrong again, Jeff and the BTP did a show in Paris in April of 1993. But who cares! The BTP set was seven songs....not all Gene Vincent songs though.

Crusin' With The Devil - Gene Vincent
Crazy Legs - Gene Vincent
Train Kept A Rollin' - Burnett
My Baby Left Me - Elvis
Matchbox - Carl Perkins
Baby Blue - Gene Vincent
?? 12 bar sax/guitar instrumental


Then a regular set followed with Imogen Heap again guesting.

Beck's Bolero
Breath Eternal
Stratus
Cause We've Ended As Lovers
Behind the Veil
You Never Know
Nadia
Blast From the East
Led Boots
Angel (Footsteps)
Scatterbrain
Good-by Pork Pie Hat (Intro) ~ Brush with the Blues
Space Boogie
Blanket
Big Block
A Day In the Life

Encore:
Rollin' and Tumblin'

Encore:
Where Were You

Saturday, December 1st.......
Double header this night....shows number 5 and 6 in the line up. Imogen was the guest both shows, setlist same as November 27th (we think).
And now even more 'What's New!' that Dick wants to tag onto what has to be the longest 'What's New!' ever...thanks Dick.
There's another JB out there who's a big Jeff Beck fan and I'm not talking about the amazing incomparable Jennifer Batten...From being a child blues prodigy who toured with B.B. King at the age of twelve through a string of solo Blues Rock lps to the recent two of the Blues number #1 Blues chart busters "You and Me" and "Sloe Gin", Joe Bonamassa has arrived at the big top for guitarists. Of all his influences Jeff Beck is his favorite. The self titled "Blues Deluxe" 2003 Bonamassa lp was a testament to the Jeff Beck classic arrangement on the "Truth"lp and Mr. Beck in general. I spent an evening with Joe in West Palm Beach recently and gave him a copy of the Jeff Beck/Hans Zimmer "Days Of Thunder" intstrumental soundtrack score recent discovery. As popular as Joe is in America he is equally as popular in Europe which ironically kept him from the Crossroads Festival for which he was invited last minute and couldn't cancel out of support dates to the North Sea Jazz Festival. If you get a chance to see Joe live you will discover that he has the rarest of gifts who like Jeff does it solely through the fingers and heart. It is no secret that Joe would be heavenly thrilled to see Jeff in the audience for one of Joe Bonamassa's forthcoming February 08 London gigs. Lord only knows what Jeff Beck "Beckology" obscure find I can conjure up for Joe next time around. Hah!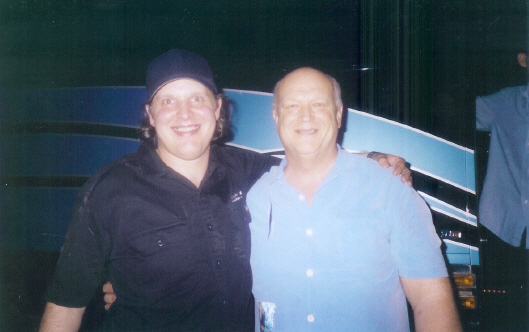 Joe and Dick in West Palm Beach, December 2007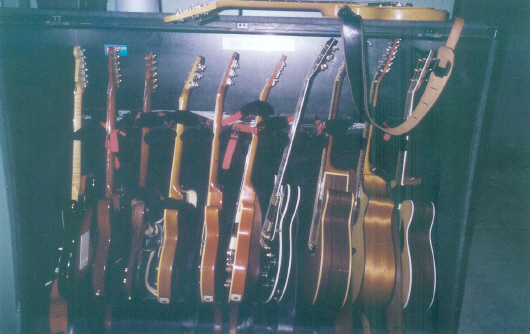 Joe's tools of the trade
Often what's new is composed of "Beckology" finds that are what's old. First check out the UK version of Amazon.com to get the 6 episodes of the 2004 Vic Reeves spoof "Catterick" which features Jeff's original guitar on at least three episodes. Got mine the other day and when I transfer PAL to NTSC I'll give it a review
Next is the long overdue compilation of 1995's Glam Metal Detectives from the BBC Vignette spoof featuring Jeff on the the title track "Everybody's Up "which differed from the single audio release back then which Jeff was not on due to tiff with Trevor Horn. The long play version and the bonus "show version" both have Jeff if you don't already have the video which is also available from UK Amazon.com Finally there is the long awaited 1990 instrumental score by Hanz Zimmer to the Tom Cruise 1990 movie "Days OF Thunder". Check out Jeff Beck Bulletin #14 for Dick's story on the epic.
Be seeing you....
---