March 29, 2004
This just in from our friend Toshi in Japan. EMI UK is re-releasing 'Beck-Ola' May 10, 2004 in Europe. The album has been 24 bit digitally remastered and will include bonus track. Included is a 16 page booklet with pictures from the era by Robert Knight and a new interview with Jeff by Charles Shaar. Here's the whole EMI press release.

JEFF BECK / BECK-OLA
produced by Mickie Most
24 bit digitally remastered with 4 bonus tracks & 16 page booklet.
release date: 2004 May 10 (Europe)

1.All Shook Up
2.Spanish Boots
3.Girl From Mill Valley
4.Jailhouse Rock
5.Plynth
6.The Hangman's Knee
7.Rice Pudding
-BONUS TRACKS-
8.Sweet Little Angel
9.Throw Down Up
10.All Shook Up
11.Jailhouse Rock

1-7:Recorded at De Lane Lea on April 1969
8:Recorded at Mirasound New York USA on November 19, 1968
9:Recorded at Trident Studios London on February 7, 1969
10:Recorded at Abbey Road on January 8, 1969 by Ken Scott assisted by Alan
Parsons
   Done again at Trident on January 28, 1969 before third and final album
version
11:Probably eary version done on 4 track tape at De Lane Lea in early April
1969

Also been getting questions about Jeff appearing in the BBC series 'Stella Street'. All of this occured some time ago and as we've mentioned before Jeff is close friends with the show's producer Peter Richardson who, by the way was working on a Jeff Beck documentary a while back. Some of Jeff's music and Jeff himself have cameoed in the show.
---
April 30, 2004
Here's the lastest press release out concerning Jeff's UK dates.

JEFF BECK
Jan Hammer will join Jeff Beck for all of his UK dates in June.
Although Jan has contributed to most of Jeff's albums since 'Wired' and they have
toured together many times in the USA and Japan, they only ever played one date in
the UK.  Probably best known for his 90 episodes of Miami Vice music, he burst into
the limelight with The Mahavishnu Orchestra, also featuring John McLaughlin and Billy
Cobham, and went on to be a major film composer as well as writing for Jeff ( they
won a Grammy for the track 'Escape').  
Jeff is thrilled that at long last they will be performing together again on these
very special dates.

Sounds pretty cool!

Also let's see...what do we have. There was a rumor floating around a while back that Jeff would be touring with John McLaughlin this summer. We've heard it won't happen.

Jeff received a Fender Lifetime Achievement Award in Frankfurt, Germany on April 2, 2004. Fender says it for 'artists who have played a significant part in making the Fender Stratocaster the worldwide success that it is.' Here's a pic;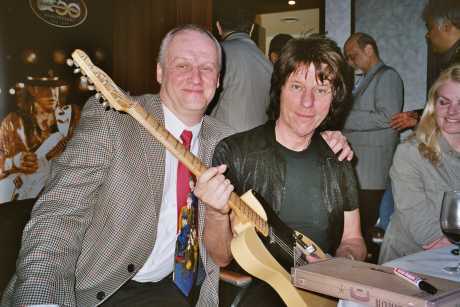 Jeff receiving his Fender Lifetime Achievement Award in Frankfurt, Germany.
Jeff has been busy. On April 1st,the day before he received his award in Germany, he took part in the Jools Holland charity show at London's Royal Albert Hall. The show was in aid the Teenage Cancer Trust. Jeff joined Jools and his Rhythm and Blues Orchestra for 'Drown In My Own Tears' and 'Strolling The Bones'. He also guested on Solomon Burke's 'Mabel', 'Message To My Son' and 'Cry To Me'. He also shared the stage with Tom Jones for 'Be Bop A Lula'. Other notables there were Ronnie Wood, David Gilmour and Chrissie Hynde. This is the fourth year that the Royal Albert Hall has hosted the Teenage Cancer Trust concerts. The event is the brainchild of Roger Daltry.
Another worthy charity event is occuring this weekend. 'Drumming Up Hope' is an event in memory of Michael Bettell, an aquaintance of Jeff's (his folk's used to run the Rock Robin Inn near Jeff's home), who passed away recently. For more info go www.drumminguphope.com.
---
May 11, 2004
Well it seems Jeff's appearance at the Crossroads Guitar Festival on June 6th is not set in stone as it were. We're not saying he isn't doing it, just that at this point his name on the bill at www.crossroadsguitarfestival.com could be the result of overzealous PR people. We should have definate news by the end of this week. If Jeff does do it we understand he will just be sitting in with Eric and his band for a few numbers. Also, the concert or portions of it are going to be broadcast on Sirius satellite radio.

Secondly, that second Hendrix tribute CD has come out and Jeff's version of 'The Wind Cries Mary' with Seal isn't on it. Instead is a version done by Sting. Rumour had it that a special vinyl release of the album might Jeff and Seal's 'Mary' but we've been assured that won't be happening. We don't know when if ever we'll be hearing that one.

Oh, and remember that 'Drumming Up Hope' charity event we told you about in our April 30th update? The event was in memory of the late Michael Bettell, a friend of Jeff's, and everyone was thrilled that Jeff took time out to show up! Here's a pic of Jeff at the event with Michael's son Ollie. More photos of the event are at www.drumminguphope.com in the gallery section. Cheers!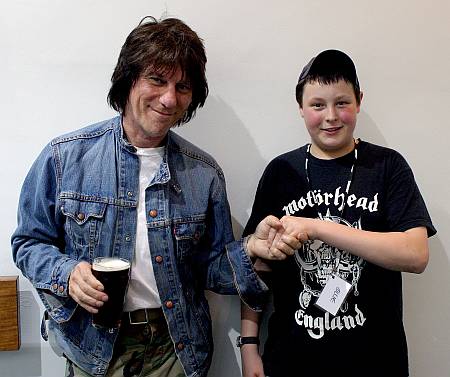 ---
June 10, 2004
Well to say a few people were disappointed in the Crossroads Guitar Festival as far as Jeff Beck's appearance was concerned would be a gross understatement. We've got letters from folks who traveled a mighty long way to see him perform ONE SONG! The deal was that everything was running a little late (big surprise when you have 1,000 acts on the bill) and Jeff ended up only performing 'Cause We Ended As Lovers' with Eric and Eric's band. ZZ Top followed Clapton but their set was cut short due to weather and the final jam with ZZ, Eric and Jeff never happened. So like we said lots of disappointed Beck fans, don't know how Jeff took it. By the way if you belong to the 'Jeff Beck Appreciation Society' on Yahoo you can download that one song. It's a good recording, don't think the backing was too great, Jeff played well but this humble reporters opinion is that when Eric soloed he came in a little over the top. Here a couple of pics that were sent to us from noted Texas guitar maker Ron Frey who is making Jeff a 'NoCaster' guitar which is replica of a Fender Broadcaster but made out of Japanese 'Empresswood'.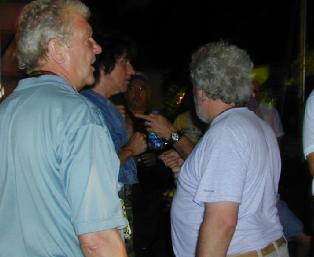 Jeff and some folks.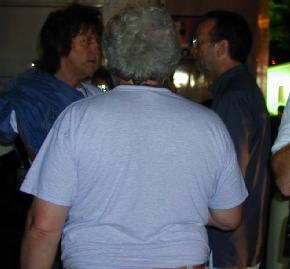 Jeff and Eric.
The support act for Jeff's upcoming UK tour has been announced...Amy Wadge, a UK singer-songwriter. You can learn more at www.amywadge.com.
As we have posted on our marquee, an interview with Jeff will air on the BBC's Radio 2 on July 15th (Postponed from June 17th). It's an hour long and hosted by Paul Jones (yes that Paul Jones ....Manfred Mann, 'The Dog Presides'). It will be posted for your hearing pleasure for a week after it airs at www.bbc.co.uk/radio2/.
One operations note for everyone. As you know Jeff's tour starts in the UK on June 18th. Usually we would get set lists and show reports to you ASAP. Problem is the working half of this outfit (as opposed to the brains) is leaving for London early June 19th and most likely won't get a chance to post anything before he leaves. Fear not though, on return he will have a full report. In the meantime check out the JBAS or Sony BBS's for the latest. Cheerio!
---
August 31, 2004
Well we haven't updated in a while. We've both, Dick and Bill that is, been on vacation, moving, you know summer stuff. Anyway wasn't that Karen Thompto stuff from Bristol cool? Liked that one.

This just in. We got an email from Jamie Crompton over the weekend. Jamie's the artist relations manager for Fender in Europe. He told us Jeff has confirmed his appearance at the Fender 50th Anniversary Strat concert to be held September 24th at London's Wembley Arena. The concert is to benefit the Nordiff-Robbins Music Therapy charity. It is almost certain too that Jan Hammer will be onstage with Jeff and we have learned that they will be performing a tribute to Jimi Hendrix by playing "The Wind Cries Mary" with Paul Rodgers on vocals!

We were all a little surprised by the August Mojo cover. From the pre-release hype we thought both Jeff and Jim would be on the cover. I think some folks in London thought that too. Anyway the Jeff and Jim article was cool, didn't know Jeff played with the Tornadoes. Too bad it was just a sidebar to Jim and LED ZEPPELIN.

Remember how BBC2 ended up not airing Jeff's interview by Paul Jones a couple of months ago? Well get this, we checked out the BBC2 Radio website a couple of weeks ago and they were hyping an upcoming interview with 'Beck', you know, that other guy from California. Well guess what they were calling their 'intimate portrait' with 'Beck'....Beckology!!! Like our friend Cathy who first brought this to our attention said, "Hey BBC2, try to be more original, that title's already taken!" Oh yeah, and air that Jeff Beck interview already!

From jeffbeck.com...Jeff's "My Thing", with the lovely Nancy Sorrell on vocals, will be featured in the new movie "Paparazzi".

We hear there's a new Yardbird's DVD on Rhino Records out. Features live performances and several interviews with Jeff.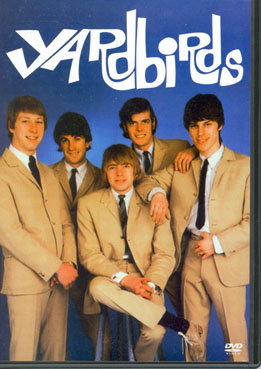 More on the Joe Cocker CD "Heart And Soul". European release date is September 27, 2004, won't be released in the U.S. until January 29, 2005 (huh?). Like we said Jeff will be on the track "I Who Have Nothing". A little background on the song...it was a 1963 hit for Ben E. King, written by Leiber and Stoller. Tom Jones did a cover of it in 1970 that was also a hit. It has also been covered by Terry Knight And The Pack.
---
November 11, 2004
Wow, we haven't updated in over two months! There are a bunch of reasons; first, things on the Jeff Beck front have been a little slow. Down here in Florida we had a month worth of hurricanes, one every weekend! Then the World Series, THE RED SOX WON THE WORLD SERIES! And then the election kept Bill busy for weeks, so there.

Now to get up to date, I'm sure we're going to forget something. I'll try to do this in chronological order. Remember a couple of months ago when Jeff went to the Crossroads Music Festival? We mentioned that there was a backstage jam tent and Jeff played with Eric and ZZ Top. Turns out according to an article in Vintage Guitar magazine that someone taped Jeff's jam with ZZ Top that was said to be 'smokin'. Hope this turns up! But the official DVD of the Crossroads Concerts has just been released and Jeff's one song isn't on it! This even though Guitar Player Magazine said Jeff's 'Cause We've Ended As Lovers' was one of the highlights of the weekend. Typical.

As we mentioned on the marquee, Jeff guests on two recent releases...Joe Cocker's CD 'Heart And Soul' as mentioned above and on Tom Jones' new CD on the track "Life's Too Short To Be With You". We've also just learned that the Big Town Playboys new CD "Roll The Dice", which features Jeff with Robert Plant was released in Europe on November 8th and is getting some airplay over there. It's listed at www.amazon.co.uk .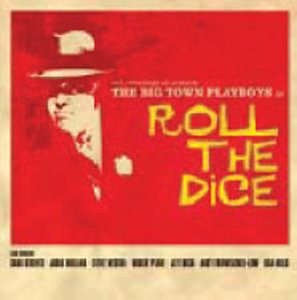 Jeff appearance at the 50th Anniversary Fender Stratocaster show at Wembley Arena never happened. This even though we got an email from Fender's European artist relations guy saying he would appear. We've heard a bunch of stories about this. Originally Jeff was supposed to play 'The Wind Cries Mary' with Paul Rodgers and Jan Hammer. This supposedly fell through when Jan couldn't make it. Some rumours about him not liking to fly which might be true, we don't know. Jan however did appear the following weekend at a 20th Anniversay Miami Vice Convention in Miami Beach, Florida. Not only was Jan at the convention, he was also signing copies of his 20th Anniversary Miami Vice CD at a local record shop. So, then we heard Jeff might appear with Hank Marvin, then that fell through too, so who knows. On another note we heard that Jeff was going to appear at Rod Stewart's recent gig at the Royal Alber Hall. Quite honestly, we never thought that would happen and it didn't. But, in the latest Rolling Stone Rod says that he, Jeff and Ron Wood did actually rehearse for the gig together doing some of the 'old numbers'! Jeff however called Rod two days before the show and and said he couldn't make it. Rod also mentioned he might be doing something with Jeff and Ron in the future. Will they reunite? Who knows but as we've recently learned Cream is reuniting for a series of shows at the Royal Albert Hall next year so maybe nostalgia will be the 'thing' next year.
Oh, did we mention THE RED SOX WON THE WORLD SERIES!!
Speaking of magazines...Jeff was the cover boy on a recent 'Guitar Techniques'. The English mag detailed (or tried to) how Jeff plays 'Nadia'. Speaking of Nadia, we finally picked up the DVD version of 'Red, White And Blues' and that extra track of Jeff showing the boys how he plays 'Nadia' was quite enjoyable.
Oh, someone sent us a link to a cool interview with Imogen Heap where she talks alot about Jeff. Here tis': http://www.musicstreetjournal.com/froufrouint.htm.
Got kind of a cryptic note from the London office saying we might hear by the end of the week about Jeff appearing on a UK television show this Sunday. If we get the full details we'll pass them along.
Lastly, I keep thinking I've forgotten something but anyway, check out the new addition to JBB #12. We've assembled a bunch of emails we've gotten from folks associtated with Jeff and his career, you might get a kick out of it.
This is a late addition.....we just heard from London that Jeff taped a performance for TV on Thursday, November 11th. He performed at the UK Music Hall of Fame Awards at the Hackney Empire, London in a tribute to Bob Marley. He played the Marley track "Is This Love" with the UK singer Beverly Knight. Marley was one of the 5 "founder members" of the UK Music Hall of Fame to be inducted at the first ever ceremony of the awards Thursday night and his award was accepted by Rita Marley. The awards will be televised on Channel 4 in the UK on Sunday, November 14th at 9:00PM GMT. http://channel4.com/entertainment/tv/microsites/H/halloffame/decade50s.html
---
December 1, 2004
Not much to report, things are pretty slow. This will proably be the last update for 2004 and then we can start a 'What's New' 2005!

First off Levi Blackman sent us this link to an article by Steve Rosen where he mentions the first time he met Jeff Beck. Here tis.... http://www.cricketsoda.com/stuff/stories/stevenrosen/musicjourfeature/index.php . A little background on Steve. He was one of the first people we know of to publish a book on Jeff. It came out in the 1980's if I remember right, only problem in was published in Japan and in of course Japanese. We have had a copy since it came out, great pictures in it. Later Seymour Duncan was kind enough to send us an English translastion of the text in the book. Anyway, the article is cool. Oh and please don't ask for a copy of the English translation. The book was never authorized by Jeff to be released in Japan let alone the states. It seems there are several inaccuracies in the book and some comments by Jeff and others were taken out of context.

We've been hearing from some folks who bought the Tom Jones/Jools Holland CD that was supposed to have Jeff playing on the cut "Life's Too Short To Be With You". Jeff isn't listed on the CD and we've heard it doesn't sound like Jeff is playing on it either. Don't know what happened there.

As we mentioned on the marquee, all merchandise at jeffbeck.com is 30% off until Christmas, Ho, Ho, Ho.

Lastly, just got a nice note from our pal Robert Knight who just opened a new studio at Third Encore in Burbank, California with his wife Maryanne. And who should he run into over in Burbank but Rod Stewart and Ronnie Wood who were in town rehearsing for Rod's show at the Hollywood Bowl. Robert asked them if they'd seen the new re-issue of 'Beck-Ola' that features a bunch of pictures that he had taken of them back when they were in the Jeff Beck Group. They said, "No" so Robert gave them his copy. They both really got off on how young they looked and Ronnie said he still had the clothes from the night some of the pictures were taken! Suddenly Rod turned to Ronnie and said, "I don't think we ever got paid for these sessions!" Hah! Like these guys need the money!
December 14, 2004
Gee and we thought the last update would be the last for the year. We were wrong. Jeff's on Imogen Heap's latest release 'Goodnight and Go'. You can download it (for 79p) at www.imogenheap.co.uk . As the website says Jeff comes in during the middle section and plays out.

Jeff is also guesting on Zucchero Fornaciari's lastest CD "ZU & CO.". Macy Gray is also on the song and to our knowledge has only been released in Italy.

We've heard Jeff was supposed to be on that Tom Jones/Jools Holland CD. He isn't. Just to prove I'm not crazy (in reporting this originally) check out this article; http://news.scotsman.com/features.cfm?id=1094382004 ...16th paragraph.

Lastly Ronnie Wood is displaying his latest artwork at The Theatre Royal in London this Christmas season.
---
December 28, 2004
Well, this will definately be the last update of '04. We heard from Jennifer Batten over the holiday. She's off to the far east for a while. China, Austrailia, Japan and New Zealand.

We told you last time about Ron Wood's art display at the Theatre Royal Drury Lane last time. Seems he's also playing some music there. The Daily Express reported that Ron told them he would also be playing a 'little set' there every Sunday with his mates. He said he had lined up Jeff along with Van Morrison and the Stereophonics for the gig. We'll see. Ron also opened a second art exhibition in London's Cork Street.

Our friend Robert Knight was recently interviewed by stratcollector.com. Check out this link; http://www.stratcollector.com/newsdesk/archives/000294.html

Oh, and check this out it seems someone who bought a Bucket-T that Jeff once owned is selling it on ebay.
http://cgi.ebay.com/ws/eBayISAPI.dll?ViewItem&item=4511821645
Only 15,000 pounds and it hasn't sold so far. Wonder if it's the Bucket-T he ran into a ditch in '69?

Our friend Gareth Howell sent us this item. It seems the British guitar mag 'Guitar Techniques' (GT) had the following blurb in it's January 2005 issue.

Martin Taylor fans were stunned last month when none other than Jeff Beck appeared to duet
with the GT tutor. Beck joined Taylor onstage at his show at London's Bloomsbury Theatre
to play together in front of an astonished audience. The surprise performance was the
result of a chance meeting between Taylor and Beck backstage at the Royal Festival Hall.
Martin had been doing a gig with Bill Wyman and the Rhythm Kings, and Ronnie Wood
introduced him to Beck, who, it transpired, had been a fan of Martin's for a few years.
Jeff said he would like the two of them to play together, and by lucky coincidence,
Martin had a gig at the Bloomsbury Theatre the following week. Following rehearsals at
Jeff's house the day before the gig, the pair ended up performing duets of 'Cause We've
Ended As Lovers, and Taylor's Cocomo - and the audience were thrilled!'

Pretty cool.

There was a press report in Britian that Jeff was recording at Abbey Road for the Scotty Moore tribute project. However the press for the performance that was recorded over two days there for an upcoming DVD made no mention of Jeff. One funny thing about the taping of the show. It actually took two days to tape in front of a live exclusive audience. We're told the audience was instructed they had to attend both days and wear the same clothes for continuity.

We like to check out the site www.wireimage.com every so often. We plug in "jeff beck" just to see if anything pops up. Seems Jeff attended the press screening of 'Churchill-The Hollywood Years' last month whatever that is.

Our friend Danilo from Italy sent us the new Zucchero cast of thousands (including a track with John Lee Hooker before he died) lp Zucchero and Co.. Jeff is on the track "Like The Sun" which features a revolving vocal duet by Zucchero and Macy Gray. The tune is very Dylanesque (Zucchero sings in English) and is about doing everything in life to the fullest until one bursts with whatever. Speaking of bursting Jeff Beck did just that with a fiery short solo clearly verifying what we heard from London that he really liked the song. For those of you that heard the last Zucchero session released in 96 "Papa Perce'" and thought it was nice but not a standout go grab this session. It sizzles!

Lastly for 2004 check out our latest edition to Jeff Beck Bulletin #12 and our take on the UK Hall Of Fame Awards. Happy New Year!

Be Seeing You....
---