Late add-on.....latest tour dates;


Jeff Beck's Rock And Roll Party with Imelda May and her band
March 2011
24 9:30 Club Washington, D.C.
25 Keswick Theater Philadelphia, PA 8PM show
25 Keswick Theater Philadelphia, PA 10:45PM show
26 The Wang Centre Boston, MA
28 Beacon Theatre New York, NY
29 State Theatre New Brunswick, NJ
31 Michigan Theatre Ann Arbor, MI 
April 2011
1 Cadillac Palace Theatre Chicago, IL
2 Cadillac Palace Theatre Chicago, IL 
4 Verizon Theatre at Grand Prairie Grand Prairie, TX
5 Austin City Limits Live at Moody Theatre Austin, TX
8 The Fox Theatre Pamona, CA
9 The Fillmore San Francisco, CA
JEFF BECK (with Narada Michael Walden, Rhonda Smith & Jason Rebello)
13 The Depot, Salt Lake City, UT
15 Paramount Theatre Denver, CO
16 Uptown Theatre, Kansas City, MO
17 The State Theatre, Minneapolis, MN
19 Devos Performance Hall, Grand Rapids, MI
21 Casino Rama, Ontario, Canada
22 University at Buffalo Center for the Arts Buffalo, NY
23 Carnegie Hall of Oakland, Pittsburgh, PA
26 Palace Theatre, Louisville, KY
27 Ryman Auditorium, Nashville, TN
29 Fairgrounds, New Orleans, LA New Orleans Jazz & Heritage Festival
May 2011
1 Sunfest, West Palm Beach, FL
4 Florida Theatre, Jacksonville, FL
5 Hard Rock Live, Orlando, FL
7 Ruth Ekerd Hall, Clearwater, FL
June 2011
12 Seacose Park, Isle of Wight Isle Of Wight Festival
14 Amager Bio, Copenhagen, Denmark
15 Spektrum, Oslo, Norway
16 Kulturbolaget Malmö, Sweden
18 Tradgarden Gothenburg, Sweden
19 Stadtpark, Hamburg, Germany
20 Freilichtbühne Grosser Garten, Dresden, Germany
21 Sala Kongresowa, Warsaw, Poland Warsaw Summer Jazz Days
23 Tesla Arena, Czech Republic
24 Športová Hala Bratislava, Slovakia 
25 Bruckenerhaus, Linz, Austria
26 Arena Wein, Vienna, Austria
28 Križanke , Ljubljana, Slovenia
29 Castello Sforzesco, Vigevano, Italy 
30 Strasbourg Jazz Festival, Strasbourg, France
July 2011
1 Le Grand Rex, Paris, France

Be seeing you
---
June 18, 2011
We've just been swamped around here the last few months. Lots to cover so let's get going.

First off the European leg is off to a roaring start. Check out this interview with Jeff from the Isle Of Wight show courtesy of Sky News.

This first thing is a cool. The setlist from Jeff's show at the Ryman Theater in Nashville, Tennessee courtesy of Robert Knight. Tyler Bryant opened for him and he gave Tyler this signed setlist as a souvenir. Check out the 'shred here' notation!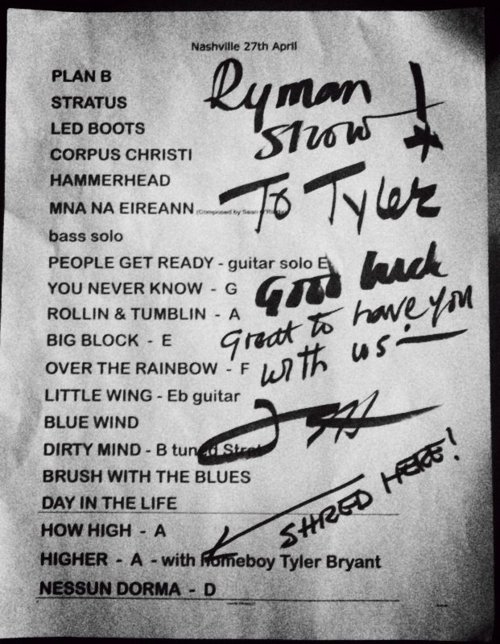 Speaking or Robert Knight...two things...first, his documentary "Rock Prophecies" is now available on NetFlix and back in late March Robert was on a popular overnight radio show. On the March 28th edition of 'Coast To Coast AM', Robert was interviewed about rockstars and aliens. He told alot of stories he had heard from rockers touring the USA and seeing weird stuff out their bus windows. He even mentioned Jeff saying once at Jeff's house he saw a book by frequent 'Coast To Coast' guest Richard C. Hoagland about ancient civilizations on Mars!
Several new items in Jeff Beck Bulletin #17. Our trip to Jeff's show at Sunfest in West Palm Beach, Florida and our feature on the mystery of the 'man in the photo', Simon Napier-Bell.
Jeff had some time off between the end of U.S. leg and the start of the European leg of his current tour. Reports say he met with Rod Stewart as they continue to work on the direction of their blues album. Rod's manager Arnold Stiefel and Jeff's manager Harvey Goldsmith are working together to find time where the two can get into a studio together face to face. Recent back and forths in press indicate however there's still no concensus even on the material yet. They have reportedly sent each other tracks, one report noted that Rod commented that the tracks Jeff had sent him were, 'in the wrong key'. At any rate appears nothing will be out until next year at the earliest. Rod recently said in an interview that, "There's no rush for this album."
Our friend Ed Chapero is always scouring the internet finding cool items for us to share with you. Here's some recent finds...first off a copy of a contract that was auctioned off last March. The description;


A one page Premier Talent Associates contract dated January 23, 1969 for
the July 5, 1969 performance by the Jeff Beck Group at Roosevelt Raceway
in Westbury, Long Island. Signed by Ron Delsener, there is a two-page rider
attached to the contract that is initialed by Delsener as well. 

This sold by the way for $240. Next up for auction...asking price $1000.


Jeff Beck - Handwritten & Signed 1967 Letter

A letter from Jeff Beck to his Los Angeles friend Darryl Stolper, the envelope
postmarked 13 September 1967; thanking him for sending Beck the just-released
debut album from Vanilla Fudge, telling Stolper to expect some albums Beck is
sending including "Fresh Cream," letting him know that he and his band may be
coming to play in San Francisco, and asking about and expressing frustration with
Mary Hughes. Stolper befriended Beck when the latter was in L.A. during a Yardbirds
tour, and Stolper introduced Beck to Hughes (who became Beck's girlfriend, and who
he sings about in the Yardbirds song "Psycho Daisies.") Beck and Stolper became close
friends, with Beck often visiting Stolper in Pacific Palisades, CA; and the two
corresponded regularly. The content is particularly interesting, in that Beck was
disappointed with Vanilla Fudge's album—ironic as he later formed Beck, Bogert and
Appice with the Fudge's Tim Bogert and Carmine Appice. The letter is in excellent
condition, written in ballpoint pen on thin paper, measuring 5 3/8" x 7". The original
postmarked envelope is included, as is a reproduction of a photograph of Stolper (flipping
the bird !) and Beck outside Beck's motel room, circa 1966 (notice Beck is wearing a shirt
with the Yardbirds logo.) A truly historic Jeff Beck collectible, with unbeatable content.
We obtained this directly from Darryl Stolper, and a copy of his letter of authenticity
(outlining his history with Beck) is included. As with everything we offer, guaranteed
authentic with no time limit.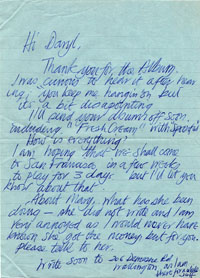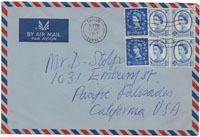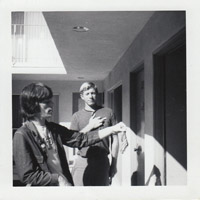 Next up, a photo of Jeff taken at the Alexandria, Virginia Roller Rink 1968 by a young music journalist Michael Oberman.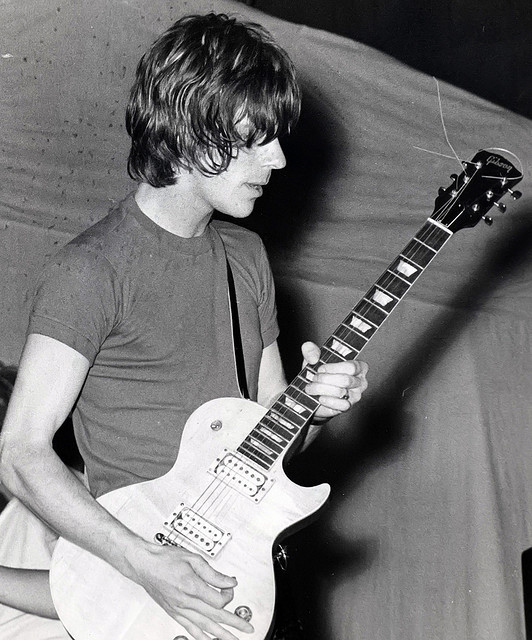 Photo courtesy Michael Oberman
And now the Western Union booking acknowledgement for the Jeff Beck Group to perform at the Fillmore East.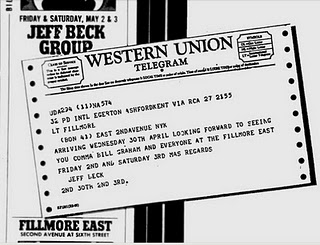 How about a 'Hi Ho Silver Lining' photo featuring Jeff and Mary Hughes?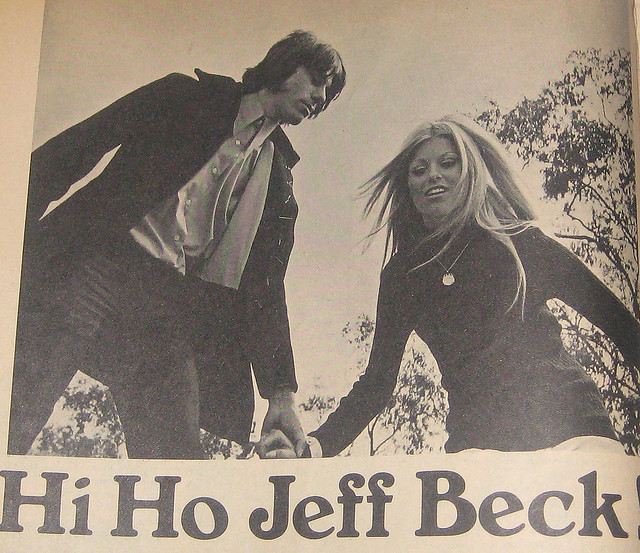 This comic by Harry Bliss ran in newspapers all over the country in April, so true.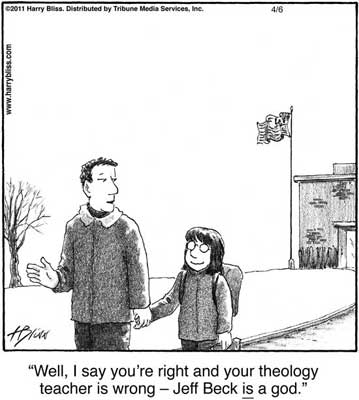 Courtesy Harry Bliss
Last find this episode from the great Ed Chapero....
Great pic of Keith Moon, Mick Jagger and Jeff from a NME poll winners show.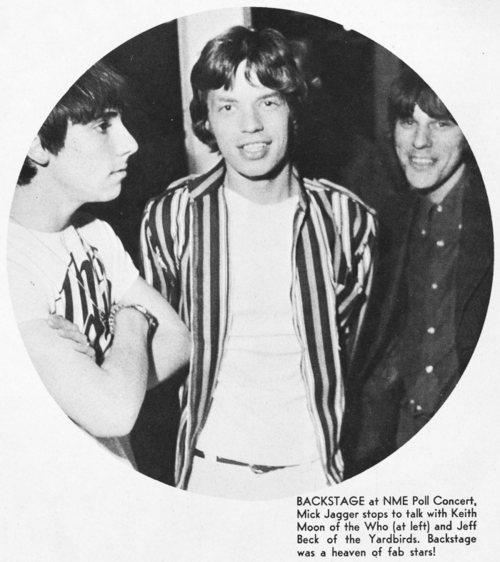 Jennifer Batten is out on her summer tour. Here are the dates which include the Iridium Jazz Club in New York city on June 20th. She's also lost her mind as well as some part of her large intestine as evidenced by the picture below.

She sent this picture to Jeff who got a real kick out of it and told us about it when we saw him at Sunfest.

Jeff attended and performed at a charity event on June 4th. Jeff told our friend Doc about this event when he met him in Clearwater in May. Jeff and Ronnie Wood played at the 'Winters Hall Charity Concert'. Other artists who played included Kenney Jones, Eric Clapton, Roger Taylor, Lulu, Kiki Dee,and Georgie Fame. The charity concert at Wintershall Estate, Bramley, Surrey was to raise money for stroke research.
The set list:


Say It's Not True (with Jeff Beck)
Manic Depression (with Jeff Beck) - Hendrix song
People Get Ready (With Jeff Beck) - Curtis Mayfield song
Nessun Dorma ( Instrumental Roger on percussion) 

The band included, Roger Taylor on Vocals & percussion, Spike on Keyboards, Steve Stroud on Bass, Jason Falloon on Guitar & Rufus on drums. Gates to the estate opened at 4PM so those who purchased tickets for the black-tie event were able to enjoy picnics by the lakeside. Since 1989, Eric has donated his time to appear at several charity events at Wintershall, performing with Gary Brooker's all-star "Band du Lac". On Saturday night, EC once again sat in with Gary's band.

Lastly, it's old news but we'd be remiss not to mention Jeff's grammy wins last February. Wow. Three more, 'Hammerhead' - Best Rock Performance, 'Nessun Dorma'- Best Pop Instrumental Performance and 'Imagine'(Herbie Hancock) - Best Pop Collaboration With Vocal. Congrats!

Be seeing you.
---
August 20, 2011
Here's some 'What's New' stuff in no particular order. Dr. Jeff! Jeff received an Honorary Doctorate degree from the University Of Sussex, School of Media, Film And Music on July 21st. He was also honored at the graduation ceremonies of the University Of Arts, London.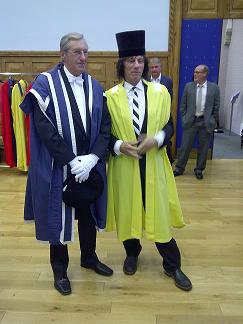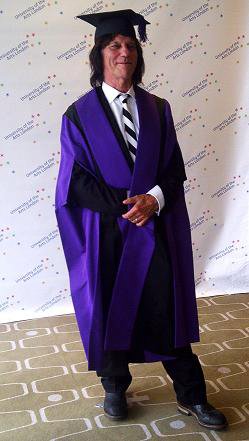 More awards...Jeff voted 'King Of The Strings' by Guitar Player Magazine readers. He is also up for a 'Best Album' award for 'Rock N' Roll Party' over at Classic Rock Magazine. Go to; http://awards2011.classicrockmagazine.com/vote.html to vote.
Jeff is on Trombone Shorty's new CD 'For True' on the cut 'Do To Me', already heard it, cool stuff.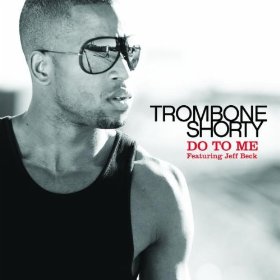 New biography of Jeff coming out October 3rd my Martin Power.....here's the news release;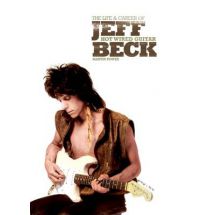 HOT WIRED GUITAR: THE LIFE AND CAREER OF JEFF BECK by Martin Power

The definitive account of Jeff Beck's journey from his childhood in
1940s South London to the world-wide success of 2010's album Emotion
and Commotion and beyond.Author Martin Power has talked to former Yardbirds
members Chris Dreja and Jim McCarty as well as manager Simon Napier-Bell
and fellow musicians including Max Middleton, Stanley Clarke, Simon Phillips,
Jimmy Hall, Mo Foster, Doug Wimbish and many others. Supported by full album
reviews, rare photographs and an up-to-date discography, Hot Wired Guitar is
the most complete and comprehensive account of the life and times of Jeff Beck,
the man who took the electric guitar and showed the world just what could be
done with just six strings and 'one hell of an attitude'

I know what I want for my birthday (Dick)!

We've already mentioned it on the marquee and the schedule is above, Jeff's touring Canada and the northwest this fall. Tyler Bryant will be opening. Check the Tyler Bryant gig we hosted in JBB#18.

The June 2011 edition of 'Mix' magazine had a feature on 'Jeff Beck And Imelda May Band' which were to us the 'Rock 'N' Roll Party' gigs. The link below will take you to the article...lots of technical stuff about how front-of-house mixer Ben Findlay eq's the PA using an iPad app 'VNR' linked to his Avid Profile console, all the mics and stuff he uses as well as info about what monitor engineer Shon Hartman uses. Cool stuff. http://www.mixonline.com/live/tourprofiles/all_access_jeff_beck_imelda_may/

Lastly, brand new interview with Jeff over at Lithium Magazine, here tis; http://lithiummagazine.com/interview-jeff-beck-august-15-2011
---
November 15, 2011
Wow, three months since our last 'What's New'....but this time we've got a good reason. I (Bill) got a new computer and learning curve has been a little steep. Up til now I've been doing all the webpage stuff on an old Dell laptop running Windows 2000! The thing was old, the battery long dead, I just had it plugged into the wall all the time, but I knew how to use it. Now I've inherited my daughter's Dell Insprion (she got a Mac Book Pro) running Vista....hate it!

So, Dick will be writing this update...here's the most important update of the hour. Oh, did I say writing? I meant he'll be cutting and pasting a bunch of crap. Hah!

************************************************

(Los Angeles, CA – November 10, 2011) On Wednesday, the 9th of November, Jeff Beck received the Living Legend Award at the 2011 Classic Rock Awards in London, England. The Award was presented to Beck by Roger Taylor of Queen.

Beck chose Wednesday evening's performance to introduce his new band line-up featuring bass sensation, Rhonda Smith and upcoming drummer Veronica Bellino.

Rhonda has been touring with Jeff throughout the 2-year, worldwide "Emotion & Commotion" tour and is one of music's great undiscovered treasures. Previously, Rhonda has worked with a host of artists including Prince, Beyonce, Justin Timberlake and Little Richard to name a few. In addition, Rhonda has made genre defining solo records also employing her unique vocal talents. As a vocalist, the pearly tone songstress is lyrically sophisticated with emotional depth that is both admirable and technically brilliant. As a musician, Rhonda has sparked several genres of music including smooth jazz/funk and electrified funk/rock, which only touch the tip of her creative abilities.

Beck discovered Veronica's drumming talents on YouTube, when he was searching for "something different," and contacted her right away. Veronica has been on the rise as one of the industry's hottest, young drummer/songwriters. Most recently, she has been working with Beck for his new studio album and is credited as a co-writer with the legendary DMC. Veronica found a national spotlight in The Game's "Red Nation" video, has worked directly with LL Cool J as a member of his signed band, 13, and conquered dozens of stages with drum-icon, Carmine Appice and his SLAMM group.

During a live performance at the ceremony, Beck was joined on stage by good friend, Chrissie Hynde on the song "Stand By Me" and Joss Stone for the song "I Put A Spell On You" from his Grammy-Award winning studio album, Emotion & Commotion.

Beck is returning to the studio this week to begin work on his next album, due out early 2012.

************************************************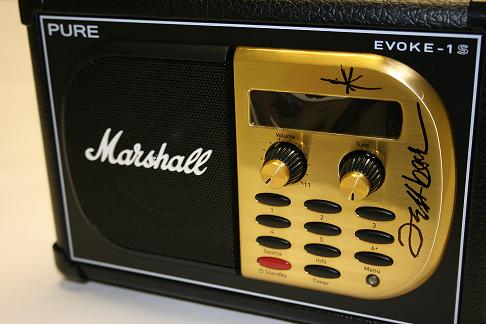 Planet Rock Auctions Jeff Beck signed Pure Marshall DAB radios for charity
Immediate Release - 15 November 2011
Planet Rock is auctioning 17 rock star signed Pure Marshall DAB radios as part of its Movember campaign. To bid for Jeff Beck's signed radio go to www. planetrock.com/mo The auction finishes 4pm on the 21st November.
About Movember
Throughout the month, members of the Planet Rock team are growing moustaches to raise vital funds and awareness for men's health issues, specifically prostate cancer and other cancers that affect men. The station will also be encouraging its listeners to join in and support the team. Money will be raised via donations through the Planet Rock website and the station will be auctioning rock star signed Pure Marshall digital radios. The 17 radios, signed by artists like Jeff Beck, The Foo Fighters and Alice Cooper go under the hammer during the month. For more information on Planet Rock's activities visit www.planetrock.com/mo
************************************************
As you know Jeff received a 'legends' award from Classic Rock Magazine, an interview followed...here 'tis.
Finally, the crowning glory from the Classic Rock Roll Of Honour… an interview with our Living Legend. Say no more.
Living Legend
Winner: Jeff Beck
Jeff you've just come offstage after being presented with the Living Legend award and having performed a live set with vocal contributions from Chrissie Hynde and Joss Stone. Can you sum up your feelings?
I didn't see the entire awards but I thought Gene Simmons did a grand job [as MC]. When I played, I was shitting my pants as it was the first time with a new line-up, and because Roger [Taylor from Queen, who presented the award] was in the audience. Also all of the other dudes in the crowd; the metal dudes.
You must be accustomed to playing to rooms full of fellow musicians by now, but that was to the millionth degree.
[Laughing]: The stress factor was incredibly high, let's just say that. How do you feel about the title of Living Legend?
I'm thrilled to bits. My career seems to have snowballed again during the last couple of years. Don't get me wrong, I have been working very hard but I've made myself known in places that I've never been before. It's definitely been worth it.
In accepting the event's top award you join a club that includes Lemmy (2005), Alice Cooper ('06), Jimmy Page ('07), Ozzy Osbourne ('08), Iggy Pop ('09) and Rush (2010).
Yeah. The ironic thing is that I'm nothing to do with that kind of music [traditional hard rock]. It's kind of wacky. I had quite a lot to do with its origins, but it's not something I'm doing now.
With a career that's edging towards half a decade in duration, is there a secret to staying in the business – remaining a star – for so long?
Being frightened, I think.
Care to elaborate upon that?
Well, Groucho Marx was the world's most successful comedian. Thanks to the Marx Brothers films he was mega-rich. And every night he used to go home for tea from the studio and tell his wife: 'It could all finish tomorrow'. [Bursts out laughing]. I can imagine him saying that, with cigar between his teeth. His wife would reply: 'Don't be silly, dear'. But Groucho's mantra is something that I've followed.
What are your plans for the immediate future?
Well, Veronica [Bellino, drummer] is over here and we're going to record. I want to do the power-trio thing, but with a whole modern spin. It's time for me to stand up and do something special. There are also whispers of you collaborating with Percy…?
[Sounding confused]: Percy?
Percy Plant… as in Robert.
Oh, that Percy. [Laughs]. Yes, absolutely. I bump into him a lot. It always sounds like a load of empty twaddle when you talk about something [so potentially important] at an industry party. I'll let him make a move. But if he wants to do it I'd be very, very happy.
Finally, is there anyone to whom you'd like to dedicate the award?
Golly… just to the fans, I suppose. You can have the best roadies or manager in the world but the fans are what makes it really happen. I've got such faithful ones, and they've been with me for so long. They're the messengers of this music. Some of the things that people say to me are so tear-jerking, it's astonishing. So, whether they're a pain in the ass or not, this one is for the fans.
(Interview: Dave Ling)
************************************************
---
December 28, 2011
Hey! Here's a 'What's New!' recap for 2011...Dick actually wrote this...so proud of him. BA

What's New finish for 2011.

Just as the liner notes to Beck Ola regarding not being totally original but with emphasis on heavy, here is our heavy ending to What's New this year with a recap of 2011, some of it already mentioned so excuse us, some of it new, and all of it compiled in its' totality by our friend Doc. Check out his BB JBAGG link on our home page for some wonderful recent audio/video adds as well.
JANUARY

Cancer Benefit in London with Pete Townsend, Roger Daltrey, Bryan Adams, Debbie Harry
Went to see Cirque du Soleil at the Royal Albert Hall

FEBRUARY

Rehearsals for Grammy's MusiCares for Barbara Streisand w/ LeAnn Rimes and BeBe Winans on 2-10-11
MusiCares show on 2-11-11
Attended Clive Davis' Pre-Grammy Party in LA on 2-12-11
Grammy Awards in LA, he won 3 on 2-13-11
Attended Warner Music Group Post-Grammy Party 2-13-11
Recorded tracks with his band in California and then did tracks for a proposed project with Rod Stewart
Back in the UK - Attended British Music Awards in London on the 15th of Feb.
Release date of ROCK 'N ROLL PARTY HONOURING LES PAUL on cd and dvd
In the UK ROCK 'N ROLL PARTY cd/dvd release party 2-24-11
In the UK attended MILLION DOLLAR QUARTER 2-28-11

MARCH

Sat in with Imelda May and her band in London on March 17th
March 24th began a short US Tour in support of the ROCK 'N ROLL PARTY cd/dvd backed by Imelda May and her Band
While in Texas recorded a new tune

APRIL

ROCK 'N ROLL PARTY concluded on April 9th
Appeared on The Tonight Show with Jay Leno w/ Imelda and her band
EMOTION & COMMOTION TOUR LEG with his band of Narada Michael Walden, Rhonda Smith and Jason Rebello began on April 18th and continued all throughout April

MAY

EMOTION & COMMOTION TOUR continued till May 7th in Clearwater, FL
Back in the UK had his second meeting with Rod Stewart over proposed project after Stewart stated the tunes recorded were in the wrong key for him

JUNE

Plays at HASTE private gig keeping a drunken promise at Wintershall w/ Roger Taylor and his son Rufus Taylor (Jason Rebello accompanied Jeff on keyboards) on June 4th
Attended the Linda Eastman McCartney private viewing of artwork w/ his wife Sandra invited by Stella McCartney on June 6th
EMOTION & COMMOTION TOUR leg 6 Plays all over Europe began June 11th and concluded on July 1st

JULY

EMOTION & COMMOTION TOUR Leg 6 ended on JulyS 1st in Paris, France
Receives Honorary Fellow Degree from The University of Arts in London on July 19th
Receives Honorary Doctor of the Arts Degree from University of Sussex on July 21st

AUGUST

Sits in with Sharon Corr and her band on two selections in London at the O2 Academy on the 24th

SEPTEMBER

Performed with Brian May, Roger Taylor and more at a special tribute for the late Freddie Mercury on the 5th
Flew to the US, recorded some tracks, one of which was "Like A Rolling Stone" with Seal for the Bob Dylan Tribute album for \ Amnesty International
Had some jam sessions with Tal Wilkenfeld
Discovered drummer Veronica Bellino via You Tube videos as he searched for something different for his new album and band
Rehearsed with Steven Tyler of Aerosmith for a one-off appearance for the iHeart Music Festival. Beck played lead guitar on 4 songs in a band that included Randy Jackson, Sting, Tal Wilkenfeld, Damon Johnson and more that backed Tyler. Rehearsals were 9-22-11 and 9-23-11 in LA and Vegas.
iHeart Music Festival live from Las Vegas was streamed live on Sept. 24th

OCTOBER

Jeff and his wife attend Paul McCartney's wedding on Oct. 10th in London
EMOTION & COMMOTION final Leg 7 tour played Canada and the Great Northwest of the USA from Oct. 12th till Nov. 2nd.
some tracks recorded with new band of Rhonda Smith and Veronica Bellino in LA.

NOVEMBER

Jeff Beck receives CLASSIC ROCK AWARD's Living Legend Awards on Nov. 9th and debut his new band of Bellino and Smith. They are joined on stage by Chrissie Hynde and Joss Stone for a song each.
Recording sessions at SAR Studios in London with Smith and Bellino go on until November 17th.

DECEMBER

Jeff attends the British Comedy Awards in London on Dec. 16th.
Check out Dick's review and latest encounter with the great Joe Bonamassa in Issue 18 of The Jeff Beck Bulletin.
Also Dick has been in touch with Fender industry legend John Hill, long time Jeff Beck road assistant Al Dutton, and friend/jam mate drummer Jimmy Copley so stay tuned in 2012 for more blasting from the pasting.
BTW Jimmy Copley mentioned that the Guitar Aficionado blog at www.guitaraficionado.com/top-ten-jeff-beck-guest-sessions.html rated the all time top Jeff Beck guest sessions and had the Jeff/Jimmy Copley collaboration of the blues classic "Every Day I Have The Blues" from Jimmy's Japan CD "Slap My Hand" at number 5. BTW I read the blog, Jeff. Where's Lord Sutch and "Gutty Guitar"?!? Hah!
Be seeing you What's New in 2012! Happy New Years to all!
Oops, Dick missed a few things for our last update of 2011.... Jeff's 'Rock N' Roll Party' honoring Les Paul got a 2012 Grammy nod for Best Rock Album.
Back in September some outtakes from Jeff's 'Red White And Blues' session with Tom Jones popped up on youtube; http://www.youtube.com/watch?v=hE7Tl8VqgE4&feature=player_embedded.
Also back in September some nice new Jeff photos by Ross Halfin were posted on Ross' site; http://www.rosshalfin.com/jeff-beck/jeff-beck17.php.
If you haven't seen Martin Power's biography of Jeff, 'Hot Wired Guitar - The Life Of Jeff Beck' on book store shelves yet (providing there are still any in your neighborhood, the ones near me are all closing), it's because the U.S. release has been pushed back to March 2012. It was released in the UK last October and is a good read.
Beth Hart and Joe Bonamassa put out a CD a few months back. 'Don't Explain' is the title and it's killer! We all know how great a guitarist Joe is but Beth has been a little under our radar since her stint with Jeff a few years back. This CD will remind you that, Damn! That girl can sing!!! She is simply incredible on this release.
Lastly about a month ago a fellow by the name of Roger Taylor (is it 'that' Roger Taylor? Hmm. Just kidding, hah.) sent us a video he created in homage to Jeff. It really is quite good. Check it out; http://youtu.be/4EkUm9SJYZc .
Now...Cheers, have a good one, see you in 2012!
---