January 26, 2014
Okay, here we are. 2014. 2014 is going to be a huge year for Jeff Beck and his fans. Why? Because 2+1+4=7 add the 0 and you get 70. Jeff will turn 70 this year. It all makes sense right?

No, really, huge tour, new album all in the works right now. Here's a pic of Jeff and band members in the studio finishing up the new Warner/Rhino Lp to be released soon.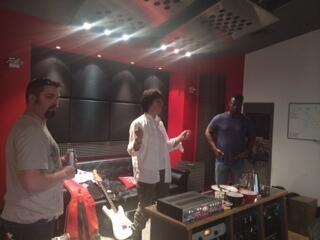 And here are the lastest tour dates we have...

JEFF BECK WORLD TOUR 2014

April 5th...Hyogo, Japan -  Amashin Archaic Hall 
April 7th…Tokyo, Japan - Dome City Hall
April 8th…Tokyo, Japan - Dome City Hall
April 9th…Tokyo, Japan - Dome City Hall
April 11th..Sapparo, Japan - Nitori Bunka Hall
April 13th..Iwate, Japan - Kenmin Kaikan
April 14th..Yokohama, Japan - Yokohama Pacifico
April 15th..Nagoya, Japan - Shi Kokaido
April 16th..Osaka, Japan - Osaka Festival Hall
April 19th..Byron Bay - Byron Bay Festival Australia
April 21st..Sydney, Australia - Sydney Opera House
April 22nd..Melbourne, Australia - Hammer Hall
April 24th..Perth, Australia - Perth Concert Hall
April 26th..Seoul, South Korea - Olympic Hall
May 13th…Southend, UK - Cliff's Pavillion
May 14th…London, UK - Royal Albert Hall
May 16th…Bristol, UK - Colston Hall
May 17th…Oxford, UK - New Theatre
May 19th…Manchester, UK - Bridgewater Hall
May 20th…Birmingham, UK - Birmingham Symphony Hall
May 21st…Dublin, Ireland - Olympia Theatre
May 25th…Utrecht, Netherlands - Trivoli Hall
May 26th…Brussels, Belgium - Ancienne Belgique
May 27th…Paris, France - Rex Theatre
May 29th…Cologne, Germany - E-Werk Hall
May 30th…Berlin, Germany - Columbia Theatre
June 1st…..Frankfurt, Germany - Capitol Theatre
June 2nd….Munich, Germany - Circus Krone


Now to catch up...On December 29th, 2013...Ronnie Scott's in London... Jeff attended Lizzie Ball's Classical Kicks extravaganza which saw another of her stringed cohorts, Gabriella Swallow, who will also be on the forthcoming Jeff Beck Band 2014 WB/Atco/Rhino release scheduled for late March/Early April release. Also there performing was John Thomas who is an accomplished guitarist.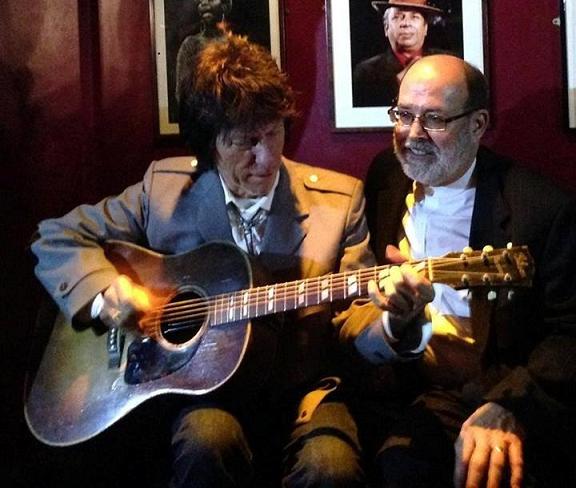 At the gig John played a 1943 Gibson, handmade by the 'Ladies of Kalamazoo' when the Gibson factory was located there. Ladies made Gibson guitars during wartime. John Thomas is a huge Jeff Beck fan so he and his family thouroughly enjoyed not only meeting Jeff but also Suzi Quatro of the BBC who did a segment on John's 'Ladies of Kalamazoo'. And Jeff got to check out the guitar (above). Finally, Nicolas Meier also performed that evening in support of the whole Classical Kicks Lizzie Ball extravaganza.
Roger Taylor's new album, 'Fun On Earth' came out last November featuring Jeff on the cut 'Say It's Not True'. I don't get how this is possible or allowed but the whole album is on YouTube.
http://www.youtube.com/watch?v=PF2gOgZM0SE
'Say It's Not True' is 36:26 in and in our humble opinion it's the best 'guest' Jeff has done since Roger Water's 'Amused To Death'. Here's Dick's mini review.
********************************************************************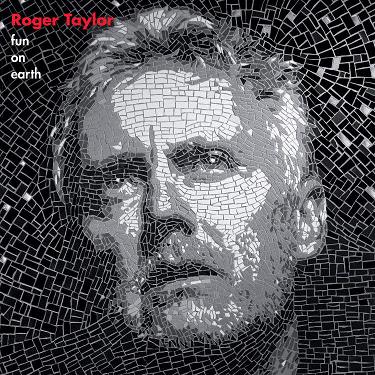 "Say It's Not True"
Roger Taylor's vocal heartfelt posthumous anguished questioning of why Freddie Mercury had to be an AIDS victim when it could have been anybody, is the simple effective driving AIDS awareness anthem duet with the heavenly angelic bone chilling guitar lines of Jeff Beck. Jeff's tone quality and amazing lines both in support of the tune and lead solo deserve both an artistic and production merit of the highest order. Anyone listening to this tune without shedding a tear or three is unfathomable. A genuine classic for the ages on the scale of John Lennon's "Imagine" played by two of Britain's still currently relevant rock artists stretching the boundaries of emotion through song.
********************************************************************
Our friend Ed Chapero came up again with another cool Jeff Beck tale from the cavernous internet. Don't know how he does it. This is a short recollection from Jeff's friend Dave Ball. Taped up Stratocaster and Jeff Beck on bass?



When Cozy got the job with Jeff I used to go down to the rehearsals
down in Belsize Park where Jeff & I became friends. Now the thing with
Jeff's music is that he always reinventing himself. He has an enormous
appreciation for all sorts of music which is why he can do this (apart
from being just a naturally superb guitarist and the fact that he works
very hard at it of course.)
 
One of the ways he learns new styles is by just putting on records and
just playing along with them. Didn't matter what it was – Tamala Motown
stuff, Chess records, Les Paul stuff, old rockabilly – didn't matter,
just played along. Aspiring guitarists should take a leaf out of his
book and try this themselves – you'd be amazed at how this improves
your depth of playing.
 
I remember an amusing event at rehearsals. His Stratocaster had been
playing up – wiring issue I think, when he just lost it and threw the
guitar at the wall behind the stage. The guitar split, the controls
(and the wood they were attached to) were just hanging by the wires. I
think we just went for a coffee and left the roadie to sort something
out. The roadie (I think it was Welsh Brian) gaffa-taped the two parts
together which was probably the only thing he could have done. Anyway,
Jeff plugged it in and 'Voila!' it was working perfectly – even
improved the sound so he reckoned, so he carried on using this taped up
guitar for some while after.
 
One time when Cozy and me were staying at Jeff's place in Kent we went
down to Maidstone Cricket Club where there was some charity do on. They
asked Jeff to play so the three of us got up and did a few songs.
Rather sadly (for the audience) Jeff wanted me to play lead whilst he
got on bass. So there you go – my gig with Beck, Powell and Ball.
Awesome!
 
Dave Ball
 

Another tale from the net...this features the late, great Long John Baldry. His 1971 album 'It Ain't Easy' is still one of our favorites. One side produced by Rod Stewart, the other by Elton John, absolutely killer. I (Bill) first met John in the spring of 1975 after I had became aquainted with several members of his then band during a several month stay in London. Never forget a night I saw them play The Nashville. Several years later I went to see him when he played Paul's Mall in Boston and remembering me, he invited me and my then girlfriend back to his dressing room after the show for a beer. The whole time John, who was probably 6'4" and had just gotten out of his stage clothes, was talking to us wearing only a pair of tiny bikini underwear. I kept glancing over at my girlfriend Nancy who was freakin'! Hah!

   
On the evening of January 7, 1964, the very day that Long John Baldry
and his fellow bandmates learned that Cyril Davies had crossed over
into the afterlife, Baldry took the band over the bridge to Eel Pie
Island for one last swing as the All Stars.
As a charismatic host and lead singer, Baldry was an obvious successor
as bandleader. If there were to be a wake for Davies, it would be a
loud one. Ian MacLagan, who was in the audience that night, recalls
that Baldry and his bandmates rocked especially hard in tribute to
their fallen friend. "Well, it always rocked like hell," MacLagan adds.
"We knew how special Cyril was and how special that band was. It was
pure Chicago blues. It was Muddy Waters personified."
It was tragic to think that Cyril Davies's harmonica would never again
feel his boozy breath. There was no time for sad songs, though. "It was
pretty down," remembers Geoff Bradford, who was on the bandstand with
Baldry and the others that night. "But the show must go on and all
that."
Ian MacLagan, then keyboardist with Eel Pie regulars the Muleskinners,
admits to closely studying the All Stars' musicianship.
"I played guitar as well," says MacLagan, "so I used to look up at
Geoff Bradford, trying to figure out exactly what key he was in,
because he would do these crazy inversions. His hands would just move
slowly up and down the neck and you could never tell. I was also
transfixed watching Cliff Barton, who is just a fantastic bass player,
and I talked to him every gig I could."
"Jeff Beck and the Tridents also played that night," Bradford recalls,
"as the interval band." Baldry was sufficiently impressed with the
young Beck that, within a few months, he offered him a job in his band.
Beck, however, politely declined the invitation. "I'd tried to grab
him," Baldry told The New Breed in 2001, "but his wife at the time, or
a very intense girlfriend, would not let him give up his daytime job.
She was happier for him to remain semi-pro and just do the odd gig over
at Eel Pie Island with the Tridents."


Funny blurb from Alan Shatlock who produced Jeff's cover of 'Wild Thing" which can be found on 'Beckology'.....


"Jeff was a boyhood guitar hero, still is - he's a very special man on
the guitar, he's pretty unbelievable. It's funny how he comes into the
studio with grease on his hands all the time, all over his hands - he's
a car fanatic, absolute car fanatic, and he'll come in and say 'sorry
I've been working on the car.' He'll get grease all over the guitar -
'sounds better that way' he'll say."

And lastly a link to what we guess is a bootleg CD site? The Jeff Beck/Rolling Stones audition tapes from 1975 which by all accounts we've heard of was a major cluster f**k.

February 20, 2014
Several dates have been added to Jeff's 2014 World Tour. Two of them at the beginning of the Japanese leg due to expected sellouts. Here's a re-listing of the tour dates with added info including support. The pic below shows who will support Jeff on two Australian dates...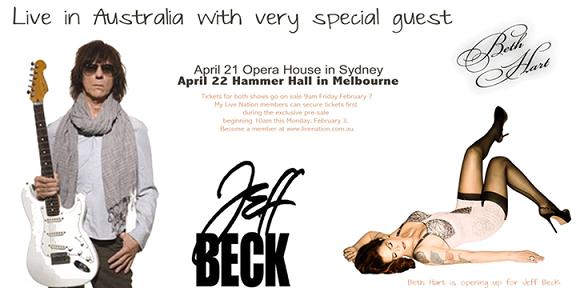 JEFF BECK WORLD TOUR 2014
April 4th…Tokyo, Japan  NKH Hall
April 5th…Osaka, Japan  Amashin Archaic Hall
April 7th…Tokyo, Japan Dome City Hall
April 8th…Tokyo, Japan Dome City Hall
April 9th…Tokyo, Japan Dome City Hall
April 11th..Sapparo, Japan Nitori Bunker Hall
April 13th..Iwate, Japan Kenmin Kaikan
April 14th..Yokohama, Japan Yokohama Pacifico
April 15th..Nagoya, Japan Shi Kokaido
April 16th..Osaka, Japan Osaka Festival Hall
April 19th..Byron Bay Byron Bay Festival Australia
April 21st..Sydney, Australia Sydney Opera House
(support act Beth Hart and Jon Nichols)
April 22nd..Melbourne, Australia Hammer Hall
(support act Beth Hart and Jon Nichols)
April 24th..Perth, Australia Perth Concert Hall
April 26th..Seoul, South Korea Olympic Hall
May 13th…Southend, UK Cliff's Pavillion
May 14th…London, UK Royal Albert Hall
May 16th…Bristol, UK Colston Hall
May 17th…Oxford, UK New Theatre
May 19th…Manchester, UK Bridgewater Hall
May 20th…Birmingham, UK Birmingham Symphony Hall
May 21st…Dublin, Ireland Olympia Theatre
May 22nd...London, England-The Ivo Novella Awards, Grosvenor House
May 25th…Utrecht, Netherlands Trivoli Hall
May 26th…Brussels, Belgium Ancienne Belgique
May 27th… Paris, France Rex Theatre
May 29th… Cologne, Germany E-Werk Hall
May 30th… Berlin, Germany Columbia Theatre
June 1st….. Frankfurt, Germany Capitol Theatre
June 2nd…. Munich, Germany Circus Krone
June 4th….. Prague, Czech Republic

Jeff has been doing some pre-tour promotion...here's an Australian radio interview he did recently; http://www.oxygene8.com/JB_interview.mp3
Speaking of dates...here's one for all of you in the Portland, Oregon area....Jennifer Batten doing an evening of Jeff Beck music!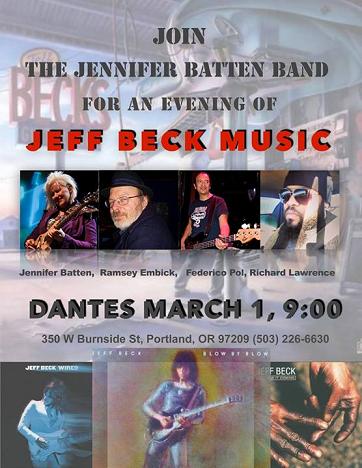 Jeff was at a must-see show for him recently, Billy Cobham at Ronnie Scott's in London. Here's a pic of Jeff with keyboardist Gary Husband who also attended the show....fans will recall Gary performed with Jeff and Beverly Knight at the Bob Marley tribute a few years back at the UK Hall of Fame show. Jonathan Joseph can be seen over Gary's shoulder as well.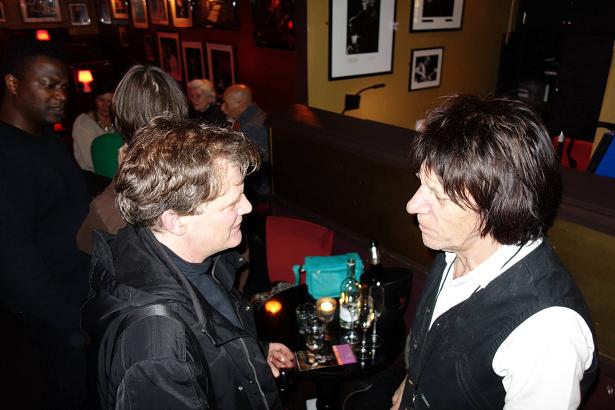 With the 56th Annual Grammy Awards recently being handed out, our old friend Doc assembled this list of Jeff's Grammy nominations and awards for your perusal...

GRAMMY NOMINATIONS AND GRAMMY WINS FOR JEFF BECK

1977...WIRED -  Best Pop Instrumental Performance
1985..."Escape" Best Rock Instrumental Performance-First win
1990....GUITAR SHOP Best Rock Instrumental Performance-Second win
1993..."Hound Dog" Best Rock Instrumental Performance
1994..."High Heel Sneakers" Best Rock Instrumental Performance
2000..."A Day In The Life" Best Pop Instrumental Performance
2000..."What Mama Said" Best Rock Instrumental Performance
2002..."Dirty Mind" Best Rock Instrumental Performance-Third win
2004..."Plan B" Best Rock Instrumental Performance - Fourth win
2010..."A Day In The Life" Best Rock Instrumental Performance-Fifth win
2011..."Nessun Dorma" Best Pop Instrumental Performance-Sixth win
2011..."Hammerhead" Best Rock Instrumental Performance-Seventh win
2011..."Imagine" Best Pop Collaboration With Vocals-Eighth win
2011..."I Put A Spell On You" Best Rock Vocal Perfromance By A Duo or
        Group

Another studio engineer's career retrospective book is out which of course if it didn't mention Jeff Beck we wouldn't either. It's "Are We Still Rolling?: Studios, Drugs and Rock 'n' Roll - One Man's Journey ..." By Phill Brown. You can read a little preview of the section on Jeff here; http://books.google.com/books?id=jkhMAgAAQBAJ&printsec=frontcover&dq=greg+geller+jeff+beck&hl=en&sa=X&ei=WVnlUp8X9d-wBP-ngtgJ&ved=0CEsQ6AEwCA#v=onepage&q=jeff%20beck&f=false
And lastly...Sandra Beck contacted us and told us she is looking for the identity of the person who took the photo below. Our investigation has narrowed the timeline to between summer '73 and summer '74. Whereabouts unknown. So, we are asking... Who Took This Photo Of Jeff Preparing To Take A Photo? If you are the photographer or know who is, someone connected to this famous person wants to know it from you!!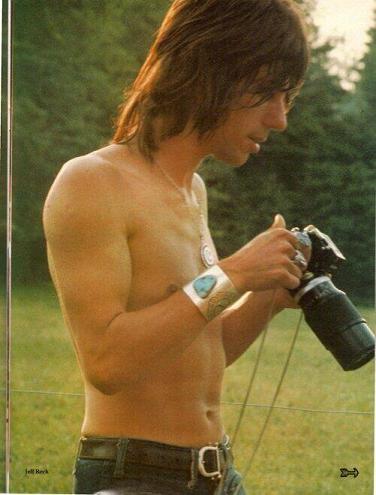 Well, this didn't take long....Our good friend from Greece, Otis, was quick on the draw. We had deduced that the pic was '73 to '74 probably in UK and if so definitely summer. Otis collects old mags especially with Jeff and quickly pulled out the German rock Magazine named 'Pop' (Issue 19 what a bizzaro coincidence) and voila' there is this pic presumably with others. The mag featured Jeff and then pop star/kid actor David Cassidy. London Features Int. has photo rights from photographer(s) Bob Ellis and Franz Gloor. Research on Bob Ellis turned up a similar affinity to Jeff for early rockabilly as Bob wrote the liner notes to a 1959 lp Rock n Roll Revue which featured among others a tune by Tiny Bradshaw, who of course also co authored 'Train Kept A Rollin'! Ellis shot photos for the Montrose Lp the same year, '73, as the Jeff Beck shoot and went on later to shoot Lp photo art for multiple Pink Floyd and AC/DC releases. Thanks to Otis and Sheila for helping us sort through all this and get it nailed down!
---
March 22, 2014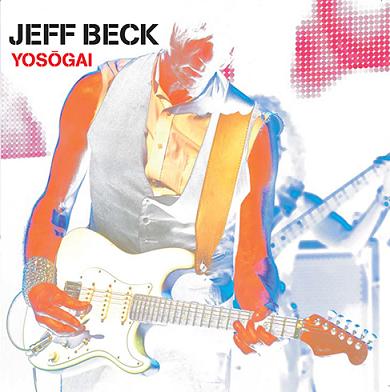 Artists often like to 'tour behind' something. With Jeff's tour of Japan about to start, Warner Bros. Japan has given Jeff just that. A three song EP called "Yosogai" which in Japanese means 'Unexpectedly' will be released April 5th and can be purchased at; http://www.wmg.jp/artist/jeffbeck/WPCR000015682.html. The cover art is built around a photo by Robert Knight. The three songs are;

"Loaded" - a new song from the upcoming new album due out soon. Co-written by Dean Garcia and Jeff Beck.
"Why Give It Away" featuring French vocalist Sophie Delila. This song was part of an effort to resurrect an album that was presented to Warner Bros. in early 2012 and then scrapped at the last second. Jeff hired the the UK 'Hip Hop' production trio 'SMV' and their Sanctuary Studios in Battersea for the project. Here's a pic of the crew that appeared in 'What's New' last year.

In this picture Sophie is only 23 years old. The shirt Jeff is wearing was given to him by our friend and rock 'n' roll clothier supreme, Alan Sholiton back in late 2010! (We'll tell the whole shirt story in the next What's New).

When we first heard Sophie was working with Jeff last year we reached out to her via Facebook and she kindly wrote back to us with her impressions.


Hi there!

My experience working with Jeff Beck was truly amazing.
SMV sent me this track they'd written/recorded with him (I had to
confirm with them on the phone that they were talking about living
legend Jeff Beck!).
I wrote and sang something quite 'rock' and slightly crazy on top,
which I sent back a few hours later. They played it to Jeff who loved
it, so they asked me to stop by their studio to meet Jeff, record more
vocals and possibly write something else with them, which we did.
Jeff's playing is so unique and amazing. His musicality and groove are
limitless and that is so inspiring. I learnt a lot just watching him
play in the studio. Writing with him - let alone singing! - was a real
privilege.
He gave me great advice on singing too at some point, on another song
we wrote together, as I was struggling with some very very low notes.
He said "just whisper it" and it worked of course. I truly treasure
these moments and feel very honored to have met and worked with him.
I would do it all again - anytime!
Hope this helps!
All the best
Sophie Delila


"Danny Boy" featuring Imelda May. Recorded live at Moody Theater in Austin, Texas. This song dates back to April 5th, 2011 when Jeff toured with Imelda and Darrell for his 'Rock 'N' Roll Party' dates. The Moody Theater is where the 'Austin City Limits' TV show is recorded and we were hoping for an episode but it never happened. Seems they recorded something.
Last week Jeff was in Frankfurt, Germany signing autographs at the Fender booth of the Musikmesse music trade show. Here's a couple pics;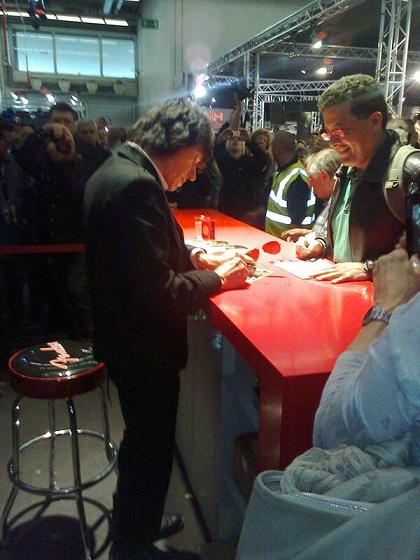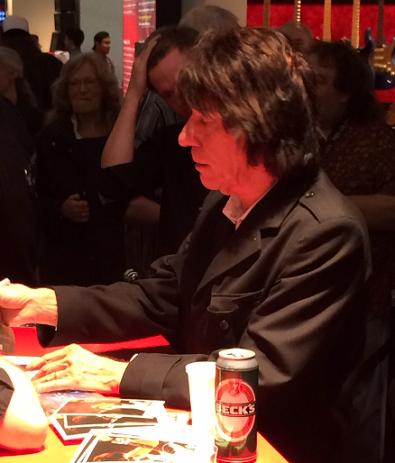 According to the trade show's Facebook blog, https://www.facebook.com/musikmesse/posts/685184001539818, Jeff's booth had the longest queue!
And speaking of Germany, we've learned blues guitarist Oli Brown will opening some of Jeff's date there. His webpage, www.olibrownofficial.com.
We recently recieved this pic courtesy of Sandra Beck...Jeff (we're guessing at a California car show) with actress Candy Clark who appeared in among others, one of Jeff's favorite movies, "American Graffiti". You know the yellow deuce and everything.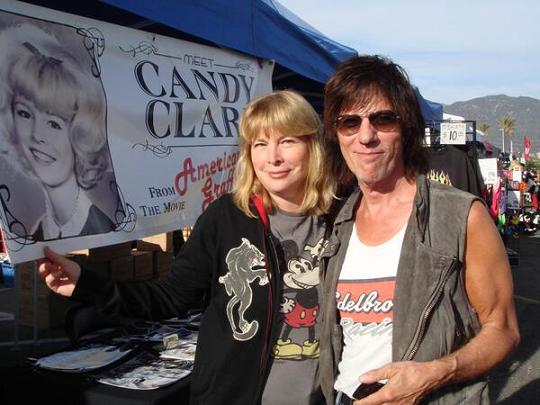 And lastly for this post some sad news..Dan Griffin, producer/writer of the book and unreleased documentary, "Blue Moon Boys, The Story Of Elvis Presley's Band (All The Kings Men) which featured Jeff Beck and Ronnie Wood among others in the documentary saluting Scott Moore, DJ Fontana, and Bill Black, has passed away. Dan was a big Jeff Beck fan and supporter of this website. We join his loved ones in their grief and celebration of his life.
---
April 6, 2014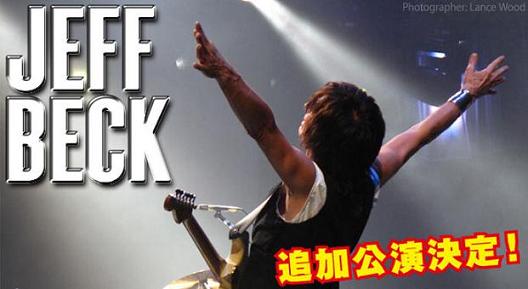 Lots of news! First Japanese tour reports are in thanks to Toshi. You know Toshi, we've mentioned him here a million times. Which reminds me, I've been told a million times not to exaggerate. Here's the setlist from the April 4th opener from Toyko's NKH Hall featuring the new Jeff Beck Band quartet...Jonathan Joseph - drums and percussion as well as backup vocals, Rhonda Smith - bass, upright bass and vocals, Nick Meier - guitar and midi guitar and Jeff Beck on Stratospheric guitar.

1.Loaded(new)
2.Nine(new)
3.Little Wing
4.You Know You Know
5.Hammerhead
6.Angels Footsteps
7.Stratus
8.Yemin
9.Where Were You
10.The Pump
11.Goodbye Pork Pie Hat/Brush With The Blues
12.You Never Know
13.Danny Boy
14.Blue Wind
15.Led Boots
16.Corpus Christi Carol
17.Big Block
18.A Day In The Life
-encore-
19.Rollin And Tumblin
20.Cause We've Ended As Lovers

Opener is a bit of surprise, right off the bat 'Loaded' from the new Lp...as you can see here from YouTube - http://www.youtube.com/watch?v=SCU817jt55E, Jeff plays his white, blond necked Tele tuned to a 'drop D'. And here's 'Yemin' http://www.youtube.com/watch?v=xDVos9wpq0I.
Here's a pic of the April 3rd rehearsal setlist....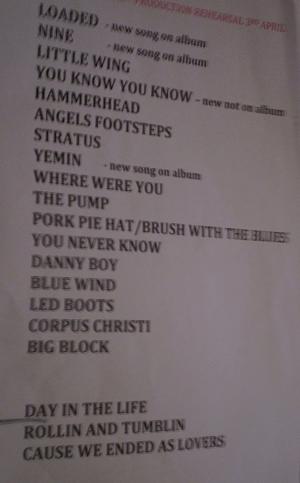 And here's the setlist from the April 5th show at Osaka's Amashin Archaic Hall.

4/5 Amashin Archaic Hall
 
1.Loaded(new)
2.Nine(new)
3.Little Wing
4.You Know You Know
5.Hammerhead
6.Angel Footsteps
7.Stratus
8.Yemin
9.Where Were You
10.The Pump
11.Goodbye Pork Pie Hat/Brush With The Blues
12.You Never Know
13.Danny Boy
14.Blue Wind
15.Led Boots
16.Corpus Christi Carol
17.Big Block
18.A Day In The Life
-encore-
19.Rollin And Tumblin
20.Cause We've Ended As Lovers
21.Why Give It Away(new)

Second night 'Why Give It Away', also from the new Lp and the three song Japanese Ep, was added. On the record it's sung by Sophie Delila, we're guessing Rhonda sang it since she's a great singer. Other details from Toshi...Jeff used three guitars...the Tele as we said on 'Loaded', one of his back-up Strats for 'Little Wing' which he usually has tuned down to an Eb...and his main Strat. On the second night Nick Meier extended the intro to 'Yemin' to include the melody of the traditional Japanese song 'Sakura Sakura' which means 'Cherry Tree'. April is when cherry trees blossom in Japan.
Now, on to the next big news...more U.S. dates announced as well as that Jeff will be co-headlining all of them with ZZ Top!
Here's the press release...

JEFF BECK AND ZZ TOP
TO EMBARK ON NATIONAL
SUMMER TOUR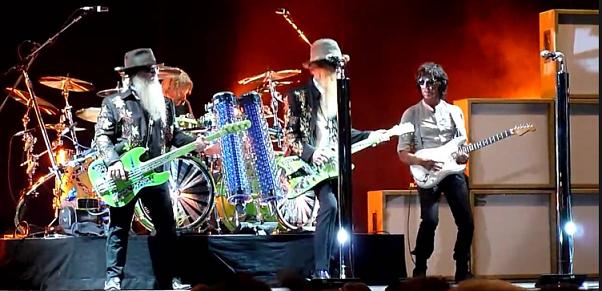 This August will see long time music legends and mutual admirers, ZZ
Top and Jeff Beck on tour together for the first time.  The tour
launches in Missoula, MT on August 8 and will run for five weeks with
stops in Los Angeles, Las Vegas, Denver, Detroit, Boston and NYC . . .
(more dates TBA).

Formatted with musical synergy in mind, stops along the touring
route will offer fans a full Jeff Beck set, followed by a full ZZ Top
set, with a finale that joins the English fret master with the Texas
rockers for a collaboration each night of the tour.
 
ZZ Top's Billy Gibbons, speaking on behalf of band mates Dusty Hill and
Frank Beard, noted that Beck has long been a source of musical
inspiration from the time when Beck played in the Yardbirds, the
seminal hard blues-based Britrock band. Gibbons commented, "Ever since
experiencing 'Jeff's Boogie,' the prospect of performance with Jeff
Beck on the deck brings us into focus with the curator of crunch."
 
Likewise, Beck has been an enduring fan of ZZ Top, from even before
their ascendance in popularity in the 70s and 80s. He remarked, "Ever
since Eliminator I thought it would be great to play with ZZ Top," and
went on to declare Billy Gibbons,"The Professor of Grunge."
 
This tour is not the first live collaboration between the two camps.
Gibbons joined Jeff Beck and his band on stage at the 25th anniversary
celebration of the Rock And Roll Hall of Fame in 2009 at New York's
Madison Square Garden, where they performed The Jimi Hendrix
Experience's "Foxey Lady" and ZZ Top's hit "Rough Boy" together. The
following year Jeff Beck joined ZZ Top in Lucca, Italy for an extended
rendition of the band's signature piece "La Grange." This, however,
marks the first time Jeff Beck and ZZ Top will have done any sort of
extensive touring together.
 
ZZ Top, formed in the Houston area of Texas in 1969, became a huge
national touring act in the 70s and darlings of MTV in the 80s, going
on to sell tens of millions of records. Their unique hybrid of dirty
blues, hard rock, incorporating new sounds and technology, earned them
induction into the Rock And Roll Hall of Fame in 2004 with Keith
Richards of the Rolling Stones doing the honors.
 
Jeff Beck, a native of London and two-time Rock And Roll Hall of Famer
(with The Yardbirds in 1992, and on his own in 2009), helped set the
template in the 60s for the solo-heavy, feedback-laden, rock guitar
hero archetype. He formed the Jeff Beck Group by the end of that decade
with then-unknown vocalist Rod Stewart, eventually going solo, with
forays into fusion and beyond in the mid-70s. Beck, like ZZ Top, has
continually incorporated new sounds and technologies into his work
throughout his half-century long career.  Lately, Beck has been working
on a new studio album, his first since the 2010 release of the
critically acclaimed Emotion & Commotion, which earned him two Grammy
Awards and the highest charting debut in his career.
 
Jeff Beck with ZZ Top Tour Itinerary:
 
August 8  OgrenPark Missoula, MT
August 9  Chateau Ste. Michelle Woodinville, WA
August 10 Cuthbert Amphitheatre Eugene, OR
August 12 The Mountain Winery Saratoga, CA
August 13 Greek Amphitheatre Los Angeles, CA
August 15 Ironstone Amphitheatre Murphys, CA
August 16 The Joint Las Vegas, NV
August 17 AVA Amphitheater, Tucson, AZ
August 20 Fiddlers Green Amphitheatre Englewood, CO
August 22 Zoo Amphitheatre Oklahoma City, OK
August 23 Starlight Theater KansasCity, MO
August 24 Verizon Wireless Amphitheater Maryland Heights, MO
August 27 DTE Energy Music Theatre Clarkston, MI
August 28 Ravinia Highland Park, IL
August 29 Seneca Allegany Casino, Salamanca, NY
August 30 Harrah's Casino Concert Venue, Atlantic City, NJ
August 31 MGM Grand Theater @Foxwoods Mashantucket, CT
September 2 Blue Hills Bank Pavilion Boston, MA
September 3 Merriweather Post Pavilion Columbia, MD
September 4 Nikon @Jones Beach Theater Wantagh, NY
September 6 Verizon Wireless Amphitheater Alpharetta, GA
September 7 St. Augustine Amphitheater St. Augustine, FL
September 12 Cynthia Woods Mitchell Pavilion The Woodlands, TX
                More dates TBA

The press release says that each night will end with a 'collaboration' of Jeff and ZZ Top and also mentioned how Billy performed with Jeff's band back in 2009 at the Rock N' Roll Hall Of Fame show in NYC. Someone took the video from that show and edited it with the track of a version of ZZ Top's cover of Tennessee Ernie Ford's 'Sixteen Tons'. And did it very well by the way. Even inserted ol' Tennesse in the video screen behind the stage. Here's the clip...http://www.youtube.com/watch?v=84zhSF_p0Ao. We've heard Jeff and Billy have seen it, like it so much that it's very likely this will be at least one of the 'collaborations'!
Now before we forget...Martin Power's 'Hot Wired Guitar: The Life of Jeff Beck will officially be released in the U.S. soon....check your usual outlets for a copy.
And lastly as we promised last time, the tail of the shirt, oops we mean the 'tale' of the shirt. In our last installment we posted a pic of Jeff with SMV and Sophie Delila in studio with Jeff wearing one very smart shirt, black with a bunch of musical symbols and notes on it in white. That shirt was given to him by our friend, clothing designer, line creator and R & R clothier supreme Alan Sholiton. It is a very rare, collectable, 'limited edition' that dates back to 1989 and the Jeff Beck/Stevie Ray Vaughn Tour in 1989. Alan met Jeff for the first time as just another lucky JB Fan, and was wearing the shirt that night. Both Stevie and Jeff, in that order, complimented him on the shirt, and Alan explained to them both that it was a from a 'limited edition run" of only 120 pieces worldwide. Alan, over the Christmas Holidays of 2010/2011, sent Jeff an assortment of clothing and included this shirt as an extra "surprise":)!...we've seen him sporting this still outstandingly tasteful piece of "music clothing" and a "priceless" shirt that is super-cool and vintage in it's own way!
Here's a pic of Jeff and Alan from '89 with Alan sporting one of the shirts.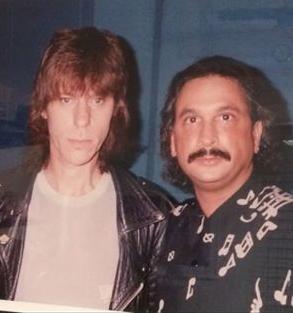 ---
May 16, 2014
Sorry we haven't updated more. We should have since Jeff's touring and all the going's on pile up. But, we've been traveling...Bill to Boston and Dick to the UK.

Also, Dick spoke to Jim McCarty the other day while on his UK vaca. He mentioned that he had already been interviewed for a Jeff Beck career retrospective DVD that is being produced by an outfit called 'MVD'. Max Middleton and Carmine Appice have also been interviewed for the project.

At present Jeff is half way through the UK leg of tour. Dick went to four shows over there and also got a chance to spend a day with Sandra Beck visiting the Folly Wildlife Rescue whose auctions we feature on the page. Here's Dick with Annette Risley of Folly Wildlife Rescue and Sandra Beck.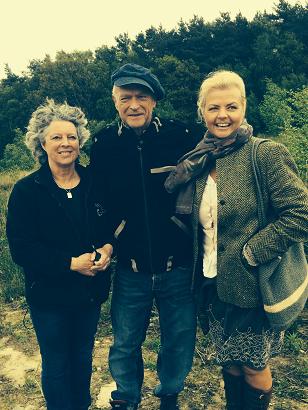 And speaking of Folly Wildlife Rescue auctions, recently we featured one where you could bid on two tickets and two aftershow passes for Jeff's May 14th performance at the Royal Albert Hall. The winning bid was L530.00 or $890.40 and we just got a nice note and pictures from the winning bidder Bill Orton. Here's what he wrote...


Hi Dick/Bill
This is me Bill Orton with Jeff at the RAH last night, I won the bid
for the meet and greet access tickets in support of the wildlife
rescue. This was a fantastic ticket for a major
Jeff Beck fan, and they were true to their word in that Julie (my wife)
and I were given first access to Jeff in his dressing room. Jeff was
very receptive and we also met his wife Sandra. We were not rushed away
and could have stayed as long as we wished, with other notable guests
ushered through including Bob Geldof, Harry Enfield and Chris Jagger.
The concert was really good with many new numbers fitting into the set
alongside welcome returns for tracks like Angel Footsteps and Where
Were You. We have seen many Jeff Beck shows over the years and this
will rate as a special night for us. Looking forward to Birmingham next
week.
Regards
Bill Orton
Ps Thanks for the time you put in to keep us informed, I actually run
The Official Kinks Fan Club, so do know what it all about.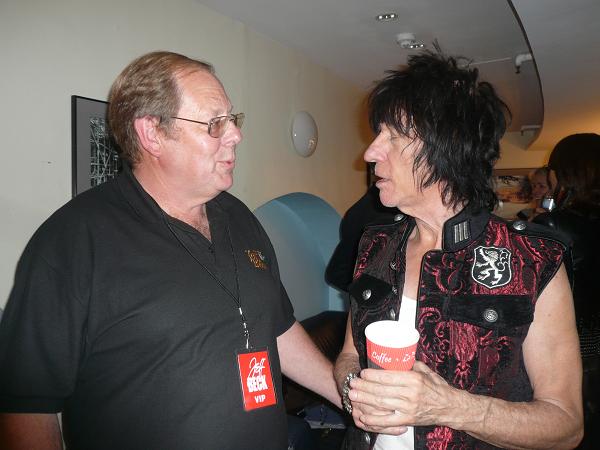 Bill Orton and Jeff at the RAH.
Going back in reverse order, Jeff's Australian dates with Beth Hart were a huge success. At the Byron Bay Bluesfest, Jeff was joined onstage by Joss Stone who did a rousing rendition of "I've Put A Spell On You". Here's a YouTube of Jeff and Joss in Byron Bay.... link. On May 10th Jeff and Joss (not together) and other greats did another one off Bluesfest in Brazil. Since it was a 'one off' Jeff didn't have his whole band come with him, rather he picked up Tal Wilkenfeld, Vinnie Colaiuta, and his old buddy Jimmy Hall for the gig. There's a bunch of YouTube videos of the gig, too many to list here, just search 'jeff beck brazil' and you'll get them.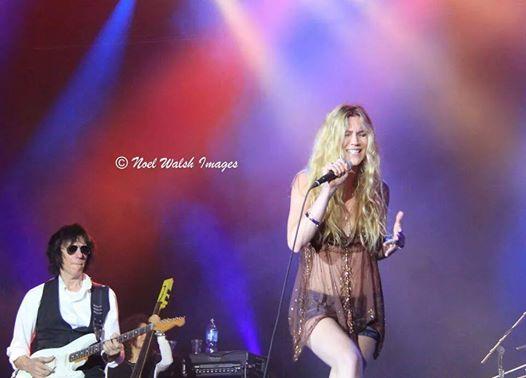 Courtesy Noel Walsh
Likewise things went well in South Korea albeit a little more somber since his gig there was shortly after that horrendous ferry disasater. For his show Jeff wore a yellow ribbon on his lapel in honor of the victims.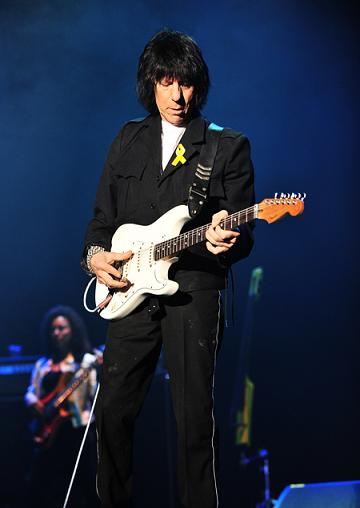 We want to thank again our friend Toshi who sent us reports from all the Japanese gigs. We published the setlists from the first gigs but changes soon followed. At the April 7th gig at the Tokyo Dome City Hall a new song "Choral" was put in place of "Corpus Christi Carol". Those two songs would be swapped out with each other in following shows. At the April 11th gig at the Nitori Culture Hall in Sapporo, Jeff added the middle eastern tinged tune "Egyptian". Also, "Why Give It Away" was moved out of the encore into the main set. Here's the setlist for that night which stayed the same for the rest of that leg.

1.Loaded(new)
2.Nine(new)
3.Little Wing
4.You Know You Know
5.Hammerhead
6.Angel(Footsteps)
7.Stratus
8.Yemin
9.Where Were You
10.Egyptian(new)
11.Goodbye Pork Pie Hat/Brush With The Blues
12.You Never Know
13.Danny Boy
14.Why Give It Away(new)
15.Led Boots
16.Choral(new)
17.Big Block
18.A Day In The Life
-encore-
19.Rollin' And Tumblin'
20.Cause We've Ended As Lovers

We got Toshi into a couple of the aftershow 'meet and greets'. However at the one after the April 7th Toyko Dome City Hall gig Toshi didn't get to 'm&g" Jeff because he was busy in his dressing room.....with Jimmy Page! Here's a pic of Jimmy backstage...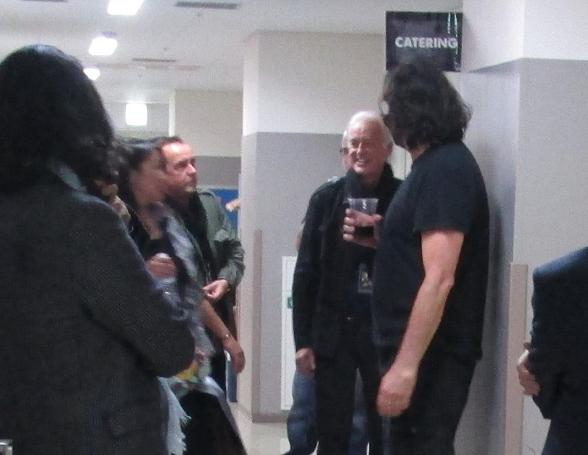 We also hear that Jeff hung out with Bob Dylan for a spell after his gig in Nagoya.
Another of our Japanese friends Hidecki Konno sent us some pics of Japanese Jeff Beck fan Yukinori who was at the aftershow of the Iwate gig. This was the first time Jeff had performed in that city. Yukinori brought with him a brand new Fender Jeff Beck Stratocaster which he had the whole band including Jeff sign. Yukinori has another Jeff Beck Strat that he had signed by Jeff during the Emotion And Commotion tour after winning an aftershow pass from a record company. That first Strat survived an earthquake that destroyed Yukinori's house shortly after that tour! We are told Yukinori is planning to aution off this new Strat with the proceeds going to Folly Wildlife Rescue, stayed tuned for details.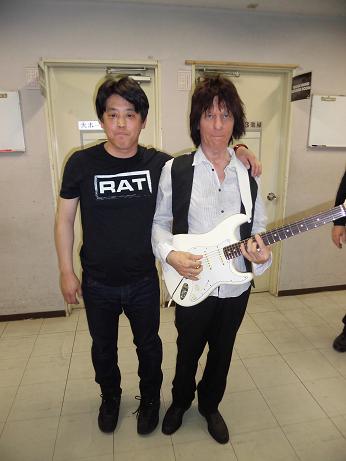 Yukinori and Jeff Beck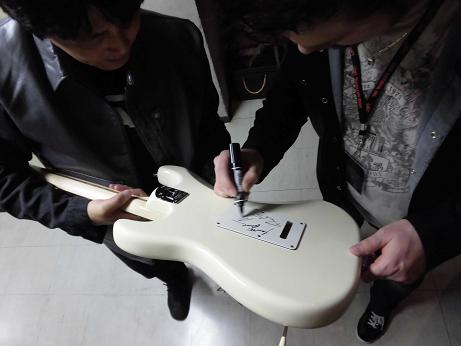 Rhonda Smith signing the Strat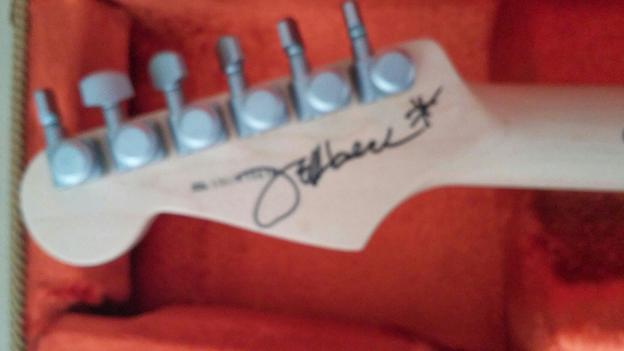 The latest media blurbs about Jeff....Guitar World Magazine recently rated the top ten slow song solos.....Jeff's 'Cause We've Ended As Lovers" was numero uno. And there was a feature article on Jeff in the May issue of Mojo Magazine.
Jeff will playing a prostate cancer benefit June 14th along with many other rock stars during a little down time in the middle of the European leg of his world tour. The event will be hosted by comedian and Jeff Beck friend Vic Reeves. Here's the line up....


ROCK N HORSEPOWER IN AID OF PROSTATE CANCER JUNE 14, 2014
Hurtwood Park Polo Club
LINE UP ANNOUNCED SO FAR
Kenney Jones (from The Small Faces, The Faces & The Who)
Roger Daltrey (The Who)
Pete Townshend (The Who)
Mick Hucknall (Simply Red)
Mike Rutherford (from Genesis & Mike and the Mechanics)
Procol Harum
Jeff Beck (The Yardbirds, Jeff Beck Group and many more)
Josh Phillips (from Procol Harum)
John Lodge (from Moody Blues)
Fabbagirls
Dave Bronze (from Procol Harum, Eric Clapton)
Jim Cregan (Rod Stewart)
Geoff Dunn (from Procol Harum)
John Thirkell (from Jamiroquai, Tina Turner, David Bowie, Pet Shop Boys
& George Michael)
John Parr (singer/songwriter – St. Elmo's Fire)
Rick Wills (from Foreigner)
Alvin Stardust
Jamie Johnson (BBC's The Voice 2014)
Sam Tanner (Brother Strut)
Mollie Marriott
Damon Hill
Nik Kershaw
Hosted by Vic Reeves
+ many more to be announced over the coming days!
Hurtwood Park Polo Country Club
Horsham Lane, Ewhurst Green
Surrey, UK
GU6 7SW
For tickets: http://www.hurtwoodparkpolo.co.uk/wp-content/uploads/2014/05/Tickets-UPDATED.pdf
www.hurtwoodparkpolo.co.uk

And here's the latest US dates with a few adds.

August 8  OgrenPark Missoula, MT
August 9  Chateau Ste. Michelle Woodinville, WA
August 10 Cuthbert Amphitheatre Eugene, OR
August 12 The Mountain Winery Saratoga, CA
August 13 Greek Amphitheatre Los Angeles, CA
August 15 Ironstone Amphitheatre Murphys, CA
August 16 The Joint Las Vegas, NV
August 17 AVA Amphitheater, Tucson, AZ
August 19 Sandia Casino, Albuquerque, NM
August 20 Fiddlers Green Amphitheatre Englewood, CO
August 22 Zoo Amphitheatre Oklahoma City, OK
August 23 Starlight Theater KansasCity, MO
August 24 Verizon Wireless Amphitheater Maryland Heights, MO
August 27 DTE Energy Music Theatre Clarkston, MI
August 28 Ravinia Highland Park, IL
August 29 Seneca Allegany Casino, Salamanca, NY
August 30 Harrah's Casino Concert Venue, Atlantic City, NJ
August 31 MGM Grand Theater @Foxwoods Mashantucket, CT
September 2 Blue Hills Bank Pavilion Boston, MA
September 3 Merriweather Post Pavilion Columbia, MD
September 4 Nikon @Jones Beach Theater Wantagh, NY
September 6 Verizon Wireless Amphitheater Alpharetta, GA
September 7 St. Augustine Amphitheater St. Augustine, FL
September 9 Cruzan Amphitheater, West Palm Beach, FL
September 10 MidFlorida Credit Union Amphitheater, Tampa, FL
September 12 Cynthia Woods Mitchell Pavilion The Woodlands, TX
September 13 WinStar World Casino, Thackerville, OK

                More dates TBA

We love old timey concert posters....here's one promoting The Jeff Beck Group's November 8, 1968 performance at Houston's Music Hall. Tickets $3 to $5? Those were the days. Anyway, opening act was The Moving Sidewalks whose guitarist was?.....Billy Gibbons.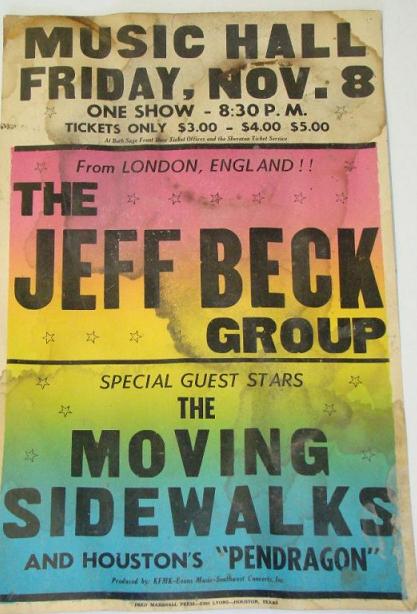 Jeff and Sandra Beck are coming up this summer on their 9th Wedding Anniversary having been married in 2005...In deference to fans we have been authorized to publish a Wedding Day photo by Maryanne Billham courtesy of Sandra Beck. We at www.ainian.com along with fans worldwide wish them all the continued best and happiness!!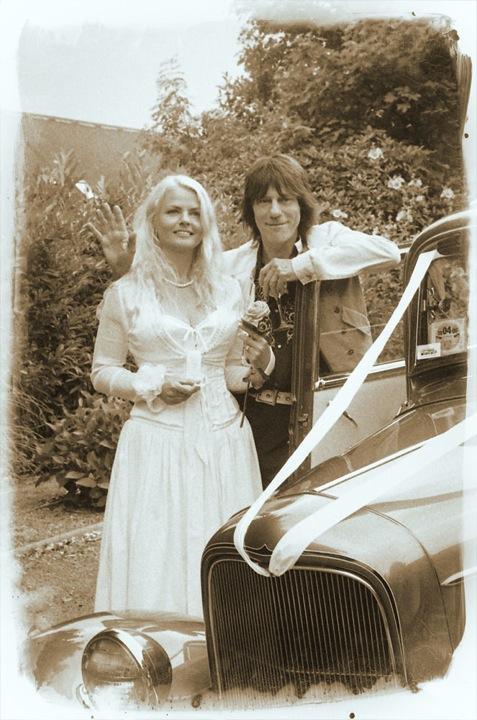 ---
July 8, 2014
Sorry again, it's been a while but it's summertime! Busy, busy, busy. Let's catch up, shall we?

May 22, 2014, Grosvenor House, London. Jeff won an Ivor Novello Award! Presented since 1956, the Ivor Novello Awards honour excellence in British and Irish songwriting and composing. They are judged by the songwriting and composing community. The actual award title is; 'PRS for Music Outstanding Contribution to British Music'.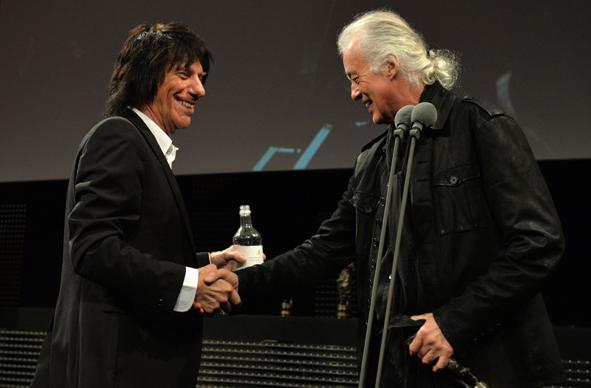 Jeff is presented the Igor Novello Award by mate Jimmy Page.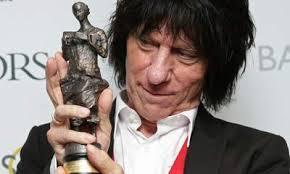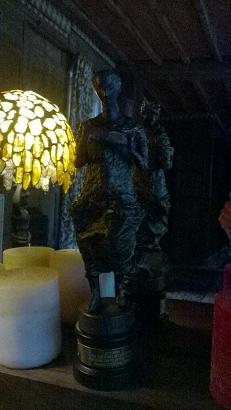 Jeff after receiving his award and on the shelf at home.
And speaking of awards, we've just learned Jeff will be receiving another major lifetime achievement award in the United States during his upcoming tour there.
We posted on our main page last week the press release from Jeff concerning the cancellation of the second half of his European tour and the reason, a medical issue that is being addressed. We have been authorized by Mr. Brian May himself "Bri" to reprint his well wishes for Jeff with accompanying pic from Brian May's Soapbox Page at www.brianmay.com.  Brian, a brilliant world reknown guitarist and member of Queen, is a great pal of Jeff's and has jammed together with him numerous times over the years.  Photo by Mandy Hall.
************************
GET BETTER SOON JEFF !!!
BRI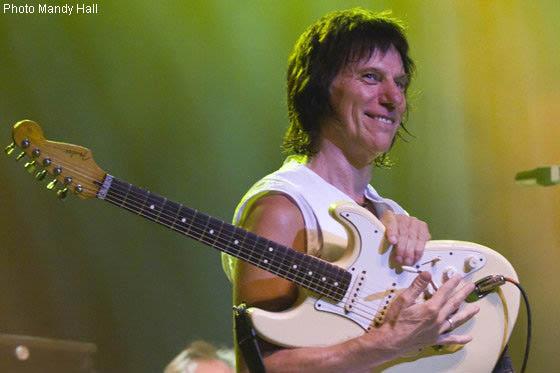 ************************
When Jeff picks up the U.S. leg of his tour (with ZZ Top) in August, he will be joined by old pal Jimmy Hall on vocals. Jimmy recently accompanied Jeff on that Bluesfest gig in Brazil. Jeff's setlist will no doubt be altered to accomodate. Live Nation is billing this tour as the 'Beards And Beck' tour. Hah. Here's pic from Jimmy's FaceBook fan page of Jed Lieber, Jimmy, Jeff and Jimmy's son Ryan in Los Angeles during rehearsals at Jed's studio in the Sunset Marquis for the gig.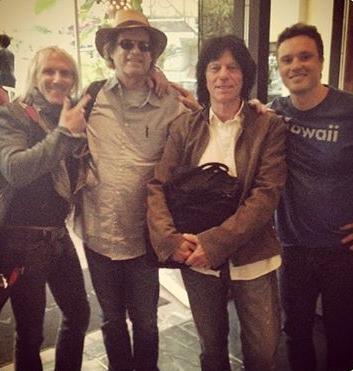 We came across a most impressive media collection of pro Jeff Beck shots starting with events in the mid last decade. The link: http://www.zimbio.com/photos/Jeff+Beck. Also the JBAGG  and ainian.com contributor, Sheila Melms is working on getting these and multi internet source photos added to Jeff's FaceBook photo posts by others pages as BECKOLOGY continues!
On June 24, 2014 Jeff celebrated his 70th birthday! The weekend prior they had a huge bash at Riverhall. Here's a pic of Jeff's birthday cake. A World War II Spitfire flying over the countryside!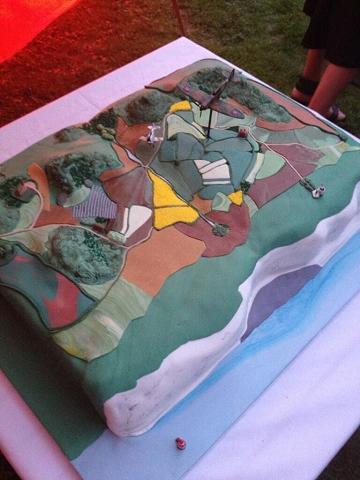 Mike Sanchez and his band played at the party. A Latin band also played for an hour. Joss Stone was in attendance and sang "I Put A Spell On You" and Beck family friend, actress and singer Kymberley Pody performed "Red House". Jeff and Jonathan Joseph sat in on those two numbers.
And last, for our blast from the past this edition, here's a link to a NME (New Music Express) magazine article from August 5, 1972 about Jeff's new band BBA. Enjoy. https://geirmykl.wordpress.com/2014/02/20/article-about-beck-bogert-appice-from-new-musical-express-august-5-1972/
---
August 14, 2014
Okay! The tour is under way...we've got some reports and news first, the most important thing...the set list.


Loaded
Nine
You Know You Know
Hammerhead
Yemin
You Never Know
Big Block
Morning Dew
Why Give It Away
A Change Is Gonna Come
Little Wing
Rollin' And Tumblin'
Going Down

Jeff is all mended from his recent health hiccup that cancelled some of this European dates and performed a 70 minute set. The structure of the set is Jeff comes out, does 7 instrumental numbers...Jimmy Hall then joins the band after 'Big Block' and finishes off the set. Jeff then joins ZZ at the end of their set. ZZ Top bassist Dusty Hill who had surgery for kidney stones right before the tour, seems also to be mended as well. Here's the tunes Jeff did with ZZ.


La Grange
Tush
Rough Boy
16 Tons
Jailhouse Rock

Here's a great pic of the band at soundcheck from the August 8th show in Missoula, MT courtesy of Peter Mackay.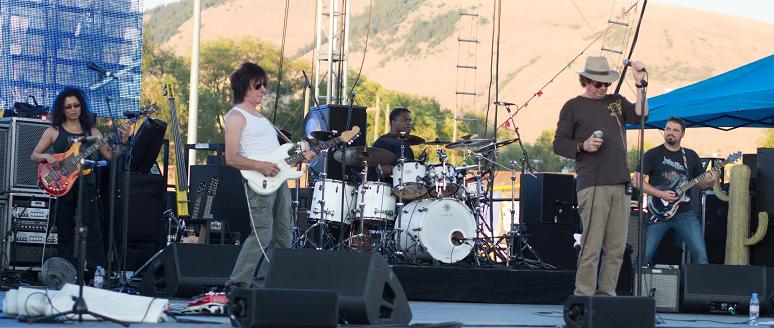 Two days later, August 10th at the show in Eugene, OR, former Jeff Beck bandmate and guitarist extrodinaire, Jennifer Batten was backstage. Here she is with Jonathan Joseph.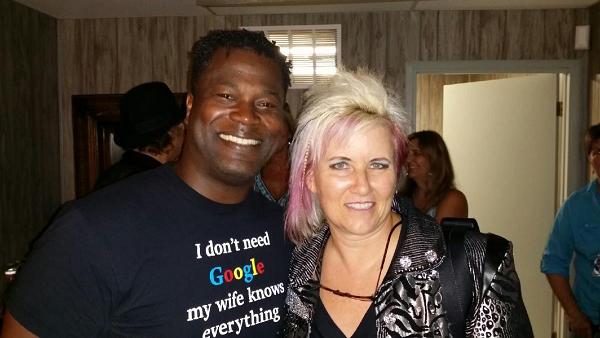 Jennifer told us she gave Jeff some belated birthday presents, various things including a killer picture of Django Reinhardt teaching a little kid guitar.
On August 12th, Dick got to speak to Jimmy Hall at length on the phone. He said he has never been in a band with so much camaraderie. Everybody including Jeff is in great spirits and that Jeff is moving around and playing 100%. The VIP sound checks have been especially fun since sometimes Jeff has loosened up and spoke a few words to the polite, respectful sound check VIP attendees and depending on what needs to be worked on has even taken a soundcheck or two beyond the time length what it normally is, thrilling the fans. He and ZZ are working on the end of show joint portion to craft an even better show ending as the tour goes along. They all are excited about and some band members have already seen the new James Brown movie on the off days. They know they are in LA tomorrow and are looking forward to all that show up, before, during and after. Jimmy is especially tickled about Nicolas Meier and his straight forward enthusiasm for everything on the tour...and of course what he does best, singing his heart out. We talked about Jeff and Billy making good on their promise to do Tennessee Ernie Ford's "Sixteen Tons" and agreed it would be fun for them in some form to bring back the old Duane Eddy number "Forty Miles Of Bad Road"  that Jeff and Jimmy did in a Macon, GA studio when they first met in 1970! We wish!
August 13th was the show at that Los Angeles institution the 'Greek'. Here's the LA Time's Randy Lewis' article on the show.


This summer's touring marriage of English rock guitar hero Jeff Beck
and veteran Texas blues rock trio ZZ Top in one sense brings full
circle a mutual musical admiration society that was born 46 years ago.
That was back in 1968, when Beck, on tour with the Jeff Beck Group
after ascending into the pantheon of rock guitar greats with the likes
of Jimi Hendrix and Eric Clapton, reached Dallas, where he played to an
audience that included ZZ Top guitarist Billy Gibbons.
"He had never seen anything like the size of my amplifier," Beck, 70,
recalled with a laugh earlier this week from a stop in Santa Barbara on
the tour that reaches the Greek Theatre in Los Angeles on Wednesday.
"That was when I had Rod [Stewart] in the band, and this furniture is
wheeled in and I think the top of the cabinet was touching the
ceiling," Beck said. "The whole audience was in shock, including
Billy."
Gibbons subsequently helped Beck's group transport their equipment from
that gig, but then they went their separate ways, Beck pushing the
boundaries of blues-based rock guitar playing into more musically and
sonically expansive realms, Gibbons and ZZ Top honing in on blues-
rooted rock that became the stock-in-trade of "that little ol' band
from Texas.
On the current tour, Beck is accompanied by guitarist Nicolas Meier,
bassist Rhonda Smith, drummer Jonathan Joseph and singer Jimmy Hall.
They play a two-part set—the first instrumentals, the second with Hall
handling vocals—before turning things over to Gibbons, bassist Dusty
Hill and drummer Frank Beard.
"We could never figure out what Beck was doing on his instrument to get
those sounds, and it was that mystery that inspired us to push our own
sound to the next level," Gibbons said recently in a statement. "It is
an honor to be sharing the stage with the curator of crunch."
After the separate sets, Beck and ZZ Top join forces for a few more
numbers—at some early shows they've collaborated on ZZ Top hits "La
Grange" and "Tush" and one night added a rendition of Elvis Presley's
"Jailhouse Rock," a nod to the influence the early American rockers had
on both acts.
While Presley was never a guitar hero, Beck said the King and his band
had a huge impact on him.
"Absolutely," he said. "The thing is, because he was girly fodder and
he looked so great, I always instantly focused on the guitar sound and
the drums on his records. D.J. Fontana's drums were mind-blowing.
"We pursued all the big [early rock] guys," he said. "My favorite was
Gene Vincent. He didn't look like Elvis—he wasn't hunky. He looked like
a serial killer. But the accuracy of all that backing from his band
[The Blue Caps] was what swept me away."
Beyond shared musical passion, Beck and ZZ Top also are major
aficionados of classic cars. When Beck saw ZZ Top's car-rooted campaign
for its 1983 breakthrough album, "Eliminator," "I thought, 'They've
just stolen my whole idea. But that was American subculture through and
through, and I had no right to claim any of it. And they did it so
beautifully."
Beck developed a reputation for his innovative guitar work in the early
'60s, and was drafted as a member of the Yardbirds in 1965, to replace
one Eric Clapton, himself a replacement for the group's original lead
guitarist Anthony "Top" Topham.
Fans and press often conjectured about a rivalry between Clapton and
Beck, but Beck has downplayed any animosity between the two over the
years. In recent years Clapton has lauded Beck as the best rock
guitarist in the world.
Both, however, were in awe of Hendrix when he surfaced, especially
after they were able to see him perform when he was in England in the
mid-1960s. Beck noted that before Hendrix, most rock guitar players
concentrated on a similar style and technical vocabulary, something
that Hendrix blew apart with his unconventional approach to the
instrument.
That encouraged Beck to push his own limits, and over the decades he's
created a distinctive, emotionally deep, melodically rich style that's
earned him a reputation as a musician's musician. A white Fender
Stratocaster is the instrument most closely associated with him.
He's long been fascinated with classical music, and has even recorded
an arrangement of Gustav Mahler's Fifth Symphony for electric guitar, a
recording he hopes to release if he can find record label support for
the project.
In a year when 50th anniversaries of the Beatles' arrival in the U.S.
and the launch of the British Invasion are being celebrated on multiple
levels, Beck—who first hit the big time in early 1965 after joining the
Yardbirds—says he'd like to put together a 50-year career retrospective
show. It would tap the various facets of his musical path, from the
Yardbirds to the Jeff Beck Group through other associations including
with Beck, Bogert & Appice and multiple solo ventures.
"That would take a year to assemble," said Beck, who also is going
through live recordings from recent shows in Japan for possible release
as a live album later this year. "I'd like to use the Strypes, that
little band from Ireland, to open, because they look like me, and what
the Yardbirds look like, only maybe five years younger. I'd like to get
whoever is alive and kicking and still playing and get them along
instead of having a core band, and do a proper production with all the
bells and whistles."
Such an project would dovetail with plans in the works for an
autobiography and a film based on Beck's life, all of which, the
guitarist said, would incorporate heavy doses of humor.
"I want the movie to be made," he said. "I think I've got the funniest
film ever, from Day 1 when I was first able to recognize my mum. It
would be sort of enchanting and Disney-esque, with all the nastiness of
a horror film. Mostly horror."
Copyright © 2014, Los Angeles Times

We mentioned in JBB#19 in the 'tour reports from the fans', Japan edition that a friend of our friend Hideki named Yukinori had purchased a brand new Jeff Beck Fender Stratocaster that he had signed by Jeff as well as all of the band after his show in Iwate, Japan. Yukinori wanted to donate this Strat in some way to Jeff and Sandra Beck's favorite charity 'Folly Wildlife Rescue'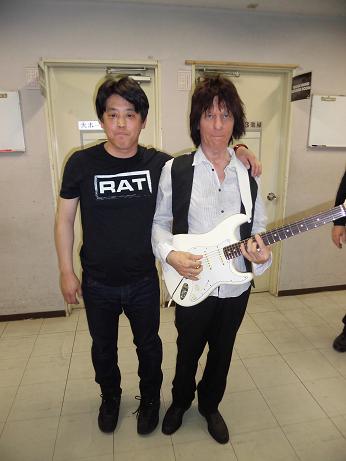 Yukinori and Jeff Beck
Yukinori decided the easiest way to pull this off was to offer the guitar for sale through a guitar shop he uses in Japan. Although the shop only dealt with Japanese buyers, the guitar was quickly sold to a party in Tokyo for about $3750! The money will be put directly towards fitting out one of the 11 large aviaries they're looking to put in their new building!
Few more tidbits from Jeff's birthday bash a couple of months ago. Here's a pic of Jeff and Joss Stone ripping it up on 'I Put A Spell On You'. (Btw does this girl own any shoes?)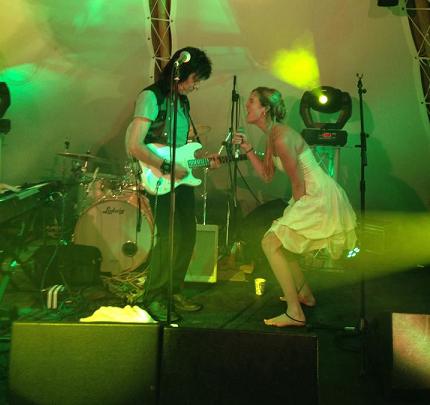 And here's a pic of the lady who sang 'Red House' at the party, Kymberley Pody.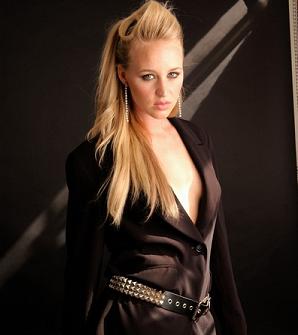 In the May 'What's New' we mentioned Jeff playing at a cancer benefit at the Hurtwood Park Polo Club on June 14th. It was a star studded event host by Vic Reeves and we've got a pic of some of the chaps...Jeff along with Ian McLagan, Ronnie Wood, Mick Hucknall and Kenny Jones.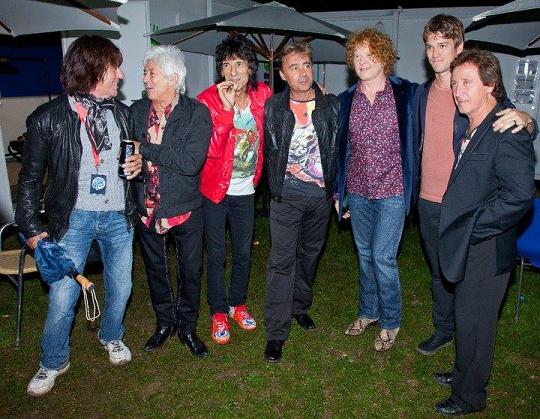 Lastly, as we are wont to do...some oldies...two pics, one from the August 1965 Richmond Jazzfest, another from that period.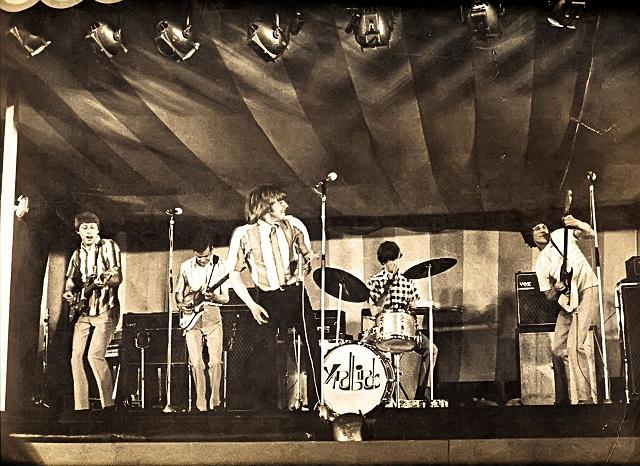 Rave Up!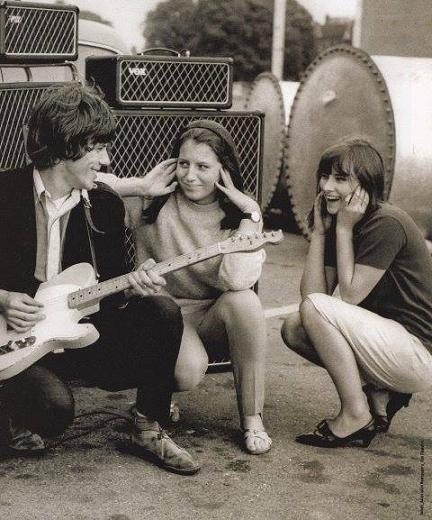 'Jeff!, It's so loud!'
---
September 12, 2014
Ah yes, another 'What's New!'....let's see what we have. The tour...suspended, as mentioned on the homepage, it will resume next spring with Jeff, in addition to his dates with ZZ, perhaps doing some solo dates as well.

In another perfect illustration of Murphy's Law...the latest issue of Guitar World has guess who on the cover?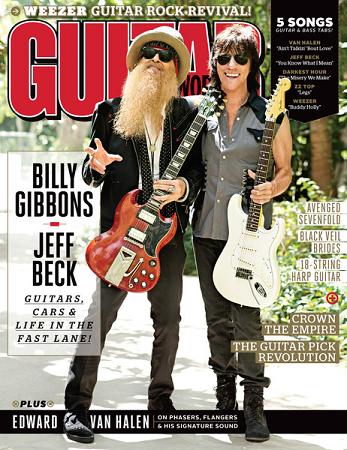 Nevertheless, after ZZ had to pull out due to Dusty Hill's injury, Jeff and band did three re-scheduled sold out shows as the solo headliners at New York, New Jersey and Connecticut casinos. Quite a feat, playing to over 10,000 fans on very short notice. Here's the band with a toast to their fans. (Jimmy has an invisible champagne glass btw, hah.)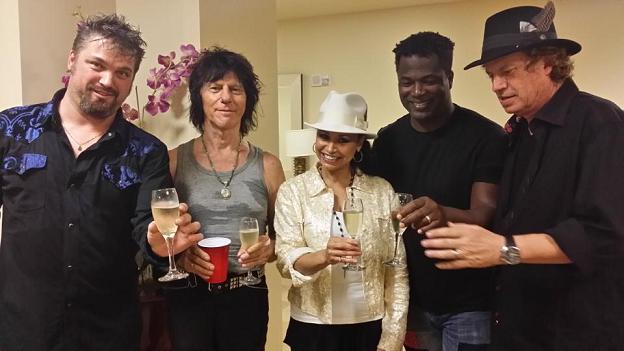 Edgar Winter has been touring with a 'Rockin' Bluesfest' tribute to his brother Johnny Winter which includes, among others, The Vanilla Fudge and Kim Simmons from Savoy Brown. On a recent Friday evening, the tour came to The Broward Center For The Performing Arts in Fort Lauderdale. Dick had a long dinner and chat with Carmine Appice about the rigors of touring while still playing high powered rock, drum style shop talk regarding Jeff Beck's various career stages and ever pledging views to keep pushing for past archives to be released. Carmine mentioned he would love to sit down and have a long chat with Jeff again. Here's a 'selfie' of the two.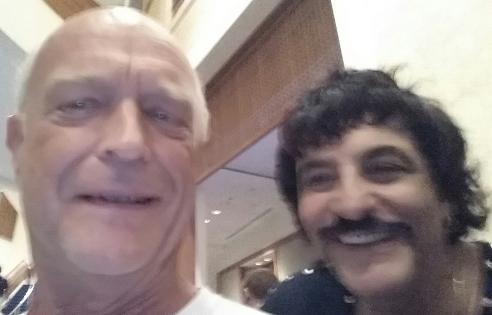 Another Jeff Beck session entry we need to add to our discography. On October 27th Suzi Quatro will be releasing a 4 CD set to commemorate her 50 years in the 'biz'. Jeff will appear on her cover of the Eagle's 'Desperado'
While in London last spring, Dick met up with unofficial Jeff Beck biographer Martin Power, author of 'Hot Wired Guitar The Life Of Jeff Beck'.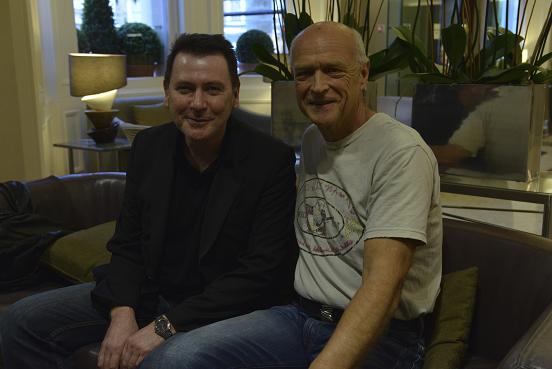 The book is having it's second publishing by Omnibus Press in November and will update the past several years and include additions/ corrections by Dick and Sid Johnson. Finally, our old friend Buddy Davis will receive proper credit for selling Jeff Beck the famous Ox Blood Les Paul which premiered onstage one night after it's purchase in Memphis at the Warehouse in New Orlesns with BBA. And of course later graced the cover of Jeff Beck's biggest seller ever, 'Blow By Blow'. Here's the first ever pic of Jeff with the guitar in New Orleans.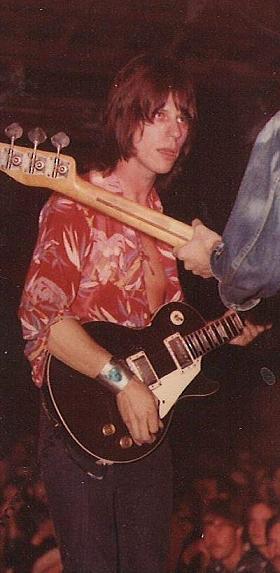 And speaking of guitars...everyone wants to know what's the deal with the reverse headstock Strat Jeff is/was using on the U.S. dates. Bottom line, we don't know yet. We were going to ask but then the tour was suspended. Of course that 'look' was made famous by Hendrix who played right handed Strats left handed. Upside down but strung left handed. Some folks believe the reverse headstock can make bending high strings easier and give the lower ones more 'slap'. Some don't think it makes any difference. Our take at this point...Jeff's current 'number one' guitar is the same guitar from the last several years...but with a cool looking reverse headstock neck...with the old Wilkenson roller nut and locking tuners. Below is a crop of a photo taken by Geoffrey Gribbins at the Woodinville, WA show.

And now to return to the days of yesteryear as we are wont to do... this episode takes us back to June 9, 1990...Jimmy Page and Jeff at Les Paul's 75th birtday party.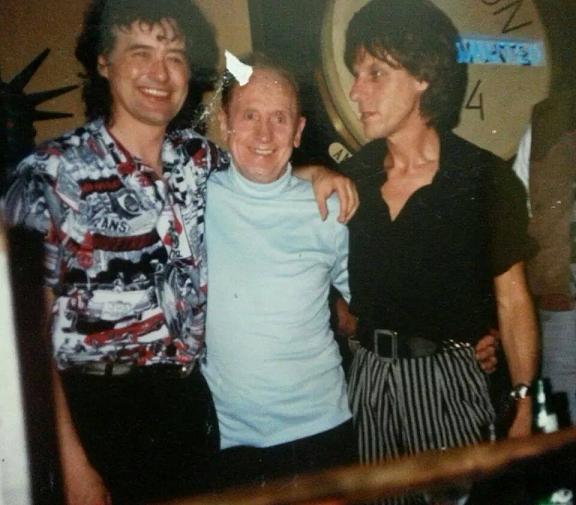 ---
November 17, 2014
Lots of news over the past few months. The three most important bits we put out on our front page. The Day Of Remembrance 'Poppy' single and performances. The new BluRay/DVD of a performance in Tokyo last April. And the re-release of Martin Power's 'Hot Wired Guitar: The Life Of Jeff Beck', updated through 2014 with contributions by Dick and Sid 'Dr. Feelgood' Johnson.

***************************************************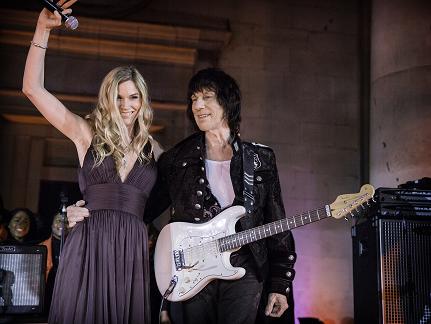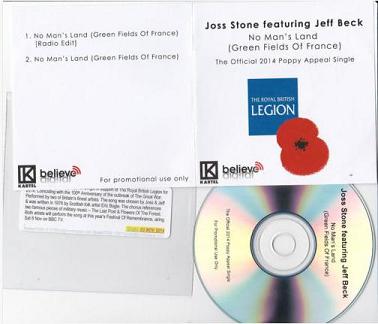 Joss and Jeff at the October 30th performance of 'No Man's Land', Covent Garden. Photo by Alan Barnes.
"No Man's Land", official theme of the UK's 2014 Poppy Day Appeal, featuring Joss Stone and Jeff Beck, is to be released as a single CD on Amazon October 23rd. Scheduled at this time are live performances by Joss and Jeff of the song at; Covent Garden, October 30th, The Festival Of Remembrance at the Royal Albert Hall November 8th (broadcast on the BBC) and the pregame at Wembley Stadium's November 9th NFL Dallas/Jacksonville game. The song's proceeds benefit the Royal British Legion on this the 100th Anniversary of The Great War. The song, chosen by Joss and Jeff, was written in 1976 by Scottish folk artist Eric Bogle. The chorus references two famous pieces of military music, 'The Last Post' and 'Flowers Of Remembrance'. It was co-produced by Jonathan Joseph.
Related YouTube videos....

***************************************************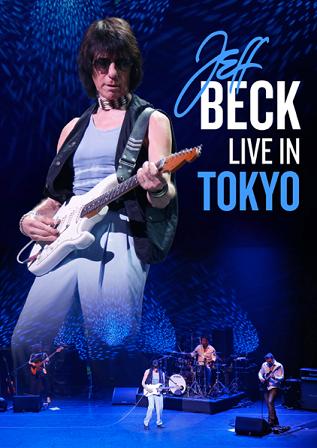 JEFF BECK'S BIG BLOCK ENGINE IS STEAMROLLING INTO YOUR LIVING ROOM ON NOVEMBER 25TH WITH AN ALL NEW DVD/BluRay!!
JEFF BECK AND BAND LIVE IN TOKYO APRIL 2014!!
PRE-ORDER NOW.
***************************************************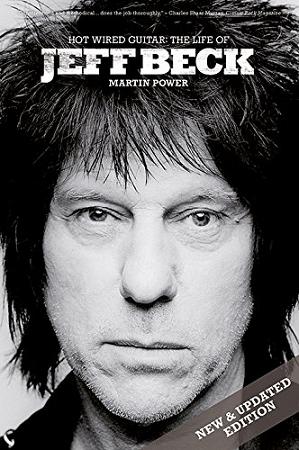 Hot Wired Guitar: The Life Of Jeff Beck by Martin Power has been re-released with updates through 2014 with additions and edits contributed by Dick Wyzanski and ainian.com contributor Sid Johnson.
ORDER NOW.
***************************************************
Okay, that's all the plugging we're doing. Neil Murray is such a cool guy. From Dick's UK tour reports you can see he met up with Neil just before the Bristol show. Neil was very kind to send us this note and the following scans.

Hi Dick,

I am finally going to get rid of some old magazines from the '60s
onwards, though I actually started scanning parts of them 14 years ago!
Looking again at the articles I wanted to preserve on computer, I
discovered of course that there are a few with Jeff – he wrote a
monthly column for Beat Instrumental (B.I.) during some of 1966. I
enclose them here, and when I get around to scanning later copies, of
course I'll pass on more stuff. (I haven't checked – maybe you already
have these!).

Best wishes,
Neil Murray

Nope, here they are.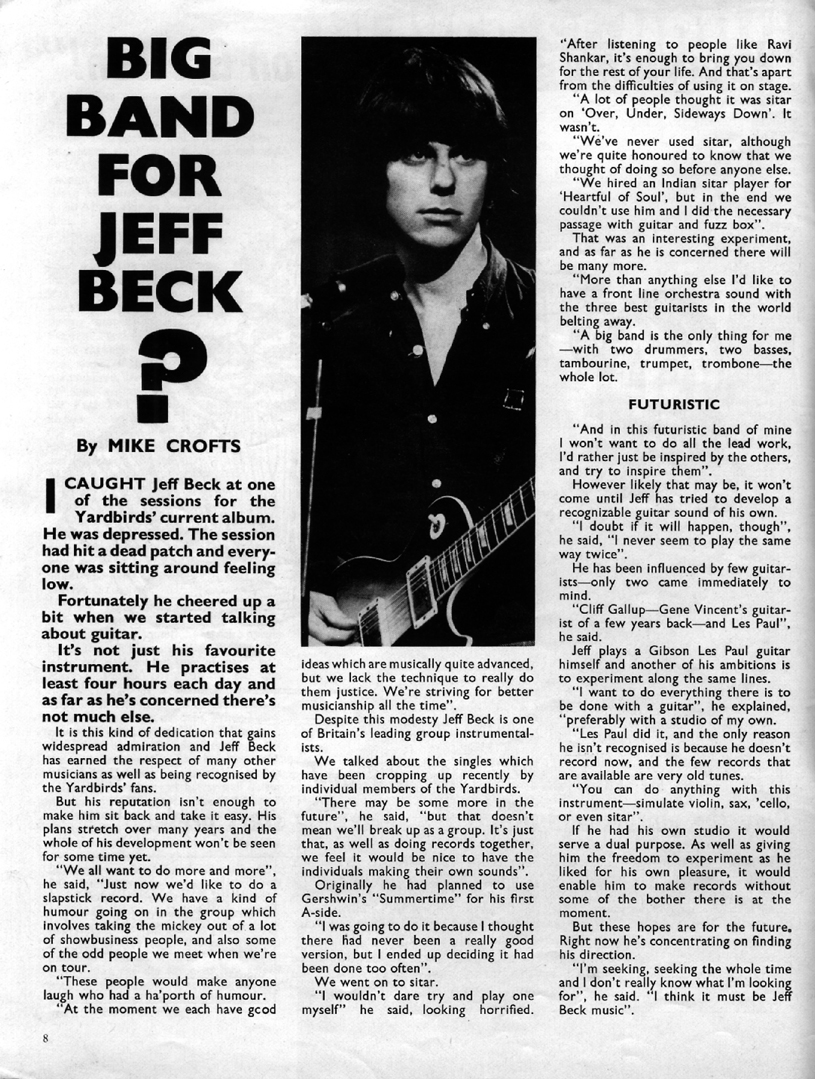 Two more cool guys sent as emails and pictures we would like to share. Last update we mentioned the 'Oxblood Les Paul' and posted the first ever pic we know of it with Jeff. This prompted our friend Chris Dixon to send us this note and pictures...


Hey Bill,

We've corresponded in the past but has been awhile, hope all well at
ainian!

Prompted by the early pic of JB with the "oxblood" Les Paul I thought
to send you this mini-gallery of pix with same, also before he removed
the pickup covers and pickguard. The first was printed in "Jeff's
Book" but was mislabeled as from NYC. They are in fact all from John
Carroll University outside Cleveland on April 12, 1973 (see stub).
Timely sidenote in that the opener was Wet Willie whose singer Jimmy
Hall I saw with Jeff just a couple of weeks ago (one of the shows
ZZ Top pulled out of but Jeff played anyways, at Foxwoods in CT).

Anyway use them if/as see fit, if wanna throw a credit to "the
collection of" feel free.

Cheerz and keep up the good work!

Chris Dixon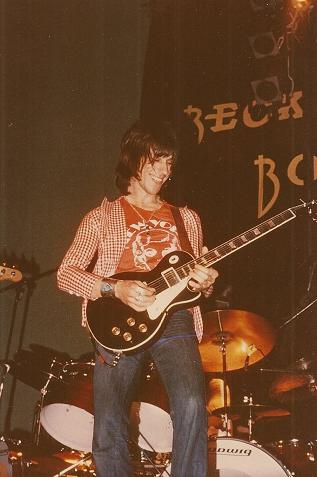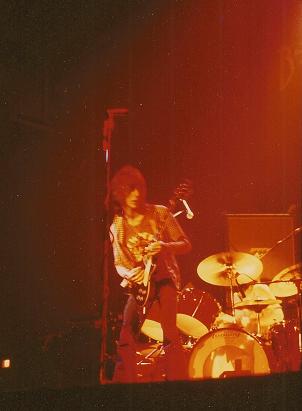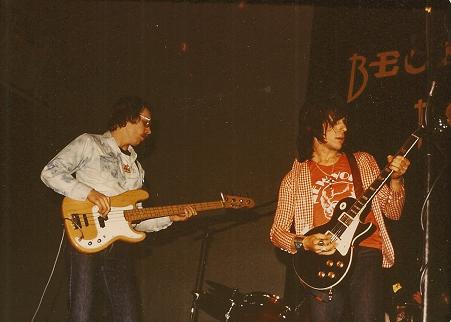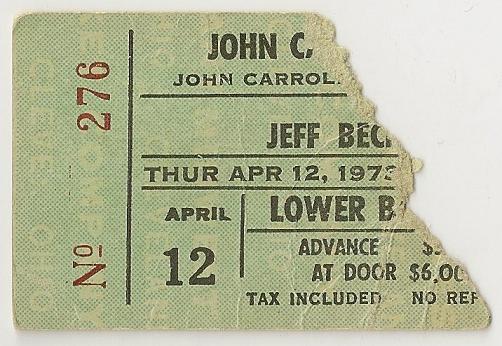 Also got a note from Art Doyle from Shawnee Mission, Kansas. He sent us these pics from one of few times Jeff has performed at Arrowhead Stadium in Kansas City, Missouri. These are from 1977 when Jeff was on tour with the Jan Hammer Group.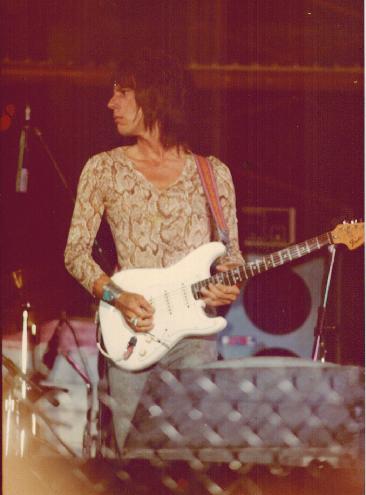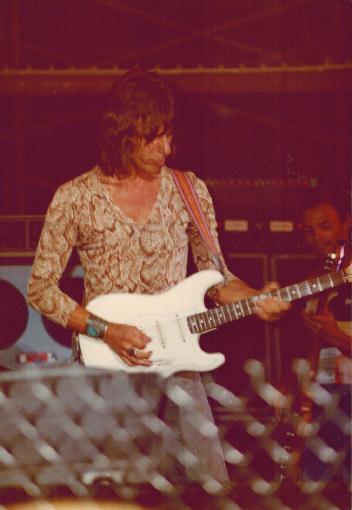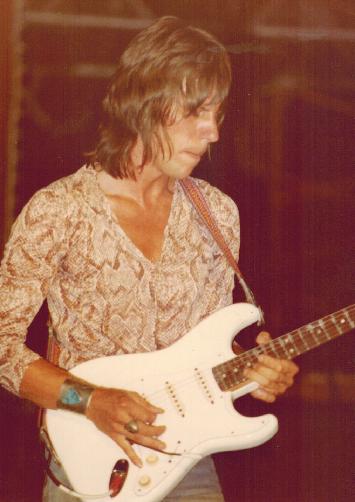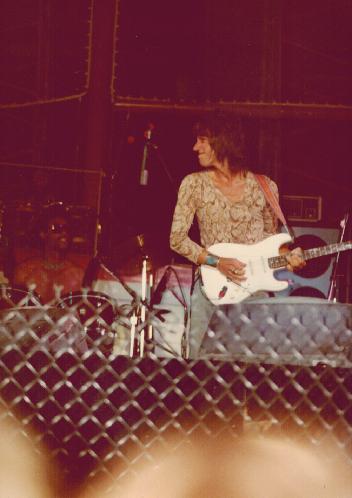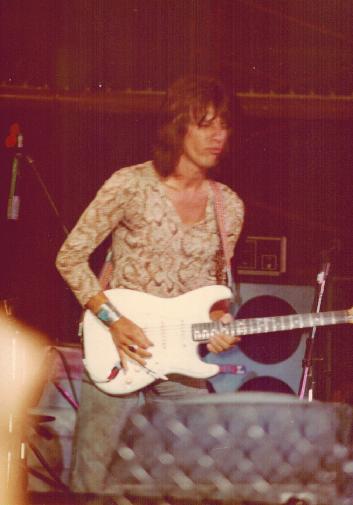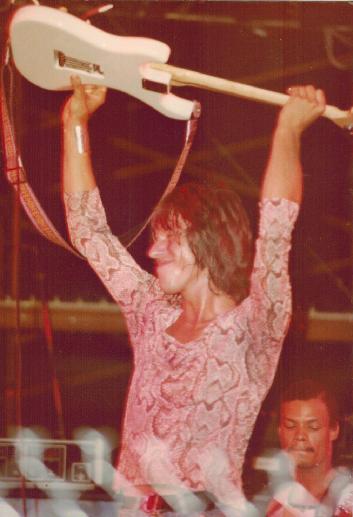 And speaking of pictures stay tuned. We will be wrapping up Jeff Beck Bulletin Issue #19 in the next few weeks with two incredible photo spreads that we are very happy to have the permission to publish. Both were taken by professional photographers and are stunning. The first will be by Jim Belmont taken at Jeff's recent Atlantic City gig and the second by Alan Barnes of C4Miles Photography taken at the Covent Garden 'Poppy' performance with Joss Stone last month.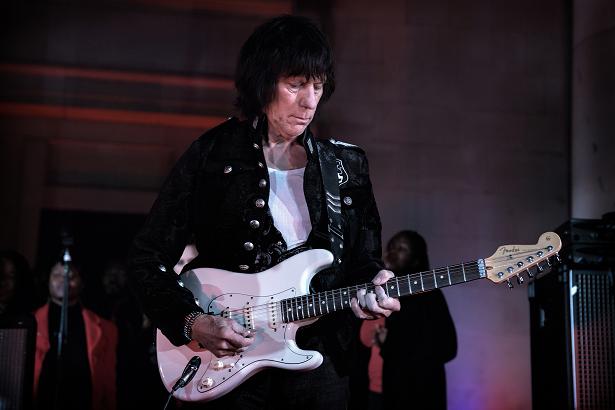 Jeff performing at the Covent Garden 'Poppy' event with Joss Stone. Photo by Alan Barnes - C4Miles Photography.
Accompanying Alan Barnes to the Covent Garden performance was our old friend John Hill who knows all things Fender. He has this show report with an informed but albeit unverified take on Jeff's 'new' guitar.

With only a 15 watt Fender Pro Junior lll amp and his new Masterbuilt
Strat to keep himself and powerhouse vocalist Joss Stone warm, the
world's greatest guitarist Jeff Beck went busking for charity in
London's busy Covent Garden. Taking to the makeshift stage just after
6pm last Thursday 23 October 2014 with the Royal Air Force in support
and amidst high security alert Jeff and Joss played 'No Man's Land' the
official Poppy Day memorial fundraising single and only one other song
with Joss's band and Eric Clapton's backing singers before departing
the portico of St Paul's Covent Garden church famous for introducing
the Eliza Doolittle character in the opening scene of George Bernard
Shaw's 'Pygmalion'.  The Fender Custom Shop White Stratocaster seen
here with reverse headstock made its debut with the Guitarmaster on the
ZZ Top tour earlier in the year on the 9th of August at Ogren Park in
Missoula, Missouri. Already being dubbed the 'Jimi' Beckocaster Strat,
Jeff is reported to have taken well to the change of string tension on
the high strings gifted by the Hendrix-type reversed headstock and the
as yet unknown custom-wound pickups in combination with paper and oil
capacitor, vintage white and black wiring, custom-taper pots and 5-way
toggle switch for that buttery, woody, vintage Strat tone at the hands
of the master and courtesy of Fender Custom Shop's Todd Krausse who is
rapidly gaining a reputation as masterbuilder to the stars!

Best
John

And lastly, a picture. We don't know exactly where or whence it came. Our take is that 1) It's from the 60's. and 2) From the background which looks like a parking lot and a house that has a big propane tank, it's somewhere in America. Enjoy.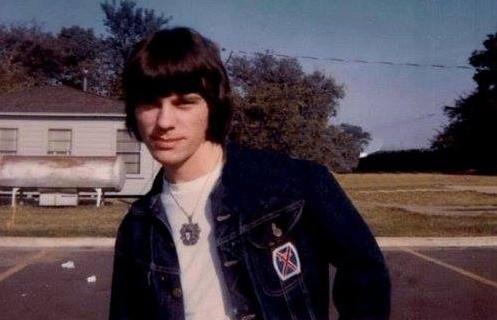 Be seeing you.
---