August 17, 1998
We just got in a great European tour report that we felt we just had to share with you. This comes in from a reader of the page named Dave Corbin and I'll let you read his story that shows even a Jeff Beck tour can have shades of 'Spinal Tap' in it.

Well, I wish I could say the show was fabulous but all I can say is that the anticipation was great! I was on a European business trip for my company and had the weekend of 7/25-26 free. I went to a place in Italy called Desenzano di Garda which is a really great little town on a lake at the base of the Alps. It's almost exactly midway between Milan and Venice. The only way to get there is by train, bus or car.

Anyway, when I got there, the first thing I did was to confirm that Jeff was indeed scheduled to play. I had been trying in vain to do this from outside the country for weeks. As it turned out he was scheduled to play at a disco called Genus "The Greatest Disco in the World!!" Well, OK, as long as he's going to be there, I can handle a disco. I couldn't get an advance-sale ticket but if I showed up early I could probably get in.

I went early and the place was nearly deserted but I was told to go around the back. Sure enough they were selling tickets and soon I had mine. Other people had already been to other shows and had some cool T-shirts; couldn't wait to get mine. They let us in early; around 8:30 for a 10:00 show. I thought we were going to go into the disco the back way but as we walked along we noticed an equipment truck...on the other side of the equipment truck, there, right on the edge of a gigantic parking lot is a 15 by 30 foot stage with an amazing amount of state-of the-art equipment on it. There's only a 3 foot high railing ten feet in front of the stage! So, it finally sinks in; I'm going to get to stand ten feet away from Jeff Beck and watch him play, WOW!!

First person I notice on stage is Andy Roberts messing around with three apparently brand new Marshall DCM2000 amps. This setup with only one measly pedal attached is for Jeff. On the other side of the stage is one of the most elaborate rack setups I've ever seen; looks like enough equipment for three people. This is of course for Jenifer Batten. Well, I know which side of the stage I'm going to plant myself in front of!

So the crowd starts to build, it's getting to be 9:45 so everyone stand up in anticipation. I think everyone in the crowd is a major fan. I estimate that there may be 800 people; maybe more. I think I must be the only one who speaks English! Anyway 10:00 rolls around. Every time a tech moves in the shadows, people start shouting. We wait and we wait but still nothing. At about 10:30 people start to get really restless. Shouts of "Bastardo" are heard. A few beer cans and bottles are thrown (Italians are not famous for their patience). Then it starts to look like the dreaded cancellation may be in store for us. Sure enough, a few minutes later the official announcement comes, the show is cancelled.

Oh well, I knew it was too good to be true. I hang around a bit before going to get my 25000 Lira back. I shout out to Andy asking what happened. "I've no idea. I only hope he's OK" he shouts back. Apparently there has been no word of where the band is. For me this is still a mystery. If anyone knows what happened to this show, I'd like to know. My theory is that Jeff heard about the venue and decided that he didn't want to play in a parking lot!(who can blame him?) I think the parking lot thing was a last minute decision on the part of the local promoter who probably thought he could save money by not actually having to rent space on one of the indoor stages. Well, instead of saving money, he made nothing at all.

The good new is that in spite of this I had a great weekend in a really wonderful little Italian resort town. I plan to go back there ASAP with my family in tow.

As it turns out Dave is right. We heard Jeff didn't do the show because the promoter moved the stage location and the start time several times so Jeff said 'screw it'.
---
October 20, 1998
Here's our first full report from South America and as you will see Jeff continues to wow them! Thanks to Rodrigo Werneck for the report from Rio De Janeiro.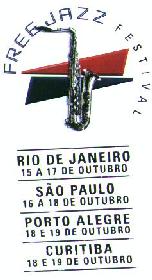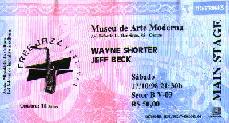 October 18, 1998 Jeff Beck played here in Rio de Janeiro, at the Free Jazz Festival '98, yesterday. The Festival staff and the Brazilian newspapers have been quite curious about Jeff, especially after the tickets to his gig were completely sold in 6 days. This was the absolute ticket sales record since the creation of the Festival, 13 years ago. Even the Steve Wonder concert had its tickets available for more time (Steve played in a past edition of the Festival, and was the best seller so far). The Festival staff even arranged an extra gig with Jeff's management, and that happened yesterday also, at 5 p.m.
The Brazilian newspapers have been publishing some big texts about Jeff, his past and present works, etc. He got a huge promotion here in Brazil, by playing at this Festival. Originally planned to be a jazz festival, the organizers began to call some blues artists in the past, and after that others music genres were included (pop, rock, etc.). Now it happens at a big venue especially mounted for the event, in a beautiful place next to the Guanabara Bay. The stage was built beside the Museu de Arte Moderna (Museum of Modern Art). Jeff and band will play today (Oct. 18th) in Sao Paulo, and on Oct. 19th in Porto Alegre, in the south of the country. The Free Jazz Festival is happening in the 3 cities at the same time (actually there are some shows also in Curitiba, but Jeff won't play there).
I arrived at the venue with 3 friends, at 9:00 p.m. The first concert of the night, Wayne Shorter and band, began their set at 9:45 p.m. There were a lot of local famous people at the venue, including TV artists, comedians, and musicians. Free Jazz Festival is nowadays very famous here, as I said before, and TV Networks and Newspapers dedicate a lot of promotion and space to it. I saw Victor Biglione, one of Brazil's most famous guitar players, standing up next to the stage (he is a huge Beck fan, he even recorded a version of "Cause We've Ended As Lovers", some time ago).
Wayne Shorter's concert was a short one, only 1 hour, and no encore. Some fusion, some traditional jazz parts, not exactly my cup of tea, so I spent all the time drinking some beers at my table, waiting patiently for Jeff's show. At 11:10 p.m., the lights turn off, and Jeff is announced to a very enthusiastic audience ! I've heard from a waitress that his earlier gig was absolutely fantastic, cheered by the audience, so I was waiting with a lot of excitement myself, it was the first time that Jeff came to Brazil to play.
The band enters the stage, Jennifer Batten with her guitar, Randy Hope-Taylor and his bass guitar, and Steve Alexander behind a monstruous drum kit ! They start to play the initial chords, and then a familiar guitar sound cuts the air ! Someone is behind the 3 Marshall amplifiers, located at the right side of the stage, and suddenly he appears, with his green Fender Stratocaster, Mr. Jeff Beck ! The crowd went crazy, and the band feels all the excitement, and plays furiously !
The set list was similar to what I read they have been playing during this tour: "New Tech", "Arab Hoot", "Sending Sweets", "Savoy" and "Big Block" from "Guitar Shop", "Led Boots" and "Blue Wind" from "Wired", but while choosing a song from "Blow By Blow" he dropped "Diamond Dust" in favour of "Cause We've Ended As Lovers", maybe because it's a hit here in Brazil. It's a pity, I was really expecting to listen to the former song, though I love the latter as well !
There were space for all the musicians to play some solos, both Jennifer and Randy played impressive parts, but the one that really impressed me was the drummer, Steve Alexander. This man is a machine, not a human being ! When you go to a Jeff Beck concert, of course you expect a talented drummer (like Simon Philips, Terry Bozzio, etc.), but I have not heard about Steve before, and his solo was awesome ! Probably due to the audience's response, it was a very long drums solo, but absolutely inventive and rich of different rhythms.
Jeff's guitar work was brilliant on every and each song, and the sound coming from his green Strato was exactly the same we are used to recognize, thanks also to the good quality sound of the venue's equipment. If I remember right, after "Blue Wind", the band went out of the stage, after thanking the delighted crowd. After some seconds, they came back and started to play "Where Were You", almost identically to the original version. Almost at the end of this song, the roadie brought a white "left-handed adapted to a right-handed guitarist" Strato, and Jeff switched to it. Some strange and apparently unexpected noises (feedback, etc.) appeared, and Jeff didn't wait too long for them to be repaired, he simply broke the white Strato into the stage's floor ! The audience went crazy, and the band left the stage once again !
After a minute or two of anxiety, they came back ! Now Jeff was hanging a red and white Strato, and they played "Slingshot" ! Heavy and fast, strong tune to finish a show. By this time, it was already 1 a.m., and the time to finish the show arrived, unfortunately. I'm sure that the audience would stay there for 1 or 2 more hours of music, but of course Jeff had already played another gig before, at the same day and venue, so they were probably tired !
This was, with no doubt, the show of the year here ! I'm sure that Jeff Beck has proved to his old time fans that he's still kicking ass, and he surely has got lots of new fans ! I could see a lot of young rock fans with their eyes wide-open, enchanted with the music coming from the stage.
P.S. Check the end of the A.N.Other Photos page for pix from Brazil!
Thanks again, Rodrigo!
---
October 30, 1998
For the latest edition we have two items...a brief report from Jeff's gig in Mexico City from our bud 'Gonzo' Cotto and excerpts from an interview for the Brazilian edition of 'Guitar Player' provided to us courtesy of the interviewer, Luiz Chagas. First here's Gonzo's impressions.

Finally, I got the chance to see my guitar hero live and didn't miss the opportunity. Even though it was announced that JB was going to play October 10 and 11, he played just on the 10th. I don't know exactly why he didn't play the October 11th concert.

I arrived in Mexico City's airport on Saturday the 10th around 1:00 PM. My friends and I went out to have some taquitos and then we went to the Metropolitan about 7:30PM. The place was totally crowded. There was supposed that a Mexican guitarist opening the concert (which was scheduled for 8:00). I was a little disappointed because I don't like this other guitarist, but by 8:30 nothing happened. I thought "Well, it's going to start very late because we're even going have to wait until this guy finishes his set to hear Beck". By 8:45 there was a guy sitting behind the drumset, then a black man appeared and picked up the bass and then Jeniffer came out. They started to play a blues number and by the middle of the song, Beck appeared and everybody started to yell.

He played a lot of known songs (especially from "There and Back" and "Guitar Shop")such as Star Cycle, The Pump, Too Much To Lose, Big Block, etc. They also played some new songs I think are going to be in the new album. His sound was amazing (as always), his rhythm and tempo amazing (as always), his phrasing amazing (as always) but what was really new and amazing was the the band. They were so great I couldn't believe it. Jeniffer should be as famous as Beck because she's a great musician (she played on guitar synth everything the piano and keyboards did on the records), the drummer did a solo on 'Led Boots' that really knocked me out. They started with a couple of songs from "Guitar Shop" but none of them were my favorite song, then they played a bunch of new songs but not my song, they played some more songs from several albums but not my song, the concert finished and they hadn't played my song yet! They left the stage without playing my song! Then after a minute Beck and Batten came back and it was obviously to play my song: 'Where Were You'. I always thought that Beck would be able to play that beautiful song in studio but not live, I was so wrong! He played it much better than the recorded version with Jeniffer backing him up with the strings Tony played on "Guitar Shop". Of the new songs, they played a slow blues and a reggae number that really knocked me out, I can even say that the blues one is one of the better songs I've ever heard in my whole life (and the list of course includes Where Were You).

A few days later I met the drummer who was supposed to play with the opening band. He told me that they didn't play that night because Beck wanted Mexican music(Mariachi music). I don't know exactly why but the producers, managers or whatever couldn't find any Mariachis so they didn't let anybody open the concert.

A lot of people told me that Beck is great on record but live he's 300 times better, it's true! I can say objectively that he's the best guitarist alive...subjectively that he is the best guitarist ever. I can't imagine anyone who could surpass his playing, at least in this century. Gerardo "Gonzo" Cotto

Thanks Gonzo, now here's the GP interview:

Hi friends, I'm a journalist and a musician who loves Jeff's music. Fortunately enough the Guitar Player's editor -- Brazilian edition -- invited me to cover, as a free lancer, Jeff Beck's tour in Brasil. Well, I stand here in Sao Paulo and wrote the bio. My friend, Sergio Basbaum, also a musician, and a regular on GP's staff, invited me to do the interview with him. We talked with Jeff from Sao Paulo to London's Equator Music on September, 19, 9:00 PM (LT/SP). It was wonderful and I'd like to share it with our friends all over the world.

Here, are some highlights:

Guitar Player - How do you manage, after so many years, to keep
such inspiration when you play?
Jeff Beck - Well, I think it's because I take time from the 
business. I've got a really nice house, and I keep busy doing 
other things. I think, unlike other peolple that just play and
do nothing else (if you do just that...) you can easily burn out
of inspiration, but I make sure I get away from the music business...
and, although I would like to play more, I think it's probably the
main reason, the fact that I'm able not to be connected with the 
hassles of music, you know, and having a great team of friends that
have nothing to do with the music business, it helps you kinda clean 
up your mind.

GP - Do you have any kind of music you usually listen to, things that
keep you connected to music?
JB - I listen with one ear to pop radio. Unfortunately, in England,
there are only two or three stations which I can listen to... the
rest is too much trendy music, which is empty -- sort of machines and
rap... do you know what I mean? It's a different world we're living in
now, from the one I was used to in the 60s and 70s... but I'm still
capable of understanding what people are putting down in terms of pop
music, what young people -- because music, to me,should be youthful;
I'm not interested in any music that's got gray hairs attached to it
(laughter)...  but I've got a few gray hairs but, you know, uh... 
it's cool -- I just appreciate talent, no matter what type of music it
is... and I don't think you can get rid of the quality, if you have the
ability to...if you're a musical person, you can pick out the good from
the bad, you know, and there's always a little bit of good somewhere... 
but I'm not actually trained into listening to one specific station... 
you know, I can just as easy put a cassette on of Django Reinhardt and
listen to it for three hours in the truck, you know...I've been going 
back into the 40s and listening to Django... I've had the fortune to 
be given a rare album of his which is all electric guitar.. and I
never knew he even played electric guitar, you know... in this way...
and it's a revelation... but you can hear the beginnings of rock and
roll in this record I've got... well, he's slapping the strings and 
bending them, I mean, in 1940, this is... so, I've been giving that a
good listening... But also John (McLaughlin), you know... You know, 
I'm listening to young bands, but they all strum... a lot of distortion
(laughter) - you know, apart from the heavy metal brigade, like Steve 
Vai and stuff... they've got a west coast sound, you know, which I 
don't follow too closely... I'm more interested in melody and technique
on those lines- traditional technique.

GP - When was the moment that you found your sound on the guitar, your
style -- and thought 'I'm going to work in this direction'?
JB - Yeah...I think...when I met George Martin in 1975 or 76... I 
was very honored and proud that he was interested in taking on the
project...And I just thought how... how... what's the word? unusual 
it would be to put my guitar style with George... but it worked, and
he could see the potential in a sort of orchestral sense of embellishing,
do you know what I mean?, of scoring strings around some of the things I
was doing to make it more listenable... and he helped me... that album 
helped me find a place away from rock singers... (laughter)... if you
know what I mean, I mean, it actually supported itself by the strength of
the melodies... and I was then put in the driving seat position, rather
than the lead guitar..I was a lead voice on the guitar... and George 
helped me to get that in a way... 'cause it was very well-done... and 
that album survived... in a melodic sense, yet about twenty years, you
know... and from that album, it was a kind of springboard, and then I
met with Jan Hammer... and he again was... he turned me around to face
the other way, and wanted to do more heavy rock (laughter)... and that's
when George said,'You know, I think you'd better make this your goal, 
you know, go with Jan',  because he couldn't understand where he fitted
in. And there wasn't any room for George to do another 'Blow By Blow',
if you know what I mean. I was actually attempting to make an album
which is, if  I dare say, a little bit commercial, and I think, you
know, to George's ear, that's fine.. it would have been...it wouldn't
have gone too well with him if I had done too many...too many 
bends and whistles and things...we were experimenting -- don't forget it 
was twenty years ago, when music was very middle-of-the-road, it was all 
kind of Perry Lane (?) disco music, and the Philadelphia sound and
all that...so we had to fall in line a little bit with it... Then I
realized that people wanted the heavy stuff, and I couldn't carry 
around a fifty-piece orchestra to do "Blow By Blow" so...  I wanted
to have a tight unit that could travel the world without having to
spend a fortune on pretty strings and stuff so... I then went 
backward and picked some of the Hendrix-type, Yardbirdsy-type (things...)

Special thanks again to Luiz Chagas!
November 3, 1998
Hey! Thanks to Luiz Chagas, Sergio Basbaum and the folks at Guitar Player/Brazil, we have the rest of the interview that Jeff did for that publication prior to his South American tour! Also check the Batten Report next week for some first hand recollections of the tour! Here we go:

GP - In  one interview to GP in the US you said that you could never be 
as wild in recording studios as you were in your mind...
JB - That's right. Or on the stage... oh, ok, I understand, then maybe 
on the stage -- because when there's a million people there, I mean, not
a million but thousands of people, I turn into someone else. That cannot
be cheat 'I'm someone else!" I'm sure many people will tell you the same 
thing: they have to become another character, even if it's just a method
of going through nerves. You know, the nervousness. So, yeah, I mean, I 
can't really... I'm not that well... much of an actor... I can't 
certainly turn into another person in the studio,which I don't like (laughter).

GP - Yes... because I've got the impression that you waited five years to 
record 'Flash", which is a very different record in your story...
JB - Yeah, that's right... well that's the reason I wasn't really ready 
to make any album at that time... and it was a forced issue, because Epic
was saying "you're hot, people are screaming for an album...  (...if...) 
you don't wanna make one, we'll make one for you. Here's what you're gonna
do... you're gonna come over and spend two months with Nile Rodgers and
make a great album..."... and, unfortunately, Nile was doing all kinds of 
wicked stuff... (laughter)... he was more interested in Madonna, and quite
right, you know... he was making millions! But he still accepted the gig
with me... and, unfortunately, he didn't come across with what I was hoping,
which was some really good pop instrumentals,,, and he tried to make me sing
and stuff like that... I didn't wanna sing... I don't like to say it, but 
the album is the result of a corporate mistake, you know... That's the story
on that... but I'm... I should have come out with another album soon 
afterwards, but unfortunately the circumstances prevented that...

GP - Ok, but there's some real great things on that album, anyway...
JB - There is, yeah... yeah...

GP - ... the track with Jan Hammer is wonderful...
JB - Oh, yeah...yeah, that's great...

GP - 'People get ready' is incredible...
JB - Ironically, the two tracks you just mentioned have nothing to do with 
Nile Rodgers... you know, it was the guy that Epic... but, you know, I've
nothing against Nile... you know, it was the guy that Epic... they were 
waving the flag, and saying, you know, "Go! Nile's the hottest producer in
New York, you've got to do it with him..." The... then really the misjudgement
 -- if there was any -- was  down to them, I woud think. Those guys, and not
incidentally, those guys are not involved in Epic in any shape or form anymore.

GP - "Ambitious" is a great solo anyway, too...
JB - Yeah, that was more like it, you know... That was a cool song, and if we had 
about four more of those... you know, with Jimmy Hall singing... I though he sang
great, you know, Jimmy Hall...

GP - Ok... Now, of all you body of work, which is thirty years of career, what 
are your favorite works, that we can say "Oh, if you want to begin to listen to
Jeff Beck, he would like you to begin from this point..."?
JB - ... (laughter) Well, I think that's like saying "How many... Which is your
favorite record if you have to be left alone on an island... with one or two 
records...?" you know, I think that's a question that we would need a lot more
thought than we have time for...but, you know, I mean, the things that stick 
out, the ones that revolut... well, not revolutionized, but that are unique in
a certain sense that the guitar has never been used in that way, which is... 
more in the ballads and, you know, like 'So where were you?"... but that one
from 'Guitar Shop', which is played purely with fourth harmonics...that would
be typical me, typical Beck sort of... I suppose it would be fair to say that
nobody else had done that... hum... some of the heavy stuff like... 'Star 
Cycle', you know, which was one of the first ever... hum ... melodies played
over sequencer.... that was quite revolutionary... and a few other things, 
you know, maybe 'Porkpie Hat'... or, you know, stuff where it's a classy blues,
which isn't twelve bars, you know, it's not the regular kind of Chicago-style 
blues... that helped me open a few doors... and I also got a letter from Charles
Mingus about that....

GP - Oh, yeah?
JB - I've got a personally written letter, which is hanging, you know, in a 
special place in my house. He left that when I... (recorded 'Porkpie Hat')...
and that's one of my prized possessions...But, you know, I mean, you cannot
really introduce anybody to me without, I suppose, 'Chimes' and 'Shapes of 
Things' -- you know, Yardbirds... with the sitar emulation, you know, that 
kind of indian solo I did in that...that was quite unique as well...

GP - You did that sitar?
JB - No, it was an Esquire -- Fender Esquire ... and they had a sitar player
in the studio...He couldn't play so, I said, "Listen, this is what I want..."
... and they said, "Well, you put it down it..."

GP - I'd like to know what we can expect of your show in Brazil?
JB - Well, I'm trying to finish this album, which has been a thorn, you know,
a real drag...to say the least... I'm trying to get it finished, but
unfortunately music has been changing so rapidly we had to keep postponing
the record. But what we want is to come down there and play all-brand-new
material from this album... obviously to promote it, because it's all 
brand new tunes. But we'll still have about a half hour in the show of old
stuff as well so, we've selected the most powerful, most impressive stuff
of the old albums.

GP - We got the set list from Montreux through the Internet.
JB - Oh, you got the set list from there?

GP - Yeah, 'New Tech','Savoy', Star Cycle'...
JB - Yeah, that was just temporary, except for the ones that are already on
release. 'New Tech' was just a temporary title so, it's quite funny...
(laughter) We actually haven't named half of those tunes yet.

GP - What is like to have a woman in the band? To play with a 
woman?(Jeniffer Batten)
JB - Fantastic... She's just a tomboy, you know, she's really one of us,
you know... She's not really playing in a conventional guitar style, she's,
hum... albeitly, she's plays rabid, really heavy solos sometimes, but 
there's more a supporting-like a keyboard... role... do you know what
I mean? She's got a really space-age set-up for a guitar, with a... an 
interface midi, you know, so she's making sample sounds and keyboards
sounds with the guitar, so...She's just one... she's the most easy-going
person to get on with. She's been a friend of mine, and I think she's 
very pleased to be out there, and I'm very pleased to have her in the band.

GP - We'd like to know about your work with George Martin...
JB - Yeah... He asked me to play one Beatle track... you heard the album,
I imagine you heard it...

GP - It's 'A Day In The Life'... I'd like to know about your relationship...
JB - Well, I actually thought that in the mid-70s he was one of the few 
producers that wasn't drugging, you know, taking drugs and making forges 
just for the sake of it... He was definitely, and always been, involved
in music for the love of it. And I thought he was a great reference point
in my career, to see where I was going, I though he helped me a great 
deal... as a sort of a senior figure listening to rather heavy rock and roll,
and making it palatable for most other people to listen to... and we've 
been friends ever since. And he respects me and I respect him. I was very
proud that he choose me to be on his 'In My Life' record.
 
GP - Well, everybody's waiting for your new album...
JB - (laughter) I'm waiting for it too...

GP - When do you expect to release it?
JB - It will be out in November. It will be finished and, hopefully, 
delivered for released by November, 30.

GP - Steve Lukather tracks or Tony Hymas?
JB - Hymas and me are producing the record... that's from about a month
ago. Some of the tracks we're looking at what Steve Lukather just produced,
but it looks as though we'll have to remix those anyway... but we have 
about twelve new tunes... and it's a question of selecting and running
that (...material...) in acceptable order, you know, so the album runs nice, 
you know...

GP - Do you know Brazilian music?
JB - Yeah, I'm very familiar with some of that, but I just can't wait
to see how people react to what we have... (laughter) You (...guys) are 
born with rhythm, that's why I'm sort of keen to come down... whereas 
most western cultures, they don't have much rhythm in their bodies, 
you know, but Rio, I mean, you know... Brazilian rhythms... fantastic...

GP - Which object gives you more pleasure, a '59 Strato or a vintage Jaguar?
JB - ... you mean a Corvette... the car is a physical, moving object, which
is very necessary...they're both... I can't live without either, probably...
(laughter)

GP - Are you still into cars?
JB - Yeah, yeah... you know, the... you get to used the car... that's the 
thing it serves to get to work on them, and you get to drive to them so, 
there's a confirmation... and a result there. If you practice the guitar,
you can go on stage and play... So, both those things have a function, you
know, the end of it...

GP - ... just a very last question. Do you live in a castle? Is it true?
JB - No, it's not a castle... It's mine, and if you think about some of 
the houses I've lived before, it's a castle (laughter). No, it's just a... 
it's a large... there are much bigger houses, but it's very.. for a couple
of people, it's a big house-built in 1591...four hundred and something
(...almost...) four hundred and ten years old. I mean... Well, it's not 
a castle, no... it's a... there are many castles near where I live. But 
this is a private residence, just...bought by somebody who made arms 
in the 1590s...

GP - ... and there is a lake-mirror.
JB - Yeah. The river runs through the garden. It's beautiful...

GP - Is it in London?
JB - It's in Sussex - 50 miles from London.

GP - Well, Jeff, it was a great honor to talk to you.
JB - Well, thank you... It's been much interesting... I'll see you very 
shortly - down there... Bye-bye for now... Bye!

PS.: unfortunately we just saw him on stage. But it was a gas. The people behaved as if in front of a legend (and he is indeed). The gig - billed with Wayne Shorter -- was sold out in six days, two months earlier. It was fine, and unforgettable. Bye.
---