January 17, 2006
Wow four months, has it been that long. Lots of apologies go out to everyone for no updates in a while. I (Bill) was given this huge project where I work and just haven't had a lot of spare time. Then we had a couple of hurricanes and the holidays and well, here we are.

Jeff will be headlining the Tempe Music Festival, March 31st and April 1st....the festival will be the official serve as the official 60th diamond anniversary of Fender which is an obvious tie-in with the next bit of news. Don't know who will be performing with Jeff yet but when we do we'll pass it on. More information is available at www.tempemusicfestival.com and www.fender.com.

First off like out marquee states, Fender is getting Jeff Beck intensive. Their latest offering for the Custom shop, a reproduction of Jeff's Yardbird's Esquire. They call it a 'Jeff Beck Relic Esquire', MSRP....$15,000 and even at that price and the fact it is only been officially announced at the recent NAMM, I've heard all 150 are already been sold although I can't confirm that. The package also includes a DVD interview with Jeff Here's a pdf of the specs;
jeffbeckesquire.pdf
And a picture;
Beck Tribute Esquire
Other recent news....nothing earth-shattering. Jeff signed another celebrity guitar, this one fetched $1.6 million for Tsunami relief because it was also signed by Jimmy Page, Eric Clapton, Mick Jagger, Keith Richards etc. and bought at auction by the royal family of Qatar. The signing was put together by Bryan Adams. EMI's re-issue of Truth' took the prize for 'Re-issue of the Year' at this year's Classic Rock magazine Roll of Honour Awards which took place at London's Cafe De Paris. The album was repackaged and re-released in May of this year, and features 8 bonus tracks.

Lastly, jeffbeck.com wants your pictures. For what we don't know yet. Jeff's official website is seeking photos of Jeff performing live over the past two years from anyone who got them in any manner. If you have something you want to send, email it to jeffbeck.com@btconnect.com. Don't send any fan mail, it won't get answered.
---
March 8, 2006
We've got a few more items to pass on to you than I have time to print right now but Dick wanted me to put this official press release on ASAP....I add the other stuff soon. BA

JEFF BECK - West Coast Tour Spring 2006

Jeff Beck, appearing with a stellar band and guest vocalist Beth Hart

Jeff Beck is undertaking a rare six date run in the southwest USA this spring. Last summer he was able to put the ensemble together for a tour of Japan and he has grabbed the chance to do it again for fans in America. He will be covering the entire spectrum of his illustrious career from The Yardbirds to the future and for the first time in many years will be accompanied by a guest vocalist, the very special Beth Hart.

Jeff Beck will be joined for these few exclusive dates by an absolutely stellar set of musicians -
Pino Palladino Bass
Vinnie Colaiuta Drums
Jason Rebello Keyboards
Beth Hart Vocals


Pino Palladino
Seen most recently as a member of the John Mayer Trio, undoubtedly the world's foremost bass player, he is equally at home on stage with The Who or Simon and Garfunkel and gracing the worlds studios with the likes of D'Angelo, Elton John and Eric Clapton.

Vinnie Colaiuta
Another player from the very top of the business, Vinnie is first call when producers and artists want the best. His list of credits is immense, a backbone for Sting for many years, like Pino he crosses all boundaries from Faith Hill, to Jeff via The Pussycat Dolls and Megadeath!

Jason Rebello
Jason grew up as a keyboard prodigy, no less than Wayne Shorter produced his first album, but it is probably his three albums and long touring stint with Sting that has brought him to the attention of most people.

Beth Hart
All we can say is, when did Jeff Beck last share a stage with a vocalist?
Enough said, Beth is that good.

DATES: March 31st Tempe Music Festival / April 2nd Las Vegas, House Of Blues/ April 4th San Francisco Warfield / April 5th Los Angeles House Of Blues / April 6th San Diego 5th & B / April 7th Palm Desert McCallum Theatre
---
March 22, 2006
Okay, I know we're way behind but we're trying to catch up. Old news but will repeat it anyway. Jeff Beck and Buddy Guy have announced concert dates for Germany in July. This link has some info;
http://www1.gitarrebass.de/news/06/03/10/2828.html
and the dates listed are as follows.

July 15 - Berlin - Zitadelle
July 16 - Bonn - Museumsplatz 
July 17 - TBA
July 18 - Tuttlingen - Honberg Sommer
July 26 - Mainz - KUZ

Now add these Japanese dates to the mix....Jeff is supposedly headling two dates with Santana.

July 22, Izumiotsu Phenix, Osaka
July 23, Fuji Speedway

You know I was just noticing this as I typed this up....Germany on the 18th, off to Japan for the 22nd and 23rd, back to Germany for the 26th, that's a pretty brutal schedule, take your vitamins Jeff!
We've since heard that a date in Holland and dates in U.K. are being worked on for Rotterdam, London, Birmingham and Liverpool. We've also been told that the information on the link we mentioned above is incorrect in that Pino Palladino will not be with Jeff this time out as he has already to committed to dates with The Who and no vocalist is planned so Jimmy Hall won't be along either.
We've gotten some cool promo pics for Tempe and the West Coast swing along with a note from the photographer, we'll be putting them in JBB #14 ASAP. And speaking of photos, we have been informed that "jeffbeck.com@btconnect.com" has recieved enough of the concert pics they asked for and aren't accepting anymore. However, please send us any pics and/or mini-tour reports from the upcoming dates in April and we will share them with everyone.
Someone sent us this link;
http://www.ultimate-guitar.com/news/interviews/carmine_appice_i_would_consider_working_with_jeff_beck_again.html?200603060133
Which bears the title "I would still consider working with Jeff Beck". Interesting stuff.
Suzi Quatro who now lives in London and has a radio show on the BBC recently mentioned that Jeff will guest on one of her upcoming projects. Apparently she said Jeff will be playing guitar on her cover of The Eagles' "Desperado". Haven't heard any release info.
Oh and before we go, the next thing up is our additions to JBB #14. We've already mentioned the promo pics also we will have a bit on an 1989 Jan Hammer promo video featuring Jan, Jeff, Ringo Starr and David Gilmour. We got an interesting email from William Marcus about jam at the Marquee featuring Jeff and Gary Moore. And besides JBB #14, we will shortly have a new item on the page that will have all those rare Jeff Beck articles that were previously linked to another site and were pdf's. We've been graciously supplied with jpeg's and we'll put them up so you all have access to them.
---
April 6, 2006
Just a quick tour update while we're waiting for 'Car Crazy' to come on. For the latest tour stuff the boards are probably more up to date than us but here's some stuff we've gleaned.

First the set list which so far hasn't changed that we know of. (Thanks Steve)

Beck's Bolero
Stratus
You'll Never Know
Cause We've Ended As Lovers
You Shook Me (w/Beth Hart)
Morning Dew
Behind The Veil
Two Rivers
Star Cycle
Big Block
Nadia
Angel/Footsteps
Ain't Superstitious
People Get Ready
Scatterbrain
Led Boots
Goodbye Pork Pie Hat
Brush With The Blues

(1st Encore)
Goin' Down

(2nd Encore)
Somewhere Over The Rainbow

Here's a nice review from the Hollywood Reporter....


Club setting energizes Jeff Beck's showmanship
Thu Apr 6, 2006 7:23 PM ET

By Erik Pedersen

LOS ANGELES (Hollywood Reporter) - The most avid Jeff Beck fans will
tell you they go to his concerts to hear him play rather than to
watch. That makes sense, because he mostly shrugs at being a
commanding showman, preferring to let his guitar do the interacting.

But plunked into a club setting Wednesday at the House of Blues, Beck
seemed energized by the tight quarters and his tight band. He
peppered his playing with tricks and tossed in some honest-to-guitar-
God antics, apparently enjoying himself as much as the colorful crowd
enjoyed him. And if he has lost a step at 61, it wasn't obvious this
night.

Playing the fourth of six dates on a weeklong tour of the Southwest,
Beck sauntered onstage, powdered up his hands and went straight to
work. Using his 1968 classic "Beck's Bolero" as a warmup, he
pinballed across his 40-year career, visiting every square inch of
the guitar, mercilessly deploying the whammy bar and occasionally
throwing both fists in the air as he let a note hang. Before long,
heads were shaking throughout the hall -- either moving in time to
the music or simply wordlessly saying "wow." Probably both.

The biggest curveball, as far as Beck gigs go, was a guest vocalist:
L.A.-based blues rocker Beth Hart, who shared the stage for about a
half-dozen numbers. She strode onstage belting "You Shook Me" and
immediately made some aggressive-suggestive moves on Beck. He backed
away, but she kept coming at him, like some seductress with an agenda.

Hart has an uninhibited charm and fiery, throaty vocal style, but her
hair-tossing histrionics sometimes came just a rung or two from going
over the top. Still, Beck appeared relieved to have someone else take
the spotlight, and their back-and-forth was a pleasing sideshow --
especially during the encore of "Going Down," when Hart hit her knees
to belt out the familiar chorus.

Beck's versatility -- and his iconoclasm -- were most apparent midway
through the 90-minute set during a four-song run. "Behind the Veil"
was a foray into island riddim, complete with some goofy guitar
trickery that charged the crowd. "Two Rivers" was laid-back
melancholia, and "Star Cycle" had a prog-meets-'80s sound fueled by
keyboardist Jason Rebello, who took advantage of his times in the
spotlight. Rebello then rested for much of "Big Block," allowing for
a satisfying power trio rock workout. All the while, hard-working
Vinnie Colaiuta provided booming, sloppy-sure drums, seemingly
following orders to fill at will.

After four decades, Beck still has the ability to thrill. While
unfailing technique is second nature to him, it was a pleasure to see
Beck give just a bit extra on the showmanship side. The result was
one of those nights that even a veteran concertgoer brags about
seeing the next day. And the next.

Reuters/Hollywood Reporter

Beth Hart....if you're not familiar with her check out;
Here are some pics we've gotten too...if we get enough stuff we'll move it all into a special feature on JBB#14 but for now here 'tis.
Here's another review from San Diego.....

May 7, 2006
What's new, what'new, hmmm....not much. Everyone is raving about Jeff's little West Coast stint, we're hoping for something more eastward towards the end of the summer. Jeff's European dates have firmed up and one date is the Montreaux Jazz Festival again. That should be good since they videotape all the shows there. Also on the bill a reunion of Jimmy Page and Robert Plant.

Here are the updated dates....

June 30th Montreaux Jazz Festival

July 10th London - Tower of London

July 11th Birmingham - NIA 

July 12th Liverpool - Summer Pops

July 14th Rotterdam - North Sea Jazz 

July 15th Berlin - Zitadelle 

July 16th Bonn - Museumsplatz

July 18th Tuttlingen - Zeltfestival

July 22nd Yokohama - Fuji Intl. Speedway

July 23rd Osaka - Izumiotsu Phoenix

July 26th Lucerne - Blue Balls Festival

I think we mentioned this before but the line-up should still be Jason, Vinnie and Beth but we expect Pino will be out with The Who during this period.
Did you all see the 'Car Crazy' show with Jeff. First, he has more cars than we first realized and his new garage to hold them is awesome. The show was called 'Jeff Beck Part I' but we've to hear when Part II will air.
We stole the pic below from the Guitar Player website, oops did I just say that? We're kind of are borrowing it.

Of course this is the famous 'Oxblood' Les Paul he used in the 'Blow By Blow' days. Still can't get over how anyone can deal with those 'wrap around' bridges. Anyway it's in the June issue and weirdly enough I haven't seen it. I mean I haven't really gone out of my way but when I'm around a Borders or Walden Books or Barnes And Noble, I glance through the magazine section and it's weird but all the ones I've checked out don't carry Guitar Player.
Speaking of magazines we've got our new feature up, "Rare Jeff Beck Articles". It's a bunch of old magazine stuff that Ed Chapero dug up for us. We used to have a link to them in pdf format but the link went dead so now we have them in our own section. Enjoy.
---
May 15, 2006
Jeff is still looking to tour the States in the late summer/early fall but we've learned it won't be with Buddy Guy. That's all we know for now. Also there should be a new album released by then or so we hear.

According to the Car Crazy website, they'll be re-airing Jeff Beck Part I on Thurday, June 29th. Everyone is still wondering about when Part II will air. We assume there is a 'Part II', otherwise what's the sense of a 'Part I'.

We recently got a hold of Genya Ravan from 'Goldie And The Gingerbreads', who were probably the first if not the first all woman rock group out there. Below is a photo of Genya with Jeff during the Yardbird days.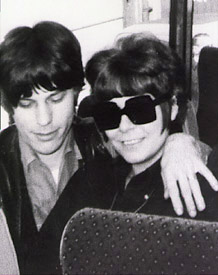 In her book "Lollipop Lounge" she has a section about Jeff and she told us, "He was and I hope still is, one of the nicest, sweetest, intense guys and you can quote me." And funny that Jeff will soon be touring with Buddy Guy, "I also turned him on to Buddy Guy who he flipped over. I gave him an American record of Buddy." Check out www.genyaravan.com for more info.
---
July 12, 2006
Apologies again for being so far behind. Bill has almost finished his big project at work that has been holding everything up but you still love us anyway, right? Lots has gone on in the past two months, we're sure we're gonna forget something here but's let's try.

First, summer/fall tour dates started being announced last week. Some of the dates are with Jeff and company headlining, others he is co-headlining again with his old friend Carlos Santana. Here's what we have so far.

Sept. 6 Ruth Eckerd, Clearwater, FL
Sept. 7 Hard Rock Live, Hollywood, FL
Sept. 9 House of Blues, Myrtle Beach, SC
Sept.?? Starland Ballroom, Sayreville, NJ
Sept. 13 Hampton Beach Casino Ballroom, Hampton Beach, NH
Sept. 15 Tweeter Ctr., Mansfield, MA w/Satana
Sept. 29 House of Blues, Las Vegas, NV
Sept. 30 Chastain Park, Atlanta, GA w/Santana (this might have changed)

This of course is happening while Jeff is starting his dates in England, Germany and Japan having just done three consecutive nights in London, Birmingham and Liverpool respectively. The line-up includes Vinnie Colaiuta and Jason Rebello again as well as Randy Hope-Taylor since as we've mentioned before Pino is out with The Who.

Here's the opening night setlist from the Tower Of London show;

Beck's Bolero
Stratus
You Never Know
Cause We've Ended As Lovers
Behind The Veil
Led Boots
Nadia
Angel (Footsteps)
Scatterbrain
Big Block
Star Cycle
Pork Pie Hat/Brush With The Blues
Blue Wind
********
1st Encore - Lopsy Lu
2nd Encore - Somewhere Over The Rainbow

Neither Jeff or Jimmy Page appeared at the Atlantic Records/Ahmet Ertegun tribute at the Montreux Jazz Festival. A press release said Jimmy had some kind of surgery and Jeff threw his back out. We understand Jeff was scheduled to appear with Bette Midler but it never happened.

Last year Jeff recieved the first "Les Paul Award" from Mojo Magazine. This year he presented the second one to Brian May June 6th at the Shoreditch Town Hall in London.

Some quotes by Jeff will be featured in an upcoming book about the Mahavishnu Orchestra entitled "Power, Passion and Beauty". Jeff spoke to author Walter Kolosky earlier this year.
---
July 26, 2006
Lots of cool stuff out there right now, here's one link from 'www.youtube.com' of Jeff performing 'Lopsy Lu' with Stanley Clarke at the North Sea Jazz Festival in Rotterdam - http://www.youtube.com/watch?v=oDOCSvqbN64&search=%22jeff%20beck%22. I know some people saw some of the set on the webcast link we mentioned but alot didn't, guess the server couldn't handle it. Anyway I think 'Snookeroo' added another Jeff performance on there as well.

Saw The Yardbirds the other night in Stuart, Florida. Great show, go out there and catch them in you can. Spoke to Jim and Chris briefly, told them their new guitarist Ben King (who was great by the way) was the best looking guitarist they've had since Top Topham!

As you know Jeff is in Japan right now doing some dates with Carlos Santana. Here's a setlist from Toshi;

"UDO Music Festival" Fuji Speedway, Shizuoka, Japan  July 22, 2006
1.Beck's Bolero
2.Stratus
3.You Never Know
4.Cause We've Ended As Lovers
5.Behind The Veil
6.Led Boots
7.Nadia
8.Angel (Footsteps)
9.Scatterbrain
10.Big Block
11.Star Cycle
12.People Get Ready
13.Goodbye Pork Pie Hat / Brush With The Blues
14.Blue Wind
encore
15.Scottish One
encore
16.Somewhere Over The Rainbow

Jeff joined Santana onstage during the middle of his set and they did "Super Boogie". And great news, probably the best of the tour so far, the July 22nd show at the Fuji Speedway was videotaped and will air on Japanese TV in September!

Lastly, here's the update (and final I think) tour schedule for the states. Most shows are onsale already at ticketmaster.com.

Sept. 6 Ruth Eckerd, Clearwater, FL
Sept. 7 Hard Rock Live, Hollywood, FL
Sept. 8 House Of Blues, Orlando, FL
Sept. 9 House of Blues, Myrtle Beach, SC
Sept. 11 Starland Ballroom, Sayreville, NJ
Sept. 12 Hammerstein Ballroom, New York, NY
Sept. 13 Hampton Beach Casino Ballroom, Hampton Beach, NH
Sept. 15 Tweeter Ctr., Mansfield, MA w/Satana
Sept. 16 House Of Blues, Atlantic City, NJ
Sept. 18 Detroit Opera House, Detroit, MI
Sept. 19 Chicago Theater, Chicago, IL
Sept. 21 Colorado Convention Center Lecture Hall, Denver, CO
Sept. 23 The Theater At Reno Hilton, Reno, NV
Sept. 24 Paramount Theater, Oakland, CA
Sept. 25 Grove Of Anaheim, Anaheim, CA
Sept. 26 Arlington, Santa Barbara, CA
Sept. 28 Greek Theatre, Los Angeles, CA
Sept. 29 House of Blues, Las Vegas, NV
Sept. 30 Palomar Starlight Theater - Pala Casino, Pala, CA
Oct. 1   Ikeda Theater, Mesa, AZ

---
September 5, 2006
Okay we're gearing up for next month here. We've got the oil changed in the car and are set to catch the first 3 dates of the tour down here in Florida. In anticipation of the tour Jeff has been getting some ink recently. He recently did a bunch of phone interviews with various writers from some of the cities he'll be in over the next month. He also made a recent appearance on www.wireimage.com. A couple of photos of him at a Rolling Stones after party last month.

We don't know the whole setlist yet, probably alot of the numbers he's done in his previous shows this year. But we do know of one new song we think Jeff and company will do on this tour. Beth Hart will be singing the Sam Cooke classic "A Change Is Gonna Come". How do we know this? It seems Jeff has been rehearsing for the last four days in the Clearwater area and this little tidbit slipped throught the cracks so to speak.

So, he's what we're going to do. First off right now we have some of the aformentioned interviews in Jeff Beck Bulletin #14. Over the course of the month we'll add what more we get as well as fan reviews, set lists, our own reviews, experiences etc. This will close out that issue with a bang (we hope) and then we'll have to figure out what to start issue #15 with!
---
October 9, 2006
Ok, lots of stuff to report, it's been piling up but we haven't got around to compiling it since Bill is busy at work as usual and Dick is lazy. Did I say that?

First all non-tour related items.....When I (Bill) talked with Jeff at the aftershow at Hollywood Hard Rock I asked him a) Is there a Part II to the Car Crazy show on Speed Channel? and b) If there is when? He didn't know. Well, we do now. Car Crazy with Jeff Beck Part II is scheduled to air on Speed Channel Thursday October 19th at 6:30 and 11:30 PM, again Friday October 20th at 5:30AM and Sunday, October 22nd at 6:30PM. Set your VCR's.

Another book featuring Jeffrey is availble now. By my count this makes three, right? "Truth...Rod Stewart, Ron Wood And The Jeff Beck Group" by Dave Thompson is the "first analysis of the seminal work (Truth) by a notorioulsy reclusive character, drawing on new interviews with those who were there or thereabouts to give an incisive view of a rock band that enjoyed a short, sweet and highly influential life." Sounds like a must read to me.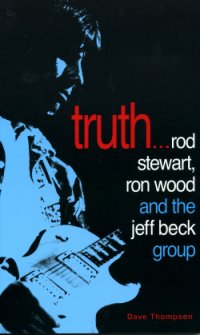 Our friend Robert Knight just had a nice article published about him in "Las Vegas Life" magazine. The article by Lonn Friend chronicles his career and recent move to sin city. If there's some interest I'll post a .pdf of the article in a month or two when the magazine itself is off the shelves.
And now I'm going to move on to posting all the press and fan reports and pictures we've received from the tour in JBB #14. I'll tell you, judging from the press reports, I think they have finally realized what we've all known for many years, that is, Jeff is a true legend of immense talent. Sure, some guitar mag writers have alluded to that over the years but we've never seen so much of it from the run of the mill pop music writers as we've seen on this last tour. That being said, are all the interviews Jeff has granted during the past year been serious musical/career discussions? Of course not! Here's an interview from a British mag Jeff gave earlier this year. It's hilarious!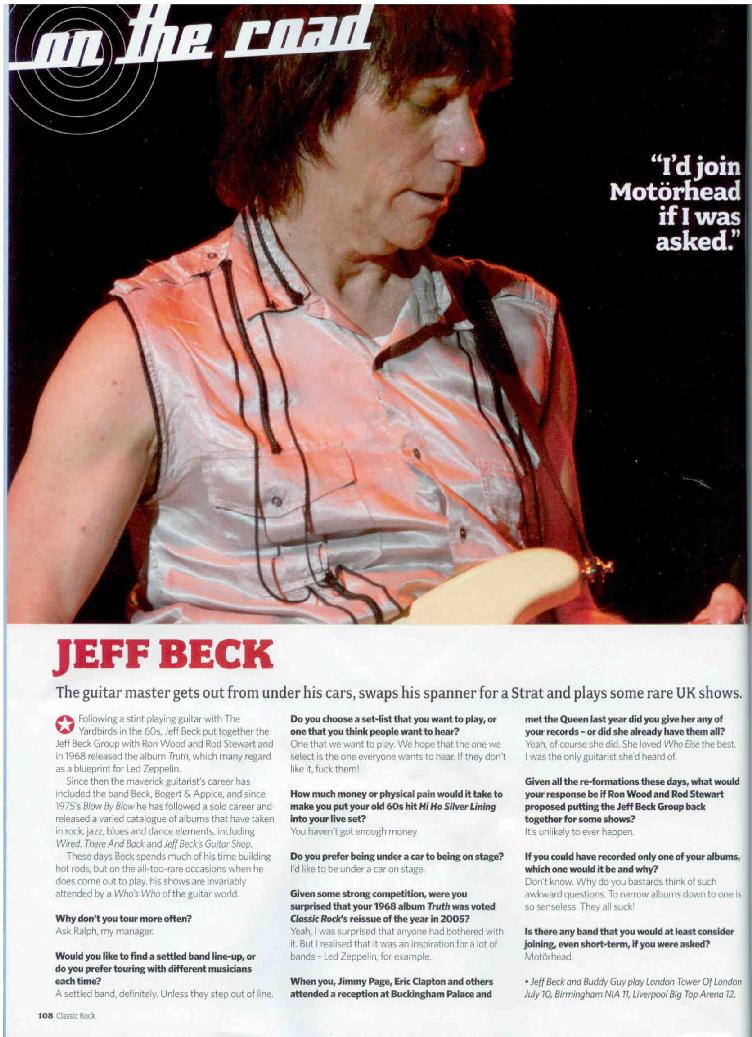 ---
October 23, 2006
Car Crazy with Jeff Part II was on the other night. Even better than the first! It showed more of Jeff's cars and garage and also what a great artist his wife Sandra is.

Jeff appears under the pseudonym 'Hot Rod' on the new Jimmy McIntosh album. Jeff is on three tracks and so far the album has only been released in Germany. Check out www.jimmymcintosh.com for more info.

We heard from Dan Griffin this week. He's the guy that produced the 'All The King's Men' CD a while back. I think we mentioned at the time that they also filmed the sessions and had interviews with everyone involved. Dan was kind enough to send us one of Jeff's interviews as well as footage of his session with Scotty Moore and DJ Fontana at Ronnie Wood's house/studio in Ireland. (The house has it's own full bar with of course Guiness on tap.) Dan told us that the complete documentary is finished and will air on American television next summer. We'll give you all the particulars as the air date arrives.

A historical item came to our attention recently, something we have to follow up on. We recently recieved a note from Brian Temlett, a name that could be familiar to Jeff. He told us that prior to joining The Tridents, Jeff played with a group called The Trespassers from Croydon. They used to practice in a pub in Croydon on Cherry Orchard Road.

We are finally wrapping up Jeff Bulletin Issue #14 with the last of the reviews, pictures and what not we've recieved. I (Bill) also embarrased Mr. Wyzanski enough to get off his arse and write his observations of the three shows he saw as well as a review of the 'Official Boot' that was sold at the shows. On to Issue #15 which we hope will feature an interview with Tony Newman and perhaps his observations about the new 'Truth' book out. (Details above.)
---
November 14, 2006
The 'Official Boot' that we mentioned being sold during the last tour and Dick mentioned in his report is or should soon be available at www.musictoday.com.

We've been listening to the Jimmy McIntosh CD the past few weeks. Really great stuff. With the Neville Brothers on it playing their funky style, it's almost like listening to a 21st century Meters album. Oh, and Jeff is playing some killer stuff on it as well. The CD was officially released in the states November 4th and you can go to www.esc-records.de for more info.

Jeff attended Classic Rock Magazine's awards show last week (November 7th). For some pics of Jeff with honoree Alice Cooper you can check out Ross Halfin's site.... http://www.rosshalfin.co.uk/diary/november-2006/diary-november-2006.html. A couple of the pictures are kind of blurry though, either that or I had too rough a night last night.

Lastly everyone agrees that Car Crazy, Jeff Beck Part II show was great. That new garage Jeff had built to put all his cars in is beautiful. We came across this site, http://www.kentpegs.com/oak_framed.htm, which belongs to Karl Terry, the builder who did Jeff's garage. There's a picture of Jeff on it playing an acoustic guitar for Karl.

Lastly we had heard that Jeff is slated to appear on the next Motorhead album. As mentioned in the above interview it's the only band Jeff would ever join. After hearing the initial rumour though we have yet to confirm if it's going to happen.
December 18, 2006
Well, this probably will be the last update of 2006. When I archive this year's 'What's New' and start on 2007, we will also be wrapping up JBB #14 with a very cool interview with Jimmy McIntosh. Dick has been speaking to Jimmy recently and has a great piece on the sessions Jimmy did with Jeff at Ronnie Wood's home studio in London for Jimmy's CD. We would have it on already if it weren't for email gremlins.

We've gotten a ton of emails about the 'Official Boot' CD not being available at the www.musictoday site. At this point we really don't know what the story is. We were told it will be available there at some point, don't know what the hold up is.

As most of you know by now Jeff wasn't at the UK Hall of Fame Awards show as we previously reported. The reason we got was that TV company that produced the show chose the players in the band for the George Marin tribute piece. We're thinking at some point Sir George probably asked Jeff to participate and then at some point the TV company made other arrangements. Even though we got this piece of information wrong, we still have an accuracy rate of 87.3%.

That being said, we give you the following information as a 'could be', 'might happen', 'supposedly' because with Jeff 'you never know'....Jeff is mentioned at the following website....http://www.streetrodderweb.com/hotnews/0611sr_petersen_museum_deuce_week/, to be at Petersen Automotive Museum's 'Deuce Week' in Los Angeles on February 23, 2007. Here is the total blurb...


Friday, February 23rd - The Petersen will host the event's official
Media Day and will conclude with the biggest party ever thrown for the
Deuce - the Museum's Deuce Week Gala. Hundreds of collectors, enthusiasts,
racers and owners are expected. The Gala will feature special
guests Jimmy Vaughn, Jeff Beck and Billy F. Gibbons of ZZ Top - all famous
Deuce owners.

I feel confindent that we have passed this item along in such a way that if Jeff doesn't show it won't affect our accuracy rating!

Here's another cool little thing that has been put up on the Gibson guitar site....http://www.gibson.com/backstage/200610/jeffbeck.htm, nice tribute to Jeff.

And here's a reprint of an interview with Jeff from 1989 by Steve Rosen at Modern Guitars.... http://www.modernguitars.com/archives/002562.html .

Lastly what have we heard that Jeff's been up to recently? Working on the Mahler Symphony project we mention earlier. Should be out (we said 'should') some time in 2007, not on Sony/Epic. And work is being done on a DVD career retrospective, release date unknown. And some more touring is possible. Happy Holidays.

Be seeing you.....
---