April 12, 2008
New for 2008 is a complimentary link under the Discography link to a Jeff Beck Filmography site under the guise of the Imdb Database. Rather than recreate our own we've chosen this popular film Database for having done a reasonable job of tracking Jeff Beck's commercial filmed efforts over the years. The reason for Jeff listed as Jeff Beck (1) is because there is another Jeff Beck who is an actor and done bit parts in several notable movies for instance "Wall Street". So the distinction had to be made.

We recently submitted updates for The Days OF Thunder credits as well as for deleting the IMdb's poulare misconception that Jeff appeared on TV with the Honeydrippers on SNL in '94 which did not happen.

Anyone can register and contribute (pending verification) so why don't a few of you fans who have the exact date for Jeff's appearance and performance of "Dirty Minds" on the Craig Kilbourne show write to Imdb and update that listing. Also the Part I and II interviews on "Car Crazy" need to be added as well as the Hot Rod documentary that recently aired.

Finally if any UK fans are out there and can list the episodes and year opf Jeff's appearanceon "Rapido" and "The Old Grey Whisltle Test" plus the year of the Tiltle Theme only for the airing of all Glam Metal Detectives episodes on the BBC that would helpout too.

Here's a cool Yardbirds pic, thanks to our friend Ed Chappero.......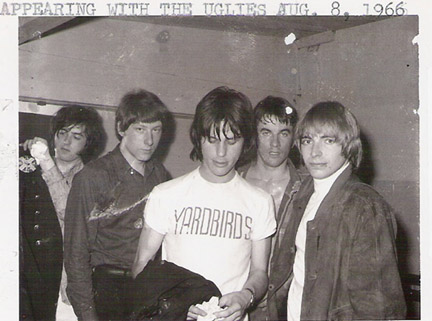 It's been a while since we've updated so to recap stuff we just were putting on our 'marquee'.....Robert Knight is working on a 'life of a rock n' roll photographer' reality show. The stuff featuring Jeff has already been shot. Others to be in the show will be Slash and Joe Bonamassa. For a tease go to www.rockprophecies.com.
Carmine Appice has been very kind to put some pre 'Blow By Blow' demos on his website...www.carmineappice.net. The four songs are; 'She's A Woman', 'Syreeta' (CWEAL), 'Jizz Whizz' and 'Satisfied'. Also on the demos besides Carmine and Jeff are Max Middleton and Phil Chen. Just follow the links to the Carm-O-Phone.
Jim Copley's solo album is due out in Japan. It's called 'Slap My Hand' and here are the tracks with Jeff;

1.) Everyday I Have The Blues.....an old B.B. King tune, Pino on bass.
2.) J Blues.........Gee, I wonder "who else" that tile refers to.....Pino again on bass
3.) All Shook Up....can't wait to hear this rendidtion.....Ian Jennings on bass. 

For more info go to; http://www.edoya.tv/jimmycopley/album.html.

Oh yeah, Jeff won some award or something....Guitar Player Magazine's '2008 Favorite Guitarist'!

There's been talk on 'the boards' and elsewhere about the expected DVD of Jeff's Ronnie Scott's shows coming out sooner than later. Seems someone knows someone who editing it or whatever....we'll see. Meanwhile from what we see at this website;
http://www.collectorsmusicreviews.com/announcements/new-releases-for-march-14th-2008/
someone else must have a boot on the 'lad's night' at Ronnie's.

Lastly, Jennifer Batten's got a new press kit posted at ppk.com, here's the link, check it out; myPPK.com/go/jenniferbatten.aspx
---
Jennifer Batten can play at your house! Yes, it could happen. Go to www.jenniferbatten.com, click on 'performances' and check it out. House concerts have been popular for folk and acoustic artists for years now but to hear Jennifer do her thing up close would be stunning, again, check it out.
Coming this fall a cool book by Robert Knight, scheduled release date, October 21st. Here's the cover.

Lastly in JBB #15, look for Dick's review of Jim Copley's CD featuring Jeff on 3 tracks, we've heard them, they're smoking. And a the story of a nice gift Joe Bonamassa gave Dick, a hint, it's got strings.
September 12, 2008
Sorry for the long time since the last update....vacations, hurricanes, work, we've got a lot to cover so let's go. First, February 2009, Jeff will tour Japan, line-up hasn't been announced yet but will probably be the usual suspects. Here are the dates so far;

2/6 Tokyo International Forum, Tokyo
2/7 Tokyo International Forum, Tokyo
2/9 NHK Hall, Tokyo
2/11 Pacifico Yokohama, Kanagawa
2/12 Aichi Prefectural Art Theater, Aichi
2/13 Wel City Kanazawa, Ishikawa
2/16 Zepp Fukuoka, Fukuoka
2/18 Koseinenkin Hall, Osaka
2/19 Koseinenkin Hall, Osaka

Now for the new CD....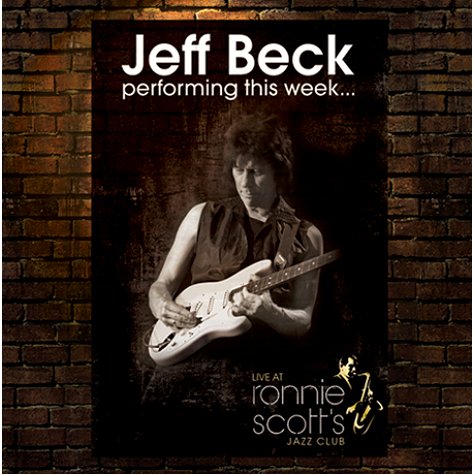 Here's the link where you can order it and see the track listing;
http://eil.com/shop/moreinfo.asp?catalogid=446599
Looks like it's going to be very cool.
Sad note to pass along...former Jeff Beck 60's friend and actress Mary Hughes passed away of cancer earlier this year. John Lee Hooker CD liner note writer and Jeff friend Daryl Stolper introduced them at a Yardbirds private concert/party at 60's psychedelic king Kim Fowley's house in California.
Do you recognize this woman?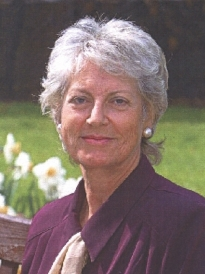 It's our friend Annette Carson who wrote...'Crazy Fingers'.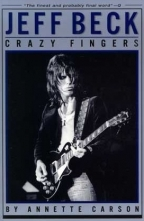 She's recently completed a new book about Richard III and gave an interview to 'Vulpes Libris', a website for bibliophiles (I think that means people who like books). In her interview she was asked about 'Crazy Fingers' and here's what she said;


It's refreshing to encounter someone who has even heard of Jeff Beck! In the 1960s-70s I was working
in the entertainment industry in London, part of that time as a booking agent, so I was regularly going
around the London clubs looking at groups. As a musician myself (violinist) I recognized Jeff for the
amazing instrumentalist he was, and during his period with the Yardbirds he totally transformed
their fortunes. Unlike most survivors from that period, Jeff then kept surprising everyone by reinventing
himself every few years - now heavy metal, now jazz fusion, now electro wizardry - but of course that is
a recipe for shedding fans, so it was unlikely any mainstream music journalist would write his biography.
Fortunately, one of my great enjoyments in writing is researching difficult subjects.

Now a few updates on our last update. A little more detail about Jeff appearance at Ronnie Scott's last August. It turns out Jeff had a guest vocalist performing 'Hi Ho Silver Lining' with him....actress Gwyneth Paltrow! At the British Jazz Awards on July 21st, Jeff jammed with Clint Eastwood's son Kyle Eastwood on bass and Jaime Cullum on keyboards and vocals. They played 'Let The Good Times Roll' as a tribute to octogenarian Candid Records boss, Alan Bates, who won an award for 'Services To Jazz In The UK'.
There was a web article about a month or so ago that said Jeff was going to be performing at the Sunset Marquis Hotel in Los Angeles with Stevie Wonder. We didn't get around to posting about it and it was a good thing because Jeff didn't show. We don't know if he was even supposed to. Anyway, the Sunset Marquis Hotel is the same place that Jeff did jam over the summer with Chrissie Hynde and Julian Lennon who have been dubbed the 'vegetarian supergroup' by Jeff 's management. The article that mentioned Jeff as supposedly playing at the Sunset Marquis was actually a hotel industry site where they mentioned that Jeff had some business involvement with the hotel. We've found out that in a way he does and this is a story we've neglected to mention previously. Jeff and Jed Leiber had been holed up at the Sunset Marquis back around the Grammys several years ago and got yelled at by hotel management for jamming in their hotel room too loud. So they talked to Hotel ownership and struck a deal to make a state of the art recording studio in the basement. (Cyndi Lauper and Ozzy Osbourne have recorded there since). Recently Gibson hosted a party there where they were trying to get Stevie Wonder and Jeff Beck to play together. Stevie showed, Jeff didn't (probably thought Gibson was going to push the 'chocolate" Ox Blood Les Paul 35th Anniversary signature special at him again), other notables at the party at which Sevie did play sans Jeff were Joe Bonamassa and Billy Gibbons who jammed.
Now the Sass Jordan saga, where to begin...oh yeah, it started with a web interview with Sass Jordan who is a veteran rock vocalist out of Canada. She's now a celebrity judge on the Canadian version of 'American Idol' aptly named 'Canadian Idol'. In an interview about the show for 'The Sault Star' out of Ontario, whose name pops up but Jeff Beck. Here's the relevant paragraphs;

Jordan's distinctive voice was also much in demand. She recalls being recruited by legendary L.A. session
man and Toto guitarist Steve Lukather. 
"He would say, 'Sass, can you come down to the studio? Jeff Beck needs a singer.' So there I'd be,
in the studio singing with Jeff Beck." 

Well, that's interesting. Must have been during the Steakhouse sessions, right? A few days later she does another interview for the show and the following is in that interview;

That's the other great thing about age -I've forgotten everything! I only remember the interesting
stuff. The weirdest things have happened to me."
This is Jordan's cue to tell a bizarre tale about meeting Jeff Beck in the mid-'90s. While recording an
album, he asked Jordan to do vocals on one track. She nailed it and when everyone in the studio erupted
in applause, she figured Beck was satisfied. But when she returned home, there was a message on her 
machine saying Jordan's voice reminded Beck too much of Rod Stewart, whom he hated at the time. So she
was dropped.
Jordan hadn't thought of this in years, but found herself telling the story while flying back from Sault
Ste. Marie this week. When she got home, there was a message on her machine from a Jeff Beck fan club.
They wanted to speak  with her about that same recording session.
"I'm like, 'What?' That happened in 1996 and I've barely thought about it since then. I'm telling the
story yesterday for some reason and three hours later ... that's the weirdest thing!"

Now can you guess who left that message on her "email" answering machine, hint the intials are DW. She sent us this nice note.

Dear Dick ... I have not had a chance to reply to your query until now, as I am intensely busy writing
and recording a new record, as well as a huge project I am involved in AND the tv show that I do, and I
am also touring during the week after I shoot the tv show. For the record... there was NO track recorded
- Jeff did not like my singing, he said it reminded him of Rod Stewart, and he was clearly not a fan. It
was a shame, as the combo of Beck, Lukather and Abe Laboriel Jr. was pretty amazing. I had no idea that he
scrapped that record .. I don't really know much about Jeff Beck at all - in fact, I recall saying to my
writing partner at the time, Stevie Salas, that I hadn't realized that Beck was such a great guitar player! 

Lastly, Jeff's 'Grease Monkey' is on a new PlayStation game, PURE.
---
November 14, 2008
Okay, lots of stuff to get to so let's start with the 2009 Tri-Continent Tour (did you know Australia is a continent? Isn't it summer there too?).... Anyway the band line-up has had a change....David Sancious will be on keyboards. David worked with Jeff on some Narada Michael Walden sessions as was also featured on Stanley Clarke's 'Journey To Love' album. The rest of the band remains the same.. Tal and Vinnie.

So here is the complete tour date list;


AUSTRALIA
(tickets on sale now)

January 23 - Perth Challange Stadium
January 25 - Adelaide Thebby Theatre
January 26 - Melbourne Palais
January 29 - Brisbane Convention Centre
January 30 - Sydney Enmore

NEW ZEALAND 
(tickets on sale November 25th)

February 3 - Auckland ASB Theatre

JAPAN
(tickets on sale now)

February 6 - Tokyo International Forum
February 7 - Tokyo International Fourm
February 9 - NHK Hall
February 11 - Pacifico Yokohama
February 12 - Nagoya
February 13 - Kanazawa
February 16 - Fukuaka
February 18 - Osaka Koseinenkin Kaikan Hall
February 19 - Osaka Koseinenkin Kaikan Hall
February 21 - Saitama....w/Eric Clapton!!
February 22 - Saitama....w/Eric Clapton!!

ENGLAND
(tickets on sale now)
(updated 11/27/08)

June 24 - 'Dome' - Brighton
June 25 - Symphony Hall - Birmingham
June 26 - City Hall - Newcastle-upon-Tyne
June 27 - Apollo - Manchester
July 3 - Guild Hall - Southampton
July 4 - Royal Albert Hall - London

We're thinking there will more UK dates to come through later.
Meanwhile we're looking forward to the Ronnie Scott's CD to be released November 25th, the DVD of the shows is due out Janurary 2009 to coincide with Jeff's Australian dates. As we mentioned on our marquee last month, BBC4-TV aired a cut down version of the DVD a couple of weeks ago. It took about 5 seconds for all the songs to end up on YouTube. Can't wait for the whole DVD because from we've seen the thing turned out great. Eric Clapton, Joss Stone, Imogen Heap as well as Jeff and the band were incredible.
Lastly in case you hadn't heard we just had a presidential election over here in the states....and there was a slight (very slight) Jeff Beck connection. As Republican candidate John McCain came onstage in Arizona to give his concession speech, you could hear playing over the sound system there the fifteen note Jeff Beck hook line from the movie 'Days Of Thunder'. McCain is a well known fan of NASCAR of which the 1991 Tom Cruise movie is based. This marks the second time Jeff has almost kind of, sort of been involved in a US Presidential campaign...the first having been his 'no show' due to the flu to a Bill Clinton 1992 innaugruation event. Jeff cancelled what was scheduled to be a duet with Jed Leiber after the event programs had been printed. There's a little collector's item you might want to go and try to find!
Be seeing you
---