January 18, 2013
Okay, first 'What's New!' of 2013! Anyone notice in our November 25, 2012 update that we might know the identity of Jeff's new management by 1.15? Hah, that's because Jeff is now represented my One Fifteen Artist Management. Go to www.onefifteen.com and click on 'artists' to see their other clients. (Update...see 'What's New!' 2/28/13...as of early March 2013, Jeff is no longer represented by One Fifteen.)

Here's a pic of Jeff in Washington, D.C. on December 2nd, 2012. The gent walking behind Jeff is his now former manager, One Fifteen's main man Paul Loesby.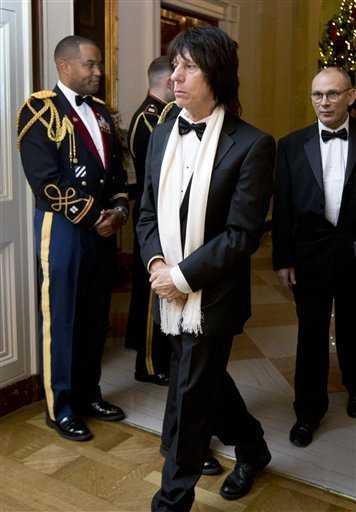 In case you missed it Jeff was in D.C. for the Kennedy Center Honors show honoring among others Buddy Guy...here's Jeff's performance with Beth Hart.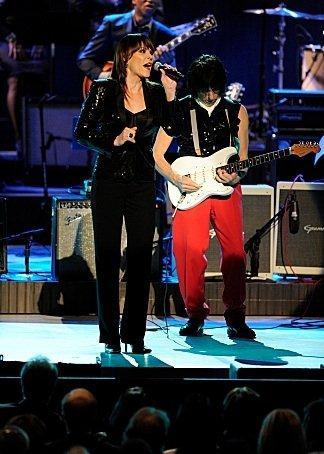 Beth and Jeff onstage at the Kennedy Center
Another somewhat new acquaintance, Alan Sholiton. Alan, besides being a huge fan, just happens to be one of the leading designers of stage clothing for artists and musicians. Here he is with Jeff who is sporting one of Alan's designs seen frequently on the Emotion And Commotion tours. Please check out Alan's Facebook page to see more stars with his designs and more pics with Jeff Beck.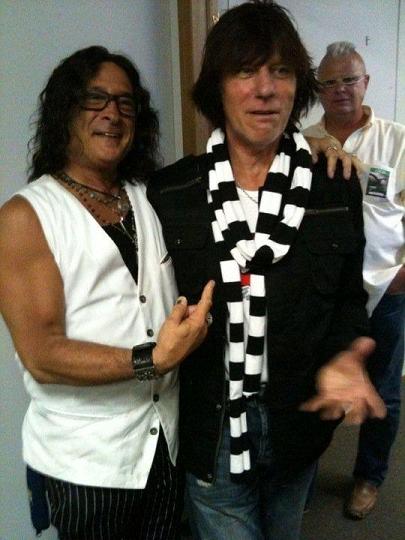 Here's an interesting video recently posted on Mama Stone's Facebook page featuring Jonathan Joesph. Remember Mama Stone's is Josh Stone's mom's place where Jeff played with Jonathan last month.
http://www.youtube.com/embed/_N_clVqeqX4.
Also here's an article on the show;
http://www.thisisexeter.co.uk/Joss-Jeff-best-Mama-Stones/story-17635604-detail/story.html
If you search 'joss stone' on the www.thisisexeter.co.uk website, there are several articles on the club itself.
Old photo of Jeff outside Norwood, UK in 1969. We not sure but this could be the bucket-t that Jeff flipped into a ditch which put him out of commission for the holiday season of '69 and a few months into the start of '70.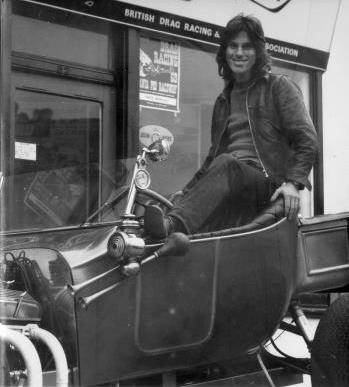 Anniversaries and reunions seem to be the big thing lately and who better to have one than the Yardbirds! Yardbirds are doing reunion show at Eel Pie Club in UK Friday March 15th. All former members are invited including Jeff. At this time we do not know if he has accepted but at any rate anyone traveling or in UK should not miss this event as it could be the last time various members of the Yardbirds will be on the same stage at the same time again.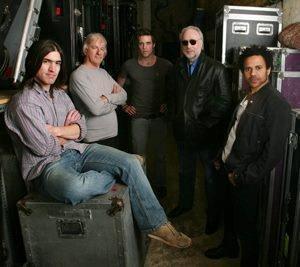 Lastly, we got a very nice note from John Hill. John is a leading rock musicologist who, whilst working for Fender, was for many years the lone artist relations director in the world from the late 70s through the 80s and responsible for introducing the great British guitarists to pioneer what became the revival of the Fender brand. John was responsible for making guitars that turned Eric Clapton away from Giffen Strats and Jeff Beck away from Jacksons and led the way for the birth of what became the Fender Custom Shop and the Fender signature series guitars. John named the Fender yellow finish 'Graffiti Yellow' for Jeff when Jeff told him about his love of the movie 'American Graffiti' and the yellow 32 Ford Deuce Coupe in that movie. The first Jeff Beck model Strats John had made for Jeff were finished in Graffitti Yellow.

  I'm sure in years to come Jeff will be lauded and recognised as one
of the GREATEST musicians who ever lived, lauded on the level of
Paganini and Liszt and scholars will seek to know about every minute of
his amazing life and triumphs, that's why what you do is so important,
in the history of music and the social changes of this era, that will
never come again. I believe Jeff is one of the greatest musicians who
ever lived, not just the greatest guitarist!

Thanks again
John

Thanks John.
John also sent a cool pic, his description follows....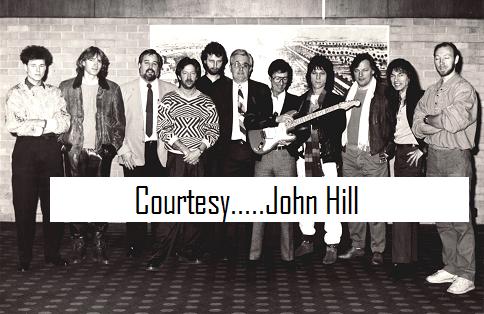 I've attached a pic that's never been released of some guitarists I
invited along to the Hilton London in May 1986 L-R Stuart Adamson (Big
Country ed.), Hal Lindes (Dire Straits ed.), Dan Smith (Fender), Eric
Clapton, John Hill (Fender), Bill Schultz (Fender),  Hank Marvin, Jeff
Beck, David Gilmour, Steve Howe, Richard Thompson and off camera Steve
Hackett, Pete Townsend and Gary Moore! A historic gathering and the
only time this group had ever been together before or since.  Hank and
Jeff were talking about the time when Jeff won the Melody Maker best
guitarist poll taking the title away from Hank for the first time in
several years. And Jeff shared his tale of the first Stratocaster he
ever saw in a shop window in Charing Cross Road in London's West End

Wow!
---
June 9, 2013
Here's a quick update....the two Scandinavian shows we mentioned...Vodafoneholinni, Iceland on June 27th (first time ever in Iceland) which will include Lizzie Ball to the aforementioned line-up...and Norway on June 29th. Both dates are part of the Endgame Festival series. Here's the poster followed by the press release...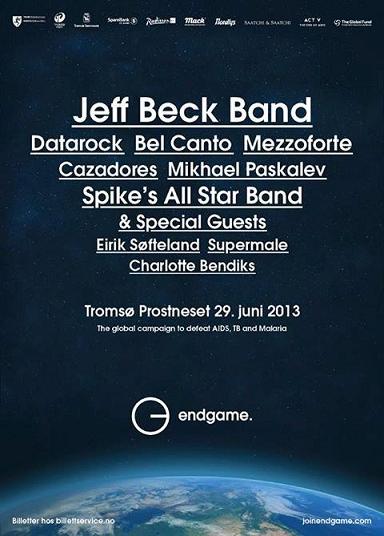 The Endgame campaign to defeat AIDS, TB and malaria has almost been a
year in the planning and it begins in Tromso with a star-studded music
festival on June 29, 2013. Further music events are planned for Oslo,
Stavanger and Europe during 2013 and the rest of the world during 2014
and beyond.
The Endgame Festival, Tromso will see a fantastic line up of artists
playing their festival sets including the legendary guitarist,
songwriter and multi-grammy award winning Jeff Beck and his
international band including Rhonda Smith, Prince's bass player. They
will be joined by Norway's Datarock, Bel Canto, Supermale, Mikhael
Paskalev and Tromso's own Charlotte Bendiks, and Iceland's Mezzoforte.
And making a welcome return to Tromso will be Queens' music director
Spike Edney and his SAS All Stars band with special guests. These
amazing artists will be joined by well known faces from home and
abroad.
The Endgame Festival will take place in the heart of the city at
Prostneset a unique and beautiful location for an amazing event and
cause. Gates will open at 12 noon and the music performances will start
from 15:15 and go on until midnight. There are a limited number of
tickets.

Speaking of Lizzie Ball, she is performing her 'Classical Kicks Summer Season' series of concerts in the UK, below is the poster with the info;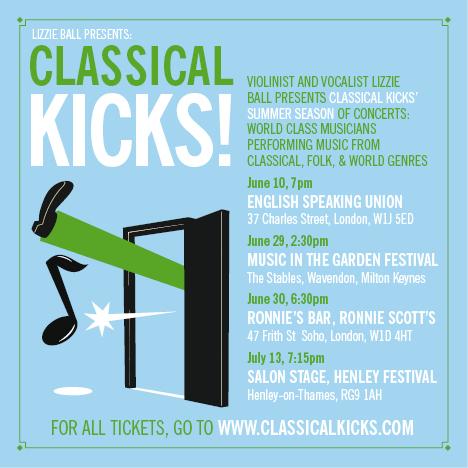 On June 6th, this appeared in USA Today.....


Brian Wilson enlists Jeff Beck, others for solo album
Steve Jones, USA TODAY10:50 a.m. EDT June 6, 2013
Beach Boys legend Brian Wilson is back in the studio working on his
11th solo album. Joining him for the sessions is guitarist Jeff Beck
and a host of veteran musicians.

STORY HIGHLIGHTS
Beach Boys legend invites talented musical friends to Hollywood
recording sessions.
He's been working on songs since last year's reunion tour with
legendary band.
Several tour dates with Beach Boys band mates Jardine and Marks are
planned this summer
Beach Boys legend Brian Wilson, who last year toured with the reunited
band on its 50th anniversary tour, is in the studio working on his 11th solo album.

He's got plenty of friends joining the recording sessions at
Hollywood's Ocean Way Studios, including guitarist Jeff Beck. Also on
board are his former Beach Boys band mates Al Jardine and David Marks,
bassist/producer Don Was and drummer Jim Keltner.

Wilson began writing new songs while on the Beach Boys' sold-out, 70
-city tour in support of their 29th album, That's Why God Made Radio.
He said at the time that he had a rock 'n' roll-driven album in mind,
and he looked forward to returning to the studio when he got back home to California.

"I was really moved by the fans' excitement about The Beach Boys' album
and tour last year," says Wilson. "It charged me up and my head was
full of music — I just couldn't wait to get back into the studio to let
it out."

With rock 'n' roll in mind, Wilson looked to Jeff Beck.

"When I watched Jeff Beck perform Surf's Up to honor me at the
MusiCares Person of the Year event in 2005, I knew I had to find a way
to work with him," Wilson says. He absolutely blew my mind and we've
been friends ever since. Jeff's incredible guitar playing is exactly
what I want for my new album and I'm also looking forward to performing
live with him soon."

Wilson and his hand-picked band of friends have taken a fluid approach
to the recording process, letting collaborative creativity drive the
sessions. Wilson is working with longtime collaborator Joe Thomas to hone the arrangements, often assembling pieces from various takes.
Details about the album and its release will be shared soon.

Capitol Music Group chairman and CEO Steve Barnett says, "Brian Wilson
is simply one of the most important figures in the history of popular
music, and he continues to have a far-reaching and influential impact
on our culture."

Wilson will be performing select shows this summer with Jardine and
Marks.

Here's the YouTube clip of the MusiCares show Brian referred to;
http://www.youtube.com/watch?v=7Ji0ZE0jpcg
Brian mentions playing with Jeff 'live' soon...according to his website he's playing the Greek Theater in LA on October 21st....hmmmm
If you go back to our first update of 2013 we have a picture and story about John Hill and a bunch of guys he got together for a Fender Strat Love-In....here's another pic of the meeting from Hal Lindes' MySpace page.
Our friend Ed Chapero sent us this link to Jeff Beck fan Roger Paul's photobucket page....check out his stuff!
http://media.photobucket.com/user/roger_paul_fan/media/jimmy11.jpg.html?filters[term]=jeff%20beck&filters[primary]=images&filters[secondary]=videos&sort=1&o=475#/user/roger_paul_fan/media/jimmy11.jpg.html?filters%5Bterm%5D=jeff%20beck&filters%5Bprimary%5D=images&filters%5Bsecondary%5D=videos&sort=1&o=475&_suid=137043700041405306137778016291
Lastly, Rolling Stone Magazine's video page just posted this great clip featuring Alice Cooper talking about Jeff Beck...check it out;
http://www.rollingstone.com/music/videos/alice-cooper-pays-homage-to-the-guitar-skills-of-jeff-beck-george-harrison-20130603
---
July 1, 2013
Announced via Brian Wilson's official webpage, Jeff will appear with both his band and Brian Wilson's band October 20th at the Greek Theater in Los Angeles. We expect more U.S. dates to be announced for early October. We also expect the band to consist of Rhonda Smith, Jonathan Joseph and Lizzie Ball. More info here; http://www.brianwilson.com/news/

While in LA, Jeff will also play a fundraiser for the Petersen Auto Museum on October 24th. Here's the press release;


Los Angeles, Calif., June 25, 2013 (GLOBE NEWSWIRE) -- The Petersen
Automotive Museum will host its annual fundraising gala on October 24,
2013 and this year's event is set to be the most exciting in the
museum's history. The "Race, Rock 'n Rally" Gala will recognize a trio
of all-stars: the Emmy and Golden Globe nominated actor and race car
driver, Patrick Dempsey, Grammy winning guitarist and car lover, Jeff
Beck and World Rally Championship driver and internet sensation, Ken
Block...
Jeff Beck, one of the world's preeminent English rock guitarists, is a
seven-time Grammy Award winner and Rock and Roll Hall of Fame member.
Ranked fifth on Rolling Stone's list of "100 Greatest Guitarists of All
Time," Beck has been described by the magazine as "one of the most
influential lead guitarists in rock." His passion for cars dates back
to his youth, when he fell in love with American hot rods and rock and
roll. His collection includes a replica of the 1932 Ford Deuce Coupe
featured in the film, American Graffiti and a '59 Corvette resto-mod.

Jeff played his gig in Iceland on June 27th...the Norway gig got cancelled. Here's a pic of Jeff arriving at the airport in Iceland. In the background you can see his ride...a 70's vintage Cadillac.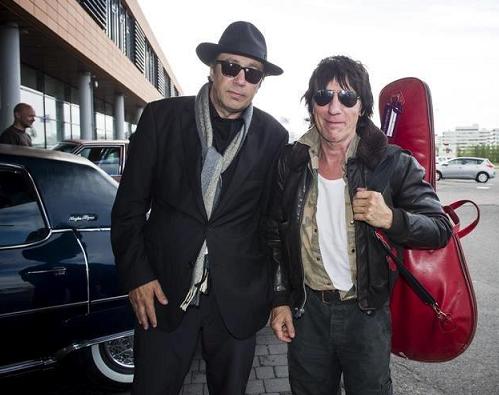 Next up Lizzie and Jeff at the airport followed by Lizzie and Rhonda in the back of another Caddy.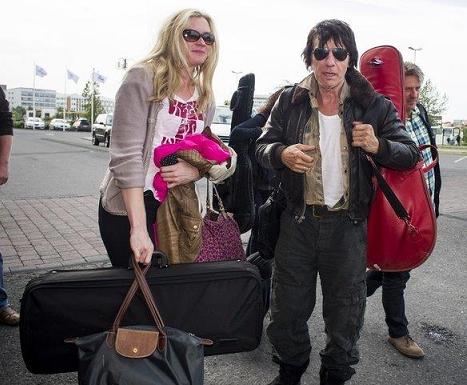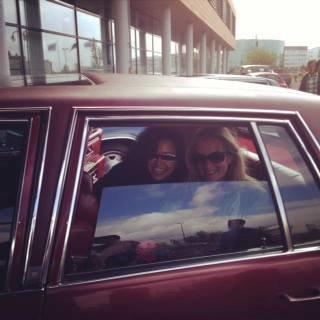 Here's the setlist;



Eternity's Breath
 
Stratus
 
Even Odds
 
MNA (Na Heireann)
 
Led Boots
 
You Know You Know
 
Big Block
 
Corpus (Christi Carol)
 
Hammerhead
 
Yemin
 
The Pump
 
You Never Know
 
Day In The Life

Cause We Ended As Lovers

There's a new song on the list. "Yemin" was written by Nicolas Meier who is the guitarist in Lizzie Ball's band and who played with her and Jeff at the church concert we mentioned in our March 18th update. Here's a YouTube link to the song which appears on Nicolas' album "Yuz". http://www.youtube.com/watch?v=nCkSU2aUQHM
Here's Lizzie, Jeff and Rhonda backstage in Iceland.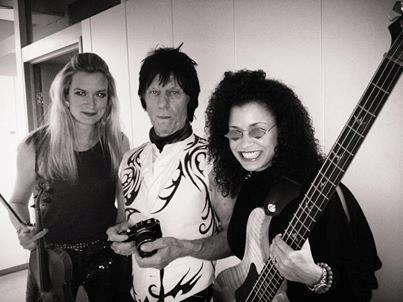 U.K. TV channel 'Sky Arts' is launching an new music interview show that Jeff is scheduled to appear on a some point. Here's a link so you can check it out; http://www.musicweek.com/news/read/music-tv-s-gerrie-to-host-sky-arts-show/055014
The Leann Rimes album "Spitfire" on which both Jeff and Rob Thomas appear playing on the tune "Gasoline And Matches", has been released in the U.S.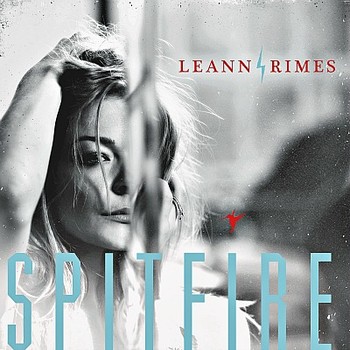 In a recent interview published to promote her latest CD "Bang Bang Boom Boom" Beth Hart recounted how she hooked up with Jeff Beck.


"I'd Rather Go Blind" (with Jeff Beck)
"About eight years ago I had just done a song with Toots Thielemans
he's a fantastic harmonica player. We had recorded a song for one of
his records; I sang on Billie Holiday's `I've Got the Right to Sing the
Blues.' Long story short, Jeff heard it and he wanted to write with me.
I flew to England and had a writing session with Jeff for a day. It
went lovely I was just blown away by his talent. Within a few months he
called me and said, `I just saw your DVD and I want you to be my
singer. I'm doing my first tour in the United States with a singer
since I worked with Rod Stewart in the '70s. Will you go out on tour
with me?' I heard that he was very impressed by the Live at the
Paradiso show that we filmed in Holland. I did the tour and I sang on
six or seven songs and the rest was Jeff and his band showcasing his
guitar work. I'll admit part of me was frustrated that I wasn't out
there on stage for the whole show. I have an ego, man, I wanted to be
performing then there was part of me that was glad that I wasn't
because I got a chance to sit on the side of the stage and watch who I
think is the greatest guitarist that has ever lived. I was absolutely
floored by him night after night. I loved his kindness and his
humility. I also saw him get nervous before a performance. Jeff has
that kind of teenage energy about him. My husband and I got very close
with him and his wife Sandra.
"Time passed and I bumped into him at festivals but he and I didn't get
a chance to work together. I was doing the Jools Holland show in
England I love that show and I was so nervous about performing on the
show. Jeff and Sandra came down to the set to be supportive. After the
show we spent a little time hanging out, at the end of the night Jeff
said, `I'll be calling you in a few weeks. Can you keep the line
open?' I said `Of course.' It's Jeff Beck! He called and asked if I
would perform on the Kennedy Center Honors with him in honoring Buddy
Guy. I happened to be starting a tour in England two or three weeks
after he asked me and he'd come down to the shows and we'd rehearse. I
had just added another guitarist in my band it was his first show and
we had been playing a pretty big venue in England. Can you imagine
there is Jeff Beck standing five feet away from him on the side of the
stage! [laughs] Can you imagine? You're an up-and-coming guitarist,
you've been asked to learn 50-something songs, you're playing in
London, England and you have one of the greatest guitarists of all time
sitting five feet away from you! It was the funniest fucking thing!
[laughs] The Kennedy Center Honors show went off without a hitch and it
was a blast. Jeff Beck is a classy guy."

Lastly, every week or so we get sent some great photos. Here are a couple of gems....first an old shot Ronnie, Rod and Jeff from 1967.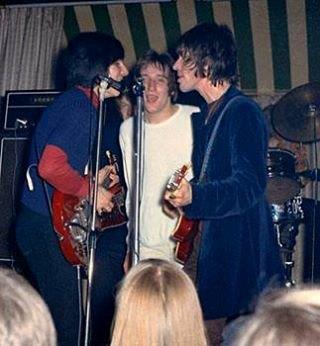 And this one of Jeff backstage at the Shrine Auditorium in Los Angeles, 1968, by William Stout.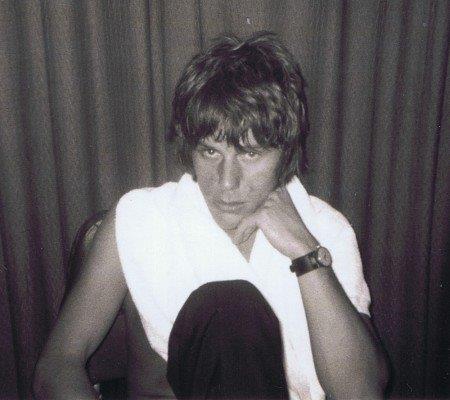 ---
August 10, 2013
And now....the news you've all been waiting for!....

From USA Today


Exclusive: Brian Wilson, Jeff Beck touring together
Marco della Cava, USA TODAY 1:58 p.m. EDT August 5, 2013

The guitarist got the touring invite after contributing
licks to the Beach Boy's upcoming solo album.

Not much gets guitar ace Jeff Beck rattled. But when he was asked to
honor Beach Boy Brian Wilson at his MusiCares Person of the Year
tribute in 2006, Beck nervously stepped up with Surf's Up and Surfin'
USA, just hoping not to offend.

Beck needn't have worried. That initial meeting has led to him not only
contributing fretwork on Wilson's forthcoming solo album, but also
joining Wilson on a tour that kicks off Sept. 27 in Hollywood, Fla.,
and wraps Oct. 27 in Akron, Ohio, with tickets going on sale Aug. 9.

"He's got a truckload of hits to play, but we'll build on that and
interact," Beck tells USA TODAY. "Brian will kick things off, but I'll
also be given enough time to establish what I'm about. In the end,
we'll mix and match. It's a complete honor to be on stage with him."

Wilson calls Beck "very well versed" in his music, noting that "he'll
play in the pockets where I'm not singing. He brings that great guitar
-player kind of thing to the picture."

Joining Wilson and Beck on stage will be Beach Boys Al Jardine and
David Marks, both just off the band's 50th anniversary tour.

The 18-city Wilson/Beck show will ping-pong across North America, with
stops in Washington (Oct. 5, Warner Theater), New York (Oct. 15, Beacon
Theater), Los Angeles (Oct 20, a previously announced show at the Greek
Theater) and Detroit (Oct. 25, Fox Theater). Check ticketmaster.com for
prices, which have not yet been announced.

Talking to Beck about Wilson makes clear the latter's profound impact
on already-accomplished musicians looking for a new direction in the
'60s.

"I needed musical help around 1966, and (the Wilson-helmed Beach Boys
masterpiece) Pet Sounds was dressing on a wound for me with all its
amazing melodies," says Beck. "I was floored by it. So were The
Beatles. It was outrageously adventurous stuff for the ear."

Beck was predisposed to like Beach Boys fare, which often celebrates
what remains his passion: building and driving hot rods. "I'd hear that
music and it would be an escape from the humdrum life," he says.

Wilson's new album has "the flavor of Pet Sounds," says Beck. "Once you
hear it, you'll be whistling the songs for the rest of your life."
Wilson says fans can expect "very mellow sounds, soft and sweet."

Beck contributed to a handful of tracks, raising interesting
possibilities for how their styles might mix. Wilson says the music he
listens to most these days hails from the past, "things like The
Beatles and all the Phil Spector stuff." Meanwhile, Beck — who says a
much-discussed reunion with ex-bandmate Rod Stewart "is not going to
happen" — has of late been diving deep into Eastern and Irish music,
"trying to find out what I'm all about."

When Beck initially hit the studio with Wilson, the experience left him
puzzled.

"He didn't say much, so it was quite a bit unnerving," says Beck.
"Brian is somewhere else during that process, so it's not like you're
there chatting away. In the end, though, I'm sure we were on the same
page."

Beck says the upcoming gigs will feature "what I'd call an interesting
mix of people, classic surfing safari music and this weird stuff that I
do. But it will sound like it's all of one accord."

TOUR DATES

Sept. 27: Hollywood, Fla.

Sept. 28: Tampa

Oct. 3: St. Augustine

Oct. 4: Atlanta

Oct. 5: Washington

Oct. 6: Bethlehem, Penn.

Oct. 8: Albany, N.Y.

Oct. 9: Boston

Oct. 11: Wallingford, Conn.

Oct. 12: Westbury, N.Y.

Oct. 13: Philadelphia

Oct. 15: New York

Oct. 18: Las Vegas

Oct. 20: Los Angeles

Oct. 22: Oakland, Calif.

Oct. 25: Detroit

Oct. 26: Toronto

Oct. 27: Akron, Ohio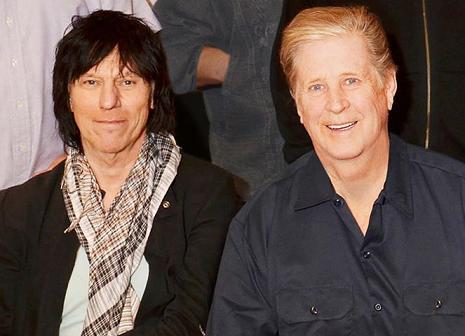 For the latest news, go to Brian Wilson's

For an idea of what's in store....http://www.youtube.com/watch?v=7Ji0ZE0jpcg
And now some stuff that's in our pile of stuff from the past month...
On YouTube....http://www.youtube.com/watch?v=fFXd7yTYkqo, the end title to 'Days Of Thunder', 'Claire's Theme" featuring some nice work from Jeff.
Two pictures....a habit we're happy to say Jeff quit long ago...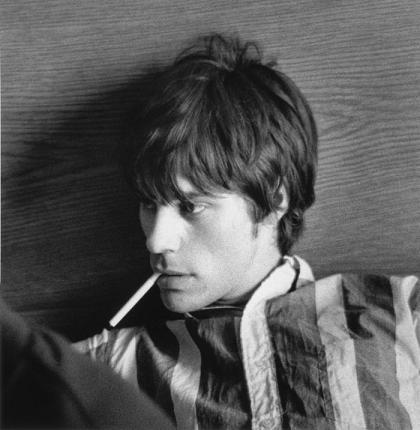 And a rare one of Jimmy Page, Keith Relf and Jeff...

---
August 20, 2013
Via phone from Miami we got to speak to drummer Jonathan Joseph the other day courtesy of our good friend Doc. I told Jonathan that we were impressed with his driving vibe and pockets on the December 12th Mama Stones show and that he had what Narada refers to as funky "stank". Jonathan was very upbeat about the upcoming collaborative tour with Jeff Beck and Brian Wilson. Violinist Lizzie Ball is hard at work traveling back and forth out to Jeff's to work out counter melodic points. Her mix in Iceland was great and the new material as well as older catalogue stuff is jelling with the whole band. Jonathan said that Jeff has enough great melodic numbers to both impress his and Wilson's fans.

I told him a request when the material sorting comes about....."Definitely Maybe"! As to the collaboration early in September, Doc gleaned that Brian's musical director Jeff Foskett may be traveling over to England to work on some sectional rehearsals with Jeff.

Here in Miami, Jonathan, who is no stranger to big time projects ie Ricky Martin, Joss Stone, Pat Metheny and others, is in the process of setting up a master drum clinic at the University of Miami and Florida Memorial College. Stay tuned for part two as rehearsals move to the states and follow the latest blogs on Doc's JBGG site link.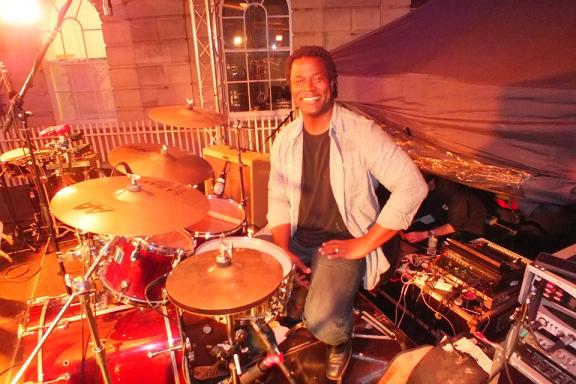 The Beacon Theater in New York is stoked for the upcoming shows...check out their marquee.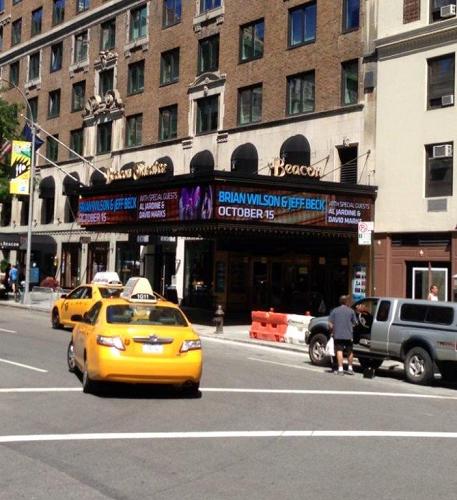 And Jeff's no stranger to members of Brian Wilson's band. Here's a photo of Jeff Foskett with Mr. Beck some time ago at an event for Gibson.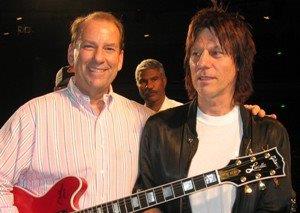 We've also heard that Lizzie Ball has been asked by Brian's band to contribute some backup vocals on several of his songs.
This just appeared on the gibson.com site.....


Queen drummer Roger Taylor has confirmed that his new solo album, Fun
on Earth, will be released in October. Included on the disc is a re
-make of "Say It's Not True," which was the first Queen studio single
to feature singer Paul Rodgers.

The song, which was written by Taylor, was originally released in 2007
to benefit Nelson Mandela's AIDS foundation. The new recording features
Jeff Beck on guitar.

In a recent interview with Classic Rock, Taylor said: "My first solo
effort (in 1981) was called Fun in Space. I've called this one Fun on
Earth. I've come down to earth a bit, but there's still a bit of fun in
there--some smiley tracks. It's been written over a five year period,
so it's very eclectic. Some gentle stuff, some rockier stuff, and some
fairly political stuff."

From our pile of stuff....rare photo of Jeff and director Michelangelo Antonioni on the set of 'Blow Up'. Jeff is getting direction for the guitar smash up.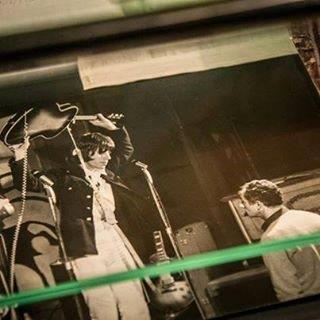 And lastly we're happy to report that approval has been given to Folly Wildlife Rescue to expand their facilities. For all of you who signed the petition, thanks. Here's the link to their website and

.
---
August 28, 2013
Just in the official press release on the tour...


BRIAN WILSON AND JEFF BECK ANNOUNCE
THREE ADDITIONAL DATES TO THEIR NORTH AMERICAN TOUR
 
New Shows Lined Up For Houston, TX, Montclair, NJ, and Milwaukee, WI
 
Former Beach Boy Bandmate And Co-Founder, Al Jardine, And Original
Beach Boy, David Marks, Join Tour That Kicks Off On September 27th And
Will Visit Major North American Cities Including New York City,
Toronto, Washington D.C., Philadelphia And Los Angeles.
 
August 26, 2013 (Los Angeles, CA) - Brian Wilson (Co-founder Beach
Boys) and Jeff Beck announced today they have added three additional
dates to their co-headlining North American tour with new shows added
in Houston, TX, Montclair, NJ and Milwaukee, WI.  Two of the music
industry's most celebrated entertainers will kick off their tour on
September 27th in Hollywood , FL and will visit over fifteen cities as
they bring an evening of historic musical collaboration to fans across
North America.  Tickets are on sale now at www.livenation.com.
 
Throughout late September and October, the tour will also take the two
legends to New York City, Toronto, Washington DC, Philadelphia, Boston
and several other cities.  Brian's former band mates Al Jardine & David
Marks, will join Wilson and Beck.  For a complete list of shows
including on-sale dates for the new shows added, see below.
* - New show added
SEPTEMBER
September 27        Hollywood, FL       Seminole Hard Rock
                                        Hotel And Casino
September 28        Tampa, FL           Ruth Eckerd Hall
 
OCTOBER
*October 1        Houston, TX           Bayou Music Center (on
                                        sale August 30)
October 4         Atlanta, GA           Chastain Park
October 5         Washington, DC        Warner Theater
October 9         Boston, MA            Wang Theater
October 11        Wallingford, CT       Toyota Presents The
                                        Oakdale Theatre
October 12        Westbury, NY          Theater at Westbury
October 13        Philadelphia, PA      Tower Theater
October 15        New York, NY          Beacon Theater
*October 16       Montclair, NJ         Roberts Wellmont
                                        Theater (on sale August 29)
October 20        Los Angeles, CA       Greek Theater
October 22        Oakland, CA           Paramount Theater
October 23        Detroit, MI           Fox Theater
October 26        Toronto, ON           Massey Hall
October 27        Akron, OH             EJ Thomas Performance
                                        Arts
*October 30       Milwaukee, WI         Milwaukee Riverside
                                        Theatre (on sale August 30)
 
All dates and venues subject to change.
 
Fans can expect a unique experience when they witness these two legends
taking the stage together. Brian Wilson, Jeff Beck, Al Jardine and
David Marks will open the show together with both of their respective
bands performing a string of hits.  From "Little Deuce Coupe" to
"Custom Machine," the show will then focus on eclectic selections from
Wilsons' vast repertoire, covering fifty-years of classics along with
music from his rich solo catalogue.  Beck will open the second half of
the show backed by a four-piece rhythm section to perform selections
from his solo career.  He'll be joined by Wilson, Jardine and Marks
who'll add their distinctive harmonies to some Beck's classics.  All
four will once again join together on stage for a massive finale that
will bring together both bands again to run through their favorite
songs from their youth and for the first time ever, some classic
Yardbirds material.
Wilson is one of popular music's most deeply revered figures, the main
creative force behind some of the most cherished recordings in rock
history. Indeed, it is no exaggeration to call Brian Wilson one of the
most influential composers of the last century.  Wilson was barely out
of his teens when he began to create some of the most beloved records
ever... nine consecutive gold albums that featured such classics as
"Surfer Girl," "In My Room," "I Get Around," "Don't Worry Baby," "Fun,
Fun, Fun," "Help Me, Rhonda" and "California Girls"...just to name a
handful of the more than two dozen Top 40 hits Brian co-wrote,
arranged, produced and performed on with his family band, The Beach
Boys.
 
Known as one of the most influential lead guitarists in rock, Jeff Beck
was ranked 5th in Rolling Stone's list of the "100 Greatest Guitarists
of All Time."  He has earned wide critical praise and received the
Grammy Award for Best Rock Instrumental Performance six times and Best
Pop Instrumental Performance once. He has been inducted into the Rock
and Roll Hall of Fame twice; as a member of the Yardbirds (1992) and as
a solo artist (2009).

As the release mentions, Jeff will be backed up by a 4 piece band. Joining Rhonda, Jonathan and Lizzie will be guitarist Nicolas Meier. As we've mentioned in previous 'What's New's Nicolas has been collaborating with Lizzie and Jeff for a while now. Check out www.meiergroup.com.

Also, this just in...we've learned Jeff plays on 5 tracks on the new Brian Wilson LP. Capital records is backing the project. Executive producer Joe Thomas tells this web page exclusively "Jeff Beck will be soloing all over his and Brian's tracks in a once in a lifetime performance." Stay tuned for more exclusive pre/during/and post tour picture, audio, and video feeds………………….

The Beach Boys and Brian Wilson in particular have had an influence upon Jeff for some time. How about the other way around? In this blurb from an interview with Guitar World Magazine in 2011, Jeff ponders what influence the Yardbirds might have had on the Beach Boys.


Guitar World April 2011...(Issue with Jeff Beck cover story):

"Several nights before the recording session ('Beck's Bolero'), I went
over to his (Jimmy Page's) house and he strummed out this rhythm on his
Fender Electric XII. I started playing a simple melody over it, and
that song was born in his front room. I wrote the bridge section later.
That formula fit the Yardbirds as well. They stopped in the middle of
half of their songs and did something different, going crazy in a
different direction. I think that the Beach Boys took a good chunk of
that from the Yardbirds with "Good Vibrations". Back in the Sixties I
was invited to perform on a TV show. I was backstage waiting to go on
and they announced "Unfortunately the Beach Boys can't be here, but
we're going to play their new single," which was "Good Vibrations." I
was floored by the sound and the beauty of it, but when it stops and
goes "Gotta keep those lovin' good vibrations...," it was exactly
something the Yardbirds would do. I imagine that Brian Wilson was
listening to everything at that time."

Another great Jeff Beck session is out there somewhere...release the hounds...from Slim Jim Phantom's website...


Slim Jim Phantom about Jeff Beck...
Lee and I did some recording with Jeff Beck. He was an early Stray Cats
fan and came to a lot of shows on the first tour. We became pretty good
pals and used to hang out in LA. We went to the studio for a week, one
time, we did some Ricky Nelson covers. Jeff wanted to play those James
Burton solos note for note. Once in a while he would bust out some
amazing Jeff Beck solos while Lee and I kept it going in the back. Jeff
would come back in the control room and say "it's too, Jeff Beck, erase
it" and go back out and record another solo note for note to the
original. I liked the crazy stuff on top of Lee and my rhythm. We were
really just having fun, goofing around. I'm not sure if anyone ever
sang on it. No idea where the tapes would be. The studio isn't there
anymore. Another legendary session at the old Record Plant. I just ran
into Jeff, like two days ago, small world. He's the best, a cool cat,
mind blowing musician and a true rockabilly fan.

And now since we can't have an update without some pictures...
From our friend UPP drummer and long time mate of Jeff's Jimmy Copley... This is early eighties...Jeff, Jimmy on Cozy Powell's old drum kit, singer Ann Lewis who Jimmy had just recorded with in Japan, and off camera Jimmy's mom on piano!!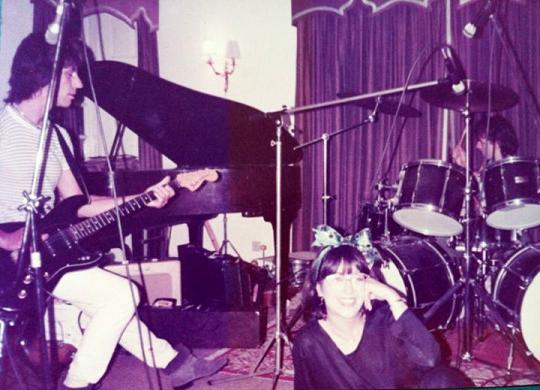 And from the same period, Jeff with a mini Les Paul!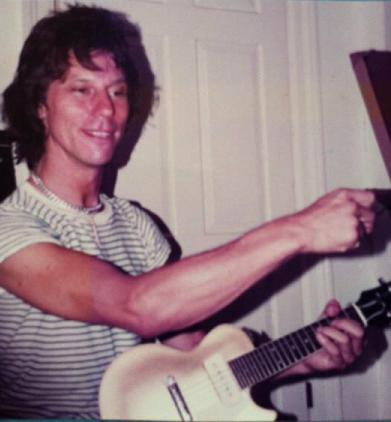 ---
September 24, 2013
This is really cool...Fender, to promote Jeff's upcoming tour, is giving away a Jeff Beck stratocaster guitar autographed by both Jeff and Brian Wilson...here's the deal...


The Giveaway

Jeff Beck is teaming up with Beach Boys visionary Brian Wilson for a
widely anticipated fall 2013 tour. To commemorate this historic
collaboration, Fender is giving away a Jeff Beck Stratocaster guitar
autographed by Jeff Beck and Brian Wilson to one lucky fan.

Jeff Beck is acclaimed worldwide as a sonically innovative guitarist
who has influenced generations of musicians from his groundbreaking
'60s work to a remarkable solo career that continues stronger than ever
today. Brian Wilson is heralded worldwide as one of rock's first true
geniuses; a visionary songwriter, producer and musician who pioneered
an entire eternally youthful genre nearly singlehandedly. For both
musicians to join forces is a truly special occasion, especially when
they're also joined on this tour by Beach Boys Al Jardine and David
Marks.

To enter the contest, go to; http://www.fender.com/promos/2013/beck/ and fill out the entry form. Rules and regulations apply.
Here's Jeff signing the guitar.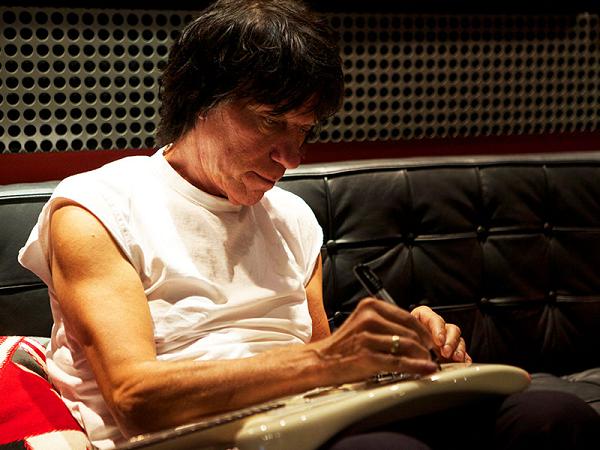 Also not mentioned above is that Blondie Chaplin has joined Brian's band for the tour. Blondie sang the lead vocal on the Beach Boy's hit "Sail On Sailor" and also was a member of Rolling Stone's touring band for a long time. And, he was in Paul Butterfield's last band before he passed away along with Rick Danko.
We got some pics as all the players assemble for the last rehearsals before the tour kicks off. We'll tell where that is as soon as they're not there anymore, hah. First off Jeff, Lizzie and Brian arrive at their hotel last Thursday, followed by Jeff's crew in one of the hotel's meeting rooms.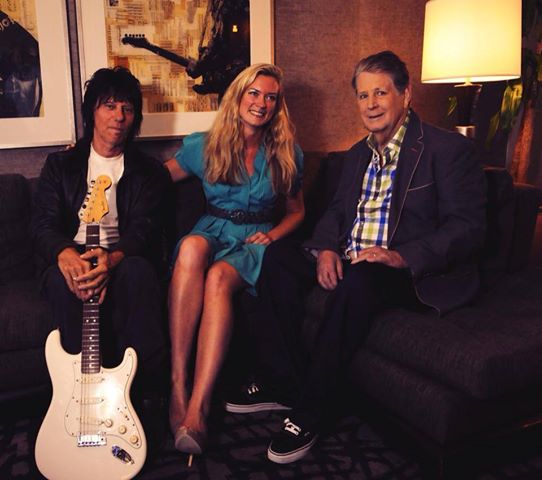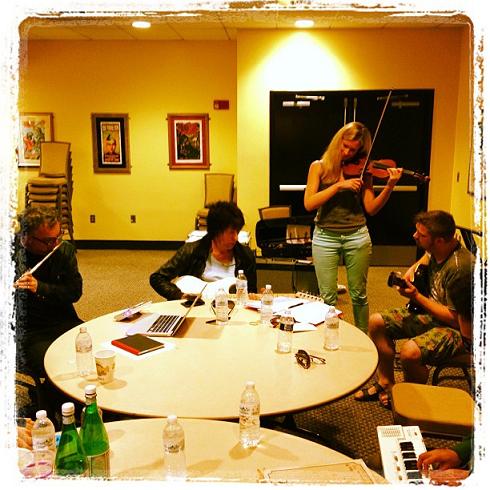 And now, for our vintage photo this update....this crumpled bit, a rare promo pic of Jeff along with some singer named Rod Stewart.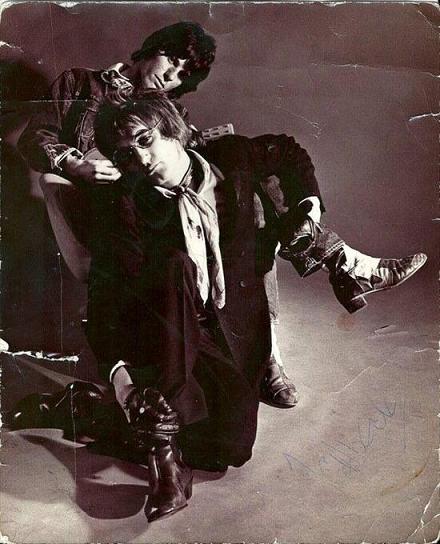 Late add here....Dick got to visit band rehearsals on the afternoon of September 24th...some pics; Jeff and Dick, Jonathan Joseph and Dick, Lizzie, Dick and Nicolas, and Jeff onstage.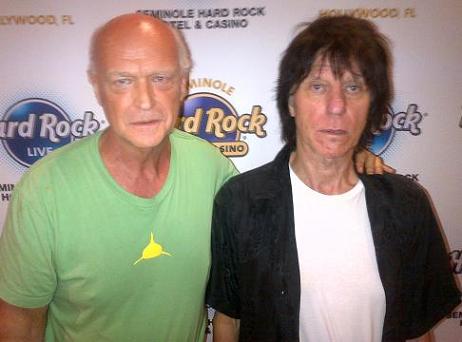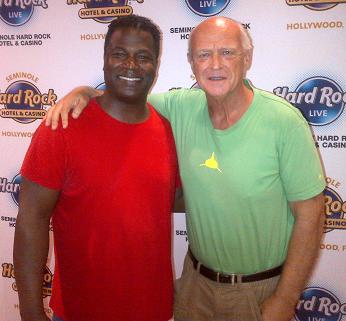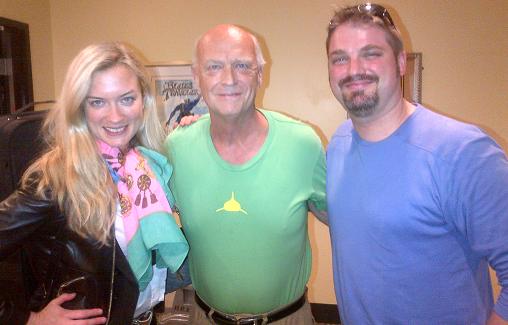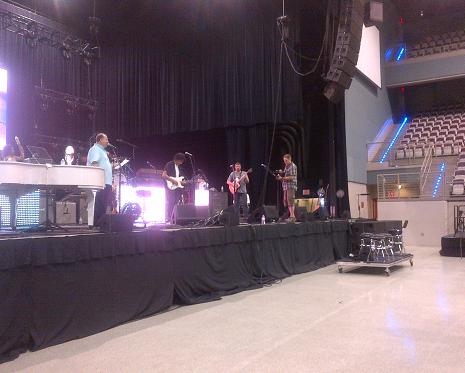 Late late add....we just got back from opening night...Jeff Beck fans won't be disappointed, new band is killer, so is show. Here's the setlist for the entire show.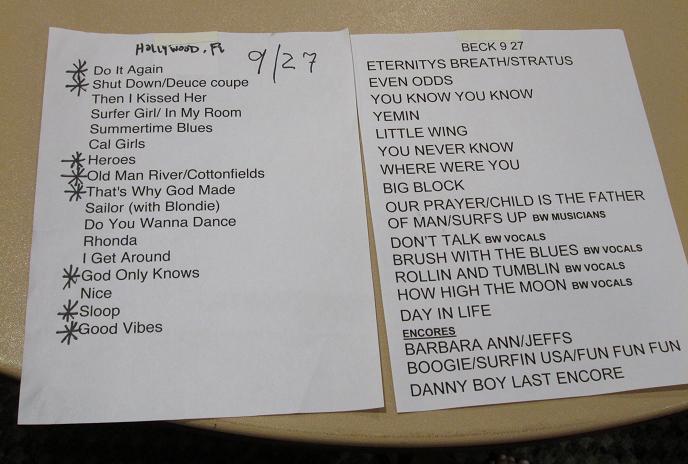 ---
October 27, 2013
We know, we know, been a month since the last update but whenever Jeff's on tour, it's a little overwhelming, the amount of stuff that comes over your desk.

First, Folly Wildlife Rescue is in the midst of another Jeff Beck Memorabilia auction to raise funds for their new building. Here's the link to see the details.

Rolling Stone magazine has a nice behind the scenes pictorial on Jeff and Brian's tour. http://www.rollingstone.com/music/pictures/go-behind-the-scenes-with-brian-wilson-and-jeff-beck-20131023.

A few days prior to when the above pics were taken, Jeff and Brian appeared on Late Night With Jimmy Fallon.... http://www.latenightwithjimmyfallon.com/video/brian-wilson-and-jeff-beck-our-prayer-and-danny-boy/n41836/.

And speaking of pics...our friend Robert Knight just sent us these incredible shots he took last week.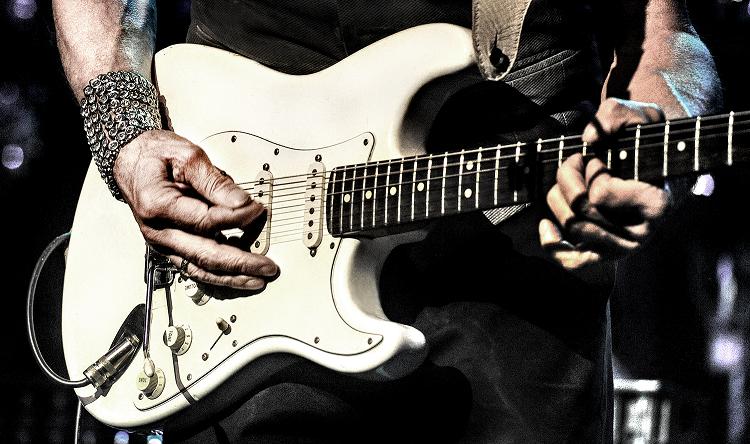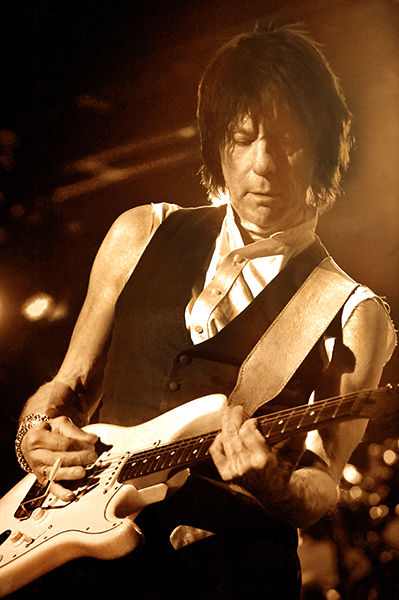 With the tour of course come lots of press...interviews, reviews etc. We're going to assemble all the press/fan reviews and pics in an upcoming feature in Jeff Beck Bulletin #18. Here are some of the interviews we've received.
This interview preceded Jeff's appearance at Petersen's Automotive Museum in Los Angeles October 24th for another Rock N' Roll Gala.

Beck discussed his lifelong love affair with hot rods, the intersection
of music and cars and his impending Petersen Automotive Museum honor.

You're an English rock star. How'd you get into American muscle cars
and hot rods?
My uncle, my father's brother, taught me all the stuff about the car.
He had a little workshop, a tiny room in the back of his flat, and the
smell of it, to a kid, it was just the best thing ever. I couldn't get
over the chrome. Why would you chrome an engine? That fascinated me.
Why would you chrome an oily engine? It opened up my eyes to a whole
different culture.

What was it like when you got your first car?
I wouldn't join any gangs, so I was either playing guitar or messing
around in the garage. When I got my first car, I was king of the road.
I ran out of gas all the time because the fuel gauge never worked, and
I thought, "I better fix this stupid fuel gauge." Then when you fix the
first thing about your car and you've got it running, you're amazed —
you fixed it!

How many cars do you own?
Let me see … I've got 14 hot rods and three Corvettes. And I just got
another car yesterday, a '32 five-window coupe.

You don't just collect cars, but you maintain a lot of your collection
and even build them from scratch. You take sort of the same approach
with guitars and effects. Are there similarities between the two and
what they satisfy in you?
I think there's a similarity, because it's about OCD in both cases.
Musicians are mathematicians and they're dealing with notes being in a
certain order, and cars only work if they're done right. You make one
mistake and the whole lots gone. Same with music. We're thinking
people.

How do music and cars intersect for you?
Music and fast cars and hot rods both seemed to marry beautifully
together. It's about disobedience, and it's about pushing the
boundaries of the law.

One of the cars you own that's well known is a replica of the 1932 Ford
Deuce Coupe featured in American Graffiti. Why did you choose to
replicate this Hollywood icon? What was the most difficult part to
reproduce?
I saw the movie, but I didn't want to go. I didn't go to movies that
often. But that was me up on screen! I smelled the air of that film,
you know what I mean? It was just a little, humble '32 five-window
coupe. I even wrote to Lucasfilm about it and they said, "You're
welcome to put a bid in for it," and I bid like four grand for it. I
knew I wasn't going to get that car.

I had the best time building the replica. It was an ongoing quest to
build it running properly. The hardest part about reproducing it was
making it look that good. The rear fenders, the chop, the glamour of
the camera and all the color and all that — everything about that car
was spot-on to make it look good in the movie. And I'm still trying to
get it right. But it's pretty damn close.

Once you finish building a car, what do you do with it? Drive it, race
it, or sell it and start another project?
I get them to the point where the paint and the interior are done. And
inevitably if you've got 15, 14 are going to get flat batteries if you
drive one too much, or the tires are going to go down. So, it's just a
museum really, and it's a bit over the top in terms of practicality.
It's an investment. Yet it's difficult to let them go when you've spent
much time and energy in building them and you have to sell them for
half of what you paid and what you've got in it. It's heartbreaking to
watch somebody drive it away on a trailer. So I keep them up as best I
can. They're all my favorite.

What's your daily driver?
An upgraded C2 split-window '63 Corvette. It's great. It's got a custom
chassis, a five-speed, and rack and pinion. It's a Corvette hot rod.

As a rock and roll legend, you're a hero to many. Who are your heroes
in the hot rod world?
[San Francisco-based hot rod legend] Andy Brizio was. I was trying to
get friendly or chummy or have a contact in America because I was just
a kid from the country here with no hot rod ability at all, so being in
San Francisco and being only five miles from south San Francisco, it
seemed natural to go see Andy. To see the guy over the counter and know
you already know him from magazines was mind-blowing. It felt like I'd
joined a really great club where you're welcome. But I've never met a
nasty hot rodder. You're not just seeing cars. You're seeing people
have a lovely time.

If you could have only one car to drive for the rest of your life, what
would it be and why?
That's a tough one. I don't know — a '32 three-window that was set up
to drive, with proper gearing. It would have to be comfortable. Or a
'63 split-window Vette.

What's your favorite car song?
"Little Deuce Coupe"! And there's another [Beach Boys song] … what is
it? Betsy! Of course, Betsy. "Ballad Of Ole' Betsy." "She may be rusted
iron, but to me she's solid gold." I thought the guy was talking about
a woman.

You're being honored this month by the Petersen Automotive Museum. As a
car guy, what does that mean to you?
It's amazing. It's quite emotional for me. When I was about six, my mom
bought me Hot Rod magazine, and I was blown away by these cars. They
grabbed me then, and here I am in 2013 involved with Petersen. When I
arrived in L.A. in March or April of 1965, it was like being in the
movies almost. Most people would be looking for movie stars. I was
looking for hot rods.

Speaking of hot rod guys....here's Jeff and Roy Brizzio doing a little slapstick (punchstick?) routine prior to the Petersen's gala, courtesy Sandra Beck.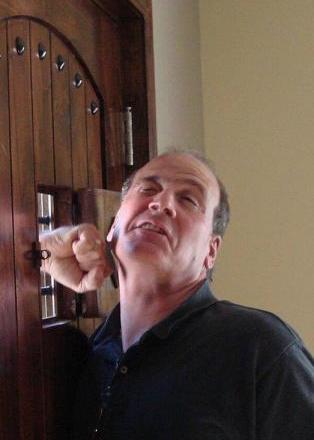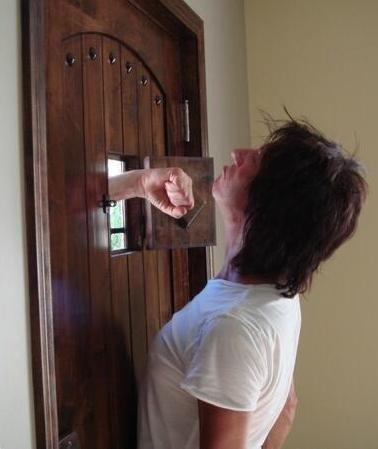 And once Jeff's current tour winds up he's being honored by the British professional sound recording association APRS.....here's the announcement.

The 7th annual APRS Sound Fellowship Awards Lunch is to be held at the
Roof Gardens, Kensington on Tuesday 19 November.
 
The APRS's annual celebration, hosted by Sir George and Lady Martin,
sees the recognition of six new recipients of the APRS Sound Fellowship
bestowed on individuals who made a 'significant contribution to the
art, science or business of sound recording.'
 
This year the association is recognising:
 
Jeff Beck: British multi-genre guitarist and songwriter.
Jerry Boys: Chief engineer, studio manager, mixer, recording engineer,
past co-owner of Livingston Studios, multiple Grammy winner.
Chris Briggs: Top A&R man for EMI and Chrysalis.
Mark Crabtree: Outstanding contribution to console manufacture. Founder
of AMS Neve.
Adrian Kerridge: Engineer, owner of Lansdowne and CTS Studios, past
APRS Chairman.
Phil Ramone (Dcd): Musical prodigy, recording engineer, producer.
Nile Rodgers: Producer, composer, arranger, guitarist.

According to their website; http://www2.aprs.co.uk/, you can buy tickets to the event!
A couple of more interviews....this one courtesy of www.download.com...

Shortly before the tour launched on Sep. 27, Download.com chatted with
Jeff Beck about working with Brian Wilson, whether he'd work with Rod
Stewart again, record on GarageBand or use Guitar Tuner on an iPad, and
how he feels about fans who spend the entire show on their iPhones.

I know you've said that The Beach Boys' "Pet Sounds" is one of your
favorite albums and you and Brian Wilson have collaborated before, but
what goes through your mind when you're about to go on tour with
Wilson?
[Laughs] Right away you've hit the bull's-eye. That's a hard question
to answer. I don't know. What are people going to think when some guy
with a guitar interferes with Brian Wilson? [Laughs] Brian has got a
bunch of songs and I come in and change it to a slightly different
direction and there's a lot of drama and dynamics.

Do you use an iPad or iPhone?
No. I've got a laptop and that's it.

Do you ever use any software on your laptop?
No. I use my music library and that's it. I don't want to buy into
GarageBand or anything like that. I know that other people do, but it's
not good to be self-indulgent with the music. I like people in the room
with me and having fun in the way that it's traditionally always been
-- people playing music with one another and conversing through music.
I don't want to create a distance between the music and me.

Speaking of distance, when people go to shows now, it seems like
there's a chasm created between the fans and the artist as soon as the
former whip out their phones to post comments about or photographs from
the shows for Facebook, Twitter, or Instagram or record them for later
viewing or to share online. As the artist, how do you feel when that
happens?
I hate it. Why don't they just enjoy what's going on rather than having
to see it again on a pissy little iPhone? It's this inability to
interact with one another, I think. People don't even want to go
shopping anymore, so they press a button to get their underwear and
they deliver them the next day.
And it's annoying when someone's not looking at you, when they're
looking at a viewfinder in a camera. I think we should force people to
dump their iPhones in a basket in the beginning and we'll get their
name, address, and phone number; and if they're lucky, they'll get them
back after the show.
I think it's ridiculous. It's the gathering of people for an event
where everyone's supposed to be of one accord and enjoy it. You go
around London and you have a million people taking photographs of
things and not looking at them. They're not enjoying the moment and the
same thing happens during the concert.

I read that you've grown more fond of Irish music in the recent past.
How do you discover new music?
Through very close friends, or from working with young, talented
players like Imogen Heap. You talk to them...and the more you talk and
the more you get together, it's like the old days. Rather than using
all this new media stuff, the best stuff comes from people's
appreciation of one another. The immediacy of playing in a room with
someone can't be equaled.

What are your thoughts on people using their iPads to tune guitars or
play/record music? Does that just sound insane to you?
No, it doesn't. But it all started from a simple $20 drum machine, what
keyboard players in bar lounges were using to accompany themselves, and
then you have a bass line and it gave access to people who couldn't
play, which is good; but unfortunately the music became clinical,
digital nonsense, with very little skill attached to it.
It's sad because you've got to learn, you've got to practice, and do
your damn work if you want to be great; and a lot of the music now has
nothing to do with fine artistry, in my opinion, because technology has
stomped all over it. But that said, there are players out there who
know better, like Imogen Heap, and those are the ones that I look for.

There was a time where most performances became inaccessible, as soon
as they occurred. Now with so much being available on Vimeo or YouTube,
they can be relived forever. Do you ever watch your old performances?
No, I can't bear to watch a recent performance [Laughs], never mind a
past one. I'm afraid Buddy Guy helped me into this situation by
astonishing me. He said he never listens to his albums. He preferred
not to know what they sound like. He just went by, when they're
released, whether people liked them or not. From that point on, I took
a page out of that book and never watch myself if I can avoid it.
Unless there's reason to, after I perform I couldn't care less about it
again, and I just go on.

Do you see why people are such huge fans of your guitar playing?
No. [Laughs] I can't really say that.

There are all these recent interviews where Rod Stewart said that he
would love to reunite The Jeff Beck Group, but there's no way you would
sign on.
Is that what he said? Because I did do some demos for him and spent
$22,000 in a studio, making demos for him and apparently they were in
the wrong key for him, so that's as far as that got. So I put my best
foot forward and it never happened. Rod's a funny guy. He's more about
show business, nowadays.

Here's another from Albany's Times Union newspaper....

Brian Wilson and Jeff Beck talk about sharing the stage
By Amy Biancolli
 
Jeff Beck has been called the greatest guitarist alive, possibly the
greatest ever. Brian Wilson has been hailed as the greatest producer
and the man behind the greatest rock-'n'-roll album of all time: the
Beach Boys' "Pet Sounds."

So what happens when the two of them get together? Do they strut their
stuff? Pound their chests? Shout "I'm great!" "No, I'm great!" ''No,I'm
great!"

"No, I wouldn't ever do that. I would never consider myself any more
than just a twanger," says Beck, chatting from Hollywood, Fla., where
he and Wilson are prepping for their new tour. "It's all my mom's
fault. She clipped my ears right away when I started getting too big
for my boots."

Wilson's not feeling too competitive, either. "He's the greatest guitar
player in the world," the ex-Beach Boy says of the former Yardbird. "We
bounce ideas off each other, you know — and we each come up the winner.
We give our two cents."

Wilson's humble coinage and Beck's properly fitted boots will join
Saturday at the Palace, where the two modest giants of rock 'n' roll
will share the stage for a night of old and new. Also featuring two of
Wilson's fellow Beach Boys, Al Jardine and David Marks, the Beck-Wilson
alliance will lean toward the Wilson end of the musical spectrum,
emphasizing the mellow chill of surf music over the rocking grit of
blues. Even Beck's individual set will include some of Wilson's music.

The pair will also perform a few tunes from Wilson's forthcoming
trilogy of albums; Beck collaborated on the first of the three.
"Because of the popular nature of Brian, we didn't want to get too far
out — so we chose a lot of stuff that people know alongside the new
stuff. ... It's a musical trip, really," Beck says. Wilson describes
the set list as "a happy medium" and says the concert, like the album,
will reflect his lifelong love of dreamy harmonies.

"I listen to the oldies but goodies," he says. "The '60s and '70s. It
keeps me inspired, because it's great music."

Wilson is a man of few words, but those words are candid: he answers
each question directly and declines to blather on. Beck is
unpretentious, funny, sharp, popping out replies with the lilt and snap
of his native England.

He doesn't worry much — OK, at all — about the younger generation of
guitarists and any awe they might feel in the shadow of Hendrix,
Clapton and other axmen of Olympus. "I don't give a damn," he says. "I
think you've gotta be more pushy with yourself. ... The electric guitar
is the most amazingly versatile instrument ever, and will interpret
your thoughts in a heartbeat. It's a pity that people don't sit and
listen to what it says to them."

He still listens.

"I sit alone with my guitar and say, 'OK, Mr. Big Stuff, impress
yourself.' And that's what I try to do. You have to start with
something and build on it, like a writer. Sometimes the guitar sounds
so bad — and I put it down and go out. Other times, I sit down, and
three hours just go past."

It's hard to imagine Beck's guitar ever sounding "bad": he's the
fingerstyling, genre-crossing master of melodic phrasing and emotion.
Wilson, meanwhile, deems 'Pet Sounds' something less than the proto
-psychedelic masterpiece lauded by the rest of the world.


"I think it's overrated," he says. It just isn't up to the standards
set by Phil Spector, whom Wilson regards as the quintessential rock
-and-roll producer. "My goals are to try to make records as good as his
records," he says.

That's his dream. Asked for his regrets, he responds just as plainly,
touching on his periodic struggles with addiction. "I wouldn't have
taken so many drugs. ... It made me feel messed up, made me feel lost,
you know."

But Wilson is feeling pretty good these days, he says. He's enjoying
working with Beck and hitting the road again. Are there any other
musical legends he'd like to team up with? "I have a list of one guy,"
he says. "Paul McCartney." Has he asked him? "No, I haven't. No. I
think I'm going to now."

Beck's list of dream collaborators includes Little Richard and Gene
Vincent. Unfortunately, "They're all dead." With one exception. "I
always thought Prince might be a good sparring partner," he says,
though he hasn't yet spoken with the glyphed one. "No, he doesn't talk
to anybody." On second thought, maybe Prince isn't such a hot idea.
"Forget that. I've changed my mind."

The two Greatests don't spend much time in heavy conversation. "It's
difficult to read me — and it's difficult to read either of us, really.
Nobody knows what's going on within someone," Beck explains. "Brian is
very quiet and reserved. ... So we don't actually talk in a normal kind
of to-and-fro. It's all in the air. It's very mysterious."

Mystical, even. "And I love mystical, don't you?"

A link to yet another.... http://consequenceofsound.net/2013/09/brian-wilson-jeff-beck-david-marks-and-al-jardine-debut-tour-at-south-floridas-hard-rock-live-927/.
A video interview from the Wall Street Journal... http://live.wsj.com/video/backstage-with-jeff-beck/354F584E-AAD2-42A9-AB7A-894ED7EE0BB4.html#!354F584E-AAD2-42A9-AB7A-894ED7EE0BB4. Great!
Okay here are some Facebook links, probably the most Jeff Beck pics on the net...next to us, hah, check them out...
And lastly our blast from the past for this installment....a review from the Harvard Crimson, October 30, 1968 and the Jeff Beck Group's show at the old Boston Tea Party.... http://www.thecrimson.com/article/1968/10/30/the-jeff-beck-group-pits-always/.
---
November 24, 2013
Well, the Jeff Beck/Brian Wilson tour wrapped up in Milwaukee on October 30th. Dick, Doc and Dean Opper were there and will have killer reports and pics upcoming in JBB#18.

At that show premierguitar.com did a 30 minute 'rig rundown' with Mike Peters, Jeff's guitar tech for the tour. Check it out; http://www.premierguitar.com/articles/19950-rig-rundown-jeff-beck.

Jeff did receive his APRS Sound Fellowship Award a couple of weeks ago as we mentioned. Their site, http://www2.aprs.co.uk/, does mention that pictures and video will be posted soon so we'll keep an eye out for that.

New album! New tour! All we hear are in the works for 2014. The entire band is in the UK working on what is being called a group effort that should be out the first half of 2014 on Warner Bros. Records.

Here's a couple of shots courtesy of Sandra Beck showing Nicolas and Jeff working on demos at Jeff's house. Btw, the dog in the first photo is a new member of the family named 'Paddy'.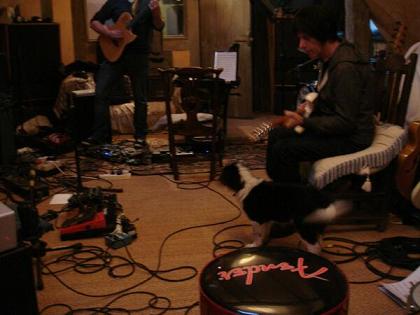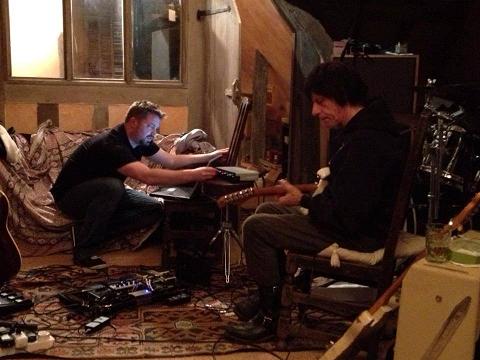 While we're mentioning the band, we came across a cool YouTube video where you can get to know Lizzie Ball. Check it out; http://www.youtube.com/watch?v=dl5OVBC9mms. The interview portion starts about 4:40 into the clip.
At some point Jeff is also slated to appear on a new music show on Sky Arts TV in the UK called 'Music Talks'. The series premiers November 11th. The series will be hosted by TV-producer Malcolm Gerrie, whose credits include The Tube and The Brit Awards. Here's a promo clip;
http://www.sky.com/tv/show/talks-music/video/jeff-beck-clip?DCMP=SNT
As we've mentioned also, Jeff appears on Roger Taylor's new album which was released in the USA Tuesday, November 12th.
The Folly Wildlife Rescue Jeff Beck Memorabilia auction on ebay was a success. We got this note.


Hi Dick and Bill,
Just to let you know the eBay auction raised £534!
I was very pleased with this. The biggest bidders were from the USA and
Canada.
I am sure we would not have raised so much without the publicity on
your website so a big thank you for that.
Best wishes,
Anna

The results...

ROCK AND ROLL HALL OF FAME 2009 ANNUAL SIGNED BY JEFF BECK £52.00
JEFF BECK AND ERIC CLAPTON SIGNED 2010 TOUR PROGRAMME £122.00
JEFF BECK EMOTION AND COMMOTION SIGNED BOOKLET £20.00
Jeff Beck -Performing This Week-Live At Ronnie Scott's(Blu-ray,2009)
SIGNED COPY £50.00
Jeff Beck - Rock 'n' Roll Party - Honouring Les Paul (Blu-ray, 2011)
SIGNED COPY £20.00
JEFF BECK EMOTION AND COMMOTON SIGNED CD £50.00
JEFF BECK PLASTIC DRINKS BEAKER SIGNED ON BOX £92.00
JEFF BECK AND ERIC CLAPTON SIGNED T SHIRT £34.00
JEFF BECK SIGNED BLACK POLO SHIRT L £15.15
JEFF BECK SIGNED T SHIRT EMOTION AND COMMOTION £21.00
JEFF BECK JAPANESE CUP SIGNED ON BOX  £17.00

They've had a couple of these auctions and we actually got a note from a high bidder from the last one and he sent us some pics. These are thanks to David Bunde. He got some cool Jeff Beck stuff and helped out Folly Wildlife Rescue in the process.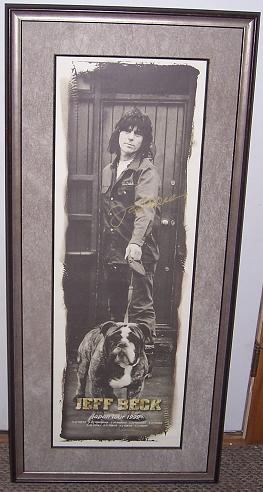 Framed/Signed '92 Japanese Tour Poster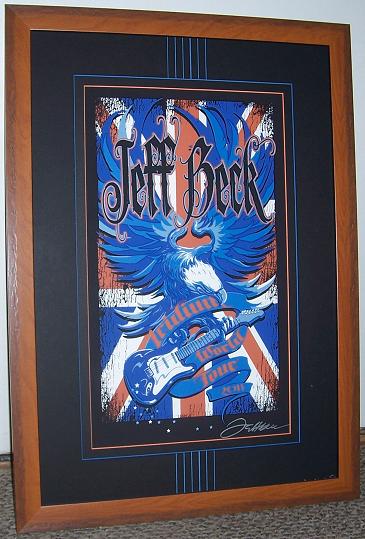 Framed/Signed 2011 Iridium Tour Poster
The album Jeff is working on now is actually his second attempt to follow up 2010's 'Emotion And Commotion'. In early 2012 Jeff gave Warner Bros. (when he was still with Harvey Goldsmith) an LP that was scrapped at the last second only to be finished by the Hip Hop UK production trio called SMV at Sanctuary Studios in London. That we know. What we did not know was that a French vocalist Sophie Delila was involved. We just got pics from those sessions.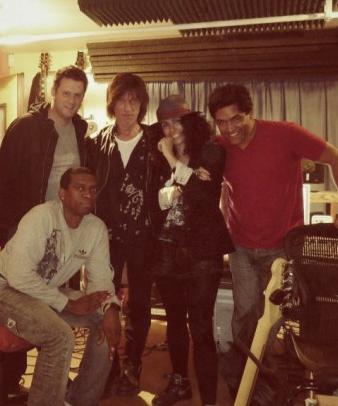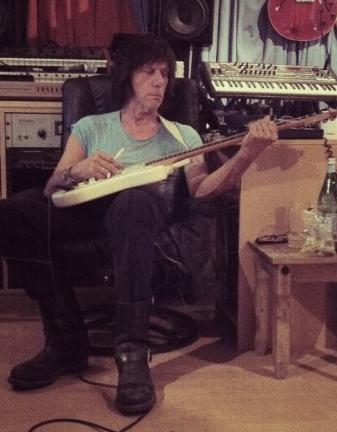 Dick ran into Jeff Beck fan and legendary electric/acoustic guitarist and band leader Joe Bonamassa November 16th. Joe's comment which mimicked lots of people, "Dick, I thought it was bizarre the combination fo Brian Wilson, the other Beach Boy with the Strat, Al Jardine, and Jeff. Then I saw them on Fallon and it worked." Joe proceeded to put on an amaazing 45 minute acoustical show with veteran percussionist Lenny Castro, Dublin violinist/banjoist Gerrry O'Conner and others reprising the acoustic concert at the Vienna Opera House in Austria DVD Joe had recorded and then blew the sold out Ruth Eckerd Hall with another hour and fifteen minutes of electric blues and rock. Classic Bonamassa.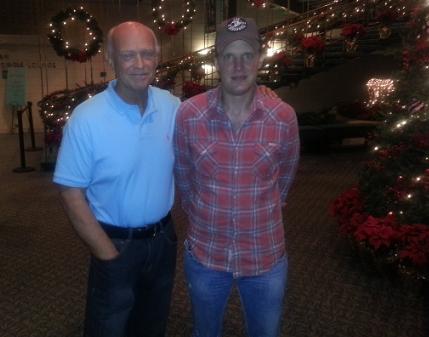 Lastly, our blasty from the pasty....Jeff, Ron Wood and Rod Stewart performing their famous comedy routine, 'Tip The Waiter? No, Tip The Chair'.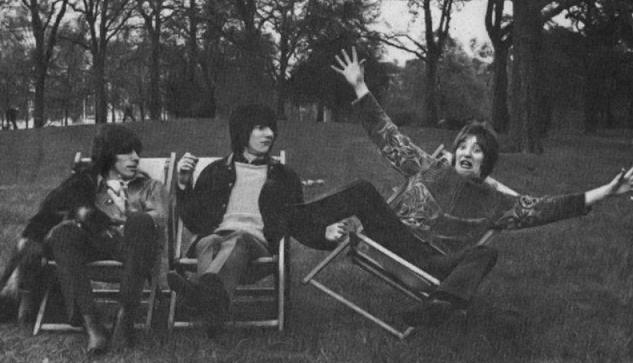 ---
December 26, 2013
Well here's the last update for 2013 and in 2014 we Jeff Beck fans have a new album and tour to look forward to. Here are the Asian and European dates already announced.

JEFF BECK WORLD TOUR 2014
 
April 7th…Tokyo, Japan Dome City Hall
April 8th…Tokyo, Japan Dome City Hall
April 9th…Tokyo, Japan Dome City Hall
April 11th..Sapparo, Japan Nitori Bunker Hall
April 13th..Iwate, Japan Kenmin Kaikan
April 14th..Yokohama, Japan Yokohama Pacifico
April 15th..Nagoya, Japan Shi Kokaido
April 16th..Osaka, Japan Osaka Festival Hall
April 19th..Byron Bay Byron Bay Festival Australia
April 21st..Sydney, Australia Sydney Opera House
April 22nd..Melbourne, Australia Hammer Hall
April 24th..Perth, Australia Perth Concert Hall
April 26th..Seoul, South Korea Olympic Hall
May 13th…Southend, UK Cliff's Pavillion
May 14th…London, UK Royal Albert Hall
May 16th…Bristol, UK Colston Hall
May 17th…Oxford, UK New Theatre
May 19th…Manchester, UK Bridgewater Hall
May 20th…Birmingham, UK Birmingham Symphony Hall
May 21st…Dublin, Ireland Olympia Theatre
May 25th…Utrecht, Netherlands Trivoli Hall
May 26th…Brussels, Belgium Ancienne Belgique
May 27th…Paris, France Rex Theatre
May 29th…Cologne, Germany E-Werk Hall
May 30th…Berlin, Germany Columbia Theatre
June 1st…..Frankfurt, Germany Capitol Theatre
June 2nd….Munich, Germany Circus Krone
June 30th...Milan, Italy

Jeff Beck is busy at home at Riverhall mixing his band's new Lp tracks with engineer Alan Branch. Most of the tracks were recorded at Roger Taylor's home studio located at Roger's countryside mansion. Some more recording was done at Nitan Sahwney's London studio. Nitan wrote one track which will hopefully top Nadia as a tour de force. Nicolas did most of the structural writing and Lizzie contributed an ensemble of strings with written efforts for the project. Warner Bros. is scheduled for a huge PR World tour rollout with Lp release by March with the aboave Japan, Australia, South Korea Jeff Beck tour thrust.
Dick ran into drummer Jonathan Joseph at the local Miami Sunset Tavern recently as Miami born JJ was in to visit relatives and take part in a couple of small projects including a one off jam with a great bass player and some funky jazz musicians on a Wednesday night jazz jam. All that attended were asking "Who the hell is that smokin' drummer?" Dick told them of course.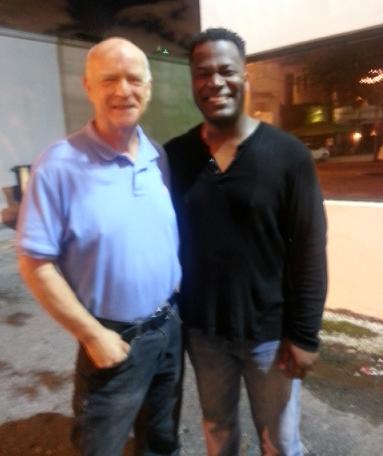 Dick and Jonathan At The Sunset Tavern
Here's a couple of links that came our way....first Scott Bennett from Brian Wilson's band talks about how awesome Jeff Beck is....available on vimeo and youtube.
http://vimeo.com/78909921
http://www.youtube.com/watch?v=anAegJddmFo.
Google books has an excerpt from the new book 'Recording Techniques Of The Guitar Masters' by Brian Tarquin and oddly enough out of the entire book, this excerpt lands us on a bit about Andy Wright working with Jeff Beck.
http://books.google.com/books?id=iZkLAAAAQBAJ&pg=PA11&lpg=PA11&dq=andy+wright+++jeff+beck&source=bl&ots=e79pcin2MY&sig=P3gVrE9-vM-Wtq8CTlJBMzeeEUY&hl=en&sa=X&ei=v62YUpvwI9jUoAS5yIL4DA&ved=0CCgQ6AEwADgK#v=onepage&q=andy%20wright%20%20%20jeff%20beck&f=false .
And LeAnn Rimes music video of 'Gasoline And Matches' featuring Rob Thomas and Jeff Beck is out....Jeff appears in it kind of....
http://www.youtube.com/watch?v=eVHjvNHRITw.
We got a note recently from fans, a husband and wife, that get backstage frequently at Jeff's shows....this tour no different.

It was great.  The show was fantastic, Brian's voice was very good - I wasn't sure what to expect. Jeff Foskett seems like he keeps a good
close eye on him, but it works.  Jeff of course, was on fire and it was
awesome to watch all the band members watching in complete awe.  This
band is going to be tight.  I love Jonathan & Lizzie's violin sure does
add at the appropriate times.
We had a too short, but a wonderful time backstage.  I was happy to get
to meet Sheila - I recognized her & sent her up the stairs - Leo was
incredibly friendly and told me Jeff was looking for me! I didn't
realize he was going straight to his room.  I'm thinking about a trip
to Wisconsin as well would love to see that show again while we're
waiting for the new cd, hopefully soon.

And they sent us this picture of a nice framing they did of an 'Emotion And Commotion' tour scarf, their tickets and backstage pass.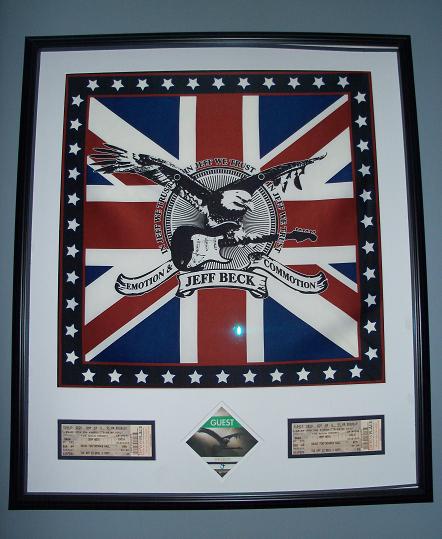 And lastly, we know Jeff is an avid hot rod enthusiast. Anybody know that 'Hot Rod'...Rod Stewart is an avid model railroad enthusiast? We came across this bit doing our routine perusal of the Salem Evening News...that's Salem, Massachusetts. Dick and Bill grew up in Marblehead, Massachusetts and Salem is the city right next door so we read the Salem Evening News to catch up on local news from our hometown and read the obituaries...we're getting to be that age, hah. The article mentions Peabody, Massachusetts, that's the next city west of Salem. Here's the piece from the newspaper.


December 7, 2013
Rod Stewart takes in city's 'Downtown Train'
Alan Burke
The Salem News

PEABODY — It was a meeting of two great artists.

And when model train buff and singer Rod Stewart visited George
Sellios' model train layout on Main Street in Peabody, the star was so
entranced by what he saw his entourage had to pull him out of the room.
"He had a concert in Boston," Sellios laughs. "He was supposed to be
there in 45 minutes. It got to be a half hour....He said he's been
trying to get here for years."

Sellios' Franklin and South Manchester Railroad, located on Main Street
in downtown Peabody, has always drawn serious model train enthusiasts
from all over the world. But Stewart might be the biggest name ever.
"He's such a down-to-earth guy," said Sellios of his visit.

"It was a blast. I loved it."

Passing the hair salon downstairs, Stewart was noticed and he drew a
number of ladies after him. He graciously posed for pictures with them.
"Everyone had to take a picture with him," Sellios said.

The rock star explained that he has his own massive model railroad in
California — "It's 125 feet long," said Sellios — but the British
native half-joked that this project left him so awed, "I'm going to rip
mine all down after this."

The Sellios display covers up to 1,600 square feet and is crammed with
incredible detail, from grimy buildings to potholed streets. In
delicate HO scale it's an uncanny depiction of a Depression-era city
that tends to resemble Peabody.

"It was kind of surreal," commented Sellios' friend Ben Streeter of
Andover, who was invited to meet Stewart. "He clearly had researched
George's layout." Accompanied by his model daughter Ruby, Stewart had
certain angles and sections of the work that he wanted to view closely.
"He said it would inspire him to go home and work on his own layout,"
Streeter said. "... He was amazed. Like anyone who sees George's layout
for the first time." The visit lasted an hour.

Notwithstanding his self-deprecating style, Stewart has had his own
work featured in model train magazines. Streeter noted, "He has a huge
model of Grand Central Station....He does his modeling while he's on
the road." At age 68, said Streeter, "He looks great. His hair was just
as crazy as ever."

For his part, Stewart owns several of the painstakingly fashioned
buildings that Sellios sells at high prices through his Fine Scale
Miniatures. "He kept hugging me," Sellios laughed.

Both Sellios and his daughter Tara, who was also there for the
Stewart's visit, were given tickets and attended the singer's Boston
concert. "It was real entertainment," said Sellios.

And some pics......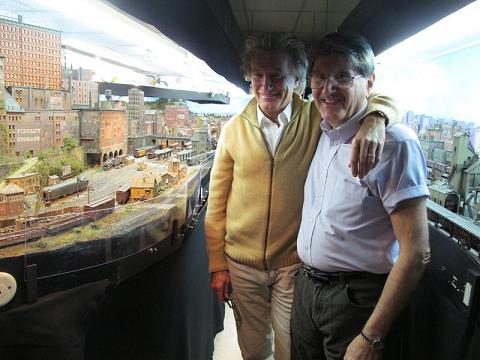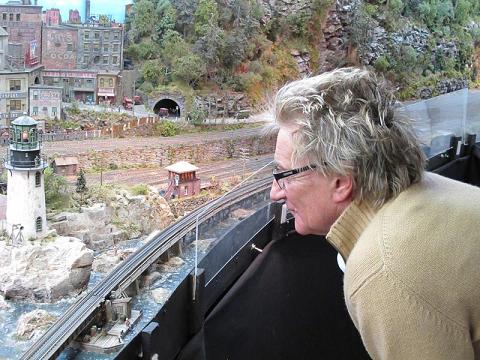 Be seeing you.
---