May 7, 2009
Brief update here. First, check out JBB#16 for some new stuff...press/fan reviews and Dick's piece on the Carlo Little CD.

Here's an update on Jennifer Batten's upcoming shows....a few have already happened but I included them anyway so you can see where she's been.

Jennifer's solo multimedia shows:
April 29 The Reef -105 South 6th St, Boise Idaho 8pm (208)287-9200
May 3 Falls City Nebraska Private House Concert
May 4 Fazio's Frets & Friends 15440 Manchester Rd. Ellisville, MO 63011 636-227-3573 7pm
May 7 Broadway Joe's, Buffalo NY
+ Schmeidler/ O'Connell Syndrome
______________
East Coast USA Tour with Vickie Genfan!
May 09 Center for the Arts Natick
May 14 Summer Street Natick, MA 01760 508-647-0097 8PM
May 10 Minotti Music Cabana Cafe 473 Washington Ave North Haven CT
May 12 Wholesale Guitars 10922 Hull St Rd, Midlothian Va. 23112 804 745 3434
May 13 Amazingtone Music 6514 Old Wake Forest Rd 105
Raleigh NC 27616 (919)637-0526
May 16 Private House Concert Miami
May 17 Chocolate Moose Cafe 9118 State Road 84; Davie, /FL/
954-474-5040 Daytime Workshop + nightime show
May 18 TIB Ampitheatre Islamorada FL (Key West)
in Founders Park, mile marker 87 bayside in Islamorada,

_*Jennifer is back to solo shows starting May 19th *_
May 19 Naples FL (private invite clinic) Naples Park Music
May 22/23 Pensacola FL show + clinic TBA
May 27 LCN-TV Houma Louisiana interview
May 28 *Magnolia Plantation*
"Private, Invitation Only Performance" 818 Elmwood Park Blvd. Harahan, LA 8pm - 9:30pm
Contact Matt: zermattinfo@bellsouth.net
May 29 Premium's Galliano Louisiana* *"Rock Club Performance"
LA Hwy 1 Larose, LA SHOW: 11:30p
May 30 The Brick House (985) 879-2453. Address: 7934 /Main St/, Houma, /LA/ 70360
**
June 4 Baton Rouge TBA June 5 Star Spangled Banner performance for New Orleans Zephers
7 PM televised June 6 Rock N Bowl 4133 South Carrollton Avenue New Orleans, LA504 482 3133
June 8 Austin
June 9 Austin clinic
Fri June 13 Guitar Academy Fort Collins CO (970)223-2466

In JBB#16 under 'fan' reviews we posted a link to Bob Lefsetz blog where he described his experience seeing Jeff's show in LA. Some folks wrote in their comments to this blog entry but Bob doesn't post them, instead he emails them around to folks who subscribe to his blog (thanks Eric Mirell!). This is pretty good, even includes a comment from our friend Robert Knight.

Subject: Jeff Beck

Jeff has been an icon since 1965. When I was around Jimi Hendrix in 1968, Jeff was all Hendrix talked
to me about. Several years ago at Jeff Beck's wedding Paul McCarntey walked up to me and said I hear
you worked with Jimi Hendrix. Paul said to me, Jeff Beck was Jimi Hendrix before Jimi Hendrix thought
of being Jimi Hendrix, he knew as Jeff and the Yardbirds opened on the first Beatles Tour.

Robert M Knight

__________________________________

From: Harvey Leeds
Subject: Beck

I convinced Jeff's previous manager to record a Beck album at BB King's in NYC avail only in Japan and online
for a limited time. Incredible-check it out. I have a zillion Beck stories-as the saying goes the 2 longest
artists on Epic were Jeff Beck (40 years) and Harvey Leeds (35 years).

__________________________________

From: Hugo Burnham
Subject: Re: More Jeff Beck

As teenagers, we used to drink at the same pub down in Kent with Jeff Beck. Right next to the farm we used
to pick hops at every summer...the name escapes me (lots of strong cider back then). It was hard not being
star-struck idiots. We went back to Beck's place for a party after closing time one week-end - somebody
stole the car-keys to his Model T (...not me, but I know who) and he was out for blood for a while.

HB

__________________________________

From: CJ Vanston
Subject: my Jeff Beck story(s)....wow...1981, 1992, 2004, 2007....

In 1981, my band, the Chicago-based "Trillion," opened for Jeff Beck in Carbondale, Ill. At that point
this was the highlight of my career. I remember the feeling as he watched our band from the side of the
stage and even gave a thumbs up and a smile. We finished our set and went out to sit with the FOH mixer.
Beck's set was of course awesome, but I had to take a leak. Simon Phillips broke into a drum solo, and
I took off for backstage. When I showed my laminate and stepped behind the giant speakers (this was before
everyone flew their arrays), I looked up, and ten feet above me was Mr. Beck, having a smoke in a private
moment behind the speakers.

It was very dark back there, and all of the sudden, like a dream, he took a false step and FELL off the
edge of the stage, almost to my feet. I couldn't believe what I had seen. I ran up to him, hysterically
mumbling something like "Mr. Beck sir...are you ok...Mr. Beck..." He rolled over on his back and said "I
ripped my f**king pants...I ripped my f**king pants." They were ripped from the crotch to the knee. But
unbelievably, he seemed ok.

With nobody around, I picked him up and put his arm around my shoulder and instantly realized that he was
almost exactly my size. So I told him I had some pants and could he make it to the dressing room. He said
yes, fine get me there NOW!

I came around the corner backstage and the roadies had no idea what was happening. It must have looked like
I was kidnapping Jeff. They rushed me but he kept saying "it's ok...it's ok...somebody tell Simon to stretch
the drum solo."

We got to my dressing room and I went into the wardrobe case to get him a pair of pants. Jeff had torn off
his black silk pants and was standing in his underwear. I handed him the first pair I found and I heard "I
ain't wearing no fucking purple pants!" Hilarious. I kept digging and remembered I had a pair of BLACK SILK
PANTS. Gave them to Jeff and they fit like a glove. Still surreal.

The roadies then dragged him away to the stage. I heard a huge finishing drum fill, then a huge guitar note
and the band kicked in to "Led Boots." That's when it hit me...Jeff Beck is playing in my F**KING PANTS.

I rushed back to the FOH, where my band was still sitting, unaware.
The first thing our drummer, Bill Wilkins said was "WHERE THE F**K DID YOU GO, YOU MISSED THE MOST INCREDIBLE
DRUM SOLO!!!"

I said "guys, you're not going to believe this..................."

After the show, Jeff threw a party for me for saving the day. What a special moment. Anyway....
he story continues....


Fast forward to 1992, and the Freddy Mercury Tribute at Wembley Arena in London. I was playing with Spinal Tap.
After our set, we went to the "Queen's Bar" to have a Guinness, and over in the corner is Jeff Beck. So I walked
up and posed in front of him silently. He gave me a "whadday you want, mate?" look....I turned my head to
different angles like a police lineup photo and he kept saying "WOT?!" All of the sudden he smiled and said
"OH MY GOD, YOU'RE THE F**KER WHO PICKED ME OFF THE FLOOR! I WAS TELLING EVERYONE YOU WERE SIX FOOT F**KING
NINE!" (evidently I was so full of adrenaline that I picked him up like a rag doll).

So Jeff and I hung the rest of the night, watching the bands from a private box and laughing our asses off.
The rest of Tap ended up hanging also, Christopher knew Jeff from years back also.


so now, fast forward to 2004. I am producing "Heart & Soul" for Joe Cocker. We had already gotten Clapton,
Lukather and Skunk Baxter to play on the record and I brought up Jeff Beck. Somebody at the label had an in
to his management and we put together an email request. At the end, I put "the producer is the guy who picked
you up off the f**king floor."

Jeff graciously played on the album, on "I Who Have Nothing." It was all done by email, never saw him.

almost done....

next Tap returned to Wembley in 2007, to play "Live Earth" (we did "Big Bottom" with 19 bass players, it's on
YouTube). At any rate, we rehearsed at some facility outside of town. We pulled up, and I walked in to what
I thought was our rehearsal room, and there was Jeff, three feet in front of me. We looked at each other,
stunned...and he said "oh my god, it's CJ, the guy who picked me up off the f**king floor!!" We had a great
laugh, and as the other guys in the band walked in, Jeff played us a private little set that was simply
amazing. Vinnie was playing drums, and we go way back, having done tons of sessions together.


Jeff told me he was going to play in Chicago, my hometown, for the Crossroads festival. I told him I might be
there, and he invited me to attend. I did, and as I stood out there watching him completely tear that arena
up, I thought. what a crazy f**king business, I wouldn't trade it for anything in the world.

Thought I'd share after watching your tweets come in last night...keep up the great work.

CJ Vanston

P.S. just finished producing Tap's new album "Back From the Dead," with guests John Mayer, Steve Vai, Phil
Collen of Def Leppard and Keith Emerson.....out June 15th....what a riot. What a business!

One last quick note...as always Ross Halfin has some killer photos of the Hall Of Fame and LA shows go to; http://www.rosshalfin.com/home/intro.php and check them out.
Also this is great! Dr. Dot strikes again! Check out her blog and pictures backstage at the JB show in NYC!
http://drdot.blog-city.com/jeff_beck_shows_in_nyc.htm
---
October 1, 2009
We know it's been a while we're sorry. Dick has moved to his groovy new beach pad, threw away his old desktop computer in the move, that kind of slowed things down. Bill has been on multiple vacations (hah!) and recently moved his daughter to Tallahassee for college ($$). So here's our attempt to catch up, I'm sure we're going to forget something. We know too we have to add to JBB #16 the European tour roundup but we have added Dick's report on the NYC screening of 'Rock Prophesies" so check that out.

So, let's start with the newest stuff and work our way backwards. We heard a while back Jeff would be doing some more stuff with Eric Clapton, now we have something concrete. Jeff Beck and Eric Clapton have announced that they will be doing a concert at London's O2 arena, February 13, 2010, a second show for February 14th has been added since the 13th sold out! Does this date indicate there will be other shows before or after? Hmm. Presale ticket info is available at; www.jeffbeck.com.

Jeff is in the Grammy running again. Two of his efforts from the past year are being considered for nomination. "A Day In The Life" from "Performing Live This Week At Ronnie Scott's" for "Best Rock Instrumental Performance" and the "Performing Live This Week At Ronnie Scott's" DVD/BluRay for "Best Long Form Music Video". Nominations will be announced January 31, 2010.

As we mentioned on the marquee, Jeff will be guesting on two upcoming releases. Joss Stone's newest, "Colour Me Free" will feature Jeff on the track "Parallel Lines". That is due out in October. Jeff will also be on violinist Diana Yukawa's next CD, we're waiting for more details on that one. Back to Joss Stone, here's a little bit from Entertainment Weekly;'

EW: You also worked with guitar legend Jeff Beck on "Parallel Lines."
JS: I did, yeah. Oh, he's a luv. I went over to his house. It's gorgeous, oh my god. A big country house.
    We just went up to his top room and jammed. He was great.
EW: I always think he's got pretty much the best hair in rock.
JS: Yeah, he totally does.

Jeff played the O2 in London on September 21st. From what we've seen on YouTube, and there's a bunch, it was a very interesting show. Jeff played the stuff he grew up on, American rock n' roll and popular music. Imelda May's band did a great job backing him up, very reminiscent of the Big Town Playboys.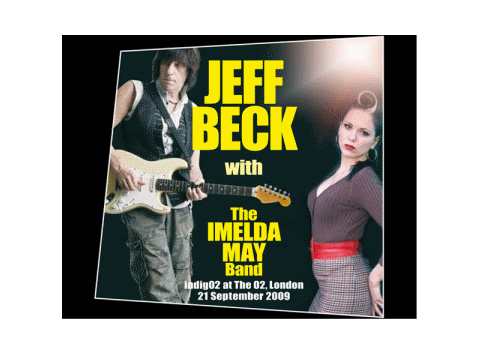 Prior to the show Jeff and Jason held a 'master class', sort of a repeat of what Jeff did in Birmingham a couple of months ago, here's a report that was sent to us.

From the Masters Class on Sept. 21, 2009Sep 23, '09 6:11 PM
by Geoffrey for group jeffbeck624
It's 3pm on Monday September 21st and Licklibrary's Kim Waller is one of a small invited group is waiting
patiently for a true guitar legend to appear. As part of a recent hook-up between American Express and Harvey
Goldsmith, Jeff Beck has agreed to do an hour long masterclass before the evening's gig at the Indigo2 with the
Imelda May band. 
Jeff walks in closely followed by his keyboard player Jason Robello and begins a relaxed and informal question and
answer session, punctuated with guitar playing. Jeff talked about his early influences; Les Paul, Elvis, Gene Vincent
to name a few, Jason on the other hand cited the theme from 'Match of the Day' as his earliest influence.
When asked if he remembered the transition from unknown musician to his early celebrity status, he said he remembered
going from being a paint sprayer and fitter to professional guitarist and feeling guilty at first about not having
to get up for work every day! 
Jeff told the story behind the classic 'Cause We've Ended As Lovers' from the Blow by Blow album; he had been working
with Stevie Wonder and recorded some guitars for his album 'Talking Book' and Stevie wrote three songs for Jeff (one
of which never made it to the album). Stevie wrote 'Cause We've Ended…' for his wife at the time, Syreeta.
The small audience fell silent as Jeff played the first notes from 'Cause We've Ended As Lovers' and Jason joined
in on keyboards to treat us to a two minute version of the track.
Jeff was clearly enjoying playing! After describing how a Gregorian chant that he had been given to help him sleep
inspired 'Where Were You' he launched into the track. The treat continued with excerpts from 'Apache', 'Hound Dog'
and 'Becks Bolero', finally rounding off the masterclass with 'Superstition'
The gig was superb! Jeff and Jason were playing with the excellent rock'n'roll styled Imedla May Band; the set contained
only a handful of songs written after 1965. They included The Shadows' Apache, Santo and Johnny's Sleepwalk, Rock Around
The Clock, Shake Rattle and Roll, The Girl Can't Help It, Cry Me A River, Corpus Christie Carol, Lilac Wine and a
stunning version of Remember (Walking In The Sand). Jeff's solo pieces included Brush With The Blues and Somewhere
Over The Rainbow
Jimmy Page and Ronnie Wood were sat immediately behind me; Jeff invited them onstage to join him, but they didn't take
him up on his offer… well. That would be a difficult set of boots to fill whoever you were wouldn't it! Jeff Beck
continues to be a man at the top of his game, with a mastery of diverse styles and a unique tone that distinguishes
him from anyone else… Let's hope there will be another tour announced soon!

To add to this we also read a report stated about 60 people attended the event and was moderated by a member of BME who interviewed Jeff then opened it up for questions. We also understand the event was taped (a camera was there) and some of it might pop up on BME's website in the future.

Here's a review of the actual show. Also check out http://www.rosshalfin.com/diary/september-2009/diary-september-2009.php for Ross Halfin's blog entry.

Jeff Beck & The Imelda May Band 
Indigo 2, London 
Monday, September 21 

"He's using a different guitar with each bloody song!" exclaims an impeccably attired and surprisingly sober Ronnie Wood.
Sat next to him, almost on the edge of his seat, Jimmy Page is staring ahead at the stage absorbing the sights and sounds
with a forensic intensity. Honest Ron suddenly gets up and yelps in appreciation, breaking Page's concentration as his
face collapses into a warm infectious grin. "Marvellous", he exclaims like a proud headmaster, beaming at his charge.
Both of these legends have been drawn out of hibernation by the lure of fellow guitar slinger Jeff Beck's one-off
performance with the Imelda May band in a special show arranged by American Express. Earlier that day a usually taciturn
Beck held a master class comprising a short tutorial and lots of entertaining anecdotes about his adventures with the
Yardbirds.
"The show tonight will be like hearing Jeff's personal record collection," announced manager/promoter Harvey Goldsmith
referring to the choice of vintage material.
Looking a little nervous, without his usual pyrotechnics and camouflage, Beck took a while to warm up and really hit his
stride about four numbers in with Train Kept A Rollin' featuring a simple, swamp-dirty solo which was the total antithesis
to his normally baroque fret workouts. This was swiftly followed by Howlin' Wolf's Poor Boy - a nod to Chess Records,
Beck explained - and Arthur Crudup's My Baby Left Me.
"Back in the old days when the singer got knackered we had to fill in with an instrumental," announced a by-now jocular
Beck who seemed really moved by the audience's ecstatic response. "This is the tune that made us all go out and steal
a Fender Stratocaster... Unfortunately, I didn't get away with it." Cue a robust take on The Shadows' Apache followed
by Santo & Johnny's Sleepwalk.
Candy Box Burlesque Club veteran Imelda May displayed her torch singer credentials with spine-tingling renditions of
Remember (Walking In The Sand); Cry Me A River, Lilac Wine, and Please Mr Jailer. It's easy to see how Beck was inspired
to perform this material by May and her band, who have serious rock'n'roll credentials (Page could be seen backstage
immersed in conversation with May's husband/guitarist Darrel Higham about their shared passion for vintage vinyl).
As the show came to a close Beck could be seen to visibly relax during a loose rendition of Green Onions, a stirring
tribute to Les Paul on How High The Moon - featuring some gorgeous multi-tracked vocals from Imelda, doing her best
Mary Ford impersonation, and an uproarious version of Shake, Rattle and Roll.
As Jimmy Page commented afterwards: "It was just like listening to your favourite jukebox."

Peter Makowski

Set List: Feel Me/Love Tattoo/Baby Let's Play House/Double Talking Baby/Cruisin'/Train Kept A-Rollin'/Poor Boy/
My Baby Left Me/Rockin' Is Our Business/Apache/Sleepwalk/Peter Gunn/Remember (Walking In The Sand)/Please Mr Jailer/
Corpus Christi Carol/Lilac Wine/Green Onions/Casting My Spell/The Girl Can't Help It/Brush With The Blues/Rock Around
The Clock/Cry Me A River/How High The Moon/Shake Rattle And Roll/Somewhere Over The Rainbow

What we liked from watching the YouTube stuff was Jeff used several other guitars besides his Strat. We couldn't really see the backline that well but it appeared too that he was using tweed Fenders, not sure if they were reissue Twins or the Deluxes he had at Crossroads. A quick listing....on Double Talking Baby - Gretsch Duo-Jet, Train Kept - Tele, Apache - Strat, Peter Gunn - Strat, Corpus Christi - Strat, Lilac Wine - Strat, Green Onions - Tele, Rock Around The Clock - Oxblood Les Paul!!, Somewhere Over The Rainbow - Strat.

Jeff also appeared at a charity concert in Italy on August 19th. He appeared with Zucchero at the Viareggio Stadium to benefit victims of a gas explosion that occured at a train station in that city in late June. Jeff played on "Nessun Dorma" and perhaps on another song titled "Dune Mosse". We have quite sorted this out from watching the videos on YouTube.

Our friend Joe Bonamassa, aka 'the new King Of The Blues' has a new album.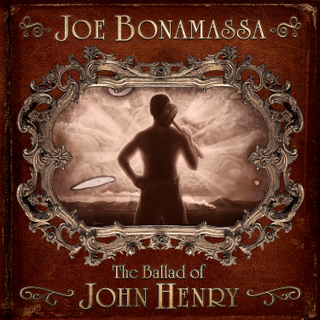 Joe did finally meet Jeff Beck in London at an awards show earlier in '09! On Joe's new DVD just released of his sold out Royal Albert Hall performance last spring, during guest performances by Eric Clapton and Paul Jones, Joe teases the crowd with about a half dozen intros to "Ain't Superstitious" before going into another song..........Gee where have we heard that tease before from Jeff!!!!!!!!! Finally on one track off the new CD, Joe records it with the same type rig Jeff used in 74 and noted that on the CD's booklet.

He's also out on tour (as always), we're catching him at the Gusman Cultural Center in Miami on November 7th!

Some late adds here, thanks to 'Doc'....we knew we'd forget something, that's for getting our back. Jeff Beck appears on Herbie Hancock's forthcoming album, IMAGINE

 
Billboard: Jeff Beck also appears on the album. You recorded a song with him in London. 
Hancock: He and two of the members of his current touring band -- (drummer) Vinnie Colaiuta,
who has also been working with me, and Tal Wilkenfeld, a bass player from Australia -- she's
great, she's 22 or 23 and she can play. Anyway, Jeff is really good. I knew he was good, but
when I got a chance to actually work with him? He's really good. Just playing a melody, every
note has its own personality, and it's not as though everything is predetermined -- it's all
in the moment. 
The album is slated for an early 2010 release

And also Jeff Beck performing in New York City at the Rock And Roll Hall of Fame 25th Anniversary concert on Friday, October 30th on the bill with Eric Clapton, Aretha Franklin, U2, Metallica, Jerry Lee Lewis and Van Morrison.
Lastly, Bill's son rented Guitar Hero 5 a couple of weeks ago. Tried to play both the drums and guitar to 'Scatterbrain'. It's hard. He predicts you will shortly see 12 year olds performing it on YouTube. Also did you know there's a fan site witht the URL www.jeffbeck.co.uk? We didn't until we saw they were one of the 'external links' on Jeff's entry at wikipedia.com. WTF! How come we aren't listed!
ALSO! This just in! An acetate of the Tridents with Jeff Beck has been unearthed in the UK. An acetate is like a test pressing for a vinyl record. Here's the article;


Wednesday, July 15, 2009
Discovered - The Tridents featuring Jeff Beck acetate
The Tridents were a Yardbirds-esque British R&B group that Jeff left when he joined the real Yardbirds on
Tuesday, March 2nd 1965. This recording dates from late 1963 or Early 1964 [at best guess] & features a
nineteen year old Jeff & his Telecaster with Ray Cook on Drums, Paul Lucas on Bass & Vocals and brother
John Lucas on Rhythm Guitar & Vocals.
It appears that four demo tracks were recorded by the band. Two at Regent Sound & two at Oriole Studios in
London - 'Wanderin' Man Blues', 'Trouble In Mind', 'Keep Your Hands Off My Woman' & a Tridents self-penned
original 'That Noise!'
Of these tracks, very scratchy & noise reduced to hell & back versions of 'Trouble In Mind' & 'Wanderin' Man
Blues' were finally released on the 'Beckology' compilation, having been taken from seriously scratchy acetates.
Originally the plan was for 'Keep Your Hands Off My Woman' & 'That Noise!' to be A sides & 'Wanderin' Man Blues'
& 'Trouble In Mind' the B sides.
This acetate pairs 'That Noise!' & 'Wanderin' Man Blues', so this is from Oriole Studios, meaning that the other
two tracks were the ones recorded at Regent Sound.
The only markings on this disc are the track titles & The Tridents, hand written in Chinagraph pencil at the
centre. When we discovered it, the A side title was quite worn, but the B side was when my heart jumped into my
mouth as I realised just what this might be. It had to be played.
We played it. B Side first as it was the title I recognised. It was exactly what I'd hoped it was - The Tridents
with Jeff Beck!
Clear, crisp, full range sonic beauty making the 'Beckology' version sound like it was recorded through a pile
of old socks. By the looks of things, this can have been played no more than a handful of times.
The A Side was unknown to me at the time, but turned out to be a chugging R&B number very reminiscent
of early Yardbirds. It had obviously been played a little more than the B Side, but even so it was still very
clear & crisp.
At that point, I knew we'd stumbled upon something a little bit special.
So, here we have [in amazing condition for a delicate acetate], two Tridents tracks from 1963. One previously
unreleased & one released in a C- audio quality where both of these tracks are A/A+. Hellfire, there are CYMBALS
on these versions!
Over forty five years old & stored safely away for most of that time until our intrepid archaeologists re-discovered
this ancient artifact, possibly unplayed since 1964 [until we played it to see what it was].
Given that the Beckology version was supposedly the best available to CBS/Epic, we can only conclude that no more
than two copies of this acetate exist [as far as we are aware]. This is only the second acetate to surface & it is
free from any notable marks or scratches, unlike the one owned by Paul Lucas that was loaned to CBS/Epic for the
Beckology release. There are some light cosmetic scuffs to some areas of the disc, but because of the fragile nature
of acetates this is inevitable & will be caused simply by removing the disc from its paper sleeve. These have no
effect sonically, as we can attest to, having played both sides through.
The chances of Paul Lucas releasing his personal acetates are slim to nil, so this acetate becomes effectively a
one-off.
In this amazing condition, it IS the best available recording of The Tridents available in the world.
Over the years, seeing many 'rare' & 'impossible to find' items turn up again & again here, you can get quite
blasé about things. It takes something like this to remind yourself just why you do this for a living. It's the
musical equivalent of finding an undiscovered Egyptian Tomb - And it takes your breath away.

Another late add here....Seems now that Joss, Herbie and Diane have gotten some from Jeff, his former hired sideman, singer Rod Stewart wants some as well. Stewart has made a sojourn or two to Jeff's countryside manse to secure his services for a collaboration in the studio. It is not known whether the track(s) have been laid or not. Stay tuned...
---
November 4, 2009
Jeff was a big hit at the Rock And Roll Hame Of Fame 25th Anniversary shows Oct. 29 and 30 at MSG in NYC. Jeff was originally slated to just do a tune with Eric Clapton and Buddy Guy but then Eric fell ill (gallstone surgery..ouch!) and Jeff was enlisted to fill Eric's entire slot. On Thursday night Jeff's only appearance was when he came out during Stevie Wonder's set for 'Superstition'...according to Rolling Stone -;


"...Stevie Wonder... If that wasn't enough, Jeff Beck arrives for "Superstition" and breaks into an
otherworldly solo on the break, flinging his bare right hand at the strings and tapping away.
Prepare yourself: Jeff Beck is doing something frickin' magical on his guitar to "Superstition." 
You are not going to want to miss this when the show airs on HBO: Jeff Beck's "Superstition" solo
is from another planet.

Yeah, that sounds about right. Then on Friday night....
From the Wall Street Journal...


Wall Street Journal says

As a whole, the second evening of the Rock and Roll Hall of Fame 25th
Anniversary Concert ran much more smoothly than the previous night, with
reasonably seamless transitions between acts and ending before midnight. The
night was also chock-a-block with surprise musical pairings.

As noted earlier, Aretha Franklin started off the evening with duets with Annie
Lennox for "Chain of Fools" and Lenny Kravitz for "Think."

Next up, Jeff Beck, replacing late drop-out Eric Clapton (for gallstone
surgery), had a few surprise musical mash-ups of his own. First, he brought out
Sting — who performed with Stevie Wonder the previous night — for "People Get
Ready" and then jammed with Buddy Guy, who he says inspired him so much when he
first saw him in 1962, on "Let Me Love You Baby." Billy Gibbons later came out
for a take on Jimi Hendrix's "Foxy Lady." (Beck also did nice solo work on two
salutes to other artists: Ray Charles' "Drown in My Tears" and the Beatles' "A
Day in the Life.")...

A synopsis from our friend 'Doc' of night 2...



Jeff Beck:
"Drown in My Own Tears"

This was an absolute surprise, and uncharacteristic of Jeff. It was a
slow tasty blues number. The projectors that that introduced each set
had just reviewed great bluesmen and their rock descendants. It made
for a beautiful transition from the blues to rock.

Jeff Beck and Sting:
"People Get Ready"

Sting walked on unannounced. It left many in the crowd wondering who
it was because he's now sporting a beard. He was well dressed as
well. Sting's did a great job handing the vocal chores. He did not
play the bass as he had the previous evening.

Jeff Beck:
"Freeway Boogie"

The camera caught Tal uncharacteristically speaking with Jason at one
point during the song and then a moment later it became obvious what
it was all about. Jeff gave a visual cue to Jason for his solo, it
SEEMED that perhaps they were questioning the inclusion of the solo.

"Cause We've Ended as Lovers"

Tal mesmerized the crowd. She had been semi hunched over during most
of the performance to this point, so the crowd hadn't really seen
what Tal is really like. When she launched into the solo section it
became obvious that this was a beautiful young woman wearing leather
pants creating tones that just SHOUDLN'T be coming from a woman of
her stature. Her solo was amazing, and her tone was incredible. The
crowd was won. :)

Buddy Guy with Jeff Beck:
"Let Me Love You"

Jeff introduced Buddy, saying that in about 62 or 63 he was a
tremendous influence on his and other's playing, including Jimi
Hendrix, and that we'd hear it. Sure enough, Buddy was incredible
with a tone reminiscent of Hendrix. I never before realized that his
sound was not such a clean sweet blues sound like BB, but rather
almost a bluesrock tone. This was a great moment, with a great bluesy
feel that kept you going.

Jeff Beck:
"Big Block"

Big Block was probably the song that the uninitiated enjoyed the
most. There's something about that beat and the crescendos that
nobody can deny, and Jeff's pyrotechnics just light it up.

"Rice Pudding"

I was THRILLED to hear this song, and was probably the only person
within 1000 square feet of my seat that actually knew the song, and
where it fits in his catalog (thanks to this list)!. You might
remember that about six months ago I was listening to BeckOla and
asked if he still performed it at all, having not yet even listened
to the 2002 Royal Festival Hall JB tribute show. It was THIS song,
not Big Block that Billy Gibbons walked on stage during the closing
30 or 60 seconds of, and had difficulty joining in. He TRIED to play
along but I think the only thing that really worked was his strumming
of the final chord. :)

Billy Gibbons and Jeff Beck:
"Rough Boy"

I'm not a big ZZ fan, and was relatively unfamiliar with this song.
It was a ballad that Billy sang on, and it sounded good with Jeff's
band. I was starting to question the pairing and whether this was a
good pairing, and didn't get enough of Billy's guitar work to hear
his trademark sound. BTW, Billy's a real trip with the hat and I'm
pretty sure I saw a bottle opener hanging from his neck. :)

Jeff Beck and Billy Gibbons:
"Foxy Lady"

As I believe Bill and Ted would have said, This RAWKED!. I never got
to see Jimi live, but now I can at least say I've seen Foxy Lady
performed well enough to make him proud. One of the highlights of the
two days without a doubt. Jeff and Billy both took leads, and both
had fantastic and very different tones.

Jeff Beck:
"A Day in the Life"

A photo of the Beatles was projected behind them as they performed.
The performance was much as the previous live recordings we've heard,
the crowd around me really responded to the noisy crescendo and final
note.

All in all the set and the whole show itself only suffered from being
too short. After seeing the previous night's show I was disappointed
that the better show was the shorter show. The first show was nearly
2 hours longer than the 2nd. If memory serves me correct, Jeff stuck
with the same agenda used by all the performers (except the finale)
of the previous night (my hyphen doesn't work) no curtain calls. I
think Jeff was the only performer on the 2nd day that DIDN'T do a
curtain call, but they did do the familiar group bow and wave at the
end of the set, and I heard people around us giving an "aw" when they
saw it, with everyone's eyes glued to Tal whose physical presence was
unique.

Some more article and pics links;
http://www.rollingstone.com/rockdaily/index.php/2009/10/30/hall-of-fame-annivers\ary-rocks-on-with-second-all-star-night/
http://www.rollingstone.com/photos/gallery/30704499/the_rock_and_roll_hall_of_fa\me_25t/photo/13
http://www.rollingstone.com/photos/gallery/30733808/the_rock_and_roll_hall_of_fa\me_25t/photo/5
http://www.rollingstone.com/photos/gallery/30733808/the_rock_and_roll_hall_of_fa\me_25t/photo/6
http://www.rollingstone.com/photos/gallery/30733808/the_rock_and_roll_hall_of_fa\me_25t/photo/7


Jeff's Rock And Roll Hall Of Fame induction show last spring is now available on DVD at;
http://www.cleveland.com/music/plaindealer/index.ssf?/base/entertainment-0/1256459471281790.xml&coll=2
A description of the DVD includes the following;
The rehearsal footage alone of Jeff Beck, Flea, Jimmy Page, Joe Perry, Ron Wood and Metallica trying to figure out exactly how to play "Train Kept A-Rollin' " before this year's induction gala at Cleveland's Public Auditorium is worth the price of admission.

I (Dick) had a rare chance the other day to speak with Eagle Rock Records Senior Project Manager Mike Carden who was very involved with the marketing of the Ronnie Scott's CD and DVD. The introduction to Mike was made through our NYC friend Arnie Goodman whose label put out the John Lee hooker tribute CD a few years back that featured Jeff on two tracks.

Mike was super nice and basically raved about first hearing the tapes of the live 2007 shows from the famous London club. Mike told us that every single person involved with Eagle Rock Records on the 29th floor of their New York offices absolutely was floored at hearing the performances and the quality sounds from Jeff's playing. On the tour following Jeff's Rock Hall of Fame induction last spring Mike took a few budding guitarists to some of the shows and said that to a one they all were revved up the day after the shows for going back and playing their instruments having been inspired by seeing Jeff play. Mike said his biggest thrill was to be able to go to London to present Jeff and the band with the award for sales on the DVD which became the number one music DVD seller. We all as fans appreciate the hard work and dedication Mike Carden has shown for this project and wish him much success in the future."

Here's a link for more info on Jeff and Eric's O2 gigs;
http://www.whereseric.com/news/eric-clapton-jeff-beck-o2-london-13-february-2010

Lastly, this one's a little iffy cause these things tend to be, a blurb on the net has stated that Jeff is slated to play at 'BluesFest 2010' at Tyagarah Tea Tree Farm outside Byron Bay, Australia, a festival that runs from April 1st thru the 5th. Joe Bonamassa is also listed, we'll see.
---
December 4, 2009
As we posted October 1st, Jeff was up for consideration for two Grammies....one "A Day In The Life" from "Performing Live This Week At Ronnie Scott's" for "Best Rock Instrumental Performance" and the "Performing Live This Week At Ronnie Scott's" DVD/BluRay for "Best Long Form Music Video". Yesterday it was announce the got the nod for "Best Rock Instrumental Perfomance". Nominations will be announced January 31, 2010.

Some 2010 Tours have been annouced...here they are; (thanks Doc)


JEFF BECK 2010 TOUR DATES
?
Feb. 13...O2 Arena, London, England w/ Eric Clapton
Feb. 14...O2 arena, London, England w/ Eric Clapton
Feb. 18...Madison Square Gardens, NY w/ Eric Clapton
Feb. 19...Madison Square Gardens, NY w/ Eric Clapton
Feb. 21...Air Canada Centre, Toronto, Canada w/ Eric Clapton
Feb. 22...Bell Centre, Montreal, QC w/ Eric Clapton
Mar.28...Fremantle Park, Fremantle, Australia (Buddy Guy Al DiMeola and more on the
bill)(and Joe Bonamassa)
Apr. 2...Blues Fest, Byron Bay, Australia
Jun. 18...Eastman Theatre, Rochester, NY
Jun. 26...Crossroads Festival, Chicago, Ill (tba)


And this press release comes from www.jeffbeck.com....


Jeff Beck and Eric Clapton announce shows in US and Canada.
(New York, NY) -- On the heels of a stunning collaboration in Tokyo, Japan last February and
after the announcement of two sold-out shows at the 02 Arena in London in February 2010, Jeff
Beck and Eric Clapton announced today an eagerly anticipated set of shows in the U.S. and Canada.
U.S. audiences recently saw Jeff Beck's guitar mastery at the Rock and Roll Hall of Fame's 25th
anniversary concert at Madison Square Garden. Beck's 40 minute set with guests such as Sting,
Buddy Guy and Billy Gibbons along with a blistering rendition of "Superstition" in Stevie Wonder's
set received strong critical acclaim.
The Beck-Clapton collaboration will undoubtedly be one of the must see shows of this decade, where
the artists will perform together and apart. The duo have shared the stage at Festivals and benefits
previously, but the Japan shows at the Saitama Super Arena marked the first time they had shared the
bill at a major arena. Both artists admitted to having a fantastic time on stage together and press
gave rave reviews. The concerts were so spectacular for the musicians and fans alike, that the two
decided to team up again at London's prestigious 02 Arena and have quickly followed suit with the U.S.
and Canadian dates.

ThursFeb 18 New York, NY Madison Square Garden

Sun Feb 21 Toronto, Canada Air Canada Center

Mon Feb 22 Montreal, Canada Bell Center

'Eric and I played together in Japan earlier this year and had a blast. Since then we have been in regular
contact and talked about doing a similar show for our fans. Looking forward to the shows in 2010," said
Jeff Beck.

"I've always considered Jeff Beck to be one of the finest guitar players around. He's a friend, a great guy,
and a truly gifted musician. We had such a fun time in Japan that it seemed natural to play together again,"
said Eric Clapton. 

Both Beck and Clapton have long and prestigious musical careers with countless honours and awards to their
names. Beck has been inducted into the Rock and Roll Hall of Fame twice and Clapton is the only artist to be
inducted three times. Their musical paths are linked together by the Yardbirds – a band that Clapton left in
1965 and his replacement, ironically, was Jeff Beck. Since those days, Beck and Clapton have remained friends,
but have only performed together a few times over the years for an occasional song at a charity event. Now,
more than 40 years after the Yardbirds disbanded, the two will join together on the same stage. The duo has
said that no exact set list has been discussed but they plan to each do their own respective sets followed by
a joint set that is expected to be longer than their first shows in Japan.

Jeff Beck's recent release, Live at Ronnie Scotts DVD, has gone platinum in USA, Canada and Japan. Beck is
currently recording his first studio album in five years in London with Trevor Horne and Steve Lipson
producing. Eric Clapton's recent release Crossroads Guitar Festival DVD has gone multi-platinum in the US.
Clapton also just completed a sold-out North American tour with former Blind Faith band member Steve Winwood. 

Ticket On-Sale Information 

New York General tickets on-sale Dec 12th
Toronto Tickets on-sale Dec 4th
Montreal Tickets on-sale Dec 5th

** Check local ticketing agencies and listings for updates

For New York:
The New York shows will be produced by Ron Delsener for Live Nation. Tickets will be available in
advance to American Express cardmembers. 

Tickets will go on-sale first to American Express cardmembers through a special pre-sale, beginning
Monday, December 7, 2009. Tickets can be purchased via ticketmaster.com.

If tickets remain, a general on-sale date will follow on Saturday, December 12th. 

According to Harvey Goldsmith, Jeff's new album will be released in March. A recent new blurb said, "Jeff Beck, currently on the sidelines with an injury from an accident, which has not been specified by Harvey Goldsmith, will be finishing his new album in the next 10 days, with a release date set in March. Goldsmith raves about the tracks."
Speaking of Harvey, music industry analyst Bob Lefsetz gives Harvey props for Jeff's recent successes. Bob's Rock And Roll Hall Of Fame 25th Anniversay Concert observations from the 'Lefsetz Letter';


SUPERSTITION

It was written for Jeff Beck. Stevie delivered it to the guitar maestro and then had second
thoughts, he decided to record it himself. "Superstition" was Stevie Wonder's breakthrough.
All these years later, "Sunshine Of My Life" is the most famous track off "Talking Book", but
it was "Superstition" that exploded Stevie Wonder, let him leave the "Little" appellation behind.

Sure, he'd put out "Music Of My Mind", had even toured with the Stones, but "Superwoman" got very
limited airplay. But the clavinet underpinning of "Superstition" could not be denied. Stevie Wonder
rode the track straight into the American mainstream, where he went on to deliver on the promise,
releasing three more albums just as good as "Talking Book", and they don't get any better.

Meantime, Jeff Beck ultimately cut an abysmal, bottom-heavy take of "Superstition" with Carmine Appice
and Tim Bogert and then went jazz-rock, and was forgotten by the hoi polloi.

Until last night.

I credit Harvey Goldsmith.

Beck's been great forever. Never lost a step. As hot today as he was in the Yardbirds, as he was when he
worked with Rod Stewart. His fleet fingers are dancing over so many records. But only when Eric Clapton
had to pull out of this Hall of Fame gig did Jeff Beck get his chance. I'm sure Harvey made it happen.

And boy did Jeff deliver.

Yup, almost four decades after Stevie Wonder retrieved his career-breaking hit, he called Jeff Beck on
stage, to wail, to play along.

And boy did he. Wail.

This was not nostalgia. This was not quaint. When Beck worked out, it was positively 2009, positively
alive. Live long enough, and maybe you get your due.

Speaking of the Rock And Rock Hall Of Fame show, it premiered on HBO last Friday and is still playing periodically....if you don't want to sit through the whole thing, Jeff is towards the end of the show.

Jeff and our friend Buddy Davis are mentioned in a recently published book..."The Modern Era Of The Les Paul Legacy; 1968 - 2009" by Robb Lawrence. The entire story of the 'Oxblood' Les Paul is told which of course includes our friend Buddy Davis who sold Jeff the guitar. Also included is an interview with Gibson's Pat Foley who relates the process of creating the 150 'Jeff Beck Les Pauls'. Some interesting details....when they first saw Jeff's 'Oxblood' Les Paul at his house in Sussex, it was in such bad condition it was unplayable...it has a large screw in the back of the body holding the neck on! The reproductions also have a fake screw in them!...they don't know where the term 'Oxblood' originated to describe it's color, they say it's more of a 'chocolate' color as we chronicled in our piece on Buddy Davis awhile back!
---
December 15, 2009
A couple quick blurbs to keep you up to date....we haven't done any Christmas shopping yet! Jeff has a new record deal...with Rhino Records.....here's the release;


One of the world's most respected artists, he is also completing his first studio album in
6 years, working at Sarm Studio's in London. The album is being produced by the award winning
team of Steve Lipson and Trevor Horn and will be released mid March with Rhino Records,
part of the Warner Music Group.
"I am delighted that Jeff has signed his new record deal with Rhino. Jeff will tour extensively
around the world in 2010 to support his new album" said Manager Harvey Goldsmith.

That being said, here's the latest tour dates (thanks, Doc and Paul);

JEFF BECK 2010 TOUR DATES
 
Feb. 13 Sat...O2 Arena, London, England w/ Eric Clapton
Feb. 14 Sun...O2 Arena, London, England w/ Eric Clapton
Feb. 18. Thur..Madison Square Gardens, NY w/ Eric Clapton
Feb. 19 Fri...Madison Square Gardens, NY w/ Eric Clapton
Feb. 21 Sun...Air Canada Centre, Toronto, Canada
Feb. 22 Mon...Bell Centre, Montreal, QC
Mar.25 Thur...Adelaide, Australia
Mar.26 Fri...Melbourne, Australia
Mar.28 Sun...Fremantle Park, Fremantle, Australia
Mar.30 Tue...Enmore Theatre, Sydney, Newtown, Australia
Apr. 1 Thur...Brisbane, Australia
Apr. 2 Fri...Blues Fest, Byron Bay, Australia
Apr. 7 Wed...Osaka, Japan
Apr. 8 Thur...Hyogo, Japan
Apr. 10 Sat...Tokyo (JBC Hall) 
Apr. 12 Mon...Tokyo (International Forum)
Apr. 13 Tue...Tokyo (International Forum)
Jun. 18 Fri...Eastman Theatre, Rochester, NY (8PM show)
Jun. 18 Fri...Eastman Theatre, Rochester, NY (11PM show)
Jun. 26 Sat...Crossroads Festival, Chicago, Ill (tba)***
OCTOBER 2010
Fri 15th Bournemouth BIC 0844 576 3000
Sat 16th Brighton Centre 0844 847 1515
Sun 17th Birmingham Symphony Hall 0121 780 3333
Wed 20th Glasgow Clyde Auditorium 0844 395 4000
Thu 21st Manchester Apollo 08444 777 677
Fri 22nd Sheffield City Hall 0114 2789 789
Sun 24th Bristol Colston Hall 0117 922 3686
Mon 25th Cardiff St David's Hall 02920 878 444
Tue 26th London Royal Albert Hall 020 7589 8212 

We've heard the British dates in October are already on sale and the RAH is almost sold out! Wow.

We also got this letter from David Ingram...maybe this would make a nice holiday gift?


Hi Bill,
As always great work in keeping us fans up to date with news on Jeff Beck.
I check your site regularly and follow up on the many links. Your readers may
be interested to know that at long last the A.R.M.S. concert is available on
DVD. Spotted it yesterday, here in Vancouver, B.C, Canada, at the record shop
HMV while out Christmas shopping. This particular night was Sept 26 1983 at the
Royal Albert Hall, and has a killer lineup of Eric Clapton, Bill Wyman, Charlie
Watts, Chris Stainton, along with Ronnie Lane, Steve Winwood, Jimmy Page, and
of course JB.
Clapton, Winwood, and Page each play sets, and Andy Fairweather-Low sings a song
too. Jeff performs Star Cycle, The Pump, Goodbye Pork Pie Hat, and Hi Ho Silver
Lining, and joins the ensemble for Tulsa Time and Layla The DVD is being marketed
as 'Eric Clapton & Friends...The A.R.M.S. Benefit Concert', and is put out by a
label named 'Immortal'. The program length is 112 minutes.
Cheers, David 

Happy Holidays Everybody!
Be seeing you
---