January 6, 2005
Sorry to report some somber news to start off 2005. Not really Jeff Beck related except in that Roger Dean is an old mate of Jeff's and a friend to us here at the page and a British blues pioneer. We recieved this letter today from Tom Jennings and it's self explanatory. Please add Roger and his family to your prayers.

Roger Dean, former guitarist with, amongst others, John Mayall's Bluesbreakers and the Joe
Loss Orchestra, was involved in a near-fatal collision with another vehicle in Sunningdale,
Berkshire on Thursday 30th December 2004. He had been to visit his aged mother and was
accompanied in the car by his brother.

Details are sketchy at present but it is reported that the Audi driven by Roger emerged on
to the main road by the railway crossing and a speeding car, possibly a BMW, came round a
bend, crossed the railway lines and crashed into the side of Roger's Audi.

The car was spun around by the force of the impact. Roger was trapped in the wreckage by his
foot and had to be cut out of the vehicle by the emergency services.

Roger has suffered broken teeth, a broken arm, 4 broken ribs, spinal damage and possible
pelvic damage. He is in deep shock and is currently in St Peter's Hospital, Chertsey.

His wife, Pam, and his sons, Marcus and Matthew are trying to be very brave in the
circumstances but obviously this traumatic event has left the family distraught at the
thought of what might have been.


We ask all friends and fans of Roger to think of him and his family at this time of the
New Year 2005 and just to let everyone know that at some time in the near future 1 or
more benefit concerts will be organised to raise funds towards helping Roger and his
family to get through this most difficult time.

Musicians who would like to take part in this or these events please let me know.

Regards
Tom Jennings
51 Haslemere Avenue
West Ealing
London
W13 9UH
tomjennings.net@boltblue.com 
0208-840-4370
07788-914155

---
February 16, 2005
Sorry we been lax in updating lately. I (Bill) was out of town only to return to a computer crisis of sorts (ie crash). So I haven't been loving computers lately if you know what I mean.

Jeff's weekend in La La Land seems to have been a success. On Friday February 11th he performed at the MusiCares tribute to Brian Wilson at the Palladium. He received a 'standing O' for his instrumental versions of "Surf's UP" and "Surfin' USA". He also played on a suite from Brian Wilson's 'Smile'. We can point you some pictures of the event. The best (as always) are at www.wireimage.com, just search for "jeff beck". Also here is a blurb on Jeff signing a NASCAR hood that will go on auction for Tsunami relief. We also have this one.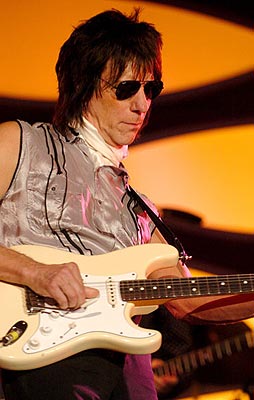 Oh and here's a clip from the show; http://www.grammys.com/gallery/video.aspx
We also guess Jeff must have had a good time with one of his best friends, Jimmy Page, who attended the show as well as the Grammys to receive, along with John Paul Jones, a life time achievement award for Led Zeppelin. The award was given prior to the show's telecast which in the words of John Mayer (and we agree) was 'sacreligious' but during the show there was a mention and brief camera shot of Jimmy and John.
Once again we want to remind you that Jeff is on Imogen Heap's latest release "Goodnight and Go" which you can get at; www.imogenheap.co.uk. We understand the song was recently featured on the Fox TV program "The OC". And don't forget Jeff's on Steve Alexander's latest as mentioned above. "Hal's Restless Nights" is a killer techo tune LOADED with Jeff's tasty licks. Also this from something you'll never remember. Last year or the year before we mentioned that Jeff was on Steve's theme he did for SKY TV's Euro Soccer League Games, turns out Jeff's contribution never made the final mix.
I guess everyone has heard that Chevy commercial with "Over Under Sideways Down" on it. We were all going 'alright' a few quid for the boys. I don't know, I heard it again over the past weekend, is it a studio cover?
People who have heard the Japanese remasters of Jeff's catalog are raving. Like the little cardboard covers too!
Vintage Guitar magazine has a little piece on Jeff this month by guitar transriber Wolf Marshall. And BBC 6 is currently doing a late night music series on "Guitar Greats" and a recent installment featured our man. Check out; http://www.bbc.co.uk/6music/shows/inthearchive/.
Lastly we want to point you towards the additions we've made to JBB #12 a short story about David Hadley's experience with Jeff at the John Lee Hooker tribute CD sessions with some cool pics and a quick Q&A with 'Rough And Ready' engineer Phill Brown. Also check out a new email we added to the "Emails" article. We recently received one from Gary Husband about his recent gig with Jeff at the UK Hall Of Fame Awards.
---
March 1, 2005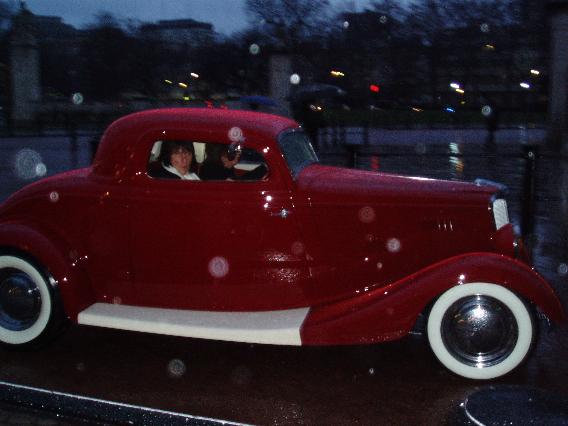 Jeff arrives at Buckingham Palace, March 1, 2005 via a hot rod (of course)!
Photo by Ralph Baker (in the rain!)
Must have been a memorable day today for Jeff and the boys. Jeff, Eric Clapton and Jimmy Page all met the Queen Elizabeth II at Buckingham Palace. I know this sounds a little corny but you know they all had to be thinking, "If Mom and Dad could see me now!". I don't really know if Jeff has ever met the Queen before. I'm pretty sure Eric has and Jimmy recieved an MBE recently so he has. Anyway, here's a pic and the blurb from the AP. By the way, we wonder if he had his Doc Marten boots as part of his emsemble!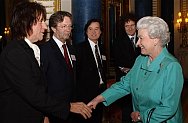 LONDON - Queen Elizabeth II met four of Britain's most famous guitarists Tuesday, asking them: "And what do you do?" Queen's Brian May, Jimmy Page of Led Zeppelin, Eric Clapton and Jeff Beck were all guests at a Buckingham Palace party to honor the British music industry.

"It's great to meet her and it doesn't matter at all that she did not know who we are or what we do," Clapton said. "I wouldn't expect her to."

Other guests included Charlotte Church, Cilla Black, Shirley Bassey, Roger Daltrey and Geri Halliwell.

In other news we got a great note from our friend Robert Knight last week. He attended the MusiCares benefit that Jeff played at a couple of weeks ago and went out to dinner with him a few days later. He echoed what we had already heard, that Jeff blew away everyone there. Before the show there was a cocktail party and auction to which Robert contributed 4 of his photographs. One, of Jeff and Stevie Ray Vaughn was bought by Dickie Bett's manager who walked up to Jeff's table and asked him to sign it. Robert then told us on the day of the Grammy telecast he ran into Brian Wilson in Guitar Center's green room while he was rehearsing with Bono, Velvet Revolver, Green Day and Stevie Wonder for their song for Tsunami Relief. Brian told Robert that his favorite part of the MusiCares show was Jeff's 'Surf's Up'. Photos from the green room rehearsal can be found here. Later that night Robert got a call from Jeff to join him for dinner where they were later joined by Imogen Heap and Billy Gibbons! The next day Jeff told him he was to go into the studio to work on a track for an upcoming Les Paul project that is in the works. We have since confirmed (not that we needed to) that Jeff did do the Les Paul session. However we've also learned that no decision will be made about it seeing the light of day until the final product is heard. Also heard there's a slight possibility Jeff will take part in the JVC Festival tribute to Les Paul in June.

Last update I posed the question whether that 'Over Under Sideways Down' Chevy commercial was a studio cover. Well, no sooner had a I posed the question I get an email from Greg Facca and John D'Agostini in Detroit. They are the audio engineers who work on Chevrolet TV and Radio advertising and they assured me it was indeed a studio cover produced by a production house they work with. I told them I thought that was the case, the vocals is what gave it away but whoever did the guitar nailed Jeff's Yardbird tone.

Speaking of the Yardbirds, Gypie Mayo left the group, his replacement Telecaster spanker Jerry Donahue. Also check out Jim McCarty's very stylish website at:http://www.jimmccarty.co.uk.
---
May 1, 2005
As you might have noticed, we now have a policy here at the page of only doing 'What's New' updates on the first days of months that start with the letter 'M'. This has cut down our workload appreciably and seems to making everyone here in the office much happier. So that's that and will see you next March. Hah, just kidding. Sorry about not updating in a while but a bunch of things happening where Bill works has put a crimp in things so let's get caught up.
First the Japanese tour dates courtesy of our friend Toshi....

July 1, Kanagawa Kenmin Hall, Yokohama
July 2, Tokyo International Forum, Tokyo
July 3, Tokyo International Forum, Tokyo
July 5, Tokyo International Forum, Tokyo
July 7, Yuubin Chokin Hall, Hiroshima
July 8, Koseinenkin Hall, Osaka
July 9, Koseinenkin Hall, Osaka
July 11, Century Hall, Nagoya
July 13, Koseinenkin Hall, Sapporo

This is great news....we should have 9 new high quality boots soon since the Japanese record everything! As far as the line-up we're expecting the Mondesir brothers again and don't know who on keyboards, we'll see.

Prior to these dates Jeff will appear the the UK Music Fest 'Meltdown' in late June. The press has said that he's scheduled to appear with Patti Smith, Flea and John Frusciante (Chili Peppers) to do a Jimi Hendrix tribute however we've since learned that Jeff probably won't appear with anyone except his own band.

Speaking of tours, a Yardbirds/Vanilla Fudge co-tour will kick off in Tampa, Florida June 8th.

Now, on to tours that never happened....the rumour of a Robert Plant/Jeff Beck created a lot of buzz on the street and we've since obtained a picture of Robert and Jeff on their'non-tour'.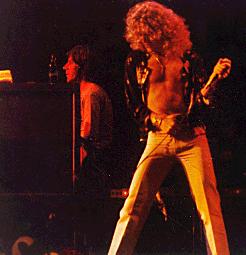 The track list for the re-issue of 'Truth' is out.

1. Shapes Of Things
2. Let Me Love You
3. Morning Dew
4. You Shook Me
5. Ol' Man River
6. Greensleeves
7. Rock My Plimsoul
8. Beck's Bolero
9. Blues Deluxe
10. I Ain't Superstitious
11. I've Been Drinking
12. You Shook Me
13. Rock My Plimsoul
14. Beck's Bolero
15. Blues Deluxe
16. Tallyman
17. Love Is Blue (L'Amour Est Bleu)
18. Hi Ho Silver Lining

Everyone's probably familiar with the added tracks. The second 'Beck's Bolero' is the single version with the backwards ending.

Billboard has officially listed Jeff's name on the forthcoming Capital Records Les Paul tribute CD. We mentioned earlier that Jeff did lay down a track when he was in LA for the Grammys but when we brought up the listing with the London office they told us it was premature as they still hadn't heard the final mix and signed off on it. We also forwarded on a question someone sent to us about the lack of a commercial DVD of Jeff on the market. The encouraging reply was, "that should be fixed in the future before too long."

Oh and almost forgot....new Donovan compilation CD's are due out May 9 on EMI UK. One will include an added track featuring Jeff on the song 'Stromberg Twins'. Donovan wrote the song for Jeff. Stromberg's are a brand of twin carberators.

In the previous update we at one point erroneously reported that Jeff arrived at Buckingham Palace in a 'deuce'. Our error was pointed out to us and after careful examination (thanks Alan) we are glad to report that we've narrowed down the car to a 34 Ford 3 window coupe. Now this may look like a 'deuce' but we've since learned that only a 32 Ford can accurately called a 'deuce'.

Lastly, a Gibson guitar signed by Jeff is being auctioned off in Los Angeles at the Hard Rock Cafe to benefit breast cancer research. The online auction began on April 24th and concludes on May 3rd. Visit www.juliensaution.com for details.
---