For those of you who follow our little endeavor, over the summer during the European tour we gave you setlists with the names of some of Jeff's new material. For the album although the songs are the same the titles have changed. 'Arab Hoot' has changed to 'Psycho Sam', 'La Veranese' changed to 'Angel's Strut', 'New Tech' changed to 'What Mama Said' (and will be the single release from the Lp), 'Fonn Mall' changed to 'Declan', the Bulgarian tune (referred to in the Batten Report) changed to 'Blast From The East' and 'Seven' changed to 'Hip-Notics'. Also on the release will be the song 'Another Place' dedicated to the late Cozy Powell.
Also for our Japanese and European fans, we have learned that a tour of Japan will start in the last week of May followed by another European tour (we're not sure at this time if it will include the U.K.) at the end of June.
June 6, 1999
Now that the Japanese tour is over we're learning that Jeff's June 2nd gig at the Toyko International Forum was video taped using a 15 camera crew. The show will be edited down to air as a one hour Japanese television special. Also, some more summer dates are trickling in....(late addition here, we think this is pretty much the complete list).

8/13	Knoxville,TN              Tenn.Theatre		
8/14	Atlanta,GA                Tabernacle			
8/15	Jacksonville,FL           Florida Theatre		
8/17	Pompano Beach,FL          Pompano Beach Amph.*
8/18	Tampa,FL                  Ice Palace*
8/20	Myrtle Beach,SC           House of Blues		
8/21	Norfolk,VA                Boathouse			
8/23	Mansfield,MA              Tweeter Center*
8/25	Wantaugh, NY              Jones Beach Theater*
8/26	Holmdel, NJ               PNC Bank Arts Center*
8/27	Baltimore,MD              Pier Six Concert Pavillion			
8/28	Camden, NJ                Blockbuster-Sony Music Entertainment Center*
8/30	Syracuse,NY               New York State Fairgrounds*
8/31	Stanhope, NJ              Waterloo Villiage*
9/2	Buffalo,NY                Darien Lakes Performing Arts Center*
9/3	Toronto,Canada            Molson Amphitheatre*
9/4	Grand Rapids,MI           Van Andel Arena*
9/8	Cleveland,OH              Flats at Nautica Stage*
9/9	Clarkston,MI              Pine Knob Music Theater*
9/10	Tinley Park,IL            New World Music Theater*
9/11	Minneapolis,MN            Northrop Auditorium		
9/13	Winnepeg,Canada           Walker Theatre		
9/15	Edmonton,Canada           Edmonton Jubilee Auditorium			
9/16	Calgary,Canada            Calgary Jubilee Auditoruim			
9/18	Vancouver,Canada          Queen Elizabeth Theatre 	
9/19	Spokane,WA                Opera House			
9/21	Puyallup, WA              Western Washington Fairgrounds				
9/22	Portland,OR               Civic Auditorium
9/24  Concord, CA               Concord Pavillion		
9/25	Las Vegas,NV              House of Blues	
9/27  Salt Lake City, UT        Kingsbury Hall	
10/9	London,England            Shepherd's Bush Empire		
10/10 London,England            Shepherd's Bush Empire
* indicates co-headline with Jonny Lang

A quick note...at one time we also had a tour schedule that included 'tba' dates for Concord, CA, Salt Lake City and Denver but we haven't gotten any more info on them so we don't know.

It seems that Steve Alexander hasn't had any down time this year. According to a fan who spoke with him after the Oakland show, when he returned to the UK after the first US tour he was recording with Duran Duran prior to taking off to Japan. Also, Annette Carson's 'Jeff Beck, Crazy Fingers' is selling quite well in Britain. At the beginning of June it was #3 on the Helter Skelter's (England's leading rock music bookstore) book list.
---
August 18, 1999
A quick apology to all for not updating in a while, been on vacation, family stuff, yada, yada, yada. Anyway we do have a lot to report. Let's start with some pre-tour news. Seemed while the bunch were holed up in London practicing for the tour last month, Gibson guitars hosted a jam/party with Scotty Moore to announce the new Gibson Scotty Moore guitar. Both Jeff and Jimmy Page showed up to the event and VH-1 aired a short segment of their appearance. In it Jeff and Jimmy were grinning ear to ear as both had gone there to pay homage to Scotty. Jeff was first asked what he thought of it all, he answered, then took a moment of silence as Jimmy thundered in unable to contain his excitement any longer, Jeff just stared at Jim eye to eye and then shouted 'Shut Up!'. Very funny stuff as poor old Jim, hardly the most talkative of characters, when he does speak Jeff shouts at him to shut up.

Jeff is on the cover of the latest Fender 'Frontline' magazine with some good interviews. Inside is a picture of Jeff's new 'Strat Fink' guitar made by the custom shop. Those of you old enough to remember the old 'Rat Fink' logos made by Big Daddy Roth in the 60's will get a kick out of this. His son painted one of Jeff's rods on the guitar...'Rat Fink' looks like 'Jeff Fink' driving, a Strat neck for a gearshift! Jeff loves it...he's a big fan.

Here's a funny thing that happened during the last leg of the tour in Texas. While there local guitar maker Ron Frey met Jeff backstage and asked Jeff if he could build him a guitar, he makes very good Strat knockoffs. Jeff's reply? "Actually what I really need right now is a new washing machine."

Our bud Eric Mirrell actually got backstage for the Conan show with Jeff on it. He and 20th Century Guitar's Larry Acunto were guests of The Max Weinberg 7's guitarist Jimmy Vivino. Even though he is on hiatus from the show, Max was in fact at the taping as well Pat Benatar's ex-guitarist Scott Sheets. As Jimmy Vivino put it, "It's a big day around here.". All got to hear three run throughs of 'Psycho Sam' during one in which the BBC's Ruby Wax (also on the show) got on stage and shimmied and danced next to Jeff. For those of you who saw the last leg of the tour, you'll remember that 'Psycho Sam' had that sample in it of 'Oh Behave' from Austin Powers, well that is gone now as you can hear on Conan (and on the present tour) and is replaced with a sample of Randy Hope-Taylor screaming at the top of his lungs...'Silence!!' We can also report from Larry Acunto, who did get to go into Jeff's dressing room with Jimmy Vinino, that Jimmy and Jeff did jam a little in there trading Scotty Moore licks.

Lastly, we just got back from the Pompano Beach show and here's our report on that, we're not going to do a whole article on it this time. First of all the show was outside, totally outside, no roof at all for the audience and it was raining, boy, was it raining. During Jonny Lang's set, which was great by the way, it wasn't just raining, it was pouring. Even with paunchos on we couldn't have been wetter if we were sitting in a swimming pool. And lightening, lots of lightening. The crowd was kind of going 'oooh' and 'aaah' like it was a fireworks show! Jeff came onstage a little before 9PM and the rain let up a little by the third song but came back towards the end of the show around 10:45. If there ever was a testament to the loyalty of Jeff Beck fans this had to be it. Ninety percent of the sell-out audience stayed through one hell of a show through conditions that were tenuous at best. Here's a setlist that is really from memory, it was impossible to write anything down!

What Mama Said - (There was no Rice Pudding intro)
Psycho Sam - (With the new sample)
Brush With The Blues
Savoy
Blast From The East
A Day In The Life
Declan
THX138
The Pump
Rollin' and Tumblin'
Cause We've Ended As Lovers
Space For The Papa
Rice Pudding/Going Down/Jack Johnson (M. Davis)ed.
Angel
Even Odds/You Never Know
Slingshot
(enc)
Where Were You
Big Block

I missed some songs in here but thanks to Frank Ferrigno I think this is right. It was a pretty wild seen. At several points, Jeff would be looking down playing a riff and the crowd would go nuts. What everyone was actually yelling about was this incredible cloud to cloud lightening that was shooting across the sky. It was funny too because their stage lighting show had fake lightening in it during the THX138. Towards the end of the show Jeff thanked the audience for hanging in there and said "I don't know how you put up with it!"

After the show we did get back to talk to Jennifer Batten and briefly to Steve Alexander. Jeff blew off the aftershow meet and greet which we've heard he's done at every show so far on this tour. We asked Jennifer if she saw that lightening from the stage and she said "Oh yeah". I only had a few questions for her one of which was 'What was that slide thing I saw you using on Conan and tonight during 'Psycho Sam'? She told us it's actually a finger exercise gismo called a finger pumper or something. She uses it because it's easier to get up high on the neck, so don't looking for one of those in a music shop! We had heard that Jeff had finally discovered the internet and found out he's actually seen our page but wasn't very interested (big surprise there) but when he found he could find hot rod parts on the internet he went nuts. "I've been looking for one of those for years!" kind of thing. The only other news we got from JBII is that following their two dates at Shepard's Bush Empire in October, Jeff and company are scheduled to appear on Jools Holland's British TV show. And speaking of TV, that Japanese TV show of Jeff in concert over there we told you about is airing there on August 19th and is 90 minutes long. We imagine copies will be making to the states in no time.
---
September 1, 1999
A few notes here to keep you all up date. The tour continues and here are few 'Jeff sightings' reported in to us. Our friend Kip Alkema, a sound engineer, befriended Jeff's main sound guy Chris Hill who took him back into Jeff's dressing room in Tampa. Kip gave Jeff an indian necklace which he latched onto and called 'me mojo'. Stay tuned for a full report from Kip. Ed Chapero, who gave us our exclusive report on Jeff's London office last year, gave Jeff a copy of the children's Lp 'Sparky's Magic Piano' which has a talk box, magic bag type of effect on it (the first recorded example we know of). Jeff remembered it from his youth and it brought back memories of his mother and his piano lessons.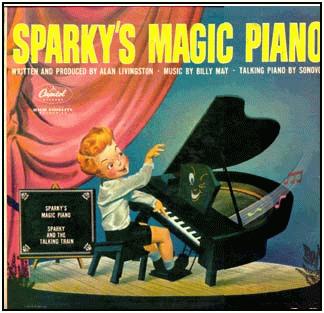 Sam Stricklin saw Jeff at an aftershow in Knoxville. While there, somebody else in the group gave Jeff a picture of a yellow duece he had built. Jeff went nuts, saying to his roadie, "He's nicked my car!"
Lastly, anyone checked out ebay.com lately? Search for "jeff beck" and there is a ton of stuff on there....kind of fun to look through it.
---
October 21, 1999
It's been pretty quiet since the end of the tour so not much to report. We've heard the date at Shepard's Bush Empire went well and we're hoping to put on a fan report soon. Also as our British fans saw, Jeff and company appeared on 'Later With Jools Holland' Saturday, October 23rd on BBC2. The show was taped on Monday, October 18th and they performed 'What Mama Said' and 'Brush With Blues' and there was an interview as well. And...we just got in a report on the interview from our bud Richard Mackay who writes. "A short interview was conducted with just Jeff and Jools. Jeff looked embarrassed when Holland gave him all this praise about being a living genius etc. You get the impression that Jeff really hates these interviews. Holland brought kup the old chesnut 'Hi Ho Silver Lining', Jeff bluntly said, "Yeah what about it!" Holland said it's still played at all the parties etc. - Jeff cut in with "What sort of parties to you go to?" Brilliant stuff, Jeff mumbles that he is never going to play that again - then half smiling started to sing a line from it.

Jeff appears on ZZ Tops latest 'XXX' only it's not as you would expect. Jeff sings on the cut 'Hey, Mr. Millionaire'! In an interview appearing in the Washington Post, Billy Gibbons said, "We saw Jeff play in New York and backstage I extended the rather brave invitation for him to consider performing on the ZZ Top work in progress. Mr. Beck explained that he generally doesn't appear anywhere but on his own records. (Huh?)ed. But when I explained we didn't want him to play guitar but to sing, he said, 'Well, I don't sing. It's a bloody brilliant idea; let's do it!' I said, 'We'll record your vocal in a Texas hotel room just like Robert Johnson.' And that's just what we did."

Our bud Eric Mirell has written an article for the November issue of Twentieth Century Guitar featuring Jennifer Batten. It's got some tour photos and info so pick one up when in comes out in few weeks. There is also a new Jeff Beck guitar book out called 'In Session With Jeff Beck'. It's a package really that contains a CD with demo tracks, background tracks, solo demos (full and slow speed), and background music for practicing and a book with six classic tracks. You can find it at www.musicbooksplus.com/books/wb257.htm.

Jeff's music can sometimes pop up in the most unexpected places....it has been reported that American figure skater Michelle Kwan has been using Jeff's version of 'A Day In The Life' in her new short routine (whatever that is). We hear it's a great routine and with that track it must be.

One last thing, we check out ebay.com every so often for 'jeff beck' stuff and sometimes it's pretty amazing. Several weeks ago someone was auctioning that Japanese pro shoot we told you about a while ago. The item went for $95 with about 29 bids, yow!
---
December 12, 1999
Still pretty quiet, we guess everyone is hunkering down for the holidays, but here are a few things we've come across....nothing earth-shattering. Firstly, 'Jeff Beck' was a recent answer on the ever so popular ABC game show 'Who Wants To Be A Millionaire'. It was the wrong answer, but an answer. The question was, 'Which of the following musicians was a founding member of The Rolling Stones? Answers were Brian Jones, Jeff Beck, Jimmy Page and I can't remember the fourth.

I tell you I've listened and listend to that ZZ Top cut 'Mr. Millionaire', that is supposed to have Jeff singing on it but I just can't hear him. He's buried so deep in the mix you would need Bruce Willis and the Armageddon crew to drill it out.

Lastly, in scouring the news groups for info on JB I came across a Brit who had taken some video frames off the 'telly' during Jeff's recent appearance on Jools Holland's show. So, thank you Steve Cobham, because I nicked them off your site so I could share them with everyone.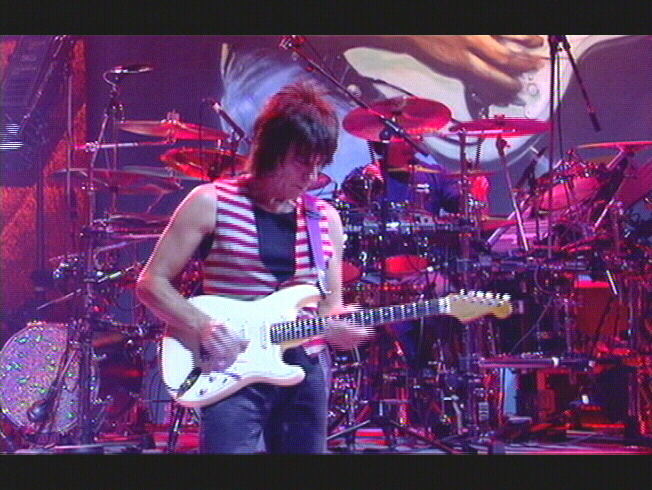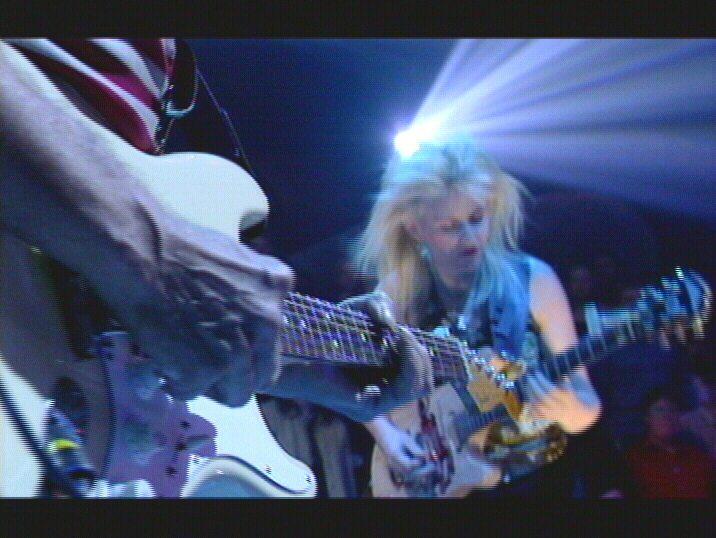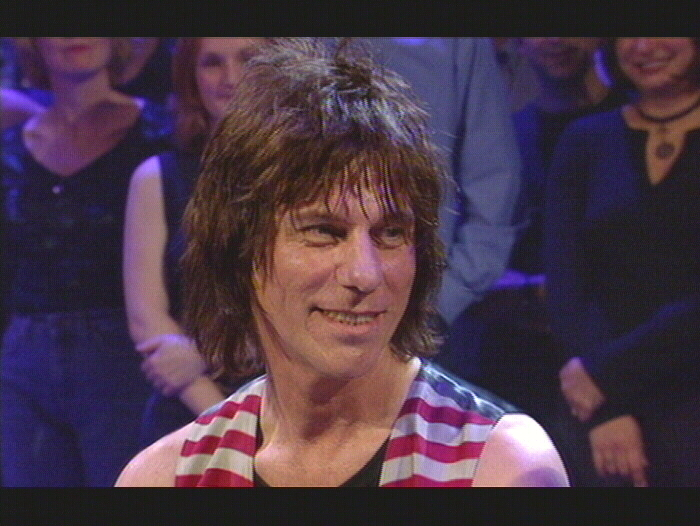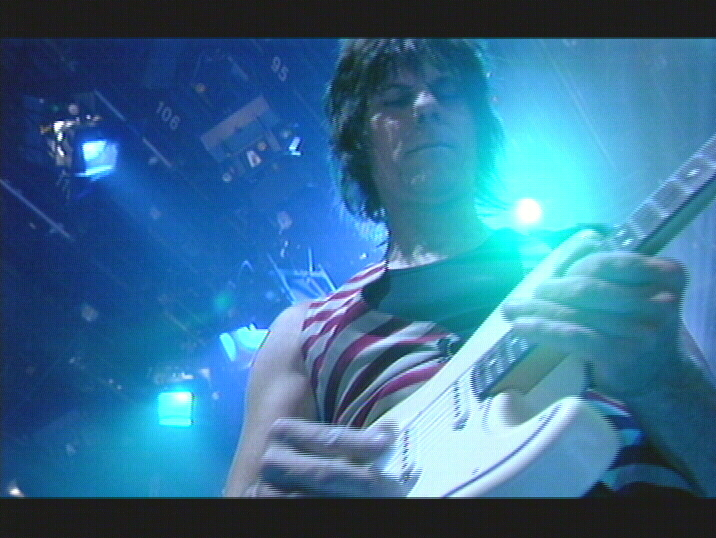 Be seeing you...
---