A.N.Other Jeff Beck Photo Gallery
---
Beck, Bogert & Appice Era
Photos by Bill Armstrong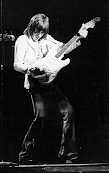 Jeff with BBA at the Aquarius Theatre, Boston, MA, October 24, 1972
---
'95 Tour Pix
Photos by Dick Wyzanski and Bill Armstrong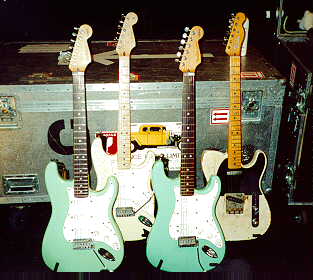 Tools of the trade for the '95 summer tour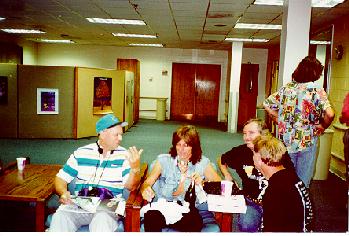 "Our Excellent Adventure" Dick Wyzanski, Jeff Beck, Bill Armstrong, Steve Rolley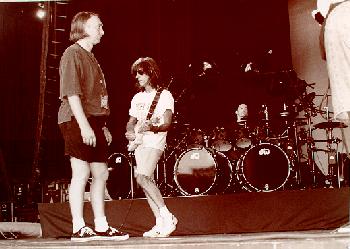 Soundcheck, guitar tech Andy Roberts, Jeff and Terry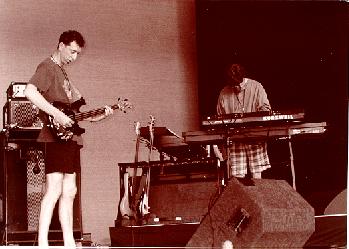 Soundcheck, Pino Pallidino and Tony Hymas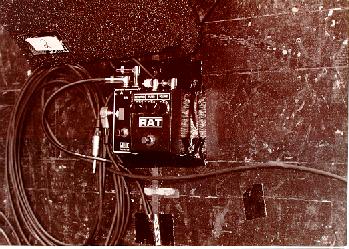 So, how does Jeff get that sound? Some massive effects rack right? Wrong, this is it. A Pro-Co Rat into an A/B switch which feeds either a 50W MKII Marshall or a '59 Reissue Bassman (which he doesn't use much), he also has onstage matching backup rigs. Delays/echos are added at the mixing board. I asked Andy Roberts, 'How does he do it?' Andy put his hand over his heart and said, 'It all comes from here.' Later in the tour he added a Boss Chorus to this setup and used it really only on "People Get Ready".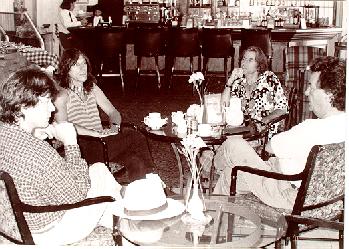 A morning after opening night get together. Tony Hymas, Jeff, road manager Alan Dutton and manager Ernest Chapman.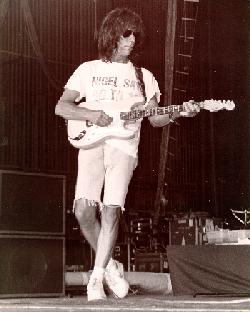 Soundcheck, check out Jeff's "NIGEL SAYS GO TO 11" T-shirt!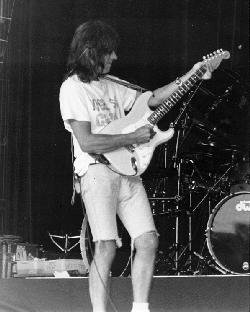 More of the same.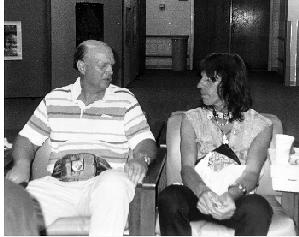 Dick Wyzanski with Jeff
---
Guitar Shop Tour, Rome, April 25, 1990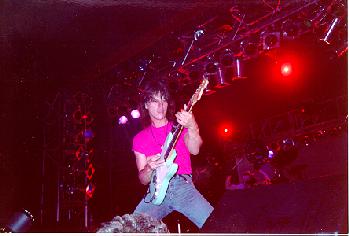 Photo by Sergio Pentimalli
---
Jeff Beck Group At The Boston Tea Party - May 7, 1969
Check out the Plush Amps, gee, you don't think it's loud do ya?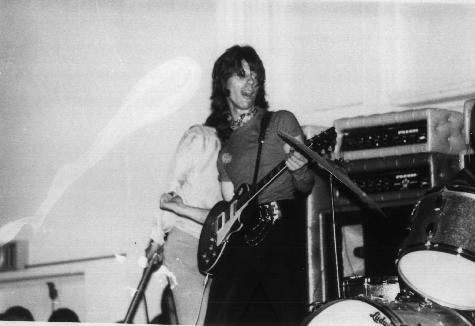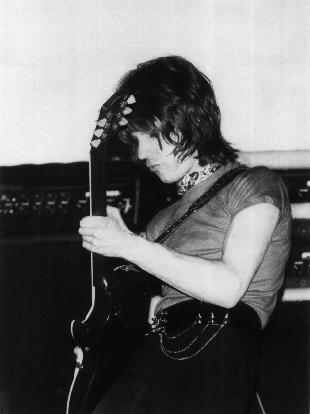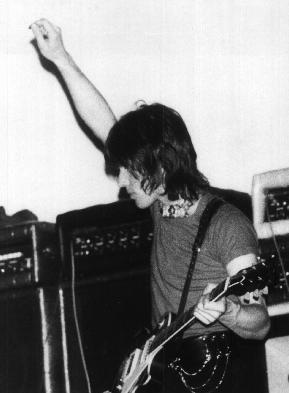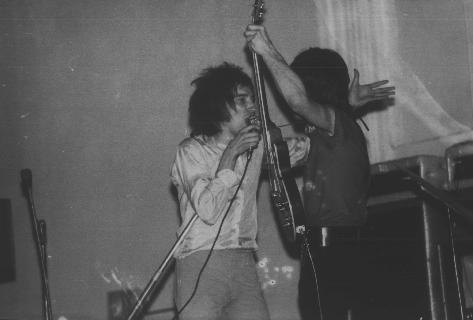 Courtesy Donald McClellan
---
Jeff presents Les Paul with an 82nd birthday present, June 9, 1997, at The Irridium Room, NYC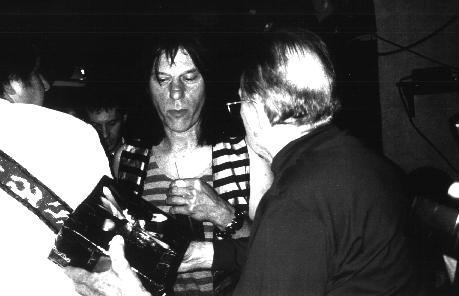 Courtesy Donald McClellan
---
Jeff Beck in Jaap Eden Hall, Amsterdam, July 5th, 1979. On tour with Stanley Clarke, Simon Phillips and Tony Hymas
Photos by Theo Lagarde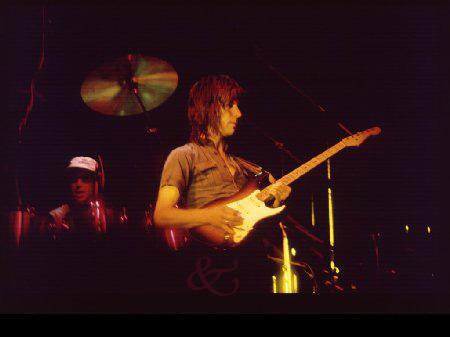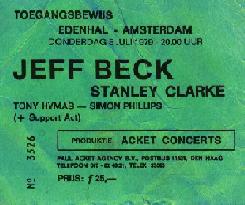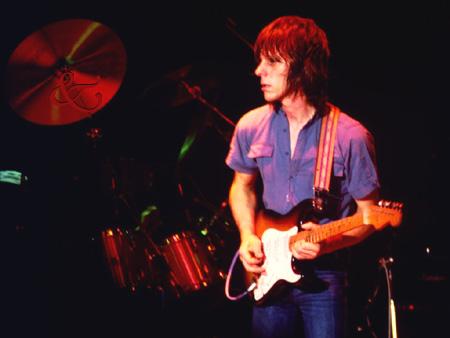 ---
The pictures (as promised) of the Beck/Ligertwood sessions
Courtesy Alex Ligertwood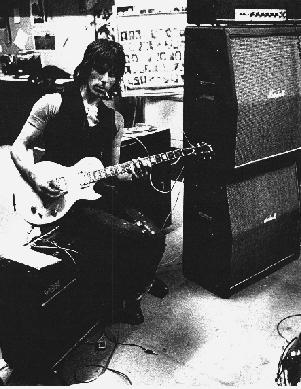 Yes, Jeff did use a Les Paul during the early Rough And Ready sessions. Also a nice collection of amps.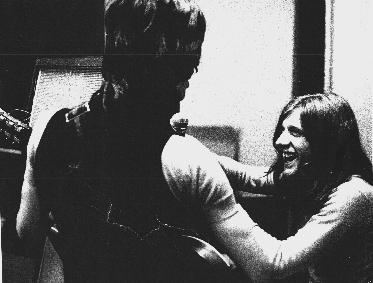 Jeff with Alex Ligertwood
---
Jeff Beck in Rio De Janeiro, Brazil, October 17, 1998.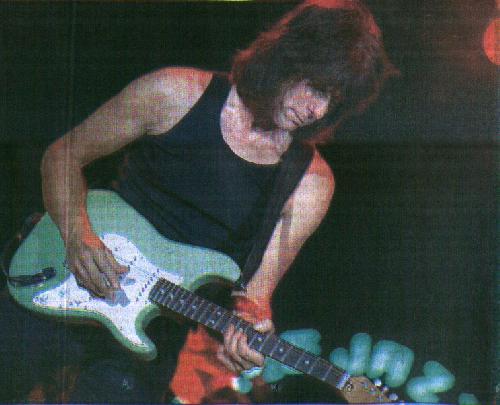 Jeff on stage

Jeff chillin'
---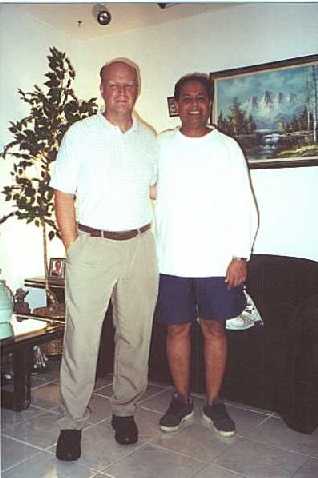 Dick and Clive Chaman 5/20/00
---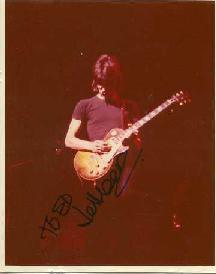 Fillmore East, Courtesy Ed Chapero
---