October 8 Sunday Paramount Theater, New York, NY *
---
....And They're Off...
July 28th
"You're cooking with gas, as they say" was the prophetic understated phrase left on my answering machine by Lisa from Jeff Beck's office in London. I was to meet Andy Roberts (Jeff's tech) at the stage door at the Wolftrap Amphitheater in Vienna, Virginia at noon on July 31st. God bless you Ralph Baker. The family and I were off on our two week holiday which would include a most memorable day and evening with Jeff Beck and crew.
July 30th
After a 14 hour drive from Florida in a rental car, which included our luggage being misplaced temporarily by the rental car people, (Jeff, you almost got your wish about your stuff. Hah.) We arrived at the Holiday Inn at Tysons Corner near the venue.
July 31st
That morning we were greeted at the hotel by my mate Bill Armstrong who had flown in from Miami to join me. At breakfast after playing him an exceptionally good version of "Goodbye Pork Pie Hat" from Stuttgart, Germany in '90, Bill recounted to me a surprise meeting the day before. He had gone into D.C. to the band's hotel (Wyndham Bristol) the previous day to see if anybody was about. A sole Englishman in the bar gave Bill the impetus to muster enough courage to inquire, "are you Ernest Chapman?" (Beck's senior manager). A surprised Ernest replied affirmitively and when he found out that Bill was to meet me Ernest exclaimed, "ah the famous Dick Wyzanski." After finding out particulars about me from my life long friend Bill, I'm satisfied that Ernest didn't think that I was a raving lunatic. Little does he know...Ernest confessed to Bill that he wished there was more fresh product out on Jeff to support the tour. (Epic has packed a best of Beck CD, ho hum, nothing new). the subject of "material" gave Bill the opportunity to see if Ernest was aware of the quality of collectable, albeit illicit Jeff related stuff there was in circulation especially Guitar Shop tour videos. Ernest needless to say was astonished. During another chat with Ernest the ensuing day, the subject of the Paris Jeff/Playboys show came up and when Bill told Ernest he had heard the entire show on tape, Ernest's eyes almost popped out of his head. Also discussed were Beck's periods of inactivity to which Chapman asked "where does Dick get material to write about?" Bill informed him that I write about a lot of on going session work and interview past Beck bandmates. He mentioned the Italian star Zucchero session to which Ernest couldn't believe that I had known about it since it had only been released in Italy and France (actually David Terralavoro had sent me a notice about it through Kenny Sexton and I got the name of the record company from 'you know who' and off to my long distance telephone bill I went.) Anyways Bill ascertained from Ernest that Jeff was happy with his state of the art earplug/monitor system allowing him to hear the mix of stage sound without loud volume thereby not aggravating his tinnitus. All were very positive about the prospects of the upcoming tour.
July 31st Noon
We arrived at the posh posh outdoor countryside "Wolftrap Farm For The Performing Arts" venue at the prescribed hour and were indeed heartily greeted at the stage door by Andy Roberts. Andy apologized that they weren't quite ready for us to take pictures because Santana's road crew were running behind schedule. We were then told to come back at three pm. I asked Andy if all of Jeff's guitars would be there to photograph. He replied, "All of them except 'Small Dick', which Jeff always keeps with him." Realizing that we were a bit confused by the name, he quickly added that 'Small Dick' was the familiar surf green Stratocaster with Jeff's signature neck that Jeff had Little Richard inscribe his name on at a session (Bon Jovi). Three hours to kill so...you guessed it over the the Wyndham Bristol Hotel in D.C. for some more reconoitering and to check me in for that evening.
1 PM
No one was at the bar or so it seemed. About ready to leave for a more inexpensive lunch, Bill peered into the reclusive but casually elegant dining area and poked me whispering, "that's Pino Pallidino (bass player)". I upped Bill with a longer stretching neck and retorted, "and there's Terry Bozzio, he's got black hair now." Simultaneously we both took the next step, peered, and sure enough there was from a backview that familiar mop top. "And there's Jeff!" Not wanting to barge in on them we opted for the ambush as they strolled through the bar on their way back to their rooms. "Hey Jeff, Dick Wyzanski" as I thrust out my hand. With not quite the mechanic's vice grip he gave me after the first night at Avery Fisher Hall in New York City in '75, he nonetheless gave me a hearty one as he burst out laughing and exclaimed, "Oh yeah, Dick Wyzanski." The laughter must have stemmed partly from the fact that he knew I was coming and partly from my touristy appearance complete with Florida Marlins baseball cap and art deco fanny bag slung around my waist. Jeff then looked at Bill's shirt which was the extremely rare Crazy Legs Lp cover on front and the ad for the one show Paris venue in '93 on the back. I had given the shirt to Bill for Christmas that year. "Nice shirt." said Jeff. I gave Terry regards from Jennifer (Batten) as she had lunch with him while they were doing seminars in Texas and I wanted to see if it would get a reaction from Jeff. Bingo. "Jennifer, Jennifer Batten," Jeff asked. I said yeah and he said, "she's great." Knowing that this was the first night of the tour we said that we would see them later at the gig and then we split to eat lunch.
3 PM
Andy greeted us again back at the Wolftrap, gave us our as he called them 'Stickies' (backstage passes) to put on and gave us the run of the stage areas. We told him he need not worry about us as it was obvious it was starting to be a pressure cooker time for him to get Jeff's stage setup ready on time for the soundcheck. Meanwhile, Santana was actually doing his own soundcheck. Bill and I took photos of Jeff's backup guitars and stage amps. The two amp setups were an old Marshall head with a 4X12 Trace Elliot speaker cabinet and a '59 reissue Fender Bassman (with matching tweed flight case). Each of those rigs were backed up by identical units. The only in line devices on stage were a Pro Co Rat distortion box and an A/B switch to switch between the Marshall and the Fender. Any delays or echos were added at the front of house sound board. It all looked like a club setup, but when you're Jeff Beck, there are endless sounds that can emit from that humble setup. Backup guitars were a surf green Jeff Beck signature Strat (with the double gold lace sensor in the bridge and the push button), an old white Strat with a maple neck, and an old Telecaster with an Esquire neck.
4 PM
One by one they started coming downstairs to pass the comfortable musicians lounge where we were waiting. First was Tony Hymas who I quickly cornered for an autograph and told him truthfully that I thought his keyboard solos on "People Get Ready" from the Guitar Shop tour were among the very best that I've heard. He replied, "Oh, the ones on piano?" I nodded and then proceeded to tell him that I finally procured a copy of the second P.H.D. Lp (the one that Jeff did a track on). "Yes, that was quite sometime ago" was the response of Tony who by this juncture was looking for the first available hole to crawl into. Nevertheless he is an affable chap and a pleasure to talk to. Nex to saunter by was Pino Pallidino, recognizing us from the hotel he gave us a big smile and you could tell he would be a big addition to the band with his enthusiasm alone. Terry came next and patiently signed an autograph. Suddenly downstairs came a spry Brit with sunglasses. I recognized him from years ago onstage handling Jeff's guitars. This was Alan Dutton. Al was surprised I knew who he was and I said, "I've heard stories." He laughed and then signed my Beckology box. Ernest Chapman joined the parade and finally after all these years we met and shook hands. A bit reserved at first he would open up to me later in the afternoon. We had a wonderful conversation about the record business and how it relates (or doesn't) to Jeff. Ernest told me that with Jeff's low budget it takes him far less in record sales to achieve the kind of results that someone like the Rolling Stones achieves. (Are you reading this Epic?) Chapman even introduced me to Mitch, the tour promoter as if I was part of the gang. I in turn filled Ernest in with the detailed history of how the organized Jeff Beck fan movement grew inspite of itself (Jeff) over the years.

Finally Jeff showed up looking quite the fit 51 year old with calves bulging from his shorts, sinewy forearms and of course the famous brown mop top. For added effect (or to hide, hah) he was sporting dark wrap around shades. Always a lover of t-shirts, he had on one that said 'Nigel Says Go To 11!'. This is a reference to the Nigel Tuffnel (Spinal Tap) video commercial for Marshall amps that you can 'turn up to 20'. Jeff went straight to his dressing room and that's all we saw of him for the time being except for a brief interlude where he wandered out to see where everyone else was and laughed, "They've all boogered off and left me."
5 PM
We heard some rhythm chops to "Guitar Shop" coming from the upstairs stage area. Racing upstairs we were pleasantly surprised to see it was Andy giving Jeff's axe a trial run. I think from his red faced reaction we embarrased him when I told him he was no slouch himself on guitar. (Incidentally, Andy is also Steve Winwood's guitar/keyboard tech.) Guessing that soundcheck time was at hand Bill, my family and I walked around outside to the seating area of the amphitheater. While Bill and my family opted for anonimity, I characteristically said to myself what the hell and proceeded to plop myself down front row right center, right in front of Jeff. I mean this is never going to happen again in a million years right? After the usual sounds of bands getting warmed up, Terry laid down a familiar slow thumping beat and Jeff went into "Two Rivers" hitting every harmonic perfectly. Gently coaxing the whammy bar for added effect, waving his fingers with stretches and vibrato like he was the new kid on the block, nothing else seemed to matter except the next note. No audience noise, there was none except for us. No distractions. Nothing between the band, Jeff and me except the music. Heavenly. On "Where Were You" Jeff embellished some of the phrasing with little extra bends and trills. The highlights of the soundcheck for me were "Syretta" ("Cause We've Ended As Lovers"). Jeff calls it Syretta and even referred to it at the sound checks by that name in reference to Stevie Wonder's former love and "Diamond Dust" which featured Pino mimicking Jeff's hook line with his sliding fretless bass after Jeff's first verse. After doing "Diamond Dust" both at the soundcheck and at the first shows, the band dropped it from their set list so I feel extra fortunate to have been there for both. Photographer Robert Knight who has been to many a Jeff soundcheck, remarked to me that after having desribed Jeff's soloing during the practice that I should consider myself fortunate because Jeff rarely solos a lot during soundcheck. "He knew you were there" Robert declared. After "Diamond Dust" the soundcheck was abruptly halted by union stage hands who ordered the stage dark until after mealtime.
6 PM
Andy and Alan got us into eat with the rest of the stage crew so were fed a sumptuous steak and swordfish meal with all the trimmings. Pino was also there so I being totally relaxed by this point decided to pry a little bit to see if the archives were missing any bit of minutia. I complimented Pino on the C&A German clothing store commercial he, Jeff and Jim Copley (UPP, Tears For Fears) had done. I then asked him if anything else existed from that session. He replied that was pretty much it and that session was geared towards doing just that, a 55 second commercial.
7 PM
Sensing that showtime was near, Bill and I went backstage to get a few last equipment photos. While I concentrated on the amps (even as the opening act Bone Poney was getting underway) Bill luckily got a shot of all four guitars so we got a good shot of 'Small Dick' and all the backups together. Andy Roberts meanwhile was flailing away at a string change at his portable 'Guitar Shop'. No one knew more than he that showtime was close at hand.
7:30 PM
Al Dutton passed out our complimentary tickets (tenth row center) and we rushed outside to see the show. Sitting next to us by the way was Bruce Springsteen's guitarist Nils Lofgrin who appeared briefly in the VH1 video in Jeff's dressing room in a short scene from the Beck/Santana promo interview/mini chronology. Stage darkness. Then light. The band surreptistiously glided to their instruments. A keyboard and bass sliding downwards drone. The rumblings of percussion. Then it happened. Piercing wails waking up any spirits who dared think that Jeff was for artistic dead. Bends reminiscent of "Frankie's House" cried out in anguish as Jeff confidently strolled to center stage. He was wearing those same sunglasses and sported a black/gold horizontal striped v-neck vest. Terry Bozzio hit the rythmic cue and Jeff ran through the rest of the number "Hurricane" which was the sole song on the tour that was new from Jeff's forth coming world music style Lp. Totally stunned by what their ears had just witnessed the audience barely had a chance to marvel at the new composition before the familiar opening sequence of "Star Cycle" began. Now this was the type of material that would really test Jeff's new stage setup and it worked like a charm. The mix was perfect and Jeff's guitar cut through the sound like a razor sharp knife. Jeff had his ear monitor wired down through the back of his hair almost unnoticable except for an occasion or two when Jeff would turn up of down the volume of the receiver which he wore behind him on his waist. Especially noticable on "Star Cycle" was Jeff's playful low staccato lines designed to play off of Pino during Tony's solo. Both Pino and Jeff looked over at each other and laughed. The band received the first of three standing ovations after "Big Block" which was played with fierce intensity, especially the powerful climax. "Behind The Veil" was slowed down a bit and the reggae accents more pronounced for this tour. It gave Jeff a chance to expand the middle interplay with Terry Bozzio more than just the rapid fire Cliff Gallup style muted pulloffs Jeff did on the '89 tour. "You Should Know" was resurrected from the "There And Back" Lp and featured some really off the wall swoops from Tony Hymas' keyboards. "Where Were You" was timeless as Jeff hit every nuance to utter perfection. By this time Jeff had pulled off the dark sunglasses and sheepishly waved to the audience. As if there was any doubt about his being accepted back by his loyal American audiences. "Where Were You" segued into "Stand On It" which also was ever so slightly rearranged towards the end to give some added chord building to the finish. "Freeway Jam" added a bit of comic relief as the band abruptly ended the song instead of going through the usual seven note ending or expanding it into "Definately Maybe" with that same seven note finish as on the '75 tour. "Goodbye Pork Pie Hat" was without a doubt the highlight of Jeff's own stage offerings this, and indeed many other nights on this tour. Done in the same trade off traditional/blues phrasings he had done on the '89 tour, every bend, wail, whammy bar maneuver and finger pull known to guitar kind was laid out in spellbinding, breathtaking fashion and garnered the second standing ovation of the night. At this point "Savoy", "Sling Shot" and the title track from "Guitar Shop" were also whipped off with snap precision and generous amounts of Jeff's solos. "Diamond Dust" was just as appealing on the show as it was during the soundcheck and Jeff didn't repeat any phrasing of any of the solos from before and again it was nice to hear something melodic from Pino on fretless bass. "Blue Wind" signalled the beginning of the end of the set and it hasn't sounded so good since the Jan Hammer/Jeff alliance days of the mid-seventies. Always a final release of energy from Terry, there ain't nobody that can beat on those skins with the tenacity and conviction that he does. After the third standing 'o', Jeff came up to the microphone for the first time during the whole show. (He used to banter with the audience but now I think he's just glad that they still like him.) He introduced the band, then the characteristic "God bless you", he and the band exited the stage. After a few moments to let the wild crowd response sink in and to let Andy hustle back onstage to do an amp status check, the boys returned to the stage. Jeff wasted no time laying down the opening lines to "People Get Ready". How anybody could redefine their own redition of a classic like that is mind boggling but Jeff soared through it with ease inverting licks, pulling bends as never before and easing up to allow Tony Hymas to further enchant with his own piano interpretations. A hugely appreciative crowd gave their thanks and off stage again went the band as victorious as ever.
9 PM
Helter skelter back down to the musicians lounge to watch the different band members go back to their dressing rooms and of course to wait for Jeff. Jeff went quickly back upstairs to the production area to check out Santana's opening number and then just as quickly returned to his dressing room with a bottle of champagne. Pino was nowhere to be seen. Tony came out and upon seeing a small crowd in the lounge decided that the dressing rooms were more to his liking. Terry Bozzio emerged and was really super with all that had come to see him and/or Jeff. I gave Terry my Beckology box to sign and he said, "Wow, I didn't know Jeff had a box set out. Am I on this?" Assuring him that he was I handed him a tape of the Karizawa '86 show, all cued up to the all star jam portion and told Terry that if Jeff does at some point want to jam with Carlos, the tape would give the band some idea of what it sounded like the last time Jeff and Carlos did jam. Terry smiled, said "Thanks a lot" and went back to his dressing room.

Jeff suddenly came out and headed upstairs but Al Dutton came by and reassured us, "Don't worry Dick, he can't go anywhere. I've got the keys." Shortly thereafter Jeff came back down the stairs with Ernest Chapman and the same bottle of champagne. (A bit more empty as you've probably guessed.) Another long time fan and colleague, Steve Rolley from North Carolina had made himself known to me at the show and I got him backstage for the after show festivities. Jeff walked past him first and instantly remembered him after Steve had said that they had met in '75. "Yeah, I remember you from the hotel at the Houston airport in '75." Jeff said. "You're the one that had the 202 angle plugs." (Chevrolet small block heads, remember Jeff builds hot rods.) Never let it be said again that Jeff has a bad memory. Quite the opposite, a selective memory would be more appropriate.

I then shook Jeff's had and thanked him for a great show. Then I introduced him to my wife of whom I said to Jeff, "she's the one that puts up with all this fan insanity." As if picking up on my cue, she added, yes, it was crazy of me calling and writing all over the place to which Jeff responded, "Well now that's what makes the world go 'round isn't it?" Realizing that he had opened his world to me for a day, Jeff wasn't about to let me off the hook without having some fun with me. "You know all about Cliff right?" I said, "you mean Cliff Gallup? Sure." "Yeah Dick, you know everything." He then asked how many people read the bulletin and then extended the question with "all six or eight people?" Jeff Beck was amazed when I told him that over a thousand in North America and several hundred worldwide avid fans. I then motioned for Jeff to take a seat and for the next thirty minutes or so we talked about music, guitar techniques and a bit of 'Beckology'. Every once in a while Steve would interject a hot rod question and Jeff in mid musical thought would amazingly sketch hot rod engine parts in rapid fire sequence to answer Steve. Bill Armstrong asked Jeff how he gets that 'underwater' sound with the whammy bar at times. Jeff replied, "you take the whammy bar and flick in up or down. It's like flicking a knife on the edge of a table. Same type of sound."

I asked Jeff to autograph a few million things and he saw another opportunity to have some fun with me. "An autograph? You want me to autograph these for you Dick?" He laughed as I turned red faced and then answered, "Sure." The first thing I gave him to sign was an original 7 inch UK "Dog Presides" single. I told him it was my favorite session and he asked, "which one was that?" "The one with McCartney, Samwell-Smith and Paul Jones." I replied. "Oh yeah," was Jeff's response. I tried to discuss the musical content of the session with him but he emphatically but politely said, "I don't want to know anything about that." He did say however that the ad for hair curlers on the record sleeve reminded him of the sixties. As if building upon the not wanting to talk about anything musical in his far past he half jokingly told me, "Dick, make me a promise you'll make a provision that if anything happens to you when you're on a mission at sea (Jeff was first made aware of me when I used to teach scuba diving for a living) that all of my stuff will get burned." We both laughed and then he recounted a story about how someone found porno magazines after cleaning out some damage done to his house. His point was that people remember you by the things they find.

Finally I got around to having Jeff autograph Issue #3 of the bulletin. Jeff asked, "Can I have this?" It was now my turn to have some fun with him. "Certainly not, young man. This is the only copy I've got with me and you're going to sign it for me. If you want your own copy then see Ralph Baker as I gave him a few extras." Jeff leaned back in his chair with shock and amusement that I had enough balls to say that to him and then laughed until he took a real good look at the cover. Beck groaned and said, "Oh no, that was a modeling session I went on at Carnaby Street in the sixties. There was this other shot where I had on this ridiculous paisley tie with a matching belt. It was 'orrible!" A look of glee came over my face as I flipped to the second to last page of the magazine and asked, "oh, you mean this one?" He laughed and said, "Yeah," and then rhetorically asked me, "you know who took these pictures don't you." I simply said, "yeah, Annette Carson." All of a sudden Jeff leaned over towards me, looked me straight in the eye, and I sensed that for the next few minutes that Jeff wanted my full attention and no one elses, not in a menacing sense but rather a confidential one. Whatever Jeff was going to say I felt that at this juncture he wanted my honest opinion which of course I was only too happy to give him. "Dick, what is the story with Annette Carson, what is she trying to do?" I replied, "Jeff, she's trying to do the best job she can with the book considering she doesn't have any access to you." "Yeah, but it doesn't have any humour in it and that's what I'm all about." confessed Jeff. "Besides I'm doing my own thing and it's going to be really funny. I know all those writers that hang around over where I live in England like to one that did Eric's (Clapton) and I think it'll come out really good." Then all of a sudden Jeff had this wistful look on his face and he muttered, "Well, maybe I can use some of her book." All along we in the fan movement had thought that Ernest Chapman had been the one to go over her manuscripts but it was really Jeff who had read every word.

To build on the humour theme I mentioned the Nigel Tufnel t-shirt he wore before the show. "Have you seen the video?" He asked me. I said, "No, I haven't but Jennifer Batten said you showed it to her when she visited you at your castle." "You speak to Jennifer much?", Jeff inquired. "Yeah, all the time." Jeff flatly stated, "she's fantastic, a class act." Then Jeff promised to send me a copy of the Nigel commercial. Continuing with the humour theme I told Jeff that some of my favorite Beck moments are spent listening to the give and take with past concert audiences. (Refer to Issue #2) Jeff didn't verbally respond to that statement but gave me this big boyish, mischevious grin which spoke a thousand words.

Musically I told Jeff how I thought the critics missed the whose point of the "Guitar Shop" Lp even though it got him the Grammy. Beyond all the technical wizardry, which was heavily written about, if one listens closely there are more gutteral references to a Delta style Muddy Waters blues sound than on anything Jeff had done before. Jeff picked right up on that and said that's what he's all about, always trying to hide little familiar things in new music to challenge the audience to listen a little closer. I then asked who's idea it was to change "Goodbye Pork Pie Hat" right in the middle to a twelve bar blues format and he exclaimed, "that was my idea. Same concept, make the audience listen a little harder."

We had reached a state of mutual comfortableness in our conversation so I whipped out my walkman and cued up the comic strip (BBC comedy series produced by Beck mate Peter Richardson) "South Atlantic Raiders" episode where Jeff can be heard doing bits of "Where Were You" to a bolero beat. Jeff slid on the headphones and I turned on the machine but he said he couldn't hear anything. I told him the phones have an inline volume control. Jeff overslid the control a bit, which wasn't great for his tinnitus, and his head jerked back as he laughed. He listened for a minute and then proclaimed, "Yeah, that's just me and Tony (Hymas)." Alan was passing by now ever more frequently giving Jeff the polite nod that exiting time was near. Before he left he suddenly turned to me and said, "Dick you know everything so you've got to know this. I was over at McCartney's house along with George Martin two days before I came to the states. They're doing a fifty track Beatles tribute CD. I couldn't believe they were playing me tapes with John actually speaking with Paul in the studio. It was amazing." I thanked Jeff for the info and saw a great opportunity for a request I've sequestered for a long time. I told Jeff we'd like him to do a short Christmas greeting tape for his fans solely through the magazine. On the tape we'd like following that an exclusive unreleased track. (A cover of something so there wouldn't be any worry of another artist getting a hold of something and copyrighting it.) I offered "Wild Weekend", you know the one you did for the "Little Big League" soundtrack but wound up putting on "Walk Don't Run" instead. ('Wild Weekend' is a surf classic done originally by The Rockin' Rebels on Dick Clark's Swansong Records. The flip side of the original is the same song done to a cha-cha beat. Jeff recorded the song with Playboy's bassist Ian Jennings and new Playboy's drummer Mark Morgan who replaced Clive Deamer.) Jeff looked at me like I was from another planet at having known about the session and proceeded to ask, "you mean the one that goes like this?" (He proceeds to air guitar pick the hook from the song while humming the theme) I said, "Yeah, that's the one." Jeff immediately said, "Sure, yeah." Jeff then looked at my nine year old son, smiled, and asked who's he was. All pointed to me and Jeff let out this big smile and said, "That's great." Then just as fast as everything began, it was over. The band was whisked away back to the hotel and we left on whichever cloud Mick Jagger wasn't on.
August 1st, 11:30 AM
I knew that VH1 was getting ready to come over to the hotel to interview Jeff and Carlos at noon and that was also checkout time at the hotel. I went down to the bar while my family was upstairs packing. On the way down I passed Pino Pallidino. We talked about how hard it was to keep outside summer humidity off the strings and the show in general. He thanked me heartily for coming and said about the tour, "It'll only get better." At the bar there was quite a roundtable discussion going on between Jeff, Ernest, Alan and Tony. They all greeted me in unison with "Hi Dick." I drank an orange juice at the bar and pretended to read the sports page. Right, I got up and asked Jeff on my way out if I could have a couple more pictures. Dead panning Jeff continued some good natured fun with me and asked, "A picture Dick, you want a picture?" Again laughter ensued and he said, "sure". Alan piped in, "Why not, kind of a working breakfast meeting setting." I snapped a couple of quick ones and overheard them talking about which track to cut from the show as they had run over their time limit. "Where Were You" came up due to the slightly less audience reaction than the other tunes. Jeff brought out that it was segued into another number and therefore no time for the audience to react. I piped in my two cents worth. "I couldn't believe it, you hit every note perfectly on that number. I think I was the only one that cheered right away when it ended." To which Alan Dutton chimed in "Yes Dick, we heard you." More laughter ensued and after another round of handshakes my family arrived. Ernest had got up and came over to us wishing us well on our continued journey to Canada. I said to him, "Ernest, from the bottom of our hearts thanks for everything." We were off and Jeff was to play on.
Footnote
After the Mansfield, Massachusetts show a couple of my childhood mates got to see Jeff as he was leaving. Jeff told them, "Dick knows everything I do the day after I do it." They showed Jeff and Alan some old pictures from the Boston Tea Party in '69. Al kept telling Jeff, "Look at this one." or "look at this one with Rod." Jeff exclaimed, "that was the most emotional time of my life." About another picture he said, "look at that belt. Do you think Dick would approve?" Jeff, you're right. Humour in everything in music as well as life. God Bless You.
---
'95 Tour Pix
Photos by Dick Wyzanski and Bill Armstrong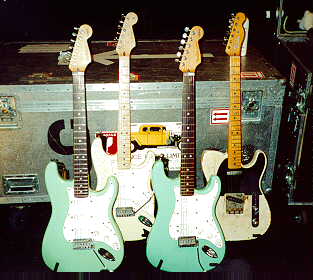 Tools of the trade for the '95 summer tour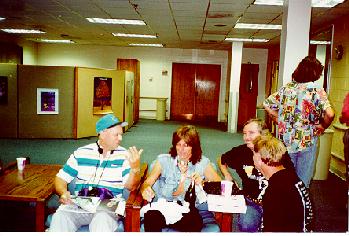 "Our Excellent Adventure" Dick Wyzanski, Jeff Beck, Bill Armstrong, Steve Rolley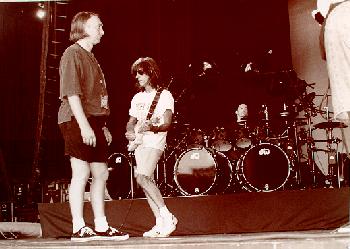 Soundcheck, guitar tech Andy Roberts, Jeff and Terry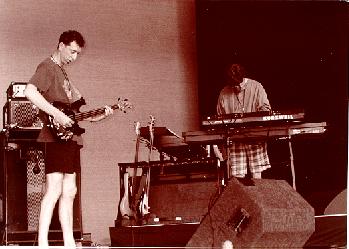 Soundcheck, Pino Pallidino and Tony Hymas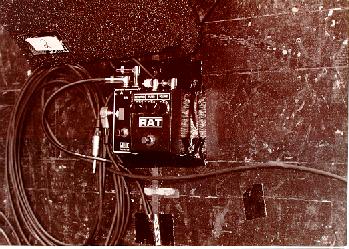 So, how does Jeff get that sound? Some massive effects rack right? Wrong, this is it. A Pro-Co Rat into an A/B switch which feeds either a 50W MKII Marshall or a '59 Reissue Bassman (which he doesn't use much), he also has onstage matching backup rigs. Delays/echos are added at the mixing board. I asked Andy Roberts, 'How does he do it?' Andy put his hand over his heart and said, 'It all comes from here.' Later in the tour he added a Boss Chorus to this setup and used it really only on "People Get Ready".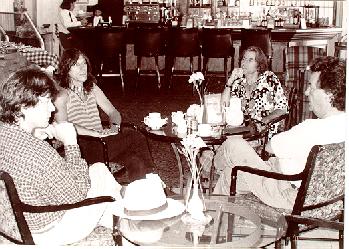 A morning after opening night get together. Tony Hymas, Jeff, road manager Alan Dutton and manager Ernest Chapman.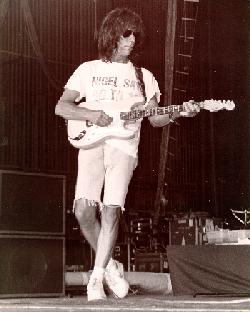 Soundcheck, check out Jeff's "NIGEL SAYS GO TO 11" T-shirt!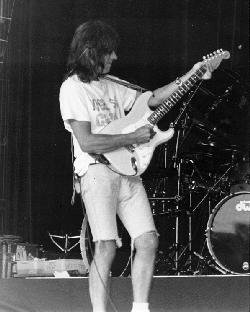 More of the same.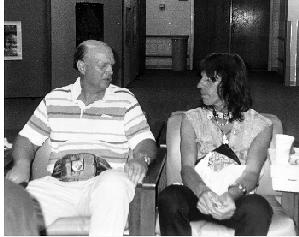 Dick Wyzanski with Jeff
Back to where you were.
---
Tony "Thunder" Smith on Jeff Beck
Tony "Thunder" Smith (Jan Hammer Group) on Jeff: "Jeff was the greatest guitarist I ever heard. It was raw and I can't explain it - like really soulful. He is so melodic - from the heart, exposing a vulnerability."
About the '76 tour: "We were locked out into rockin and rollin. It wasn't really fusion. Jeff was a rock 'n roll legend. Me and Fernando Saunders and Jeff jammed a lot while we were in L.A.. We were friends. He (Jeff) was a real nice guy."
On the Live Lp and Jeff's involvement with it: "State of the art mixing technology wasn't that great. Jeff trusted Jan's opinion. When we took a hiatus from touring the record was done at Red Gate (Jan's house). Jeff could have hungout. There was a time factor with the record company. Everyone was stressed out. Jeff was going to London to chill. He just said, "I'm going to work on my cars."
Why they did a gig in Austrailia: "There were several car clubs there so Jeff was interested. I got a couple of clubs to pick us up at the airport. What a wild scene with this line of vintage hot rods a mile long!"
---