Sharon Sheeley - Songwriter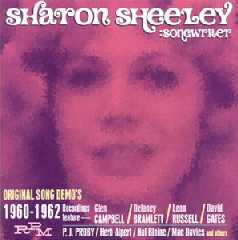 w/guest session guitar by Jeff Beck
Review by Dick Wyzanski
What a marvelous twelve months it's been for 'Beckololgy'. First the Zzebra find and now back to the depths of incidental mid-sixties sessions by the sass-master Jeff Beck.
Sharon Sheeley was a California girl that loved the hard side of Presley era, southern 50's white rock. She adored Eddie Cochran and Gene Vincent's music. Also possessing song writing ability, she became the youngest girl ever to pen a #1 rock hit, "Poor Little Fool" for Ricky Nelson.
She was introduced to the London scene when Eddie Cochran invited her over to be with him when he toured Great Britian along with Gene Vincent. It was Sharon who Eddie Cochran shielded during the infamous crash that took his life and all but destroyed the rest of Gene's career. Back in Hollywood, Sharon recuperated and was introduced to Jackie DeShannon; 60's vocalist/songwriter, Jimmy Page's girlfriend and writer of the 80's hit, "Bette Davis Eyes". Together they wrote bunches of tunes and had a house band for practice and demos that had the likes of Glen Campbell, Leon Russell, David Gates (Bread), Plas Johnson (sax on the 'Theme From The Pink Panther') and legendary session drummer Hal Blaine.
Sharon visited London frequently in the 60's and in 1966 she set up a demo session with Ben Findon who was a singer/songwriter, bubblegum pop producer and later of Billy Ocean fame. As Findon recollects, she brought Jeff to the session so she probably was at least a short time girlfriend of Jeff's. Again, her best friend Jackie was Page's girlfriend so anything is possible. Four tracks were recorded. Jeff did play on all four although on the CD he is only credited on the one due to the fact that Findon's confirmation came after the CD was released.
"Mrs. Mac" is easily the best of the four. It emcompasses the sarcastic wit of the English pop scene in the mid-60's. A ditty about a hard working cleaning lady who doesn't show up for work, it easily could have been penned by Ray Davies for the Kinks or Steve Marriot for the Small Faces. Jeff Beck starts out the track with a memorable melody that is reminescent of a slow altered theme from 'Gilligan's Island'. The sass of his Fender is very evident on this track.
"Something Different", the one that Beck is credited on the CD, starts off with a single note scale climb that repeats itself several times during the song. After the first time however, an organ plays the same notes and drowns out Jeff.
On "Baby What Went Wrong", after each verse there is a small hook time change where Jeff throws in a couple of standard Chuck Berry type plinks with a Scotty Moore (if you really listen you'll hear it) style. Jeff also contributes backing vocals on this number.
"Cheers Love" is more bubblegum pop ala "Mrs. Mac". It starts with both a piano and Jeff playing a lingering chord with extra single notes. The middle chorus is worthy of the chorus to 'Hi Ho Silver Lining'. Finally, there are some nice octave notes strumming just prior to each verse.
To order the CD for your collection, it can be found at Amazon.com or any similar site. Be seeing you.
---
Fan Reports And Media Exerpts From Euro Tour '01
First off....here's a report from Phil Allen who saw Jeff's show in Cardiff, Wales.

                   ***************************************
Jeff took the stage at approx 19:15 GMT looking fit and well, dressed in
black vest and black jeans seemingly enjoying the atmosphere of the
10,000 strong crowd in the 'land of song',  Wales.
The last gig Jeff played in Cardiff was in his BBA days of the 70's so
this one was something special for me in my hometown.

As he threw himself the challenge of 'Where were you' for the opener,
gently coaxing the harmonics and melody lines from his faithful white
strat, you could see the audience watch in awe of the guitar master.

Jeff had a standing ovation on his last number 'Day in the Life' and
thanked the crowd for making the band 'very welcome'.

The sound mix was excellent with Jeff's tone shinning through and set
list was as follows:

Where were you
Earthquake
Dirty mind
Brush with the Blues
Blast from the East
Psycho Sam
Angel
Nadia
Behind the veil
Loose Cannon
Day in the Life

Regards to all. Phil Allen
              **********************************************

And here's an excerpt from the Time Of London report on the Hyde Park gig.
Not for Sting any swift two-week tour and then back to the country pile. After a global itinerary comprising an astonishing 300 dates played to three million people over two years, it was fair to expect that the boy Sumner band might be well warmed up as the expedition reached its conclusion over the weekend with two London dates.
But there's warmed up and then there's burning hot. The three-act bill on show at Hyde Park on Saturday felt like a festival with focus, and other big stars would do well to ice the touring cake in this way.
Leading off, Nitin Sawnhey worked estimably from a giant mixing bowl that added layer upon layer of world flavours to his Indian base ingredients. Broken Skin was at the soul end of this resourceful spectrum, but the overall construction had tiers of jazz, funk, Latin and many other components in a delightful Anglo-Asian stew.
The presence of a bona fide lion of British guitar such as Jeff Beck sailed over the heads of many present, but it was a pleasure to be awestruck anew by his nimble fingers. The once-revered art of the master axeman has become endangered, but Beck, now 57 but passing for much younger, played with his customary nonchalance. A version of A Day in the Life, Beck's contribution to George Martin's valedictory In My Life album, drew the widest response.
Here's one from A. Easdale.....from the Hyde Park concert.

              **********************************************
Ok it was very hot indeed. Water sales probabaly exceeded lager sales that 
day. Jeff had the best idea by playing in his usual sleeveless t-shirt. 
Jennifer looked cool but was probably boiling in a black suit with a great 
hat. The drummer wore an orange bobble hat and must have been sweating 
gallons. His kit is so large I think a hard hat might not be a bad idea. 

They surprised me at least by opening with the encore , "Where were you", 
correctly guessing that most Sting fans would either be late or else fail to 
appreciate his true genius. 

Jeff Beck set lists : 

Where were you 
Earthquake 
Loose cannon 
Brush with the blues 
Blast from the East 
Dirty mind 
Angel ( steps) 
Nadia 
Psycho Sam ( 29th only) 
Behind the veil 
What mama said 
Day in the life 

Actually there were so few fans there for his set on the first night that 
Jeff felt moved to comment on it in his band introduction and farewell. 
Incidentally Sting played almost exactly the same set, in the same order, as 
he did at the Royal Albert Hall in March 2000. The second night there were a 
few more Sting fans present to hear him I am glad to say. 
As ever he was wonderful. Using on a Cry Baby and his hands he coaxed nuances 
and sounds out his huge collection of Stratocasters that most can only dream 
of, even playing the slide with his right hand and controlling the sound so 
beautifully and completely. 
Jennifer Batten got a chance to show her own guitar skills when she tapped 
her solo a couple of songs later. 

The crowd clearly most liked "Day in the Life", probably because it was the 
only song they knew in the set after time constraints meant that he had to 
drop ones they might have recognised like Star Cycle, Goodbye pork pie hat 
and The Pump. 

Great sound from the PA but only 55 minutes the first night and an hour the 
second. Not much for your £45 but much much better than not seeing him at all! 
                      ************************************************

From 'Danilo'............Idropark, Milano, 7.6.01.

I attended the Idropark show  in Milano on july 6, and it was a good experience(as ever).
Jeff played between an irish acoustic group Mothership and Sting. Mothership hasn't
impressed me so much especially because I don't like too much modern music and Sting....
well I have to confess that after the brief Jeff show I was so satisfied that I leaved
the place to go back home. as I told you before Jeff played a short but tight show, with
none interruption and encores, the set list was:
1.Where were you
2.Earthquake
3.The Pump
4.Brush with the blues
5.Blast from the East
6.Angel(Footsteps)
7.Loose Cannon
8.Nadia
9.Behind the Veil
10.Rollin' and tumblin'
11. A day in the life
The show had a good sound balancing despite it was an open air venue and after a little
trouble with the first guitar while he was playing 'Where were you' the show continued
well until the end(Jeff had to switch guitar in the middle of 
the song and there are no pause to permit him to change axe!) Sincerely, Danilo 

From Thierry via R.E. Barnes, a conversion .....The Olympia, Paris.

I saw on the JB page that you were looking for reports from Europe. The one
that follows is from the Paris Olympia gig last month. It came to me from my
French buddy Thierry and I thought it might amuse you.  He had heard me
raving about Beck for so many years that when I saw he was playing Paris I
demanded that they go see the show. All the CD's I had played him through
the years had not convinced him that Jeff is top of the hill, it took seeing
him live to understand what I had been talking about all these years. The
Olympia is a fabulous venue, a classic old music hall that has just been
restored. I saw Jethro Tull there in June (actually a very good show, though
I was never the biggest Tull fan), the sound and closeness to the artist
makes it a great spot to see R & R.
Peace,
R.E. Barnes
PS. I set my friend straight on Jeff's technique... he's a convert now.

Dear peas & rice
it was superb breath taking 1 hour & 15 mn of pure genius culminating with
"mama said " the title you made me listen to.
It s much better on stage, the guy is too much! his rendering of "a day in
a life" ' beatles ' was fun too & his raggae grand ; he made only one come
back & we wanted more, the crowd was good & we were gratified with "you're the
best gig so far" ...said by the bass player .
jeff is no talker, no bulshiter just pure guitar . Does he play with fingers
or does he have a plastic ring on his thumb ? thanks for your idea it was the
best concert in years ! tereryb & beatrice

From Joseph Kolmansky.......Patrimonio, Corsica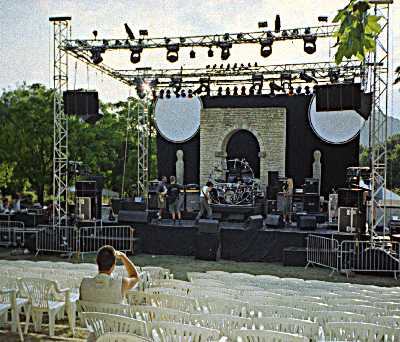 Corsica Soundcheck

                ***********************************
Thanks a lot  here's some feedback from Jeff European tour:I confirm,
though I didn't follow Beck's European tour that the concert they gave in
Patrimonio, Corsica could hardly be surpassed from the point of view of
the musical performance.The last time I had seen him was with Stanley
Clarke and Simon Phillips back in 1979 in Fréjus France in a Roman
amphitheater packed with thousands of people. Twenty two years later the
man has truly become the finest guitar player alive and I can say so
because I'm not a fan, (my guitar hero has been Pete Townshend for thirty
years) but this 57 year old kid left us all slobbering for more after an
80 minute set that won't be forgotten by the natives. For twelve years
now Patrimonio ( a typical Corsican village renowned for its wine) has
run a festival called "the nights of the guitar"where hard-to-please
connoisseurs come to compare the merits of the likes of John Mc Laughlin,
Al di Meola and Paco de Lucia. The reason why Jeff decided to play this
venue is still obscure to me as is the reason why the speaker said he
"didn't have the right to announce him"; anyway it turned out to be  an
excellent choice: picture it, Corsica 2001, a small hillside vineyard,
remove the vine put 600 plastic chairs,set up a stage; erect a dry-stone
wall, call it an open air theater and you are ready to enjoy the
midsummer night's dream of a lifetime. When the Jeff Beck quartet (as
they were called on the programme) hit the stage, Adrian Legg had just
left after two encores and everybody was very grateful to him for his
sophisticated, highly technical performance even though 99% of the
audience didn't understand his witty introductions to the numbers. As if
he had something to prove, Jeff started off with Where were you (funny
question from a man who has been away for 22 years)which led to
Earthquake and the audience was already on thier feet, then came the Pump
instantly recognized and greeted by the fans but it's when Jeff played
the opening notes of Brush with the blues that everybody realized we were
in for one of those nights when everything comes in the right place at
the right time. This version is pure magic, it makes you feel goose
pimply, it's one of those numbers like Hendrix's"little wing" or Mc
Laughling's "Sanctuary"which have been written to be played live, the
thing is you don't get the feeling back every night but when you get it
you can give an audience a glimpse of eternity. The rest of the concert
was in the same vein : blast from the East/dirty mind/angel/psycho
sam/nadia/savoy/behind the veil/loose cannon/rollin and tumblin/Led
boots/a day in the life/Goodbye porkpie hat+what mama said+rosebud as an
encore for which the 2500 people (at the most) of the audience went
totally berserk. As they were leaving Randy eventually "introduced" Jeff
beck who just said: "we had the best time, I don't know what to tell you,
thank you" and left  triumphantly exhausted. Of course A day in the life
was also a highlight and so was Rollin and tumblin with Jennifer's
awesome vocals. I was wise enough to come early and could watch the band
for the soundchecks (there were no fences until one hour before Adrian
Legg came onstage, and the few people who were there didn't behave
hysterically so everything went smoothly,everyone was taking it easy in
the late mediterranean afternoon). The way they played Angel, the pump
and rollin and tumblin you could tell they were tightly together and
happy to be there. Jeff was friendly with everybody, gave an interview,
and signed a couple of guitars. I've been to a good number of concerts I
think I can tell when a band fakes it and when they really share
something with the public. Jeff Beck in Patrimonio was a moment of truth
( no pun intended).
                 *********************************

---
Rarity Reviews - "Hurricane"
History, Vision And Thoughts On "Hurricane"
by Dick Wyzanski
The last two decades have seen Jeff Beck experimenting with two hybrid musical inflections that have sadly never been made available commercially. I speak of his super charged rockabilly (different from Crazy Legs) with Slim Jim Phantom and retro efforts ala African tribal rhythms first with Stewart Copeland and then a cast of thousands before finally ditching it in favor of Hymas and Hammer material for 'Who Else?'. A glimpse of the tribal rhythm era can be found on the original unreleased recordings of the song 'Hurricane'.
First having been recorded sometime in 1991, various versions of 'Hurricane' have weaved in and out of both Jeff's live sets as well as his all too familiar aborted studio projects. He did one version at his home studio with Sting's percussionist, Manu Katche (credited on 'Who Else?'). Among other versions he has done one in particular that has reached this author's ears (DON'T EVEN ASK WHERE, HOW, WHAT, WHEN, WHO OR HOW MUCH!!!!) and it is one of the most super emotion packed tracks Jeff Beck has ever done!! Following is a vision I had while listening to the track for the first time. Readers that don't know what the basic melodic and athemic lines sound like should reference the tune on some of the early '95 live shows and some of the early Euro '98 live shows.
It is an early foggy morning on the African coastline. A band of natives with tablas or djembes line the sandy sloped hillside overlooking the ocean. As they play the gods send a lightening bolt down over the water's horizon. A small but strong gust of wind swirls and runs westward out to the open ocean. Once there, it suddenly grows to full strength and proudly marches on, sending out it's majestic fury. Traveling across the open seas the storm takes a few stops, starts, sputters and then just as it's about to be saddened by lack of fuel, it sights all the islands that signal warm water and renewed strength. A mighty anguished cry starts the anthem to march onward again and the Hurricane repeats is mighty seminal force twice more as it conquers all that it sees. And then it is all but over as the storm slowly abates over the land as another morning comes and our rhythmic tribe is once more calling the wind gods.....
The tune was raw and unique when I first heard it live in '95 at the opening gig, although Terry Bozio had as I have later discovered, taken the flow of the tribal rhythms and made it into a slow funky two beat. Steve Alexander later on during the '98 Euro tour slowed it down to an almost drone like march. All I'm sure were efforts by Jeff to keep the track fresh having had various versions of it in the can for some time. However, just like the storm, Jeff's intensity for the track diminished over time I suppose and tragically decided not to include it on either 'Who Else?' or 'You Had It Coming'. The other players on the studio unreleased track were very complimentary. The fretless bassist's lines were copied almost line for line by Pino Palladino on the '95 shows. The drummer interplayed fabulously with the tabla percussionist and the synthesizer set the tone for Jeff who made a wise choice in the middle of the track by reprising the anthem chorus line two times in succession each with it's high whammy bending lines.
Hopefully, 'Hurricane' will emerge if another Beckology set ever surfaces. Until then we can all go back over our video/audio collections to savor this most glorious of Jeff Beck tracks......'Hurricane'. And Jeff, yes, I really did have that crazy vision when I heard the studio track. May you continue to have just as lunatic thoughts transferred to your guitar playing........Peace.
Be seeing you.
---
Dick Reviews - 'Lose Myself With You' featuring Kim Milford
"The Holy Grail - Partly Undressed"
by Dick Wyzanski


Jagger said it best, "You can't always get what you want.....but if you try sometimes, you just might find you get what you need. What we think we want is to find reels of Jeff balls to the wall in some vault waiting to be opened, cued, and turned up to 11. Yet this latest find which will undoubtedly make the rounds at some future point in time is in fact the antithesis of that type of find. It is rather a backing track, a tryout if you will for the vocalist that was supposed to spring Jeff and his heralded new power trio up to the commercial success heights of Jeff's contemporary, Jimmy Page. Long considered part of a Holy Grail package in terms of Beckology that included the Motown studio stuff and the redone JBG version of Superstition, this track came to light by the grace of long time Beck fan Greg Bertrang.

As the story goes, Greg, a sound engineer, knew Timmy Bogert. Timmy gave Greg a tape consisting mostly of early takes of BBAII. However there was a track on the tape that Timmy verified as being done on the very 1st night in the studio with Kim Milford. Subsequently Tim had stored this tape in his attic for a long time and parts of it including this track were severely damaged. Thank the Lord (Jeff's probably thinking "curses. foiled again" Hah!) Greg's copy stood the test of time.

The track itself is a wah wah version of the then recently rearranged 'Let Me Love You' which ultimately became "Lose Myself With You" on the 1st BBA Lp. Despite becoming a comical joke onstage with his bum wiggling go=go dancer act and lame live voice presence, THIS GUY COULD SING IN THE STUDIO!!! Jeff's manager Ernest Chapman had found Kim Milford fresh from a stint in the pop/religious run of 'Jesus Christ Superstar' and listening to this studio track, I only now can understand why Ernest felt that Kim would be good for Jeff. Except for an out of key wail at the very beginning of the song, Kim Milford rocks on this track at once with the purity of Paul Rogers, the power of Robert Plant, and the daring of an Al Jarreau! Timmy thunders on his usual hard drivin bass licks, Carmine drives the lines home with his patented double bass drum, and Jeff waffles between psycho-wah wah and Sly Stone/Shaft/Superfly type wah wah rhythms.

What we needed to know here is where Jeff's head was at while he was formulating this lineup and we got it. If that lineup had been magic onstage then Jeff would have had the instant commercial success that he wanted. Yet a fair share of the listening public at the time was ripe for a change and Jeff gave it to them in stages. First with his guitar in a tried true and tested format with the later version of BBA, and then with 'Blow By Blow' and beyond. So we got our sense of what Jeff was thinking at the time and Jeff got what he needed too. The realization that it was he who audiences wanted to listen to above all else.

We have found part of our Holy Grail and are wiser for it. Jeff still searches and it is his search with his Strat that sounds the battle cry to challenge new worlds with his glorious sounds.

Be Seeing You...
---
20,000 Eyes (minus about 19,862) Diggin' Vanilla Fudge Onstage For Coke
by Dick Wyzanski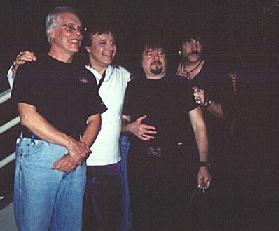 Ah yes the pause that refreshes....about a 31 year pause save the quickie reunion Lp in '84 that had our 'J. Toad' incognito on the searing redo of "My World Is Empty". Still, when I saw the marquee on 'The Moon' in Tallahassee, FL....'Dec. 6th - Vanilla Fudge', I went sprinting to my home computer email. Both Carmine and Tim responded back quickly in their respective fashions. Tim, the business gentleman offstage, assured me that they would see me at the gig, while Carmine, who I told I had the Milford tryout tape with him Tim and Jeff, urged me to "come down to the Motel 6 and bring the tape!"
I arrived at the motel about 2:00 PM and checked the desk for the Fudges whereabouts. A quick call upstairs yielded Carmine who told the front desk to direct me. Bumbling around the lobby in order to find the correct corridor, I saw a salt n' pepper haired, trim figure from behind chatting with the front desk. I called out a quick "Timmy" and Tim Bogert turned around with a big smile on his face and told me he would take me up to the rooms. Carrying all my BBA Lp's, the Fudge reunion Lp, their first Lp and Beckology, I reminded Tim that he had signed them years ago but Carmine never had. After recieving a BBA tape (don't worry it's been in circulation for years) from Carmine, out of the cassette case in a regular mail envelope, I opted not to send him Lp covers. "You did the right thing Dick," Tim said, "that's Carmine for you." as we shared a laugh. I gave him regards from Jennifer Batten who runs into him from time to time at things like GT Institute etc. He seemed suprised that she had still been recently touring with Jeff.
Carmine came out of his room and graciously signed everything for me. I gave him the tape that also had the four Coca Cola Fudge/Jeff Beck '69 commercials. He said, "I've been looking for Milford tape." And went on to say that he had the Coke commercials and that they were coming out on CD along with all the other groups that did the commercials. Carmine also offered that VH1 was doing something on the Fudge and that Ernest Chapman had arranged for 'BBA Live In Japan' to finally be released in the states. "Now I've got something for you Dick", Carmine said. "I searched all through all my old tapes and I found........" While the readed at this point must imagine what tapes he found, needless to say I dropped all I was carrying and feigned the best on your knees, hands in prayer I could muster in half serious/half tongue in cheek fashion. "I thought that would get to you", Carmine chuckled. Tim then summoned Carmine away to the soundcheck and I stayed around talking to their tour manager Tommy, who started the guest list on a worn notepad.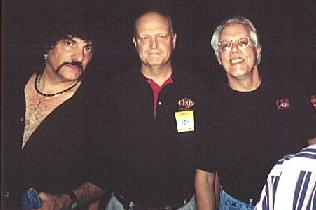 The same notepad was on a podium outside the gig when I, my son and a friend arrived back that night. The 'whopping' guest list was filled with 3 names. You guessed it, hah! I could not believe ten minutes before showtime that after counting heads a half dozen times to pass the time, I had a self-confirmed count of about 138 people. A f**king 'Hall Of Fame' rhythm section and only 138 people. Showtime - A projection screen is lowered in front of the stage curtains. A larger that life Ed Sullivan appeared on the screen "The Vanilla Fudge". The entire Ed Sullivan show 1968 performance of "You Keep Me Hanging On" opened the show. The curtains were then lifted and the Fudge proceeded to rifle off all the old soulful arrangements of the Beatles, Curtis Mayfield and Zombie classics from their first Lp as well 'Shotgun' and 'Season Of The Witch' from later endeavors. A bold and risky arrangement of The Backstreet Boys 'Tearing Up My Heart' paid off in spades as the Fudge's version put some interesting rhythms and vocal texture into the lifeless slick radio hit. One must remember that's what Vanilla Fudge was mostly about in the late 60's, taking what was out there commercially and creating a whole new sound from it.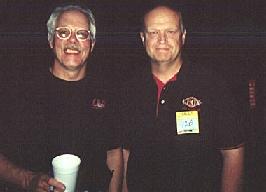 Guitarist Vinnie Martel, long ago the butt of many unfair comparisons to his English peers, has been honing his chops over the years. He was a pleasant surprise all night and even had a Buddy Guy type show within a show as he left the stage still playing on a wireless feed and played the pied piper, prancing through the crowd towards the exit and back again to the stage. Keyboard player Mark Stein did not make the tour. He was amply replaced by Bill Pascali. Wearing an old Paul Revere and The Raiders style white lace shirt, Bill was especially effective in keeping the vocal harmonies together. Which brings us to the soul brothers, Carmine Appice and Tim Bogert. While keeping their careers going by doing different sessions and tours, they still communicate with each other onstage and remain a thunderous rhythm section. Various trio incarnations of BBA (CBA, DBA) have allowed them ample time to reconnect in live venues. Spry and fit as a fiddle, Timmy was totally at home onstage in Tallhassee. Bounding around kicking the proverbial beach balls (radio station promos) and punching his bass for a note effect (look out Jeff - he's ready for round 2, hah!), Tim was extremely energetic. Oh yes, there was the bass solo which brought back memories of the infamous Jeff comment years ago, "He (Tim) was playing what I should have been playing." Alternating double bass drums defined the wall of sound that launched the heavy metal genre' and nobody was more instrumental in it's rock pioneering application than Carmine Appice. Carmine kept the faithful rocking all night with his Zildjian cymbal barrages, double bass drum synchronizations and little done anymore, stick twirling showmanship. Even his patented 'Long Island boogie' crowd participation segment was short, crisp and to the point.
After the encore of the Beatle's 'You Cant' Do That', the Fudge invited everyone to the meet and greet in the lobby. No need for passes to this one, hah! I thought I'd put both the boys on the spot with a quickie, "Tell us something that the media world never knew about you days with Jeff Beck. Tim opted for the philisophical approach, pulling out the Dickensonian rug from underneath my journalistic past (see review of 8/2000, Jacksonville, Issue #7). Tim's facial expression tightened as he quoted, "It was the best of times, it was the worst of times, really Dick. That's exactly how it was." Carmine pondered, stroked his chin and then mused, "Gee Dick, that's a tough one." A moment later he leaned closer to me and said that one of his old cars and one of Jeff's are in the same hot rod museum out on the west coast. "I went out recently and took pictures of them," Carmine explained. As I was leaving the gig I heard a final yell from back inside the club, "Hey Dick, really, thanks for coming." Thank you Carmine and thank you Tim and the rest of the Fudge for a great show and great comraderie! Be seeing you.
---