Chris Gill Interviews Jeff Beck, A Jeff Beck Webpage Exclusive!
Last week we heard from an old friend, Chris Gill. We first met Chris back in 1992 while he was working on an article on Jeff's 'Crazy Legs' project. Chris has been on the staffs of both 'Guitar Player' and 'Guitar World' but has spent the last several years freelancing for various publications including the Japanese guitar mag 'Player' where the following interviews have (Who Else?) and will (You Had It Coming) appeared/appear. Chris contacted us last week and told us he had just interviewed Jeff last Friday about the new CD and upcoming tour and how would we like to print it here. We said, 'What are you kidding!!' He also said he had an interview from 1999 that he did for 'Player' that has never been printed before in English and that we could have that too! Yes!

What follows are the only English translations available of these interviews, the first is Chris' 1999 'Who Else?' interview, the second 'You Had It Coming' interview will be posted on the page in late November out of deference to 'Player' who has a lot of Japanese readers who can speak and read English. And now without further ado, let's turn things over to Chris Gill.


Jeff Beck
Who Else!
By Chris Gill

It has been 10 years since Jeff Beck released his last collection of original music, Guitar Shop. While he has kept busy recording a soundtrack (Frankie's House), a tribute to Gene Vincent's Blue Caps (Crazy Legs) and covers for a variety of tribute albums (Muddy Water Blues with Paul Rodgers, "Manic Depression" on Stone Free: A Tribute to Jimi Hendrix and "A Day in the Life" for George Martin's In My Life album) as well as guesting on albums by John McLaughlin, Kate Bush, Roger Waters and Brian May, Beck has kept his fans waiting much too long for new material. While his tour with Carlos Santana in 1995 was a welcome appearance, the lack of new material (he performed only one new song on some occasions) was frustrating for fans who were eager to see him move ahead. But with the release of Who Else!, the wait is finally over, and, best of all, the wait was worth it. This collection of 11 new instrumental tunes is one of the most potent and vital efforts that Beck has ever released. Many of the songs are supercharged with rhythms inspired by the electronic dance music of the Prodigy and Roni Size's Reprazent, but, as Beck's fiery, aggressive playing shows, this album is no half-hearted effort to cash in on current musical trends. The inspiration rings true from the very first notes of "What Mama Said" through the trance-like "Psycho Sam," the space-age funk of "THX138" and the club worthy "Hip-Notica." Who Else! is more than Beck's tip of the hat to modern dance music, however. "Declan" is a moving Celtic ballad, and "Another Place" is an inspiring solo performance that shows that Beck can still come up with impressive and innovative new sounds. The one-chord jam "Space for the Papa" shows that Beck can work wonders even without the support of a melodic chord progression, and "Blast From the East" shows Beck taking the inspiration of the Bulgarian Women's Choir, which he first explored on "Where Were You" and "Two Rivers" on Guitar Shop, to new avenues. Beck started work on this album as far back as late 1996 with Steve Lukather as producer, but most of that material was scrapped when Beck felt dissatisfied with the results. When keyboardist and long-time collaborator Tony Hymas showed up with a few new compositions, Beck decided to form a band with former Michael Jackson guitarist Jennifer Batten (who played keyboard parts on MIDI guitar), bassist Randy Hope-Taylor (who formerly worked with Basia and R. Kelly) and drummer Steve Alexander (from Duran Duran). The four-piece band went on tour in Italy and Germany in the summer of 1998, trying out the new material on unsuspecting audiences. Several of the performances were recorded, and some of that material ended up on the finished album. After the tour, Beck and his band went directly into the studio and recorded for three months from September to December, 1998. Whereas Beck had some hand in writing most of the material on his former albums, this time most of the material came from other writers. Tony Hymas penned six of the songs appearing on the final album, and Beck recorded songs by Donal Lunny ("Declan") and Jan Hammer, who performed on keyboards and drums with Jeff on his song "Even Odds." But although Beck's name appears on only three songs, his unique tone and touch is evident throughout the album. Like Miles Davis or Charles Mingus, Beck's playing is unmistakably infused with his personality, and his character is condensed in every single note he plays. The album's title is apt, as from the first note it is evident that this is a Jeff Beck album to the core. With a world tour underway (Beck, Batten, Alexander and Hope-Taylor are coming to Japan in late May), Beck is back where he belongs--in the spotlight with the backing of an incredibly talented band. Prior to going out on tour, he spared a few moments to share details about the troubles and triumphs, and the inspirations and investigations that affected him while he struggled to complete Who Else!


Player: I'd like to start with the question everyone has probably been asking you . . .
Jeff Beck: Which is why has it taken me 10 years to come out with a new album? I had a few diversions, subversions, all kinds of things. The last nine years were rough for music. It has been jumping around all over the place like a fox. I could never tell where anything was going to go. I was also really depressed about not being able to keep the original three-piece band together--me, Tony Hymas and Terry Bozzio. That was such a cooking band. And the idea was great--for Tony to go bananas on the keyboards and cover bass, rhythm and everything else. Unfortunately, we didn't get the dimension that we wanted. I felt that after the initial tour, the failure of the album to do anything more than a little blip was very depressing. We put a lot of work into it. Bear in mind that Guitar Shop was a startup album as well after another long period. I was doing a lot for other people, and I thought, "Well, I can make a living doing this." So I went into this rather uncomfortable but laid-back mode. Unfortunately, the closer you are friends with who you're working with, the less you're paid. I often did things for nothing because they were my friends. I got really disillusioned with my playing as well. I knew that there were these guys coming up around the block, and they could really play.

Player: Did you feel like they were a threat?
Beck: Not a threat. It was just telling me that it was time to move on. I wasn't going to let that happen, but they did shove me aside for a while. I just thought that I should be an observer rather than a participant. Right in the depths of my depression, I put some money into building a home studio. When all else was lost, I did the one thing I never thought I'd do, and I built my own studio. That gradually started the healing process--not that there was anything broken but me. Everyone goes through drug rehab and all that. I never had that problem. But I have other problems, like having difficulty holding relationships together. It's really confounding to be blasted in the newspapers by a status-climbing girlfriend. It's a bit rough. It was a compound series of events that I could have done without. The capper of it all was when the newspapers were coming around and banging on my door. I had to wait for all of that stuff to blow over before I felt I could start to pull myself together. I want to talk about my ordeal one day. It's sufficiently charged with interest, either in novel form or as a biographical movie. There's a hell of a movie in there. I could sell the rights to Aaron Spelling. You could call it "East Sussex, TN 566" or "Sex in East Sussex." [Laughs] I also distracted myself by restoring my house, which was a great thing to do. It gave my a complete other interest besides my guitar, cars and getting into trouble. Having made a series of lame excuses, here we are in 1999.

Player: Did the problems you were having with your relationships influence your music at all?
Beck: I've got some pretty deep blues on tapes lying about. I went into this mode where I wanted everything I've done that was lying fallow destroyed. All the stuff that was boiling around eventually made it. I got so messed up with loads and loads of tapes that I had no idea what I had done or where it was. There were no labels on the DATs or cassettes. I would just shove something in the deck, and if it didn't make me smile I'd take it right out. Usually it just made me real depressed. On seldom occasions it might have a nice, pristine start to something really good. I didn't have anybody around to say, "Wow! That was really good. Stay with it. The hook is great." I preferred to wait to get Tony Hymas involved so I could pick his writing to pieces instead of criticizing my own work.

Player: Tony has often been one of your most helpful critics.
Beck: It's torture for him listening to me trying to interpret his songs. And it's torture for me to try to interpret his songs, to try to supplant some kind of notion of what I want to do without sounding like some goof who can't remember what I want. I got pretty graphic with some of the stuff that you hear on the record.

Player: Is that why things didn't work out with Steve Lukather? Was he too much of a fan to tell you when he didn't think things were as good as they could be?
Beck: He came around at a bad time. The idea was to get Steve involved with his wacky humor, but at that time I was about as low as I could get. He did lift me a bit, but it was a temporary thing. It probably would have been better to just let me wallow in my misery for a while. I ended up getting this false sense of elation during the writing period. You'd probably like some of the material. I'm sure there are people who would freak out over it.

Player: Steve was definitely raving about it.
Beck: There was some good stuff. Don't get me wrong. I just wasn't hearing that little birdie whispering in my ear going, "This is the stuff." If that doesn't happen, I'm done. I need to go out somewhere else. I need to move along.

Player: But you put a good amount of time into it. You recorded over at his studio in Los Angeles for a few months and then about a year later the two of you were working at David Gilmour's studio in London.
Beck: The first initial try out took place at Steve's studio in Los Angeles. Everything was great. Then I came back to L.A. again to start recording, and I was in middle of these problems. And I got very ill. It was very serious. I don't think I felt right for four months. I slowly made a gradual recovery. After three months, I went out and tried to wash my car and fainted. I just brushed the sponge over the roof and I collapsed. I really thought I was finished. It was some bizarre strain of Legionnaire's disease, not the strain that kills you, but something related to it. It was horrible. I went to the doctor and he said, "I don't want to shock you, but I've looked at other patients who have the same thing as you and it may take months before you recover." I didn't need to hear that. Eventually I got better and we started up again at David Gilmour's studio. Everything was perfect. The weather was wonderful. But we were still stuck in a rut with the material. Along comes Tony with three great tracks that blew everything else I'd written into the weeds. I suddenly sensed that there was a disagreeable situation with trying to juxtapose his material on top of what we already had. It sounded like another album. We couldn't make it flow. So I thought that I'd better be faithful to Tony because he's always written from the heart. What I'd written was promising, but it needed development. Steve is such a good soul that even when I played badly he'd say, "Man, it's boiling hot in here!" But I needed somebody to push me.

Player: You share the same affliction that has bothered guitarists like Eric Johnson and Danny Gatton. It seems like what you hear in your head is beyond what your fingers can do.
Beck: Exactly. The fingers are not saying what the head is saying, or the heart. I was just so frustrated because all I needed was a silly-ass melody to get people going. That's what I do. There are many guitarists who can play like a typewriter. Technically they're great, but that's not my style. There's no Stevie Wonder writing for me any more. He would write beautiful ballads, and I would just interpret them the way I heard them.

Player: There was talk of you collaborating with Eric Johnson and you worked with John McLaughlin. And you've been working with Jennifer Batten in your band. Did you start working with other guitarists to push yourself?
Beck: It was more because I wanted to work. But it was a bit of a blow, only having the odd chance to play with people every few months. I found myself getting into the mode where I was thinking, "The phone will ring today. Something will happen." I have to tell you that's not likely to happen in my neck of the woods. I don't have too many musician friends living in my area. In fact, I had very little enthusiasm for any friendship at all the last few years. I have a couple of good friends who aren't musicians. One is a film director and the other is a mechanic. I do get tremendous confidence boosts from them, but not enough musical input. But having said that, the film director friend was a great support when I suggested doing something that was a cross between Prodigy and myself. He said, "That's the stuff. I could hear that working well." So I developed tiny little snippets of this stuff and sizable chunks of other stuff.

Player: What you're doing now seems like a natural progression of what you started a long time ago. Even the song "Star Cycle" from There and Back sounded like a techno song, and you recorded that in 1980.
Beck: Yeah. It still sounds modern now. Unfortunately, people have lost the art of recording real drums. That seems to be the main fault with what I want to do. I want fantastic drum sounds, and I don't mean outboard compression, distorted, fake-sounding drums. I want real drums, like the old Chess studio sound or big band stuff. Even Frank Sinatra had great drum sounds. It was as big as fuck. We should track down the drummer who did those records. That's my problem. Not being able to do that, the obvious choice was to go with somebody who knows how to operate drum machines and samplers. There is a special art to that.

Player: What happened with Terry Bozzio? You managed to get him back for your 1995 tour with Santana.
Beck: That was another weird thing. Playing 46 gigs together should have resulted in us coming closer together. Unfortunately, we shouldn't have done a big, over-the-top tour without any new product. That was bad planning. Doing the gigs was the positive side of the experience. Once again, being disparate characters we pushed each other away. Tony was obviously champing at the bit to do his own projects, and Terry was starting to make inroads to superstardom as a drummer in his own right. I'm not going to say, "Hey! Come back here," and take a piece of rope and drag him back when I didn't have any new material. It was all down to the big "m." "Where is the bloody material?" I'm very sad that it didn't work, especially since we had Pino Palladino on bass. I felt sure that we'd get something going. Even thought Tony, Pino and I live in the same country, we might as well live 15,000 miles apart. We live our own lives. People say it only take two steps to get from one coast to another in England, but it doesn't matter when you're living very separate lives. And Terry was living in Austin, Texas, with his wife and baby. It didn't seem likely, unless we had some really masterful plan, that we could work things out. Then we came up with another plan, which was to work with Terry and Tony Levin. It would have been very interesting to have Tony playing Stick. Then Jennifer came along and I thought, "Right on! Let's do a four-piece band." I think that would have been incredible. But it seemed that Terry and Tony were just on loan. There wasn't any camaraderie. There was less than there was with the original band.

Player: You did one new song on the 1995 tour, however. Didn't you have any other material to work with?
Beck: That song was called "Hurricane." I wrote that. I thought it was more moody. It bordered on late-Seventies pomp rock. What I originally envisioned was a troupe of 50 drummers playing this hypnotic groove, and then I'd play the melody over the top. Then I realized how stupid that was. I'd never be able to get 50 drummers out on the road with me. I'd have to pick up 50 drummers in every town. All I'd be able to pay them is sandwiches and beer. I gave birth to that song in my studio. That's one of the first things I put on tape there. A great percussionist named Martin Ditcham and my old drummer from Blow By Blow, Richard Bailey, did a killer groove. I've still got it. One day I'm going to put that back together.

Player: It sounds like you have quite a backlog of unreleased material now.
Beck: What stopped me from releasing that was I was beginning to hear music like that everywhere I listened. There was a lot of African-style world music going around. I'm not jumping on that bandwagon. To me, it sounded like Hendrix meets the tribe. Then it turned into this overproduced movie soundtrack thing. It was getting too sugary. Then I thought of "Stomp" and I wanted to get some of those guys to do it, have a dozen guys banging on garbage cans to that rhythm. But I bit off more than I could chew with that. I think if I did a whole album of hypnotic African rhythms it would have been difficult to get that show out on the road. I didn't care about doing that sort of thing for a soundtrack, because then it would only be associated with a film. But I wanted to pull the reins back a bit and make sure we were still talking rock and roll, beer, blood and guts. We've got a bit of that on this record.

Player: You toured last summer, playing unusual places like Italy, Greece and South America. What made you decide to do that before you recorded this album?
Beck: We did that to work out the bugs. It was like we were playing some secret shows. It was quite modest and low-key. We played at gardens and private houses. They warned me before I did it. They said playing in Italy is not the same as doing a flash U.S. tour where everything is fantastically easy. It was a bit more quirky than I would have liked, although Rome was great. We played on the steps of a bank. The stage was set up facing the road. There was a bus station across the way. I thought, "This is the stuff. It's funky, and we're playing in Rome." There were people drifting around eating ice cream and pizza. Then it went downhill from there. A few shows were good, such as the one we did with Buddy Guy. We needed more of those. But the next day we were playing amongst sweet peas in a field. Every time I think about that show I feel like punching someone out. Then we went to Germany and we tried to do something a bit more ambitious, which was to record the shows in their entirety, including all the new material. We would then take home a 48-track digital tape of that. We ditched all the older material and just worked on the new stuff, which was eight new tunes, like "Space for the Papa."

Player: Do you think it was a good move to work out the material live before you committed it to tape?
Beck: Oh yeah. It was well worth doing. We wound up having to overdub in an ordinary, studio-perfect environment. It was worth all the heartache of going on the road. We got "Brush with the Blues" out of it, which didn't need any overdubs. What you hear is what we recorded that night. I forgot that we were being recorded, which is why it came out good, unlike "Space for the Papa," which was recorded at a soundcheck and I knew we were recording. Somehow I overcame the fact that the red light was on when we did that song. It was one of those times in the day where everything sounded nice. The drums were grooving and everything was spot on. I saw Tony rocking back and forth on the drum riser--not playing, he wasn't playing on the tour at all. He just came along to see how his songs were being butchered. [Laughs]

Player: I know that you've been friends with Jennifer Batten for a while. What led to her involvement in your band? You've haven't played with another guitar player in your band since the Yardbirds.
Beck: She's a genuine soul. Her devotion to music is something that you don't see every day. To have somebody that committed knocking on my door was a gift. She was really committed to really go for it. I can't even begin to tell you what she's done. She sorted out replacing the keyboards on the tour. And she kicks serious ass. We really ripped things up in Rio and Sao Paolo, Brazil. I was blown away by the response. It was a total joy. It was the first time I'd played down there. And we had nine new tunes in the set to experiment with, but at the same time we could give them the old stuff. It was an eye-opener. It was a bit like playing in America in the early days. It wasn't this big, clever plan to work with Jennifer. I wasn't trying to be trendy and have a girl in my band. It just was the right thing at the right time. And what we're doing is so different than anything I'd ever imagine doing with another guitarist. Her dedication to MIDI guitar is amazing. We've got the makings of something pretty nice.

Player: Over the years you've developed quite a collaborative relationship with keyboardists, such as Tony Hymas, Jan Hammer, Jed Leiber and Max Middleton. What drives you towards working with keyboardists?
Beck: The fact that they know chords. [Laughs] The first keyboardist I worked with was Nicky Hopkins, on Beck-ola. He added something, but he also took away something. It was a fair trade at the time. I lost the raucousness. As soon as you hear the piano, it makes things sound civilized. It makes it sound safe and familiar. Before that, I could leave holes--dangerous, great chasms where nothing was going on. I had freedom to pop in and out where I wanted with Rod. It was a tennis match--voice against guitar. I could change riffs to catch Rod's attention. With Ronnie, I could play different riffs and he'd follow me. He'd just look at my fingers. But when you've got a keyboard player looking the other way he gets lost really quickly.

Player: The chemistry between you and Tony has been remarkable. When you first toured to support Guitar Shop, it was amazing how well the guitar, keyboards and drums trio worked in an arena setting. It was raw and huge.
Beck: When you get Terry Bozzio behind you, you don't need much else. Nothing can equal what he does. He can put on a show and play in the most over-the-top way. This project here has nothing to do with that. I'm not trying to find another Terry. Steve Alexander is as nasty as Terry in his own way. He's a snappy, funky drummer who's so spot on. He almost moves without effort, whereas Terry is more animated. This is more of a techno band, if you can still say techno now and get away with it.

Player: Electronic music always seems to benefit from an addition of the human element when it is done right.
Beck: I kept all of the great stuff from what we played live. "What Mama Said" is a good riff. It is clearly just a trio raving away with a drummer, but on the solo section I wanted precision, kicking drums with a black, funky feel.

Player: You're playing a lot more slide on this album.
Beck: I'm even playing right-handed slide. The high melodies are played by pressing gently on the top strings with a slide. It's very difficult. I've had some faces pulled on me in the studio, but it was Tony's enthusiasm that kept me going. I had nearly lost it, because every movement is so infinitesimal. When you're playing only an inch from the bridge the notes are very close together, and I usually work within semitones. I had to go through that quite a few times before I finally got it right. By the time I was finished, I felt like I had been run over by a steamroller.

Player: There is also a lot more ethnic exploration going on on this album.
Beck: It's a natty sort of combination. The Bulgarian one, "Blast from the East," flows pretty well. Everything else on the record was chopped up and edited.

Player: "Psycho Sam" has an Arabian flavor and "Declan" has a Celtic feel, which are new directions for you.
Beck: We were going to call "Psycho Sam" "Arab" but the record label wouldn't let us call it that. I love "Declan." It's a real tear-jerker. If they clap for that song when I play in Ireland, I shall be very happy. I'm worried to see how they respond to this British guitarist playing their hallowed music. I hope don't get hit over the head with a bottle of Guinness. I've never played in Ireland either, except recently when I did a crazy weekend with Ronnie Wood and Scotty Moore with DJ Fontana on drums. That was amazing fun. I did the All the King's Men record with them, which was also great. We recorded so much more material that never made it on the record. But it was so difficult to write stuff for Scotty to play. It was a total East/West vibe. There was no excuse for us to play together other than the fact that we respect each other and we wanted people to know that we care for these musicians who are still alive and kicking. Moore and Fontana's playing was so eclipsed by what happened with Elvis after the Louisiana Hayride. I didn't know that DJ Fontana was once a member of Gene Vincent's Blue Caps. He replaced Dickie "Bebop" Harrell. What a band that must have been! I have a picture and some lost session tapes of a Dallas show with the Blue Caps Mark II, with DJ Fontana on drums and Johnnie Meeks on guitar. I have some very rare footage that I got from the Rock and Roll Hall of Fame. They showed it at an induction ceremony, and I said, "You've got to send me this. I'm not going to go on stage unless you promise to send it to me." I've got some tapes from Australian television--Johnnie Meeks, with blond hair! And they've got no caps on. There he is, chewing gum, singing. He is so sharp looking. The world must have been at their feet back then.

Player: You went through a number of false starts on this album. When did you finally get on the path that led to the finished effort?
Beck: Having gone through all sorts of negative emotions and disasters as well as a colossal loss of money, I suddenly came out of this cloud and went, "I've got to do something. This is serious." I went down and visited Tony and said, "Look. Never mind the fancy Lukather session. We need to listen to what I've got to say." I took a bunch of very interesting techno music to him and he stared at the ground blankly. He didn't seem to be into it. Then the next thing you know "Psycho Sam" came out of him. I said, "That's what I'm talking about!" I went down to the studio again and threw some more ideas down on tape. Gradually we pieced it together. It was a slow, agonizing process, but when we started hearing how the band was sounding with the new material when we played live it was very promising.

Player: Did you put the band together to force yourself to get onto the right path?
Beck: That's right. It was great having someone like Steve Alexander walk in the door straight away. I never heard anybody else and I didn't bother to listen to anybody else. Then Randy Hope-Taylor came along, and that was that. Because of their enthusiasm, I couldn't fail them. Now it's become a nice band.

Player: How long did it take you to get the finished tracks down?
Beck: I sliced and diced things. I'm afraid that the live stuff wasn't really up to scratch. I'd had it and was quite upset with the results. Then the record label contacted me because they wanted to hear where their money was going. I had busted into their budget. We put together "What Mama Said" using Pro Tools. We bounced from multi-track into Pro Tools and we trimmed it and reshaped it. We actually got rid of Tony's main theme, which is another piece of music altogether. There was one part that suddenly started to make sense as an opener rather than going through this long-winded melody that we originally had. Now it has a lot more tension. It goes from this beginning to this part where there are 12 guitars sliding up and overlapping. I preferred that version. There was a lot of great stuff lurking around in the underworld of what we recorded live, but we had to look for it.

Player: What inspired you the most when you were making this record?
Beck: I'm a great fan of the Prodigy. They kick butt and they make that great, wallowing-in-the-mud sort of festival music. I love it. It's like the Who and the Yardbirds. I love their drum sounds. They're punky, but they're articulated and beautiful. It's not trashy. I wanted to capture that power with my guitar on top of it. I wanted to marry that notion of techno with a real drummer. I ended up using drum machines some of the time, though. I'm not a purist. I'll go wherever I need to go to get the result.

Player: But in some ways this album is a continuation of what you started with Guitar Shop.
Beck: That album is in the misty past to me now. I think a lot of people's heads were battered when we played that stuff on tour with Stevie Ray Vaughan. What Stevie was doing was very comfortable and familiar, and people probably thought it was going to be more of the same when I came out. All of a sudden there was this music that had nothing to do with tradition.

Player: I was amazed at how many risks you took on stage all the different times I saw you on tour in 1995. You rarely played the same thing, and you improvised a lot. And then you had the challenge of playing "Where Were You" every night.
Beck: The elation of coming off of a good show was amazing, but I'd immediately be brought by back to earth when I realized that I had to go back and play that song again the next night. It was very seat-of-the-pants dangerous. There was this one harmonic where I'd always be going "Please, sing for me." I had to hit the string in exactly the right place. I dug a big hole in the ground for myself with that one. We still have that song in the set, and now I've got "Declan" to play, too.

Player: But it must be a great relief for you to have all this new material to play live.
Beck: Good, bad or indifferent, to me the album is simply done. After Christmas Eve, I sat back and slept for about three days. I had just sent the last mix over to the U.S. I was tempted to follow the plane over and fix a few songs, but I had to let it go.

Player: This album has a lot more guitar orchestration than we normally hear on your albums.
Beck: There is a lot of that, but it still has that spark and feel. I didn't add too many fancy embellishments. "Space for the Papa" is very sparse. We grooved on one chord all the way through. It's all down to what I do over the top of it.

Player: Did you add any new equipment to your rig or are you still using the basic Strat and Marshall setup?
Beck: I don't have any equipment. [Laughs] It's still the same old, same old. To me it's like using a Fifties toaster. You just plug it in and switch it on. If I don't hear me in there, I don't like what I'm plugged into. There are millions of fantastic guitar sounds, but they always sound exactly the same no matter who is playing. They're not transparent enough to reveal the character. I could use maybe one flurry of notes with that kind of sound, but I prefer the sound of a really loud amp blasting away. I like for there to be some size. I like to hear the room. I don't like to stuff the mike right up against the cone.

Player: Your single notes have a horn-like quality, like a saxophone.
Beck: I try to avoid shattering the ear drum. A Stratocaster can be too bright. I kill off all of the top end on the guitar by turning the tone control all the way down, and I set the controls on the amp where the throat is still there. Then I overload it to get this honking, choked-up sound.

Player: Are we going to have to wait another 10 years for your next album, or have you gotten over that hurdle?
Beck: I don't have 10 years left. If for no other reason, I only have a limited amount of birthdays left. It's about time that I did something. I'm committed in a big way to doing a lot more. The fact that Jennifer is so loyal, I've got an English drummer and bass player and there has been a massive effort by everyone involved, including my record label, is encouraging. The green light is on everywhere I look. We're going to give it our best shot. I have a lot of stuff left over, so if I see some good results from this I won't be touching the ground again for quite a while. Now that I'm in the latter part of my life, it's best to enjoy it and appreciate it. I don't want to fizzle out and become some retro act. I'm really concerned about what is going on out there. Television has sunken to unbelievable depths. I can't believe that we're entertained by Jerry Springer and watching people kick the shit out of each other. They emulate that here in England, and it is so cheesy. It makes me want to throw my TV out the window. That invention is probably the greatest communicator of the 20th Century, but how come for 24 hours a day we get filth like Jerry Springer and all of these rubbishy soaps? There is so much knowledge that is stuffed away that should be on television. If I ever made a million quid I'd start my own TV channel. Why do we need 50 channels of sports or to be able to tune in the Italian weather forecast? I don't get it. The Internet is much better. You can search out the information that you want. I'm very relieved that I was born when I was born, and not in the Seventies. I'm not envious of that generation. And then there is the whole "Girl Power" thing. I think women are entitled to kick men's asses, but at the same time they are mocking us. It's so easy for them to turn a simple peck on the cheek relationship into "I'll have your Cadillac, your Porsche and everything else you have." It's best to have nothing and marry a rich wife.

Player: You're much more aware of what is going on around you musically than other 54-year-old rock musicians. Most musicians your age are clinging desperately to the past and trying to revive their past glories. What keeps you looking ahead?
Beck: I never at any phase in my career felt that that was my time, but now I do. Perhaps it is my turn now.

(End)

Jeff Beck
You Had It Coming
By Chris Gill

Last time Player spoke with Jeff Beck, he promised that he wasn't going to make his fans wait another 10 years for an album the way he did before he released Who Else!. "I'm committed in a big way to doing a lot more," Beck said. "It's about time that I did something. I have a lot of stuff left over, so if I see some good results I won't be touching the ground again for quite a while."

Apparently Jeff saw some extremely encouraging results, as it has been only one-and-a-half years between the release of that album and his latest effort, You Had It Coming. Beck's new album picks up where Who Else! left off, and in typical Jeff Beck fashion takes off into another galaxy altogether. The production is even more hi-tech and electronic, but at the same time it is much more stripped down, aggressive, and tough, with Beck's guitar dominating the songs like a pit bull protecting its territory. Beck goes for the throat on songs like "Earthquake,"—a heavy metal-flavored tune that makes Korn and Limp Bizkit look downright wimpy and weak—"Roy's Toy," —Jeff's tribute to San Francisco-based hot rod designer Roy Brizio, who has built cars for Beck, Eric Clapton, and ZZ Top's Billy Gibbons—and a massive-sounding cover of Muddy Waters' "Rollin' and Tumblin'," the album's only vocal track, which is sung by British singer/songwriter Imogen Heap. As always, there are also several moments of amazingly buoyant beauty, such as "Blackbird"/"Suspension" and Beck's cover of Nitin Sawhney's "Nadia," which Beck discovered on the Britain-based artist's Indian/drum 'n' bass/world beat-influenced album Beyond Skin.

While Beck has been putting out albums under his own name for more than 30 years, You Had It Coming can be called his first true solo album. He worked on the album at London's Metropolis Recording Studios, assisted only by producer Andy Wright (Simply Red, Massive Attack) and programmer Aiden Love. Although Jeff's live band—guitarist Jennifer Batten, bassist Randy Hope-Taylor, and drummer Steve Alexander—were brought in to embellish the tracks, their performances were eventually discarded as Jeff felt that they didn't quite fit in with the album's hi-tech sheen. The creation process was quite unusual: Beck would play his Strat through a Marshall JCM 2000, then Wright would cut out the best parts of Jeff's performance and create an arrangement. After that, Love created the backing drum grooves and instrumental accompaniment. Never before has Beck's guitar playing and songwriting been so much at the center of his efforts.

Beck is obviously proud of his latest accomplishment. For someone who has done his fair share of interviews and photo shoots in his career, he shows none of the impatience usually encountered from most seasoned artists, who view these activities as necessary evils. In fact, he seems genuinely enthused to talk about the new album even though he's probably done close to a dozen interviews on the subject previously during the day of our interview. Even the staff at Epic's London office seem worn out by Jeff' s exuberance as he jumps from a photo shoot to a lengthy interview and back into another photo shoot without taking even a five-minute break. Beck may be 56 years old, but you couldn't tell by looking at him or observing the way he conducts himself.

Casually dressed in jeans with a torn back pocket and a wrinkled T-shirt, Beck certainly isn't the typical fashion-conscious rock star. In fact, the only features of his appearance that give away his rock star credentials are his jet-black dyed hair and classic shag cut, which seemingly hasn't changed since the late Sixties. While the most cynical critics may claim that Beck is trying to gain credibility with hip young audiences who are more into electronic dance music than blazing guitar work, it's quite obvious that Jeff's motives are far from that. Instead, he's defiantly breaking the chains that so many of his critics and even his fans try to restrain him with. The fact of the matter is You Had It Coming sounds unlike anything else that's ever come before—an incredibly refreshing breath of fresh air in an environment crowded with stale, overused clichés and redundant formulas.

But then again, what else would anyone expect from an artist who has the courage to blend drum 'n' bass rhythms, Indian-influenced melodies, and a Muddy Waters cover within the course of 30 minutes? Even Beck himself admits that he never knows what to expect when he enters the studio to make an album. Perhaps this is the true secret to always staying young.

Player: You put out You Had It Coming in an incredibly short period of time. How did you accomplish that, especially considering the marathon period it took to finish Who Else!?
Jeff Beck: I didn't want to take 10 years to complete Who Else!, but shit happens. My relationship with my girlfriend at the time had me down, but I came out of it okay. I also found it strange to be favored by audiences in Japan and America when I lived in England. I felt like a polar Eskimo. English music tastes can be very trendy. I ignored most music that was coming out in the Eighties. That's how I came up with what I did on Guitar Shop. Of course, that was a depressingly short-lived project. We needed a real producer—there were too many volatile personalities in one room. We still enjoyed the "reunion" tour we did in 1995 with Santana. It was really lifting to get out there with Santana, who has been an amazing source of energy. Eric Clapton is that way, too. They've never stopped working.

Player: Speaking of Clapton and Santana, they've both experienced huge success in the pop music arena with Unplugged and Supernatural, respectively. Do you ever hope to have a similar type of breakthrough?
Beck: That's a very pointed question. I've been talking with my managers about how to raise my profile, but if I took the approach that Eric or Carlos did I wouldn't be me anymore. I remember running into some girl on the street who told me, "Don't lose what you've got." It was just a fleeting moment, passing someone on the street. That stayed with me. It was like a spiritual message. How can you be cool and famous at the same time? You can't! [Laughs] I wouldn't want to do an album like Supernatural. I'd rather go back to painting cars. I'm not saying that it wasn't the greatest thing for Santana, but it wouldn't work for me.

Player: Why wouldn't it work?
Beck: There are many reasons for that. It would be the end of the road for me, because having achieved that massive state of popularity you then have to maintain it or watch yourself go downhill. If anything you do after that doesn't sell as well, it's considered a failure. It's like the Michael Jackson syndrome: if he puts out an album and it sells five million copies instead of 15 million, it's considered a bomb, even though very few artists can sell that many records. I'm quite happy being miserable, I suppose. I've always been at semi-pro status, and I've never really made it.

Player: Your lack of massive commercial success has kept you hungry and aggressive, though. It has almost forced you to keep exploring new avenues, instead of always retreading the same ground.
Beck: That constant state of being is fine with me, provided that I do make a little bit of money. I would never dance to someone else's tune. By now I'm so set in my own ways that I don't care whether I put out any hits or not. Unfortunately, when one does have a massive hit, the temptation is there to capitalize on it. It would be stupid not to, in a way. But after that I'd be on that downward slide, wondering what to do next.
Player: Having a big hit is similar to being a television actor who is known only for playing a particular role on a show. Leonard Nimoy will always be Spock no matter what else he does, for instance. You've had a taste of that here in the UK with "Hi Ho Silver Lining."
Beck: Kindly rinse your mouth! [Laughs] I'm happy as long as I get a reasonable turnout at my shows and reasonable sales for my records. Of course, sometimes it's good to have some success as it really helps out the band. The greatest thing about the success of Supernatural is that Santana's band can now enjoy the party time. They're the unsung heroes, and it's good for them to share some of the rewards for their hard work all these years. It was great for me to see how happy they were at the Grammy awards. They were buzzing. I wasn't. The bastards. [Laughs] I was there like Jack the Lad, nominated for two Grammys, but I came home with none. But Carlos won both of them, so that was cool.

Player: You mentioned that Prodigy influenced a few songs on your last album.
Beck: A couple of their records send shivers up my spine. They have such a "fuck off" attitude, which I love. It's the same thing I used to expect from the Who. That energy is what I look for. There's not enough of that weirdness about. Everything is so cut and dry.

Player: This album seems to pick up on that sort of aggression.
Beck: I was throwing things at Andy Wright, and he was throwing them back at me. That's the way it worked. I'd play and play and play, then go out and have a beer. Then I'd come back after an hour at the pub and listen to what Andy had done. He'd go, "I pulled this section out of your solo. What do you think?" Then I'd start composing. I was composing and soloing simultaneously. Choruses would appear out of nowhere. It was super hi-tech but old school at the same time. It came together very quickly, but I wanted that. I wanted to capture the initial impression.

Player: I gather that you used Pro Tools quite a bit to accomplish that.
Beck: That's because it's so convenient to edit things with it. You can move things around, change a note, or double the length of a verse instantly. With tape you wouldn't bother trying to do that kind of thing. It's too laborious to do that when you have to snip things with a razor blade.

Player: Did you use Pro Tools mainly as a songwriting tool?
Beck: Yeah. We were quick to put all of what we called the "keeper" stuff into memory. Andy is amazing. He was always looking beyond what I was recording and he could remember what phrase would work best with another one I had already done. Sometimes I'd disagree with him, and he was always able to come up with something else that fit.

Player: So this album was primarily a collaboration between you two?
Beck: I think Andy knew who I was, but I don't think that he had ever heard me play before. That was cool, because he didn't have any kind of pre-conceived ideas about how I should sound. I'd just play guitar, blazing away on top of riffs, and the energy was just like when I play live. It's very difficult to achieve that in the studio when you're trying to create a finite piece of music and it's all formulated. Instead I had this wide open field of grooves in front of me to play to, and when I hit something really worthwhile I'd stop and go have a drink. Then I'd come back and we'd plan how we'd go from there.

Player: How did you end up working with Andy?
Beck: We had a short list of three or four producers. The others were fine, but one wasn't available and the other did straight-up pop—that would have been okay if I wanted to make a pop record, but that wasn't what I wanted. Andy was my last choice, and he was so positive. He said, "We're going to make a really good record." I said, "That suits me. I'll pay the check. Let's get out of here." It's very inviting to go back with him in the studio again, because it was too easy. I don't know if I should have things that easy. We'll see how this record goes.

Player: What was Aiden Love's role?
Beck: Aiden laid down the bare bones—the grooves. He focused on the Prodigy kind of vibe without copying that but building his own sound out of nothing. He had all sorts of gizmos in his studio, like an old Morley pedal, tape echos, and all this crazy stuff. It was like Les Paul's supersonic workshop—very crude. It was my kind of stuff.

Player: What was his biggest contribution to the album?
Beck: We would tell him exactly what we were looking for, and we'd play him a tape of a demo. About ten minutes later he'd come back with something and ask if it was what we had in mind. His studio is smack next door to Andy's studio, so we'd be going backwards and forwards. He'd be checking out progress on our side, and we'd go back in and try a bit more out.

Player: Did you use your band at all on the record?
Beck: We got them in the studio for two weeks to play over the programs, so we had the band sound, but we ended up not using it. We wanted to record the drums on 24-track tape, which would give us the benefit of the sound on tape. It all sounded very nice, but I'd be changing my mind 50 times a week, so I had to call Steve [Alexander] back about 10 times after he'd gone to change a verse or a fill. So we wound up having to use Aiden, which was regrettable only for the sake of not having the band on the record. But I think that Steve understood. At the end of the day the record was made within the budget. But I think that the music will kick ass on stage, and I can't wait to hear it. It's almost like a having blank sheet of paper in front of me. When we go on stage we'll really be able to embellish it. The record is very simple. There aren't too many muso fills or chords. It's stripped to the max without actually being too minimalist. On stage it's going to be a whole different thing.

Player: For this tour you'll have quite a bit of new material to experiment with.
Beck: I've been short on great new material that wasn't just supercharged old material. I've been waiting for that magic package in the post, the jiffy bag that never came. I didn't want to wait any longer, which is part of the reason why I did this album so quickly.

Player: You manage to reinvent yourself with every record you put out. You're still Jeff Beck, but you are still progressing and taking bold steps forward.
Beck: That was my job in the Yardbirds, and even before then, although there really isn't any recorded evidence of that. I was messing around with moveable heads on Echoplexes and stuff like that, and I used to keep people entertained with it. Then Uncle Jim [Marshall] came along.

Player: "Earthquake," which starts off the album, is very aggressive, almost like something by Korn. Is that something that Jennifer Batten wrote especially for you?
Beck: I've pretty much been linked with heavy metal music, although most of the albums I've done haven't been so forthcoming with it. I've always tried to get away from the heavy metal thing, although I had a bit to do with the beginning of it. I thought it wasn't a good place to go at all. But now that that's over, I thought it was okay to do something like that. It's not retro, and it doesn't really have anything to do with heavy metal because the time signature takes it away from normality. But I just couldn't resist it. You go nuts, but you can't go completely nuts because of the time change. You're going to fall off the horse quickly if you try to head bang to it.

Player: "Roy's Toy" is your long overdue tribute to hot rod designer Roy Brizio.
Beck: Yeah. He's one of the nicest guys in the world. If he was a musician, he'd be the best in the world. He's so perfect. His taste is immaculate. He's my automotive connection. We've been friends for about 25 years. I was dealing with his dad, Andy, before. He was the "Rodfather."

Player: Is that a '32 Ford making the engine revving sounds?
Beck: Yeah. It's Roy's toy—a roadster that he built. He builds one every year for Oakland. I think they sponsor him or he's linked with Dupont or Ford or something like that. He gets to build these fantastic cars. It sounded really wicked. When he started it up, I was going "Get that mike!" It was in a little alcove in the Sunset Marquis hotel car park. The sound was so cool—you can really tell that it's deafening and ripping. You crank that through a quad system flat out and it will tear off your ears. The engine rev is so distorted that it becomes like a bass guitar.

Player: You did a Muddy Waters cover too.
Beck: I've always loved "Rollin' and Tumblin'." I first heard Baby Face Leroy's version on the Chess Blues Master Series compilation. I remember this really happy sounding vocal with drunken slurs and some guy playing bass drum. That's all it was—guitar, bass drum, and vocals. It was fantastic, so crude, energetic, and wonderful. I always meant to do that song, and I tried it several times. This time we got the sound I wanted, and we put a military snare on it to make it slightly more hip and funky. We had Imogen Heap do the vocals, and she was brilliant. She sings it in an attractive, different way. It wasn't some guy singing, and she had this New Orleans quality in her voice, which I never expected I'd get from her. I didn't know what to expect, because all I had heard her do was her folky type of music. When we were cutting it we knew it needed vocals, and I wasn't going to sing it. I didn't want to sing through a vocoder, either. We decided to give Imogen a shot, and she came up and blew us all away in one take. All her little add-ons and breathing on "Dirty Mind" were done in one take, too.

Player: Whose idea was it to have her sing?
Beck: I had told Andy that I met her in France about two weeks earlier. We were in this French castle at a songwriting festival. She really stood out to me. She's six-foot-six—quite a piece of work. I asked her if it would be any problem and she said, "No, not at all." She probably thought I was a bit nuts asking her to sing this blues song, but that's what I like. I like to take people away from what they normally do to see if there is any accessibility or something they may discover about themselves.

Player: You've constantly done that to yourself.
Beck: It's awfully boring to be welded to the same chains. You can lay out all sorts of interesting things for yourself. It's better to keep going up than to stay on the same level all the time.

Player: Most people in their fifties aren't exactly listening to Prodigy, let alone aware of who Prodigy are.
Beck: No. I was thinking about that the other night. In fact, I was listening to electronic music back when I was 16 and being frightened by it. Somebody had given me an EP by two Dutch guys, but I can't remember what it was. There were four tracks on each side and they were devastating. The musicality was amazing—it was like the precursor to the Moog synthesizer. I took it over to Jimmy Page, who had never heard anything like it. These were actual compositions—recognizable tunes. He dragged out some albums with some very abstract Sixties-style artwork on the front and put it on. It was this rumbling, swirling white noise—just wonderful. That never went away. I suppose I was thinking about what was going on now back then. I realized what was possible, but I never had the facility that I have now. I can dream up my favorite sound and come up with it. But I don't really see the end of real music. I think it's fine if you can blend the two. I mean, maybe ten years from now we'll be laughing at what's coming out now. We'll be going, "Can you believe that we used to use Pro Tools? We use real drums now!"

Player: "Nadia" is another cover song that you recorded. How did you find that song?
Beck: I think Miles Copeland and Sting turned me on to that. We were on tour with Sting, and they mentioned that Nitin Sawhney was a possible support act and how great he was. So I got the CD and played it. I must admit that I was going at the fast forward button after a couple of tracks just to see what the rest of it was like. Then "Nadia" came on and I nearly froze. It was an Indian melody over major 7th chords. I played it over and over and over again and fell in love with it. I took it home and learned how to play the melody. It's one of my favorite pieces.

Player: You've had some rather unusual ethnic influences—the Bulgarian women's choir, Indian music . . .
Beck: "Nadia" is a lot easier to play than the Bulgarian thing. There's just one woman singing [Swati Natekar] instead of fifty voices. I'd still like to do that, but nobody's brave enough to do the notation. I'd like to record all those parts on one track played with multi-tracked guitars.

Player: For a long time you've had a keyboard player as a collaborative partner or creative foil, such as Tony Hymas, Jed Lieber, and Jan Hammer. This time you've broken away from that.
Beck: I think that Tony wanted more control over the way that his songs are recorded. Any musician of his standards is bound to have a strong opinion in the studio, and if it conflicts with mine, it's over. I'm prepared to listen to others' ideas, but most of the time I think that whatever I think is right is right. Tony is also a little detached from what is going on in pop and rock music. I also thought that one day he'd eventually tell me to go get stuffed. [laughs] This is pretty much my first album, really. It is the first album where I've had total control, not so much in the production but in terms of the material.

Player: I imagine you're still playing your Strats and Marshalls?
Beck: Yeah. It's embarrassing, isn't it?

Player: It actually isn't. I think that too many people overlook the fact that the person playing the guitar is more important than the actual guitar or other equipment he or she plays.
Beck: I think that's because so many great guitar players want to be traveling salesmen for some gadget. That's all right, but the emotions start to disappear when you use too many gadgets. The less equipment you use, the more you can hear what the guitar itself is actually capable of doing. Loads of compression, echoes, flangers, and all the other gizmos don't let you hear what the strings are doing. I don't want to hear everybody sounding like that. In fact the one person who I think has that down is Jennifer Batten. I can listen to her playing that all day. But for rock and roll I don't want to hear overprocessed guitar. I just want to hear the pickup and the amp. Obviously there's some trickery going on on the album in the moderation . . .

Player: Like the filter sweep at the beginning of "Earthquake"?
Beck: Yeah, but then the song kicks in for real.

Player: From what I can tell, Andy captured your raw playing and then added a few touches here and there with Pro Tools plug-in effects.
Beck: Well, we couldn't have captured that sound live. If it we did it that way it would have sounded more like something from 10 or 20 years ago. But a lot of stuff that sounds like effects aren't actually effects at all. For example, that motif in "Rollin' and Tumblin'" sounds like echo, but there's no echo on the song at all. There might be a small touch of reverb, but you can't really hear it with everything else in the mix. But for the most part the album was recorded dry—it's just honest guitar. I thought that was the best way to go. I let all the other stuff be what it was. We placed one Shure SM-57 in front of the cabinet, and I used one Marshall head that I hardly ever touched. We didn't even reposition the mike.

Player: On "Blackbird" you use a rather long, decaying reverb.
Beck: That song was born from that sound. I was playing solo with the TC Megaverb plug-in on a canyon setting. It's a beautiful sound. Andy really liked it. I just wanted to go back to work, and Andy said I should do something with that sound. So we brought these chords together, and that was our quickie. We got that done in 15 minutes. We had an argument about it. I wanted the string section to build, but he said no, and he wanted to keep it at a subliminal level.

Player: I hear that you're going to make several of your songs available to remixers.
Beck: I'd love to hear what some of the top guys could do with my music. But I've already done half the job for them. I you crank it, my guitar sounds pretty full. You need to strip a little bit our here and there or else it will get cluttered. There are some wicked dudes out there. But I've never heard any remixes with screaming guitars.

Player: How long did it take to put the entire album together?
Beck: About six weeks. Then there was some arguing about the mixes of "Nadia." There was no proper drum kit groove like there was on the original version, and I really missed it. What we had was a flurry of bongo sounds. Over here there are a pair of comedians called Bob and Vic who tell these terrible jokes to the accompaniment of badly played flurries of bongo noises. I said, "We've got Bob and Vic on that song. It really needs a drum kit." Andy disagreed, but I finally won in the end and convinced him to put the kit back on there. The song takes off when the drums come in. It needs to take off. I'm not sure whether that's the right drum program for that song or not. I need to work that out on stage. I'm definitely sure we're going to play that one. Steve will have a great time with that. The song could have gone in a completely different direction. We could have turned it into a slushy ballad, but it's not. It has the chords for that, but the rhythm gives it juxtaposition.

Player: Last year you said that you plan on putting out as many new albums as possible over the next ten years. Is that still your plan?
Beck: I've got to think ahead now. If this album does pretty well, or even if it doesn't, I've got loads of ideas. Now that I know what can be done swiftly, I'm ready to kick ass. It built my confidence to have Andy throw this wonderful stuff back at me with so little effort. It's a tough sounding record. I can hear things that I want to change now, but I can't stop the van while it's on the way to delivering the album to the label.

Player: That was your big problem with the last album. You'd be well on your way to finishing it, and then you would stop and start all over again.
Beck: Now I can focus more clearly. I got this album done pretty quickly without it getting on my nerves. If it takes too long to make an album, the songs start to rot away in your head. The impetus, the freshness, is gone. If the album doesn't live up to your expectations on Monday morning, then it's not much likely to get better. The best thing about this album is that it's stripped bare. When I'll play it live, people will be going, "Hey, that's not on the record!" and I'll go, "Neither is this, sweetie." [Laughs]

Player: You never fail to pull a few surprises out of the bag whenever you play live.
Beck: That's what my job is, I suppose. I've got some new ideas about presentation that need to be looked at. A lot of bands aren't very entertaining. They may sound great, but they're tied down to their equipment. Jennifer's amazing display of equipment is like that. She can't dance around for fear of treading on the wrong thing. But on our next tour we're going to be able to step out a bit. I don't have any problem at all. I've got just a junction box with a switch on it that selects the A or B channels on the amp. I want to make the show as entertaining visually as it is musically. That's what people talk about after the show. A lot of people don't know what I'm doing unless they're a guitar player. Even I can't tell what's going on when I watch a guitar player and there's bad sound and it's not completely evident that it's that guy who's making that sound. I want the lighting to make more dramatic statements to let people know who's playing what. We're going to have our own complete look and add some style, but not in an embarrassing way. It might be, but it will be an endearing embarrassing.

Player: What new paths would you like to explore?
Beck: Loads. But right now I'm just concentrating on the tour. I just want to rehearse and get back the form that the band had at the end of the tour. We were pretty much on top of it. I still have to decide what I'm going to play—what new material to choose and what compilation of my old stuff I'm going to do. Then I need to slide some wickedness and groove in there.

Player: Is there anything you want to explore musically?
Beck: Yeah. First, I want to get a studio where I can get a great drum sound. I wish that I could figure out a way to do that with my home studio. Right now it has this horrible, boxy attic sound. No matter what kind of drums you bring in there, they all sound the same. It has the curse of bad acoustics. I'd prefer to have a nice big open room with a pine parquet floor like they have at Angel Recorders. I'd really like to do experimentation with live drumming. That's it really. I don't want to give too many things away, so I can keep them as a surprise.

Player: Did you use your home studio at all while working on this album?
Beck: No, partly because Andy had rented this room at great expense. It made no sense whatsoever to work at my home. Andy had all of his stuff set up in his studio. But my studio is a very useful workshop. If I get an idea in the middle of the night I can record it. I can make professional-quality recordings there, but unfortunately I've got a leak in there. I have the mixing console located right under this leaky window, which is a stupid place to have it. It just started crackling and everything went up the spout. So we just went straight to Andy's. That's the place, really.

Player: You must have amassed a lot of unreleased material over the years, especially considering all the songs you wrote between Guitar Shop and Who Else!.
Beck: I have packets of stuff. There is some great stuff I did with Mick Jagger. The groove is slamming. I did some recordings at Motown a long time ago with players like James Jamerson and the Motown horn section. There are about nine tracks of that. I just hope that the tapes of that haven't decayed.

Player: Is there anything new that you've heard recently that you really enjoy?
Beck: I like the music by Nitin Sawhney, the guy who wrote "Nadia." I went to see him play, and he reinstated my faith in people because the audience loved it. He had incredible tabla players and this guy who made drum loop sounds with his mouth, which was incredible. He was a show all by himself. I check the radio faithfully every day to find out what's going on, but I don't hear a lot of shit happening. It's really come to a point where I don't understand it anymore. All I hear is some cheesy pre-programmed Roland synth with somebody rapping badly over it. When I change the channel I hear the same bloody song by someone else. Black music today has a lot to answer for. It used to be the leading force in all fields, whether it was Stax, Chess, or Motown, that drove all the white guys. Now we look around and all we see are a bunch of fake criminals with loads of gold hanging off of them.

Player: You can still find great black music, but you really have to dig to find it. But you definitely won't find it in the pop charts.
Beck: And that's a shame. We've had young kids who have come to see us, probably under duress [Laughs], and they'll go, "Jesus! Mom and dad, you never told me about this!" That's what I want to hear. I want to make music for all ages. Music shouldn't be limited or restricted, especially by age. Nobody ever complained about how old Muddy Waters or Howlin' Wolf was. People loved Sinatra. He could have been singing "My Way" as they lowered him in the grave and they still would have loved him. America is big enough to support all forms of music. There are enough pockets of varying taste. Fats Domino came from New Orleans. Buddy Holly came from Texas. Gene Vincent came form Virginia. Elvis came from Tennessee. All of these great rock stars came from all these different places during the Fifties. I wish that was still going on. Bands in America may come from different places now, but they all sound the same. But if you're a pop star there are all these rules and regulations that can't be broken. Britney Spears and the Spice Girls are just Barbie dolls. I don't understand that—actually I do, because it's all part of the big machine. They keep the schoolgirls going. But why sacrifice everything for that? Music is like food. Why just have white bread when you can have the whole bloody meal?

(END)

---
Fan And Excerpts of Media Reviews of 'You Had It Coming'
Feel free to send us your own reviews or dissenting opinions!
From....
From the Atlanta Journal....2-8-01
Stewart stumbles, Beck rages on latest
Thursday, February 8, 2001
MUSIC
"'Human': Rod Stewart. Atlantic. 11 tracks.Grade: D
'You Had It Coming': Jeff Beck. Epic. 10 tracks.Grade: B"
"Back in the late 1960s, Rod Stewart and Jeff Beck made two seminal hard-rock albums together in the Jeff Beck Group ("Truth" and "Beckola"). They've come a long way since then, but have arrived at very different destinations. Both make obvious attempts at updating their sound; it's what they've been listening to that makes the difference." "Stewart seems to have boy-band pseudo-R&B stuck in his CD player." "Beck fares much better with "You Had It Coming," partly because he hasn't abandoned what he's always done best. He is one of the best and most innovative guitarists of the past 40 years, and it's still a treat to hear him rage." "When it isn't taking a '90s funk tack or updating the blues, "You Had It Coming" injects contemporary dance genres into the mix." --- Shane Harrison
From Yahoo.com, Rolling Stone....
"So now that old masters like Clapton and Santana are enjoying pop-propelled career rebirths, it's fair to ask, what about Jeff Beck? You Had It Coming, Beck's second solo album in two years, makes this the busiest stretch for the one-time Yardbird since his memorable mid-1970s run of Blow by Blow and Wired." "Working in the comfortable techno-funk rock vein he's been tinkering with for the last few years, Beck is as agile and muscular a craftsman as he's ever been -- firing off ragged buckshot-blast chords on the rotgut-blues classic "Rollin' and Tumblin'" "Beck remains enthralled, in a slightly anachronistic sort of way, by the multiple voices he can squeeze from the throat of his Stratocaster, delivering screams, wails and growls as he traverses this record." (RS 862) DAVID THIGPEN
From the Washington Post.....2-7-01
Jazz-Rock Veteran Jeff Beck Pumps Up the Noise
By Dave McKenna
Special to The Washington Post
Wednesday, February 7, 2001; Page C05
"For Jeff Beck, now 56, the jazzier instincts have the upper hand. His new CD, the mostly instrumental, mostly mighty "You Had It Coming," is his most cacophonous release yet."
""You Had It Coming" won't propel any singles up the pop charts, either. It does, however, reveal the same fascination with electronica and industrial music that pervaded his last studio collection, 1999's "Who Else!" Also like the previous release, the new CD is kicked off by a Led-heavy composition by Jennifer Batten"
"On Batten's latest contribution, the rumbling "Earthquake," Beck rolls over an almost death-metal power-chord progression with a feedback-friendly whammy-bar workout."
"But "You Had It Coming" is much more a solo effort than its predecessor. Other than occasional vocal fragments and songwriting help, Beck gets little human backing. Instead, he plays over digital tracks provided by producer Andy Wright (best known for his work with Natalie Imbruglia and Eurythmics) and programmer Aiden Love."
"The Herbie Hancock-like "Roy's Toy" isn't another Beck tribute to Washington's own Roy Buchanan, as was "Cause We've Ended as Lovers" on "Blow by Blow"; instead, it's a homage to Roy Brizio, a San Francisco hot-rod designer who builds cars for Beck. Snippets of the engine of Brizio's 1932 Ford Roadster revving are thrown in alongside Beck's wah-wah-inflected licks.
Beck aims for the listener's midsection with "Left Hook," which comes off as a weightier, irony-free Devo tune until the guitarist launches a trans-fretboard excursion at its close. "Nadia" was written by Nitin Sawhney, a multi-culti artist whose fusion of drum 'n' bass and Eastern-influenced music made him a star on the Asian Underground scene in England. Beck's simulations of a sitar with his Strat bring him as close to the "Blow by Blow" guitar sound as he gets on the new CD.
Just to show he remembers his roots, Beck throws in "Rollin' and Tumblin'," a blues standard attributed here to Muddy Waters (and previously recorded by Clapton on his mega-seller "Unplugged"). But it would take an archaeologist to unearth the starting and stopping points of the original's 12 bars in Beck's enigmatic, but wholly absorbing, interpretation. Or maybe just a jazz musician."
From Bruce Howarth......

The album is called YOU HAD IT COMING.  It was released last Tuesday.  Cuts 
I highly endorse:
        1.  EARTHQUAKE  - written by Jennifer B - glorious primal sledgemetal.

        2.  ROY'S TOY -  Let's disco to a great dance beat a la "A Day In The 
House"  (Guitar Shop).  Great use of the ring modulator and motor samples 
around Jeff's trademark whammy flutters.  It'll also remind you of Guitar 
Shop's title track.

        4.  ROLLIN'  & TUMBLIN' -  the Muddy Waters classic,  with Imogene 
Heap on vocals (she did it on one pass!).   Frighteningly faithful to the 
spirit of the original while being thoroughly new-millennial.

        5.  NADIA - written by Nitin Sawhney ("the Indian Stevie Wonder"),  
this made my list of the 10 greatest rock-guitar solos ever after one 
hearing,  just like "Where Were You".  This is why I tell musicians who 
aren't familiar with him that Jeff Beck is rock music's Vladimir Horowitz.  
Listen to JB pull off this sitar simulation and ask yourself, "How is he 
doing that?"   (Answers next Email.)

        6.  LOOSE CANNON -  any player out there thinks they sound "dark and 
sinister"  better have a gut check against this.   His guitar literally 
snakes up out of the smoke,  and the groove would have done Jan Hammer or 
Phil Collins proud - one of the best I've ever heard.

        7. ROSEBUD -   this entire tune is structured from the opening 
fingerpicked passage, Leo Kottke through a deliciously refracted electric 
haze.
 
        8.  LEFT HOOK -  Speed metal par excellance.  One excellent dive-bomb 
hook and a reiterated stacked-fourth chord that grows on you like that single 
note in "Stand On It" (Guitar Shop) did.
            Those last 30 seconds -  did anyone say this guy doesn't tote any 
greased lightning in his trick bag?
 
        9.  BLACKBIRD -  The advance reports say his concerts are opening 
with this on tape.  The fluttering notes he did by bouncing a dinner-fork on 
his strings.
 
        10. SUSPENSION -  New age in the night, Aeolian mode, and very 
ingratiating.   Out of step stylistically with the other material, but I 
suspect if he doesn't go into hibernation again, this might be reflective of 
Jeff Beck's next new stylistic guise in the next three to four years.
 
 I deliberately left off track number 3,  DIRTY MIND,  though I probably 
should include it strictly on the merits of the technically staggering Cliff 
Gallup clawhammered solo in the middle.  This is an over-the-top suggestive 
bump-and-grind number in the same basic direction as Zep's "Whole Lotta Love" 
and Bad Company's "Feel Like Makin' Love."  For that matter, I'll throw in 
the opening five minutes of music in Richard Strauss's bizzare orgiastic 
opera "Der Rosenkavelier."  Call me a prude or too Victorian, but I think 
there is too much of this lowest-common-denominator brand of musical 
prostitution;  it doesn't take much of their imagination, and it doesn't 
leave enough of anything noble to that of the listener.  I was saddened, but 
not totally surprised given the state  of the rock industry today, to hear 
that out of all the excellent tunes on this album, DIRTY MIND was the one 
theypushed for airplay.   They should have picked either of the next two 
cuts, ROLLIN' & TUMBLIN'  or NADIA, which both have far more integrity, 
imagination and energy.
 
 This album is a MUST listen;  the perfection in the guitar playing and the 
overall energy will keep you coming back.  It boggles me that I have a new 
guitar student who never heard of Jeff Beck - typical of a lot of America - 
while he's huge in places like Japan and Italy!!

From The Oregonian....February 16, 2001
Jeff Beck is rising again
Friday, February 16, 2001
By John Foyston of The Oregonian staff
"Jeff Beck, rock's original hot-rod guitarist, is once again nudging up against the redline after a grim decade that he calls a "diabolical waste of my life."" "There was a long fallow period prior to 'Guitar Shop' (1989)," Beck said in a recent telephone interview. "My record company was trying to put me in the '80s mold -- me with lipstick was a disaster. It didn't get that bad, but it was a wasted decade. Then I heard 'Afterburner' (ZZ Top), and it was a ray of hope -- I thought to myself, 'Stay cool, Jeff, you can wait this out.' " "He further recharged his playing and expanded his vocabulary by embracing the beats and beeps of electronica, humanizing them in the process." "His latest recording, "You Had It Coming," is Beck at his fiercely inventive best. Like any good Jeff Beck record it's a bit unexpected, though it furthers the direction begun with last year's "Who Else!," continuing with the same fine band of Batten, drummer Steve Alexander (ex-Duran Duran) and bassist Randy Hope-Taylor. Andy Wright produced the album." ""Roy's Toy" on "You Had It Coming," where Beck rages and rails in a tune punctuated by the sampled bellow of a big block motor, he still sounds like a man stretching for the sounds that only he hears." ""I don't see any law that I have to stick to what my fans know," said Beck, who's in his mid-50s now. "I'm always looking for the acid edge, and if some of my original fans aren't comfortable with the electronica, that's all right. Besides, I don't expect to get a lot of those fans out for a concert anyway. I want to attract younger listeners.""
From Yahoo.com,Reuters......February 20, 2001
Tuesday February 20 12:07 PM ET
Rock Star Jeff Beck Takes An Ax to His Careerbr> By Dean Goodmanbr> LOS ANGELES (Reuters) - "Career sabotage, squandered opportunities and fear of success: Rock guitar icon Jeff Beck wrote the book on all of these subjects. While contemporaries such as Jimmy Page, Rod Stewart and Eric Clapton have achieved fame and fortune, Beck finds himself counting his pennies as he performs dazzling guitar solos for cult audiences. Of course, success is not judged by album sales or dollar signs alone, and Beck is considered one of rock's greatest lead guitarists. His groundbreaking 1960s work with the Yardbirds and his own Jeff Beck Group pioneered blues rock, heavy metal and psychedelia, but it did not catapult him to mainstream success. Whenever a breakthrough beckoned, like a chance to perform at Woodstock in 1969, Beck panicked and ran the other way, while Page transformed the Yardbirds into Led Zeppelin and Stewart and Ron Wood left the Jeff Beck Group for the Faces. ``Yeah, yeah. I think I've sabotaged myself,'' Beck, 56, told Reuters in an interview. ``Why did I do it? I don't know. Why did I knock out Woodstock? Why did I blow out tours?'' Blame his quest for new musical horizons and a refusal to trust his radical ideas to bandmates. But he is not complaining because his hardcore fans view him as hip and underground. ``You can't have that if you go up above ground,'' he said. If things had turned out differently, perhaps he would be living in a ``pink cocoon,'' as he claims Stewart does, and ''wondering ... how to avoid paying millions of tax, hating everybody and not being very friendly.''
Cars And Guitars
Instead, he lives in a 16th-century home in the English countryside, having cleaned out his bank account to pay for its restoration. He shares the house with his artist girlfriend, Sandra, a former model in her early 30s who dyes his brown hair black and pressures him to have children. ``It's the end of the line of the Becks if I don't,'' he said in the interview at his record company's Santa Monica, California, offices. Beck took time out from his primary passion -- restoring vintage cars -- to record a new album, the mostly instrumental ''You Had It Coming'' (Epic), marking his first release in two years. That is a prolific output by his standards. His previous effort, Grammy-nominated ``Who Else!'' (1991), was his only album of new material in the 1990s. He has just begun a five-week North American tour with a twofold purpose: to replenish his finances and as a last-gasp attempt to broaden his fan base. ``I need the seal of approval, I think, on a slightly larger scale, so that we're not just breaking even on a tour and going away wondering what ... to do next.'' He is vaguely thinking of stepping back from the solo spotlight and becoming an anchor man in a band, complemented, say, by guest turns with veteran jazz drummer Billy Cobham or a gospel choir. Other people he would like to work with include R&B crooners Macy Gray, Prince and Sly Stone. ``But it would have to be written in the stars that the thing would be totally an organic effort and not just be stuck on just for the sake of commercial success,'' he said. And, by the way, do not add Clapton to the list. Beck envies Clapton's ``immaculate'' approach to the guitar, ``but it's also a trap that I don't want to be falling into.''
Tuning Out Led Zeppelin"
"As Beck tells it, when manager Peter Grant sensed early signs of a split he turned his attention to nurturing a band formed by Page. Beck did not think the new group would amount to much; now, 200 million album sales later, it is best not to mention the band, Led Zeppelin, in Beck's presence. When a Led Zeppelin song comes on the radio, he changes stations. ``I don't hear that as being really, really, really happening and exciting,'' he said, though he is one of the few people to love rapper Puff Daddy (news - web sites)'s recent version of Led Zeppelin's eastern-influenced tune ``Kashmir (news - web sites).''" "``You Had It Coming,'' which Beck created with producer Andy Wright and programmer Aiden Love, takes Beck into an aggressive, techno direction. Recorded for a relatively cheap $100,000, it was inspired, he says, by listening to bad dance music at nightclubs and wondering what it would be like to insert wild guitar riffs into the mix. In the United States, reviews were promising, but initial sales were not. Beck's hardcore fans do not have to worry about sharing their idol with the fickle masses just yet."
From BJ Gatten....

I'm Sure Glad I Had This Coming!
Rating: A+
With Jeff Beck's new album, You Had It Coming, Jeff continues to show he
is the god of guitar. And just two years after his grammy-nominated
album, Who Else!  When you pop You Had It Coming into your cd player,
get ready for a wild ride. 'Earthquake,' the first song, gets you pumped
and ready for the rest of the cd. 'Roy's Toy', 'Dirty Mind', and 'Rollin
and Tumblin' also sent my pants to the laundry. 'Nadia', however, is the
climax of the cd. 'Nadia' is one of the best songs I've ever heard Jeff
do. I believe 'Nadia' is right up there with 'Cause We've Ended as
Lovers' and 'Where Were You.' When I first heard 'Nadia', I was stunned.
I am totally impressed. Here's my favorite songs from 1-10 on this cd (1
being my favorite, 10 my least favorite):
1. Nadia
2. Suspension
3. Earthquake
4. Dirty Mind
5. Left Hook
6. Rollin' and Tumblin'
7. Roy's Toy
8. Loose Cannon
9. Rosebud
10. Blackbird
Over all, I am totally impressed and Jeff just keeps getting better and
better. This album is right up there with 'Blow by Blow' and 'Wired.'
-BJ Gatten

Jeff Beck
You Had It Coming
(Epic)
by James Mann
PopMatters Music Critic
"Some people play a guitar. Jeff Beck attacks one. At his best the sounds he coerces from his white Strat are criminally inventive, rude — or in his words — "slippery". Pair this with the production and performance of Andy Wright, who has twiddled the knobs for everyone from Massive Attack to Simply Red, and you have what amounts to Jeff Beck doing the nasty at a rave." "A: of all the sixties guitar gods, only Beck can still look at himself in the mirror and B: why most electronica sucks." "Jeff has already secured his reputation for another decade, should he decide to vanish as he did for most of the '90s."
"Only Beck, by pushing himself in new directions, namely jazz/rock fusion, kept himself vital. By surrounding himself with musicians such as Jan Hammer, with who he created the incredible Wired album, Jeff Beck refused to rest on his laurels, endlessly reform past groups (hello, Mr. Page?) or make watered down pop pabulum. Granted, he hasn't been as visible as the others (this is only his second release in a decade), but what he's put out has never taken the safe route. By immersing himself in the rigid confines of electronic music (as he did on his last release, 1999's Who Else!), Beck's frenetic guitar with it's groove-heavy pacing and vitality is allowed to both complement and dominate the songs. His method of playing guitar lines in a uniquely non-linear fashion — he goes from A to B, but stops off at Q on the way — is exactly what this sort of lockstep music requires if it's to have any humanity at all. Even when he slows the pace down, such as on the (almost) soothing "Blackbird/Suspension", with its Windam Hill bird chirps and New Age keyboard washes, his tone, a dirty, piercing sound still rings true."
Jeff Beck
Former choirboy turned legendary guitarist.
Average User Rating:*****
"Jeff Beck is a guitar god. Along with other venerable rock guitarists like Eric Clapton and Jimi Hendrix, he has taken the instrument to new heights." "With his 1999 release Who Else, the high priest of the power chord has added something else to the mix this time out, electronic beats. On tracks like "Wired" and "What Mama Said," he shows how an undercurrent of techno is more effective than a tidal wave of Eurobeats. In February, Beck released another solo album called 'You Had It Coming', which is supposed to be a real barnburner. Don't miss this chance to see a living legend." -- Joe Kurmaskie
From the Arizona Republic.....2/22/01
Jeff Beck: Makin' some noise
Larry Rodgers
The Arizona Republic
Feb. 22, 2001
"British guitar virtuoso Jeff Beck threw yet another curveball at listeners two years ago with an excursion into techno and electronica. As he did in attacking jazz fusion and blues in decades past, Beck deftly met the challenge of mixing rock with sounds traveling in faraway orbits. He recently unveiled Part 2 of his electronic phase with You Had It Coming, a powerful album that injects a deeper level of emotion into his guitar work. Teaming with guitar and computer master Jennifer Batten, Beck has embarked on a tour that brings him to Phoenix on Saturday. He talked about his latest burst of creativity in a recent call from London.
THE REP: You've recorded two albums in two years, after a lengthy hiatus. Has it been a challenge to reconnect with your audience?
BECK: That's true. Not having played in a proper configuration since '89-'90, with Terry Bozzio and Tony (Hymas), it was really strange to see the difference in ages and styles of audience. There's lots of baseball caps out there now!
How important is live performance to your music?
I think that's all (there is), really. A record is only a snapshot of what you can do. It's a bit fake. You make up for what's lacking on the record by playing live, and that completes the circle.
You've stayed with the same core band for You Had It Coming.
Steve (Alexander), our previous drummer, fell ill, and unfortunately we had to wave goodbye. We got a complete different-style drummer (Andy Gangadeen), which is why we're having to work so hard. He put a clearer feel to everything. But other than that, we've got the same members.
How crucial has Jennifer Batten's role been?
Very much. She plays support "parrot" chords, triggering all kinds of interesting samples - stuff that was unattainable before. She's (mastered) the state-of-the-art MIDI - she drives the keyboard software with a guitar. That's what's so weird because people see a Hammond organ coming out of a guitar. This album takes the guitar-electronica connection a step further. What type of evolution were you seeking? I needed to be with someone who is as twisted as I am in their thoughts about how things could go. We wanted a cutting-edge rhythm section underneath the guitar because there are so many great rhythm tracks out there without much substance.
How does your guitar work translate your emotions?
A couple of tracks were already written (by others) on the album. One is Nadia, a fantastic track off a CD by (English dance artist) Nitin Sawhney. That track jumped out as a challenge for me to play on the guitar. I got the emotion from that and interpreted it my way. The other stuff is brutal (laughs). It's not for the fainthearted. And we found a little bit of relief at the end, with the Blackbird tune (in which Beck's guitar is paired with a warbling bird).
As you delve deeper into electronica, do the possibilities seem endless?
It's amazing. What was unattainable before - now the digital recording process has enabled people to make really impressive-sounding records with just home stuff. Now it can be done very quickly and almost too easily. But this is harder in some ways because you're messing with a lot of powerful sounds.
What made you move away from rock and roll toward jazz fusion and electronic music?
It was wanting the satisfaction of having somebody on the same wavelength that wanted to blend hard-edged tech with guitar. But I'm not turning my back on real rock and roll. Whatever mood I'm in, I'm not likely to make a thousand albums the same way - or even two. This will probably be the last one of that (electronic) ilk. I'll plumb new depths of sick rock and roll in other ways!
Any hints where that new direction might take you?
I've always wanted to work with big stuff - big choirs. I remember saying when I was about 17 that I wanted to work with four orchestras in quadraphonic (laughs). Always over-the-top rock and roll. An ensemble rhythm section would be great fun.
Do you ever listen to your work from years ago?
The only time I listen is when we're (working up) a number - I have to go though the agony of listening to it. We had a big birthday do, and one of my best pals put on every CD I ever made. So I had to leave pretty quickly!"
Reach the reporter at larry.rodgers@arizonarepublic.com or (602) 444-8043.
From the St. Louis Dispatch, 3/1/01.....
Guitarist Jeff Beck does the whole thing in new CD
By Alan Sculley
Special To The Post-Dispatch
"Jeff Beck calls his new CD, "You Had It Coming," his first real solo record. That may sound like an odd statement, coming from a guitarist who has been an established solo artist for the past three decades, and whose catalog includes such groundbreaking albums as the bluesy hard-rock epics "Truth" and "Beck-Ola," and the jazz-rock fusion masterpieces "Blow By Blow" and "Wired."" "Beck has always had at least one other musician serving as a key songwriting collaborator, involved in writing the material from the ground up. On the late 1960s releases, "Truth" and "Beck-Ola," it was singer Rod Stewart and current Rolling Stones guitarist Ron Wood. On the 1970s albums "Blow By Blow" and "Wired," Beck largely relied on outside material and songs written by his keyboardists, Max Middleton and Jan Hammer. On more recent CDs, such as "Guitar Shop" (1989) and 1999's "Who Else!", keyboardist Tony Hymas often was the person who created the initial tracks.
But for "You Had It Coming," Beck couldn't rely on the same formula. He had parted ways with Hymas during the "Who Else!" project, because Hymas disagreed with the way Beck wanted to rework the songs using programmed rhythms and electronics." "So for "You Had It Coming," Beck had to find a new approach. And while producer Tony Wright and drum programmer Aiden Love both played key roles in finishing the songs, Beck himself created the raw material for the CD - jamming out solos and riffs to rhythm tracks initiated by Love. That done, Wright would edit the tracks, molding them into songs. "I wanted to strip things down," Beck said of the approach to creating the music. "It was just having a ball, with the speakers blazing away. We'd just do that as long as we had a mind to do it, then come back an hour later and find out which pieces really made sense.""
From Citypages, Minneapolis.......
Jeff Beck
Fri Mar 9
State Theatre
805 Hennepin Ave, Minneapolis, MN
(612) 339-7007
"Now, 40 years into his career, he can still blow the roof off a joint with his cerebral pyrotechnics, as he proves on his new blast of sputtering rock 'n' roll fire, You Had It Coming (Epic). He ranges from the subtlety of a duet with a redwing blackbird to spectacularly revisiting the blues with a gorgeous version of Muddy Waters's "Rollin' and Tumblin'," featuring the wonderfully soulful vocals of Imogen Heap."
From The Houston Press, 03/01/01........
Jeff Beck
You Had It Coming (Epic)
By Paul J. MacArthur
"Filled with electronic and techno influences, the album was a departure for the guitar hero, whose unique voice still poked through all the high-tech effects. Beck, now in one of his inspired periods, follows that up with You Had It Coming, a 35-minute assault that further explores the techno music found on Who Else! This time out, Beck roughens up the sound considerably, sometimes to the point of heading down an industrial path."
"A repetitive, almost minimalist structure is used on most every song, including "Roy's Toy," which is mostly a distorted riff repeated over and over; the tune's redeeming grace is Beck's heady use of guitar effects. "Dirty Mind" takes forever to get anywhere and seems little more than a setup for the guitarist's statements. But when Beck does indeed solo, he throws everything at you, including unexpected turns that make perfect sense in retrospect."
"The two most inventive songs, "Rollin' and Tumblin'" and "Nadia," fall outside the techno realm. His version of Muddy Waters's "Rollin'" combines everything from country blues to metallic sounds to roots rock to Native American-like percussion. Vocalist Imogen Heap sings in an orgasmic howl and chant, while Beck plays call-and-response brilliantly, adding flurries of notes after various passages; then when it's time to solo, Beck creates an almost obscene sound. Altogether, it's a mind-blowing experience. "Nadia," written by Indian musician Nitin Sawhney, is a completely different bag."
"Beck makes his instrument sing in a most lyrical fashion, occasionally breaking out of the soft Indian backgrounds that engulf him. "Nadia" is classic Beck, wild and melodic at the same time."
"While most of his contemporaries are either retired or rehashing material they recorded 30 years ago, Jeff Beck continues to explore new territory; he's as much a pioneer today as he was when he laid down the tracks for Truth."
From The Chicago Sun Times, 03/09/01..........
Beck still taking chances with music
March 9, 2001
By Michael A. Capozzoli Jr.
"British guitar legend Jeff Beck makes this guarantee to fans who come out to see him on his current tour: "It's certainly not going to be boring or predictable."
Why?
Because Beck, 56, promises his live show "will be peppered with some of the best stuff I've done" during his 35-plus-year career--including new material from his latest album, "You Had It Coming." " Even though Beck has never been one to play it safe with his music, he admits that much of the techno on "You Had It Coming" might shock a few of his longtime fans. Because techno is known more for computer-generated dance grooves than flashy electric guitar, Beck acknowledges he's facing a real challenge this time out.
"At times," Beck says, "it actually worries me to a point where I just don't really want to do the tour. But then what's the point of being like that? I'm after a younger audience anyway. I want them to come to the shows. I've taken the thrust of the energy from techno music, house music and dance music, which gets young kids from 12 to 20 jumping up and down like I did when I first heard rockabilly in the '50s. Then I worked my own unique sound in there. With this new record and tour we're trying to rebuild rock 'n' roll in the year 2001 by using all of the ingredients that have been around for the last 10 years. It will certainly be an interesting time." Beck likens the playlist for his current show--mixing the new sound with his classic guitar-driven material--to walking a tightrope in a circus act. And that's just the way he likes it.
"There's not enough danger in rock 'n' roll anymore," he says. "It's all processed. This album and tour is dangerous for me, because I have a history--decades of respect. However, I can't be responsible for who might start throwing stones at the fact that I'm not playing million-miles-an-hour [guitar] scales. That isn't the name of the game. "This time out," he continues, "it's a different movie altogether. I'm just recording and performing what I think is currently hip stuff. I don't have any problems with it. If we feel that we're delivering meaningful music that makes people happy, then the job is done.""
"He follows the modern rock scene at home in London and is a fan of the new generation of recording artists. "I wanted Prodigy to smash the world apart," Beck says. "They've got real wicked grooves going and a really funny, kind of larger than life cartoon character as the singer. We need more of that. We need the clowns. We need rock 'n' roll. We need more Little Richard, more Elvis in the year 2001. Otherwise, we're going to become far too processed. I want real life. I want to meet people and to get out there and to have fun. That's why I'll enjoy the challenge of walking the tightrope this time out.""
From The Notre Dame Observer..............
Mindless of popular trends, Jeff Beck finds success again
By GREG RUEHLMANN
Scene Music Critic

"When guitar legend Jeff Beck released Who Else! in 1999, fans and critics alike rejoiced. Who Else! was the first new studio album from the former Yardbird in 10 years, and showcased his surprisingly diverse musical tastes and talents. Most surprising perhaps was the grizzled veteran's use of newer electronic beats to support his Stratocaster."
"You Had It Coming, a solid album which presents the classic, bluesy wail of Beck's guitar against the backdrop of decidedly modern dance beats and drum loops."
"As usual, Beck coaxes an impressively varied number of sounds from his guitar. The album's real jewel is an instrumental called "Nadia," originally written and recorded by Indian pop star Nitin Sawhney. In the hands of a master like Beck, nothing is lost in the translation from raja to rock song. His guitar perfectly mimics the styles of the Far East in this gorgeous, wistful piece."
"What seems to distinguish Beck from more commercial guitarists like Santana or Eric Clapton is Beck's willingness to experiment in whatever he pleases, without concern for album sales. The finest example from You Had It Coming is an intriguing song called "Blackbird." It features the recorded call of a blackbird coupled with Beck's best attempts to mimic the bird's notes with his instrument."
---
Fan And Excerpts of Media Reviews Of Tour '01'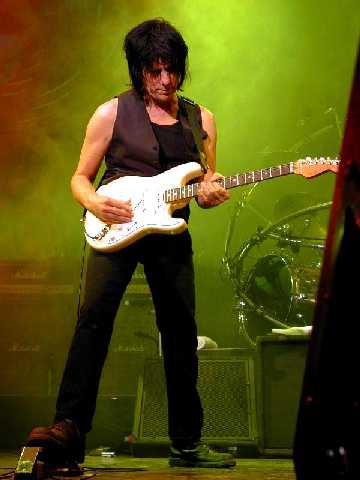 Jeff at the Tabernacle, Atlanta, 3.5.01 by Maria Cordell.
From Boyd Armstrong....Seattle 2/15/01
Hi - I just saw Jeff Beck opening night in Seattle. It was amazing and I wanted to tell you what I saw. First was an opening act by the name of Willy Porter who was basically a combination of Stephen Stills and Pete Townsend. Just him and an acoustic guitar - a very talented musician from Wisconsin. Anyway, the time read 8PM for the show, but Jeff came out at 9:20 and played an amazing set until 10:50. I was in the Paramount Theatre with my wife and a friend in the second row. What a way to start off the new millennium!! From the moment the curtains rose and they started playing Earthquake I knew it was going to be a night to remember. As usual I brought my tour book to record the set list, musicians,and anything else of interest. I ran into a photographer named Brent Whitmire who works for Rolling Stone magazine, he has his own site called rockimages.com but told me he was posting the pictures on rollingstone.com. The set list was as follows:

           1)EARTHQUAKE
           2)STAR CYCLE
           3)THE PUMP
           4)BRUSH WITH THE BLUES
           5)ROY'S TOY
           6)BLAST FROM THE EAST
           7)DIRTY MIND
           8)ANGEL (FOOTSTEPS)
           9)PSYCHO SAM
          10)NADIA
          11)RICE PUDDING/JACK JOHNSON/SAVOY
          12)BEHIND THE VEIL
          13)LOOSE CANNON
          14)ROLLIN AND TUMBLIN
          15)LED BOOTS
    END * 16)A DAY IN THE LIFE
  ENCORES 17)WHERE WERE YOU
          18)GOODBYE PORK PIE HAT/ROSEBUD
          19)WHAT MAMA SAID

As for the concert, as I said before it was amazing. Randy Hope-Taylor was a fantastic bass player, new member Andy Gangadeen was an incredible drummer, and Jennifer Batten was incredible on trading solos with Jeff and performing lead vocals on Rollin and Tumblin. My favorite song from the new album was Loose Cannon, and I was so glad he chose to perform it. Also during Dirty Mind some guy who was obviously drunk came dancing down the aisle and made it to the second row where he met a security guard who escorted him back to his seat where he fortunately stayed. - Boyd Armstrong
From The Oregonian.....February 19, 2001
Beck's guitar licks still blazing
An appreciative crowd soaks up the sweet sounds at the rock legend's performance
Monday, February 19, 2001
By John Foyston of The Oregonian staff
"But don't expect too much commiseration if you missed Friday's show, because magical nights are meant to be shared mostly by the faithful, and Jeff Beck's show was magic. Yes, Beck is rock guitar's master of the hot lick and has been for 35 years since he blazed away in the Yardbirds in Swinging London. But Friday's show was not about shredding, although there was no shortage of sparks flying."
"Instead, Beck reminded us that the most awesome technology in the world and all the technique and firepower makes nothing but a hollow noise if not employed in the service of conveying emotion, of furthering an artist's work. In Beck's case, that belief is a reverence for the human voice: a statement that seems nonsensical, because the majority of Friday's show was instrumental with occasional sampled voices ("Dirty Mind") and guitarist Jennifer Batten singing a 21st Century version of "Rollin' and Tumblin.'""
"But Beck's guitar sang to the audience all night. He never simply played a note -- he caressed it, formed it, mutated it by microtonal manipulation of whammy bar, fingers or steel slide. He flattened notes for emphasis, widened the tonal center and made phrases sound languid despite the urgency of the surroundings. In his hands, the guitar sang in a vibrant vox humana descended directly from the blues."
"His attention to the texture and tone came out especially in more sparsely arranged songs such as "Nadia," "Angel (Footsteps)" and "Brush With the Blues." In that tune, Beck transformed the most tired cliche in guitardom -- the 12-bar blues -- into a thing that shimmered in the night, a gorgeous construct of empty space and sketched guitar notes that moaned and wavered and built to high-register sprays punctuated by screaming, miles-wide bends."
Jeff Beck concert review Feb 16th, 2001 at the Schitzer. Portland, OR. By Shaun Toman
We pulled up to the Arlene Schnitzer and on the marquee was "Jeff Beck presented by House of Blues" We drove right by the very large tour busses and some trucks that must have been hauling all the equipment. We had to park a few blocks away. There were a few fans lingering around the back entrance so we figured, "what the hell, we might as well just wait here" So about 20 min's past and about 50 people were waiting at the back entrance.
The show was suppose to start at about 8:00 p.m. and it was 7:45 when they finally let us in. So we walked down stairs and went into the auditorium (which is really old and very cool looking!) to find out seats. We were in isle 2 row H seats 4, 5, and 6. Which works about to be 8th row on the left center. It worked out to be a great spot. So when we sat down, I looked around and saw that most people were standing around drinking and smoking outside the auditorium. So I got up and talked to a security guard and asked when the show was going to start. He said "they got here late and had to do a late sound check, they probably will not be on until 8:30" So when I heard that I took the time to go out and get myself a couple of t-shirts. I got a tour shirt and a long sleeved Jeff Beck shirt with flames and the hot rods on the front. So when I went back into the auditorium the lights were off, and someone was on the stage playing a Washburne acoustic. I had trouble getting down to our seats in the dark but I spotted my mom so I found my seat ok. Buy this time it was about 8:15. The guys name was Willy Porter from Milwaukee, WI. He is a very very good guitarist and a great opener for Jeff Beck. He played until 9:00 and there was a 20 min intermission before Beck and Co. came on.
At 9:20 the lights dimmed, people started cheering, then everyone stood up and the certain opened, and we all heard a load thumping from the bass drum. Jeff came out with the white spot light shinning on him while playing his newly acquired white Stratocaster. They opened with a song from his new album called, Earthquake. It was absolutely amazing!!! He did some classics, like "Cause we've ended as Lovers" and an incredible cover of Lennon's "A Day In the Life" I really didn't know what a genius Jeff is on the guitar until I saw him live, he's is with out a doubt the most creative guitarist I've ever seen. They played about 13 songs and it was 11:30 by then. He thanked us for coming, and what an honor it was and introduced the band members. Then they walked off the stage and the lights were still dim, and people where cheering and clapping as loud as we could, about 2 minutes went by and yes of-course they came out for an encore! And one hell of an encore!!! Jeff came out first then Jennifer Batten (2nd guitarist) and the bassist then finally the drummer. He played "Space for the papa" and then went into a mish mash of songs from the new album that lasted about 10 minutes. He thanked us again and they all left, the curtain closed, and the lights came on and we headed out. All I have to say is that it was a very awesome experience to see one of rocks most innovative guitarist's of all time for the first time in my life.
From Charlie.....Luther Burbank Center,San Francisco 02-19-01
The show last night at the Luther Burbank Center was awesome. JB opened with hurricane.(No Blackbird) It started a little sloppy but tighten up as the show went on. The set list is basically the same as Japan.Some highlights were rosebud and goodbye porkpie hat. Jennifer was on as always and sang rollin and tumblin which sounded great. Brush with blues was also a highlight having the crowd gasping at many points.
The opener, Willie Cooper, is also worth seeing. He does a solo acoustic set. Alot like Jeff's last opener,Paul Thorn. Very entertaining.
Having seen Jeff 6 times now, first show going back to There and Back,(hey I'm only 35) I would rate this show a 7-8. Would like to see it later in the tour when they tighten up a bit. I'm also going to the Show tonight at the Warfield in San Francisco.I'll give you a update tomorrow on that show. Also FYI Huey Lewis was in the audience last night with his young son and some friends.Peace, Charlie in S.F.
From The San Francisco Chronicle, February 22, 2001
Jeff Beck Lets Guitar Do the Talking
Consummate craftsman makes every note count
Joel Selvin, Chronicle Pop Music Editor, Thursday, February 22, 2001
"Beck was the master of the Stratocaster. With just his guitar, the cord and the stacks of Marshall amplifiers, the pioneer British blues-rock guitarist made his guitar talk, sing, cry, laugh, roar, scream and roam the vast territory beyond language."
"He never said a word to the audience -- he didn't even have a microphone in front of him."
"At the Warfield, he was a consummate craftsman. His ethereal whammy-bar touch on "Where Were You" made each note shimmer. But a single note, in the hands of Beck, can be a lot of music. He loves to float fat, glowing notes and let them hang in the air like passing clouds. He likes to tickle the strings so they whisper. Every hemidemisemiquaver is deliberate. Beck has refined his style and developed his skills over the years. He keeps getting better on his instrument. He has abandoned picks and plucks the strings with his bare fingers, gaining even greater control. He went from blasting molten volleys into a dense rhythmic brew on one number to carefully coaxing out of his guitar a precise melody on the next number. He took his bottleneck slide past the fretboard, searching out the music beyond his frets. He could be fierce and menacing or quiet and reverential. And always, there was a hint of cartoonlike humor in his playing. At the Warfield on Tuesday, he matched his guitar to a variety of styles. Drummer Randy Ganadeen from the Spice Girls set Beck up against the modern sound of subtle loops and intricate cross rhythms. Guitarist Jennifer Batten pushed Beck to the fore mostly, but she could trade licks with him when necessary or fire off an incendiary barrage of her own. Beck makes uncomprising music, not made to appeal to any particular contingent or constituency. There is no skinny, long-haired blues-shouting wannabe fronting for Jeff Beck (he's been there, done that). His show was pure guitar and all playing. Neal Schon of Journey, a guitarist of considerable acclaim, sat in the back of the hall, laughing, shaking his head, acting like the fan he is. But Beck brings that out in his crowd. After all, they know who he is, too." E-mail Joel Selvin at jselvin@sfchronicle.com.
From the Dallas Morning News.....3/3/01.
Techie Beck virtuoso finding new worlds to conquer---by Thor Christensen
"With his kind of chops, he could play "how much is that doggy in the window?' and have you begging for more." "Yet Mr. Beck's sold-out concert friday night at the Majestic Theatre was a powerful reminder that he's more than one of rock's greatest guitar shredders. He's also a first rate musical omnivore, jumping from one unlikely style to the next to find the perfect sound to suit his instrumental jams." "Mr Beck's bare-knuckle version of led boots felt every bit as kinetic Friday as it did when it came out on 1976's Wired album. Equally impressive were his trips into reggae and a big band style rocker in which he made his ax sing like some futuristic saxophone. The Mideastern-ish Nadia, one of the best tunes from his latest cd,You Had It Coming found him riffing like a mad sitar player. A few minutes later, he was reinventing Muddy Water's Rollin and tumbin as a thundering techno stomp." "Yet the beauty in Mr. Beck's playing wasn't in the faster-than-thou licks which he kept to a minimum but in his dynamic feel for the blues and the arsenal of startling sounds: a horse whinnying, a Maserati slowing to a stop, two extraterestials in a shouting match. Most of the time when you see Dallas concertgoers on their cellphones midsong, they're making after-show plans. But friday night, the guy in front of me had his phone out for a much better reason-to let his ticketless buddy back home hear the divine noise coming out of Mr. Beck's guitar."
From Brad Dantone, Ryman Auditorium, Nashville, 3/6/01.......

I just got in from Nashville.  Many standing ovations. I was on 
the 3rd row and witness the best show I have ever heard & seen.  It was 
at the Ryman which is the previous Grand Old Opry building.  The sound 
was crystal clear.

At the end of the show the croud was clapping and yelling so loud that 
Jeff fell to his knees in appreciation and pointed up to heaven. 
Jennifer guitar and Jeff's were mixed perfectly.  Her singing was 
fantastic.  The croud gave her a standing ovation.

Jeff playing was in top form.  It was one of those nights where 
everything went right. Music - Sound - Lights.  Jeff's show in 
Nashville, home of many guitar pickers, will be remembered as the show 
to measure all other guitar featured shows in the future. On Rosebud, 
he played a different version which included every country lick you 
could imagine on an aged Telecaster.  He did not hold anything back.  
Brush with the blues sounded as close to the origional on Who Else as 
it could have been. Day in a Life brought the house down.  They went 
crazy and I mean crazy.  Jennifer was just shaking her head.
Jeff was moved deeply.  He was so happy.  More later.     Brad

From Bruce Howarth, Ryman Auditorium, Nashville, 3/6/01.....
Jeff & company rocked the fabled Ryman Auditorium in Nashville Tuesday evening March 6. It was a stunning concert not only for the audience, but for the regular workers at the Ryman as well - I attended with a friend who is related to one of the head ushers, who told me they had never seen any performing group there tote in so much equipment! You'll probably get a lengthier review on this show from other sources - I have just a couple of impressions I need to pass on. During "Angel (Footsteps)", I watched the audience members near me down front while Jeff was tapping out the melody softly with the bottleneck up high. Some people had teary eyes. Many had their mouths hanging open. And several women near me had mysterious smiles and shook their heads in quiet amazement. Several of the other lyric tunes were works of art, like "Brush with the Blues" and "A Day In The Life." "Where Were You" was a piece of perfection - Jennifer's MIDI accompaniment is first rate. She hunkered down with a MEAN solo of her own on "Led Boots." The up-tempo tunes scorched - for me, the highlight was probably "Roy's Toy" with its thundering disco-groove and Jeff showing how many different ways you can play one repeated note - right-hand tap, left-hand hammer, whatever - and really have fun with it, then turn around with a bottleneck and make the guitar sound like a power tool! "What Mama Said", the last tune, had a bluegrass-on-steroids quality - Jeff on a Telecaster doing some ferocious Knopfleresque clawhammering, Jennifer playing the tap riff with a clean tone. My friend and I were fortunate enough to be at the aftershow gathering, which also included Adrien Belew and Phil Keaggy among others. Meeting Jeff was an incredible honor and very humbling. A memorable night on all counts. Of the six times I've seen Jeff, I would rate this one as high as any of them - he is still the Guv'ner, and their is no other! Bruce Howarth
From The St. Louis Dispatch, 3/9/01.....
JEFF BECK
By Brian Q. Newcomb
Special To The Post-Dispatch
"True to form, Jeff Beck's performance before a full house at The Pageant on Wednesday night was a stunning exhibition of masterful guitar work from one of the world's best and certainly most innovative players." ""You Had It Coming," Beck continues to push the envelope of creative musicality inherent in his electric instrument."
"Opening with "Earthquake" from his new disc, Beck set the tone early. Newer music and new aggressive arrangements of classics like "The Pump" and "Freeway Jam" dominated the largely instrumental tour de force. With minimal embellishment - two guitar pedals were visible on the stage - Beck delivered a vast vocabulary of sounds, each connecting musically and emotionally to the piece, often caressing his Stratocaster with just his hands and slide as if nudging a lover."
"On gritty rockers such as "Dirty Mind," "Loose Cannon" and "What Mama Said," Beck effortlessly produced stinging runs, deep squalls of sound, only to pull back to far more subtlety and nuance during "Nadia," "Angel (Footsteps)" and "Where Were You.""
"Evocative and powerful, whether loud and raucous or subdued and tender, Beck transcends contemporary conventions to make music that touches but cannot be limited as rock, jazz, blues, electronica and world music."
"Not speaking to the audience until the very end, Beck gave his music without posturing or pandering, and his fans responded with warm applause and a look of awed satisfaction."
From Cosmik Debris Magazine, Universal Amphitheater, Los Angeles......
"There were plenty of foot pedals at stage left, but the front area was curiously bare, populated by one lone wah-wah pedal. Not even a mike stand. Not a night for vocals. Behind the band were two large circular screens, already showing colorful geometric patterns cast by projectors in the ceiling. They were four people, rhythm guitarist Jennifer Batten, bassist Randy Hope-Taylor, and drummer Steve Alexander, plus Jeff himself, dressed down in jeans and a black vest over a black tanktop. His hair was the same unkempt mop it's been since the sixties--wait was it thinning out on top? Not much, really. Give him credit, he's looking great for 56 and he's certainly not slowed down like some other Yardbirds guitarists."
"Excellent lighting effects were hitting the audience throughout. During a lovely slower tune, "Nadia," again from the new LP, the backdrop and parts of the drum kit turned into a sea of blue. Again it was partly a nod to the rave feel of the music, also perhaps making up for the lack of live keyboards and almost zero vocals. Jeff hardly needs them anyway, as he was Marshalling incredible sounds out through two different Stratocasters. He kept changing between a white one and another with a cream colored body, occasionally pantomiming mock annoyance with the stage hand that brought them out. I couldn't see why he needed to switch so often but he was into a lot of string bending. Maybe he was getting them re-tuned every song. Regardless, he always planted his left leg and let the Strats rest on his right, usually with his right foot on tiptoe, somehow getting extra English on the sustain with his hip. It was classic Beck, and he was in fine form through the whole set."
"Jeff saved his most brilliant work for last, a simply stunning version of the Beatles' "Day In The Life." Here his lyrical lead work simply shone, evoking all the original's lyrics and pulling on everyone's heartstrings. The crowd went nuts, pulling him back for an encore of "Suspension," which brought the show in for a soft landing."
From The Tennesean, Ryman Auditorium, Nashville......
Guitar icon Beck astonishes crowd
By PETER COOPER
Staff Writer
"An auditorium full of musicians came to witness a guitar deity Tuesday night at the Ryman Auditorium, and 56-year-old Jeff Beck spent 1½ hours proving himself worthy of his divine status."
"Beck remains wholly masterful. Walking onstage with improbably black hair and a signature model Fender Stratocaster (list price: $1,799), he opened with the dense, techno-metal Earthquake, complete with myriad synthesized sound effects courtesy of racks of processing machinery and of synth-guitarist Jennifer Batten and percussionist Andy Gangadeen."
"But, holy sacred cow, Beck was phenomenal. The cheesy, Jan Hammer-ish drum sounds and non-organic accompanying guitar shadings only served to underscore Beck's mastery of tone and breadth of skills. Beck's work high up the neck — with his instantly identifiable, tremulous, weeping sound — was to be expected."
"But his lovely, nuanced slide playing, the sharp yet deep timbre he consistently achieved, and the control with which he played even the most mind-blowing guitar licks were flabbergasting, even to a crowd loaded with heavyweight players."
"His lilting-to-furious-and-back-again take on the Beatles' A Day In The Life was met first with rapt attention, then with a standing ovation.
Present among the collectively gape-mouthed audience were musicians including John Jorgenson, Paul Kennerley, Jack Sundrud (of Poco), Kenny Vaughan, Webb Wilder, Aashid Himmons, Joe McMahan, Michael Rhodes, Pete Finney, Steve Allen and Bryan Owings."
Tennessean music writer Peter Cooper can be reached at 259-8220 or pcooper@tennessean.com.
From Mike Williams, Pageant Theater, St. Louis, 3/7/01.......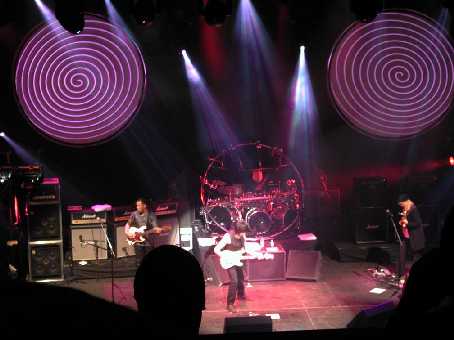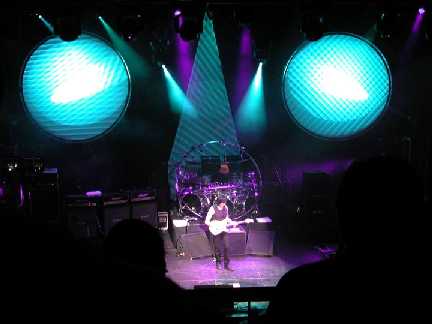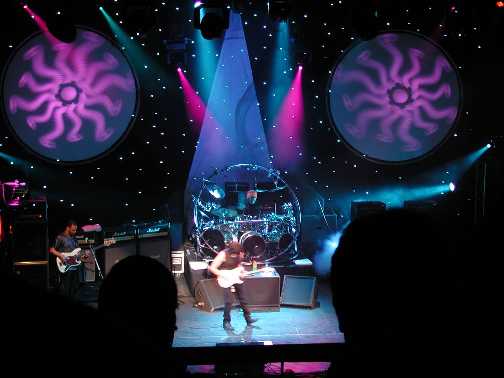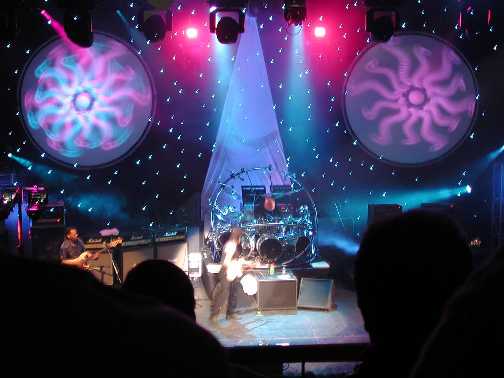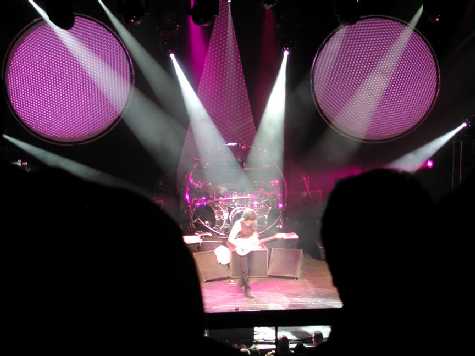 From Ink, The Tabernacle, Atlanta 3/5/01........
Jeff Beck
The Tabernacle, Atlanta, GA March 5, 2001
by James Mann

"It is one of my serious regrets that I was unfortunately born years too late. If I had been a youth in the '40s and '50s, I would have camped out in New York City and seen Charlie Parker, Miles, and the rest create Bebop. But alas, that was not to be. Although I did get to see Miles in his later, shiny jumpsuit period (on a show with Sun Ra!), it wasn't the same Miles that created new musical forms at the drop of a hat. To be able to see someone who is a master at their instrument, ala Parker, Coltrane, or Miles has been a fervent desire that I had long accepted as being unreachable.
Until I saw Jeff Beck."
"If anyone on this planet is doing ANYTHING as well as Jeff Beck is playing guitar, I wanna watch them. Because for 90 minutes, Beck literally reshaped the way a guitar is perceived. His last two releases, this year's You Had It Coming and 1999's Who Else! have featured Beck atop an electronica setting, a genre that generally leaves me cold, but in his hands, bristles with energy and passion." "Jaws of the guitarists in the crowd to drop, simply by playing what those of us who had listened to the album had assumed was a keyboard part. Nope, it was guitar. The evening continued in such a manner, with every song allowing Beck and his crème Strat to make a musical statement so precise and electrifying that after a few songs, all you could do was grin a stupid grin at the sheer skill he possesses."
"His sound was impeccable, tone flawless. In much the same way certain periods of Miles Davis' recordings are identified by the use of a mute, Jeff Beck can be similarly denoted by his use of the vibrato arm of his guitar. Slight touches caused notes to shimmer in the air, slipping backwards and forwards over the beat, hovering in pure space. Other times he used the device to dive bomb up and down the fretboard, sounding like a perfectly scripted carcrash. Seriously, no one does this better."
"But it was the quieter moments, such as "Brush With The Blues" where Beck's incredible phrasing and lyrical ideas shone. His version of the Beatles' "A Day In The Life", which he recorded for a George Martin tribute record, was intensely moving. With only Batten onstage along side him, he hunched over and brought the song to life anew, sounding for a brief moment like Lennon himself. Beck does with this song what Charlie Parker did with "Cherokee" - take the song to its roots, redefine it, and make it his own."
"By the time he closed the show with "What Mama Said," which featured furious banjo-style picking that was simply unbelievable, the crowd was in his pocket, knowing they had witnessed something singular and not likely to bested anytime soon. There are guitarists, and then there is Jeff Beck. He has no equal."
From The Boston Globe, Orpheum Theater, Boston, 3/20/01.........
Jeff Beck again proves his greatness
By Steve Morse
Globe Staff
"I'm sitting here with a headache - not from Jeff Beck's playing which was once again exquisite, but from a needlessly overstimulating light show that featured eye-stabbing strobe lights on nearly every song."
"But overall the lighting was just too intrusive and manic for comfort. The moods didn't always fit the music."
"Perhaps the lighting designer felt that visual overkill was required to compensate for Beck's lack of vocals and lack of showmanship, but let's give the audience some credit. They're there to see Beck play guitar - something he does as well or better than anyone on the road today - and the visuals should support, not distract, from that primary goal."
"Ok, that pet peeve aside, let's just that Beck blew the crowd away even more so than last time."
"Enhancing the night (and kudos to the lighting designer for this) were various film clips of everything from roadsters to Marilyn Monroe. And Beck kept listeners off guard by changing styles from screaming rock and blues, to New Age-like ambience and even reggae ("Behind the Veil").
But the masterpiece was his translation of the Beatles' "A Day in the Life" to an instrumental format that made the guitar sound as close to the human voice as it ever has."
From Bill Armstrong, Orpheum Theater, Boston, 3/20/01........
I drove into the show in Boston several hours early on the 20th because I was told there was a chance, not much of chance, but a chance I would be able to get in the Orpheum before show and take pictures of some of Jeff's equipment (like I did in '95). Driving into Boston is still a pain. Every time I see what seems like little progress on the 'Big Dig' I wish I had gotten into the concrete business. Anyway, it was about 4:30 in the afternoon and I and a couple of friends were walking back from the rear entrance to the Orpheum, after an unsuccessful bid to find Ralph Baker, down an alleyway, and as we make a sharp left on Providence St., who is standing not three feet away from us was Jeff. He had just exited a gold Dodge Caravan with Jennifer and they passed us down the alleyway to the Orpheum. I was dumbfounded, Jeff looked up but he had super-dark aviator sunglasses on and no expression, Jennifer looked over at me and just said, "Boy, you're here early," and followed Jeff.
My friends and I spent the next several hours in a bar down the street, the 'Hub Pub', nice place. There I had dinner with a childhood friend I hadn't seen in 20 years who had brought his 12 year old son in the see 'the man.' Around 7:00 we made our way back to the Orpheum and as all Beck shows there the place was packed with excited fans.
I'm a little embarrassed to say that I didn't see the opening act, Willie Porter, at all. I spent the first hour at the theater talking to about a dozen guys from my hometown that I hadn't seen in a while as well as some friends I've made through email at the page here.
At about 8:20 I took my seat knowing Jeff would be on within the next 15 minutes or so. Had pretty good seats too...17th row dead center. The soundboard was behind me to my right. I had heard that Chris Hill, Jeff's usual sound guy, wasn't on this tour, I asked the guy at the board, if Chris was ill or anything. He told me he didn't even know him.
At about 8:40 the house lights went down and from behind the stage curtain you could hear the strains of "Earthquake" begin. The curtain opened as the band hit full stride in the song and a burst of sound,light, smoke and oddly cool air that had been trapped behind the curtain entered the theater. The crowd went nuts.
As for gear, Randy Hope-Taylor now has a Fender Jazz Bass that is white or off white...he's still using his David Eden rig and there's a mic on a stand in front of him. Andya Gagadeen has a massive three bass drum set up with a metal oval on which cymbals are hung. I don't think they carry this kit at your local music shop. On the far right, Jennifer is still using a Washburn guitar with a string dampener attached. She has two Peavey keyboard amps behind her that are atop two Marshall 4X12 bottoms. In front of her is an 8 foot semi-circle of pedals and a wireless mic on a stand. Jeff has his vintage white Strat, still with the little red marks we talked about seeing in his Japan video. (I still think they have some purpose and aren't just doodles, just my opinion.) Behind him are three Marshall DSL 2000 heads resting on three 4X12 bottoms. We notice later that two are Jeff's the third Randy uses with a Tele during 'Rollin' and Tumblin'. In front of Jeff is a solitary pedal a wah-wah. I don't know what kind it is though because it looks odd. It looks like it has a silver piece over the pedal itself, wish I could have gotten those pictures...it's hard to explain. Back by the drum riser Jeff has the channel-switching switch to the Marshalls.
Also behind the stage there are hung two large circular video screens on either side and a sort of elongated triangular one in the middle. Then around the perimeter of the stage is a sophisticated computerized light grid....it is by far the most dazzling lighting setup I have ever seen Jeff use.
From here I'd just like to list the rest of the songs and some observations;
Star Cycle - an old favorite, done flawlessly. You can tell that the longer this band stays together the better they get.
The Pump - one of my personal favorites, Jeff uses a slide at the beginning swell of the song. The video screens sometimes show just a close up of Jeff's guitar, other times there are geometric pulsating shapes and these three dimensional objects that remind me of what viruses look like under and electron microscope!
Brush With The Blues - again great, the dynamics of the band are right on the mark. If I remember right this song gets Jeff's first standing-o. Also by this time it occurred to me how perfect the sound was. I've gotten some letters from fans during the tour saying the sound was too bassy, too drum heavy, too loud, but at the Orpheum it was perfect. Crisp, but with bass and just the right volume, I left with absolutely no ear-ringing whatsoever at the end of the night.
Roy's Toy - noticed something weird here, right at the start. No vrroomm, vrroomm! The song started no car sound effect and there wasn't one for the entire song. I'll have to ask Jen about this after the show. Also in this song and several others, they use a smoke generator, oil type I believe, to enhance the lighting. They only thing I'm beginning to notice is when the stage does flood with smoke Jennifer is getting the worst of it. On the left side of the stage the smoke is coming from the left of Randy's amp but on the right it is pouring from between Jen's two amps and she's left in a cloud. During the song the video screens are showing film clips of an old black and white film of hot rods racing.
Blast From The East - another song that seems to get better the more they play it.
Dirty Mind - For this song Jeff is handed a second vintage white Strat, identical to his first but no red marks on the pickguard. The reason for the guitar change I've figured out is the tuning. I know that Jeff tunes down from an E to an Eb these days but just for easiness let's say E as it relates to his fret position while he plays. On 'Dirty Mind' Jeff tunes his low E down to a C (really a B)! The songs' main chord then is a C-#9 and that 'wow' he does by using the whammy and the low C note on the sixth string. Later Jeff will use his other Strat and tune the E string down to a D and it tends to still be in overall tune but I've experimented with my own Strat and there's no way to tune the low E down to a C without the whole overall tuning going flat. For non-guitarists, this is due to the fact that the whammy bar is tensioned by a set of springs, the tension of the strings is countered by the tension of the springs, so if you loosen a string by tuning it lower the springs in the whammy relax a bit and everything goes lower. Something a little weird here though as the song get's going...there's no uh-uh-uh-uh. Jennifer does throw in an 'Oh my god' but the other vocal 'effect' is missing, more on that later.
Angel (Footsteps) - Jeff is handed back his original guitar for this beauty. Exhibiting once again his total mastery of the slide guitar. The song ends with his uncanny ability to play the melody high above the neck near the pickups by tapping the side on the strings. (I still think those marks on his pickguard are markers for this technique but I could be full of it.) This one brings Jeff his second standing-o of the night.
Psycho Sam - blistering.
Nadia - I was dying to see Jeff play this song. It's definately YHIC's 'how does he do that!' song. The first two bars of the song Jeff plays with a slide. Effortlessly he does this swooping sitar-like intervals on one string (the G). He immediately then drops the slide on the stage and plays the main melody through using his fingers and the whammy. The just before the middle part of the song comes up where the chord accompianment stops and it's just the Indian drums, Jeff plays that little two bar bit again with the slide and then drops it once again. I've tried to explain my understanding of what he's doing but I really don't know what he's doing, I don't think anybody does. It's just amazing to watch and a struggle to understand. Of course another standing-o.
Rice Pudding/Right Off/Savoy - cool version of Rice, little funkier, with some jazzy voicings thrown in.....Right Off, funky, stop on dime tightness, Andy G. is very good here.....Savoy once again great but short, Jennifer playing that blistering upward run that was done on keyboard on the album.
Behind The Veil - the sound guy was just a touch late bringing up Randy's mic as he playfully does a rasta-style rap intro....Veil has always had a reggae beat but now it's heavier and more 'irie'.
Loose Cannon - This is the song where Jeff uses his #1 Strat but tunes the low E down to a D and uses the whammy for growling riff.
Rollin' And Tumblin' - Here we go. Last tour out Jeff was doing an instrumental version of this song that was a crowd favorite, now it's still a favorite but with Jennifer doing a great Imogene Heap impression, it rocked. At the beginning Jeff played some solo slide riffs....one when I first heard it on an audience tape I thought he was doing by doing an open G or open A tuning but he's in standard tuning. He gets the 7th double-stop slide sound by playing up high on the neck and angling the slide over the B and G strings. (Apologies to non-guitarists again.) He also does this trick where he will hit a harmonic on the high E string and then place the slide on the same spot and create this super-high slide whistle effect.
Led Boots - another classic from the arsenal, Jennifer does a wild lead on this one almost Hammer-esque.
A Day In The Life - This is the one song that is mentioned in every newspaper review I've read of this tour and the reason is because it is stunning. Reviewers across the country have exclaimed how Jeff's tone is so much like a human voice on this one, on reviewer even claiming it sounded like John Lennon's voice. There's nothing I can say, everyone who has heard Jeff play this song has had a shared transcendental experience. The band leaves the stage, the crowd begins their chant for more.
Encore - Where Were You - Just Jeff and Jen return to the stage and Jeff plays the song that I as well as many other have claimed is impossible.
Goodbye Pork Pie Hat/Rosebud - Jeff and Jen continue alone onstage at first. Jennifer plays more passing chords on this version of 'Pork Pie' than I have heard before. A true show of her musical training. The song ends and Jeff now dons a maple neck Tele with the low E tuned down to a D starts 'Rosebud'. Jennifer steps off the side of the stage a bit and now Jeff and Randy are paired in this number that turns from rootsy to funky.
What Mama Said - the grand finale....Jeff, still with the Tele with the dropped 'D' tuning closes the show with the song he opened shows with last tour. It a great show ender....lots of energy, the light show really looks like the finale to a fireworks show!

After the show we were escorted backstage for the 'meet and greet'. This one was pretty crowded, about 20 people I would guess. Among them was local Boston guitar slinger 'Johnny A' who told a friend of mine, "Oh, they called me up the other day asked me to open for Jeff tomorrow in Portland." Which he did the next night, wish I could have seen that one.
As usual the first person in the band to come in the room was Jennifer Batten, still in stage clothes and makeup. I approached her with my usual couple of things to sign...this time it was a couple of Kip Bruin's pictures of her from New Orleans. I asked, "So what happened to the vvrrooomms in Roy's Toy?" She said, "Computer glitch, one of those things that when it doesn't fire you go 'Oh no!" I assume that might have been the case on 'Dirty Mind' as well but they sounded fantastic anyway. We talked for a few more moments and the only other question I can remember asking her was, "How did you end up doing that Britney Spears thing on the American Music Awards?" She said, "Oh, it was totally last minute, I was called in the day before to replace another guitarist who fell ill. It was also kind of tough that night because I couldn't hear a thing, my in-ear monitor was working at all." Wow, you couldn't tell, it seemed to go off without a hitch on the air.
The next person I got a chance to chat with was Ralph Baker. As usual he asked me first if everything was OK with the passes and everything and I said, "Great." I asked about the European tour dates that were on the internet...the ones with them starting out in Luxemborg. Ralph's reply was, "You of all people Bill should know not to believe everything you read on the internet." And he was right, we've since learned that the German promoter who put those dates out with Jeff and George Thorogood have retracted. I asked Ralph if everyone was looking forward to going home soon and getting some rest. Surprising he said, "Not really, we're on a roll right now." Ralph also mentioned something I had noticed earlier on the street when I ran into Jeff and now backstage, no Al Dutton. It was the first time in my very limited experience that Al wasn't onboard (as well as Chris Hill).
Ralph made his way to friends on the other side of the room and it was about this time that Jeff came down the stairs. I would say he was in the room maybe ten minutes. He started at one end, ran a bit of a gaunlet and left out the other side. He was immediately cornered by several Japanese girls who got a bunch of pictures. Next up was several autograph signings by myself and an aquaintance who had Jeff sign a 'Thomas The Tank Engine' toy for his kid. All I said to Jeff was, "Jeff, Dick Wyzanski asked me to pass on his regards since he wasn't able to make any shows this time around." Jeff said, "Yeah, I noticed he wasn't around." Jeff went on to sign every autograph and take a picture with everyone who requested and he seemed in overall good spirits. I also could not detect a hint of fatigue, he seemed raring to go.
The last thing I did before leaving that night was to go and thank Ralph Baker again and I said, "I have one more question." He replied, "Oh no." Now I have to preface this with two things first, we get mail occasionally from fans in Austrailia. Without exception they'll ask, "Hey, when's Jeff going to tour down here? He hasn't been down since 1975!" Second, I have a knack for being really dumb at times. So, I said to Ralph, "Austrailia, how come Jeff doesn't tour down there?" Ralph burst out laughing, "Because it's too bloody far!" Now this is where my dumbness comes in. So I say, "But he tours Japan all the time, isn't that far?" Ralph goes, "No, no Bill, when we fly from London to Tokyo we go over the pole (as in north pole), it only takes eight hours to get there, Austrailia is another ten hours on top of that!" See, I told you I was dumb. Also it seems that everything is so spread out down there (I hear it's a big country) that touring is expensive.
It's funny, and I think everyone who's been in this situation agrees, when you get the rare opportunity to meet a legend like Jeff you think ahead of time what you might ask, or get signed, or say but when the event happens and it all whizzes by you kind of kick yourself afterwards by saying, "Oh I meant to ask him this or say that." But in the end, I hope I'm not sounding too starstruck, it's just so neat to be in the same room and see how the guy carries himself and responds to other people. As my friends and I left the Orpheum that night into the cool Boston air, we felt like we were walking on air.
Epilogue; So now it's Wednesday, I'm riding a train back to Logan airport to fly home and I've got a copy of the Boston Globe. In it is a review of Jeff's show by Steve Morse. It starts off 'I'm sitting here with a headache - not from Jeff Beck's playing, which was once again exquisite, but from a needlessly overstimulating light show that featured eye-stabbing strobe lights on nearly every song." Steve goes on spending five paragraphs complaining about the lights. I really couldn't understand it. I thought they were fine. Maybe perhaps if you were in the very front rows the lights might have hit him differently but what Mr. Morse should understand that the lights are for the full house. That type of lighting is for those in the back of the theater who are taking in the entire stage in their view. He goes on, "Perhaps the lighting designer felt that visual overkill was required to compensate for Beck's lack of vocals and showmanship." At this point I know this guy has no idea what he's talking about and the rest of his 'review' is proof. He says Jeff started out with 'Earthquake', then went on to do 'Psycho Sam' and then 'The Pump'. Sorry chief, Jeff's second song was 'Star Cycle', then the 'The Pump'. He goes on to say that Jeff played, "gut-busting rock crescendos that made you long for the days when Beck backed Rod Stewart." Gee, I always thought it was the other way around. And how about this, the video screens showed, "various film clips of everything from roadsters to Marilyn Monroe." I was in the 17th row and could tell it was Jayne Mansfield in those clips. Oh well, I just had to get that off my chest. BA
From Eric Mirell, Roseland Ballroom, New York 3//01........
It seemed somehow fitting that a big nor'easter had rolled into New York but had rolled back out just in time for my drive into the city Thursday night to see Jeff Beck at Roseland. I picked my friend up at his office at 4:30 and we made the 2 hour trip from the burbs into the city uneventfully. We threw the car in a lot at 53rd and 5th and walked in the rain the 5 blocks to Roseland. I was armed with aspirin and water expecting to be standing at Roseland for at least 3 hours.
The show was the first of two nights at Roseland, a historic New York City club, and we stood on line in the rain for 1/2 hour until the doors opened. Just being in NYC is always entertaining and we enjoyed the side shows and especially the guy that hit us up for spare change with a sign that said 'Collecting for weed, booze and women'. He made a killing on the line. (I've always thought that the reason for the tolls on the bridges and tunnels into the city is the entertainment charge for just walking the streets)
Our spirits brightened a bit when we got inside and found that we were on the guest list. It got better still when the woman told us that we had VIP seats up on the side stage. My friend and I got a table immediately in front on the VIP stage and were a few dozen feet from the stage and elevated to stage level. They were literally the best seats in the house. Roseland is standing room only so we were sitting in the first table on the VIP stage, above the heads of the huddled, sold out mass of people. The best seats I've ever had for any show ever. My friend said "Don't make eye contact with the audience, they hate us." We had a private bar and 4 of the only 24 seats in the whole club, and a private table . We had lucked out big time. I managed to find the rest of our party who also could not believe their luck as I brought them to our table.
Susan Tedecshi opened for Beck and was warmly received by the packed crowd of 95% male guitar players. She sounds like Bonnie Raitt (but not 1/10 the guitar player Bonnie is) and did a nice set.
We saw the Beck band come up from behind the stage and Jeff and the band were greeted with a thunderous ovation. The set list was basically what you have already seen on this site. What can you say about Jeff Beck live that hasn't already been said? Everyone at my table was grinning ear to ear and we just shook our heads between each song. It is amazing how Jeff never plays the same thing twice but stays true to the melodies in the songs. When the band did 'Day In The Life' the walls shook from the applause and cheers. Jennifer Batten was tremendous and showed great vocal chops on Rollin and Tumblin - I wouldnt be surprised if we see more of that. She is the perfect foil for Beck.
. It was astonishing to see Jeffs hands working that close. There is as much, if not more going on on his right hand as his left hand. He used a lot of slide and played it up to the last millimeter of the fretboard with incredible precision. He didn't miss a note that I heard and just ripped up the fretboard. Near the end of the show he powdered up the neck of his guitar - and himself pretty well. At the end of the show he teased the audience by pretending to pass his guitar out. He didn't say a word all night until a big thank you at the end and a well choreographed bow with the band. We all agreed that no one, but no one can play the guitar like Jeff Beck.
It was a magical, musical New York City night, complete with at least one person that I saw passing out and being passed through the crowd to the side, and my personal favorite of the night, the really loaded guy who began beating on some guy in a wheel chair while a small crowd gathered trying to stop it.
After the show we looked to the security guard for info on how to get back stage to say hi to the band.He snarled and said, not possible, and told us to leave. Dejected, we kind of hung around in a daze while I asked anyone who looked like they would know, how we could get backstage. Finally in resignation, two of our party said good night and left for the late train. That turned out to be a big mistake that they will regret forever. Just as we were about to leave, someone popped their head out of a door and said 'Anyone on the guest list, follow me.'
We got to the hallway outside Beck's dressing room just as he opened the door to step out with Les Paul. Jeff walked Les out and I got to say hello to Jennifer Batten and Randy Hope-Taylor who were really wonderful and let us take some pictures with them.
We chatted for a bit and I saw that Jeff was standing at the end of the hall quietly talking to 2 people. Everyone was too courteous to interrupt, but I being a brazen New Yorker, waited for a lull in his conversation and jumped in.For the first time since summer of 1969 when I met him with Rod Stewart and Ronnie Wood in Central Park , I shook Jeff Beck's hand and said hello. When I told him I had listened to him since I was 14 and had helped his roadie set up one night in 1969, he laughed, thanked me and said 'Oh lord'. When I asked if he was coming back this year he again laughed, rolled his eyes and said he couldn't think about that, he was obviously exhausted. It was the second to the last night of a 25 city tour. Not bad for a 56 year old guy. Jeff was really nice and after he let us snap a few pictures with him and signed some of our memorabilia, some other people approached and got autographs. Considering he had come off the stage 15 minutes before, it was really nice of him. My friend had played with Carmine Appice and Jeff seemed to liked hearing that fact and got a kick out of some old pictures my friend had taken years ago. Beck said, 'Oh wow, that's me Ronnie Wood and Rod Stewart'.
We left after a bit and we walked out the artists entrance to Roseland where a crowd waited to see Jeff leave. As we drove back past Roseland, there were a few dozen fans crowded around his RV as someone leaned out, I assume to facilitate signing some autographs.
Beck is still one of the only artists that can sell out 12 nights straight in Japan, then do the same thing in 25 cities in the US and Canada. The tour takes a break and then continues for more nights in Europe. Randy told me they may get back here in September, even though Jeff did cringe at the question.
I went home with my signed memorabilia, some great pictures, a tasteful 25th Anniversary WIRED Commemorative T-Shirt to match my 25th Anniversary Blow By Blow Commemorative tshirt I bought on the Who Else tour, and a gaudy red t with Jeff on the front that I would only wear in the privacy of my own home or at another Jeff show. I was home and in bed by 4AM, and still managed to make it to work on time - it was worth a night of no sleep.
That was the umpteenth time I have seen Jeff Beck and it seems to get better each time. But you already know that.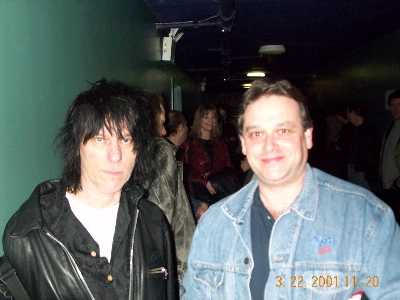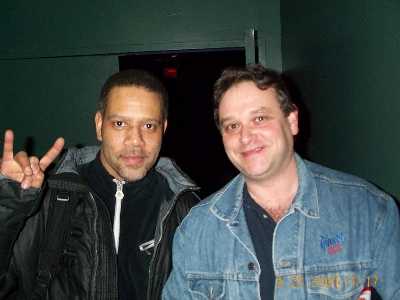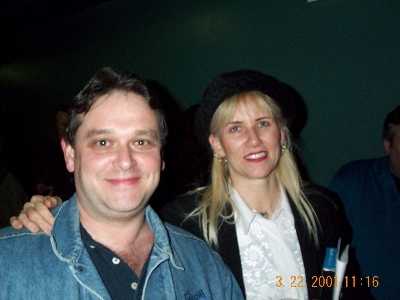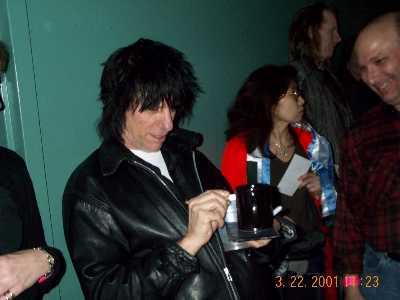 ---