We must work as an albeit loose team of probers and researchers. Our mission is to contact other fan clubs or artists who have worked with or for Jeff. That's part of the answer. Then we may find things like more on the original Beck Group from Stewart's fans, maybe a tape of the Bad News London Concert with Brian May and Jeff from a Queen fan. Who knows - some Scandanavian Bulletin reader may even know a former Kim Milford fan who has a copy of the "Superstition" single that Circus Magazine back in the seventies reported existed and the actual recording of which was confirmed to me by Tim Bogert himself.
There isn't a Beck fan alvie that wouldn't like to see a book about Jeff turn up. (In a language other than Japanese for fans outside of Japan.) Understandably, Jeff is wary about biographies after the Steve Rosen Beck book incident or having to do the Beckology booklet. However his management is hinting around that now that Jeff has celebrated his fiftieth it may be time to at least start thinking about something more in the form of the written word. If someone was to do something in the meantime on their own, as long as it was professionally written and didn't contain any embarassements or innuendos about Jeff, then they have intimated that they probably wouldn't go to any great lengths to stop it. With that in mind I would like to introduce to you readers Ms. Annette Carson formerly of the UK now residing in South Africa. She was a London rock booking agent in the sixties and even sent Jeff out on a Carnaby Street modeling session at one point. She has two published books on aviation and has already ghosted a book about Jeff that I've had a chance to read the first five chapters of. My intial reaction is "Well done, mate". It's straight ahead, filled with facts, no nonsense yet maintains an artistic flair. She can be contacted at P.O. Box 250, Morningside 2057 South Africa. Send her anything written about Jeff that you think could be put to good use. Doubleday or bust Annette!!--Dick Wyzanski
Dear Dick, Here's the Jeff Beck interview - apologies again for the delay. The interview consists of all the material I didn't use in "The Guitar Magazine" - obviously, for reasons of copyright and etiquette none of "The Guitar Magazine" material could be reproduced. Taken in conjunction with the interviews in "TGM", I think Jeff gives a pretty thorough overview of his career. Best Wishes, etc. Douglas J. Noble
DJN: You stick pretty closely to Cliff Gallup's parts on "Crazy Legs" - did you sit down with your guitar and the record and just learn them?
JB: Well, I was in a band in the 50's - in '57, no '59...I was only a little sprout, you know - but I had still learned a lot of Cliff's solos, pretty much aped them off so that is sounded a lot like him. And I was trying to beg the singer to learn the songs but they were already out of date, you see...'56 to '59 - hey, it's like a million miles! We use to do "Be-Bop-a-Lula" - he didn't like singing that but...And the kids were going, 'Can you play some more modern stuff?' That was in '59 (laughs)!
JB: That was the Deltones - fantastic! A really great band! And uhh..'Group!' I'm sorry, I don't like the word 'band'(laughs)! umm...'Bands' are old bald-head men playing trumpets (laughs)! And in '60, '61 I was still trying to find out what the hell I should be doing. All the girls were wanting the chart thing - they always wanted the latest things in the charts as they still do. And so it just went on from there, you know...I left that band - sorry, I left that 'group'...! Got caught again! Hundreds of other permutations of other bands and I finally got in with the Tridents which was the big step towards playing to serious blues people.
JB: Well, that's a very often asked question! But, umm...I wish I had done, really! But I know that, well, I think it would have been, obviously...That's what everyone would have played (on the radio) if we ever came to town...It's the best song, probably - It's the best pop song and best song he ever wrote. And we didn't want it on the record for that reason! Plus, that album that we've emulated (the second and self-titled Gene Vincent and the Blue Caps record) didn't have "Be-Bop-a-Lula" on it - it was after "Be-Bop-a-Lula" and it was this kind of miracle that happened and no one knew about, you know. And all these wild songs - "Crusin'", "Double Talkin' Baby" - that's the stuff I was with. The sub-culture stuff, not the pop stuff!
DJN: Were you surprised when "Frankie's House" won a BAFTA award? (British Academy of Film and Television Arts?)
JB: Yeah, totally! I went along for the ride really and initially, to tell you the truth, I wasn't really into it - I sat there criticizing it and there's me going up there! Jed's (keyboard player Jed Lieber, Jeff's collaborator on "Frankie's House") and all-American boy and loves the glory of all that and I understand why. And he said, 'You don't wanna go? I can't believe it! You idiot!' he said, 'You've got the biggest accolade that England has to offer!'. He said, "Sod all the rest of them - I'll go along!' I said, 'If you wanna put your things in a bag and come over, then we'll go.' So he made it by the skin of his teeth - bags at the hotel, then straight down there. 'And the winner is....' We couldn't believe it! Could not believe it!
DJN: There's a riff in "Cathouse" which is similar to the main riff in "El Becko". (Editor's note: Doug meant to say "Rice Pudding" which is basically the same riff as Beck reprised in "Cathouse.)
JB: "Cathouse"? Umm..Oh, really (surprised)! The titles went on later so I'm not quite sure what "Cathouse" is! I've no doubt that that came from Jed because he loves that song so I should think that is probably his influence.
DJN: Anything else you'd like to say about "Frankie's House"? (Jeff speaks in detail about the soundtrack in "The Guitar Magazine.)
JB: Nothing, really; not about the music (laughs)! We had great tennis (laughs)! Because they fed us so well at the studio that we started putting on weight and we had to keep going out and playing tennis to get rid of it! We enjoyed it though...And the feeling of euphoria coming out after the last scene was done...!
JB: Umm, let's see. No, because, it was really strange about that..You can imagine, you know my speech is a little bit slurred (laughs) - I've been through all these changes. Umm, one, from '59 in the Deltones wanting to get the purest sound known to man to suddenly having Booker T with slight distortion and then from that to powerhouse chords which were breaking up like mad..All these things that I fought against and now having to try and, you know, play and enjoy doing it with some conviction. And then I became known for the...Synonymous with distorted chords! One thing I had been fighting against! It's really strange how things go! Tastes change, don't they?
DJN: Yeah, uh-huh! You were asked to join John Mayall.
JB: Yes, but I didn't feel prepared. I think it was just after the Yardbirds - I can't...You'll have to correct me but I was...Either Eric had left and he wanted to replace Eric with me or...
DJN: The two guitarists before Eric were...
DJN: Yeah, but even before then it was Bernie Watson and Roger Dean.
JB: Bernie Watson! That's right. And Roger Dean?
DJN: Yeah - he was immediately before Eric.
JB: Well, I never saw them. It was the Eric configuration and the "Blues Breakers" album where they're sitting down reading comics and stuff...That was a good 'un!
JB: I just can't remember - umm, jeepers! I think it was afterwards. I'll have to go into that one!
DJN: Is it true that you met Rod Stewart when he was watching Peter Green in a pub?
JB: Yeah - no it was in the Cromwellian club which is now gone. I think, opposite the Exhibition Road. That was our hangout - our watering hole. And this particular day or evening, rather, he was somewhat worse for wear through drink and I just thought here's the guy - the one guy - I would like to play with. Have him sing in my band. And I was pretty down as well - totally out of the Yardbirds, nothing going, no money. I hadn't got anything to lose so I asked him if he would be interested and he said, 'Yup!' Amazing! Next day we met up and the rest is, uhh, on record (laughs).
JB: That was umm...This pretty well documentated, this story...It was in a period when I was looking for a new direction and, uhh, couldn't really be bothered with white rock 'n' roll anymore - I was definately into the black roots and funk. Dirty funk, you know - real electric funk. And, uhh, Stevie was my hero then - and still is - but...I loved his execution of songs, the prolific writing, the 'funking....He had this sort of black earthiness which I wanted and he was...I heard from the record company - they said, 'Listen, why don't you get with him?' And I was shaking, you know - it's like an actor being with Sir John Gielgud or somebody saying, 'come and act!' And it was difficult overcoming that awe and that awesome sort of presence. After a couple of days he was just a normal human being with great talent and the original deal was that I would play on his record - the "Talkin Book" record - for a couple of tracks and uhh, he would write me one song to get me going, you know, in that new direction. And that song was so monstrous that when Motown heard it...He was so thrilled with it he played it to Motown. He said, 'Listen to my...' They said, 'That ain't for Jeff Beck - That's for you.' And that was the right decision but we were gutted, you know, totally. We still played it - I mean, we played it but there wasn't any point putting it out as a single but we had taken Stevie's advice and if Motown hadn't liked it and if Stevie had produced it for us we would have had a monstrous, monstous hit.
JB: That was another blast, yeah. Umm, I suppose the natural thing is, 'Was it the Beatle, was there any Beatle sort of, uhh, aura around?' And in some sense there was because there was a certain sort of lighthearted-approach that George has which is incredible - so lateral thinking and logical that it's almost...You can have, you can...have as goofy a humour with him about the most serious things and that makes it easier to play. It's not like serious heavy boot-on-the-head time, ever...Because he would say, 'Just take a break', you know - 'Don't worry about it!'
JB: Umm, that's just false harmonics, as I mentioned earlier. And uhh, I started fooling around with them and on a certain echo plate they sound incredible - a really, like 'holly' sound...And uhh...That...I could hear something special coming and Tony is obviously world class classical pianist...And he hears chords that I would never have dreamt of...Once I see the thing taking shape you've got this two man kind of thing happening. And Terry would join in and say, 'That's a better note - hit that one!' So it was a three-way thing but nevertheless I had come up with all the phrasing because I'm actually responsible for what the harmonics will do, you know, and there's no limit to what you can do because what note doesn't exist naturally you can bend it with the arm and that ain't easy because you've got to anticapate how much to bend before you hit the harmonic.
JB: Yeah. Extremely! Now it's done it's easy to copy but when we were writing it all the different phrases were driving me mad because...'Where did I bend that?' Did I flat that first before hitting it?' And so the tape would be running and we got about four or five reels of tape, multitrack, somewhere, somehow.
JB: Yeah.
JB: I dunno - I liked the look of it! It just didn't work out, you know, it's , umm...It's a fairy guitar, really! It's too soft and spongy and even when a power chord is hit I could feel the vibration in the bridge. And it was just...You couldn't hit it too hard because it would go all over the place. The neck's too long but, uhh, nevertheless, umm, by staying with it for that whole project I managed to get some sounds out of it. The "Ambitious" solo was the Soloist, the Jackson, and I can't play that on any other guitar so, you know...There's some notable things that came out of it.
JB: Umm, that was the Jackson.
JB: Yeah - I played the rhythm with Rod singing and then I dubbed the solo. No, sorry - we cut the solo live and then dubbed the rhythm on, cleaned it up. That's right.
DJN: Do you think if you worked on your playing more you would improve and reach new heights or do you think you might just burn out or lose interest in it?
JB: No - get better. Yeah. It always works that way - the more you put in, the more you get out. (When talking about practising in 'Guitar Player' November '75, Jeff said he was not a 'six-hour-a-day man' because,'...I think that's a good way to be great, but then you fizzle out, peak too soon. I want to peak just before I die, you know'.)
JB: Well, I won't be playing for a couple of days - I took the top off my finger this moring clearing out...Washing up a glass - it just went (holds up left hand and makes cutting motion with right hand) 'shhhhh'. So, uhh, yeah, but when that gets better I'll probably be doing about four or five hours a day to build up time, you know, to rehearsals. And then we're playing for five hours rehearsal and then we give it a break 'cause that's when blood start to appear at the end of the fingers (laughs)! Umm, of course, that wouldn't happen in a concert situation 'cause you're only onstage for one hour and a bit but rehearsals...You go on and on, it's just abnormal! But you have to do it!
DJN: I read that you suffer from tinnitus (Jeff nods). How long have you had it?
JB: Over two years. I was there this morning, real bad - and yesterday and all. (In June '93 Jeff had to pull out of a guest spot with Guns 'N' Roses due to his tinnitus.)
DJN: I've got tinnitus in my left ear.
JB: Yes, it's in my left ear. It's excruciating. I mean, it's the worst thing 'cause it's not...It never....It does go away - it's not true to say that it doesn't but, uhh...It doesn't...The doctor says it won't...It isn't actually going away - you've just gotta suppress...They try to come to terms with what it actually...Why some people fear it - that's the psychology behind it. The know it's there but why is it such a horrible sound? Well, you can say why is a guy scratch at a window with his nails such a horrible sound - I couldn't put up with that! This is worse! Is yours that bad?
DJN: Well, yeah, I means it's permanent! Like just now...
DJN: Uhh, no, just from using a personal stereo and awful lot and playing in bands. I'm sure different people have different sensitivities to it.
JB: Yeah, yeah. The personal, uhh, Walkman done it! But I can't believe that that is any way a match for the type of stuff I've been around. You know - Carmine, Bernard Purdie and then Terry Bozzio (laughs)! Loudest bastard's Cozy Powell, you know! You can't stand next to guys like that for twenty years and not get something! And I'm paying a heavy price for that now, so, uhh...Anybody out there - you better watch it. And I mean it because it will drive you crazy!
JB: Yeah - that's a very, umm, topical problem there because, uhh...I will have to decide whether...Uhh, the Big Town Playboys are fabulous because they don't play very loud. The front soundman can crank it as loud as he likes and I won't be affected. But it's the, uhh, it's the 1993 Beck band with Terry in it that's going to be the problem. But they have these..Discrete monitors is it? The one that...Where you have it, uhh...You have a headphone, like earplugs, and then you can pipe in what you want provided there's a threshold, you know, that you can't go above. It would be brilliant because you could wander around and hear everybody just like a Sony Walkman. But it ain't the same as the wedge monitors, you know, and the sidefills. I mean, I'll miss that. We're gonna feel like a couple of fairies onstage, you know, not having any power but it should be out front, you know!
JB: Yeah. the idea was to get both things going - both pots boiling! - so I'd be opening up for myself, kind of thing, you know. I'd be playing with the Playboys - let the Playboys open up for about four numbers then I'd come on and do the Vincent project. Twenty minute interval and then I'd change persona (laughs)!
JB: Oh, gees! A lot of um...I'm heavily into Bulgarian music - the 'mystery voices' (Le Myere Des Voix Bulgares' Volumes 1 and 2, on the 4AD label). That's just great brain therapy for me because of the amazing chords that they start off and descend and go through five thousand different passing notes and it's just an extraordinary experience. And uhh, rock 'n' roll wise, not a whole lot because it reminds me of what I do, you know. It's just, uhh...You know, if you're a mechanic and you hear and engine roaring away, you know, that's what you do - you're not really interested. Unless...If it's misfiring you go, "Hey, stop and put a cylinder out and..." Uhh, can't really, uhh, comment on that, on what's going on at the moment. I do like Lenny Kravitz and umm, people who, uhh, who, uhh, have got the good sense to look back a little instead of going on blind, you know...Relying on, uhh, on 'robot music' which is, you know, immediately dumpable...I would just put that in a big box and dump it, you know. Bury it (laughs)! Because music isn't that- it's not...I loathe people who have perpetuated this, umm, pushbutton music. I mean, it's great to fill a couple of weeks and then let's dump that and get back to playing. But there's umm, sort of like fileing it away in nice neat files. 'Oh, what do you want? This disco beat? Yeah, we've got twenty of those - put that on and sing over that. That's just...The lowest! When you think what people have done over the years to bring, you know, this kind of culture'...Then it winds up being in a twenty quid box from Japan, you know (laughs)...F**k that!
DJN: Umm, well, one other question that's got nothing to do with music. Are you a vegetarian?
JB: Yeah. Twenty-three years.
DJN: Right. Why's that?
JB: Well, I had no choice really! I was awakened by my partner who I lived with for eighteen years. And she said, 'You're not eating meat anymore.' I went (nonchalantly), 'Oh right!' I actually put my sausages in the bin (laughs)! And I thought, 'Well, let's see - if I die in a couple of weeks, then I die; if I feel sh**ty, I'll start eating meat again'. Then I realized what a fool I'd been eating meat at all because, you know, you can't just carve animals up - it's not necessary.
From The Desk Of: Seymour Duncan
4-2-94

Jeff has always been my favorite guitarist and I have many great stories about him. I want to share some of the stories with you and my envolvement with Jeff throughout the years. I want to thank Dick Wyzanski for being the focal point of the Jeff Beck fan club.
The Man: Jeff Beck
The first time I heard of Jeff Beck was the summer of 1965 when I was playing in Bridgeton, New Jersey during a talent show with a local band. The local radio station had been broadcasting live during the performances of the talent show. During intermission from the live music they played a recording by a group that previously had good air play with a recording "For Your Love" and their second hit had a guitar sound I'd never heard before. The song was "Heart Full Of Soul" and was performed by a group from England called "The Yardbirds" and was released July 1965. Their unique sound and incredible guitar work was from a new guitarist named Jeff Beck. He had previously been in a group called the Tridents and joined the Yardbirds by the suggestion of Jimmy Page who had other obligations with sessions and was unable to join the band to fill Eric Clapton's spot. Eric wanted to play more blues and develope his title of "Slow Hand". During the mid sixties I hunted record shops to find and often nag the store owner to order the 45's and LP's. I remember playing in Lima, Ohio and taking along my records to learn all the riffs I could. I was playing every night during the summer and traveling from club to club. I learned "I'm A Man", "The Nazz Are Blue", "Steeled Blues" and one of my favorites, "I'm Not Talking". The greatist thing was seeing the Yardbirds perform on many of the early music shows like Hullaballoo, Shindig, Ready Steay Go and more.
The Guitar:
I noticed Jeff was playing a Fender Telecaster minus the rhythm pickup making it an Esquire. Jeff's Fender Esquire originally had a white single layer pickguard which Jeff later changed to a black phenolic one. He bought the guitar from John Maus, a guitarist with a recording group called the "Walker Brothers" and they had a hit recording "The Sun Ain't Gonna Shine Anymore". Several years ago John visited my shop in Santa Barbara and he said he contoured the front (forearm) and back of the body to make it feel more like a Fender Stratocaster. He carefully shaped the wood leaving the original paint and exposed Swamp Ash body.
During the early 60's, Jeff Beck was on tour and bought a 1954 Fender Esquire from the guitarist in the group "Walker Brothers". The Walker Brothers consisted of John Maus (guitar), Scott Engle (bass) and Gary Leeds (drums). In the mid 60's the group went to London for a tour. While touring England, Jeff bought it from John for $60. When on some of the very early Yardbirds' videos recorded during a television show, you can see the guitar first had a white Esquire (no slot for a rhythm pickup) pickguard. A short time later on Yardbirds' videos you can see the black pickguard Jeff put on. Jeff liked the contrast and it looked like the Tele's made just a year earlier. You can see the chips in the pickguard and the neck was the third or fourth according to Ralph Baker, Jeff's long time assistant. During the days of youth watching Jeff Beck, Yardbirds and the British Invasion and famouse television shows like Lloyd Thaxton, Shindig and Hullabaloo, I totally became hooked on Fender Esquires. While working in England during the mid-70's, I worked with a technician named Ron Roka, who worked at the newly opened Fender Soundhouse that was originally located on Tottenham Court Road in London. Ron had a custom shop in the Soundhouse and had advertised for a guitar repairman to assist him with guitar repairs and custom work. I was recording during the evenings at Polydor Records with an artist named Chris Rainbow and had days off. My manager Norman Vandenberg read an advertisement in a local paper that Ron Roka (Roka's Repair) was looking for a guitar repairman. The next day I interviewed and got the job. It was a great time working with Ron and meeting all the players that came to visit and have their instruments worked on. I remember working for The Stones, The Who, Robin Trower, Vinegar Joe, Gerry Rafferty, Roy Wood and Wizzard, Sutherland Brother and Quiver, Suzi Quatro, Super Tramp and Beck, Bogert and Appice. During the time at the Soundhouse, I did the first article on Guitar Pickups for Guitarist Magazine in 1974. Jeff was recording the second (unreleased as of yet) album with Beck, Bogert and Appice at the CBS Studios that was a block from the Fender Soundhouse. While at the Fender Soundhouse I put together the first "Tele-Gib" guitar and gave it to Jeff. It was a Telecaster with two Humbuckers. The bridge on the Telecaster was cut to fit the Humbuckers and to keep the 3 piece brass early 50's bridge saddles. The two Humbuckers came out of an old broken Gibson Flying V that once belonged to Lonnie Mack in Cincinnati, Ohio. Somebody messed with the coils and I rewound them as prototypes for Jeff. The neck pickup was Zebra (cream bobbin facing the bridge) and bridge pickup was Double Cream and both were originally '59 Patent Applied For Humbuckers. I made a pickguard for the Tele-Gib out of dark chocolate vinyl plastic. The lever switch knob was from a handfull that I got from an old telephone switchboard during the mid 60's. The same knob was given to Roy Buchanan and can be seen on the cover of his "Loading Zone" album (Atlantic SD 18219). I gave them to Roy about 1966 when he was playing in Wildwood, New Jersey, a shore resort town near the Atlantic Ocean. Jeff started playing and recording with the "Tele-Gib" in 1974 and recorded tracks on the "Blow By Blow" album. One song you can hear him using the volume controls in on "Cause We've Ended As Lovers". The main reason I made and gave Jeff the Tele-Gib was because I loved the tone he had on the "Truth" album. His tech had taken his sunburst Les Paul into a repair shop for volume control problems and when they got to the next gig Jeff rehearsed and he noticed someone put covers on his "Patent Applied For" pickups. He told his guitar tech to remove the covers because the guitar was feeding back too much. When the covers were removed Jeff noticed that his "Patent Applied For" Humbuckers had been replaced with new Gibson Humbuckers. I felt bad when I heard this and I wanted Jeff to have an instrument that had the tone of a Les Paul. I couldn't afford a Les Paul so I made the Tele-Gib instead and gave it to him. Several days after giving Jeff the guitar while BBA was recording the unreleased second album at the CBS Studios, Ralph Baker came to the Fender Soundhouse with a cloth bag with three guitars in it. Ralph said "Jeff wanted you to take your pick." In the bag was a 51 Telecaster, a mid 50's Stratocaster and my favorite guitar, Jeff's 54' Fender Esquire guitar he used with "The Yardbirds". I picked the Esquire because Jeff used it! I remembered the songs like "Heart Full Of Soul", "I'm A Man", "Train Kept A Rollin'" and "Mister You're A Better Man Than I".
During the early touring years, a British singer by the name of Terry Reid was touring with a joint Rolling Stone, Yardbirds, Reid tour. Terry recalls while he was standing by the equipment loading dock, as the back door was opened he remembers catching the guitar (caseless) as it fell from the back of the truck. Terry remembers Jeff doing all kinds of wild things with the guitar.
Jeff could manipulate the volume and tone controls giving it a Wah Wah effect as in "Train Kept A Rollin'" or "Still I'm Sad". The lever switch would give full treble in the bridge position, variable tone control in the center and full bass in the front position. (See schematic) The bridge pickup has slightly staggered poles. The body was made in 1954 and the neck (the original was broken) was replaced with one made in 1955. During the mid sixties, the Yardbirds were touring the midwest and I had a chance to meet the band and see Jeff play and do his tricks. He would lean on the amp, causing feedback and always looking down at his guitar. During another tour, Jimmy Page was in the band and I asked where Jeff was and Jimmy said he left the band. When I asked Keith (Keith Relf was the singer and front man in the Yardbirds) to play "Nazz Are Blue" I heard Jimmy yell out "The Nazz isn't here". So I figured they wouldn't do the song as long as Jeff wasn't there. During that time Jimmy had Jeff's Esquire on tour with them and their roadie named Brian Conliffe let me play the Esquire and I took photos of it. I photographed it at a concert hall in Lima, Ohio called Springbrook Gardens. While there I saw Jimmy playing another guitar and written on the back of it was "Jeffman" and you can see it in some of my photos. I don't know if it was Jeff's guitar as I never asked Jimmy about it. It may be the one that later was used in Led Zeppelin and later painted psychedelic.
Throughout the years i have had much enjoyment building custom guitars and pickups for Jeff and enjoyed keeping his 32 Ford roadster. I have many great stories and info for later fan club articles. Below is a rundown on the 1954 Fender Esquire used by Jeff Beck in the "Yardbirds".
The Guitar
Jeff Beck's 1954 Fender Esquire
Specifications:

1. Esquire pickguard: When Jeff first got it from John Maus it had a white vinyl pickguard and can be seen in earlier "Yardbird" videos and photos. Jeff replaced it with a black Esquire pickguard (no slot for rhythm pickup). The pickguard had a 5 hole pattern with two distinctive chips. The top edge and lower neck slot.
2. Bridge saddles: The 54' steel bridge saddles were completely rusted and were replaced with 52' Telecaster brass saddles from another Telecaster belonging to Jeff.

Bridge saddle heights: .371" E-1st, .396" B-2nd, .398" G-3rd, .411" D-4th, .409" A-5th, .395" E-6th.
Intonation: E & A saddle: .605", D & G saddle: .686", B & E saddle: .715" (Measured from the inside back plate to the middle of the bridge saddle) Intonation adjustment are round head phillips: 6-32 x 1 1/4" machine screws.

3. The lever knob: Jeff used a white lever knob from a 55' Stratocaster and is still in the case. A recessed 53' Telecaster black bakelite knob was put on it the late 60's.
4. The tuning keys: are stock 1955 Klusons. They are worn but still work well.
5. The strings: have been on the instrument since 1974 are kept de-tuned as to reduce tension and eliminate breaking. E-.009", B-.011", G-.016", D-.024", A-.032", E-.042" .
6. Body: is light Swamp Ash, hand contoured. No dates on the body. Body thickness: 1.770" measured with thin lacquer finish. String ferrules recessed in body slightly below finish surface.
7. The neck: is dated 55' with stock frets and fingerware. Round string guide measures .313" top thickness of neck to the pickguard that measures .063" thick, 7" neck radius. Position markers on fingerboard measure .250" diameter, side dots measure .093".
8. Serial Number: #1056 stamped on the back neck plate. Neck plate measures 2.519" X 2.012", thickness .062", 1/4" radius.
9. Instrument Weight: 6 lbs. 6 oz.
10. Pickup Ohms: 5.86k ohms. Pickup reading may vary depending in tolerance of meter being used for test. Pickup height has not been modified since used by Jeff.
11. Pickup Description: Stock hand wind, G & D poles slightly raised, .197" diameter and .625" length common for such pickups. Magnets are sand cast Alnico and measure 20 gauss. Pickup height from bridge plate: .316" high on treble side, .288" high on bass side.
12. Pickup Control: Wiring: On control plate stock Esquire wiring.

Front Position: Mellow sound due to capacitor connected to ground. Tone control inactive in this position.
Middle Position: Variable tone control adjustment. Only position tone control works. You can have maximum treble or maximum bass. Swells and Wah Wah effect.
Bridge Position: Full treble in this position and tone control inactive.

13. Body Information: Stock well worn and checked Blond finish. The body was hand shaped by John Maus (Walker Brothers) to make it feel and simulate the contours of a Stratocaster. The rhythm pickup cavity is routed for a neck pickup but was not drilled to hold one. The body is well worn with nicks and gouges and the Nitrocellulose lacquer Blond finish has turned various shades of yellow and orange.
14. Body Specifications:

Body Thickness: 1.767"
Body Length: 15.812"
Body Width: Minimum 8.875" Maximum 12.5"

15. Neck Specifications: Nitrocellulose lacquer finish, orange and yellowish and worn thin. The top edge of the fingerboard is rounded towards the edge from both sanding at the factory and extensive wear from playing.

Width:

Nut: 1.657"
5th fret: 1.837"
8th fret: 1.922"
12th fret: 2.023"
15th fret: 2.095"
21st fret: 2.185"

Thickness:

Headstock: .562"
Nut: .90"
5th fret: .957"
8th fret: .972"
12th fret: .975"
15th fret: .988"
21st fret: .990"

Screws:

Pickguard: Oval head Phillip, wood screw, steel, plating worn off.
Neck: Oval head Phillip, wood screw, steel, plating worn off.
Bridge: Oval head Phillip, wood screw, steel, rusted.
Tuning Keys: Round head Phillip, wood screw, rusted.
Control Plate: Oval head Phillip, wood screw, plating worn off.
Lever Switch: Round head slotted, machine screw, plating worn off 6-32.
Pickup Height Adjustment: Round head slotted machine screw 6-32 X 1/2".

Misc. Information:

Lever switch is a Centralab #1452 three way "shorting".
Lever knob: Harry Davies Molded, traditional 1950-1954 style common on early Broadcasters, No-Casters, Telecasters and Esquires. Jeff used a white 54' Stratocaster lever knob during the "Yardbirds".
Neck slot depth: .610" deep.

Bridge Plate: stamped FENDER PAT. PEND. (at the same angle as the pickup)
Frets: .075" wide and .022" high.
Weight: 5 lbs. 10 oz. This is a very light instrument and would weigh a little more if there were no cutaways or contours.
The Esquire can be seen on several "Yardbird" albums and CD covers including; "The Yardbirds", "Rave Up" (Epic LN 24177), "The Yardbirds' Greatest Hits Vol. 1" (Rhino RNLP 70128) and Spanish release "The Yardbirds Play The Blues" (Charley EP-472).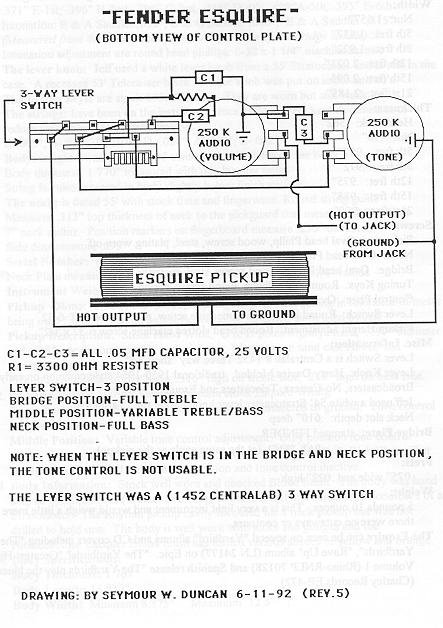 ---
The BBA Story
No other stage grouping of musicians Jeff Beck has been with garnered so much adulation from fans that remember the live performances than the trio BBA, Jeff Beck, Tim Bogert and Carmine Appice. No others have made Jeff wince so much when he remembers the chaotic way that the band was heading towards the end. To borrow from Dickens, "It was the best of times. It was the worst of times." In the final analysis Jeff wanted to recapture the time he had lost due to his accident while other peers built a fortune around what he had started with the first Jeff Beck Group. He wanted to do it with a powerful, soulful rhythm section that had captured his imagination years before with the Vanilla Fudge because they did the type of thing that Jeff will admit to this day catches his ear. They made rock sound DIFFERENT. That rhythm section of course comprised of Bogert and Appice.

As we did with the last issue on the Blow By Blow era, the Beck Bulletin set out to not only retell the story of BBA, but to also fill in the unfinished information gaps left by bits of media stories and interviews. To accomplish this, we first did an informal, friendly chat with Tim Bogert. Next we did much the same with Carmine Appice. Once again we called upon the good graces of manager Ralph Baker as he had been freshly recruited in Jeff's management camp in the mid-BBA era. Plus we again contacted Beckology producer, VP of Warners Brothers Records and mid-seventies Epic A&R Exec, Gregg Geller.

Every red blooded Beck fan knows how the BBA relationship began with the "Things Go Better With Coke" commercial in New York in 1969. In fact a good number of us have four different takes of that session. Tim Bogert recalls, "There was a Fudge roadie there at the Coke session that had also been a roadie for the Yardbirds by the name of Bruce Wayne. Everyone used to kid him about his name because of the BATMAN connection! Anyway, our guitarist Vinnie Martell got so sick that he had to physically leave the session. There we were with the commercial producer ready to go and no guitarist. Bruce said that he knew that Jeff Beck was in town staying at a hotel and offered to try to get him. We had been listening to TRUTH and BECKOLA and needless to say were excited at the prospect of having Jeff do the session with us and a short time later, he just showed up, ready to play."

The paths of Jeff Beck and the Vanilla Fudge would again cross on that once in a lifetime concert in July of '69 at the Singer Bowl in New York. An unbelievable lineup even for those days saw the Jeff Beck Group, Led Zeppelin and Ten Years After all as support acts with the Vanilla Fudge headlining the bill. Needless to say, the Fudge were heavily upstaged and despondant. Jeff was wanting a fresh direction and was tired of touring and bickering with Wood and Stewart about money and tours. As Tim Bogert recalls, "Jeff and I walked off the stage that night, arm around shoulders and swearing that we would fire our respective bands that night to form a new group."

Although that promise didn't come true that night, it did come to reality less than a month later in early August. The initial plan was to have Stewart sing but Rod (the Mod) was being talked into a solo career by Mercury Records and preferred that over the wild rock atmosphere of the American boys in addition to being determined to make it without Jeff. So plans were made to go out as a trio but as we all know, on November 5th, Jeff got sidelined for a few months with that awful car accident.

Tim and Carmine being used to working almost non-stop, decided to form a new group, Cactus, with ex-Detroit Wheels guitarist Jim McCarty. When Jeff's head healed enough to start practicing, he called up Tim and Carmine and as Tim recalls, "Jeff just said, 'I'm ready to play', but of course we couldn't because of Cactus." Carmine added, "We almost didn't have the heart to tell him."(Jeff).

After Jeff's next group lineup had recorded two Epic Lp's and done a couple of tours, they wound up in the summer of 1972 at the Electric Ladyland Studios to start recording some material. Stevie Wonder was also there. Someone at Epic Records told Stevie that Jeff loved his compositions and the two met. Agreements were verbalized to play on each others records and of course Stevie came up with "Superstition" for Jeff in addition to two other tracks that Jeff would later use on Blow By Blow. Jeff called in his group (band!!!) to record "Superstition" and that lineup did at least one take of that. After a heated argument with bassist Clive Chaman (later in this article to become a deja vu') Jeff felt that he wanted a more powerful band to record "Superstition" and have a hit record with it that he so desperately deserved. Max Middleton was kept on to fill in needed keyboard gaps. Everyone else (Cozy Powell, Bob Tench) was let go and Jeff's crew called up Tim and Carmine. Jeff had seen and was intially impressed with a vocalist named Kim Milford who had done some work on Jesus Christ Superstar. Cactus had disbanded so Tim and Carmine showed up that first night at the studio ready to record "Superstition". What has not been known to many Beck fans before is that Milford was also present at that time. "Kim Milford was there the very first night" explains Tim Bogert. "He cut 'Superstition' and a couple of other things." One of those other 'things' was the future BBA classic rearrangement of "Let Me Love You" called "Lose Myself With You", which a well known L.A. Beck collector has a tape of but won't part with it!! for anything less than the Holy Grail!

Just how many versions of "Superstition" came out of that time frame still is unclear even to the memories of those involved. Carmine says, "I replaced Cozy Powell's drums on a version with Stevie Wonder." Tim Bogert recalls the Kim Milford vocal version as well as 'several' versions both with Max and Stevie. Max and Stevie's funky keyboard work at that time sounded so similar that Jeff Beck and "Beckology" producer Gregg Geller had a friendly difference of opinion as to which one was on another particular track (not 'Superstition') thus shelving the idea of putting whatever that track was on "Beckology". Circus Magazine in the 1970's reported the Milford sung version of "Superstition" coming out in Sweden on a Milford single release.

At any rate the new lineup of BBA, M and M rehearsed for a bit and then went out on the road as the new Jeff Beck Group to try out their fresh sound on audiences. The Stanley Theatre in Pittsburgh, PA on August 1, 1972 was their first gig. The set was comprised of tunes from the Rough And Ready and Orange Lp's plus a reworking of "Plynth" which segued into "Shotgun" (Junior Walker tune done previously by the Vanilla Fudge) and of course "Jeff's Boogie". A Cactus penned tune "Oleo" was added to the set as a vehicle for a Tim Bogert bass solo. Additionally, an original rock tune, "Chain Your Lovers To The Bedposts", was added to the show. Tim Bogert cleared up this mystery. When I played him a tape of the Stanley Theatre show, he burst out "That's a Kim Milford original song." Tim the proceeded to sing along with the song over the phone!

Jeff's playing at the time was phenomenal! He still had a Fender Stratocaster and since the band was not yet at the boogie volume it would eventually attain, the Strat cut through the band's sound nicely. They were still doing "Definately Maybe" and the version from the Stanley Theatre is a killer! More dates followed including: Gaelic Park, NY, Tampa, FL and Dallas, TX. After the Dallas show it was now apparent to everyone in the band that Kim Milford did not fit in onstage with the other heavyweight musicians. "Kim Milford wasn't cutting it with the crowd," recalls Tim. Carmine embellishes, "He was like a go-go dancer. The crowd couldn't take him."

On August 9th Jeff Beck hired Bob Tench to finish the tour which swung out to San Jose and San Bernadino on the 10th and 11th. "Boy, was I relieved when we got Bob Tench back" said Carmine.

After the tour some new material was quickly written back in England. It was common in those days for Jeff and the boys to play each other ideas over transatlantic telephone since both parties would opt for their homes after a tour.

The Jeff Beck Group next landed in Europe and played a more thunderous and boogie oriented style. Jeff filled in with more rhythm work, the volume was turned up and Max Middleton went on to other projects (Mick Taylor, Jack Bruce, Pete Brown, etc.). The group still had not changed it's name yet to properly reflect the powerful nature of the trio. Tim Bogert explains, "We were cautious about calling ourselves BBA because we wanted to see what would happen with the West, Bruce and Laing thing."

The trio toured all over Europe with some collectors' tape highlights being Amsterdam, Frankfurt and London. When "Tonight I'll Be Staying Here With You" segued into "People Get Ready", it featured the Long Island white soul harmonies of Tim and Carmine and gave a breather to the ever increasing thump of Carmine's double bass drums and Tim's powerful bass lines.

It was at this point that the mischevious friendly antics between Jeff and Timmy started to wane. "From then on, I was just a hired bass player", Tim matter of factly puts it. Carmine offered this, "Jeff came to me and asked if Timmy ever just plays the bottom groove?" I said to Jeff, "What you hear is what you get. Tim is such a great bass player that after a few months into a new band, he just starts to go wild and play those amazing solos." Jeff Beck, after the breakup of BBA reflected in the press, "Timmy played what I should have been playing."

Since the U.S. had not really seen the band in it's present form and they did have some new material, the band did a fall '72 October U.S. tour mostly of the east coast including collector taped Boston, MA, Rochester, NY and Passaic, NJ. Audience reaction was mind boggling. Here was Jeff finally revving up his Stratocaster and firing off run after run against the thunder of the Bogert/Appice rhythm section. Tim says, "We were kicking butt. About one out of every three shows was a killer. The money was great." At this time of course Stevie Wonder had made his own "Superstition" a mega hit. Jeff wistfully told the audience at the Music Hall in Boston on October 23 as he was introducing the song, "....and it ain't on Truth." Two other highlights of that tour come to mind. First, Jeff's most amazing renditions of "Jeff's Boogie" to date and secondly, the newly initiated theatrics at the end of the show where Beck would feign death on the stage floor after a pie in the face only to rise and smash one in Carmine's face after asking the audience for approval. This episode is available on trasferred home Super 8mm to VHS silent video to collectors (one for the family album, Jeff?). Carmine recounts, "I used to be in bands in the early days in New York that used to do things like that. Before those gigs in America, we used to do other things...Tim and I would fan down Jeff on stage with towels during his solo in 'Jeff's Boogie' as if to say, boy those solos are so hot, we've got to cool you down. Once in London we even showed up in ripped tuxedos."

Realizing that they had to record a proper Lp to sustain the group any further, the boys planned on entering a studio where childhood influences abounded and also was the studio where Jeff had previously created musical magic when the Yardbirds had recorded there in 1965. Where?...the legendary Chess Studio in Chicago. They didn't have alot of material so they brought in Don Nix who had years earlier penned the Beck classic "Going Down". Don gave Jeff a real earthy, down and dirty "Black Cat Moan", aptly named for the tremendous tones of Jeff's slide guitar and on which Beck also does the moaning vocals. "Lose Myself With You" (the re-worked "Let Me Love You"), "Lady" and "Why Should I Care" were already in the BBA live show format and needed to be put on vinyl. The boys' mutual love of R&B led them to agree on Curtis Mayfield's "I'm So Proud". "Superstition", by now a mega Stevie Wonder hit, was put on the Lp as an afterthought. "Sweet Surrender" beefed up the ballad portion of the Lp, another Don Nix tune and more importantly, a tune that the band didn't have to write. The final track to be decided upon was "Oh To Love You" also the only track that was done basically outside of Chess, in Long Island under Carmine's direction. "Jeff was supposed to play electric sitar on it but wound up almost not playing on it at all." Jeff did do overdubs on it later. Other friends of Tim and Carmine from the 60's groups days, Danny Hutton, Pete French, Duane Hitchings and Jim Greenspoon were called in to help with some arrangement and finishing touches.

Jeff's playing on the Lp is layered technical wizardry. Besides the aforementioned "Black Cat Moan", listen to the heavenly layering on "I'm So Proud". Similar technique is also evident on "Sweet Surrender". Therein lies a bit of the tragic paradox of the group, live they were about thunder, boogie and raucous crowds while in the studio it's the soft stuff that really shines. There is a reason for this schizophrenia however.

Conditions at Chess were horrendous. Tim recalls, "Everything went wrong. The roof leaked. The power went out numerous times during recording. There were just weird vibes. It affected Jeff's mood. Everyone was affected." Carmine then tells us about the final product and what happened to it. "Jeff gave the tapes to Don Nix to take to Memphis for the final mix and told him, 'Make Timmy and Carmine sound good. They're angels.'" That's exactly what Don Nix did, mix down Jeff's guitar while playing up the rhythm section. The result, a great white soul trio with a brilliant but laid back Jeff Beck guitar. The Lp sold well enough to garner a #33 in the charts.

The boys were now officially labeled BBA (which Jeff would later in the British press refer to as 'Baker, Yogurt and Appleseed" alluding to their idenity crisis.) For the ensuing spring U.S. tour, they rehearsed in the famous Rainbow Theatre in London which ironically was also to be the final place of their demise. A couple of test gigs were done, one being the London Imperial College of Printing in February 1973 and then they were off in April after the release of the Lp for one of the most thunderous tours of all time.

Determined to get that trio heavy Rock N' Rhythm wall of sound to cash in on what was left of that wanning market, Jeff switched from the Strat to a Les Paul. Ralph Baker explains, "The early Strats were notorious for the feedback and Jeff just liked the way the Les Paul cut through. He may have been influenced by what Eric (Clapton) achieved sound wise in Cream, having to compete with the other two powerful players."

The live set was strictly from the Lp with "Jeff's Boogie", "Morning Dew" and the medley "Plynth/Shotgun" added. Jeff would tease the crowd during the latter with the hook from the Yardbirds "Heart Full Of Soul". At this juncture a comment made by Jeff made to a journalist while on holiday from this tour seems to shed light on Beck's penchant for recurring little bits from the past as well as ominous influences and alliances for two of his at that point future recordings. "It's the same formula you see at a Tamla/Motown show where they come with a medley and it's so beautifully arranged you feel like you've heard all the numbers. I give 'em a little taste of a number then go onto another trip. Audiences in the States are really listening properly now and the Mahavishnu Orchestra have played a great part in getting 'em by the short and curlies and making 'em listen. I played with Roy Buchanan in Chicago by way, he was on the same bill as us with Wet Willie." (Singer Jim Hall later on the Flash Lp.)

The volume by now in the shows was intense with Univox speaker cabinets lining the stage. Carmine Appice had a big gong to open the show as Jeff would then introduce the "Magic Voice Bag" to do the opening lines to "Superstition". Also Jeff gave Carmine an original Vox Wah Wah pedal from his Yardbird days to use which Carmine did on the Japanese BBA live Lp. Besides knocking the audiences out with the rapid fire high end guitar lead, Jeff also filled in admirably on rhythm with chunky bits from that dark Les Paul.

A new market awaited BBA in Japan. While trios were losing their appeal in the U.S., Japan was just getting into them. BBA were recieved like gods and the two shows at the Koseinin Hall in Osaka were given to CBS/Sony in Japan for release as a double live Lp. This is cosmetically and guitar-riff wise a great double Lp. For years this Lp was very hard to obtain in the U.S. until the Japanese music import/export market opened up in the eighties. I got my copy through a con. I called up Sony in Japan from my college dorm in North Carolina claiming to be a major radio producer doing a special on Jeff Beck hence the need for the record. They sent me on to Epic in New York under my name but it got stolen. I called the then president of CBS records, Irwin Seigelstein to complain. His secretary, Karen Tantone (God bless you forever Karen.) not wanting the complaint to go through, sent me two copies. One I have to this day and the other I gave to WBCN in Boston, MA where a famouse DJ, Maxanne, who was crazy about Jeff got a hold of it and finally gave it to Joe Perry of Aerosmith (a long time Beck fan) for a Christmas present in 1975 or 76. Now you can get the BBA live in Japan in CD format through your local import music store! I asked Ralph Baker why the Lp was never released in the States. "It was designed for Japan only to cash in on success and for a large label (Epic) potential sales would not make it worthwhile tooling up for."

More gigs followed in the States and Europe with tour after tour. BBA made it to TV on the In Concert series playing "Superstition" and "Morning Dew" from their Santa Monica, CA show which is on collectors video. The only other broadcast video of BBA at the time Stateside (they did do French TV) is a rare one we are searching for. It was on a network documentary called "The Trouble With Rock" which told stories of a seedy element trying to muscle in on the success of rock stars. The BBA portion just quickly showed the band with a shotgun armed 'bodyguard' backstage. The 'bodyguard' was employed by an alleged mobster named Anthony Falcone who was forcing protection on CBS artists when they were in New York. Jeff Beck got on the CBS evening news to tell about the incident. Fortunately, Falcone was soon arrested. Suprisingly, Tim Bogert says he and Carmine weren't aware of what was happening but according to him it wasn't suprising at all as he told me, "Carmine and I have always been very well connected."

In the middle of all the BBA constant touring Jeff was summoned by David Bowie to guest at the last Spiders From Mars show in London as a favor to Mick Ronson who idolized Beck. Jeff did the two encores "Jean Genie" and "Round And Round". The agreement was Jeff could nix any deal to include his part of the performance on a later television broadcast, which he did. They broadcast the 1st encore anyway on the American TV show, In Concert. The second encore, featured Jeff on the Magic Bag with Bowie smiling his approval and was broadcast only in Europe although it's available to collectors now. Both performances were to be included in the Bowie movie release but again Jeff balked. Ralph Baker offers, "Jeff didn't feel he had played particularly well and I'm sure he wasn't comfortable with the image." (Bowie/Spiders).

It was during this time period right after a breif rest that an American tour was scheduled for July. Ralph Baker actually joined the BBA camp at this time though initially he explains..."but for that tour I was attached to the P.A. company that was brought over from the U.K." The actual road manager at the time, who was soon to leave, was Clive Colson. As that tour swung from Philadelphia to Tampa, FL, Jeff was getting tour weary and felt annoyed at having to compete with Tim Bogert for volume and soloing. Tim did lend some comic relief at the Charlotte show by imitating the support act, Dr. John, who threw glitter at the crowd from a little bag. After the Tampa show Jeff vanished. According to Ralph, "Tampa was the last gig. Jeff just got fed up and couldn't see the reason for the tour. Tim and Carmine were workers and their manager Phil Basile booked the band in the U.S. so it was natural for Phil to book endless dates. Jeff was a star and had not been part of that routine of work." Tim recalls, "We woke up at the hotel one day and Jeff was just gone." Carmine on the incident, "He had all of our road crew with equipment packed up on the truck ready to go and Jeff had already left. I couldn't believe it even to this day."

All Jeff needed was a rest and in less than a month's time he called Tim and Carmine over to England to record a studio followup to BBA which he hoped would feature some true original stuff from the band recorded close to his home so he wouldn't have to transatlantic travel. I asked Timmy why he went back over when it seemed that the groups end was imminent. "The money was great. We had been kicking butt on stage. Jeff just called and said come over. I was resigned at that point to just being the hired bass player. So I just said, 'Okaayy'." Ralph Baker adds, "I think Jeff had finally got fed up with the transatlantic travel whereas Timmy and Carmine didn't seem to mind."

The Lp was started at Escape Studio in the English countryside near Jeff's home. Most of the early tracks (see BBA II early tracks reviewology in this issue) succeeded to inject more funky guitar chops and white soul harmonies into the BBA boogie formula but there wasn't enough spark to thrill Jeff. The one thing that did interest Beck and probably did more to eventually break up the band than anything else, was this wonderful new energy specific rock/jazz music that Carmine was playing in his new Pantera sports car. Jeff and Carmine would drive around for hours listening to Mahavishnu and Billy Cobham. Jeff Beck was so hooked on that style he referred to Carmine's car stereo in the press as 'The Bible'. When you think back, imagine Jeff listening to Tommy Bolin playing off Jan Hammer on Cobham's "Spectrum" Lp and then have to go back to face the crowds clammering for more BBA endless boogies.

Determined to continue BBA's commercial success however, Jeff engaged in the old saying that if you can't bring the mountain to Mohammed then bring Mohammed to the mountain and thus the exciting and raw instrumental from BBA II. "Jizz Whizz" was hatched from the early Escape sessions and it is apparent that more concentration was given to finishing "Jizz Whizz" first before any of the other tracks. In the end Jeff was displeased with the whole Lp and put off the rest of the Lp recording to take a holiday. Meanwhile there was a growing pressure for BBA to tour in England since they had not done a proper series of engagements there since the fall of '72. They were getting good press in the U.K. and journalist Chris Welch was slated to do a series of articles on them for Melody Maker. A tour was thus planned but had to be postponed for a month until September because Tim Bogert broke his foot in a motorcycle accident in Long Island. The boys finally struck back on the stage with a vengance at a music festival at the Crystal Palace in London where a photo of Beck lashing out with a Les Paul was shot for the cover of Melody Maker.

Having arguments constantly within the band about musical direction, BBA desperately needed a producer to lend an objective direction for the tracks on the Lp. A second attempt was made to salvage the old tracks at De Lane Lea/Wembly Musical complex where Chris Welch go to review some of the new stuff for Melody Maker. In an attempt to secure a producer, BBA (having joked in Melody Maker that they were even considering bringing back Mickie Most to produce) sought after another mutual musical influence, Sly Stone. Ralph Baker explains, "As part of the process of making BBA II the band, Ernest (Chapman) and I went to see Sly at the Record Plant, Sausilito. They (BBA) spent a week recording with Sly under bizarre circumstances. Then Freddie (Stone) had a heart attack and that ended that."

After the Thanksgiving break (Carmine-"Tim and I always went back home for the holidays.") BBA landed themselves at CBS Studios in London for a final attempt to salvage BBA II. Studio volume at the time was a major issue with Jeff. One reported incident in the press was that one day Jeff cranked up the sound through a studio monitor just as Tim Bogert was passing by the speaker. With Tim howling in pain, Carmine was laughing at the joke. In fact, Carmine was probably the reason the band stayed together so long with his New York/New Jersey style of being a homeboy with a whatever happens-carefree attitude.

Jimmy Miller (Stones, Traffic) and engineer Andy Johns were brought in to save the project. Ralph Baker on Miller, "Miller had a good reputation and has again now. He was a non band member, that was the important thing." Old Beck member Max Middleton was called to add keyboards to heighten a key track. Everything possible was done to save the Lp but in the end, Jeff Beck was just not happy with it and the project was put again on what was to become the final holding pattern.

Back in the U.S., Epic Records was waiting with baited breath but they were helpless to do anything since everything was being decided in the U.K. A total news blackout of BBA was an inadvertant result. Beckology producer Gregg Geller who was with Epic at the time said, "I heard that there was a problem with the Lp but that was it."

After the New York holiday, BBA launched what was to be their final tour in January 1974. Ralph Baker offers, "I think the band felt that they owed the U.K. a tour." Remember they only did a couple of September '73 gigs. Melody Maker had saturated the U.K. music press with BBA articles. And extensive array of venues ensured some of which were Manchester, Sheffield, Bristol and Stoke-On-Trent (home of Royal Doulton fine china). The Manchester and Sheffield venues are on collectors tapes and at present we are looking into possibilities of the Bristol show at presstime. The final two show night of the tour was the Rainbow Theatre in London. Most of BBA II was performed at the shows except "Livin' Life Backwards" (A Pete Brown (Cream) composition. Jeff would return the favor on a '74 Pete Brown session, "Nights In Armour") and "Got To Find My Woman". "All In Your Mind" was not done at all the shows but can be heard at the Sheffield gig complete with Jeff's 'Magic Bag'. "Solid Lifter", the instrumental chord climb was enjoined with "Jizz Whizz" as the intro to it. At one show Carmine yelled out, "We're going to be doing songs from the new album, we're sick of the old ones." To which Tim Bogert added, "We're sick anyways." That was a literal statement as Tim had pneumonia the whole tour. "I had pneumonia for the entire U.K. tour and couldn't sing well. Carmine had to do most of the vocals."

At this point the U.S. audiences all of a sudden picked up the trail of BBA again on a syndicated FM radio broadcast of the early show at the Rainbow on January 26th. Epic kept the show for possible release which never occured. The show was bootlegged as "Somewhere Over The Rainbow" on vinyl and part of it was finally used on Beckology.

The last night at the Rainbow, tensions in the band were at a peak. Jeff was dying to do a solo Lp and Tim and Carmine were homesick for the states. Carmine sets the scene, "The band drove in seperate cars to the Rainbow Theatre. Ernest, Jeff and I drove in one car and I think Ralph, Timmy and Allan Dutton (Jeff's 70's guitar tech who looked just like him when he was setting up the stage) drove in the other car." Between the early (FM broadcast show) and the late show the deja vu finally happened as Tim took a hard swing at Jeff. Money was to be made at the second show however and 'the band played on'. Unbeknownst to Jeff's management, Carmine had one of the engineers record four tracks from the second show. On the opener, "Satisfied", you can hear Jeff's anger with the Jan Hammerish phrasings and rapid pulloffs. Beck's slide guitar on "Livin' Alone" is one of the best phrased slide solos ever!! Always a sucker for the 'slow stuff', my favorite from both shows is "Laughin' Lady" where Carmine reprises Stevie Wonders' blurt on "Lookin' For Another Pure Love", "Do it Jeff" as Beck launches into a bending emotional solo. The final track of the four is "Lady" and it never sounded better.

The day after the shows it was all over as Tim left for the States and Carmine stayed on to try and be a part of Jeff's solo project. Ralph Baker on Jeff's final disenchantment with staying on as BBA, "I drove the car on the '74 U.K. tour and it (fusion music Jeff and Carmine listend to) simply highlighted the technically advanced playing of Mahavishnu against the powerful by dated crude rock of BBA." As a postscript to the BBA story the Beck Bulletin has learned from Gregg Geller what no fan has ever known for sure before...that the finished BBA II product did make it's way to the Epic vaults in New York!! Maybe someday....

P.S. Coincidentally, Tim Bogert lived on Beck Avenue in North Hollywood for years until recently moving to Simi Valley. "I took s**t about that for fourteen years!"

Be seeing you
---
Update to the Blow By Blow Era in Issue #2
We finally got through to Jeff through manager Ralph Baker for at least some of the Midnight Special '75 TV stuff that we promised.
JBB: Jeff, how did the idea for that lineup evolve and was it planned from the start as a TV gig?
JB: "Yes, purely the TV company's idea."
JBB: Was there ever a thought of a few live concert dates with that lineup?
JB: "No."
JBB: Who picked the material and how much did you guys rehearse?
JB: "The TV company and the musicians, they had to be learned quickly!" Thanks Jeff, little things like that mean so much to us. Dick Wyzanski
---