Another first for me. This is first editorial of the post-Wyzanski era. Most of Dick's previous editorials of course were about Jeff's career and what direction it was taking. Dick would sometimes go into these detailed discertaions of what Jeff was doing and maybe what he should do. To me it was simple. He was simply forging ahead trying not to repeat himself. This is something Jeff did brilliantly with his latest collaboration with Rosie Bones and Carmen Vandenberg on the 'Loud Hailer' release. And even when he's playing a song on tour that he's played for decades you can hear little differences, different phrasings that further and further refine the song and all have that 'how the f**k did he do that?' component.
For this editorial I would like to address an aspect of Jeff's career that affects him as well as all of us...aging. I don't think anyone can argue that Jeff has aged well, physically and career-wise.
Compared to many of his generation and mine he's entering his mid 70's still able to do grueling tour schedules, create great music in the studio for himself and others and work on his house and cars.
As for the other members of the 'triumverate', we were recently sad to hear that Eric Clapton might not be touring anymore due to back problems. Page is doing well these days after some back problems a while ago but if you ask me, even though he's a multi-millionaire, career-wise he's got to come out with some new stuff and not just another Led Zeppelin remaster. I know he's got it in him. Jeff on the other hand is making fresh, new music with musicians we've almost never heard of until a recording comes out. He also tours with them, bringing them onboard and mentoring them.
Jeff has been a vegetarian since 1969. We know he drinks but only in moderation, a beer, but mostly wine and sparkling wines, champagne and prosecco. His greatest health risks seem to be cars, driving them and working on them.
This brings us around to Dick Wyzanski. His widow Trini and son Rich and I have had some conversations and we hope they can possibly help someone somewhere.
Dick did not take aging well at all. As he aged he saw himself gain weight, slow down, like we all do. In his younger years he exercised a lot, even got into body building for a while. In his later years he never drank and had a pretty good diet.
Dick however thought he could beat aging. He got into this 'life extention' movement which is based mainly on 'supplements'. Down here in Florida we have these ads on the radio. 'Low T?' come on in and we'll test you. Testosterone shots, HGH shots, they'll make you lose weight, you'll feel young again, you're sex life will improve etc. Dick bought into all of it. That and the supplements. After every meal he took, I swear, 20 to 25 pills. I would say, "What are all those? What do they do?" After the 5th pill I would say, "Really?". Every month he spent an amount of money on pills you wouldn't believe. Whenever a new supplement hit the store, the store would email him and he would rush down to purchase it.
Now there's no doctor, no computer program that possibly analyze how that many pills, that many chemicals, could possibly interact which each other and the metabolism of your own body. On top of hormone injections? Do I sound angry? I am.
Dick died of cancer. Do I know for sure if all this stuff caused it? No. No one can say for sure but it sure seems really suspicious to me.
I myself have some health issues but they're pretty minor. Because of them I see a doctor every 6 months for blood work. Once a year a full physical, blood, urine, ekg. Colonoscopies every 3 to 5 years, dermatologist for skin checks, quite a few lately. Did Dick do all this stuff? Nope. I would bug him, "Dick, you go to your general practioner regularly right?" He would say, "No, doctors are just middlemen between you and your insurance company." "WTF?". If he had his bladder cancer would have been caught a long time ago.
Sorry for the venting but I had to do it. Please for the people you love and the people who love you be smart about your health. Embrace your aging gracefully and hopefully you'll be around to listen to Jeff Beck for years to come.
He never came on my radar in Zephyr. In the James Gang or Deep Purple either. It was his work on Billy Cobham's 'Spectrum' album and the track 'Stratus' that peaked my interest. 'Spectrum' of course was the album that Carmine Appice says he played for Jeff Beck one day in his car and that some say gave Jeff the impetus to steer his career towards fusion and the rest is history. The 'paths crossed' aspect of this album besides Tommy Bolin of course was Jan Hammer and the fact that 'Stratus' has become a stalwart in Jeff's set in recent years.
Tommy released two solo albums both of which I really like, 'Teaser' and 'Private Eyes'. Looking at the album credits you can't but notice the personnel that also recorded with Jeff or had two degrees seperation from Jeff. On 'Teaser' you had Jan Hammer and Narada Michael Walden. On 'Private Eyes' you had Carmine Appice and his Vanilla Fudge bandmate Mark Stein. In Tommy's touring band you had again Narada Michael Walden (drums) for a while as well as Mark Stein (keyboards)
Jeff and Tommy's paths first crossed in 1969. One of Tommy's first bands, Zephyr opened for the Jeff Beck Group at the Fillmore West April 10, 11, 12 and 13 of that year. Other than running into each other backstage it's not known if they met. If we get the chance we should ask Jeff that if he remembers.
I'm pretty sure Jeff remembers Friday, December 3, 1976. The Miami Jai Alai Fronton, the first date of several U.S. shows Jeff did that month with Jan Hammer in which Tommy Bolin and his band were to open. Tommy was scheduled open to 5 shows, he only did one, dying in the early hours of Saturday, December 4th at the Newport Hotel which was at the time in North Miami Beach but is now Sunny Isles, Florida by what was reportly a drug overdose. You can get a recording of Tommy's last show at amazon.com...https://www.amazon.com/Live-Miami-At-Jai-Alai/dp/B01HRYV0YQ.
There's also on YouTube a three part recording Jeff and Tommy jamming. Posted by Bobby Berge some years ago this is his description...
Hey ALL ! part-2 is still TOMMY on Guitar, JEFF on bass, and Me[Bobby Berge] on drums. This is a Jam at our Friend[Phillip Polemini's] small Studio on GlenHolly Dr. up Beachwood Dr, in Hollywood Hills. It was late spring of 1976 when JEFF was in town to do concert at the Starlight Bowl. Phillip recorded on cassette. This is actually our second Jam of the night----unfortunately,Phillip recorded over first Jam with JEFF on guitar and TOMMY on bass.
Here are the links...
I got to meet Tommy just a few months before he passed. Tommy did a live radio broadast on September 22, 1976 from Northern Lights Studio in Maynard, Massachusetts which was broadcast on WBCN. I got to get into the studio and spend the whole day there as a friend of mine, Jon Magoon, from my hometown was an engineer there. I had been there many times before but was thrilled that Tommy Bolin was going to be there. I could be wrong but I seem to remember Jonathan Edwards opening the show. You can get this show too on amazon.com...https://www.amazon.com/Live-Northern-Lights-Recording-Studios/dp/B000003S6O.
Northern Lights Studio was in a building that was once a movie theater. It had one very large room with a very high ceiling I remember. The control room was upstairs where the projection room used to be. So I'm hanging there all day, watching soundcheck and stuff. At one point Tommy and one of the band members came over to me and the other people I was standing with and asked if we could get them some coke, as in cocaine. This was 1976 and we were like 22 years old at the time and said, "No, but we might have some weed." They weren't at all interested in that. At some point maybe 45 minutes before air time I'm pretty sure they scored somehow because the band was suddenly really happy literally running back to the make shift dressing room they had off to the side of the main studio room. None of this affected their performance however, they tore the place up, really great playing by everyone. However when I learned of Tommy's passing I kind of thought hmmmmm.
One reason I think about Tommy from time to time is I drive past the Newport Hotel everyday on my way to work. I drive down A1A from Hollywood, FL to North Bay Village. It's another sad story, another rock n' roll casualty I guess.
2018 Stars Align Tour
Here's a wrap of the 2018 U.S. Stars Align Tour...Ann Wilson, Paul Rodgers and Jeff Beck...first a re-cap of the dates...

July 18 - West Valley City, UT - Usana Amphitheatre
July 20 - Los Angeles, CA - Five Point Amphitheatre
July 21 - Phoenix, AZ - Celebrity Theater w/Nils Lofgren
July 22 - Chula Vista, CA - Mattress Firm Amphitheatre
July 24 - Houston, TX - Smart Financial Centre at Sugar Land
July 25 - Dallas, TX - The Pavilion at Toyota Music Factory
July 26 - Austin, TX - Moody Theater (solo show)
July 28 - St. Louis, MO - Hollywood Casino Amphitheatre
July 29 - Chicago, IL - Huntington Bank Pavilion at Northerly
          Island
July 31 - Clarkston, MI - DTE Energy Music Theatre
Aug. 1 - Toronto, ON - Budweiser Stage
Aug. 3 - Boston, MA - Blue Hills Bank Pavilion
Aug. 4 - Camden, NJ - BB&T Pavilion
Aug. 5 - York, PA - Appell Center
Aug. 7 - Lewiston, NY - Art Park w/Ann Wilson
Aug. 8 - Cincinnati, OH - Riverbend Music Center
Aug. 10 - Indianapolis, IN - Ruoff Home Mortgage Music Center
Aug. 11 - Pittsburgh, PA - Heinz Hall w/Ann Wilson
Aug. 12 - Holmdel, NJ - P.N.C. Bank Arts Center
Aug. 14 - Wantagh, NY - Northwell Health at Jones Beach Theater
Aug. 15 - Port Chester, NY - Capitol Theater (solo show)
Aug. 17 - Nashville, TN - Nashville Municipal Auditorium
Aug. 19 - Charlotte, NC - PNC Music Pavilion
Aug. 20 - Vienna, VA - Wolftrap w/Ann Wilson
Aug. 22 - Atlanta, GA - Chastain Amphitheater
Aug. 23 - Jacksonville, FL - Daily's Place Amphitheater
Aug. 25 - West Palm Beach, FL - Coral Sky Amphitheatre
Aug. 26 - Tampa, FL - MidFlorida Credit Union Amphitheatre

Tour Reports From The Press
From the heraldextra.com, West Valley City, UT, USANA Amphitheatre, July 18, 2018...
From sonicnation.net, Maryland Heights, MO, Hollywood Casino Amphitheatre, July 28, 2018...
From uproxx.com, Chicago, IL, Huntington Bank Pavilion at Northerly Island, July 29, 2018...
From the niagra-gazette.com, Lewiston, NY, Art Park, August 7, 2018...
From clclt.com, Charlotte, NC, PNC Music Pavilion, August 18, 2018...
*************************************************************
Tour Reports From The Fans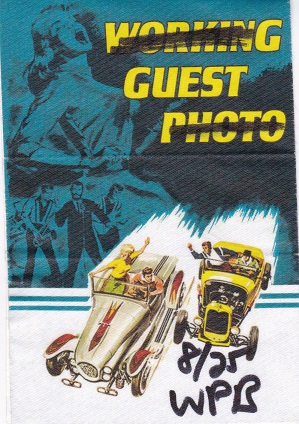 From Bill Armstrong, Boston, MA, Blue Hills Bank Pavilion, August 3, 2018...
Boston always seems like a good venue for Jeff Beck. When he first went solo with The Jeff Beck Group and played the old (first) Boston Tea Party that started a love affair that continues to this day.
I headed into town with a car full of friends. The Blue Hills Pavilion is actually a short drive from my home there, you go right thru the Ted Williams tunnel and you're there. We were all a little naughty though. Instead of heading right to the show, we decided to go the Morton's Steak House which is right down the street and have drinks and a snack. In doing so we missed both Deborah Bonham and Ann Wilson, oops. If my memory serves me right this is the second time I've done this. I saw Jeff play the Music Hall in Boston with Jan Hammer in '76 (thanks, Jeff Waters) and Heart was opening. A bunch of us blew that off and went to a hotel bar across the street until it was Jeff's time to come onstage. Hah.
We finally got the venue and although there had been a heat wave there for several days it was not too hot there because the place in right on the 'hahbah'. Jeff came onstage around 8pm and like every Boston show I've been to the crowd went bezerky-nuts. Here's the setlist...


Pull It
Stratus
You Know You Know
Nadia
Morning Dew
I Have To Laugh (old Otis Rush song, new)
Lonnie On The Move
Mna
Just For Fun (Jan Hammer tune, new)
Little Wing
Big Block
Syreeta (Cause We Ended)
Brush With Blues
Superstition
A Day In The Life
  encore
Corpus Christi/Goin' Down

You can see all of these songs from this tour on YouTube so there's no need for extensive descriptions but here's just a few things I noted...
Even though it wasn't that hot out, once you sat down in the middle of the crowd (we were in the 15th row, thanks Kevin) it was warm. The band...what can you say, Rhonda and Jimmy are solid, solid, day in, day out, year in, year out. The 'new girl', Vanessa Freebairn-Smith was great when you could hear her. I had a little trouble hearing her until 'Nadia' but on 'Mna' you could see why Jeff picked her up. The two 'new' songs, 'I Have To Laugh' and 'Just For Fun' were fun additions to the set. Vinnie Colaiuta, although we love JJ, great to see him back in the chair. He plays a little harder, a little louder and a little more aggressive than JJ. He really drove that big rig.
We had to go backstage to see Jeff after his set so we missed the beginning of Paul Rodger's set...actually we missed the whole thing because we headed out to beat the traffic, oops again.
Backstage I have to admit I had a mission and it was just to thank everybody for giving Dick the time of his life the last time he saw them all up in Chicago in 2016. It's have to believe we just the the two year mark of Dick's passing this past September 10th. I saw Rhonda and Jimmy first to thank and they as usual were so nice. They both said they missed Dick and think of him. I had a several minute talk with Jimmy about Dick which turned into what people our age talk about...all the more people we know now that have healthe problems and/or have passed. Jimmy was telling me about his brother Jack who was and is the bass player in Wet Willie. Jack has cancer and Jimmy was telling me how they both did a southern rock themed cruise ship gig earlier in the year that Jack soldiered through despite his recent treatments.
Jeff always comes out a bit after everyone else, Vinnie didn't come out at all but both things are understandable since Jeff and Vinnie really the two that really have to tear it up for the whole set. I got just a minute or two to thank Jeff and he smiled when I mentioned Dick. It can be hard to really talk to him in these setting because there are 10 other people there trying to do the same thing. Last, a big thank you to Chris Fenn, he is such a good guy with a really hard job trying to wrangle these unscheduled 'meet and greets' on top of everything else he does. Also just as we were leaving I gave a shout out to Shon Hartman, Jeff's longtime monitor mixer who was walking Jeff back to the bus....he was a little stunned that I knew who he was and recognized him. LOL
Now a disclaimer...I took a couple of selfies backstage. I hate pictures of myself and I don't take good selfies especially since I just got this new phone a couple of weeks before. But here they are, I'm making them small.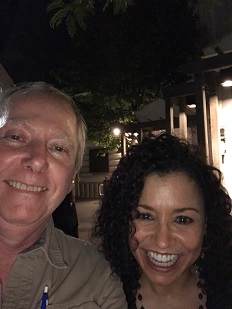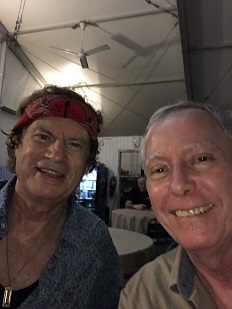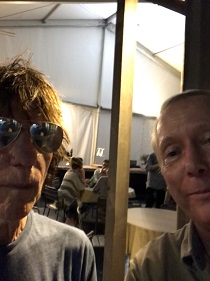 Be seeing you..
*************************************************************
From Eric Mirell, West Palm Beach, FL, Coral Sky Amphitheatre, August 25, 2018...
(Ed: Eric has been a long time collaborator with 'A Jeff Beck Webpage', he has kindly given us free server space for many years to bring you this webpage. Thanks Eric, BA.)
As I entered my 50th year as a Jeff Beck fan, I watched with great anticipation on ainian.com and social media as Jeff and company traversed the world and then the US, heading towards the final show last night here in Florida. I was thrilled to connect with so many friends and contributors to ainian.com both on line and in person at the West Palm Beach, Florida show on 8/25/18. The threat of rain didn't diminish the crowd or the enthusiasm in the brutally humid Florida night. The Coral Sky Amphitheater was a great venue, open air and plenty of choices for eating and drinking in the concession area, easy parking and facilities.
  This was to be the second to the last show of the tour, and our little group of fans and ainian.com contributors calculated about a combined 300+ years of fandom and over 500 shows since this lunacy began. This was an especially poignant meeting as it was the first tour since the loss of our fearless leader, Dick Wyzanski who along with Bill Armstrong founded ainian.com and became the first serious and the definitive archive of all things Beck on the internet. We tend to take things on the internet for granted, but back in the days before search engines and thousands of choices when searching 'Jeff Beck', it was a great connection for all of us and a sign that, well , maybe we are all a little crazy, but we have plenty of company. Those who knew and loved him ( including Jeff himself) acknowledge Dick as not just a fan, but a historian serious enough to help in more than one book about Jeff (including Jeff's own BECK01 special collection : https://www.genesis-publications.com/book/9781905662371/beck01 ). I made Jeff chuckle as I told him it would take more than death to keep away Dicks spirit through us away from a tour.
  There isn't much I can add to the stellar reviews of the tour. Serious listeners seemed to agree this was the best tour ever, but I have always said Jeffs best show was the one you are currently attending. Jeff's choice of material and band members for the tour was as always, spectacular. Prior to the tour there was plenty of speculation regarding Vanessa Freebairn-Smith, a cellist, being added to the mix. When they all played, the genius of this addition was evident in her low end sounds filling in the spaces where we might have been used to hearing a  keyboard player or some synth or chords from the great Jennifer Batten. Jeff has always filled that space with brilliance.
  Jeff hit the stage for a 70 minute set around 9:30 and was full of energy and addressed the audience with a 'Now for something completely different' greeting. He prowled the stage in a way that made him seem ageless. The audience was wildly enthusiastic having been warmed up by great sets by Deborah Bonham, English rock and blues vocalist ( and the sister of John Bonham, late Led Zeppelin drummer), Ann Wilson (Heart) and Paul Rogers (Free, Bad Company), but it was obvious everyone was there for Jeff. The set was packed with off the wall wailing guitar and the soft subtle stuff in a well balance set list. After months of fan debates (Jonathan Joseph or Vinnie Colaiuta), you couldn't deny there was a powerhouse backing and of course the always incredible Rhonda Smith on bass, in her 10th year with Jeff. You don't generally think of Beck music as music to dance to, but most songs found people out of their seats, pumping arms into the air and moving to the music. Sometime during the second song (Stratus), I felt such a connection with this music I have been listening to since I was 14 and realized I was so blessed to be there with my son.
  I was lucky enough to not only spend a few minutes with Jeff and the band after the show , but to bring my 9 year old son along for his second Jeff Beck show. His first was in 2016 at Madison square garden where he also met Jeff. This time I have to say, I think he truly loved seeing Jeff, very few performers can generate that kind of infectious energy and enthusiasm, and even fewer can claim the length of the career and strength of the catalog and the on stage presence. The general consensus of the fans that are close to this website is, he will be back again. The love of his fans and the excellent tour management, and of course the music will help.  I was told by a band member that Jeff was already talking about another one off gig and looking ahead. I am reminded that the great Les Paul played audiences into his 90's so we could conceivably  have another 20 years to savor , and another generation of fans is already in place. Buy (don't stream) Jeff's recordings (apply that to any artist you love), get out and see live music as often as you can, buy the artists merch, support the arts in a very real way.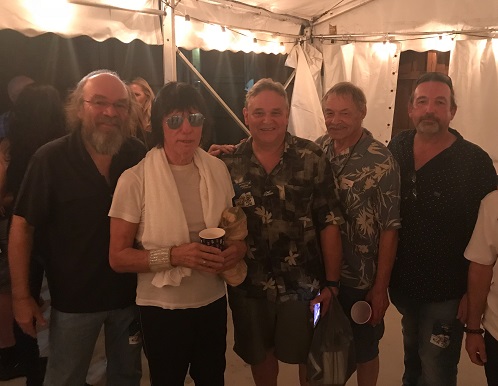 The ainian crew with Jeff...Drew Stawin, Eric, Rick McGowen and Jim Belmont.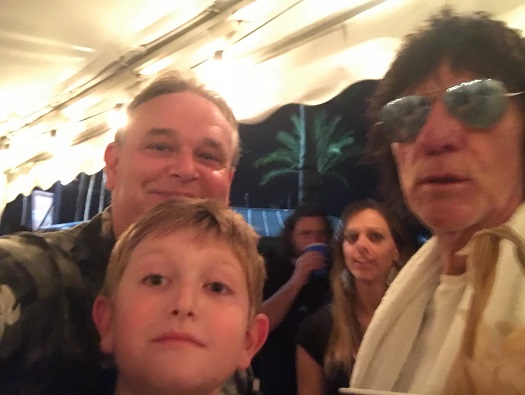 A selfie, The Mirell's and Jeff.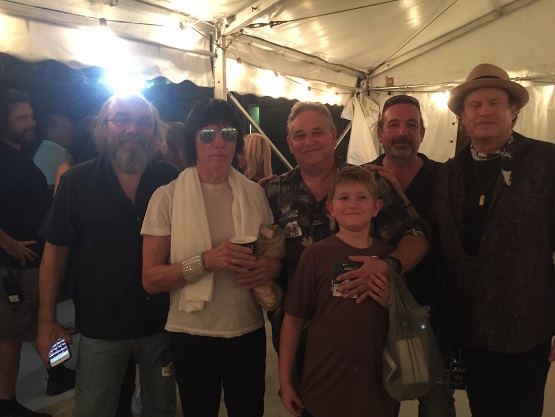 The ainian crew with Jeff and Jimmy...Drew Stawin, Eric and son and Jim Belmont.
  Lastly,  I know as a rule artists don't appreciate live video and photo taking so I share this link below exclusively only with all of you faithful ainian.com readers and fans of Jeff around the world, so if you find the need to share , please send them to the main page so they get the whole Jeff Beck Experience . Peace and music to you all!
************************************************************
This is an addition to Eric's report by me, BA. At the West Palm show Eric gave Jeff a t-shirt he had made. On the front as you can see is a picture of Dick and Jeff at the August 2016 show at the same venue, The Coral Sky Amphitheater. That was the last show Dick and I went to together. The bill was Jeff Beck and ZZ Top. On the back was the 'A Jeff Beck Webpage' logo. Jeff graciously let pictures of him and the shirt be taken and here they are. Very cool, thanks again Eric.
(P.S. from time to time people ask me, 'What does 'ainian' refer to?' When Dick and I started this madness in 1995 I bought a domain name to use for the page and I thought for maybe other stuff too. (I actually do have an Armstrong family webpage attached to it.) Anyway, I have two children, Ainsley and Ian...get it? Be seeing you, BA)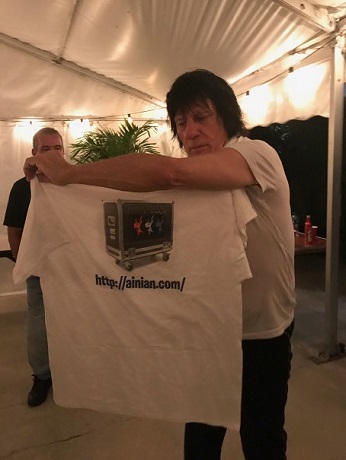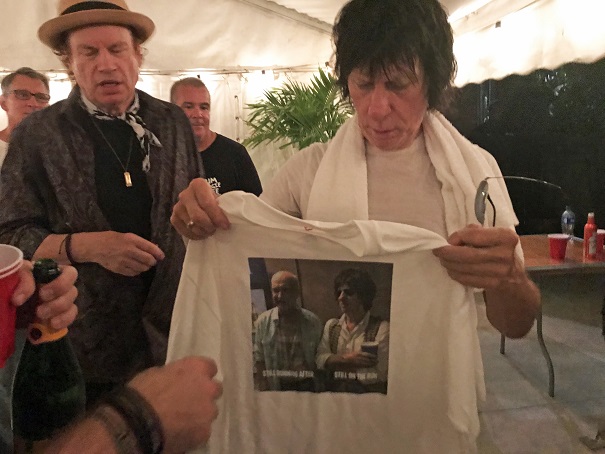 *************************************************************
From Rick McGowen, various shows.....
Jeff Beck Tour 2018
"Do I need to call the Wagon for you?" - Jeff Beck
Rick McGowen
Roving Reporter
Special to AINIAN.COM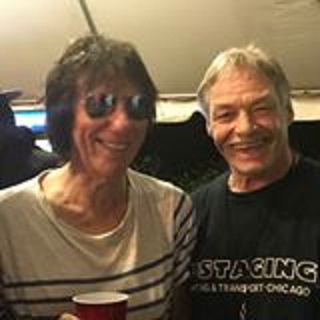 September 7, 2018
This reporter has had the honor of covering Mr. Beck for the late Dick Wyzanski's spectacular archive AINIAN.COM since 2009, when I attended the Rock & Roll HOF Induction for Jeff, his 2nd enshrinement. 2018 marks my 6th tour since then; where I have attended 5 shows each tour, on behalf of the website. That is to say mostly for my behalf………I have never missed a Jeff Beck tour since 1968. In all sincerity; nobody has seen Mr. Beck perform more times than I have since 1965.………except his modern roadies since 2010 LOL…..I am part of the Lunacy referred to in the Frontpiece of this website.
Hide & Seek
August 03, 2018
We are at the Blue Hills Bank Pavilion in Boston. This outdoor venue with tent covering, seats 5200 and the crowd was at near capacity. This is a very loyal and familiar Boston crowd. The Yardbird's played their first shows in the Boston area in 1965. Other than the youtube vids from Europe and early states shows; I could not really hear Vanessa Freebairn - Smith on the Cello. There had been many misgivings regarding Jeff's choice of a cellist to accompany him. I quickly defended the choice; pointing out that the cello; the 2nd lowest instrument in the string section; would add a bigger bottom, to the already spectacular rhythm section of Rhonda Smith (Prince) and session extraordinaire drummer Vinnie Colaiuta. The result was what the real Jeff Beck purists wanted. The Power Trio with Mr. Beck front and center ALL the time; and indeed the spectacular addition of the cello.
Cazart!!! Mr. Beck is BIGGER, BETTER and LOUDER than he has ever been before!!! LOL ROFL………….I'm speechless; literally out of anymore superlatives for this man. I'm not sure music critics can even quantify Mr. Beck and his band of virtuoso instrumentalists anymore? He has always been incomparable to any other guitarist by virtue of style, technique and tone. But clearly with this latest round of performances he stands alone in the pursuit of his craft. Jeff lives for the stage. He proved it every night on this tour. This band is at a level of musicianship and spontaneity that left me stunned.
Backstage, I grabbed Jeff when he was free for a second. We shake hands; he knows me………..I tell him my 1965 Yardbird's story………."Jeff, My Mom took me to see the Yardbirds in December 1965. This is what she said to me when we were leaving." Jeff interrupted me and said, " OH, let me guess, horrible, awful". No, Jeff. She said this to me. " Rick, that guitar player you like; he's gonna need a better band". I told Jeff, no offense to the Yardbird's, but I think she was right. He smiled, and I left him so the other guests could all get their turn to meet him. Vinnie and Jimmy Hall were out briefly; but Rhonda and Vanessa did not appear. They had a long drive; at least 8 hours to Camden, NJ and then York, Pa the following night. I got hold of the crew………Nick Rich, Shon Hartman and Dave Fosbinder……all good friends of the website; only in passing………..
I did not follow the band to Camden & York……………..I could have, but Radar prevailed………A brief hiatus before………..Official Jeff Beck Week!!!
August 12, 2018
PNC NJ Performing Arts Center at Holmdel, NJ
The threat of rain is gone; the night unfolds into a perfect summer outdoor show. This venue, 17500 is probably at 2/3rds of capacity………and by my estimate most are here for Mr. Beck. Jeff is on 2nd tonight; and preceding Paul Rodgers; BLOWS UP the arena!!! WTF was Rodger's thinking…………He 's been onstage with Jeff before…………He should Know better!!! NOBODY literally nobody in the business wants to follow Jeff Beck. It's just NOT DONE. You would have to be the worlds greatest egomaniac or a masochist, to WANT to FOLLOW Jeff Beck LOL. So we skipped Paul and headed backstage. Our good friends Beth Dietz and Jim Belmont joined our group. Jeff pops out a few minutes later with his NJ Bodyguard; Silvio aka Steven Van Zandt aka Little Steven!!! I moved in. waved to Jeff and when someone grabbed Jeff for a pic I introduced myself to Little Steven. I told him he had the best Radio show, and mentioned that I loved his induction of the Rascals into the RnRHOF. Then I said, I'm glad to see you here. " I could not miss Jeff Beck" he replied………… Beth Dietz was gingerly approaching Jeff and I gave her a little push and introduction; she's as shy as I used to be. She had Jeff's rapt attention as she asked him to sign a scarf for Malaika her beautiful official Hospital Care dog. The smile on Jeff's face was priceless. There were also some Nigel Tufnel photos that Jeff signed ; one for Sheila Melms. I finished the night with Vanessa in a spirited conversation about the addition of the cello. I asked her how was it playing in these bigger venues? "It takes some adjustment but the sound guys are really good. Did you think this would work? I asked. "I was surprised when Jeff called me. But, as soon as I heard him rehearsing; I knew it could work".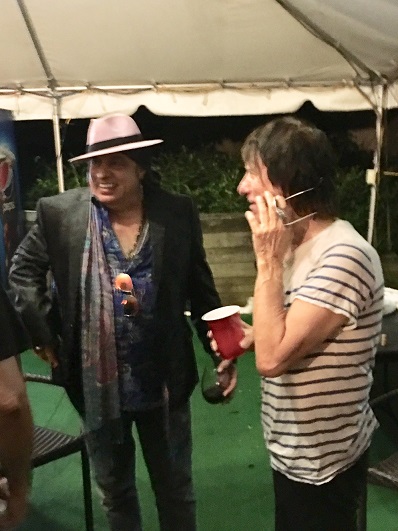 "Guitar God and the Last of his kind"
From: Jeffbeck.com
August 14, 2018
Jones Beach Amphitheater
Wantagh, New York
Third show for us; third show with a 70% chance of rain and not a drop. Guitar Gods? Really?
I take exception to Mr. Beck being referred to on his own site (LOL) as the "last of his kind". What???????? Really? Not for this reporter. Mr. Beck is the ONLY ONE of his kind. He has always been and has never changed; only evolved and incredibly, he continues on this quenchless thirst for more tone and technique on the guitar.
The sound boys are at their best tonight. It's a salt air breezing through on the wind off the Atlantic Ocean about ¼ mile away. "New York audience………what a Gas!!", said Jeff to the audience at BB Kings in 2003. Indeed, the old 60's holdover's, layover's, hungover's are ALL here. I'm surprised so many of us old codger's made it …..but the 14500 seat venue is again at 2/3rds capacity………….90% here for only 1 performer. A day off pays dividends. For the 3rd night, my favorite song is the Jan Hammer composition, "Just For Fun". It's a melodic, funky romp. Masterful songwriting………So much space for melody and rhythmic chops. The band in it's entirety excel on this piece. Vanessa breaks a big sweat LOL (I kidded her later).
Do I need to call the wagon for you? - Jeff Beck
Martine walked directly towards Jeff. He took her hand softly and said hi. Then he extended his hand to me and said, "Do I need to call the wagon for you?" I responded, "Jeff, I never miss the opportunity to see true greatness". I left him with that and then he hunkered down with Jennifer Batten. Ed Chapero (our MASTER archivist) who goes back w/Jeff to the late 60's in NYC spent time w/Jeff as did Jim Belmont; who as always had some new photos to show Jeff. The aforementioned and your's truly……….are the real Lunatic fringe. Thanks so much to Rhonda; who is always so gracious and Jennifer Batten for her time and magnificent musical direction and contribution to Jeff 's music!!.
August 15, 2018
The Capitol Theater
Portchester, New York
Solo Date
A Special Occasion
All the loons are in town. Alan Sholitan, Drew Stawin, Jim Belmont, Bill Toabe and this reporter. Boy's night out. A very nice dinner, drinks and cigars for Alan and I preclude the festivities. This venerable theater has seen Mr. Beck performing 5 times in recent years here. It's quite clearly one of his favorites. I repeat ad nauseum……… these are the real 60's Yardbird's to Jeff Beck fans NY City style. The audience is literally lit! The Capitol; Pete Shapiro's shrine to the Gratefully Dead (sorry?) has it's own smoker's courtyard where the Weed is openly smoked; while off-duty Portchester Cops work overtime making sure the Drunks don't spoil the Pot Party. We have 10th row seats center left. Jim Belmont has a photo op pass and is in the wings shooting. This is of course the 90 minute usual, Jeff performance. This is his true element. The 1700 seat old Vaudeville Era theater is the perfect size for Jeff to be able to employ all of his sonic nuance. So much of his playing has been so finite; it requires very close listening; almost antithetical to Rock N Roll! The Safety Net is gone…………
Backstage is the gathering of the ainian.crew and Gary Wiemocky who played such an integral role in supporting Dick Wyzanski's final trip to see Jeff in Chicago 2016. Thanks so much Gary.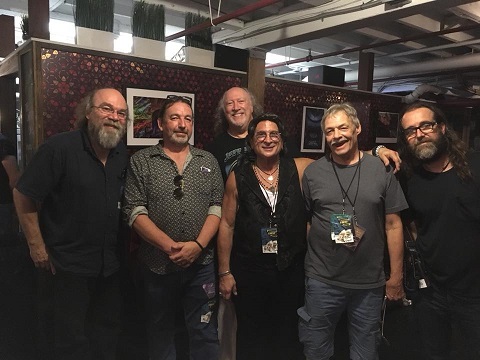 Here I had all the band members around and I directed my comment to Rhonda. "I was floored by your interplay on Just For Fun. You three, (Rhonda, Vanessa and Vinnie) were throwing fireworks at each other." Jeff tuned in and said, "yeah I just kinda sat back and watched them."
Finally, after all the time I have been following Jeff; I asked him for his autograph. I had the ainian crew around us all. I said" Jeff, I know you think I'm nut's but these guys are the core of Dick's page. Jeff interrupted me and said, "I know that." I thanked him for so graciously accepting us into his very private world, and for the 2nd time, he thanked us for all of our support. Then I said, I know you don't like signing guitars but I brought mine. He said, " I don't see it". I reached in my pocket and pulled out a glasses case with a Fender lapel pin glued to it; and inside was the Seymour Duncan Tele-Gib miniature offered with the new DVD, "Still On the Run - The Jeff Beck Story. (CD Japan Thanks!!!) He laughed and signed it……….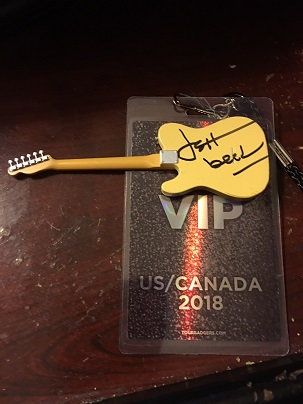 8/23/2018
Satellite Beach
Melbourne, FL
Hangin with website/computer guru Eric Mirell…………..Bronx homeboy a decade apart from me…………but the same and with the mutual admiration for Mr. Beck. We'd crossed paths unknowingly many times thru the years……..all revealed in later correspondence . 2 days on the Beach, some pool time; all Jeff all the time on the sound board; good food and friends. Vacation with Jeff Beck!
8/25/19
Coral Sky Amphitheater
West Palm Beach, Fl
My 5th show and the next to last show before the finale in Tampa. 20,000 capacity with the seats full and people on the lawn. Big place, big turnout and big buzz LOL!!! Rowdy crowd, with Jeff closing the show!
I'm exhausted from the performance*. Jeff pushes the band, they push back, together, individually…………the risk, the instinct for each others phrasing and positioning is more informed with each performance. Jeff Beck's performances have always been rarely less than astonishing…………but with this stripped down band of killer virtuoso musicians in 2018.………..Jeff Beck has delivered his most triumphant concert tour ever. At 74 years old, to be better than you have been before????
Yes, backstage w/Eric Mirell, Danny Mirell, Jim Belmont, Drew Stawin and Martine……….Mr. Beck called me "Nut Job"! I tried to duck, but he caught me and then he pronounced me nuts. Of course we spoke quietly for a moment. Again, I thanked him for playing for us, and with a wink and smile said to him, "see you next tour". The handshake, the smile and the OK!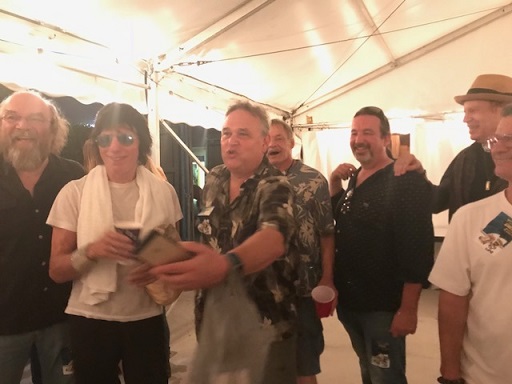 With my sincere gratitude:

Chris Fenn
The Crew: Nick Rich
          Shon Hartman
          Dave Fosbinder
The Band: Rhonda Smith
          Vinnie Colauita
          Vanessa-Freebairn Smith
          Jimmy Hall                  
Ed Chapero
Bill Armstrong
Jim Belmont
Drew Stawin
Eric Mirell
Alan Sholitan
Gary Wiemocky………thanks for everything you did for Dick!
Pete Shapiro at the Capital Theater
*fellow drummer Jim Scura….for sharing he was "Exhausted" after
Tampa!

And Who Else?…………..to be continued…………………

---