This is the 50th Anniversary celebration of Jeff Beck's live touring since he first started off post Tridents with The Yardbirds. Also this is our 20th year here online at 'A Jeff Beck Webpage' and, with Issue 20 of The Jeff Beck Bulletin we salute Jeff's past, Jeff's soon to be released book 'Grease And Strings', Jeff's now, the current tour and Tokyo Live DVD, Jeff's future, new CD, official documentary and any other morsel of sound emanating from Jeff's golden guitar touch. I leave the reader with a most telling, ironic music industry picture which is fitting for an artist unwilling to be shackled by the customary channels of record industry. Unwilling to pursue success through high profile PR contract signings, press releases, and staged interviews. A picture of a quiet, laid back recording industry mogul Clive Davis sitting down with Jeff Beck at Jeff's famous contract signing for Epic Records under parent Columbia Records in the summer of 1971. It was the most and may still well stand up as the most one sided artist friendly music recording contract ever consummated. A ten record Jeff Beck feature artist deal that had few if any time constraints as to putting out product over the tenure and gave the artist the right to put out what he wanted without fear of record company intervention. It of course took Jeff until 2003 to complete the ten record deal with the issuance of "Jeff". It also has allowed us to listen to all those years of passing influences incorporated into the sounds of Jeff Beck from the world over like no other. From jazz to blues. From reggae to Irish. From middle eastern to far eastern and on and on and on. It went and still goes today delighting and entertaining the mind, body and soul with the pied piper ringing seasonal world guitar tones of Jeff Beck...and this almost insignificant little picture blurb of Jeff Beck "doing it his way" with recording artist maker or breaker Clive Davis? Well its' just as Rod sang……… "Every Picture Tells A Story"…. now doesn't it!
2015 Tour Reports From The Press
The Capitol Theater, Port Chester, NY, April 13, 2015 - From The Brooklyn Vegan...
http://www.brooklynvegan.com/archives/2015/04/jeff_beck_playe.html (Lots of great pics!)

Jeff Beck played The Capitol Theatre (pics, setlist, video)
photos by P Squared Photography
Jeff Beck @ Capitol Theatre 4/13/2015

Legendary guitarist Jeff Beck kicked off his tour with Tyler Bryant at
Port Chester's Capitol Theatre on Monday (4/13), the first of many NYC
area dates for the two. Jimmy Hall, who fronted the '70s southern rock
band Wet Willie, is vocalist for this tour which starts a three-day run
at The Paramount tonight (tickets) before heading back to Capitol for
another show Saturday (tickets). Pictures from Monday's Cap show in
this post.
Meanwhile, Jeff announced a new live album, Jeff Beck Live+, coming May
5 via Atco Records. The album includes live versions of 14 of the
virtuoso's hits recorded during his 2014 tour. In addition to the live
cuts the record features two new studio tracks, "Tribal" and "My Tiled
White Floor" (he played the latter at Monday's show). He's also
currently working on two different books, the first official
documentary focused on his career and is expected to release his 17th
full-length later this year.
Jeff also recently added a string of midwest dates to his solo tour,
which picks back up after the make-up dates with ZZ Top from their
cancelled tour last year. All of Jeff Beck's upcoming dates along,
pictures and his setlist from the first Capitol Theatre show....

Jeff Beck Setlist -- Capitol Theatre 4/13
Loaded
Nine
You Know You Know (Mahavishnu Orchestra cover)
Hammerhead
Morning Dew (Bonnie Dobson cover)
Why Give It Away
A Change Is Gonna Come (Sam Cooke cover)
Yemin (Nicolas Meier cover)
Stratus (Billy Cobham cover)
Goodbye Pork Pie Hat / Brush with the Blues
You Never Know
Little Wing (The Jimi Hendrix Experience cover)
Superstition (Stevie Wonder cover)
Big Block
A Day in the Life (The Beatles cover)
My Tiled White Floor
Rollin' and Tumblin' (Hambone Willie Newbern cover)
Encore:
Danny Boy (Ernestine Schumann-Heink cover)
Going Down (Moloch cover)

******************************************************
The Paramount Theater, Huntington, NY, April 17, 2015 - From The Digital Journal, Markos Papadatos...
http://www.digitaljournal.com/a-and-e/music/review-rock-and-roll-hall-of-famer-jeff-beck-electrifies-the-paramount/article/431095

Review: Rock and Roll Hall of Famer Jeff Beck Electrifies The
Paramount SPECIAL
By Markos Papadatos
Apr 18, 2015 in Music
Huntington - On April 17, Rock and Roll Hall of Famer Jeff Beck
performed a sold-out show at The Paramount, and he was able to rock the
electric guitar.

This marked his third consecutive concert at The Paramount in three
days. As he took the stage, he was met with a tremendous response from
the audience. He sported his sunglasses and played with his full band.
Jimmy Hall, who is the lead singer of the southern rock band Wet
Willie, lent his lead vocals on the bluesy and classic tunes, and he
also played the harmonica.
His set-list included such incredible guitar numbers as "Loaded,"
"Nine," where the stage was graced in red and green lights, as well as
"You Know You Know."
Beck continued with "Hammerhead," "Morning Dew," "Why Give It Away" and
an empowering rendition of "A Change Is Gonna Come" that would have
made Sam Cooke proud. "Yemin" was equally impressive.
Many of the songs that he nailed tonight will be on his forthcoming
studio album, Jeff Beck Live+, which will be released on May 5. It is
safe to say that after his performance at The Paramount, all music fans
ought to check his upcoming CD out.
The Verdict
Overall, Jeff Beck was a true guitar king at The Paramount. He allowed
all of his band members to showcase their talent throughout the show,
and they proved to be at the top of their game, instrumentally. Hall
delighted thanks to his sultry vocals. Several of their vocals featured
neat psychedelic backgrounds. Jeff Beck's show garnered an A rating.
For more information on Rock and Roll Hall of Famer Jeff Beck and his
tour dates, check out his official website.

******************************************************
Paramount Theater, Huntington, NY, April 17,2015 - From allaboutjazz.com...
http://www1.allaboutjazz.com/index_new.php?url=jeff-beck-at-the-paramount-jeff-beck-by-mike-perciaccante.php&&width=1440

Jeff Beck At The Paramount
Jeff Beck
The Paramount
Huntington, NY
By MIKE PERCIACCANTE

April 15, 2015

Jeff Beck is rock royalty. He has twice been inducted into the Rock
'n' Roll Hall Of Fame—as a member of the Yardbirds (in 1992) and as a
solo performer (in 2009). His career has spanned over 50 years (first
appearing on a record in 1964 playing guitar on the Fitz and Startz
single "I'm Not Running Away."

In 1965, he was recruited into the Yardbirds, replacing another guitar
god, Eric Clapton. His stay in the band was short, lasting less than
two years. After leaving the Yardbirds, Beck formed the Jeff Beck
Group, featuring, among others, Rod Stewart on vocals and Ronnie Wood
on rhythm guitar and bass. This group released two classic albums for
Epic Records, Truth in 1968 and Beck-Ola in 1969. The group disbanded
in 1969. Beck eventually reformed the band in the early '70s with a
completely different lineup and released Rough and Ready (Epic Records,
1971) and Jeff Beck Group (Epic Records, 1972). In 1973, he came
together with Tim Bogert and Carmine Appice to form Beck, Bogert &
Appice and release two albums on Epic Records—the eponymously named
debut album (1973) and Live In Japan (1973).

Following the dissolution of Beck, Bogert & Appice, Beck went solo,
releasing Blow By Blow (Epic Records, 1975). Blow By Blow is an
instrumental album that was a huge hit. It reached number 4 on the
Billboard 200 and has been certified Platinum by the RIAA. In 1976 he
followed Blow By Blow with Wired (Epic Records). This second solo
release reached number 16 on the Billboard charts and also received
Platinum certification.

As a solo artist the majority of Beck's music has been instrumental in
nature. His innovative sound fuses blues, rock, pop, jazz, a bit of
metal and even some electronica. During his career he has won a number
of accolades (including a Top 5 ranking among Rolling Stone magazine's
"100 Greatest Guitarists of All Time") as well as multiple Grammy
Awards.

On a warm Wednesday evening in Huntington, NY, Beck and his band
treated the mostly middle-aged crowd at the Paramount to a blistering
performance of boogie-woogie, jazz drenched rockin' blues. Prior to the
legendary guitarist's performance, Tyler Bryant warmed up the audience
with a fantastic, solo acoustic set. The 24-year-old guitar prodigy
sites Beck a major influence. This was quite evident in his short,
energetic, bluesy and impressive set.

After Bryant left the stage, there was a short intermission and as the
clock approached 9pm, Beck and his band appeared onstage and before the
group had played a single note, the audience in the sold-out venue
erupted into a thunderous ovation. Beck, who is a few months short of
his 71st birthday, gave a riveting performance. His band was a
powerhouse. Together he and his compatriots took the crowd on a musical
journey through his long and winding career (making stops along the way
to pay tribute to successes achieved with Bogert and Appice, the Jeff
Beck Group, as a solo artist and to perform some choice covers).

The band, featuring Rhonda Smith on bass, rhythm guitarist Nicholas
Meier and Jonathan Joseph on drums, rocked hard during the opener,
"Loaded." From the start Beck proved why he is a guitar heavyweight.
His sounds is unmistakable. On this night, as always, his playing was a
full frontal attack on the listener's senses, filled with a myriad of
precision notes, textures and tones that would be almost impossible to
replicate (unless you were the master himself) and a highly imaginative
take on everything he played. Those close enough to the stage were
treated to a show within the show. These lucky fans were able to watch
first-hand, up-close-and-personal as Beck bent strings, worked the
fretboard, plucked notes without benefit of a pick and generally made
the guitar sing and soar.

Former Wet Willie frontman, Jimmy Hall helped Beck turn back the clock
to the late '60s and the Truth LP by handling the vocals on "Morning
Dew" while Beck sat back and played like the virtuoso that he is.
Hall's performance was outstanding as he also skillfully handled the
vocals on Sam Cooke's, "A Change Is Gonna Come," Jimi Hendrix' "Little
Wing" as well as a funky version of Stevie Wonder's "Superstition" (a
song that Beck had recorded with Bogert and Appice).

The evening's hands-down highlight was the show-stopping instrumental
performance of the Beatles' "A Day In The Life." The delicate,
expressive and insightful arrangement took the piece to places that
Lennon and McCartney most-likely hadn't imagined when they created the
song. Beck's guitar phrasing was masterful, something to behold. It's
no wonder that this arrangement of the classic track won Beck a Grammy
Award for Best Rock Instrumental Performance.

***************************************************
Orpheum Theater, Boston, MA, April 19, 2015 - From The Boston Herald, Bill Brotherton...
http://www.bostonherald.com/entertainment/music/guestlisted/2015/04/last_best_show_jeff_beck_at_the_orpheum

Last Best Show: Jeff Beck at the Orpheum
Monday, April 20, 2015

By:
Bill Brotherton

Jeff Beck is the greatest guitarist working today.

He proved that Sunday night at the sold-out Orpheum, with a white-hot
performance that proved the 70-year-old Brit can still play any damn
style of music he chooses and play it well. One minute bluesy power
chords are charging out of his trusty white Stratocaster, the next he's
coaxing out Indian and Middle Eastern sounds, then a bit of classical
music or jazz, then prog rock. And his personality shines through on
every solo, irascible at times, then mournful and romantic or cheekily
witty at others. And he makes it look so easy: no silly guitar faces or
showoffy, over-the-top solos.
Some would argue that Clapton, Page and Richards are his equals.
Hogwash. Clapton lost the fire long ago, Page seldom tours and Richards
goes through the motions as the Stones play one ginormous stadium after
another.

Nope, Beck stands alone.

Last night, Beck and his incomparable band opened with a series of
instrumentals. "Loaded" and "Nine" were muscular rockers. A cover of
Mahavishnu Orchestra's "You Know You Know" was a thrilling jazz fusion
exploration, anchored by Rhonda Smith's bass and Jonathan Joseph's
amazing drumming.
Former Wet Willie ("Keep on Smilin'") singer Jimmy Hall added his
gritty, Southern soul vocals to "Morning Dew," which Rod Stewart and
Beck made so memorable on 1968's "Truth" album. Hall also scored with a
cover of Sam Cooke's classic "A Change is Gonna Come" and bluesy
chestnuts "Rollin'and Tumblin'" and the set-closing "Going Down."
Guitarist Nicholas Meier, a longtime member of Beck's band, brought a
gorgeous Middle Eastern flavor to his own "Yemin" and added jazzy licks
to Billy Cobham's "Stratus."
The band really cooked during the midset hat trick of a swinging
"Goodbye Pork Pie Hat/Brush With the Blues" and a funky cover of Stevie
Wonder's "Superstition."
A lovely version of Jimi Hendrix's "Little Wing" showed just how
amazing Beck's guitar work can be; his melodic playing stirred up
emotions making Hall's vocals superfluous. No words are needed when the
music is so compelling and powerful. Beck and band also wowed with its
reimaging of the Beatles' "A Day in the Life."
Beck, who still wears his hair in that mod style most British rockers
sported in the '60s, appears to be having the time of his life. He
smiled frequently and clapped as his bandmates shined. He even
addressed the crowd a few times, a rare occurrence, though the mic at
stage right appeared to be possessed by the devil and refused to slide
into its proper place. He gave the mic a one-finger salute at night's
end, drawing laughs from his fans.
Tyler Bryant, a 24-year-old Texan whose long hair reminds one of Jimmy
Page back in the '70s, displayed his considerable guitar skills in a
solo opening set. He asked if anyone was running in Boston Marathon.
Yeah, right. This rockin' crowd? After a Sunday night on the town? Just
getting out of bed by the time the race started would be a worthy goal.

******************************************************
Cynthia Woods Mitchell Pavilion, The Woodlands, TX, May 2, 2015 - from blogs.houtonpress.com...
http://blogs.houstonpress.com/rocks/2015/05/zz_top_and_jeff_beck_concert_a.php

No Pressure For ZZ Top and Jeff Beck at The Woodlands
By Angelica Leicht

ZZ Top, Jeff Beck
Cynthia Woods Mitchell Pavilion
May 2, 2015

All right, fine, ZZ Top. You win. I guess every girl is crazy about a
sharp dressed man.

Well, at least this girl is anyway, after the sharp-dressed and sharp
sounding show the boys from Texas put on at Cynthia Woods on Saturday
night, where Dusty Hill, Billy Gibbons and Frank Beard proved that
they're every bit bluesy and brilliant as they've ever been.
Opening with "Got Me Under Pressure," it was immediately obvious that
time hasn't touched this trio -- at least not musically. Yes, the
blues-rockers, which have been making music together since the early
'70s, appear a bit more weathered -- Dusty and Billy's beards, once
quite vibrant, are a bit more grey -- but their sound is nothing less
than perfect.

During the hour-long set, the Texas rockers hit every single note, and
pulled out every hit -- down to songs like "I'm Bad, I'm Nationwide"
and "Legs" -- and not one of them left us wanting for more. Those
gruff, bluesy vocals and the velvety guitar licks are still there, and
still solid.

Even cooler, though, is that while staples like "Sharp Dressed Man" and
"Cheap Sunglasses" certainly didn't disappoint, one of the highlights
for this Houston gal was to hearing the band's brilliant reworking of
the '90s Houston rap classic "25 Lighters" by Fat Pat, Lil Keke and DJ
DMD.

Under ZZ Top's direction, Pat's song is layered with heavier guitars
and rock-tinged vocals, and has been christened with a new name, "I
Gotsta Get Paid." But no matter the tweaks, the song, now a mashup of
Southern rock and Dirty South rap beats, is pretty darn awesome. When
ZZ pulled it out Saturday, every head in Cynthia Woods, from the
throngs of grey haired fans on down to the newest generation of fans,
bobbed to the beat. Fat Pat would have been proud.

Pulling such a top-notch show off would be no small feat for a band
that's been in the business for decades, but when you throw in Dusty's
tour-stopping hip injury late last year, such a solid performance
becomes even more impressive. So if the beards had to take the hit, so
be it. The tradeoff is worth it.

But while those Houston boys were certainly top-notch, they were hardly
the only highlight of the night. The double-bill also showcased rock
guitarist Jeff Beck, who has played with everyone from Eric Clapton to
Rod Stewart, and whose show Saturday one of the best (if not the best)
in the business.

Featuring blistering renditions of Jimi Hendrix's "Little Wing" and
"Morning Dew," Beck's hour-long set was an eclectic, vibrant showcase
of just how versatile and interesting this musician truly is. But, true
to form, Beck wasn't satisfied with just busting out some wicked guitar
riffs, and instead had Jimmy Hall join him onstage to absolutely slay
the songs.

Hall is one of the best R&B vocalists around right now, and it's pretty
amazing that he isn't better-known. His voice -- powerful and full of
emotion -- is built to blow your hair completely back, and it does just
that from note one. He joined Beck on songs like Sam Cooke's "A Change
is Gonna Come." Between Beck's guitar-god prowess and Hall's jaw
dropping vocals, they took the early-arriving audience to blues-rock
church. Seriously.

Rarely does an opener (which, unfortunately Beck felt like, for all
intents and purposes, since he went on in the earlier slot) get a
standing ovation like Beck and Hall got following "A Change is Gonna
Come," but they did. And they deserved every second of it.

So between Beck and Hall's flawless set to ZZ Top's rockin', infectious
sound, the night was a win for the audience out at the Woodlands
Saturday night. Oh, and Houston, you should be proud of your hometown
boys. The little band from Texas still has it -- every iota -- and it
looks like they'll continue to pull it off as long as those hips, and
those beards, will let them.

Personal Bias: I am the jerk who must blare "La Grange" while driving
through La Grange. Sorry about that.
The Crowd: Well, let's just say most of them were probably sporting
real vintage concert tee's from the '70s. Lots of OG ZZ Top fans in the
group, and even more Tommy Bahama button-downs.
Overheard In the Crowd: Not much, actually. The crowd was probably one
of the politest, and most mesmerized, I've seen in a long time. The
chatter was minimal.
Random Notebook Dump: A guy was wearing sunglasses on the back of his
head the entire concert. Seriously. Is that a thing now?

***************************************************
Whitney Hall At Kentucky Center For The Arts, Louisville, KY, May 12, 2015 - from www.louisville.com...
http://www.louisville.com/content/concert-review-jeff-beck

Jeff Beck
May 12th
Whitney Hall at Kentucky Center for the Arts
(photography by:  John Miller)
By the time Jeff Beck made it to the stage at Whitney Hall last night,
the audience was ready to see the legend in all of his glory.  And when
he stepped out with signature strat customized with a southpaw neck,
everyone knew that the man and the myth had finally arrived.
A vast majority of the show was instrumental (which should surprise no
one familiar with Beck's catalog as a solo artist) – roughly three
quarters of the set was Beck cutting loose with fellow band members
bassist Rhonda Smith, guitarist Nicholas Meier, and drummer Jonathan
Joseph.  Their chemistry is irrefutable.

The set consisted mostly of covers.  The musical genius of Beck is that
he isn't a conduit of classics, but like Miles Davis before him, is the
innovation through which he interprets classic songs.  It allows him to
be creative with arrangements and melodies, playing with finer points
of a song with his instrumental versions songs like Hendrix's "Little
Wing" or The Beatles' "A Day In the Life."

Some of the more exhilarating moments was in the other quarter of the
show, when singer Jimmy Hall would join the band on-stage.  With Hall
on-stage the band would settle down, fall more in step with
conventional interpretations of songs like "Morning Dew" and "Rollin'
and Tumblin'."  But the real show stopper was when Hall and Beck took
us to church with an earth shattering rendition of the Sam Cooke
classic "A Change Is Gonna Come."  The civil rights anthem has meant so
much to so many for so long – that it takes confident hands to try and
do a rendition of a song that's been so engrained in the American
psyche.

Opening act Billy Raffoul was kind of a wash.  His whole set being
played on an acoustic guitar (which was curiously strung upside down)
was impressive but offered no real variation.  There was a lot of
impish, rock star posing with his long disheveled hair that would've
made a great cover of Tiger Beat, otherwise, if you heard his first
song you heard them all.

***************************************************
Fox Theater, St. Louis, MO, May 19, 2015 - from www.stltoday.com...
http://www.stltoday.com/entertainment/music/reviews/jeff-beck-proves-he-s-still-near-the-top-of/article_4f0c319b-b234-5206-9db5-f8cf32a7fa7c.html

 
Jeff Beck proves he's still near the top of his game at
Fox Theatre concert
By Daniel Durchholz
Special to the Post-Dispatch

With so many major classic-rock shows fighting for St. Louisans'
concert dollars in recent weeks — the Who (which was postponed), Bob
Dylan, Rush, and still more to come — something had to give, and
someone was bound to lose in the sweepstakes for audience share.
That act turned out to be Jeff Beck, who performed before a
surprisingly small crowd Tuesday night at the Fox Theatre. And that's
too bad, because the two-time Rock and Roll Hall of Famer is, among
those mentioned above, the one who is still playing nearest to the top
of his game.  The sparse attendance — the Fox balcony was empty and the
main floor less than full — could also be attributed to the fact that
Beck played here last August, opening for ZZ Top, backed by the same
musicians (fine though they are) and playing a shortened version of the
same set.

But the size of the crowd didn't seem to matter one bit to Beck, and
those who did attend roared their appreciation for the guitar great all
night, according him multiple standing ovations.  Beck came out blazing
with "Loaded" and "Nine," playing his trademark brand of music that
mixes the lithe and dexterous soloing of jazz fusion with riff-heavy
hard rock and metal. Only three songs in, he delivered one of the
evening's best performances: a stunning take on the Mahavishnu
Orchestra's "You Know You Know" that was by turns contemplative and
explosive and featured dazzling solos by not just Beck, but also
bassist Rhonda Smith and drummer Jonathan Joseph.  There were more
highlights to come. Singer Jimmy Hall (perhaps best known for his days
in the Southern rock band Wet Willie) added vocals to about a third of
the concert's 21 songs. He and Beck blew the roof off with a soaring
take on Sam Cooke's "A Change Is Gonna Come," a socially conscious
classic that is sadly as relevant now as ever. Beck, who seems more
generous with the spotlight than almost any of his peers, smiled as
Hall wrung every last drop of emotion from the song. Afterwards, the
pair hugged it out.  Guitarist Nicolas Meier got to shine on his own
composition, the Middle Eastern-tinged "Yemin," and Beck nodded to one
of rock's earliest guitar heroes with Lonnie Mack's red-hot, rapid-fire
"Lonnie on the Move."
Beck put his stamp on other covers as well, including Jimi Hendrix's
"Little Wing," a pair of Stevie Wonder-penned tunes, "Superstition" and
"Cause We've Ended as Lovers," and delivered a monumental take on the
Beatles' "A Day in the Life."  The set proper ended with the house
rocking blues staples "Rollin' and Tumblin'" and "Going Down." For the
encore, Beck, who scarcely spoke a word to the audience all night, took
the mic to express his sadness over the recent death of B.B. King, then
led the band in a wonderful tribute, performing King's signature tune,
"The Thrill Is Gone."
Honestly, among rock's 50-year veterans, who is better than this guy?
McCartney, maybe. Other than that, who've ya got?

***************************************************
Chicago Theater, Chicago, IL, May 21, 2015 - from http://illinoisentertainer.com...
http://illinoisentertainer.com/2015/06/live-review-jeff-beck/

Live Review – Jeff Beck @ The Chicago Theatre
ilentertainer | Jun 03, 2015 | 

Jeff Beck
Chicago Theatre, Chicago, IL
Thursday, May 21, 2015

The thing that occurs to you while experiencing a Jeff Beck concert is
this: You know the rafter-shaking peak of a band's rock show when the
lead guitarist steps forward during the middle of everyone's favorite
song to deliver that one spine-tingling solo that puts your jaw on the
floor? That represents just about every moment of a Jeff Beck show.
Beck turns 71 next month, and the Rock and Roll Hall of Fame inductee
has honed his craft in the public eye for 50 years. As he leaned hard
on the vibrato bar and attacked the "Cult of Personality"-like riff of
"Nine" with his thumb, it was clear that Beck hasn't mellowed with age.
He roamed the stage flashing grins at his virtuoso bandmates while
abusing his distinctive white Stratocaster with its peculiar, left
handed neck.

The two-hour set included 13 of the 14 live tracks featured on Beck's
new Live+ album. Barely speaking a word, the guitarist let his
instrument do the talking.

Beck's unparalleled finger-style technique and melodic sensibility
shone on his version of Mahavishnu Orchestra's "You Know You Know." The
dizzying playing was effortless enough to allow Beck to blow kisses
between hot licks. The early song also allowed spotlights for veteran
Prince bassist Rhonda Smith and drummer Jonathan Joseph.

These showcases demonstrated another difference between Beck's show and
a typical rock show. While drum and bass solos frequently provide bar
breaks at other gigs, they earned standing ovations at Chicago Theatre.
Powerhouse blue-eyed soul singer Jimmy Hall shone on songs including
"Morning Dew" from 1968's Truth album and a cover of Sam Cooke's "A
Change is Gonna Come." Hall's collaboration with Beck dates back to
1985's Flashalbum, when many were introduced to the Wet Willie veteran
through MTV airplay of Beck's single "Ambitious."

The Beatles' "A Day in the Life" and Stevie Wonder's "'Cause We've
Ended as Lovers" (recorded on 1975's Blow by Blow) were mid-set
highlights, followed by the delicate "Corpus Christi." Beck had been in
high spirits throughout the show, but the intimacy evoked during
"Corpus Christi" was interrupted by catcalls from the room. Beck threw
his instrument cable aside and stormed to the opposite side of the
stage after the interruption, smacking his head at the loss of a serene
moment of communion.

Beck vented his anger and regained his energy, however, during a
furious "Rollin' and Tumblin'." He and Hall coaxed each other in
intensity throughout the remainder of the show. By the end of the heavy
blues "Going Down," Beck was on his knees pounding the floor in praise
of his bandmate. At the encore, Beck spoke at last. "Thank you so much
for being so loyal to me," he said before playing a sweet, heart
tugging version of "Danny Boy."

"This is for B.B.," announced Hall when introducing encore selection
"The Thrill is Gone." As the band delivered one final riveting
performance for the evening, a few were nonetheless seen watching the
Blackhawks' playoff loss on their iPhones. Thankfully, Beck didn't
notice and left the stage smiling.

– Jeff Elbel
Jeff Elbel is a local free-lance writer. Email: elbel.jeff@gmail.com

SET LIST:
Loaded
Nine
You Know You Know
Hammerhead
Morning Dew
Why Give It Away
A Change Is Gonna Come
Yemin
Lonnie on the Move
You Never Know
Nadia
Little Wing
Cause We've Ended as Lovers
Superstition
Big Block
A Day in the Life
Corpus Christi
Rollin' and Tumblin'
Going Down
Encore:
Danny Boy
The Thrill is Gone

***************************************************
Riverside Theater, Milwaukee, WI, May 22, 2015 - from www.shepherdexpress.com...
http://shepherdexpress.com/article-25793-jeff-beck-w_-billy-raffoul-a-the-riverside-theater.html

Jeff Beck w/ Billy Raffoul @ The Riverside Theater
May 22, 2015
By Michael Muckian
May 25, 2015

"Electrifying" was a word that I had never used in almost 20 years of
reviewing concerts. Apparently, I was saving it to describe former
Yardbirds' guitarist Jeff Beck's May 22 set at the Riverside Theater.
Few lights still shine in the pantheon of early British blues-rockers.
Peter Green self-immolated long ago, Jimmy Page largely sits on his
Kennedy Center honors, and Eric Clapton has more or less retired in
place. Only Beck, a fellow Yardbirds veteran with Clapton and Page,
continues to shine, burning as brightly as the stage lights reflecting
off of his various white custom Fender Stratocasters.

More than one legacy artist has discovered that an effective
performance requires a killer backup band, and Beck has assembled one
of the best. Drummer Jonathan Joseph, guitarist Nicholas Meier and
vocalist Jimmy Hall bring an impressive depth and range to Beck's
performance. But the standout "sideman" is bassist Rhonda Smith, who
virtually sets fire to the rhythm section with her impressively
detailed performance.

Needless to say, a black-suited Beck, who turns 71 in June, remained
the focal point of the evening, strolling and strutting around the
stage while producing clean, complex and rapid-fire notes and riffs
that ran the electric blues gamut from balladic to blistering. His
guitar prowess was always hard to match, and it seems to have only
improved with age.

The band's 100-minute performance was loaded with Beck favorites,
including "Loaded," as well as "Nine," "Hammerhead," "Big Block" and
"Why Give It Away." Impressive covers of Jimi Hendrix's "Little Wing,"
Sam Cooke's "A Change Is Gonna Come" and, especially, Stevie Wonder's
"Superstition" brought the house down and the crowd to its feet.

Beck's encore was surprisingly heartfelt, with an electric version of
"Danny Boy" kicking it off. The evening's closer, B.B. King's "The
Thrill is Gone," dedicated to King, who died May 14, was an apt tribute
to legendary bluesman and his influence on a generation of artists,
including Beck. But in Beck's case, it was good to see that the thrill
was not only still there, but that it sounded better than ever.

Opening for Beck was solo artist Billy Raffoul from Leamington,
Ontario. Utilizing a variety of guitars, the young Canadian rocker
performed a 30-minute set of soulful turns on some original material,
as well as a very engaging cover of The Beatles' rarely heard "Anna."

***************************************************
---
2015 Tour Reports From Our Special Correspondents
Fifty years and counting...Jeff Beck 2015 Tour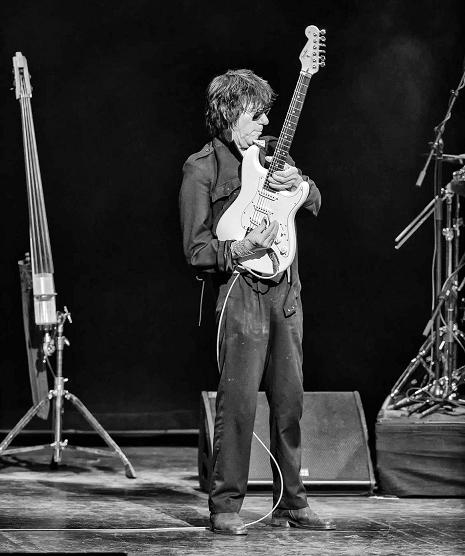 Photograph by Marc Millman @Capitol Theater Courtesy of Morgan Pitman and Pete Shapiro.
"Jeff Beck is plugged into something the rest of us are not" - Chrissy Hynde
      Rick McGowen Roving Reporter
Special to ainian.com
  The Capitol Theater, April 13, 2015 Opening Night
  Astonishing!! 50 years since Jeff Beck first appeared with the Yardbirds in America, he returns yet again in 2015. How great is this!?! I have  been on this ride since 1965, seeing him with The Yardbirds and many, many times since.  I've seen all the other greats, and I'm as certain now as I was after my first concert………Jeff Beck is the best guitar player of any era. As a performer his sound and delivery, pure tone, incredible dexterity and virtuosity  are breathtaking and unparalleled.  " Sounds and techniques totally unheard of", said Jimmy Page at the Rock N Roll Hall of Fame induction in 2009. "He makes the guitar sound like a voice", said producer George Martin.   For me, nothing has changed………a Jeff Beck concert is a Thrill Ride, with that visceral punch as good as any Roller Coaster I've ever been on. And I've been on most of the Great ones!
  The Magic is the same………only better. "Defying gravity, he's a phenomenon, a treasure". Jimmy Page after presenting Jeff with the Ivor Novello award.
  When Dick notified me of the impending tour, as usual I set about to obtain tickets for the shows closest to me. Lucky guy….6 shows in my "backyard" ; that is anywhere from NY to Boston.
  Enter Peter Mackay, Jeff's tour manager. I'd introduced myself to Peter in Atlantic City at the end of the abbreviated tour with ZZ Top. I mentioned, that I was a member of Dick Wyzanski's  Crazy Cohort and that I'd had 4 shows refunded. I figured he'd think I was a serious fan or was completely crazy!!  When Dick had to cancel his trip to Huntington, where I was going to finally meet him, he had already arranged a guest pass for me. Shortly after the band arrived for rehearsals, I get an email from Mr. Mackay. Simple, how many shows are u going to? 5. Good, show up at the stage door at 4:30. Struck by lightning!
  Promptly at 4:30 Peter took me in, slapped a pass on me, and introduced the crew: Shon, Dave, Brian, Nick & Chris. Tyler Bryant was flying thru, hair flowing wildly. The band was just walking in for their sound check. Peter sent me out with Dave to the soundboard and said, don't take any pictures or I'll have to kill you!" Not a chance, I'm all ears man. I've been around stage sets my whole life and I know how to be invisible and stay out of the way!
  The opener was fantastic. Great sound, great reception from the audience; Jeff , the band and crew were elated. In the lounge afterwards, Jeff came in with 2 bottles of Veuve Cliqout Champagne. Shortly after, Peter walked me up to Jeff and formally introduced me. "Jeff, this is Rick, one of Dick's buddies, a good mate". Jeff shook my hand and immediately asked  how Dick was doing? I told him, Dick will make it to the shows in Florida even if they have to wheel him in. That brought a laugh. Some of the other guests filtered out and then we went into the owners private room for the after-after party. More champagne, beer, wine on the house. . I was sitting with Pete Shapiro (owner of the Capitol) and he turned to me and  said, "Isn't this great?" That's Jeff Beck in my theater!!!
  Next up was The Paramount, in Huntington, NY (Long Island). 3 nights, April 15,16 & 17. A short homestand. This is a real treat for the band, crew and everybody involved. After the load-in, it's a relaxed atmosphere knowing you don't have to move out that night. And beyond that, The Paramount is a spectacularly refurbished theater, where the owners spared no expense in creating a modern NY Nightclub on a grand scale. The accommodations for the artists and crew are brand new and lavish compared to what  traveling bands are used to. To top it off, there is a VIP Membership that gives you access to the grand Speakeasy style restaurant underneath the theater.
    In these friendly confines I ventured out and picked my spots. Jeff was in and out of the room and I approached him, simply asking him if they were feeding him properly. "No! (laughing) yeah it's ok." He remembered me from 2 nights earlier and I took the moment to tell him how thankful I was that he was here playing for us. I went further to say selfishly that I actually felt privileged to still have him here. He stopped me and said, "Thanks, but no, the privilege is all mine to play for you and the fans."  From the heart just like his playing. No pretense, no nonsense.
  The VIP Soundcheck at the Paramount was an intimate affair with about 25 fans on the dance floor standing right at the stage front. I've never seen Jeff so relaxed before. He was out front speaking to everybody, his sense of humor on full display. Peter controls everything patrolling the stage. Jeff blasted thru portions of , "Red House", ( Jimi Henrdix) "Lonnie on the Move", (Lonnie Mack). People Get Ready, Somewhere over the Rainbow, songs not on the setlist are a special treat. Peter even turns to this very enthusiastic group and asks if anybody has a request. Jeff chose "You Know, You Know".
The Heavyweights show up in Huntington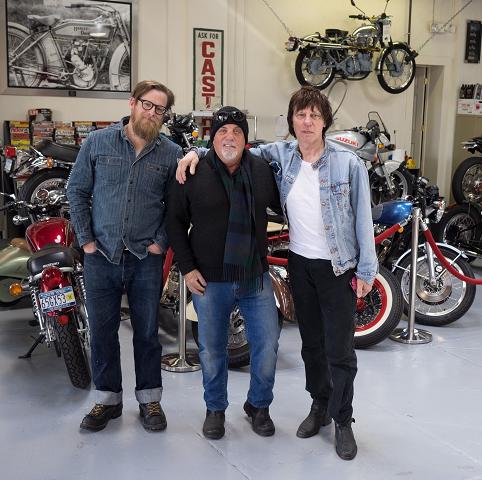 Soundcheck is over at 6PM, the fans are escorted out of the theater, doors open at 7pm. The band and crew head upstairs for dinner; a spread that is impressive. I'm sitting with Jimmy and Nicholas. I asked Jimmy if he was going to play some sax?. He laughed and Nicholas Meier said, "You play the saxophone? That prompted a lively conversation as Jimmy reminisced about the Wet Willie days. Rhonda and Jonathan were in and out and always willing to chat. There is a camaraderie in this band that shines in the rehearsals and kicks into high gear onstage. I decided to head outside and check the crowd on the street. The backstage door is in a  private parking lot. Two of the venue staff were out having a smoke. The only access is a long driveway guarded by a security van. We spot this guy walking down the driveway; wearing jeans, a leather jacket, red cap and Timberland boots. That could be a million other guys in NY. But Nooooo.  I do a double-take and it's Billy Joel! The staff member asks him why he didn't drive in? " I left my car in the municipal lot and walked".  Not something you see everyday; a superstar without security, driving himself to the concert! Peter appeared and upstairs we went, Billy being introduced to Jeff. I slink back and sit down but I hear Jeff ask Billy how his long gig at Madison Square Garden worked out. Billy tells him, that a few times he had to call and tell them to do the sound check without him because he was stuck on the LIE (the infamous Long Island Expressway) ." I'm a New Yorker, I drive myself to work"!!! Jazz great Larry Coryell was also there. Quite a compliment when guys like this turn up to see you.

  I finally made it outside, the crowd and buzz starting to build. I hide my badge and blend in eavesdropping on the gossip. There are certainly more wives here than I've seen at Jeff's shows. I think they must be safeguarding the boys lest they get lost after the gig! There are more First Timers here, my favorite to spot. I refer to them as the un-initiated. They are unprepared……………

  I'm not. Bottle of Veuve Cliquot in hand for Peter and the Crew, I head in to the theater with the same anticipation I've always had. Time to strap in and ride along as Jeff Beck flies  by the seat of his pants, literally making it up as goes along. This is the Magic. The audience, the band and even Jeff are not entirely sure what he's going to do. No song is ever the same way twice. NEVER! I live for the moments when Jeff twists a riff from another one of his songs in to whatever he's playing. I especially listen for snippets of Hendrix he juggles into songs at random. ( I found one on the new Live+CD. Go to exactly 2:98 minutes on "You Know, You Know" and you will hear 4 bars of Foxey Lady thrown in!!!!)  And the moments that bands live for………..when you just lift-off and reach another level.  It's looking like a scorched earth tour………..2 shows 2 buildings BLOWN UP!

  Needless to say, I had the time of my life. At various points along the way I had Jeff in conversation, just small talk. I was not there to ask prepared questions. If I'd had any, I would have forgotten them anyway. I brought up the Folly Wildlife Foundation and we had a good laugh, both admitting to getting hung up on cute animal videos!! Nicest, regular guy, you could ever meet. One of the ladies backstage asked him how he stayed so young. " I guess I never grew up, I never really had to".

  Englewood NJ was my last stop. This is truly my backyard, I grew up in neighboring Teaneck. Ben E King, McCoy Tyner, Bernard Purdie, The Isley Brothers all lived there. (Jimi Hendrix was living with the Isley brothers in Englewood in 1967 when Chas Chandler found him in the Café Wha) . When Jeff saw me, he said, "You again?" Last time, I promise. Until next time……………

  For reviews, I leave that to the media at large. Here are my suggestions for reviews matching the Huntington show and April 19th in Boston.

  With my sincere gratitude:

  Peter Mackay
Dick Wyzanski
The Crew
Pete Shapiro and Morgan Pitman of the Capitol Theater
Brian and Pete Doyle of The Paramount
The band, Rhonda, Jonathan, Nicholas and Jimmy for their time
Who Else?


******************************************************

50th Anniversary of Jeff Beck Touring Comes To West Palm Beach FL, May 8, 2015, Coral Sky Amphitheater

Dick Wyzanski & Bill Armstrong

A jaw dropping, show stopper and Strat guitar emotionally charged rendition of Sam Cooke's "A Change Is Gonna Come" seems to be the defining rejuvenation for the greatest living rock guitarist, Jeff Beck.

The change is that now, without back or other health issues, Jeff is free to keep pushing the musical boundaries of electric guitar even at 71, in an ever evolving playing style with new creative, melodic compositions.

After 8 weeks in the hospital, my travel plans to Huntington, NY to join forces with ainian.com web tech Eric Mirell were put on hold so I waited for the West Palm Beach, FL, Coral Sky Amphatheater show which is only a twenty minute drive from home.
This is Bill, yeah I was waiting at the venue that day expecting to push him around in a wheel chair. Dick shows up, gets out of the car with a cane and says, "I'm walking." He did. I was surprised.

Jeff had a new tour manager by then Chris, who turned out to be both a sharp tour coordinator and a gracious, exceptionally nice host. Sound check found me, Trini and Bill Armstrong seated right behind and slightly to the right onstage with a perfect close onstage view. To hear Jeff rip through totally spontaneous off the cuff and wild solos on 'Red House' was a lifetime listening marvel. Unreal!! 'People Get Ready' was given the same freedom and a true joy to listen to up close. The band was all loose and smiles. 'Lonnie On The Move' was a rhythm and interspersed solo time change treat. Jeff had rehearsed that with Jim Copley and Ian Jennings at the one off J Dudley, Robert Plant club gig years ago and Jim Copley's Bad Apples CD, recently released with Ian Jennings, had made it's way to Jeff's 70th birthday party where Jeff marveled at their rendition of 'Lonnie On The Move' which used to be a staple part of the set of Sounds Incorporated in the early 60's which at that time featured Beck Ola drummer Tony Newman on the skins.
We were actually a little late for soundcheck. Waiting for Dick, I think we missed maybe bits of 4 songs. I remember hearing a little bit of 'Where Were You'. From stage side I could see there were probably 50 VIP ticket holders. You could tell all of them were really enjoying seeing this really intimate band run-thru.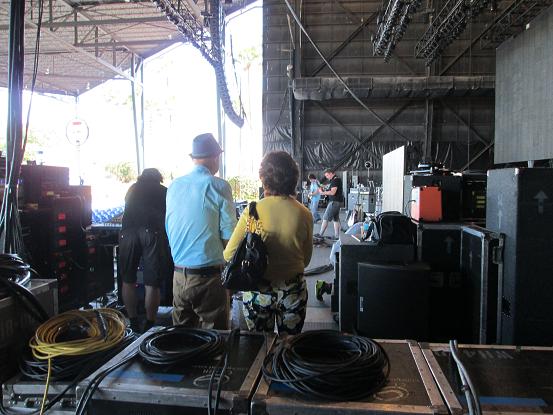 Dick and Trini looking on at soundcheck.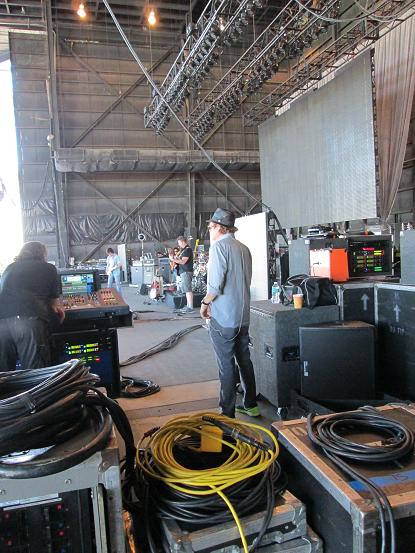 Shon Hartman mixing monitors as Jimmy Hall waits to do his thing.
During the sound check young Tyler Bryant and I spotted each other for a big hugfest. He told me one of the hardest things that he had to do was turn down Jeff for the remainder of Jeff's dates due to recording schedule conflicts. I told him he and his manager needed to put pressure on CAA to come up with more established classic rock acts to open up for on large national tours as well as major market smaller club venues with guarantees again not just in the Heartland but also NY or LA.
I also went and said, "Hi" to Tyler as well. After asking how he was enjoying the tour, I asked him, "What's the deal with Jeff's reverse headstock Strat?" He said, "I don't know. I don't really ask Jeff about his guitars or anything." I said, "You should!" Also, on our side of the stage (stage left) we were right behind the monitor mix postion so we got to see a little of Shon Hartman at work which was cool. About two thirds through soundcheck, Billy Gibbons shows up to watch Jeff and band go thru their paces. Billy was wearing a somewhat unusual but very comfortable looking get up. It almost looked like oriental pajamas, green, the bottoms matched the top over which he had a short-cropped jacket which you can see a little of in the picture below. (More on this later.)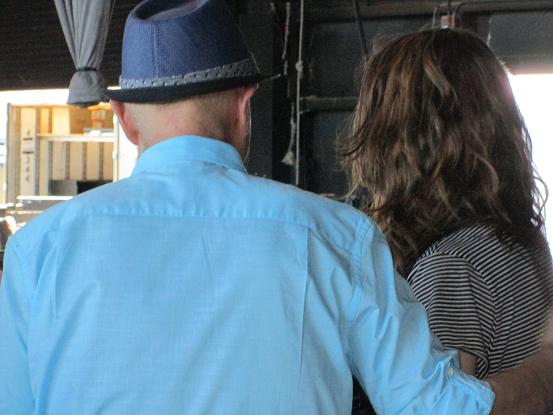 Dick and Tyler share a word.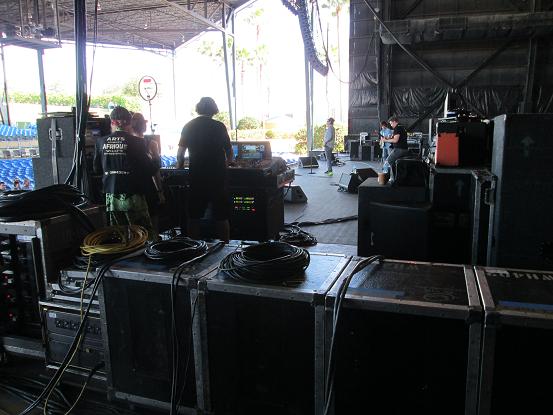 Billy stands over by Shon to check out the soundcheck.
As the sound check finished Jeff Beck immediately put down his Strat and walked over the stage towards me. "Don t get up Dick." he urged. There was no way I wasn t going to stand to greet him so I did with a handshake and a hug. He asked me how I was recovering and gave me the opening for two zingers. I told Jeff that I had to survive....otherwise who would be around to pester him about his past history. That got a chuckle from Jeff. Then I showed him the old vaudvillian business end of my walking cane, the hooked curved handle and made a pull by the neck off the stage motion saying "....and if you or the band screw up during the show I ll give you the hook and yank"...That got pure laughter from us both. I asked if he was going to accept the Hendrix Museum's (Paul Allen driven) EMP Children's Music charity award in Seattle where, like the pre Grammy Awards program, features interpretations of the year's award winners by various performers and/or the house band. That brought a "No" from Jeff who then launched into a funny story from the 2010/2011 tour when he was in Russia. "As I was to sit and listen to twelve different takes by twelve different guys doing 'Brush With The Blues", I suddenly heard an interesting instrument sound coming from the other side of the Russian concert hall and wanted desperately to listen to it. But I had to be polite and listen to all the performances." (As Jeff humorously put his hand to cup his ear to strain to listen to which he wanted rather than 12 takes of 'Brush With The Blues).
We then started talking about the all blues Lp that Jeff had recorded for Rod Stewart to sing on but never happened back in 2011. I suggested that he give all the female singers he had been working with over the last few years plus Jimmy Hall and Paul Rodgers, both of who can still belt it out in the proper keys and not have to adjust keys like the aging Rod Stewart. I was suprised at Jeff's positive spin. "Yeah we have thought about doing just that...but they aren't mixed well and we should probably start all over again if we were to do that" Jeff mused. Still, if we don't do them again we could consider putting them out like that".
I asked Jeff about the BBA HD 16 mm film he had boasted about in an interview. "I got that on HD quality tape somewhere at home" he mused. The source can be revealed. It was a French TV show which featured a film of a BBA concert with a somewhat shortend setlist. Jeff remembered that it was the broadcast for French TV in 1973. Febuary 20, 1973 to be exact.
I mentioned to Jeff that fellow Yardbird Jim McCarty had undergone some surgery recently. Jeff asked if he was ok and then when I said, "Yes". Jeff mischieviously said when he got back home in England he would give Jim a prank phone call pretending to be someone else :)). At that point it was time for the band to go eat so I gave Chris a copy of a Buddy Davis Ox Blood pic with the donated Japanese print shirt Jeff wore that same first Ox Blood performance night onstage in New Orleans to give to Jeff. As well a copy of the unreleased documentary, 'The Blue Moon Boys' that producer Dan Griffin had sent us. It's of course about Elvis' sidemen and Dan was planning to finally circumvent A&E network legal dilemmas when suddenly he passed away last year. Jeff really appreciated it. The final subject Jeff and I covered during post sound check was the to be finished and released first of two authorized books. The first due out later this year entitled 'Grease and Strings'. This will be a limited signed edition of iconic photos from Jeff's career and will be accompanied by stories from Jeff corresponding to those photos. Jeff's comment, pointing at me, was "Don't worry, Dick. You are getting the very first copy off the press rest assured." ::)
At this point before we left the stage area I asked Dick and Trini to hold on. I wanted to get pictures of Jeff's guitars and amps and see if I could talk to his guitar tech. I went over to the other side of the stage and asked his tech, who I learned is named Jeremy and I think from California, if I could ask a few questions and take a few pictures, he said, "Sure." I wasn't going to pester him too much since he looked busy and you don't want to bug guys who are working.
Me: "So, what's the deal with the reverse headstock Strat?"
Jeremy: "Don't really know, I think Jeff had several of these necks laying around."
Me: "Has he mentioned how this neck affects the sound or anything?"
Jeremy: "I think once he mentioned that the lower strings sounded like they had more low end due to the longer string length."
Me: "Is this the same body from his old white Strat?"
Jeremy: "No, I think this is a totally new body."
(I noticed this body had the contoured heel like commercial Jeff Beck Strats. I'm not sure, very likely I'm wrong, but I don't think that was the case with the Strat he used on the Brian Wilson tour.)
Me: "What about the pickups, pots and pickguard assembly?"
Jeremy: "Those I'm pretty sure came off his last guitar."
Me: "So now what's the deal with the 'Becktone' amps?"
Jeremy: "Those are standard Magnatone Super 59's. Magnatone provides Billy with his touring rig. (Which consists of a Magnatone 59 head and two 2x12 Magnatone cabinets.) They provided Jeff with two and just put a 'Becktone' sticker over the Magnatone logo."
For more on the Magnatone amps Jeff and Billy used go to here.
I took some pics of the amps and guitar as you can see below.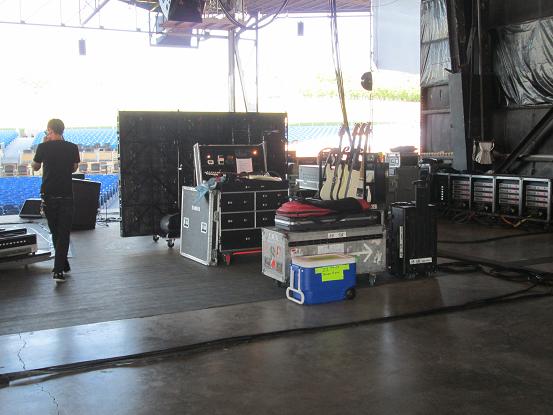 Jeremy with his guitar tech rig to his right.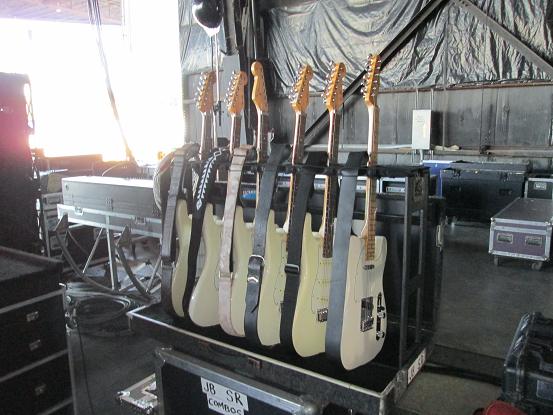 Tools of the trade 2015 edition. Jeff's main with the reverse headstock in the center. Tele he opens with 'Loaded' to the right. The Tele is tuned down a whole step to D.
After a couple minutes Jeff walked back out onstage. There was no one in the VIP audience, just the stage crew and Dick, Trini and I. Jeremy plugged in his guitar and and handed it to Jeff and quickly realized the reason, he came back out to tweak his Marshall just a bit, which one it a minute. He must have heard something in soundcheck he needed to address. From the audience you would see from left to right, the Becktone amp on top of a Marshall 1960B facing backward, mic'ed with a Shure SM57. If Jeff, during the show, hit a switch and played thru it during the show, I couldn't tell. Next to that his Marshall DSL100 on top of another 1960B that's mic'ed with a Shure 57 and and AKG condenser. Behind those two amps facing towards the back of the stage are spare DSL100 and Becktone heads and the real Marshall rig that is also mic'ed with a Shure 57 and AKG condenser that is feeding the PA and what everyone in audience is hearing. I stood in back of this amp for a bit during soundcheck and even though I think Jeff runs it in 50 watt mode, it was loud. This was the amp he was tweaking.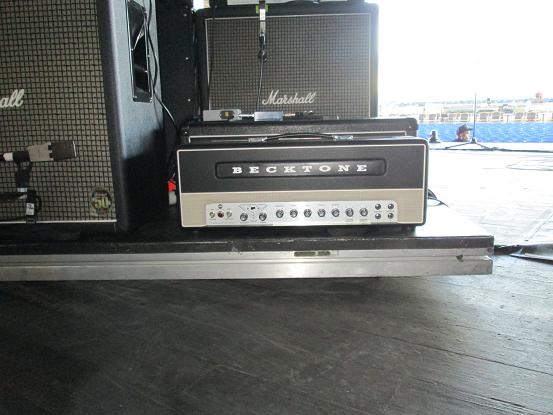 The spare Becktone head in front of a spare DSL 100 and next to the cab of Jeff's main amp.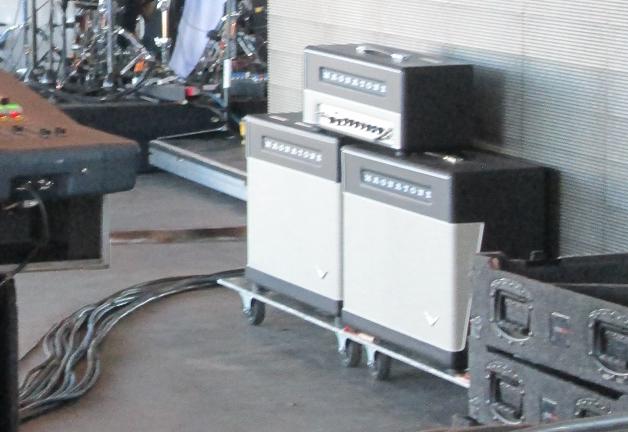 Billy Gibbon's Magnatone rig, Super 59 head and two 2X12 bottoms. Jeff played an identical rig set up on the other side of the stage during his two numbers with ZZ.
We headed back to the backstage pavillions where we encountered Rhonda Smith who asked where we had been right before the soundcheck and worried I was not making it. She is so gracious and sweet and signed some autographs and took pics. Jonathan was around with his son and daughter and we exchanged small talk in between. Jimmy approached me and said "Man I gotta give you this" and laid on me his Jimmy Hall Y'All T shirt. I couldn't pass this one down so right then and there I stepped into the men's green room trailer and put the T on proudly under my now open blue shirt so everyone could see. Trini gave Jimmy a Sharpie and put a bag of chips under it on my collarbone so Jimmy could sign it on me. He was very pleased.
I got in on a few pics during this time. I also brought with me some gardenias from a bush I have at my home. They bloom only 6 weeks or so a year, from mid-April to mid to late May. I gave Rhonda a couple for her dressing room and Jimmy one which he put in his lapel saying, "It reminds me of home."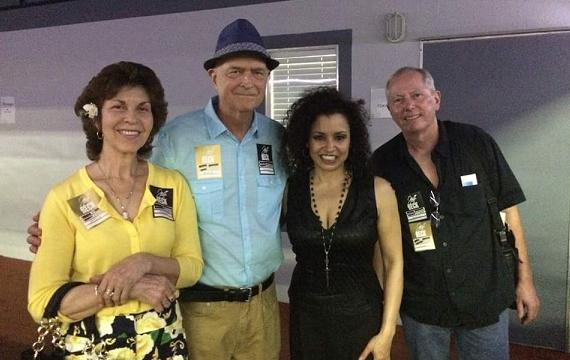 What seemed like a long time but only an hour or so out of soundcheck, Tyler Bryant took the stage and gave forth an enormous foot stomping effort from his back catalogue as well as his new Bombay B Sides Lp with The Shakedown as improv on his plugged in acoustic packed into less than thirty minutes.
Dick, being not too ambulatory stayed with Trini on the side of the stage. We had been comped like 15th row center seats. I decided I wanted to hear and see the show from them and it was great! Big screen behind the band, great sound!
After only a few minutes the lights dimmed and the ominous midi/drum and bass Beck Band extrodinaire rythym section stalked in through the pa system as the pure thrash of 'Loaded' brought forth the Telecaster wail of the master Mr. Jeff Beck himself...with full shades on gripping the neck like there was no tomorrow and spewing forth the most outrageous guitar tones imaginable. Jeff's grouping of vocal numbers with Jimmy Hall coming back out onstage for a few numbers each time put the word SHOW center stage and allowed Jeff to feed off the vibe and deliver what many don't realize...that Jeff can be a wall of supportive rhythm sound as well. Just like heavy metal or Zeppelin he gets in those killer little juicy sick licks that only he can pull off. Of course 'You Know You Know' got a standing O with Rhonda Smith and Jonathan Joseph each logging tremendous solos on top of Jeff. Jeff's solos were very original and off the cuff. Rhonda slapped her way to an ovation and OMG Jonathan Joseph brought down the skins with syncopated pockets rolling thunder into those final bars before the coda....
It should be mentioned that Nicolas' composition 'Nine' had alot of fire and throughout the show Nick's ever growing confidence in rocking with the midi has Jeff and the rest of the band smiling. This is a polished show now. There were absolutely no delays transitioning from one tune to the next.
Now for my personal highlight of the show...Sam Cooke's 'A Change Is Gonna Come'. HERE is the YouTube link to that very performance....Jeff Beck puts in some subtle inflections on his bends and solos I've never heard before. He appreciates Jimmy's heartfelt gospel-style during that song's performance. It is touching. At the second calling to get down on his knees Jimmy not only did that, he went face down prone arms outstretched on the stage floor. The crowd went nuts. After the song Jimmy marched over to me and said in my face, "That was for you Dick." I couldn't handle that and broke out in a joyous good old fashioned cry and thanked him!!!
All too soon the set was ending with 'Danny Boy' and 'Big Block' garnishing the standing O's . Instead of leaving the stage to come back for the encore of 'Going Down', the band just went into it. Anyone in the audience that had come just to see ZZ Top wanted more as the last of the 'Going Down' crescendo banged to a halt. Bows and all smiles the band left the stage triumphantly. I listened to the ZZ Top set from the back walkways and came back to my stage seats for 'Rough Boy' which is a favorite tune and Jeff killed the solo getting a standing O and that other out of this world look from Billy Gibbons.
All I have to add to this was when Jeff came out to do his two songs with ZZ, the other being 'Sixteen Tons', he played through a mirror of Billy Gibbon's rig, the Magnatone Super 59 on top of two 2X12 Magnatone cabinets. He didn't have his pedal board with the Klon Centaur etc., but still sounded incredible. I've heard it said Jeff can play thru a Fender Champ and still sound like Jeff Beck which it true.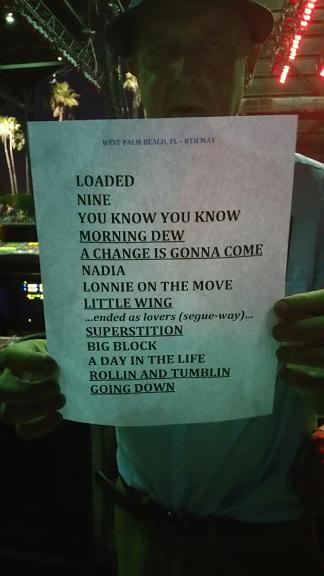 Dick with the setlist...underlined songs were Jimmy's.
After as but 45 minutes holed up with a custom car builder we all greeted Jeff in his green room. Tyler was there too.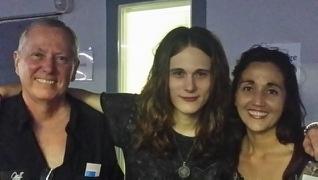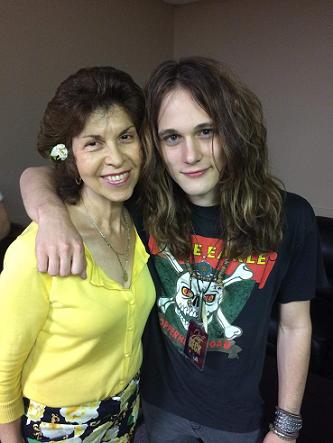 Top - Tyler with our friend Marcy and some guy. Bottom - Trini and Tyler.
I asked Jeff the usual first if he would sign a few choice pics for me and said "Sure Dick, whatever you want". "You know Dick, if Sandra was here right now this would be her favorite part if the night." There were some joint pics to sign from a previous tour where Tyler was onstage with Jeff during the encore of which I had some much to their delight and bemusement. I posed for a few pics with Jeff who besides having the coffee cup now had a bottle of expensive champagne. I decided to ham it up and there was no way, especially in my recovering condition, that I was going to drink it...hoisted the bottle out of Jeff's hand and said, "Give me that Jeff it will make a good pic so we had it snapped. Right afterwards Jeff just looked at me grinned and said, "I ll take that back now." At that point I couldn't resist delving into his archives again. I said, "Jeff I know Tony Tavernier wants to sort through your old stuff and see if there is anything worth putting out there to which Jeff replied, "Yeah, I trust Tony...at my home. I'm not do sure about it outside of Riverhall."I understood and left it hanging like that. Truth be told storage and studio are continuing to be built at Jeff's Riverhall estate...to modernize for present and future recordings as well as having engineer/producers like the Tony Tavernier and Pat Leonards of the world to help Jeff sort it all out...including finding the Motown 1970 rehab and final mixes. The preponderance of which he recorded on the first night with James Jamerson on five tracks. Saying, NOT TO THROW THINGS AWAY....HA!!!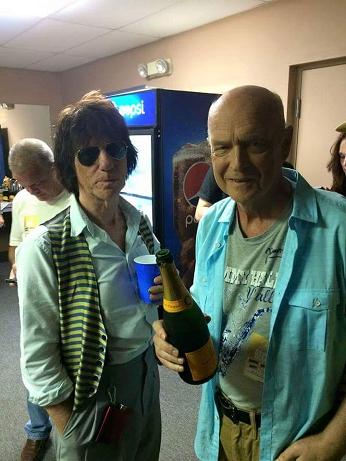 After awhile longer Billy Gibbons poked his head through the door and brought in half dozen poeple after gently asking Jeff if it was ok. Let me tell you Billy Gibbons is simply the nicest gentlest soul on the planet.
Me again, I stayed for about 10 minutes after Billy entered the room and I agree with Dick, very nice man. I had already gotten Jeff to very graciously sign some stuff I brought including my copy of 'Truth' which I had gotten Rod Stewart and Ronnie Wood to sign for me 40 years ago! It was getting near midnight, I had an hour drive home and I was catching an early flight the next morning up to Boston. So my Billy Gibbons story...when we entered the room to see Jeff, there was the 'hot rod' guy Dick mentioned as well as I think his wife. Also a lady I'd seen earlier with Billy and also given a gardenia to. The lady who I think was the 'hot rod' guy's wife asked to get a picture with Billy and he said, "Sure" and while they were getting set, Billy reached into the pocket of his green suit, which I mentioned before, to get his famous sunglasses (which he doesn't always wear) saying, "Gotta put on the uniform!" As he does these three, crisp 100 dollar bills fall on the floor! He says reaching down, "Oops, gotta get these." And I said, "God Billy, you're dripping money!" Hah.
He was into group photos merriment. It was a totally relaxed happy room. Finally after about another hour or so we all left for the parking lot where Billy and Jeff got into the old Ford and took a parking lot spun where everone took some more photos. At that point we walked up to Chris and Jeff and of course thanked them both for a great evening I shook hands with Jeff one more time who told me thanks for my ever loyal support and continued recovery gave me a small hug and pat in the shoulders and off we were once again off on cloud nine into the night with the waffling breezes of S. Florida filled with the melodic guitar genius of Jeff Beck.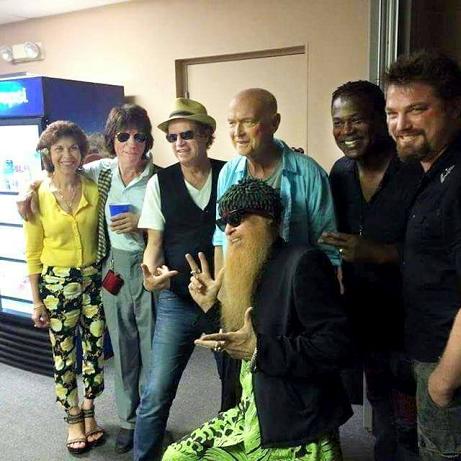 ******************************************************
Jeff Beck, 5/15/2015, Hard Rock Rocksino, Northfield Park, OH (Cleveland suburb)
By Jim Cullen
Sometimes the moon & stars align and stuff just comes together and life is great. This happened to us this past weekend and it was the perfect birthday present for my 64th (early May) When tickets became available for the 2nd leg of the tour we were not to be denied and splurged for VIP/Sound check ticket. This snagged us 2nd row center seats for the show and the pre-show sound check.
Setting the stage - the day started with the early morning news of BB King's passing – Bummer!
There were approximately 70 people attending the Sound check. As we gathered outside the auditorium doors, excited chatter among the audience and talk about BB was everywhere among the group. Brandon, Jeff's tour assist. Manager, gave us the lowdown of the coming event. You could hear the band going through the motions getting the levels set for the hall. Brandon continued getting the audience gathered to enter and Jeff & Band started working out THE THRILL IS GONE – instantly the chatter among the sound check crowd ceased and we all exchanged glances, nodding in respect and approval of what we were hearing. They ran it a couple of times, rehearsing it – then it was time for us to be allowed in – as they did a full run through of the tune. There were teary eyes, the band in full respect, mostly heads down but looking at each other to make sure they were getting the most out of this opportunity to rehearse the tune before the show.
  
Sound check tunes included:
THE THRILL IS GONE
EVEN ODDS
RED HOUSE
PEOPLE GET READY
ON THE MOVE
AIN"T SUPERSTITOUS
NADIA (couple clams hit in this one, Jeff shaking his head & swearing @ himself)
CHORDAL (pretty sure)
ELEGY FOR DUNKIRK (F'ing Beautiful)

This was a mini concert and mini rehearsal at the same time. Jeff made a flub and re-started RED HOUSE, they discussed the tempo of tunes and could be overheard saying they didn't want to do certain tunes that night.
Not unexpectedly BB's passing was reflected by the band's almost somber mood, Jeff said that to us over the mic, then they went into the final sound check # ELEGY….Ohhhhh man…misty eyes…
The band departed, Jimmy hung out front for a few minutes, I told him that THRILL was spot on & hoped they would included it in their set tonight, he responded that THEY HAD TO!....and boy – did they ever play it!
We killed time till the show started; having cocktails with Alan and a few others that had enjoyed the sound check. People had come in from all over, like ourselves; we drove 400 miles from Annapolis. Several had seen multiple shows and/or were going on to Cincinnati & Nashville for more. As we got closer to show time we went back to the auditorium and ran into Nicolas out in the lobby, we introduced ourselves and chatted briefly, a very nice guy for sure!
As mentioned, we had 2nd row center seats, so we were almost "forward" of the FOH sound suspended speaker arrays, most of what we hearing was stage volume and monitor/side fills so we did not notice many general House sound problems. Jimmy Halls EQ got tweaked after his 1st tune. Nicolas's synth sounds were mixed well but his guitar tones were not loud enough from our vantage point, we could barely hear him when he took his solo in YOU NEVER KNOW, Yet Alan could hear him great – he was front row, right in front of Nicolas, getting his blast right out of his Marshall!
The set list for the Show differs from the picture of the set list as Jeff changed it up on the fly.

LOADED
NINE
YOU KNOW YOU KNOW
HAMMERHEAD
CHANGE IS GONNA COME
YEMIN
ON THE MOVE
YOU NEVER KNOW
NADIA
LITTLE WING
SUPERSTITION
BIG BLOCK
A DAY IN THE LIFE
ROLLIN' & TUMBLIN'
GOING DOWN
Encore:
DANNY BOY
THE THRILL IS GONE

There were no truncated versions of tunes tonight. They came out guns blazing and in the zone early on. Going right from one tune to the next, band starting the tune while Jeff changed guitars and coming in right on cue. I think he got over to his pedal boar a little bit late for the guitar effect in LOADED, no biggie, he then ripped a couple of crazy harmonics bends (how does he do that so effortlessly?!?!?) that more than made up for that little faux pas!
They did another stellar take on YOU KNOW YOU KNOW. Rhonda & Jonathan both getting lots of love from the crowd for their solos – they were now fully warmed up and Jeff quickly ditched the scarf around his neck in dramatic fashion. The crowd roared in approval, Jeff taking to the mic to say, with a grin, "it appears we are among friends" – then into HAMMERHEAD, this time the pace was quicker than I've heard in the past, kinda liked it better with the crisper pace.
They ran through killer versions on the tunes, as per usual with Jeff Beck, the band is there supporting him and he may decide to go off on an extended bit of playing, different from the night before and like it will be different tomorrow night, but this band is so locked in it is just a joy to watch. They all are just watching each other with the other eye on Jeff, they know when he's gonna go with it and they're right there with him in lock-step. Did Jeff hit a few clams, yep, minor at worst. Did he push the envelope and include some stuff you've never heard him do before, YEP – in my eyes more than "making up" for a clam here & there or missed harmonic….he would just fly right past that and then play some riff or chord passage that just would take your breath away. All the while it looks effortless, all the while the band playing like monsters, constant eye contact, constant BIG ASS GRINS on all their faces. THIS IS WHY YOU GO SEE JEFF BECK!! Dynamic, fluid, never stagnating, ever re-imagining & reinventing….and all the while this band behind him is killing it.
And by the way, Jimmy Hall is the most under-rated singer out there!! Power, range & control. Criminally under-rated!
At some point in the middle of the show, I think it was during ON THE MOVE, Jeff then ditched the wrist-blingy-thingy. Chucked it on the floor and then he & Jimmy pointed at it kinda mocking it on the floor….
The show went way too quickly, the audience gave several standing ovations, some full, some partial, from our vantage point we couldn't see what was going on behind us – and ALL our attention was focused on stage.
Before they started the last Encore tune, THRILL IS GONE, Jeff addressed the crowd, dedicating the song to BB and did a spot on respectful rendition of BB's classic. Jeff had too much respect for BB to take this one into the BECK-Zone Jeff played straight blues – straight from the heart, Jimmy sang from the same place and the crowd knew what they were hearing and seeing and surged forward toward the stage as the song ended the place was going nuts. The usual introductions & bows followed and the band departed. The ovation that followed – I felt sure there would be a second encore appearance ad the crowd was pounding the stage, stamping feet and howling for more but, not to be as the house lights came on…..
Then some more magic was about to happen for us. Doc had arranged Guest Passes courtesy of JJ. All of us with passes gathered near the stage right stage door and waited for tour. A group of 6 or 7 were allowed entry 1st. These were guests of Jeff's & I'm guess they were car-related buddies of Jeff's, they were in there and yukking up for a while before band guests were allowed back.
We were escorted back and JJ, Nicolas & Jimmy were hanging out and all greeted us warmly and we exchanged names, compliments and began to chat. Jeff & Rhonda were nowhere around. We chatted with Jimmy and let him know we'd seen his band Wet Willie when they opened for Jeff back in the early 80s, I complimented him on his Sax playing and he said, don't be surprised if he doesn't whip it out for a tune in Nashville, his home town!
After 20-30 minutes of chatting Jeff's guest party left and a few minutes later, out walked Jeff with his bag and a beverage in hand. MAGIC TIME! There were probably 10 of us in our group but as Jeff walked out we made eye contact and he walked straight over with a smile and shook my hand saying hello. He then went to chat with a handicapped fan and had some pics taken. He turned around and asked if we all enjoyed it – we all did. He was chatting with some fans that had come from Toronto, had been at the previous night's show when one of the band members, or maybe it was Alan, said "Jim, show Jeff your shirt" I pulled back my over-shirt revealing my T-Shirt: "Jeff, I saw you in `65 with The Yardbirds. 50 years & 30+ shows later, you're still "The Guv'nor!" He read it aloud and loved "The Guv'nor" reference - Without anyone asking or telling – we settled in for a few pics. One of them Jeff pointing at my shirt, then I told the fan taking the pic with our iPhone to hurry `cuz I couldn't suck my gut in much longer – big laughs all around, as you can see on Jeff's face – to which he instantly quipped "Oh – I hadn't noticed! As we separated I pointed to the logo on my Over-Shirt, "JEFF BECK – 2003" I pointed to it & he knew right away, and as I said "this was the tour w/BB" he already knew & quickly got misty-eyed, as did I & he turned and gave me a hug! FUCK! A HUG!! A Fucking Huck from Jeff FUCKING Beck!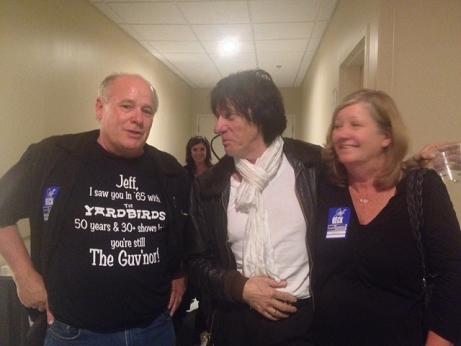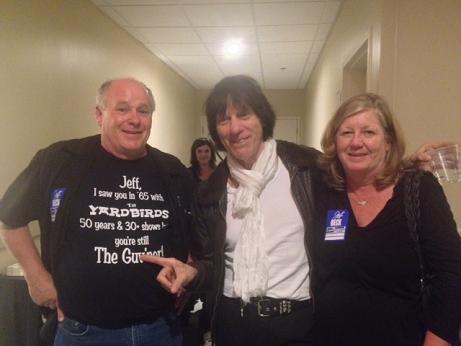 There were more quick stories exchanged among visitors and then came tour manager ending the whole thing – it was over too fast. And then another moment…. People are filing out, Jeff's picking up his stuff to leave and I said "Oh and Jeff, thanks for signing my guitar a few years ago, he turned and I think it clicked with him (earlier eye contact like "I know you") and he came back and shook my hand again and thanked me for 50 years of support, I told him we hope to see you back here some more, he said "you will" smiled and off they went.

Wow – won't be forgetting this night any time soon!

Thanks go big time to Sid & Jonathan Joseph for helpin' a Brotha out!

******************************************************

A DAY IN MY LIFE

By Dr. "Doc" Beckologist

JEFF BECK USA TOUR SPRING 2015: MAY 16, 2015, PNC Pavillion at Riverbend Music Center, Cincinnati, Ohio

Jeff Beck, a British guitarist that first came to worldwide attention some 50 years ago by taking the place of Eric Clapton in The Yardbirds is as we speak in the last phase of a USA tour that began on April 13th.

Prior to the show of Saturday, May 16, 2015, I had seen Jeff Beck live in concert 20 times, starting in 1973. I can honestly say each time I thought he had gotten better as a musician. The 21st time confirmed this thought for me.

Here in his 71st year of life on planet Earth, he is better than ever! Backed by a stellar band of Rhonda Smith, on bass guitar and standup electric bass and occasional lead and background vocals; Jonathan Joseph on drums (and occasional background vocals); Nicholas Meier on acoustic guitar, electric MIDI guitar and rhythm guitar; and vocalist and harmonica player Jimmy Hall, Jeff Beck is totally in a zone unparalleled by any of his peers.

On Saturday, May 16th, the show was an 18 song set coupled with the  2 encores, totaling 20 selections of musical excellence. The last of which was so emotive that it left the crowd dazed, more on that later. Nicolas Meier, Jonathan Joseph and Rhonda Smith all dutifully took their places at so close to 8:50PM EST that no one could have been fined for being late. They laid the bed on the tune "Loaded", which heretofore has only been heard on an import EP released in Japan called YOSAGI (which means unexpected). It was to have been one of the selections on a band album that Jeff was recording in 2013 with the afore-mention players. The song is thunderous with unrelenting power and a perfect show opener. Beck, never to be confused with the alternative pop artist, strolled on stage with his Fender Telecaster unleashing a heavy riff to a standing crowd that was giving an ovation to a living legend, if for no other reason than you are still here and doing it, but I suspect it was more than that - they really appreciate the man and his music. Some in the crowd had followed Jeff Beck since The Yardbirds, so it has been a long affair.

The band went straight into "Nine", a Nicholas Meier written tune that was a part of the sessions recorded in 2013. Jeff unplugged his Telecaster and gave it to his guitar tech who brought his Fender Stratocaster with the reverse head stock. After the show I asked Jeff why he had the reverse head stock (the area at the end of the neck where the tuning pegs are) and he replied, "I get better tension on the strings". The song "Nine" has this really muscular foundation laiddown by Rhonda Smith and Jonathan Joseph (whom by the way are the ideal rhythm section for Jeff Beck music). The constant motiff in the song makes it rock while at the same time the change gives the tune a whole different flavor.

Next up was the show stopping cover of the Mahavishnu Orchestra's "You Know You Know" . Beck a longtime admirer of British jazz fusion guitarist John McLaughlin (who was a notable part of three Miles Davis albums before forming his own band). The odd meter of the song with its stops and starts and twists and turns gave Jeff a chance to pull angular licks out of his guitar that had the audience totally engaged. This man hasn't lost a step in his playing, if anything his fire is more intense. Beck's solo section gave way to a bass guitar solo by Rhonda Smith that was from another galaxy. The ex-Prince bassist plucked, slapped, finger rolled, and ran her hands up and down the neck of her PRS bass like dashes of lightening bolts. The solo had style, grace and beauty. It earned Ms. Smith a standing ovation and loud cheers and yelps. Just in case you thought the dynamics were over, think again, drummer Jonathan Joseph then showed why Jeff Beck chose him to be the occupier of the drum chair. His solo chops on that drum kit were an exercise in precision, skill, rudiments, syncopation and at the end one could only say he is a beast! He received loud cheers and an ovation from the audience as well. The entire pavillion rose to their feet after the song ended and applauded. The look on Jeff Beck's face was priceless as he equally looked at his rhythm section in awe and the audience with gratitude. The Grammy winning "Hammerhead" from 2010's EMOTION & COMMOTION album was next. Beck, fleet and nimble of fingers showed his chops over the incendiary foundation laid down by Ms. Smith and Joseph. The audience responded with a standing ovation. Who says friendship and loyalty don't matter? Jimmy Hall, a soulful singer from Nashville, Tennesse by way of Mobile, Alabama, has known Jeff Beck since the Beck, Bogert & Appice days when he was lead singer with the band Wet Willie (In 1974 they had the Top Ten hit single "Keep On Smilin'"). In 1980 with Wet Willie he opened some dates for Beck on his tour in the USA supporting the album THERE AND BACK. When Beck needed a singer for his 1985 album FLASH, he was summoned to NYC to sing lead vocals on 5 of the tunes. He was also featured in the music video to the track "Ambitious". Hall's entrance in the Jeff Beck set this night was on the song "Morning Dew" , which was on the 1968 album TRUTH. Hall has such a distinctive voice it makes the listener forget that Rod Stewart sang on the original. The super funky "Why Give It Away" a track that was also featured on the afore-mentioned YOSAGI release. Hall played harp on this song in addition to singing the lead vocal, he received an assist from Rhonda and Jonathan on the background vocals, and to add a little flavor Ms. Smith also did a 4 bar rap.  Most Jeff Beck tours in the last thirty plus years have been instrumental as he became a favorite of the jazz rock fusion scene with his back to back platinum albums BLOW BY BY BLOW and WIRED in the mid-Seventies, but on this tour as in the 2014 tour, Hall is on board to add some variance to the set, and on the next song he literally summoned the spirits of a higher order on his rendering of the Sam Cooke classic "A Change Is Gonna Come". At the tune's beginning it was dedicated to me, and I was totally touched and highly honored. The tune was played with soul and finesse and Hall sang like a true r&b singer. To an unknowing listener, one may not even realize that he is White. Raised around the foot stomping fire and brimstone gospel in the South, he brings all of that and then some to his vocal delivery. When he went down on his knees in the son to make a point in the lyrics the second time around, Beck went down on a knee with him, only Hall didn't get up, he fell all the way prone on his back. It seem Jimmy Hall has watched some James Brown too. It can't be overlooked the wonderful bass embellishments that Rhonda Smith does on this song. The ovation at the end was thunderous and loud.

At the beginning of song number eight in the show, Jeff Beck goes to the microphone and says, "This is Nicholas Meier here on guitar, he wrote this piece" and the man who has incredible musical genre versatility from jazz to Eastern to metal began strumming his acoustic to "Yemin (The Pledge)". Meier's  rapid-fire notes reminded one of the intensity of afore-mentioned McLaughlin, coupled with a Middle Eastern flavor and drive that garnered him a standing ovation as well. A nod to one of his fave guitarists Lonnie Mack was up next as they did the tune "Lonnie On The Move". This fun instrumental gave Beck a chance to show his speedy licks style. The ultra funky "You Never Know" from the THERE AND BACK album was up next as Ms. Smith opened with some funky slaps and then there was the time changes and the guitar bursts from Beck and Meier. "Nadia" from the album YOU HAD IT COMING album followed and it gave Beck a chance to show of his slide guitar work. Hall came back out for Jimi Hendrix' "Little Wing" as Beck, who has had always had a fondness for the late axemaster showed why he is consistently ranked in the top five of every guitar poll, arguably number one to many.

Jeff's favorite male vocalist Stevie Wonder was next to get the salute treatment as "'Cause We've Ended As Lovers" from BLOW BY BLOW was performed to the cheers of the audience, albeit an abbreviated version that went from the excellent guitar solo into the hard funk of "Superstition", which Wonder had originally written for Beck in the early Seventies. The tune got standing ovation number five, but who's counting, right?

In 1989 after Jeff Beck had an album called GUITAR SHOP and one of the choice cuts from that album "Big Block" was performed next in a bit slower context with crescendos and breakdowns that left us listeners on the edge of our seats as the guitar master displayed six string mastery that seemed beyond us mere mortals. The dymanics displayed by Jonathan Joseph as he and Beck would lock so tight with the son's transitions. The standing ovation at the end was huge. His Grammy winning version of The Beatles' "A Day In The Life" also recieved a standing ovation as did the rendition of "Rollin' And Tumblin'" which was next. The regular set ended on "Going Down" which was on his 1972 album JEFF BECK GROUP. The ovation was so loud at the end that the band came back out for an encore of  "Danny Boy" done instrumentally.

Jeff Beck then stepped to the mic and said, "We got the sad news yesterday, we lost the amazing B.B. of course. he gave me and Eric a massive start in our blues kind of thing and he was the King and we all knew that, so we we'll play a little tribute to B.B.", and from there they launched into a rendition of "The Thrill Is Gone". It brought the house down. For those that think Jeff Beck can only play hot-rodded up blues or rock rave-up licks, he showed just how he can wring blue notes out of the guitar like the master he learned from.

Twenty songs and now it was 10:28PM and they started at 8:50PM. It was a night that I will never forget. 1973 was special, as it was the beginning, 1980 was special, 2011 on two occasions was special, but last night's after show was the best-ever.

BTW earlier around 4:45PM I attended the VIP Soundcheck at the venue, which in many ways could be called a mini concert. While standing outside waiting to go in the PNC Pavillion at Riverbend we could hear the band going over a bit of  "You Never Know", "Led Boots", "Freeway Jam" and "The Thrill Is Gone". As we went into the facility they did "My Tiled White Floor" (which is included on his new LIVE + album) with Rhonda singing the vocals on the live version, "Red House", the blues number by Jimi Hendrix, "Why Give It Away", "Lonnie On The Move", "People Get Ready", "'Cause We've Ended As Lovers", which Jeff had Jonathan re-do with a different pick up at the intro, a tease of "Superstition", "Even Odds" and a full version of "Freeway Jam".  Jimmy Hall sang in the VIP Soundcheck like he did in the real concert later, Jeff played with no holding back.

Even earlier at 11:30AM EST I took Jonathan Joseph to breakfast at this eatery called First Watch. I invited Rhonda Smith, but she was sleep as they had arrived in town around 4:30AM EST. She texted me while Jonathan and I were eating and told us to enjoy breakfast. I reached out to Jimmy Hall as well. He later told me he was flat on his back in bed asleep. I told Jeff I would have invited him, and he stated he was unconscious in bed asleep and  said, "Very glad you didn't thank you (with a smile)". They all raved about how great the beds were at their hotel.

It was a long day that began at 11:30AM and ended the next morning at 12:40AM, thirteen plus hours I will never forget.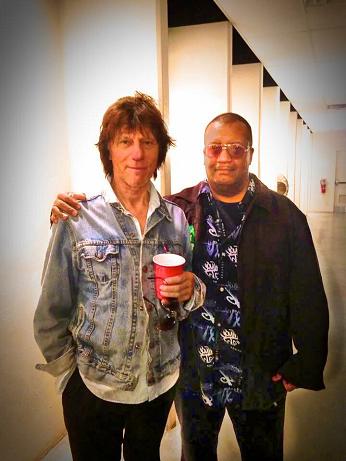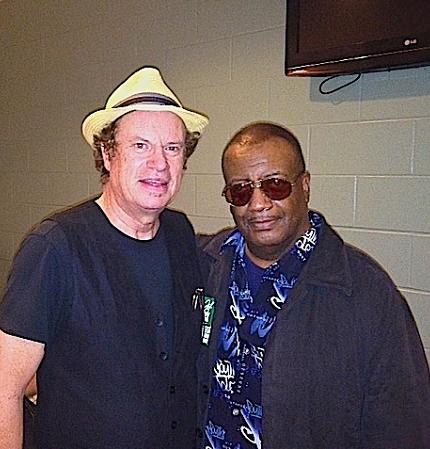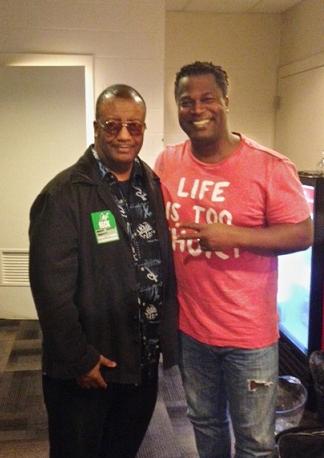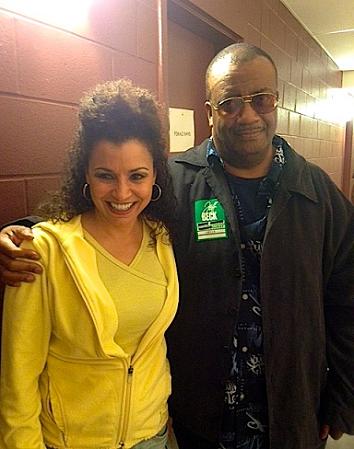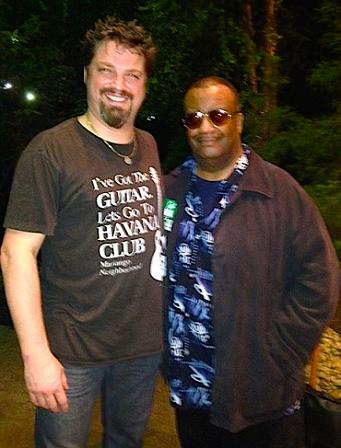 Big thanks to Jeff Beck, Sandra Beck, Jonathan Joseph, Jimmy Hall, Nicolas Meier, Rhonda Smith, Chris Fenn, Dick Wyzanski, Wendy Joseph, Melissa Dragich-Cordero and Shon Hartman.
Peace, cheers and let the music play Sid "Uncle Jamz" Johnson
******************************************************
Ryman Auditorium, Nashville, TN, May 17, 2015
By Buddy Davis
Hey Dick...I want you to know how I came to the conclusion THIS ONE IS FOR YOU MY BROTHER!!!. I can honestly say I'm speaking through this keyboard to you with no preparation...just from memory and the heart! It was meant to be you and I became Jeff Beck fans at an early age and being a guitar player and bass player we like alot of folks,( but not a whole lot of folks, ha) knew Jeff was special. I can't believe on Feb.14...14...14 I'm putting that number down 3 times because that is my lucky number and has been since my friend Tommy Graves passed away on that day Feb.14 Valentines Day...the day of LOVE...when we were 20 in 1973.
I found you several years back because Brad Dantone, also a Memphis guitar player and friend introduced himself to me at a gig, took me to dinner,and then showed me on the internet about The Oxblood story and then YOU! I said this Dick Wyzanski guy knows more about Jeff than me..oh, wait a minute this guy is the Jeff Beck authority of the WORLD! So I found you my friend on here at your website and told you the real story of the Oxblood on the anniversary of my friends passing and said something told me to tell you the real story and you might verify...which you did with your connections at the time...and printed it!
I never dreamed we would meet in Ponte Vedra become pals and I would have 3 stories in your past Jeff Beck Bulletins. Then I had seen Jeff at 13 and met him again at 19 and was lucky to become a friend/fan. 1965-lotsa, 1971-72-more, in 1976 Memphis and California with our band Target 1995 with Jeff and Santana--1999 in Knoxville....and now thanks to you knowing him because of your work and then concerts and then England, lunch with Mrs.Beck, his wife, Al Dutton over there and much more, back to your VIP soundcheck-visit- concert....just a few weeks ago...you fix Patty and I up with the VIP package in Nashville WOW. We had just drove into town Sunday, May 17...hooked up with my pal Steve Kramer (who took Tommy Graves and I to the airport to visit Jeff in England in 1971 in a back issue story i sent you). He told us what we needed to know all the way down to valet parking at the Ryman Theatre.
We arrive in Patty's car and NO valet parking yet, because they aren't open yet...guess what Dick....I drive away from the guard who told us try next door and ten feet away from the Ryman is one parking spot...NUMBER 14...WOW! My pal Steve had said earlier not only was it crowded anyway downtown but there was a Hot Rod Show in town (maybe that's why Jeff added the extra dates and shows ha). So 20 bucks gets us parking all day and night till 6AM Monday morning. Now we are out front on time for the VIP package with about 30 folks and a guy named Brandon was helping Chis Fenn who was busy with Jeff and the band. He said he would be back soon with our packages, tickets, stick on patches etc. A guy in the group waiting asked me was I so and so....and I said, "No."....he said, "Well you look just like him."...then I told him my name and what band played in that he might have heard of...Target...the guy I swear shows me a ticket stub (he had every ticket or ticket stub to every concert he had attended in his life in his cell phone) of Target-REO Speedwagon-and Black Sabbath at Nashville Colosium 1976 ha!
Now we are inside the Ryman and Brandon gives us all our VIP packages then we walk in to the live soundcheck that had just started. It was awesome I'm front row with Patty and we had rules to follow regarding cell phones etc. so the group of about 40 is applauding after each song but the band couldn't really see us like we could see them! Jeff was doing some unreal picking in between songs, lotsa Chet Atkins, Cliff Gallup, and pure country licks making folks laugh! They must have played bits and pieces of 18 songs...Red House, Foxy Lady and 8 others that weren't used in the show to come later. It was unbelievable to see everything the band was doing, that close and private,seeing everything Jeff was doing with his fingers ,pedals, amp....Nicholas too...man is he awesome(or he wouldn't be there ha). Jeff never knew I was there. After an incredible "private" concert Patty and I walked out with the group because we had to, then out the door around the corner to a resteraunt called The Palm...Steve, my pal, and 3 others were waiting on us. Dinner was awesome and on Steve. Before you know it, it's time to walk around the corner again and this time The Ryman is jumping, people from everywhere and not just Nashville. Steve and his 3 guests went their way and Patty and I went ours. We had incredible seats right in the middle and after the opening acts(which were killer, Tyler Bryant especially) the lights go down and BOOM...Jonathan, Rhonda and Nicholas are ON MY MAN just like you told me, then outta nowhere comes that sound and the crowd went nuts. Jeff already playing,comes outta nowhere stroking LOADED! They blew my mind going into Morning Dew with Jimmy Hall singing his butt off every time he came out! Jeff fooled me by what he did at soundcheck and then what he chose to do at the concert that night but he did everything and song I could ask for and featured every member of the band for as long as they wanted for solo stuff and they did NOT let Jeff or the crowd down I assure you my man. I don't have that recall for titles of every song like you do Dick , I just know the big ones ha....but he must have touched on every album from Truth, Beckola to new material and of course Wired...Blow by Blow, and one of your favorites my friend HAMMERHEAD! Just absolutely awesome...the whole deal....and after the show...the bow...and ten minutes of applause....he came back with an encore and ended the whole magnificent show with what else but what he thought was appropriate The Thrill is Gone dedicated to B.B.King!!!!!!!!!!!!!!
Now, everyone is leaving in dis-belief of what they just saw and heard and talk talk talk and smiles is all you hear and see, then T-shirts etc on their way out! The VIP group had instructions where to go after the show and all others after sales and purchases of cds from the opening acts and Jeff Beck stuff had to leave the building! After about 20 mins we were all taken upstairs to the dressing room area for the band members and a room just for the meet and greet people. First person I saw was Jonathan Joseph who was out in the hallway and really with Jimmy Hall having lotsa family and friends at the show because he lives there I believe. Everybody was in the hallways ha...no one was in the actual meet and greet room. I introduced myself to Jonathan and let him know how incredible I thought he is and that I was a friend of yours and you had let me know what I was in for with him by what I had read first that you had wrote about him with and without Jeff. He immediately was at ease and laughed. Then when Garrett Hamilton (who got to go back with us because Chris Fenn gave me two extra meet and greet passes and my pal Steve chose to give young Garrett and his fiance Jennifer the two passes I gave him so the younger couple could meet Jeff and all) and I started telling him about how we are from Memphis even though Garrett works for Gibson Guitars in Nashville, Jonathan said he had family in Memphis and outside of Memphis in Holly Springs MS. We both said we know right where that is and my family has a farm in Holly Springs. He was really cool and very down to earth with us all. Got pictures with him, Rhonda and a few others. Rhonda super cool to us too and so was Jimmy Hall, very down to earth.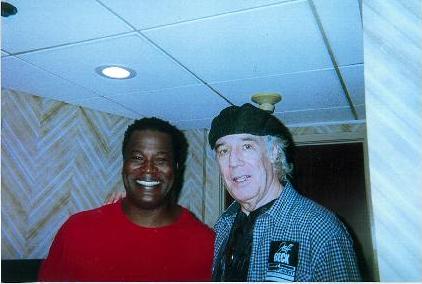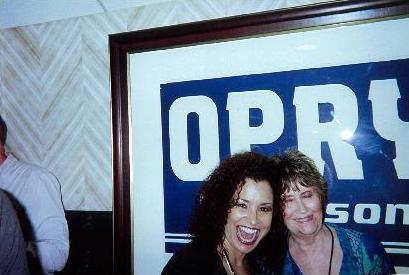 So now we have been back there so long without any sign of Jeff, about an hour, that half the folks were gone...no Jeff for them...and you know yourself that we have never had to wait that long for Jeff to show up, but we are talking and hanging with Nicholas now and despite hearing rumors Jeff ain't coming, Patty said Chris told her he would make sure we saw him no matter what and I know that was because of YOU Dick Wyzanski....no doubt in my mind! I give you my word I went to get Patty's purse in the room where Rhonda and a few folks were to get her cell phone and she got to it first and saidm "Hey, there is a message from Chris saying don't leave I promise you will see Jeff no matter how brief it may be". I walked back out to the hallway and not the door we had to use to get in but from another door coming from a back stairway Chris walks in first with Jeff right behind him and passes the people by that door and looks for me and I walked towards Chris and he said," Are you Buddy?" and then Jeff peers around him and after telling Chris, "Yes I am." and saying, "Good to meet you Chris and thanks so much for the 2 extra passes and everything," I immediatley grabbed Jeff's hand and shook it and even gave him a little hug. Dick you have know idea how i felt when everyone who stayed AND the band saw that happen and were looking at me and smiling at me like...well it looks like Jeff does know this fellow and is coming up here finally and being lead by Chris Fenn directly to this guy Buddy.....Chris made that happen...YOU...made that happen Dick...you two and the Good Lord up above!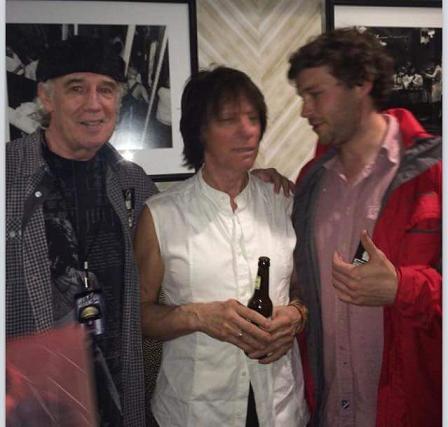 So, after saying you remember Patty to Jeff, them hugging,and introducing Garrett Hamilton and Jennifer to Jeff...Jeff leans in quietly and said, "I'm sorry but i was tied up talking with Lisa Marie Presley and some of her entourage". Patty handed him the newspaper article about the "last loaves" and the closing of Jeff's favorite place to eat when he came to Memphis in the 70's Burkles Bakery! He started talking about Burkles Bakery and The Buntynn Cafe and what was on the menu that he loved so much. What a memory he has. Then I gave him a keychain from Walkers Radiator Shop, a place that opened in the 1930's here that was known for their hot rod radiators, and told him that Rick Woodmansee, the friend that was with me when I gave him the 1954 Fender Esquire at soundcheck in 1976 here in Memphis when he was touring with Jan Hammer, sent it to him for one of his hotrods. He took it from my hand and said, "This is mine?" I told him, "Yeah" and at that point we started taking a few pictures with him because it was getting time to share him with the rest of the folks who had waited so long. I asked him could I give Chris a couple of cell numbers so he could call Caleb Quaye or his assistant/booking agent Val Tucker and he said, "Sure". Then folks were all over him and I got pen and paper and wrote Caleb's name and cell phone # down twice to make sure it was readable....I walked over to him and said thank you for everything and to Chris Fenn who was right beside him and then I said, "We are gonna head back to Memphis now and let you visit we these other folks so we'll see you in Memphis hopefully soon." and he said, "You bet." and Chris said you will. So I walked right up to him and said as I handed him Caleb's number personally, "You know you're the one that turned me on to Caleb and he said and i quote, "I know it." loud and clear and everybody heard it...So I said, "Will you really try to give him a call in the next few days if I give you his number? He wants to talk to you about something so I'm gonna hand this to you personally instead of Chris. He took it and put it in the same pocket with the keychain and said, " I will.". So I shook his hand and pulled him in towards me again for a friendly hug goodbye and said, "Well then I love you more than I love myself...which is a whole lot ha"...and Jeff,Chris and all in earshot grinned and laughed and Patty and I walked out the door with Garrett and Jennifer, the same door that Chris and Jeff came in and it was the quickest way out.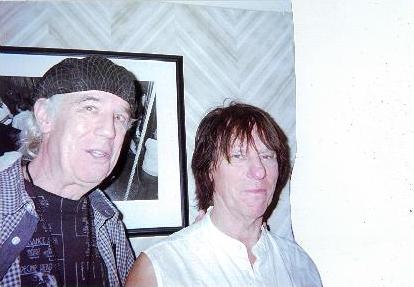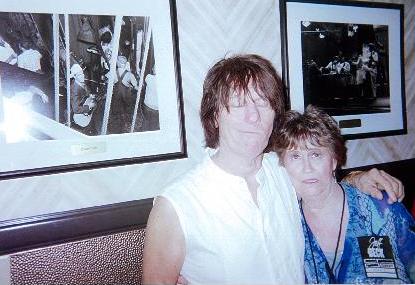 The next thing I know Garrett is near Patty's car saying number 14...I don't know why but he said it again, number 14....and then he said, "Man, Jeff Beck,was that awesome or what...and he's so down to earth!!!!!!!!!!"
I don't know how to thank you Dick...no one could have done what you did for us...there was no way I could have done that without you...I have no Jeff Beck connections with him changing management.....no way!!!!!!!!!!!!!
Love and Blessings to you and all yours on this earth....and I am one of em..........for life my brother!!! Buddy
(Ed. Note - Caleb Quaye was Elton John's first guitarist in the 60's, predating the Bernie Taupin/Elton writing team. He was a favorite club sighting guitarist of Jeff's and Buddy says Jeff told him once that Caleb was among the best guitarists there was for that type sound. Jeff had been asked by Caleb through channels to do an interview clip for a full feature documentary on the life of Caleb Quaye who, besides occasionally still doing guest gigs, mainly in the California area, is a full fledged minister and travels and preaches regularly. Buddy has known Caleb since the 70's when they were both touring.)
******************************************************
---