THE JEFF BECK BULLETIN ISSUE #19
December 2013 to December 2014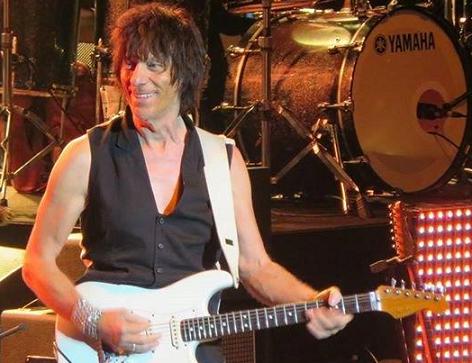 ---
Editorial For Jeff Beck Bulletin Issue #19
It's Déjà Vu All Over Again………Yogi Berra
Back in the early sixties bands were bands. There were out front stars of bands having their own followings. Jeff Beck certainly had his as his solo career began and since then he has never looked back. However Jeff has now committed two years to putting out a proper band Lp with his current members and massively supporting it with a world tour. So the spotlight (and pressure lol) is not only on him but the collective sound that comes forth with all of its' individual components and compositions. To emphasize that point the amazing Jeff Beck Band consisting of Jonathan Joseph on drums and percussion, Rhonda Smith on bass, stand up bass and vocals and Nicolas Meier on guitar, midi guitar (and pipes) is doing a lion's share of the current recording live like the old days. That should put the R back in rock n roll and the L back in live as what is recorded will have a head start on reproducing in live show format allowing an even greater window of time and effort to elegantly morph the new material into the dynamics of a brand new self- stamped band show for 2014 and 2015. This is how the Yardbirds, Rolling Stones, and all the great bands of the sixties rolled it out.
In conjunction with it there were organized fan clubs that had some albeit many times tacit interaction with the artists, their personal assistants and/or managers, and the pr/record companies all working together to promote the now, the buzz, and fuel the excitement of which each show goer and record buyer could trade stories through phone calls and letters in the mail. In the now, that exchange of information is to the second through Facebook, Twitter, websites, email and other social media.
Where does that leave this site? In our opinion the greatest rock guitarist of all time, Jeff Beck, the body of past work and reference citing to others, is in of itself a lasting group of images, sounds, and descriptions that can be utilized in what is inevitable, even for reluctant artists like Jeff...archival history. Motown tapes, finished blues tracks originally slated for Rod Stewart that could have spine tingling treatments from both male and female crooners sympathetic to Jeff Beck's guitar etc etc etc. Are you listening Rhino Records, whose original claim to fame you were of getting artists to delve into the belly of those archival vaults? Sure we have some modern click links to all the now stuff which is great. We've even done a fairly unique 2013 tour project which opens our new JBB#19...tour reports from the press and the fans and a 'Virtual Set List' YouTube jukebox of the Jeff Beck Band. However just like fan clubs did years ago and still do today, we recognize the value for future generations of artist history. So from www.ainian.com count on lots more stuff from the past, intermittent ramblings about the present, and retro back to the future as we celebrate the life, music and times of all that is...Jeff Beck.
---
In This Issue: