THE JEFF BECK BULLETIN ISSUE #17
August 2010 to July 2011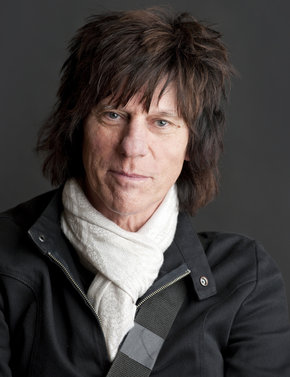 ---
Editorial For Jeff Beck Bulletin Issue #17
Jeff Beck Forward and Jeff Beck Rewind

The past two years have seen Jeff Beck deservingly get into the Rock Hall Of Fame for his solo career and launch a completely new sound and direction with ultimate "Emotion and Commotion" with crisp sharp modern production grounded with brilliant heartfelt finger/hand translated emotion. Both those major events are the mirrored reflection of past and present, simultaneously begging both the listener and the artist for more………of each.

The latter has never been a problem for Jeff. Always keen to soak up different vibrations and grooves, there is no other artist that even approaches Jeff in his ability to make those current with his "voice", his way, with the Stratocaster. With Jeff's ear for melody and penchant for admitted practice time (even while watching TV or just noodling around) there is no limit for years to come of continued joy on his own and others recordings. We look forward to both the Christmas Season current music Box Set offering from Rhino Records, the King of compilations and the EMI Classics hopeful release of Jeff's interpretation of Mahler's 5th Symphony.

The former however has been as delicate and seldom approached subject with Jeff. Although memorialized forever with the 1991 Box Set Beckology, Jeff's authorized foray into the past since then has consisted of a couple of bonus tracks for both remastered/reissues of Truth and Beck Ola arguably made easier in familiar surroundings reminiscing with veteran fellow countrymen journalists like Charles Shaar Murray for project reissue booklet notes. When I told Jeff at the Boston show recently that Beckology producer Gregg Geller would love to do a follow up his reaction, although very pleasant was none the less a pointed coy challenge to both his fans who would love to hear what is in the vaults such as the 1970 Motown Sessions, and himself as he continues to accept historical accolades and tirelessly consents to questions about his catalogued career as well as hidden treasures in his numerous interviews during his pre current CD release continuing through his current world tour. "Can't leave the pie alone heh?" was as explicit as Jeff would get on a Beckology followup.

So my apologies to Annette Carson for filching her Chapter Title from "Crazy Fingers" as the title of this op ed. However it fits the bill for the future, the time being, and the past as the marketing of Jeff Beck's career unfolds it's hugely successful first page and heads into late 2010 with the promise of only two things….the very two things that Rock n Roll is modeled on and has embodied Jeff's career……change and surprise!
---
In This Issue: