THE JEFF BECK BULLETIN ISSUE #15
January 2008 to Present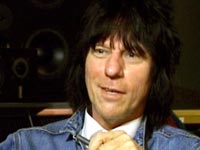 ---
"Editorial For Jeff Beck Bulletin Issue #15"
What's Next For Who Else!

I'm barely hanging on by a thread after almost pulling the plug on the editorial for last issue which referred back to issue 11 and the "Odd Couple" relationship between Sony and Jeff. Sony did put out the Official Bootleg in Japan under it's own label. However there does not seem to be any deal on the horizon for a new material release partnership. You can't blame either party. With the spiraling downward sales of retail CD's the few record companies remaining are only looking to put top acts product with mass crossover appeal in places like Starbucks and Walmart. After seeing the sales results for the Official Bootleg on his own site and garnishing the preponderance of such as profit, I'm sure Jeff is not thrilled with the prospect of a record company taking the lions share of revenue.

The answer seems to be logical. Keep putting product out on the official site for sale and promote the hell out of it during what will hopefully be a continuing industry and Jeff Beck trend....tours. What material? Well new would be nice but we'd settle for that long suffering overdue career DVD While it indeed may take some of the mystique out of hunting down Jeff material by fans, the bottom line is that we get to hear SOMETHING by Jeff and in turn he makes out financially. Oh no, what did I just imply? A new Odd Couple? Jeff and his Fans?!?!?!? Hah!!
---
In This Issue: