THE JEFF BECK BULLETIN ISSUE #13
July 2005 to January 2006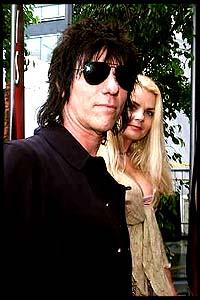 ---
"Les Paul's Legacy For Jeff"
Carmine Appice recounted for me recently a conversation he had with Jeff some years back. The subject was talking about touring and how he (Carmine) thought it was improtant as careers were approaching later life that one should get out and play live as much as possible as long as the ability was still there. He said Jeff's reaction was initially that it was nice to tour with a few years in between. Carmine then said he pointed out to Jeff that they were approaching the time in their lives where there were less "fewer years in between" that were left and that he (Jeff) should get out and play more. Whether conciously or not Jeff has indeed toured much more frequently of late years to the joy of all his fans.
One man that Jeff admires has spent one night a week for years still playing live up to this year at the age of ninety, Mr. Les Paul. Although many have cited him as an influence, it was Jeff's admiration that has most caught Les's ears and eyes over the years. Les has said publicly and in print that of all the modern rock guitarists that Jeff most closely displays the range of human emotions that Les himself aspires to in his playing. This recognition most recently culminated in a video taped congratulation to Jeff for the new catagory at the Mojo Magazine annual awards....the Gibson Les Paul award. I'm sure Jeff would have loved to have been there for Les's birthday tribute. However Jeff was in the midst of doing something that Les truly understands and that is getting ready for the "show" ie: in this case Jeff's imminent appearance at the Meltdown Festival and the subsequent tour of Japan.
Jeff will appear on "Good News" on the forthcoming Les Paul Tribute Lp due out soon. The real test of whether or not Jeff truly embodies the Les Paul spirit lies in the future. No one knows how long Jeff will keep touring. Surely at this point he probably doesn't have any idea himself. It would be nice someday to see Jeff playing hot licks on a TV show and playfully pull the plug on some young accompanying hot shit guitarist just as Les did to Jeff on that magic performance on the NBC TV rock show that night in 1983.
Be seeing You!
---
In This Issue: