THE JEFF BECK BULLETIN ISSUE #12
July 2004 to July 2005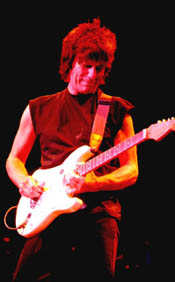 ---
"Forward To The Past"
The re-release of Beck Ola w/ the Bonus tracks and the appearance of Ronnie Wood onstage at Jeff Beck's 60th Birthday Albert Hall concert have paved the way for something long overdue. Most other British rock giants (and Hendrix since he spent a lot of early time with his Experience around the mid sixties London scene) that got spawned in the sixties have had a proper treatment by the BBC in the way of official and unofficial releases of their BBC appearances. What is available of Jeff's BBC tenure is unfortunately scattered between the genius and foresight of Gregg Geller's Yardbird's BBC compilation, and the generations of scattered tapes and boots most of which leave something to be desired due to lack of access to master tapes. 1967 saw Jeff on the BBC numerous times in the interesting schizoid state between Mickey Most's efforts to make him a pop star and Jeff's ground breaking attempts to put various personnel together to take electric blues and R&B to a much more intense heavier immediate sound. One off appearances for "You'll Never Get To Heaven"(68) with unknown accompanying musicians (probably BBC at that time "Finishers" as they called them led by John Paul Jones and various studio musicians) countered with the crazy urgency of Buddy Guy's "Stone Crazy"(67) and Jeff's venture into the straight Claptonesque w/Mayall Les Paul/Marshall blues sound on the blues tune where Rod just comes in to sing on the last bit of the tune.(67) all are easily available but none with anything but cleaned up low and high end filters off radio recordings and second generation tapes.
Ronnie Wood if you will recall started off for Jeff not only as a bass player but as the back-up guitarist as well. Here is where intrigue abounds for a lot of the earlier BBC stuff as well as later alternate versions of tracks on Truth to which both Jeff, EMI, and most importantly the BBC could set straight. Some of the dates listed by various dubious sources for later 1967 BBC show broadcasts just do not coincide with the brief limited time in early 67 that Ronnie played back-upbefore Ainsley Dunbar arrived on drums and Woody was switched to bass. Yet you HEAR another guitar on a lot of the above mentioned tracks as well as "I'm Losing You." Was the bass on those Dave Ambrose or not? Some of the alternate versions of Truth tracks aired on the BBC in 1968 also have second guitar on them but it sounds like Jeff's style of playing chords. Were these done live for the BBC? Did Jeff or Most hand the BBC alternate Truth tracks to play instead of the band doing a live performance? Since they were recorded for a John Peel production of BBC shows might they have been recorded and then overdubbed by Jeff?
"Sweetest Little Angel" was a great treat to hear on Beck-Ola re-released. However there is just as dynamite packed version of it done by the Jeff Beck Group in the Fall of 68 on the BBC. Plus Jeff talks about the funky groove they were getting into on one track on the Beck-ola booklet. That was "Mother's Old Rice Pudding' done on the beeb around the same time. Describing it as funky doesn't do it justice! Yet it needs the original masters to put it along with the others in it's proper historical as well as listenable perspective. Sure there are a couple of gaffs just as every band in those days made on the live stuff. However it's all out there on the edge, emotional, enlightening, and most of all classic Jeff Beck sound for that period of time. Let's hope that Jeff and the BBC agree.
---
In This Issue: