Felix and Oscar. Yin and Yang. 6 and 9. Opposites attract......And then there's Jeff and Sony. As much as most fans wanted to see Jeff get with a fresh new innovative record label that could motivate him to greater heights......it ain't gonna happen. Why? Because Jeff doesn't need a record label to do that. His motivation comes from within.....and when he needs some spare cash for hot rod parts. Hah!
What he needs as he as always needed is a record company that leaves him alone and let's him do his own thing in his own time. When asked about the whole record company experience Jeff will be the first to tell you "embarrassing"....and in the second breath nervously wondering if they'll still give him an extended contract. Sony can package all the media push into a record and a tour in a heartbeat without involving the slightest pressure to have the artist alter their characters. In essence, Sony is the big machine that takes care of Jeff. He knows that all he has to do is come out with a record some year and play whatever tour suits his fancy.
Sony on the other hand doesn't concern itself with the fact that Jeff purposely doesn't help out much with fans, publicity or hype...things that typically aid the record company in sales and winning new fans. Why? Because they still make money with Jeff...Bottom line...No frivilous expenses to worry about...Oh yeh they'll occasionally have to remind him that he still DOES have a contract to fulfill and that it would be nice to concentrate on that rather than asking to license his appearances on other peoples efforts. However that's a trifle of bother compared to the prestige it brings Sony when signing younger artists that realize their record company may still have the world's greatest living rock guitarist.
.....Can't live with each other....can't live without each other. Other companies will woo him.....Put my money that by the 1st of 2004 Jeff will once again be under contract with Epic(Sony) Records.....
An Interview With Mo Foster (Plus CD Review)
by Bruce Stringer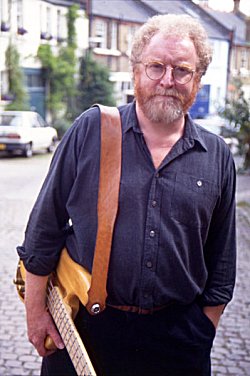 Mo Foster
Mo Foster Q&A

BS: You've played with some of the greats of music. What are the pros and cons of being involved at this level?
MF: There is something very satisfying about playing with someone whose music you have admired for a long time. And playing with musicians of the calibre of Jeff Beck, Simon Phillips, and Tony Hymas allows no slouching - you've got to be up there and match them. The downside used to be that after a long period on the road you'd come home to discover that other players had taken over your old gigs, and it always took a while to settle back into the scene - by which time you fancied being back out on the road again!


BS: What were the most important points during your session work for development on the bass?
MF: The 70s was a period of incredible evolution for the bass guitar. Pioneers such as Jack Bruce, Stanley Clarke, Anthony Jackson, and Jaco Pastorius were each forging unique approaches to the instrument. It was a very exciting time for me and I bought every album I could in an attempt to keep up with, and absorb the changes. I also learnt to read music - until this point I could only improvise and create from a chord chart - and this gave me access to different types of session such as film or orchestral.


BS: Simon Phillips worked with you on Jeff Beck's There & Back album and also on your solo album, Bel Assis. When did you first work with Simon?
MF: Via the grapevine I was already aware that there was a new face in town. In February 1976 Simon and I were independently booked to play two weeks at the Paris Olympia with singer/songwriter Véronique Sanson (then wife of Stephen Stills). We met at check-in at Heathrow airport and hit it off straightaway. Trivia: those concerts were the last time Simon used a single bass-drum kit.


BS: Did you approach There & Back any differently to other sessions of the time?
MF: I just remember that the material was incredible: Simon and Tony had made some amazing demos and I was aware that I'd have to work hard to contribute the right parts.


BS: What was it like touring for the album?
MF: A joy. What more could you ask - playing the finest instrumental music every night with your friends to large and appreciative audiences. Onstage it was a tad loud - my trousers flapped in the breeze if I went near my rig!


BS: How did you deal with Space Boogie? Many people talk about Simon's drumming, but the bass work is incredible also.
MF: I hate the mix on this track. Ken Scott mixed at such a frightening volume that any judgement of true levels was impossible. Consequently I think the bass suffers, and it is obscured by Simon's (nevertheless superb) bass drums. I approached the session with excitement and fear. I had to overdub my part while standing in the control room of the legendary Abbey Road Studio 2. As far as I can remember Jeff had not yet played on the track. Tony had written out a guide part, which covered several sheets of manuscript sellotaped together balancing precariously on two music stands. With the time signature changing from 4/4 to 6/4 to 7/4 I had to play the piece in sections. At the end Simon and Tony very wittily drew out scorecards for my performance from under their seats!


BS: What type of rehearsal period or practice do you go through before recording, normally, and how does it differ between the various artists when recording?
MF: If I'm in a flow of recording there is no time (or need) for practice - and the 'chops' are intact. If I'm going through periods of writing or producing then it's harder, and I have to make myself practice - even if it means just doodling with the TV sound off.


BS: Any interesting stories about your work with Jeff Beck?
MF: We were all waiting at Heathrow Airport for a flight to Miami, Florida - it was the start of a new tour. All, that is, except Jeff. We missed the flight, but Jeff finally appeared - carrying a box of Heinz Baked Beans (he was vegetarian) - and with sump-oil still on his hands. You probably know that Jeff's true passion is hot-rods, especially Chevys. We still made the gig, and we still love him.
At the launch party for my book, 17 Watts?, - an amusing history of British Rock Guitar - I had invited many well-known guitarists but I was especially thrilled when Jeff turned up even though he was still recovering from an illness. He's a good man.


BS: With the recent release of your solo albums, Bel Assis and Time To Think on CD could you tell us a little about your own compositional development between these two albums, please? Were there any particular artists that you worked with which altered your compositional tendencies?
MF: There was a gap of about 12 years between those two recordings. I felt that for a new recording I should try something really different and finally settled on the drum-free line-up of bass, acoustic guitar, piano, and vibes. I experimented at little clubs such as Blues W14 in Kensington to discover which voicings and structures worked. In general I write music with a particular player in mind.


BS: Your solo work, although featuring the bass heavily, never suffers from the solo album treatment as it seems to be about the songs. Was this conscious?
MF: Of course! I try to be emotional in my writing. I have collaborated with many lyricists, and written many songs, but I still feel that instrumental music - whether it is jazz, rock, or orchestral - conveys the most emotion.


BS: Regarding Time To Think, what made you record in St. Michael's Church? Was it the acoustic qualities and their effect on the musical pieces or was it more of a working atmosphere thing?
MF: We recorded in a church simply because it sounded wonderful, and inspirational - you play differently. In addition we recorded the classical way ie: record several performances of each title and then edit between them to find the best total performance. It worked.


BS: Your solo fretless work is astounding. Do you have a preference of fretless over fretted, or is it dictated by the composition?
MF: Thank you. I now love playing fretless simply because it is my 'voice'. I've worked at it for over 28 years. My real voice is terrible - I'm reminded of guitarist Leo Kottke who described his own voice as sounding like "goose-fart on a muggy day". Each version of the bass - whether it is fretted, fretless, or 5-string - has its strengths. The song dictates.


BS: You have employed the vibraphone on both of those albums. What attracted you to it?
MF: I heard the MJQ (Modern Jazz Quartet) when I was still at school in the 60s and fell in love with the sounds made by Milt Jackson. A while later I saw Gary Burton playing vibes with his quartet at Ronnie Scott's every night for two weeks. My pal, Frank Ricotti, is their equal.


BS: Where does your inspiration come from these days? (ie. there is noticeable mention of the natural environment when you have recorded)
MF: My inspiration comes mostly from doodling. Of course it helps to be able to doodle in special places. I tend to write a piece and then title it later.


BS: You have also been behind the Affinity releases from the late 60's and early 70's. How did it feel going back over your history?
MF: It was rewarding to release the original album again, the difference being that we got paid this time! Following the success of the original Affinity album - which featured singer Linda Hoyle - I unearthed a tape I had made of the band playing live at Ronnie Scott's Club in January 1969. This was essentially a Hammond organ quartet and, although there were no vocals, there was terrific energy. The last Affinity album was assembled as a tribute to Linda's successor, Vivienne McAuliffe who sadly died in 1998. It was both amusing - and intensely sad - to re-visit the old tapes. Fragments of conversation were painfully nostalgic.


BS: Was that your inspiration behind the 2 new instrumentals that have been added to the 1971 - 72 Affinity CD?
MF: Yes. The main chords and arpeggios for 'Sarah's Wardrobe' had been hanging around for ages. I needed a melody and had thought of working with Ray Russell again, but when this Affinity project emerged I asked original member Mike Jopp to help. He and I also wrote 'Highgate' - a little 'in memoriam' for Vivienne, who is buried in Highgate Cemetery.


Trivia: when Jeff Beck quit The Tridents to join The Yardbirds he was replaced by - Mike Jopp!
Mo, thank you very much!

MO FOSTER
CD Reviews

Mo Foster's deep, gentle solo work has finally made it to CD in these recent re-releases from UK labels Angel Air and Mo's own Primrose Hill Records. As a technician of the bass and fretless bass guitars his albums demonstrate a genuine ability to compose thoughtful pieces that do not solely rely on flashy bass playing.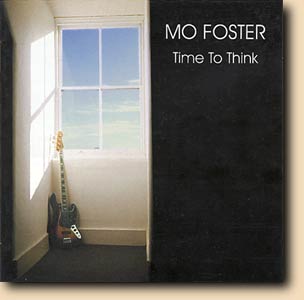 Time To Think
Time To Think was recorded at St. Michael's Church just outside Oxford in 2 days in late July 1999 and, interestingly, the pieces are arranged with vibraphone, piano, acoustic guitar, soprano sax and bass - and no drums. Some of the material was written during a visit to New Zealand and there is a spatial atmosphere that adds a slight eeriness and sweet ambience to the recording. The cover artwork includes a great shot of an old Fender bass leaning in a corner next to a window and captures the atmosphere of the CD. The album starts off with the uplifting piano and acoustic guitar theme in It's About That Time of Day with Mo's emotive playing and some subtle vibraphone work adding some nice embellishment and inter-play. Mo's tribute to father of the modern electric guitar, Leo Fender, brings about the type of jazz structure which seems to be inspired by the brilliant Goodbye Pork Pie Hat. Leo includes some very moving fretless playing. The New Zealand-inspired Omapere Dawn has a quirky, dis-chordant melody that builds this smoothly performed song and the melancholic fretless playing scattered throughout On Frith Street is in gentle contrast to the up-tempo vibrance of the piano. The clearness and precision of the recording in this unlikely of recording studios has a beauty which matches the instrumentation. Mangonui has some of the 'fat' trademark Mo Foster bass sound and is a groovy number with a percussive blues-jazz feel. Possibly in the same family as Leo, Guardians has a shifting chordal base that plays on that familiar jazz quality. Next, some incredible solo fretless bass runs are then accompanied by vibraphone as the haunting and moody Waves II is segued with the sad, haunting Shades of Grey. Let's Go Somewhere is another happy tune with some of Mo's incredible melodic fretless playing and, once again, the precision behind the playing is very quickly defined. The ancient drawing, The Long Man of Wilmington, is the title of the next piece which has some beautiful bass and piano themes. In general, Mo's compositions do exude a thematic quality and his obvious interest in untouched nature add to the depth of character in his playing which is also demonstrated in A Notional Anthem. This anthem features soprano saxophone and church organ in the arrangement which seem like a mixture of oil and water but do in fact match each other well. This could be due to the fact that there are no drums per se on the album, but it looks as though the choice of instruments is well thought out. The title track, Time To Think, ends this CD and includes some great bass (with a little flange over the signal) playing a kind of 60's progression with the acoustic guitar and grand piano in unison. It builds into a grand piece and then dies off and is a smooth conclusion to the album.

Overall, some brilliant compositional and technical moments over some relaxed, thoughtful inter-play between some class 'A' musicians. A very beautiful, lazy Sunday afternoon CD.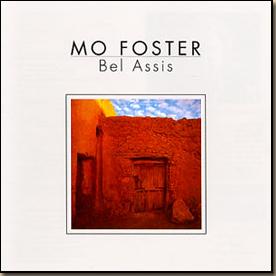 Bel Assis
Noteworthy to Jeff Beck fans, Bel Assis could have been one of those JB appearances that would have defined his status in the late 1980's (pre-Guitar Shop). Unfortunately, Jeff broke his thumb just as the recording was under way so brilliant Irish guitarist Gary Moore was brought in to play the role that Jeff would have. Therefore, while listening to this album it was inevitable that my imagination would run wild replacing Gary's playing with what Jeff's may have been. Of course, this does not detract from the brilliance of Mr. Moore who, although legendary in Europe, the UK, Japan and Australia, is relatively unknown in the USA. Mo Foster seems to have carried on some of the ideas from There & Back, which Beck fans may recall Mo playing bass on. The Light In Your Eyes starts the album off with an introduction similar to The Final Peace and Gary Moore plays with incredible feel, so it is eerie to think what Jeff may have played on this track. Mo's lyrical fretless bass work is on show in A Walk In The Country with some minimal backing, making this a very relaxing piece. The bass is joined by soprano sax and they both joyfully work up to a vibraphone solo before allowing the bass to bring the song to an end. Gaia has some interesting sequencing that is brought into an acoustic melody, but it is the meeting of Simon Phillips (from There & Back) and Mo on Crete Revisited that really grabs the attention. Simon's upbeat, military-esque snare work provides Mo with a foundation for some plucked bass harmonics. The track goes into a Latin territory (which fans of the 1980's Snowy White solo material would recognise) This is a great meeting of Simon and Mo who both stand out as great musicians. So Far Away was once recorded by Jeff Beck also by Gary Moore (on We Want Moore). It is a very beautiful piece and one of the stand alone compositions of the album. It was penned by Mo and guitarist Ray Russell who also co-wrote And Then There Were Ten. A brilliant track and well-worth hearing this to see what Mr. Beck may have lurking around hidden in the vaults from days gone by. Interesting and similar to Gaia, in that it relies on sequencing, Analytical Engine has some nice bass playing that doubles up the piano melody and incorporates some tasty bass harmonics at the end.
Pump II is a semi-sequel to The Pump, once again from There & Back. Pump II has more themes and inter-play between players and melodically is possibly a little further removed from the original than what the name implies. No problem here as it has some excellent guitar work from Gary Moore and was supposed to have Jeff Beck all over it. A number well-placed in the grand scheme of things and a pity that Mr. Beck couldn't have appeared. Jaco is dedicated to the brilliant, yet tragic life of bass maestro Jaco Pastorius (who passed away around the time of this recording). There are some nice textures padding out some beautiful fretless bass playing in the middle of the song and it is more of a song than a bass solo, which one could easily expect the reverse. The title track, Bel Assis (French for Beautifully Situated), has some great bass work having it play the main melody and was christened after the previous name of Belsize in Hampstead. A very commercial piece, heavily laden with keyboards and, of course, some excellent fretless bass playing, And Then There Were Ten has some nice guitar work for the chorus sections. Nomad completes the album with some sequencing and trumpet theme which is reminiscent of a soundtrack piece and is a nice light finish to a solid album.

Bel Assis, although having a late 80's production, stands strong with some great musical pieces and great performances. Also it is a great document of what could have been in the history of Jeff Beck's recording career a stunning front cover photo and extensive liner notes by Mo.

Affinity 1971 - 72
Another addition to the Mo Foster back catalogue is this previously unreleased CD from Mo's late 60's, early 70's band Affinity. This is the 'album that never was' from a line-up that never got to complete an LP, featuring the late Vivienne Jill McAuliffe on vocals (replacing Linda Hoyle). This collection of live rehearsals and studio pieces is augmented by two new solo compositions recorded for this release by Mo Foster and guitarist Mike Jopp and, although there is a warning that there may be some minor audio imperfections, there was nothing that I could gauge too noticeable. Moira's Hand starts this collection with it's folky-psychedelic blues style, vocally sounding a little like the Seekers. It's a great track and well worth the purchase of this CD for this song alone. Keeping within the rhythmic folk structure and sounding a little like the early Yes albums, Grey Skies has some more of the Seekers sound and then bursts into a big jam with some cool little bass licks and some drumming reminiscent of Aynsley Dunbar from the Jeff Beck Group. It's nice to see that the tracks are developed over more than a radio-friendly 3 minutes (- Grey Skies clocks in at over 8 and a ½ minutes!) with some intriguing organ work and rhythmic jamming before returning to the verses. With some spatial jamming and a cow bell to boot, Cream On Your Face is a cool, slinky kind of bluesy number that is catchy and along the lines of Tommy Bolin's band Zephyr. Some great guitar soloing in the middle stands out as well placed and leaving the listener wanting more. Sunshower is next, sitting nicely as an acoustic folk piece proving that Affinity could get up close and personal (as well as smack you over the head with a burning guitar!). It's subtle, almost choral quality is highlighted by the organ work and is a light, folk piece dealing with eviction and other lovely things. Next, Bob Dylan's All Along the Watchtower is segued with It's About That Time and is a great, rocking version of the Dylan masterpiece. Instead of competing with the fiery Hendrix version these guys have focussed more on creating a rhythmic groove with some cool organ stabs, once again, like Yes or ELP. More improvisation takes us into the latter of the coupling and has a groovy riff - where is my Paisley shirt? The track returns to Watchtower a few times before bowing out. Rio is probably my least favourite and reminds me musically of Janis Joplin's material which, although quite valid, just doesn't sit well with me. Rio does have some fine moments on it with it's little bridge riffs, fat bass and organ playing. Then more folk as Poor Man's Son hits the speakers: a nice, subtle piece with acoustic guitar and some minimalist playing that allows Vivienne's vocals to hold the piece together before a tasteful acoustic guitar solo cuts in. Herein ends the older studio demos and rehearsals before two new pieces have been added. Sarah's Wardrobe has some interesting guitar work over Mo's bass (and some keyboards) and a drum machine. The themes and key changes work well and, although instrumental, this piece sits well in the collection. The piece segues into Highgate which has a triplet feel is simply guitar, bass and keyboards rolling along with haunting, Dave Gilmour style guitar playing and ends almost abruptly with some fine acoustic 6-string.

Affinity's 1971-72 CD compilation is a worthy addition to any 60's - 70's folk or psychedelic rock collection. Check out Affinity's self titled and Instrumentals 1969 albums also available through Angel Air complete with psychedelic artwork, liner notes and rare photos.

For more information on Mo Foster and his CD releases please visit:
www.mofoster.com
www.primrosehillrecords.com (Time To Think)
www.angelair.co.uk (Bel Assis, Affinity, 1971-72)

---
UK 2004 Tour Reviews
Fred Loughlin, Manchester Apollo, June 18th, 2004

At Manchester the band were;
Jan Hammer........keyboards/synstheizers
Michael Mondesir..bass guitar
Mark Mondesir.....drums

The band casually sauntered on stage at about 9-00 pm, no fanfares or
announcements and got straight down to business. Whereas most musicians
srive to master one musical genre, in two very short hours this band
played a flawless instrumental melange of hard rock, jazz and blues
interspersed with heartrenderingly beautiful guitar ballads, without the
encumberance of vocal accompaniment.

The set list comprised the following;
 
1) Resolution
2) Star Cycle
3) Freeway Jam
4) Roy's Toys
5) Big Block
6) Stratus
7) Goodbye Pork Pie Hat
8) Even Odds
9) Angel Footsteps
10) Daylight Robbery
11) Brush with the Blues
12) Nadia
13) Pump
14) Loose Cannon
15) Nothing but Love
16) Blue Wind
17) Voyage Home (on acoustic guitar)
18) Led Boots
19) Day in the Life
20) Where were You
 
 Encore:-
21) You Never Know
22) Cry me a River (with Nancy ??..on vocals)
23) People get Ready.

So nothing off "Jeff" whatsoever, but plenty to drool over.
Standouts probably were Brush with the Blues and Day in the Life but Pork
Pie Hat, Freeway Jam and Angel Footsteps were among many highlights and
the whole two hours was of the very highest standard. Jan Hammer was
outstanding throughout, it was difficult to spot the joins in some of the
back and forth sonic duelling, often a good sign of the calibre of
musician and the level of rehearsal leading up to it. What's more the two
main protagonists appeared to be having fun.

The two black guys in the back line played a good groove  behind the two
names, though the drummer seemed to have considerable bother with cymbals
working themselves loose. Jeff himself dropped a slide at one point and
amusedly kicked it to one side of the stage without missing a note. Jeff
appeared to be in top physical condition as well.

Cry me a River sat a bit awkwardly in relation to the rest of the show
despite the blonde visual distraction.
 
Jeff used three guitars during the whole concert, a white strat, a
substitute white strat and an electro acoustic on "Voyage Home" that was
reminiscent of certain John Williams pieces. The guy accompanying me
detected certain ZZ Top soundalike moments as well but let's face it
you're not really going to hear a Jeff Beck type of sound anywhere else
ever.
 
Best seats I've ever had at the Apollo, pretty much right next to the
sound engineer, not crammed behind someone else's seat, with loads of leg
room and a completely unobstructed view within spitting distance of the
stage. Best balanced sound I've ever heard at the Apollo as well, top end
instead of just bass and drums but I suppose you'd expect that sat
alongside the engineer.

The band and the crowd seemed mutually unsure of what to
make of each other. The band were flawless, Jeff appearing in
fine physical condition, both he and Jan Hammer on top form
instrumentally.
 
By contrast, the crowd were a strange mix of the physically huge, the
seemingly awestruck, the serially incontinent, the drunk and the
chemically and / or mentally imbalanced. Strangely and depite the fact
that I was stone cold sober, I felt no more than a little uneasy and not
completely out of place, perhaps madness sits more comfortably with age.

Given that Jeff hadn't played Manchester in about fourteen years, I found
myself muttering "for fuck's sake get a catheter fitted and stay sat
down!!" For all that, it appeared that for once the true diehards had
actually managed to acquire front stall seats, 50,000 at the Red Hot
Chilli Peppers gig three miles down the road might have ensured that. I'm
100% convinced that my evening's experience was the more technically
proficient and unique of the two. Manchester is unlikely to hear the
likes of this again, adjectives fail me.
 
The prolonged ovation at the end brought everyone to their feet and was
no more than the band deserved.

On the way out and much to the amusement of the studio engineer who
attended the concert with me, I broke a long standing vow and bought the
frst tour tee shirt of my life ( how any rock fan could possibly ever
need another black tee shirt is totally beyond me but it had to be done)
 
If things were this good on the opening night of the tour, You're in for a
treat by the time they make the Albert Hall. Keep me posted. Beck Olay!!

Fred Loughlin.

Paul Taylor, Manchester Apollo, June 18, 2004
 
Of all the British guitar heroes to emerge in the sixties - Eric Clapton,
Jimmy Page, Peter Green and the rest - none took their art to such
intriguing and eclectic places as Jeff Beck.
 
The man's studied avoidance of the mainstream, however, means that few
beyond the disciples who half-filled the Apollo last night know anything
of him the man beyond the risible Hi Ho Silver Lining.
 
And his ability to veer from one style to another - rocka-billy to
electro-funk, for instance - from one album to the next, taxes even his
fans' patience.
 
Just a few days short of his 60th birthday, Beck's youthful physique and
dogged adherence to a seventies-style barnet gives him a striking
resemblance to Spinal Tap's Nigel Tufnell.
 
Attacking the guitar fingerstyle - without a plectrum - he agitated the
tremolo arm so that his Stratocaster whimpered and sighed.
 
He performed two-handed tapping (fretting notes with both hands) and
deployed soaring harmonics - all the armoury of expressive stunts taken up
by a subsequent generation of axe gods, including Joe Satriani and Steve
Vai.
 
Most of all, he added musicality and inventive-ness to all this technique.
It was, essentially, one long series of guitar solos, interrupted by
several keyboard solos, courtesy of Jan Hammer.
 
But Beck ran the gamut from bombastic rock to sophisticated funk, jazz and
blues, then on into the stratospheric regions where those squealing
harmonics of his resemble operatic arias from another planet.

Jay Richardson, The Scotsman, Glasgow, The SECC, June 19, 2004

     HE might be three days shy of 60, but Jeff Beck still rips it up like one of his beloved
hot-rods, Freeway Jam, revved up for an extended run-out here.
     Reuniting with old collaborator Jan Hammer for only their third live appearance together
in the UK, the ex-Yardbirds guitarist and former Mahavishnu Orchestra keyboardist dusted
off several of their most popular recordings, Blue Wind a pitched riff salvo duet between
them and the jazz-fusion of Charles Mingus's Goodbye Pork Pie Hat eliciting some almost
painfully crafted feedback from Beck.
     Backed by the fraternally tight Mike and Mark Mondesir on bass and drums, the
guitarist displayed occasional snatches of the techno direction heads adopted more
recently on tracks like the 80s prog-rock-style Even Odds and the spacily ambient
Angel (Footsteps), with a slick Roy's Toy and the lovely Nitin Sawhney composition
Nadia introducing an exotic flavour.
     The solitary acoustic number, a delicate strum through Hammer's own Voyage Home,
saw the Czech supplying some keening, string-like soundscapes, and was followed by a
cheeky romp through the Beatle's A Day In The Life.
     Mrs Vic Reeves, Nancy Sorell, then appeared for Cry Me A River, her unspectacular
but solid vocal eclipsed by the statuesque blonde's choice of outfit. Following a
fine People Get Ready finale, hero-worshipping hordes of middle-aged men could only
disperse quietly, muttering excitedly about soaring powerchords and a tight black
dress.

Paul New, The Evening Chronicle, Newcastle City Hall, June 20, 2004
 
      It was a case of Beck to the future when an enigmatic guitar hero
breezed into Newcastle last night.
 
      For while his contemporaries have either gone back to their roots
(Eric Clapton) or gone into semi-retirement (Jimmy Page), Jeff Beck
continues to stretch the boundaries with his approach to playing the
guitar.

      Beck's fusion of styles - blues, jazz and rock - has seen him win
four Grammy awards. And, backed by a superb band which included
long-time sidekick Jan Hammer on keyboards, the maverick guitarist
turned in a virtuoso display.

      Like Clapton, Beck preferred to let his music do the talking as he
ran through his back catalogue, the highlight of which was Brush
With The Blues, a composition on which he takes the genre to new
heights.

      Somewhat bizarrely, the only non-instrumental of the night saw Beck
joined on-stage by Vic Reeves's stunning wife Nancy Sorrell, a
statuesque blonde who made her name as an underwear model and who
gave a smouldering rendition of the blues classic Cry Me A River.

      One fan sat behind me summed it up when he said of Beck's technique:
"How does he do that? He's not human. I'm going to hoy my guitar
away after that."

      Quite.

Bill Armstrong, Royal Albert Hall, June 24, 2004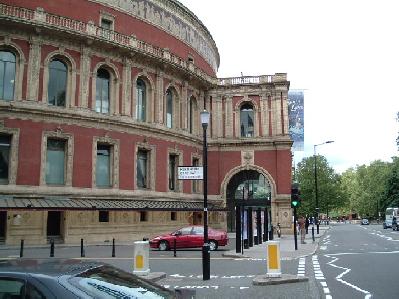 A view of the hall.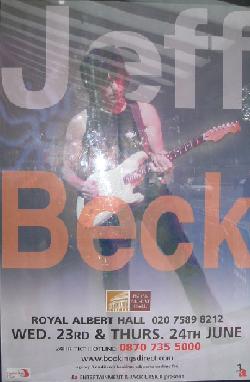 The poster for the evening's show.
The Royal Albert Hall is a beautiful piece of architechure that I had already been to several times during the week of tonight's. The first to see the Lonnie Donegan 'Rock Island Line' tribute show Monday the 21st and on the afternoon of the 23rd to see what was going on there and to see if I could get a better seat than I had for the show on the 24th. The Rock Island Line show was actually pretty fun. Roger Daltry, Joe Cocker, Van Morrison, Mark Knofler and a bunch of others were there. It also gave me a chance to check out the hall and see that I needed to upgrade my seating if I could. So on the 23rd having made up my mind to eat the two tickets I already had that were in the stratosphere of the hall I went to the box office and got a seat in the 17th row on the floor. While I was there, around 3:30PM, alot of folks were hanging around outside and a lone white limo was parked. It seemed Jeff, Jan and everybody were doing sound checks. Just as I was about to leave a taxi pulls up and out pops Nancy Sorrell.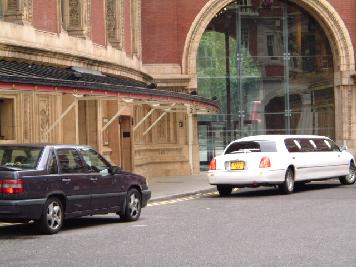 A white limo waits outside the hall.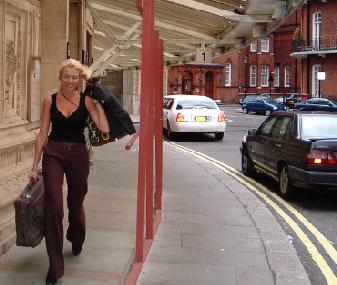 Nancy Sorrell arrives for soundcheck.
The night of the 24th we arrived at the Royal Albert Hall around 6:30PM. In 'we' I mean myself and Nigel Flannigan, with whom I spent the late afternoon with at a nearby pub, The Queens Arms. Nigel is a fellow Beckhead who found out about the existence of a Big Town Playboys outtake that we later got from Mr. Baker and is on our soundpage. He had also seen Jeff already this tour in Manchester.
As we arrived I tried to sell the extra two tickets I had to the show. There were no takers and there were several other people there trying to do the same thing with no luck. The reason for the lack of interest might have had something to do with the reason Nigel and I didn't catch any of opening act Amy Wadge's set. Upon entering the hall the first thing we did was go down to the arena bar and wait for the England/Portugal soccer match to come on the television there. Alas Jeff's birthday had landed on a day when everyone I met was in a frenzy over England's match in the 2004 Euro Cup that night. Nigel and I completely lost track of time watching the game and were only snapped out of it by an announcement at about 8:55PM that, "Jeff Beck will be taking the stage in 3 minutes."
Jeff took the stage right at 9:00PM. As usual he was to the audience's left. In the middle of the stage was the drum kit and bass rig manned by the Modesir brothers. And to the right was Jan Hammer seated behind a Korg keyboard. Behind Jeff were 3 Marshall 4x12 bottoms and 3 Marshall heads mounted one over the other in a road case. Also on top of each Marshall cabinet were 3 more Marshall heads, the middle and one the right looking like Plexi's. I'm not sure but they were probably just for show because as I've seen before and we know from that recent interview with Jeff's guitar tech Steve Prior, Jeff is only using the heads that are mounted in the road cases. And only one of the Marshall cabinets was miked as well. As I understand it, the top head in the road case is Jeff's main amp pushing the one 4x12 cabinet that is miked. The second head is used as a power amp to get the same signal from the first head to those Marshall wedges that Jeff has aimed back at him and the third head is a spare.
The show.....
"Resolution"...the first song of the night, I think I have the story straight now. The song appears on the Mahavishnu Orchestra's 'Birds Of Fire' album. An earlier version of the song was called "One Word", a McLaughlin-Wright composition that appeared on a Tony William's Lifetime 45 and on "Lifetime", a compilation LP. Also from what I've been told there is a song called 'One Word' on 'Birds Of Fire' Lp but it's a different song. They could have been playing "My Way" backwards for all I know, not famliar with the tune at all but is was good, maybe a little slow for a show opener.
"Star Cycle"....the band's getting warmed up.
"Freeway Jam".....this is the way I first remember the song live. Jeff and Jan trading 'beeps' at the beginning.
"Roy's Toys".....good as always. New video in the screen behind the band. The same round screen I might add that Jeff used on the last American tour. I have a tape of and Italian TV show called 'Rapido' where they interview Jeff at his house and have some shots of Jeff driving one of his cars down his driveway. The car in the video now is a beautiful silver gray deuce with a chrome undercarriage but the driveway it's coming down looks just like Jeff's house on 'Rapido'. Also you know the footage was taken in the UK because later the car in on the highway on the wrong side of the road.
"Big Block"
"Cry Me A River"....the way I see it Jeff has this number in the show for two reasons. One, so he can play all those cool jazzy chords at the beginning and two, Nancy Sorrell. She comes out in a tight red dress and I'm pretty sure a wig because I saw her on the street the day before and her hair wasn't platinum blond and wavy like it is now. Is she singing? I didn't notice, too busy looking. Just kidding, she does a great job and Jeff is all smiles.
"Stratus"....Billy Cobham number right? Mark Mondesir is really good on this one. Jeff has some 'chorussy' effect on his guitar.
"Goodbye Pork Pie Hat".....a JB standard.
"Angel (Footsteps)".....I've noticed that Jeff has many new graphics in the video screen this time out. This song had like a blue rotating 'celtic knot' thing. Wonder who does all this stuff for him. On the other hand being in the TV biz I've noticed several 'mis-punches' on the screen as well as the cameras not being 'shaded' correctly at all.
"Even Odds"
"Brush With The Blues".....you don't normally associate Jan Hammer and blues but he can play them. Also Jeff tears this one up.
"Nadia".....played well, Mark Mondesir again getting that Eastern groove down perfectly.
"Nothing But Love".....Now this was a first. Never seen Jeff play an acoustic guitar onstage before. But for this Jan Hammer number Jeff sheds his Strat and sits down on a chair provided by the stage crew to strum a nylon string acoustic. And when I say strum I mean strum. Jeff only played chords to accompany Jan on this one, no solo.
"Loose Cannon"....after the chair and acoustic are handed off, Jeff is given a Strat but it's not his main one. It's a backup with the low 'E' tuned down for this number.
"Blanket".....or is it called "My Blanket Covers Me", not sure. Anyway, Imogen Heap comes onstage and does one of her songs. She's dressed for the occasion in a black dress and very french looking little topper (hat).
"Rollin' And Tumblin'".....watch out, this one rocks, Imogen is great! And the crew puts the smoke machine into overdrive.
"Blue Wind".....seeing Jan and Jeff doing this one together again brought back some memories. Jan's Korg keyboard sounds exactly the way his old Moog did back in the 70's. Does he sample all those old sounds into this newer keyboard? Don't know but it sounds great.
"Voyage Home".....again not sure of the title, just know it's another Jan song. Slow, very subdued but pretty melody.
"Rice Pudding".....Jeff has just changed to his old blonde Tele with the black pickguard. He and band launch into about 8 bars of "Rice Pudding" as Ron Wood takes the stage. Ron is playing his white Musicman guitar with maple neck that he's used numerous times with the Stones. He's playing through a Mesa Boogie amp in the middle of the stage.

"Cissy Strut".....once the applause dies down they start the old Meter's tune. Jeff and Ron exchange solos between making faces at each other. After the song is over Ron exits the stage only to sneak back on while Jeff is putting on his main Strat. He runs over to the microphone on Jeff's side of the stage and yells, "Happy Birthday Jeff Beck!" The crowd loves it.
"Led Boots".....okay back to business.
"A Day In The Life".....I think everyone I've ever talked to about Jeff's version of this song agrees it brings a lump to your throat. This was the last song of the standard show. Jeff comes to the microphone for the first time this evening. I know he can be a little shy at times but for what it's worth I think he should have at least introduced the girls as they came onstage. Ronnie, forget him, everybody knows who he is. Anyway Jeff comes to the mic and introduces the band. Then he makes a reference as to how this night's show was originally scheduled for last October. He says something to the effect, "Sorry about the October date but it was out of my hands." The band leaves the stage.
Encore

"Where Were You".....just Jeff and Jan return to the stage for this one. I really can't tell the difference from Tony to Jan playing this one, they both can accompany Jeff perfectly.
"You Never Know".....brought back a song for the encore that in previous shows was part of the original set.
"People Get Ready"....Jeff starts this song and you know for one instant I thought perhaps Rod Stewart would show up. But nope. Rod by the way was in London that week. He was there to play the big 'Olympic Torch' concert on the Mall in London the following Sunday but I found out by reading the paper the next day he was at a black tie affair hosted by Sir Elton John to benefit Aids that night. Also when he did play that concert on Saturday guess who was playing with him. Ron Wood, boy, that guy gets around! So Jeff starts "People Get Ready" and Imogen Heap comes out to do the vocal, very well I might add. Ron Wood also comes back out onstage and takes a solo and Nancy Sorrell appears as well. At the end of the song both Ron and Nancy go to the mic and wish Jeff a Happy Birthday. Two large bouquets of flowers are brought to the edge of the stage for Jeff. They could have been roses but I'm not sure. And this ended what was really a very special concert.
As for pictures of the show, here's a link of some taken on the 23rd; http://takinami.que.ne.jp/chie/0623/. I'm also waiting for some to come through the mail hopefully soon. As for the after show I do know the following from several different sources. First of all who was there for the show; Jimmy Page was there. He was also at Mojo Magazine awards affair a few days earlier in White Hall. Jennifer Batten was there. She has a new CD coming out this fall. And Cilla Black was there. From what we've heard Jeff did not stay for any after party at the hall at all. Instead we hear he and Ron disappeared down a tunnel from where the equipment, I suppose is loaded in to head to his birthday party.. That's one thing I noticed during my visits to the hall. As you walk around the building, which isn't that big, there aren't any loading docks or big doors anywhere in sight to get all the gear in. How do they do it? I've since learned (thanks Liv) the tunnel comes out behind the hall, down the steps by the big statue of Albert. Check this out http://www.royalalberthall.com/rah/flash/index.jsp ,click on about the hall, building development, start here, south steps.
Also there that night was Yardbird's drummer Jim McCarty and his friend Jimmy Appudurai-Chua. Both also attended Jeff's birthday party following the show. Both of whom I had met the night before and this is a story in itself.
As you know Jeff also played the Royal Albert Hall the night before, June 23rd, with what I understand was the same set as the show I saw. I was thinking of going to that show too since tickets were still available but instead I decided to go to the Royal Festival Hall (where Jeff played 3 nights last year) and catch the Yardbirds/Spencer Davis show. Now I'm a Jeff Beck fan yes, but also a huge Yardbirds fan and I've never seen them with their new line-up. I love that last CD and I just had to go.
After having a few beers at the RFH's bar I went to my seat. The Royal Festival Hall is actually a modern complex which houses several cultural venues. The performance hall is actually much better to see a show in than the RAH since it has tiered seating an perfect acoustics. As I sat down, to my left there was an empty seat. Next to that the seat was filled by a camera bag and the seat next to that was a guy fiddling around with his camera. I asked, "Who are you taking pictures for, a magazine?" He said, "No, the band, the Yardbirds." We got to talking about the band. He introduced himself to me as just "Jimmy". I told him I was mainly in town to see Jeff the next night at the Royal Albert Hall and wanted to also see the Yardbirds. After a while he asked me, "Are you alone here?" I said yes, "And said here, take this it's a aftershow pass so you can meet the band." Needless to say I thought to myself someone's got to be looking after me from above!
My new friend Jimmy, playing in Singapore.
The Yardbirds came on first that evening and these guys sound great! I had only once seen the original Yardbirds with Jimmy Page at a funky little amusement park in New Hampshire when I was in Junior High School, this band was totally different, tight and the sound was perfect. I can't remember the entire set list other to say they played all of their hits plus three or four songs from the latest CD, "Birdland". Jim McCarty and Chris Dreja, easily one of the most under rated rhythm sections in rock. The harmonica player Billy Boy Miskimmin was great. I mentioned to Jimmy afterwards that although Keith Relf was a great singer and showman, he didn't play harp as well as this guy. John Idan on bass and vocals was amazing, he can sound almost like Keith while playing all the old bass lines note for note! And Gypie Mayo. Never seen this guy before but boy can he play! Not only is his technical skill formidable but he also gets the 'vibe' of all those Beck/Page solos down to a tee. He had a candy apple red Strat through a Vox AC30 that sounded incredible.
I can't tell what a nice person Jimmy is. I met this guy cold in the theater and he escorted me around for the rest of the night like he'd known me for years. This is what I've learned about him since I met him. He told me that he'd known Jim McCarty since 1966. He met him while the Yardbirds were touring Singapore and it turns out Jimmy is a well know blues guitarist with the band 'The Straydogs'. He also took pictures. Jimmy took pictures for Eric Clapton for nine years and now is working for a magazine 'Big O', the acronymn for 'Before I Get Old'. He now lives in London but goes back to Singapore to play blues festivals.
The moment the show was over he led me down to the front of the stage and no sooner were we there but someone walks up to us and says smiling, "Jimmy!" I had seen this guy out by the bar a while ago and thought he looked familiar and at this point Jimmy says to me, "Bill I'd like you to meet my old friend Top Topham, he was the original Yardbird's guitarist." My jaw dropped and I just mumbled, "I know." and shook his hand. Even though Top must be in his 60's, I can tell you for certain that he is the handsomest of any of the Yardbirds guitarists. Still a good looking gent. Next we all filed backstage and Jimmy led me through several dressing rooms until we found Jim McCarty. Jim instantly smiled and greeted Jimmy and Jimmy made the introductions. Top was there just long enough to give his regards to Jim and said he had to get going. Jim impressed me as a laid back, soft spoken guy, very polite. I mentioned to him that I was going to Jeff's 60th birthday show the next night and he said, "Oh, I think I'm going to that too." I also mentioned to him how great it would have been for the band I saw tonight to have played here last year when Jeff did his Yardbirds set, to that he smiled.
Jimmy led me around the backstage area and made sure I met all of the band and got all their autographs too. We ran into Chris Dreja over by the bar and my impression of Chris was, wow, what a voice. He just has an incredible speaking voice. Very deep and rich. He could easily voice over documentaries or something. And again it seemed that he and Jimmy had known each other for a while. Also got to meet the harp player Billy Boy and John Idan. Everyone seemed to be in a good mood since this was the last night of a tour of the UK with the Spenser Davis group that had been going on for several weeks now.
Speaking of Spencer Davis. His set was great too. Did all of the old hits, even "Dimples". In his band he had some standout musicians as well. Guitarist Miller Anderson (Keef Hartly, Savoy Brown), bassist Colin Hodgkinson (played with everyone from Alexis Korner, Chris Farlowe to Schon and Hammer). Miller, great guitarist and great voice, Colin actually played two song my himself, just bass and vocals. One of those songs was the old blues number 'Walking Blues'. I got to speak with Spencer briefly. He now lives in southern California and was flying out that weekend to do a 4th of July concert in Iowa of all places. Jimmy meanwhile arranged an interview with him for the magazine 'Big O'. I left and thanked Jimmy a bit early as I had to catch the last tube train back to my hotel but wow, what a night. In fact what two nights!
P.S. for great pics of the show in Bristol on the 27th and from the Crossroads Festival check out www.wireimage.com, search for "jeff beck".
Karen Thompto, Royal Albert Hall, June 23rd and 24th, Bristol, Colston Hall, June 26, 2004
I called this part two, Karen's Terry's and Roxanne's " Most Excellent Adventure".
I was very excited to go to England in June 04 to see Jeff play, so I got tickets in Dec 03, before RAH had them for sale (Lucky... I guess..) so yes we had VERY good seats!! Also, it was Jeff Beck's 60th birthday!! Very important to me to bring Jeff something special with a lot of real meaning to it. I named a star for him on this birthady 6/24/44 it's in the constellation " Orion" amd its coordinates in England are in the north, winter sky, visable with the naked eye. The star "Jeff Beck is directly under the left out stretched arm's elbow. In purchasing this star, they sent me a very classy looking certificate stating that this star will be forever now named Jeff Beck and it's dated for his birthday, actual year, 1944.I had it all framed and put a testimonial to Jeff on it, and welcomed anyone to participate( free, I had already planned to foot the bill). Well, several people from Jeff's label's board did. So after my name , there are about 30 names. I brought this to England after a few faxes to Jeff's manager Ralph Baker ( along with 5 bottles of Dom Perignon, one being for Jeff) to connect me with Dru, Jeff's tour manager, I was able to give it straight to Dru,and the bubbly as he put it! Jeff's management, and all who work with and for him were absolutley wonderful!!
After two wonderful nights of Jeff Beck in London, and those shows were excellent!!! Loved them both!! We head for Bristol, WOW!!!! Terry, Roxanne and I were in Colton Hall, a very small venue( very cool!!) and Terry was chatting to Ralph, working behind the t-shirt consession, when I walked over and she said " Karen, he knows all about the "Star" and Jeff was floored!! he loved it!!I said wonderful!! They were all so nice! Then a few minutes later Ralph leaned over and dropped three backstage passes in Terry's hand... I wish I had my camera out the expression on her face was priceless!!
Then the show... OH MY GOD!!!! Jeff was on super hyper drive speed!!! I sware his fingers were smoking!! He showed just why he is "THE GUITAR GOD OF GOD'S" There was no closed mouths after he started to play!!! the band was right on!! Jan... excellent!! Just watching him attack the neck with pure ease, and loving it!! He was clearly relaxed here, making a couple of jokes and at one point there was a really wierd noise that came from the direction of the speakers, and he said, "What the hell was that??" with a big grin on his face!! Steve Prior came running out and fixed what ever was wrong( if anything) still sounded excellent. Then Jeff played the acoustic, and the song "Nothing but Love" very beauitful song, but right at the end of the song , Jeff gave his guitar the "finger". Lol! It was pretty funny, I doubt that to many people saw him! Then the encore song after the standing "O", Jeff with his hand on his heart and very greatfully thanking everyone, he played "Where Were You", Terry and I were glued to Jeff, as was Roxanne. Then he came to the last note... OHHHH!! it was soooo sweet...Terry and I without realizing it, let out this pleasureful moan,at the same time, loud enough that Jeff heard it and leaned over to see who made it, we smiled and he smile back.
When we, the three of us, headed for the resricted back stage area, I had put my pass in my purse and didn't have it out, so the security guard stopped me, but before a second had passed I heard from behind me a mans voice yell out" I know those girls! They don't need any pases!!! go on in girls!! it was Dru, Jeff's tour manager, he is the nicest guy! He is the man who personally delivered my gift to Jeff, VERY nice of him to do that!! Thank you again Dru! I just want to add, EVERYONE, who works with Jeff's management team, and Jeff, were extremely warm, friendly,and generous! So I just wanted to thank them all once more. We stood in the first dressing area where I could see Jeff coming through from his dressing room very quickly towards us. The first thing he said was "The Star!!! The Star!! it's so unique, and creative, I love it, who's it from??," I said, " Me! and I there are several others fans who, wanted to express their appreciation, and wish you happy birthday,so their names are also included. So he got all our names down,and then I took his hands and blew on them, he smiled! I said I think they are still smoking!! The man has very large hands!! We had a short discussion about his boots! Terry, I believe said "Nice boots!" Are they new?? he said, "Yeah, I bought them in the states, they were only about $120.00 and thought that was a good deal, cause I go through boots fast!" Then Roxanne said I know I said this when we met in Vegas, but it still applies! "The world is a better place because you play guitar in it!" He liked that! He said thank you are very sweet! I asked him if it was ok to take photos, he said yes, of course! so Ralph took the photos of us four together( he was working out at the t-shirt sales and gave us the passes)and we were all talking, and Jeff said "OH!! I like this!! having three lovley ladies holding me!!" and I think Ralph said something like "and that's NEW??" That's when I broke out laughing!! Jeff then asked if we wanted a glass of champagne, and I said yes! So he said, come on in here! So we followed him to his dressing room. Roxanne had said to Jeff, "So did you get the Dom Perignon? Cause Karen gave you a bottle." He said, "Yeah, yeah, I did, I got one that was from you as well?!!" I said, "Yeah, I bring one to you everytime I see you." He said, "WELL!!! aren't you NICE!! what do you do , have stash with you everwhere you go??" I said, "Well, yeah, I brought 5 bottles with me here. He said " So you still have some?" > I said ya, I have bottle in our room... He says "Where are you staying,?" with a grin on his face... I said, "in Bristol" ... he was kidding of course.
There was a plate of hot tortellini (cheese&spinach) for him ( he hadn't eaten dinner because a sour stomach earlier, so he was starving! He offered us some, we thanked him but declined I said good vegetarian choice. Jeff remarked, "And YOU know that about me!" I said "well, yes, you mentioned it quite a number of times." Roxanne chimed in, "She knows A LOT ABOUT YOU!!" he said "OH??" I told him I have been a loyal fan of his since the age of 11! His eyes grew large when I said that.
One of the things Jeff did that was very special to me was introduce us to Jan Hammer. He did it like this, "Ladies I'd like to introduce you to my sparing partner, Jan Hammer." Who I found very captivating! He and Jeff did exactly that, spar!!! Jeff was discussing the fact that he was a conspiracy theory junkie! He was telling me that he (Jeff) doesn't believe that we landed on the Moon. I came back with the fact that my son doesn't either. He asked me how old he was, I said nearly 17, Jeff said so he knows. Well Jan heard this and started freaking out!! Saying to Jeff, "I can not believe you DON'T believe we landed on the moon!!! Jan's voice a little upset, enough to make Jeff start laughing!! Jeff turned to him and said prove it!!! Jan said you saw it happen!!! Jeff said SO what!! that doesn't prove anything!! (laughing, through it all!!) So then Jan just waved his hands around,and went into the other room. Jeff just kept on laughing!! Then I met the "happy brothers" as I called them, they had ear to ear grins on their faces all night!! Jeff said yeah, they're great guys!! They said, "We get to play with Jeff! Why not be happy!!" I said, "No arguement!"
Jeff was very candid at many points that night, joked, and had a lot of VERY interesting subjects to talk about, very rarely himself. When Jeff was ready to leave, he and Jennifer were going to leave together. We also left walking out with them. Jeff came up to me, and grabbed my arm and said "Karen, I just want you to know that the Star you gave me is one of the most unique, creative, and heartfelt gifts I have ever received, and I thank you." Needless to say, I was ten feet tall !! I said, "OHHH,That means the world to me! Because you have given so much and I just wanted to find some way to give something back to thank you, you are my hero!" Then he put his hand on his heart and smiled. We thanked him, and he said good night. Then we all walked downstairs to the doors of Colten Hall. There was a crowd of people still there from the show, 2 1/2 hours later! They were waiting for Jeff to sign autographs!! Well, he did!! of course he did!! Thank you Jeff Beck,I am very proud to have you for my hero. Wow, we did have a most excellent adventure!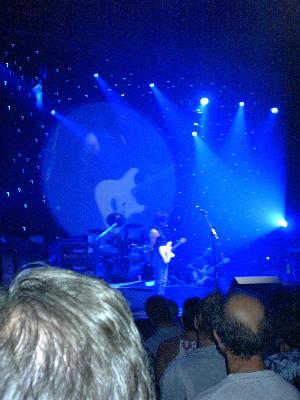 Jeff onstage in Bristol playing 'no hands'.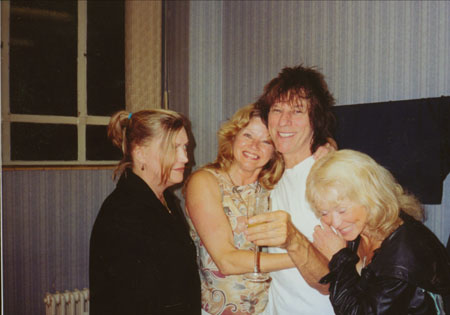 Terry, Roxanne and Karen engulf Jeff.
Jeff came into the room looking for the person who gave him 'The Star', as a birthday gift (that's me) to thank, very gratefully I might add.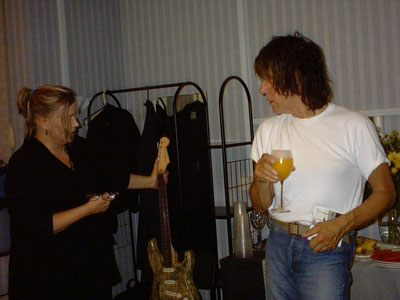 Terry holds the prototype 'Camouflage JB Strat'.
Terry had asked him if there was any new things as far as guitars, he could share with us. Jeff said, "Yes, open that case and take the guitar out please." Terry answered, "Jeff, I won't eat off your fork (she was concerned with the fact that she was catching a cold, as he was eating his dinner 'late' and was offering us some, but we said no thanks, "you eat your dinner", he said he was starving!) and I don't feel comfortable taking your guitar out, sorry." So he removed it then handed in to her. He went into great detail on how the camouflage color design came about. A friend of his in the British Army had given him a pair of fatigues. His friend is now stationed in Iraq. Jeff showed us where on the fatigues he had a silkscreen made and handed it off to Fender, to be incorporated with Jeff's other designs for the guitar. He added, "Fender has been VERY good go me!"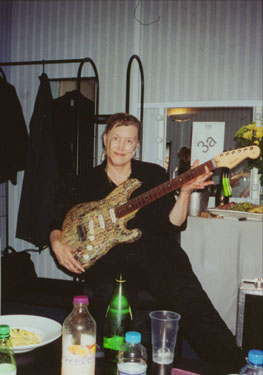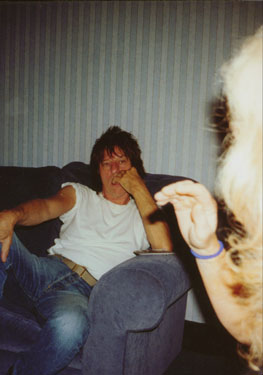 Jeff relaxing after the show.
There is a little of my hand showing in this photo. I had asked Jeff if he had a telescope, he said, "Yeah, but it's a cheap crappy one, you need to put this end on a part of it to look out, but what you look at is upside down! And if there is a slight breeze, it moves!" I laughed and said, "It sounds just like mine!" I added, "You are in luck. You can see your 'Star' with the naked eye!" He said, "Oh, wow! That's cool!"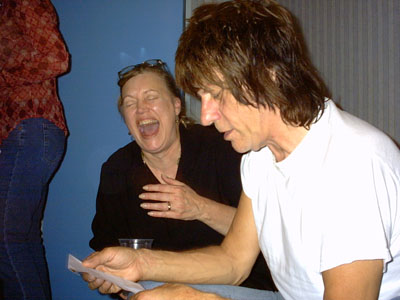 Terry and Jeff share a laugh.
Jeff is reading a VERY funny joke my friend Roxanne handed him. It's a very oddly written sentence, so when you read it the first time you will read it wrong. When you hear someone who doesn't know the joke read it you can't help but laugh hysterically! Jeff kept saying after he read it, "No, that doesn't make sense! No, no...wait I'm reading wrong, huh??" Then he'd do it again and finally he started laughing very hard and said, "This is FUNNY! I have to show this to Jennifer."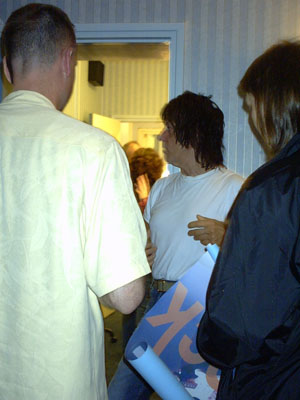 Chatting in the outer dressing room with Jennifer Batten, sorry you can't see her. When she first arrived in Jeff's dressing room (where she spent about 2 hours) Jeff yelled, "Jennifer!" Her response was giving Jeff a raspberry.
---