Special thanks got to Max Middleton and Paul from RL-2.
© Bruce Stringer, 2003
B.B. King Musicfest W/Jeff Beck 2003 Tour Reports From The Fans And The Press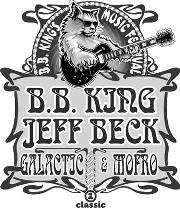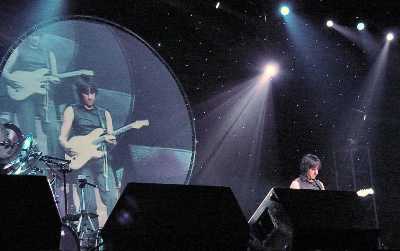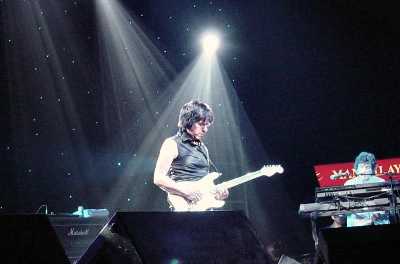 Courtesy chevy195@webshots.com
From Rob Taylor....Mandalay Bay, Las Vegas, July 25th.
Hi since I read your site all the time I thought I would contribute what I could. Saw Jeff in Vegas on the 25th. 11th row, center. The Mandalay Bay Events center was only about half full. Jeff opened with a slow tune, must have been from the new album. Freeway Jam was next followed by Savoy then two songs from "Who Else" and then two new songs, lost track after that. Jeff was right on and played pretty intensely. Jeff sounds so much better with Terry Bozzio and Tony Hymas. Terry had the same triple base drum set he played on the 95 Santana tour. I think he's better than Simon Phillips. They have a round video screen that showed Jeff almost the entire time, with a couple of effects thrown in. BB King played for a little over an hour, maybe. He threw gold chains to the front row after the show. Mofro was just OK. I didn't care for the vocals, but Galactic sounded very good.
A link to some shots from Mandalay Bay, Las Vegas, July 25th.
http://community.webshots.com/album/82916901QbJvSR
An article, not a review, from the San Francisco Chronicle, July 26th.
http://www.sfgate.com/cgi-bin/article.cgi?file=/chronicle/archive/2003/07/27/PK254333.DTL
A report posted on www.vintageamps.com's BB.
http://vintageamps.com/PlexiPalaceUBBcgi/ultimatebb.cgi?ubb=get_topic;f=16;t=001242
From Christine Newsam.....Mandalay Bay, Las Vegas, July 25th.
July 25, 2003, My husband and I have just got returned from Las Vegas, where we went just to see B.B. King live at the Mandalay Bay's House of Blues. I did not know until this evening that July 25 was the first day of his tour with Jeff Beck. What a night, it was everything I hoped it would be and then some, because of Jeff Beck touring with B.B. King. I wanted to give you some feedback and share with you what the evening meant to me. It was a dream come true. Mr. King was as great as I thought he would be, his voice is the same and everything about the experience was wonderful, except that to hear Jeff Beck and his drummer as well as B.B. King just made it all even better. I'm still on a high from having been there. Jeff Beck was absolutely awesome and his drummer deserves standing ovations. Actually, there are not enough words to describe what the evening was like. I have been a fan of B.B. King's for years and The Thrill is Gone is by far one of my favorites. My one dream has been to see him live and something that I wanted to accomplish as soon as possible. Neither him nor I are getting any younger. I saw him on Live by Request on a Saturday last month and right away I went on the website to see if he was touring. Imagine my excitement when I saw that he was playing in Vegas. We live in Salt Lake City, so it's a little bit of a drive, but I purchased the tickets on Sunday before I even knew if I could have that day off from work. I was willing to do anything!! We purchased good seats so we did not get there right away because when we went to pick up our tickets that morning, I had been a little disappointed to find out that Mr. King wasn't playing until 10:30 but when we got to the House of Blues around 9 p.m., Jeff Beck was on stage. Need I say more? I couldn't believe what I was hearing, what he can do with that guitar is unbelievable. I wish he'd played more and the same goes for B.B. It was so incredible. My husband says that he saw Jeff Beck at a concert in Lincoln, Nebraska in the late 60's. He does not remember though who played with him then. Was it his band or was he then with Eric Clapton? Would you know? Whomever came up with the idea that Jeff Beck and B.B. King would be a good combination for a tour is a genious. As far as Jeff Beck playing at Royal Albert Hall, I hope it's videotaped and sold. I have the Moody Blues video and c.d. from when they played there and that is my favorite video to watch and I listen to the c.d. in my car all the time. Thanks for listening to me babble on, I just needed to share this with someone that would hopefully understand what this meant to me. I hope B.B. King never quits touring, and if he plays anywhere within a few hours drive from SLC, you can bet I'll be there, no matter what. Except that I want front row seats. Sincerely, Christine Newsam
From Ric Ovalle.....Mandalay Bay, Las Vegas, July 25th.
hi, my name is ric and i'm a long time jeff fan...my first show was the L.A. Shrine Expo Hall in '68....i've witnessed various jeff incarnations through the years and they've always been fine...last friday night in las vegas was no exception, tony and terry once again!!! leaving our hotel for the gig i was playing a yardbird comp i had burned for the trip and told my wife robyn (who was going to her first jeff experience) how we used to scare people in high school by playing "still i'm sad" over the p.a. at lunch...bingo! jackpot! still i'm sad as opener!!! then "freeway jam"...jeff looking sharp in black, goofy grin in place as he rips off THOSE licks...oh man....i won't get into all the setlist...i just want to say, as always, the ease and seemingly effortlessness of his playing tore me up...jeff's directing of the band with a raised eyebrow and/or nod of the head was superb...we had 9th row center seats and he was in our laps the whole show...PLUS, least i forget, when he brought out the slide...YEOW!!! the hairs on the back of my neck are still standing....as for the rest of the show....mofro were enjoyable and forgettable at the same time...i enjoyed the hell out of galactic and b.b was great as always, the show aspect of the set was great, i love the blues/r&b show concept...the band opening instrumentals...the star intro...funnin' the band...the whole bit...b.b.'s digs at his sittin' through his set...the whole thing was great, we especially enjoyed when he played with only the rhythm section and 2nd guitarist...all in all an enjoyable gig...five hour total was a little too long, major delay in getting b.b set up...seemed to be monitor board problems... some years back we had killer seats for the universal amph. in no. hollywood. i think it was the first go-around with the "jennifer band"...we had to pass and give our tix to friend's for their anniversary (we live in grand canyon nat'l park and couldn't get away) ...my wife's first words as we got in the car and headed out of mandalay bay were basically, "damn!!! we should've gone, back then!!!" oh, by the way my wife also thinks he's still cute after all these years! thanks for the great work on this site....ric ovalle
From Karen Thompto.....Reno, Nevada, July 26th.
Hi Bill, Just a nugget of info from the Reno show 7/26, myself and two friends had front row seats. Just prior to Jeff coming on stage, the security staff from BGP, was most helpful in getting a chilled bottle of Dom Perinion Champagne( $230.00) to Jeff from me , to thank him for his gift of music to us( i've done this 3 times before )and that we appreciate him very much. The show was one of the best if not the best I have seen him do. This was the 11th time I have seen Jeff live. I met him the 10th show I saw, he was great, he signed my cd, and the picture of his 32 Ford , made for him by Roy Brizio, and then we(and about 8 people went to the Sports bar, in THE HARD ROCK HOTEL, and partied!I enjoyed Reno so much because Jeff was SO DAMN HAPPY!! PLUS his playing waqs unstopable!! He and the band were clearly aware of the fact that this was a die hard Jeff BECk crowd, and HE,( they) played for us!! He didn't stop smiling except for reacting to tony's amazing key board licks, then his facial expressions said it all! He was also punching out licks like I had never heard him do. Running up and down the neck, as if he was doing some hyper-active jidderbug, BUT TIGHTand very interesting. He kept playing directly in front of myself and friends, smiling and FLIRTING with me!! he rasberried me and I started laughing, then he started laughing back!!He also went to the mic several times to say how much he enjoys playing with his band and touring with BB King. He was very receptive ,warm, friendly, and funny with the audience.All in all, Jeff Beck and band get an A+, with standing ovation!!Hope you enjoyed the review, Bill, feel free to put it up on the webpage. Thanks, Karen Thompto
An interview from www.nyrock.com.
http://www.nyrock.com/interviews/2003/king_int.asp
A 'Jeff' review from launch.yahoo.
http://launch.yahoo.com/read/album.asp?contentID=214270
An article from 107.3 The Bay.
http://1073online.com/common/launch/070203/070203_jeff_beck_says.html
From James Snow.....Mandalay Bay, July 25th.
I went with my wife and some friends to the July 25th show in Las Vegas. Jeff played with cool confidence and you would never have guessed it was the first show of the tour. He grinned frequently and was obviously having a good time. He started off with a new song that had a "Lion sleeps tonight" melody vibe going for it. He played "Traffic Jam" which I had never seen him play before. His version of "Rolling and Tumbling" was without vocals, he played the melody on guitar. The off-the-fretboard slide hammer-ons for "Angel Footsteps" were unbelievable. From my seat above the left side of the stage it was obvious that Terry Bozzio had told his drum tech to "Go forth and buy me two of every drum that is known to man" because his set was huge! We didn't know how he fit in there to play! It was a great show and my wife is all set to go again, she is especially into the electronica style songs. B.B. King was awesome as well. He played most of the same songs from the "Live By Request" show, even injecting his "I'm gonna do this until I die, folks" into "Key to the Highway." After seeing that show on A&E, I thought it was nuts that the two didn't play together, but maybe they will on other dates. It was an awesome experience and really makes me wish for a Jeff DVD to pour over for hours at a time. I'll conclude by sending you my two dopey little pictures from way up high! Keep up the good work! James Snow
From Lionel Mall.....Concord, CA, August 1st.
I saw an excellent set of music from Jeff Beck, Terry Bozzio & Tony Hymas tonight in Concord, Calif. The energy level was high & the gig was awesome! It's great to the trio united again...wow! SETLIST 1)psycho sam 2)big block 3)savoy 4)brush w/ blues 5)roys toys 6)goodbye porkpie hat 7)freeway jam 8)nadia 9)new song (hard intro into melodic) 10) Angel (footsteps) 11)you never know 12)blue wind *end of set but the boys return for a two song encore* 13)people get ready 14)new song with a catchy riff but I'm not sure of the title....All in all a very inspired performance....yee-haw!
From George Peters.....Concord, CA, August 1st.

Jeff started around 8.00pm 
Psycho Sam 
Big Block 
Savoy 
Brush with the Blues 
Roy's Toy 
Goodbye Pork Pie Hat 
Freeway Jam 
Nadia 
---changed guitars-- 
New Tune (Bulgaria? fast,melodic,then a longer jam-- 
with recorded voice, then chorus) 
Angel 
Scatterbrain 
Blue Wind 
-----------encores------ 
People Get Ready 
New Tune (My Thing-played to video 
featuring snarling blonde) 
Jeff finished at 9.00pm exactly.

I sat in the fourth row left (in front of Tony). I've seen Jeff at least once every time he's come to the Bay Area since 1980, usually at close range. This was a fine set, with probably the best version of "Pork Pie Hat" I've seen. At least half the audience stood to applaud each number:Jeff really seemed to enjoy and appreciate the response. He was wearing exactly what he wore on Leno the day before, including the sunglasses. It seemed like his eyes were bothering him enough to wear them all night. The reason I say this is because he would peek out from under them to acknowledge the ovations, as if he was not being aloof. Terry was amazing as always, particularly at the end of "Scatterbrain"'. During the final repetition of the fast riff, he turned his head to the right and just pounded while Jeff tried to make eye contact with him to end the song. Obviously,Terry knew this, but Jeff had to walk across the entire stage and stand in front of the drum kit before Terry looked over. I thought it was pretty funny. I was surprised to see "Freeway Jam" on your Sacramento set list, because I'd read that he doesn't like playing it. It all made sense when I heard it, because he played it at least twice as fast as any version I've heard: it seemed like he was racing through it to get it over with. The new tunes were great ,especially My Thing. He really seemed to enjoy himself, and spoke a little more than usual at the end. He ended with "God Bless....You always make me feel good when I come here" (He played here in 1995 and 1999) Thanks for your great website. George Peters, Martinez,CA USA
From Mallory Moad.....Grizzlies Stadium, September 30th.
Did I send this to the right place? Regardless, here goes...
I've been waiting for someone, anyone from Fresno to comment on the show here on July 30. I guess it's up to me.
July 30 was the 15th day of a terrible, muggy, over 100-degree heat wave here and all I can say is, those guys are troupers, every one of 'em! Remember, the show was at Grizzlies Stadium and that's outside!
There's not much I can add to what everyone else has been saying. Although I know the music, this was my first time seeing Jeff Beck live and the performance left me absolutely speechless. "Jeff Beck's Guitar Shop" is one of my favorite recordings ever, so seeing Terry Bozzio and Tony Hyams up there, too, was a special treat.
I've always appreciated performers who aren't afraid to have a good time on stage. What with nutty, boyish grins, a wave or two at the audience and thumbing his nose at a video camera, it was obvious that Jeff Beck was having as much fun as we were. Returning for a second encore (sans shades), he raised his hand, index finger up as if to say, "one more", then two fingers, three, four. The audience went nuts, but with an apologetic shrug, that lonely index finger returned and we did, indeed, get just one more song ("People Get Ready").
For an hour plus, this musical magic took us to a place where we forgot we were melting into our shoes. That's quite an accomplishment for just 3 guys!
BB King was, as always, BB King -- charming, funny, stylish. His backup band, many of whom have been with him since day one, are tight and talented. My only complaint is, I saw BB King here a year ago and his performance was the same, word for word. If it ain't broke, don't fix it, I guess. Still, it would be nice to have some variety from someone so accomplished and legendary.

From Ramon.....Greek Theatre, August 2nd.
I caught the LA show on saturday. Jeff did come back out for a jam with BB's band. They played 2 songs, the last one being "Cost to be the Boss" like the Leno show. There were about 2 songs that were new. I think it was "So what", but it consisted of a repeated sample female vocal part and dancing visuals on the back screen. The new songs were very heavy, especially considering there were only 3 guys on stage (guitar, drums, & keyboard). Great Show. Jeff was very bashful when he came back out to play with BB. The King poked fun at this. Great show.
From Rich......Sacramento, CA, July 29th.
I saw Jeff on the BB King tour... Jeff was awsome..I mean AWSOME..!!!! It the first time I've ever seen him and he puts his albums to shame...they are so much less than his live performance. I was sooo..impressed..and I've been a musician for over 40 years...and am hard to impress...but he just kept me in awe...no bullshit talk..to asking the audience to clap..none of that bullshit...just good...hard...stuff. Rich
From Doctordeeptrack.....Dodge Theatre, Phoenix, AZ, August 5th.
my name is Paul Korkames
doctordeeptrack is my mike name in the clubs i have spun in for the last 22 years.
the blues jazz fusion group "Galactic" opened to a fat crowd at the downtown Phoenix Dodge Theatre tonight and warmed it up right with their blend of bass grooves and a finisher that had a wailing harmonica and "Capricorn" era slide guitar crying emotion in the foreground.
The middle ground was the high ground as Jeff came out and blazed away for a 40 minute roar through memories and new melodies with a video disc center stage showcasing a duece coupe car chase to the beat of "Traffic Jam".
The white strat spoke to me. In contrast to contemporary guitar legends on the circuit today he played the same axe throughout the set changing only once to do a slide guitar show slicker than Mobil 1. Then back to the original guitar for the duration. In old school fashion he used a guitar chord. No wireless here!
The only vocals in the show were two songs. A black female rapper akin to voacally to Missy or Lil Kim with a few hooks in the middle of the set and a leather clad blonde on video with "It's my thang" for the closer. Both were dub tracks with no live singer and could have better been left on the shelf. The man and his guitar were plenty enough for the Arizona hungry.
Bozzio was a phenom as was the silky smooth keyboardist whose name i am searching for. The percusssion and synthesizers and piano were so tight i felt as though i was hearing brothers.
B.B. lit up the night with his polished and relaxed down home showmanship that sheds light on the reason for his international superstardom.
For the finale B.B. called on the Orangeman to come out and take the forefront for a doulble song traditional blues set. Proving what a true gent he is Beck blazed when signaled and gave perfect complimentary emphasis to B.B.s sultry Mississippi lead.
Phoenix loved it. Tony Hymas built the most incredible rhythms effortlessly and in perfect unison. Since it was only a trio he had the fourth job of creating and holding the bass line for the group.
cheers doctordeeptrack

From Chris D..........Dodge Theatre, Phoenix, AZ, August 5th.
(Let this prove we print all reviews!) Phoenix, Dodge theater, Jeff Beck and BBking concert. I went to this concert with my wife we were celebrating 30 years together and we were really looking forward to see Jeff and bb king.
The night turned into a nightmare. During Jeff's set the sound system took a dump, and all you could hear on the right side of the dodge concert hall was the bass music from the keyboard. It was deafening. we had to get up and go to the front lobby area it was so bad.
I spoke with the sound engineer who told me they would fix it, but by the end of Jeff's set it was still not working, and then by the third song on BB kings set we had to leave. We were refused a refund and we were told there was nothing they could do about the sound it could not be fixed that night.
I and at least 60 others who asked for refunds, got mad and left because we couldn't hear a thing except the bass, we will never go to the dodge theater again. Some of the people who left mad are posting what happened on all the Arizona chat rooms and that numbers are in the 100s of chat rooms. The actions of the theater personnel, and Danny Zelesco the promoter, who we were told by the Dodge theater personnel, that he knew about the problem but refused to do anything about it. These actions will be costly to the Dodge theater and to Jeff on his next tour.
Just thought he or some one that could get his ear needs to know. Chris D.

From Paul Jensen.....Greek Theatre, Los Angeles, August 2nd.
Hi guys - thanks for all your great work with the website. I have been enjoying it for several years but I have never written to you before. My review of the Greek theater show is below. I'm not an eloquent writer but tour reports seem to be somewhat lacking so I thought I'd better step up! The setlist is accurate as verified by my DAT of the show.
Review: Jeff Beck (& BB King) August 2, 2003 Greek Theater, Los Angeles, CA
I've seen Jeff several times over the years in 1980, 1995, & 1999, but the Greek is one of the nicer venues I've seen Jeff in. There were 3 large video screens during the show - one on each side that showed a lot of Terry and Tony in a split screen as well as Jeff. The center video screen was a black & white with a sepia-like effect. It's just Jeff, Terry, and Tony - no bass player this time. Amazing show, fantastic musicianship - how can these guys possibly hit the stage with such intensity right from the start? Unbelieveable. Simon Phillips was my favorite drummer to see with Jeff (and I've seen Jeff with Terry before), but after tonight I can't imagine a better drummer than Terry. Simply put, Terry Bozzio is insane! Never miss a chance to see Jeff live. It is such an incredible experience that will blow away any guitar playing you've ever heard. It is like a spiritual event, Jeff's music pouring over the audience blessing them! It's funny how nonchalant he seems during his performance.
The setlist: Psycho Sam, Big Block, Savoy, Brush With the Blues, Roy's Toy, Goodbye Pork Pie Hat, Freeway Jam, Nadia (really nice tom tom work on this), Seasons (a nice rocker with a slow interlude section in the middle with the wailing sound of Jeff's tortured strat), Angel Footsteps (amazing slide work especially the end part in the register above the neck), You Never Know (with no bass player Jeff handled the intro on guitar which gave this song a really updated feel -cool!), Blue Wind (confirmed, Terry is one of the greatest drummers of all time! - also, I really enjoyed Tony's work throughout the show). Encore: People Get Ready, My Thing (during this song the band played in sync with the video monitor which showed Nancy Sorrell, singing the lyrics. Pretty amazing, I've never seen a band play in sync with a virtual singer before!)
BB King played his set next and towards the end of it he announced "We're gonna do something we haven't done yet'" and he brought Jeff back out. Jeff's comment was "In the presence of the King," and BB said "when it comes to playing the guitar, there's nobody better (than Jeff Beck)." Over the next 10 minutes Jeff played several solos with BB on 2 numbers: I Know, and, Paying the Cost to Be the Boss. Fantastic- what a treat! I repeat: do not miss a chance to see Jeff play!
Jeff's set was 60 min. (14 songs) and the 2 aditional numbers with BB stretched it out to 75 minutes - perfect for a CDR!
Paul Jensen - San Diego, California - zionic@cox.net P.S. I am looking for trades for other JB 2003 shows!

From Marcus O'Farrell.....Reno, NV, July 26th.
Dick,, Reno, Hilton Ampitheatre was the 5th time I saw Jeff live. Better with age? I would guess so. I couldn't stop smiling and screaming! He picks up and handles that guitar like it's a TOY! Jeff and his axe are one! He's truly one of the greatest living guitar players. He Wham Bams that thing!
All the best/ Marcus O'Farrell/Seattle, Wa.


Opening with : 
Still I'm sad 
Freeway Jam
Savoy
Psycho Sam
Brush with the blues
Roy's Toy
( New Tune)
Declan
Big Block
Nadia
Rollin and tumblin'
Good-bye pork pie hat
Scatterbrain
Encore:
People Get Ready

From Brad Martin....Denver, CO, August 7th.

Playlist:

Psycho Sam
Big Block
Savoy
Bout With The Blues
Roy's Toy
Freeway Jam
Goodbye Porkpie Hat
Nadia
Seasons (new)
Angel(Footsteps)
You never know
Blue Wind

ENCORE
People Get Ready
My Thing (new)

Played about 1hr 10 mins, Beaautiful show, just a
little short. Did not play with BB (curfew at
venue). B.B.'s show was much better than the one
he did on A&E, so You didn't miss Jeff as much,
but it would have been nice.

Keep up the good work
Brad Martin
Denver

From Dave Whittingham......Dodge Theatre, Phoenix, AZ, August 5th.
Gentlemen,
I saw Jeff and B.B. at Phoenix's Dodge theater Tuesday night. What a fantastic show! I had front row tickets, center stage (which made the 3 hour wait in the blazing Arizona sunshine all worthwhile).
I didn't sit there with a notepad writing down the set list, but it differed a little from the one you published. A lot of 'Guitar Shop', a few from the last two albums (Including 'Brush With the Blues' and 'Roy's Toy') 'Freeway Jam', 'Goodbye Pork Pie Hat, and 'People Get Ready' (the first encore).
There were two from the new release - at least that's what I'm assuming since I'd never heard them before. One had a staccato sample of a female voice repeating over and over - I really enjoyed it. The other, which was the final encore, featured a video accompaniment from a gorgeous blonde lady on the big circular screen.
Jeff looked happy, Terry was energetic, and Tony looked laid-back.
Jeff came back onstage, at B.B.'s insistence, and played a couple of numbers near the end of the King's set. I thought I'd died and gone to heaven. Jeff was a little more melodic and restrained than on the PBS show, and, well, better. Much better.
Here's the local news station's review:
If you look at the 'slideshow' link there are a couple of pictures of Jeff among all the ones of B.B. King.
Just as a point of interest, I thought I'd share a few impressions of the concert. I've been fortunate enough to see him many times over the last 20 years, but I've never been fortunate enough to sit in the front row. What struck me was the how he plays the guitar. I'm not a guitarist myself, but I could tell that I was watching something special. The range of sounds he can pull from that Fender is nothing short of amazing. From the gentlest touch to bending strings right off the fretboard, from plucking a single string to hammering all six while simultaneously working the various knobs, switches and tremolo bar... all I can say is that my jaw just dropped. At times he was not so much playing that guitar as tyrannizing it. No pedals either, a stark contrast to the bewildering array that one typically sees taped to the stage in front of other players.
B.B. King's set was most enjoyable, too. The most noticeable difference was the wonderfully consistent warm tone from that big Gibson, quite a contrast from Jeff's multiple-personality guitar. But to hear them play together was the treat of a lifetime.
Okay, I'm biased - I've been a huge fan for longer than I care to remember. But I have to say that that gig was the high point of my concert-going career.
As always, I'd like to think you guys for the website. It's a great thing that you're doing.
Sincerely, Dave (An Englishman in the desert)

From Kevin Weiler......Santa Barbara, CA, August 3rd.
Hello Gentlemen! (I use that term verrry loosely!)
Here's a setlist (the order may be a little mixed up) from last night's show:


Psycho Sam
Big Block
Savoy
Brush With The Blues
Roy's Toy
Goodbye Pork Pie Hat
Nadia
Seasons
Angel (footsteps)
Freeway Jam 
New Tune
You Never Know
Blue Wind

People Get Ready
My Thing 

A fantastic show.. though the set lasted just over an hour.. (maybe 65 min.).. because of the 10pm curfew at the Santa Barbara County Bowl, Terry and Tony came on stage just before 7pm (with lots of daylight remaining) and began the intro to "Psycho Sam".. then Jeff appeared wearing different shades (larger lenses) than on the Tonight Show, also clad in green army style pants, black zippered shirt and black boots... without going into any more excruciating detail, the band was on fire.. this was a WAY better performance than the one I saw at Universal in 2001... more in line w/the shows from `99.. lots of energy and smiles.. as has been said before, Jeff seemed to be having a great time playing w/Bozzio.. there were subtle (and over-the-top) call and response jams between the two thruout the show.. Hymas was outstanding imho... no bass player missed.. he was the grounding force and steadying influence.. this show reminded me a lot of the one in`95 at Portland Meadows Race Track in Oregon.. that was also a daylight show and they were on fire that day as well.. Jeff would point (using his hand like a gun and "shooting" it) at Bozzio and Hymas when he wanted them to solo.. he appeared overwhelmed by the crowd's response.. (not a sell out, and the venue only holds @4500 people).. a criminal shame.. I wonder how the tour is drawing overall.. I think they wanted to get the Jam band youth scene out to these shows, but most people I saw in the crowd were there mainly for B.B. King.. Mofro's set was ok, but there were only a handful of folks there to see them.. Galactic surprised me and were very groovin'... but like `95 with Santana, even B.B. King was a letdown after Beck had gone for the throat.. no jamming between the two... had a Seal sighting in the stands.. and later saw him on Jeff's bus as we were walking out of the venue.. B.B. was great.. but Jeff left me wanting more.. really hope he comes back w/the trio and plays longer.. oh yeah, noticed he was more faithful to the album versions of Goodbye Pork Pie Hat, Freeway Jam & Blue Wind than he has been in a looong time.. (Bozzio played the drum intro on FJ and JB played the part right after that.. instead of the "honking" versions we've gotten over the years.. like on the live release w/Jan Hammer).. go see the show if you can..
Kevin

From Ed.......Concord Pavillion, August 1st.
Hi Dick:
Read you reviews on the gig set list and caught Jeff and BB with a bit of a different format. Picked up the CD yesterday (release date) and thought he was going to gig most of that. Much to my surprise he played a lot of his old stuff. He played three numbers that I didn't recognize so I assumed they were from his latest CD. I had a very patient cousin who was kind enough to hold my cigarette lighter so I could write down the songs. His fingertips were pretty sore by the end of the night. And the lady we borrowed the pen from kept bitching that she wanted it back because she thought I was going to rip it off! This is what was on the list.

Psycho Sam
Big Block
Savoy
Brush With The Blues 
New Song (Seasons?)
Goodbye Pork Pie Hat
You Never Know  (Re-reading the piece of paper the next morning,
I wrote down a song I play against but couldn't remember what the
name of it was.  The notation read D - There and Back;  I realized
later that the dash was the guitar notation for minor which triggered
me off that it was a song from There and Back in D minor)
Freeway Jam
Nadia
New Song (JB Blues?)
Angel (Footsteps)
Blue Wind

Encore
People Get Ready
New Song (With a lady vocalist saying something like "What You Looking At?". (My Thing)

He had a huge circular video screen that would show him and the band playing up close and it one display he had two roadsters racing each other which he used for one of his previous tours I caught - either the Who Else tour or the You Had It Coming tour. Reading the other set list, I was hoping he might have included Where Were You which is one of my favorites (amongst hundreds of others). For you folks who got a chance to see him gig Scatterbrain, how lucky you were. It took me about three months to learn that intro from Blow by Blow - it was like his version of Flight of the Bumble Bee only on guitar. BTW - someone posted that JB played Scatterbrain at this concert in Concord - WRONG! I checked with a couple of my JB buddies and they concurred that he did not play that.
Ed From California

From Tavis....Holmdel, NJ, August 14th.
Made it out of NYC 10 minutes before the blackout!
Power in Jersey was on, at least at the venue, but this will be called "The Blackout Gig"
Beck-Bozzio-Hymas
Holmdel, NJ 8/14/03 "The Blackout Gig"


Psycho Sam
Big Block
Savoy
Brush with the Blues(best version I've ever heard)
Roy's Toy>
Freeway Jam
Goodbye Porkpie Hat
Nadia
Seasons
Angel(footsteps)
You Never Know
Sling Shot
*encore*
People Get Ready
My Thing

cheers, Tavis

From Gord MacKay......Toronto, August 19th.
After listening to his stuff for over 35 years (I've owned "Truth" 5 times in 4 different formats and have every other album he's recorded), I finally saw him play. Words almost fail me. Incredible show and sound. Best performance I've ever seen. I don't know what I was thinking about when I passed on previous opportunities to see him. All three of them (JB, Tony, and the drummer, whose name I regrettably did not know) were absolutely outstanding. I took my 20 year old daughter with me and she was totally into it. My only consolation is that he's only getting better, and I didn't see him after he'd peaked. Surprise of the night was his instrumental take on "A Day in the Life". My only disappointment was that they had to get off the stage for B.B.King. I only made it through 3 King songs and I had to leave. Nothing could compare.
I will never pass up another chance to see him play.
Gord MacKay

From Brian McGeever......Cleveland, OH, August 20th.
Bill, Jeff was so intense he had the crowd going crazy! Galactic was a cool band they have a nice thing going, but when Jeff came out after the second song the roof blew off the joint. I took a good friend of mine to the show and he's always liked Jeff Beck but after seeing him live He's become real fan! He was amazed. After Jeff was done I was waiting in line for beer and talking to these two young lads of 21 and one of them had a "ZOSO" shirt on. I said to him "So your a Jimmy Page fan." and he replied "I thought he was something, but this guy tonight was just so incredible, I think he's better!" Both of the guys play guitar and they want to try to figure out what he does. I told them there a couple of books on his style but I told them it's rough. I've tried a couple but I'm just not ready yet because I'm in between a beginner and a novice player and it just kicks my ass, although messing around on my own, I accidentally picked up a couple of his licks. B.B. King was also really good as well it was the first time I've seen blue legend live in concert. The whole show was great! I wish I could give you a set list in order. He opened the show with Pork-U-Pine. He also did Savoy, Brush With The Blues, Good By Pork Pie Hat, Freeway Jam, Blue Wind, Nadine, Blast From The East, A Day In The Life, People get ready. He didn't realize the time and some one back stage had to remind him so he only did one encore. I think he would have just kept on going had no one told him his time was almost up. Bill he was in a really great mood and just full of energy and you know what when I told those kid how old he was in our conversation they couldn't believe it one kid said to me "He has more energy and get-up-and go then I do." Well, I thought I'd just drop you line to let you know the Cleveland show went. Take care!
Brian

From Bill Armstrong.........Tweeter Center, Mansfield, MA, August 17th.
Arrived in Mansfield with a contingent of friends from my hometown, Marblehead, about 6:00PM. I had forgotten how long a drive it was out here! The first band, Mofro was already playing but never saw them or Galactica for that matter. There were several beers calling my name.

Jeff came on at about 7:40PM. My friends and I had pretty good seats, 13th row center. Terry Bozzio was stage left, Tony Hymas stage right and Jeff in the middle. For amps Jeff had three Marshall 100 watt DSL heads and three 4 by 12 bottoms. A friend of mine who was in the front row later told me that was using one head for the 'clean' sound (classic gain,green light) and the another (ultra gain,red) for the overdrive. From where I was sitting I only noticed one cabinet miked though. For pedals he had the Snarling Dog Whine-O Wah, which had a heavy duty custom made switch next to it to turn the wah on, and a Marshall channel switcher for one of the amps. I've since learned that he also had a pedal board behind the amps that his guitar tech Steve switched on and off.

First thing I noticed is Jeff had what appeared was his usual guitar. His guitar looks what Fender calls 'Vintage White' to me, not Olympic White like the new ones out now. I asked a guy at Fender once about the color of his guitar. The guy told me when they shipped the guitar to Jeff it was Olympic White but it had yellowed. I'm not so sure, although I've since been assured that's the case. Anyway I digress. Jeff had what looked like to me his Vintage White Strat. The Anoushka signature that was mentioned in the last 'What's New' and you can see on the Jool's Holland New Years Eve show was very small behind the bridge.

So now let me get to the setlist;

Psycho Sam
Big Block
Savoy
Brush With The Blues
Roy's Toy
Freeway Jam
Goodbye Pork Pie Hat
Nadia
Seasons (for this number changed guitars, a real Olympic White Strat
         with the low E tuned down to I think a Db.)
Angel (Footsteps) (Back to the Vintage White.)
You Never Know
A Day In The Life (haven't seen this on other recent setlists)
Sling Shot

*Encore*

People Get Ready
My Thing

Some cool things during the show. First the video screen. Same big round one they had last tour. There were two hand held cameras at the front of the stage that mainly shot Jeff. Then for Terry and Tony they had two 'lipstick' cameras. Terry's was hung up inside his drumkit, Tony's was on a little tripod next to his keyboards. I liked it, although with these cameras when either Tony or Terry got closer to the lens it had a little fish-eye effect and when they moved away the focus went a little soft. They also fed video in the screen. For 'Roy's Toy' there were hot rods of course. And for 'My Thing' a woman was singing, "My thing, what you lookin' at." The woman could be Nancy Sorrell who sings that on the CD. I did a Google search of images for "Nancy Sorrell" and I found a modeling site with a woman by that name and it could be her. About three quarters into the set, Jeff came up to the microphone and said, "Thank you, thank you very much, Boston has always been so good to me."

B.B. came on around 9:15. What a great band he has! And tonight was somewhat special in that Jeff came back out and did two numbers with B.B.. About three quarters into his show B.B, who did a lot of talking during the show said, "Over in England they treat me like my last name, a King, and here's a great friend of mine from England." This was while he and the band were playing a slow blues, an instrumental. Jeff came out and joined B.B. and the band on this slow blues number for about 2 or 3 more minutes, then they broke into the song Jeff and B.B. always seem to be playing together, "The Cost For Being The Boss". The whole thing was just great.

Overall the show was great. Jeff was little slow coming out of the box but by the time he hit 'Savoy' it was rockin'. Terry and Tony both great, didn't really notice there wasn't a bass player. Terry is a madman, only some song endings were a little shakey. The next day I was reading the Boston Globe and there was a little blurb that was interesting. Here's the copy verbatim;

SIGHTINGS Ace British axman Jeff Beck, in Boston to play at the Tweeter
Center with B.B. King, was at Foley's on Kingston Street Saturday night, 
huddled with an entourage that included two members of the noted Boston
garage rock band the Bristols...

The Foley's they're referring to is J.J. Foley's, a beer joint about 4 blocks from the 'combat zone' or what used to be the 'combat zone'. I didn't really know much about the 'Bristols' so in researching them I found that they are an all-girl band....a very nice looking all-girl band. Figures.
From Christian Drolet .... Molson Amphitheater, Toronto, Canada, Tuesday, August 19th, 2003.

After I long trip (Quebec to Toronto) in a train I finally saw my favorite guitarist! Very emotional show and special moment for me!
Crowd : maybe sold out = 16 000 people
Playlist (15 songs) :


 
Psycho Sam
Big Block
Savoy
Brush With The Blues
Roy's Toy
Freeway Jam
Goodbye Porkpie Hat
Nadia
Seasons (new)
Angel (Footsteps)
You never know
A Day In The Life (WOW!!)
Sling Shot
 
ENCORE
People Get Ready
My Thing (new)

Played about 1hr 15 mins, Beautiful show, just short but Jeff was so good and people really appreciated the show. Terry and Tony are so good too. Did not play with BB King.
Keep up the good work!
Christian Drolet
Quebec, Canada

From Patrick Minnick.....DTE Music Theater, Clarkson, MI, August 22nd.
Hi there:
First off, my nephew wondered if Jeff could do certain pieces without Jennifer on midi-guitar. Well, in addition to my nephew screaming at the sight of Terry Bozzio in a black fishnet shirt, he was convinced Jeff could do anything including parting the Red Sea.
The setlist was similar to previous stops, with the addition of "the Pump" right after the set opener, "Psycho Sam". And, at one point in "Sling Shot", several bars of "Train kept Rollin"
The sound was clear and deafening. My face was numb for days. Jeff worked with one white Strat all night, switching once to a cream-colored one for "Nadia".
Jeff was absolutely verbose compared to previous visits. He used the microphone not once, not twice, but three times!! He must be slamming lots of coffee. I've said it before...Jeff is not getting older, he's getting better.
BB King brought Jeff out for two numbers that were easily the highlight of his portion of the evening. Maybe a "Beck and the King" LP??
Thanks Jeff. Love watching you work.
Patrick Minnick

From Kevin VanCleave......Arie Crown Theater, Chicago, IL, August, 26th.
Just a quick review for you. Just got back home a few minutes ago from the Arie Crown show in Chicago, (8/26/03). Great show, perhaps Jeff's best in recent years(seen him with the Santana tour, and both tours with Jennifer). He opened with Roy's toy. He played 17 songs total unless I miscounted. New songs played were Seasons (on the all white Strat) and My Thing. Other Strat was like a cream color. Encores were People Get Ready and My thing. Day in the Life was one of the last songs before the encore. Set list basically seemed the same as what others listed, just slightly different order. No encore with BB. Jeff played about 1 hour and 15 minutes, BB played exactly 1 hour, then they turned the lights on. Overall a fantastic performance by Jeff and the band.
2003 Tour Backstage Stories
---

Dick Wyzanski....Chaistain Park Amphitheater, Atlanta, Georgia, September 6th.

Will The Circle Be Unbroken?

Flash- back to the Mike Harding In Concert series on the BBC in 1972 Mike Harding "The last time I saw Jeffrey was up in a seedy ballroom in Scotland, I think they're all seedy anyway I think it was in Albertine and you weren't very happy then. Are you happier now?" Jeff: "No" Mike Harding : (Laughter) No he's not happier now. "Shows you things don't change."You can't throw me. I don't mind…."( A few seconds later ) Jeff "Yeah" Mike Harding: " Yeah? He said Yeah"

Well the last time I saw Jeff in Jacksonville, Fl., the weather was miserable ,he was blinded by his lighting crew right in the middle of Angel Footsteps and the stupid hotel where they and I were staying listed me on their bill!…… ……..Anyways Sat. night Sept. 6th saw a perfect balmy autumn night at the magical venue of Chastain Park Amphitheatre in Atlanta, Ga. where a much happier Jeff took center stage and assaulted the breezes with a plethora of sounds which fans, newcomers, and guitar afficianados alike took to their bosoms with deep felt emotion and gratitude. Unlike the techno shred balls to the wall PA's that marked the Gutiar Shop tour in '89, this Guitar Shop Trio was mixed to highlight each individual's contribution with perfect clarity. Terry Bozzio to my delight was instrumental in slowing down the oldies. Freeway Jam was almost at it's original tempo allowing Jeff to create a whole new solo that would have stood on it's own on the original! Being a "Blues" festival was not lost on Jeff (as we'll discuss later) as "Brush with Blues" was done elegantly rather than wildly as on previous tours, and just to throw everyone GoodBye Pork Pie Hat was NOT done in the switch to twelve bar blues fashion as had previous tours. Tony Hymas laid down the most delicious trad jazz foundation as on the Wired version of the Mingus tune. Much to the guitarists in the audience delight every nuance of style could be gleaned from the two towering video displays on the side of the stage. I couldn't F*****n believe it when I was listening to Nadia and looking that Jeff wasn't even hardly using his slide!!!! Amazing!!!! Added to the set towards the end of the tour were Scatterbrain and a perfect rendition of Where Were You. I was glad that the featured selection from the new lp was Seasons as no other tune could let Jeff completely and freely let go yet all within the framework of the opening funky rythym. That tune as on the album spells all the dichotomies and schizophrenic nature of what rock music, hence Jeff, is all about! Finally even the part of the crowd not used to Jeff's music but older and pseudo hip dropped their jaws with A Day In A Life. The encore found Jeff Beck dedicating People Get Ready to …Jimmy Hall who is in the audience" Wow, I said to myself. Jimmy Hall. This is going to be some evening! Jeff finished People Get Ready with a tremendous extended end portion where after laying the familiar rythym he glided up and down doing choice soft licks for over another minute and a half!!!!! Unbelievable!

After being ushered quickly after the set into the side stage meet and greet room, I was facing a blondish man with a hint of red hair pacing up and down with his back to me. He turned around as I was talking and I realized THIS IS JIMMY HALL!!! I introduced myself and Jimmy told me he had seen my initial stuff on the site about my conversation with him last Nov. Jimmy is a real great down to earth guy and he brought most of his family with him, wife and two of his sons.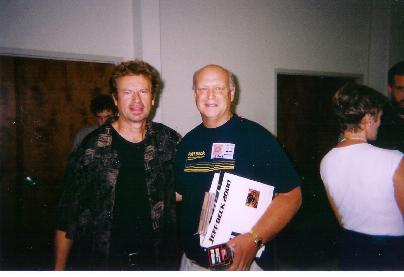 A class act....Jimmy Hall

At this point I threw him the info about B.B. and Jeff having done a track (Three O'Clock Blues ..see Issue #5 of the Jeff Beck Bulletin) and it got results as you'll see in a minute (Kept my word didn't mention it to Jeff myself Hah!) Jimmy was enthused that we had hooked up with Clive Chaman and wanted to get his phone number to explore maybe some playing possibilities as I told him Clive was active again. We also talked some more about the RFH London shows and Jimmy exclaimed," I kept every set list from that tour. I wish it could have gone on and on and come to America. I can even remember getting Roger Water's autograph." At that a lightbulb when off in my head and Jimmy graciously jotted his John Henry down on my rather now cluttered Beckology Box. Just then Terry entered followed by Jeff. I waited as I knew Jeff would love to have some time to embrace and greet Jimmy and his family and manager.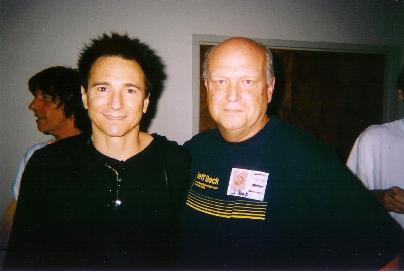 Simply a great drummer-Terry Bozzio.

After a while I sauntered over to Jeff and he greeted me with this knowing smile. I said half kiddingly, "Thanks for having me back Jeff" He just simply said Yeah, Dick" like it's ok don't sweat it. I immediately reintroduced my son and proclaimed "Jeff, he's gonna take over the fan club from me." I expected to get a humerous rise out of him but Jeff got genuinely very enthusiastic and said to him. "Yeah, this is what we need, youth. The youth of America energizing. Get all your friends to listen. Kick ass!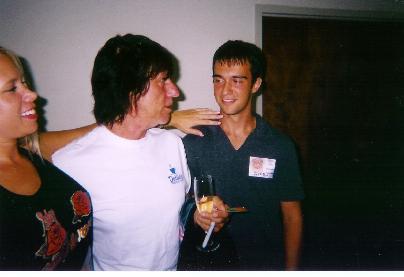 "You're the youth we need", Be careful what you ask for Jeff, it may come true. Remember he'sa Wyzanski.

I said, Yeah and it will help sell more records……which led me into the serious subject of THE END OF THE MOST FAMOUS RECORD CONTRACT IN ROCK HISTORY! "Now that your contract with Epic is finished will you be re-signing with them or looking at other companies?" Jeff turned to me to get my full attention and said " That is a pointed question. They are taking me out to dinner in a couple of nights and I'll find out if my head is on the chopping block'! (laughs) I explained to him the Odd Couple (Felix and Oscar) syndrome that we've been touting in comparison with Jeff/Sony and he nodded like we had a point. Then he told me "Jennifer is doing great." Yeah I said "she played killer licks when she toured with you." Jeff: She's amazing……she's a princess!"

I also asked Jeff where Tony was and he said, "I think Tony's drying off in the shower." Figures as Tony shies away from these 'meet and greets'.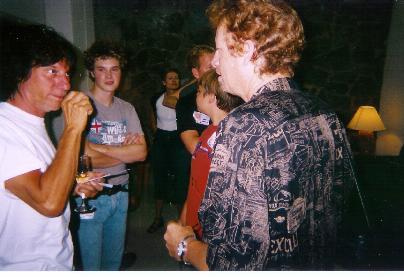 Two old friends hook up.

At this juncture Jimmy walked over and asked much to my utter surprise "Jeff there is a rumour that you recorded something with B.B.. Jeff said "Yeah but I couldn't let that one out. (Mentions the producer's name) .…made the solo sound too over the top from one side. And he chopped up my solo completely and just put bits together. I couldn't let it go like that. " Jeff also remembered that he had to keep having the studio door shut during his session "because Eric was in the booth next door and would get up and come over to see what I was doing." (laughs) Then I got a note from B.B. a couple of weeks after his record came out thanking me for my contribution. He didn't even know! At this juncture it must be said that although it pains me to do it considering how I've been non-treated by many at Epic over recent years SORRY! WE THOUGHT IT WAS YOU GUYS WHO PULLED THE PLUG!

Then Jimmy and Jeff started talking about an acoustical guitarist Jeff had seen in a cathedral setting with a tabla player. Jeff said the tabla player was amazing. "The tabla player tuned the guitar with the tablas. (Motions like he's playing a tabla) Bing. Nope your not in tune Bing.(again) yeah that's it" The subject then turned to Ronnie Wood. Jeff: Yeah I'm seeing Ronnie with the Stones in a couple of days. " I remembered the clip in the All The Kings Men video where Jeff said of his reunion with Ronnie "Party Time!" I threw the phrase out and Jeff picked up on it right away laughing. " Ronnie's got this (mentions a piece of clothing) that's got hidden pockets in it for wine bottles" Everyone around including Jeff almost fell on the floor laughing.

Jeff noticed that the lights were bright in the room and then jumped up and dimmed them exclaiming "That's better".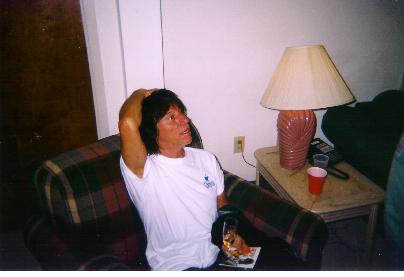 Notice he's holding Toshi's Jeff Beck Singles catalogue we passed along to him. We know Jeff's gonna look at every page of it. Hah!

I complimented him on Django and offered that I felt he had a calming effect on McGlaughlin cause it took him about 30 seconds into his first solo before he (McGlaughlin) started going a mile a minute. Jeff recalled how difficult and challenging he thought that session was. I thought I would see if Jeff remembered some melodies he had toyed with but had never put down on his own or in a session. I hummed the line to the slow piece from the four track SteakHouse session with Luthaker and Sending Sweets from the Euro 98 tour but Jeff didn't remember either one. Finally I said Jeff before I leave I've got this great reunion story that you'll love. I told him how Bill had taken Clive Chaman to see Mick Taylor in Ft. Lauderdale cause Max Middleton was playing with Mick and when it was time for the show to begin it was upstaged and delayed slightly due to Max coming down into the audience and giving Clive a long bear hug. Jeff: Yes I love that story Great! Jeff sauntered off outside the room to cajole with a few female fans and I asked Andy (Jeff's tour manager this time out)how he got hooked up with the cast (as he signed my Beckology Box being the newest member) "I gave up a lot for this (A year tour with Destiny's Child) but it's worth it. Jeff every week amazes me with what he plays".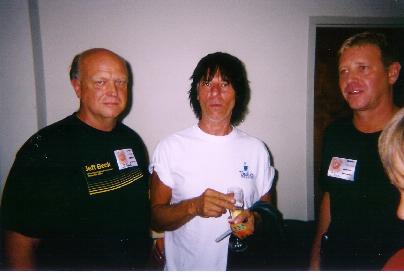 Jeff: "Ralph how could you do this to me? Just wait 'til I get back to England."

Suddenly it was time for Andy to escort Jeff back to the stage to do the duets with B.B. It must be said that B.B. that night in Atlanta decided to thank Jeff for the whole tour as it was getting down to one more official stop after Atlanta. B.B. lavished Jeff with praise embarrassing the heck out of Jeff as all he could do was gesture thanks and mutual admiration towards B.B.. At the end of that Jeff went over not only to raise and shake B.B.'s hand but to give him a heartfelt big hug. The same stuff he did with B.B on the Leno show. Great. All too brief, and then off as we took off too back on the five hour jaunt to Tallahassee.

Thanks to Andy, Ralph and Jeff.
Be seeing you.
---
Thank You's For Issue #10
Ralph Baker: Good one yourself!
Ernest Chapman: Been a long road since the contract signing in '70 hey?
Andy Crookston: You did the right thing alright!
Jimmy Hall: Great to meet you and your family. Keep buggin' Jeff to do something!
Jennifer Batten: For still inspiring Jeff!
Ed Chapero: Next time Joey gets that close tell him to say something!
John Walsh: Thanks for better copies of the fabled Euro radio broadcasted missing All Star track.
202 Angle Plug: "Where were you buddy?"
My son: For one day preparing to take over the reigns.
Kodak
Kia Autosports
Chastain Park Ampthitheater, Atlanta (except the snooty stage lady)
And Jeff, thanks for all this and all the other heartfelt wonderful performances over the years. I'm sure you'll suggest to Ronnie ways to polish off all that hidden wine. Hah!

---